These amazing Chocolate Muffins are gluten free, dairy free and sugar-free!
Making chocolate muffins for breakfast wins big with the kids, but makes me happy as the momma 'cuz who doesn't love some chocolate for breakfast right? Moderately low in net carbs at just 12 grams, it's a pretty great way to start the day. They're moist and perfect with a little cream cheese or peanut butter lathered over them as well. Great for traveling or throwing in as a snack with your lunch!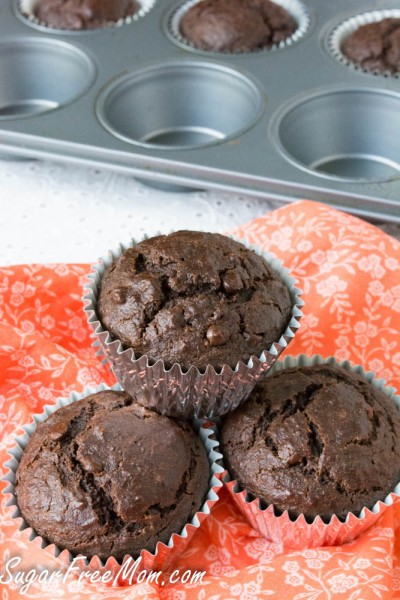 My family and I recently returned from our first ever Disney trip! While we had a blast and the weather was fabulously warm compared to New England fall temps, it was an exhausting trip. We walked an average of 8-10 miles a day visiting all the parks as well as Sea World one day and Down Town Disney one day as well. I think I need a vacation from my vacation, no joke! All those who have done this trip with certainly agree with me I'm sure.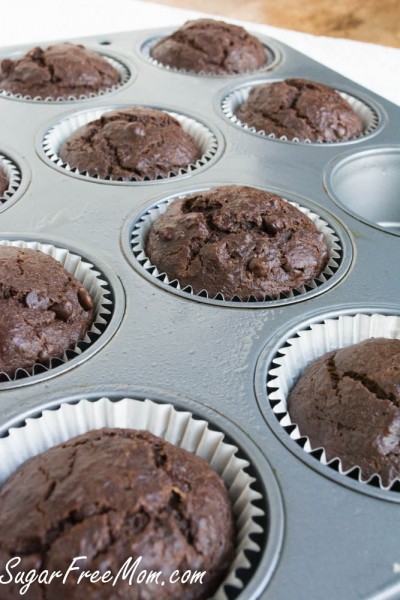 Not sure when or if we will visit again, we're just not that into all the hustle and bustle of a vacation each year like this. I'm happy I took my kids on a plane for the first time and Disney at least once in their childhood. For my hubby and me though, we'd much rather splurge on taking them to a vacation in the Bahamas or Jamaica and do a bit more sight seeing and relaxing.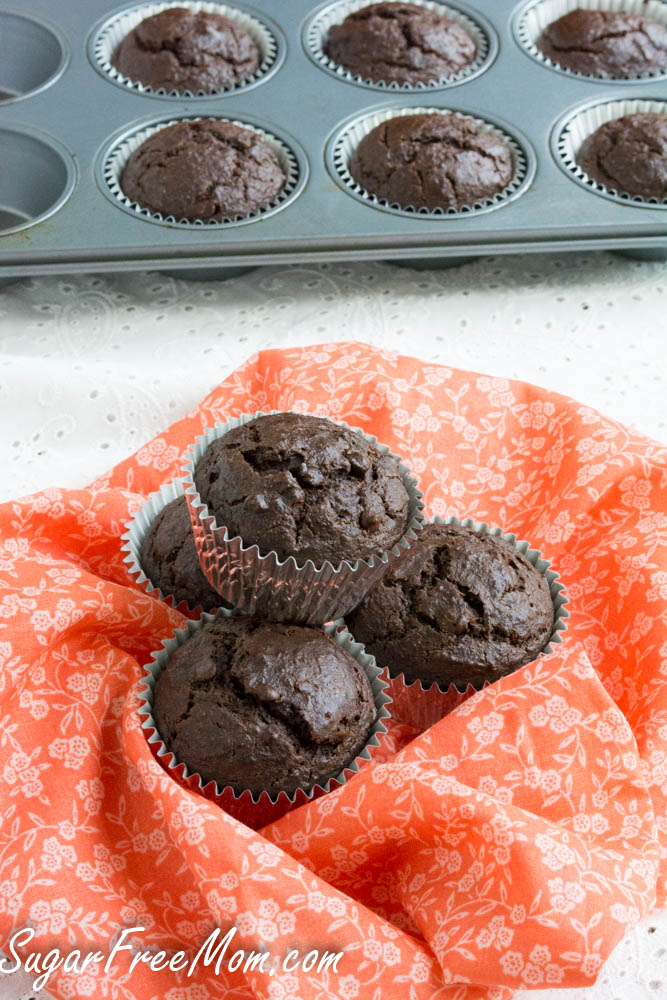 Needless to say, getting up early at 5 am for my Monday morning spin class was anything but easy! Vacations are wonderful but getting back to your normal routine is not easy, especially for me as a non early morning lover, it is painful. I force myself reluctantly knowing if I don't do it early it won't happen. Of course feel like I won the gold medal once I'm walking out of the gym at 6:30 am and ready to start my day so that's what I try to remember.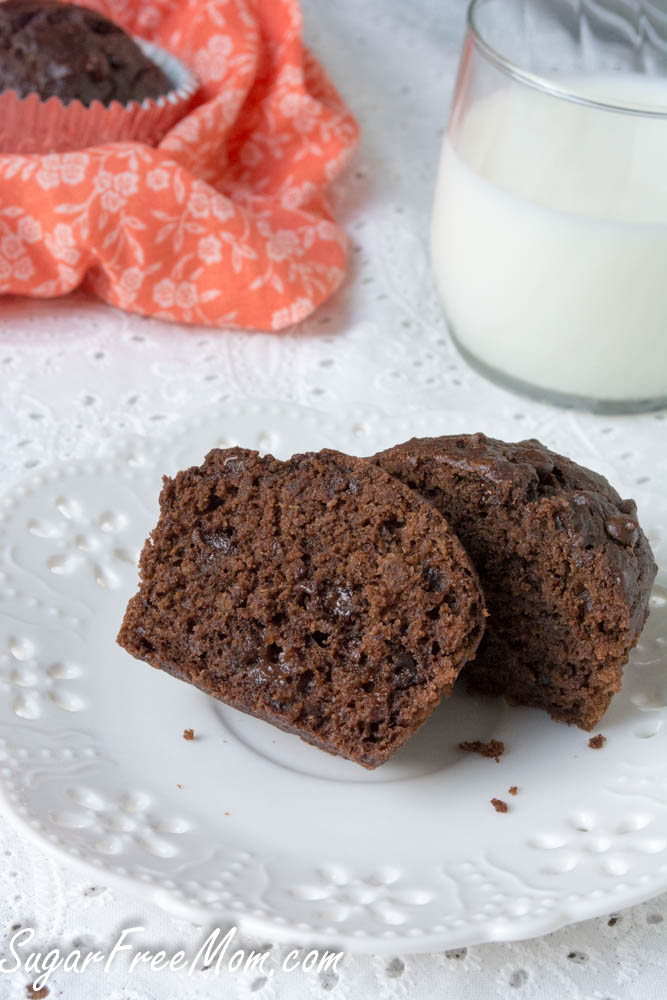 Enjoying a delicious breakfast after getting home from the gym is always quite motivating! These muffins are fairly low in carbs so enjoying one won't throw off my daily target I try to shoot for. And chocolate makes me happy so there's that. 🙂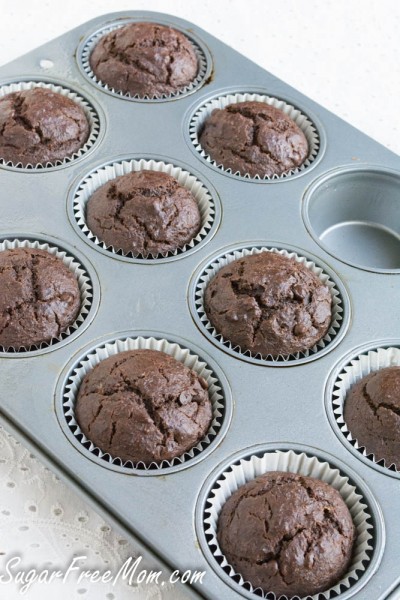 Once you see them crack at the tops, you've got perfection!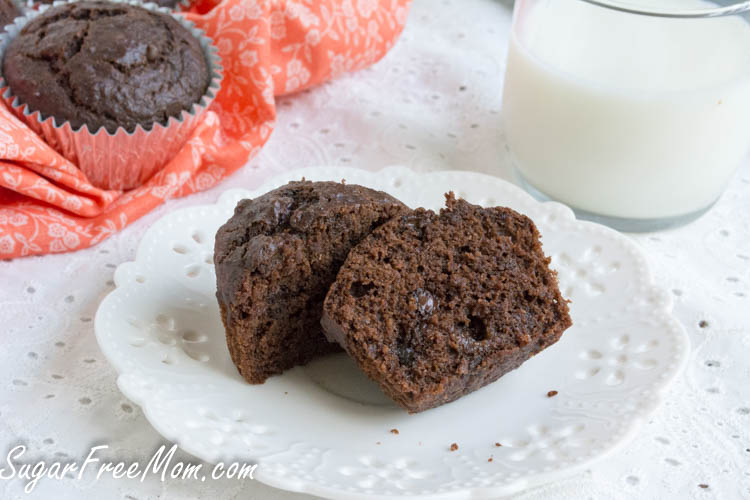 Brenda's Notes:
I wouldn't make too many adaptions to this recipe other than changing the oil used, using flax eggs if needed or subbing the erythritol for honey if desired.
I used Bob's Red Mill all purpose gluten free flour blend.
I use the brand Lily's for my sugar-free chocolate chips sweetened with stevia and found online or at Whole Foods.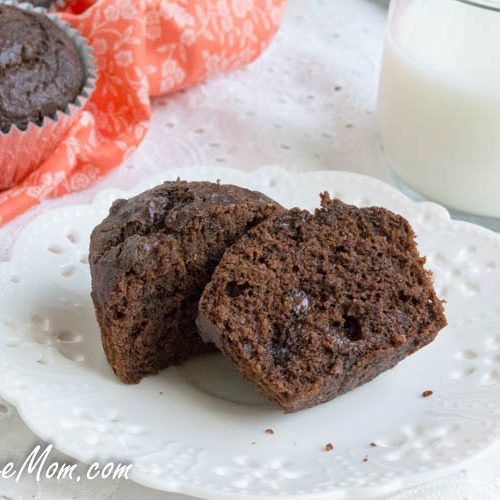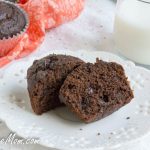 Print
Sugar-Free Chocolate Muffins
Instructions
Preheat oven to 350 degrees.

Line 12 muffin cups with paper or silicone liners.

In a bowl whisk the first 7 dry ingredients.

In another bowl whisk the oil, applesauce, eggs, extract and stevia.

Add in the flour mixture and stir until blended.

Stir in the chocolate chips.

Using a small cookie scoop, evenly fill each muffin cup with batter.

Bake until the tops of the muffins crack and a toothpick in center comes clean, about 20 minutes.

Cool for 10 minutes then unmold to finish cooling on a wire rack.
Notes
Weight Watchers PointsPlus: 6*
Nutrition
Serving:
1
g
|
Calories:
192
kcal
|
Carbohydrates:
16.9
g
|
Protein:
4.4
g
|
Fat:
14.7
g
|
Saturated Fat:
3.4
g
|
Cholesterol:
30
mg
|
Sodium:
108
mg
|
Fiber:
4.9
g
|
Sugar:
1.1
g