This post and photos may contain Amazon or other affiliate links. As an Amazon Associate I earn from qualifying purchases. If you purchase something through any link, I may receive a small commission at no extra charge to you. All opinions are my own.
What I Ate Wednesday is a  visual food journal of my eats for one day in my life.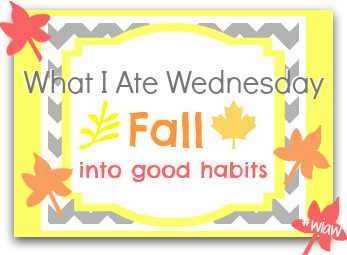 Do you agonize about what you will eat when you are out of town and traveling? What places will actually have good selections for you to choose from and if you'll make the right choices? I don't go away often at all, but when I do these are often the things I think about. I don't eat foods with white flour, sugar, and gluten so selections can be limited.
This past weekend I was able to go to the Iron Sharpens Iron Women's Conference on Saturday. My friend and I were able to sleep over at a nice hotel the night before and enjoy a delicious breakfast at the hotel before we headed to the conference.  We stayed at the Hilton Garden Inn in Worcester, MA. Thankfully I had been to this particular hotel before for a home schooling conference so I wasn't too worried about breakfast.
Doing a little research before traveling and knowing what restaurants are available to you is key in being able to make healthy choices. If the breakfast was going to be something like a standard continental breakfast with baked goods, pastry, muffins, etc I knew I would be out of luck and need to bring a baggie of oatmeal or homemade granola. But this particular hotel has the typical continental fare, but steps it up and has a chef that makes you whatever you like! SCORE!
Although I asked how many eggs are used in making their omelets and the waiter said 2, it appears he was probably wrong because no way does this omelet only have two eggs, more like four. I asked for spinach, onion and cheddar inside. And I got a nice side of potatoes instead of bacon which I really did want but choice not to indulge.
During the conference there were plenty of snack bars with the typical pizza, burgers, wraps, etc and all things I knew wouldn't be gluten free. I knew there was a hospital cafeteria across the street from the conference so I asked my friends if we could go there instead. Many more choices and everyone was happy. I forgot to take a picture but I made myself a salad at the salad bar. Also thrilling to see some nice snacks so I grabbed this  Larabar and enjoyed it for my snack in the afternoon.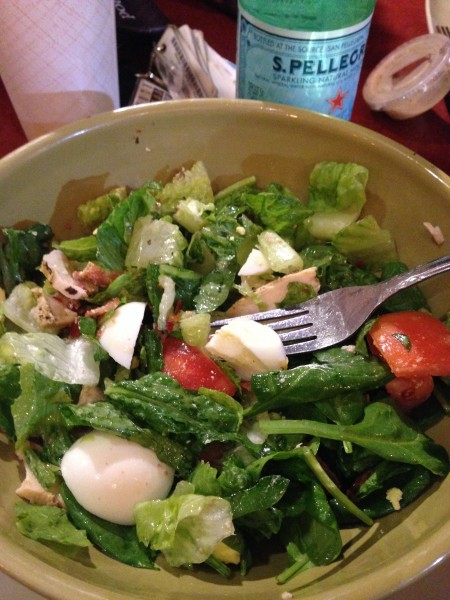 By the end of the day as we were heading home we almost stopped at a pizza joint but decided to wait until we got further along and closer to home. Of course the only selections at a pizza joint would be a salad. We opted to head to a Panera Bread and I got this Cobb salad and a sparkling water.
So the key for me when traveling is to do a little research and find out what's available to you. Also pack some oatmeal or other snacks so at least you will have something you can nibble on till your next healthy meal!
What are some of your tips to eating healthy when traveling?