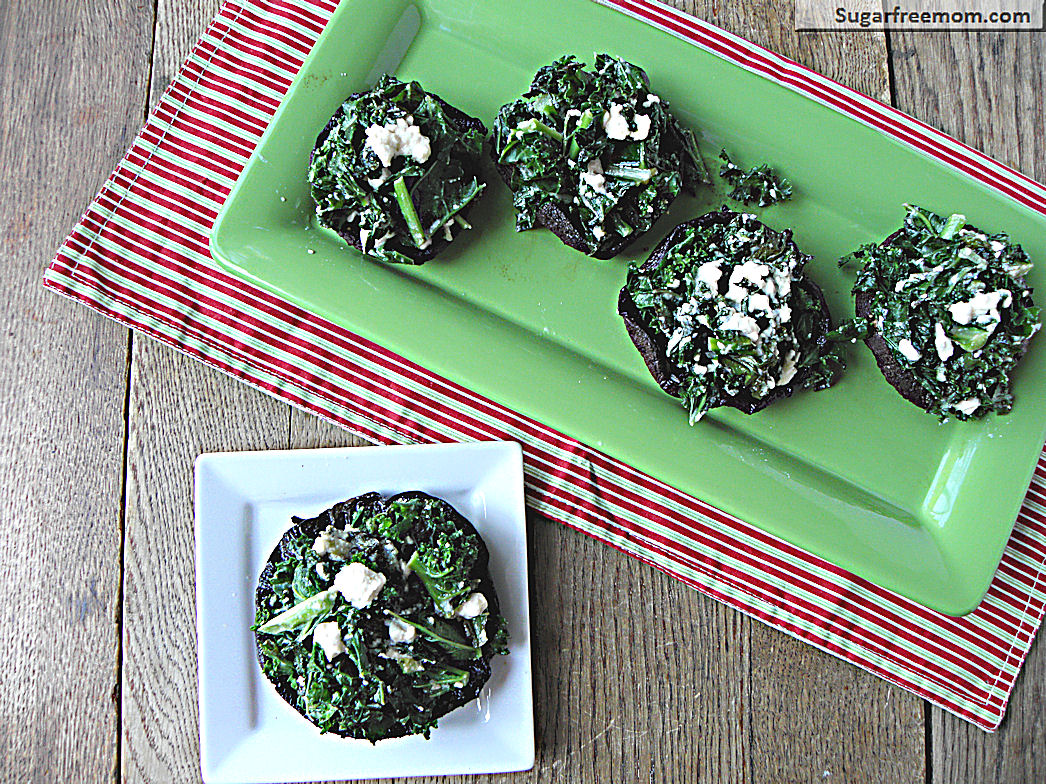 Even if you're not a fan of mushrooms, this yummy stuffing recipe should win you over! The portobello mushroom caps are first grilled and then topped with sauteed kale and feta cheese and of course garlic!!! It makes for a hearty side dish with any meal or can be a vegetarian main dish as well.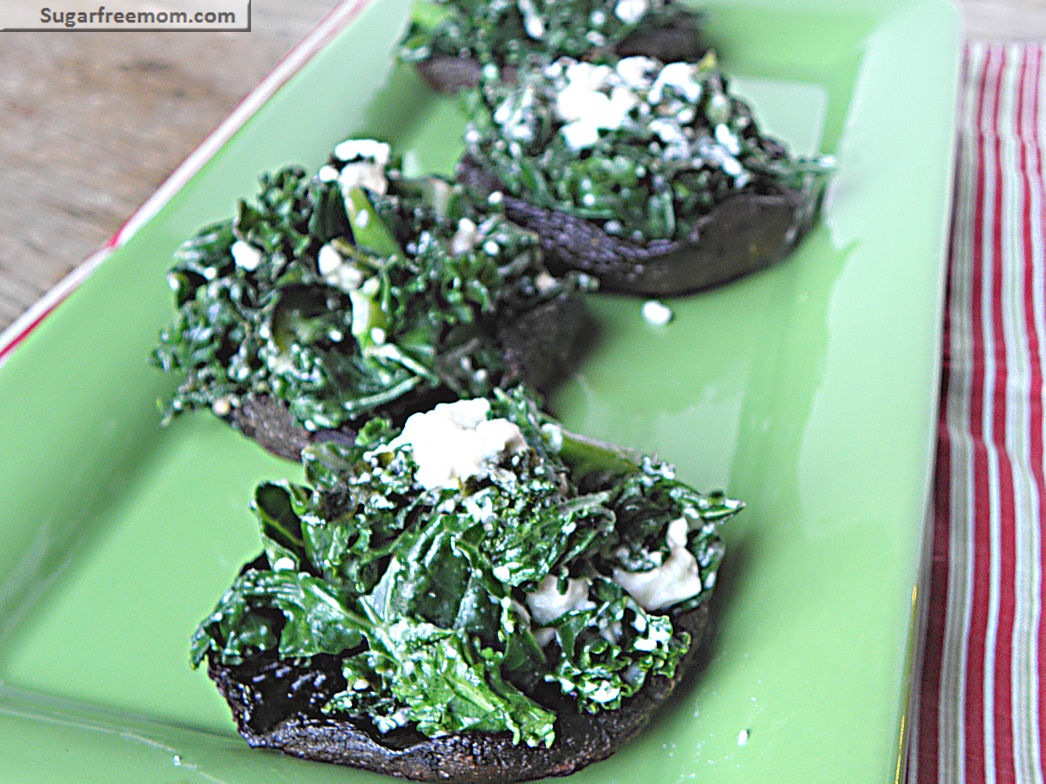 It is also super quick to make this dish. Grilling the mushroom caps takes about 10 minutes and the stuffing even less than that. Not having to use your oven at all in the heat of summer is also very appealing don't you think?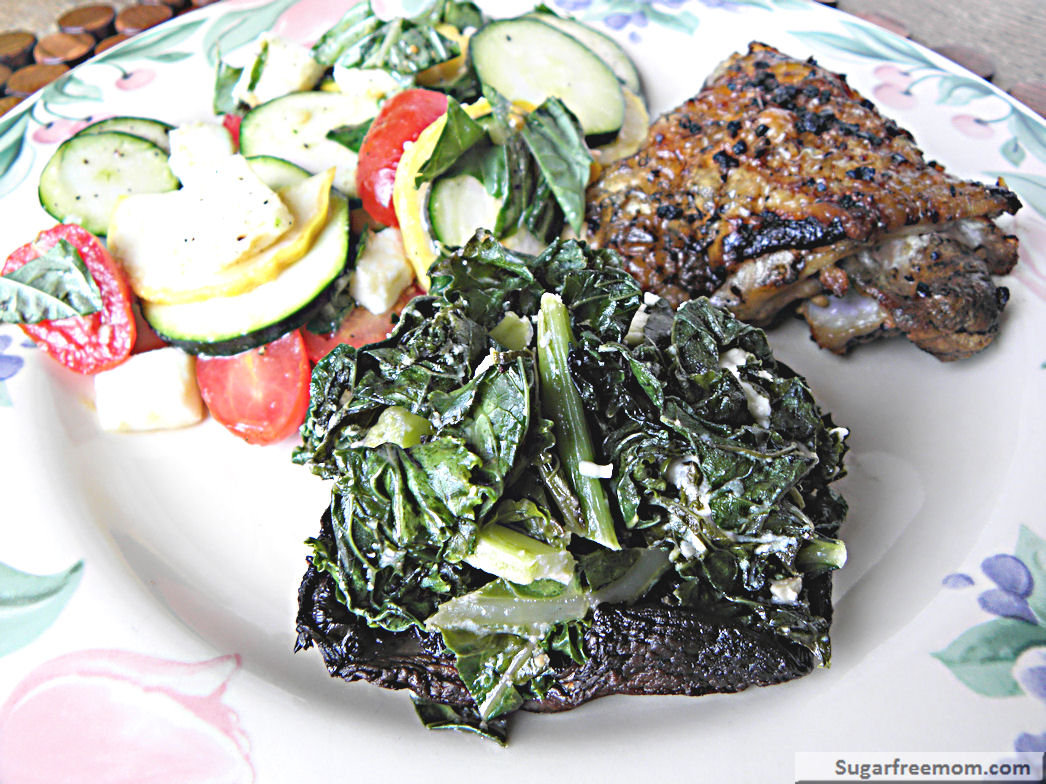 Have you noticed in the summer that you may be eating dinners later? Because it is lighter for longer it allows you to get more chores done when you get home from work in the evening. So our dinners usually end up around 6:30 or sometimes 7 especially on the weekends as opposed to the winter months when we eat around 5:30pm. When dinner is served later I try to watch the carbs. I try, doesn't always happen, but I try to limit carbs by 7pm.
Here's my plate served the other night with grilled chicken and a raw zucchini salad. Very low in carbohydrates. This meal is so filling you won't even notice there's no potato, rice or pasta on your dish. 🙂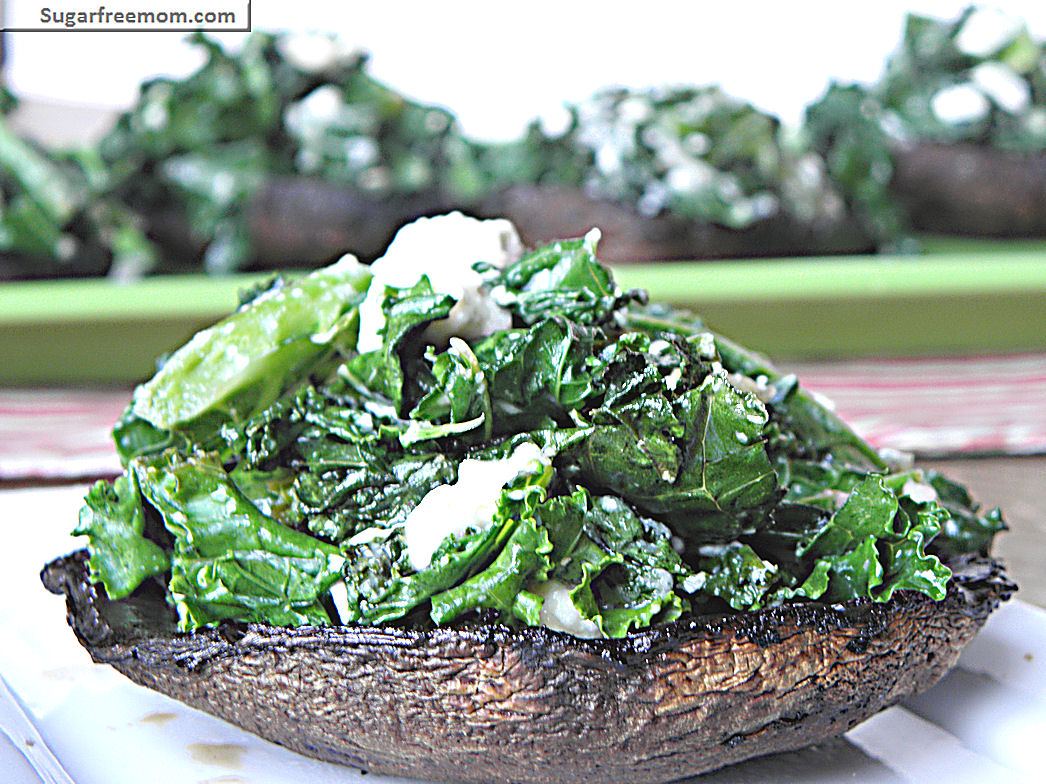 Kale Feta Stuffed Portobello Mushroom Caps
Author:
Prep time:
Cook time:
Total time:
Ingredients
4 cups chopped fresh kale
2 teaspoons oil
1 teaspoon minced garlic
1 teaspoon garlic powder
½ teaspoon salt
4 ounces lite feta cheese, crumbled
6 medium portobello mushroom caps or 4 large
2 tablespoons extra virgin olive oil
2 teaspoons minced garlic
Instructions
Prepare your kale and feta stuffing first by heating oil and minced garlic in a sauté pan.
Once you can smell the garlic and before it burns add your kale.
Sauté the kale for about 5-8 minutes until almost wilted then add garlic powder, salt and feta cheese. Stir to combine.
Continue to cook until feta is warmed through and kale is tender and wilted.
Turn off heat and set aside.
Preheat your grill to medium high heat.
In a small bowl mix olive oil and garlic.
Brush grates on grill with a little of the oil.
Place your mushrooms on the grill and brush them lightly on top with the oil.
Cook for about 5-8 minutes on this side then flip them over and brush them with the oil on the other side.
Cook for another 5-8 minutes or until tender.
Evenly divide your stuffing mixture on top of each mushroom.
Serving size:
1
Calories:
127
Fat:
8g
Carbohydrates:
10g
Sugar:
2g
Sodium:
251mg
Fiber:
2g
Protein:
8g
Cholesterol:
7mg
Notes
Weight Watchers Points Plus: 4*