Recently, I purchased some "healthy" apple chips at a health food store for my kids. They really love them, but I rarely buy them since they are so expensive.
I decided I would try to make my own and see how the kids liked them and how they compared to store bought. After looking over some recipes online, I gave them a try. I think they would have had to cook less time if I had used a mandolin to thinly slice them, then by hand with a knife. I highly recommend buying parchment paper if you don't have any because without it the apples were still quite moist after 4 hours baking. I also think a dehydrator would probably work much better without needing the oven on for so long. So if you don't have a dehydrator give this recipe a try. They really are quite yummy.
Overall I was pretty happy with the results. They tasted delicious and the kids loved them just as much as the store bought. I was happy because my recipe calls for a lot less sugar than in a small store bought package and sucanat is a lot healthier than refined sugar any day.This would be a great idea when you've gone apple picking and you've got more apples than you want to store in the fridge. These can be kept in an airtight container once baked and cooled. Mine didn't last that long since they were eaten by lunchtime!
(2 small apples made about 3 cups of chips)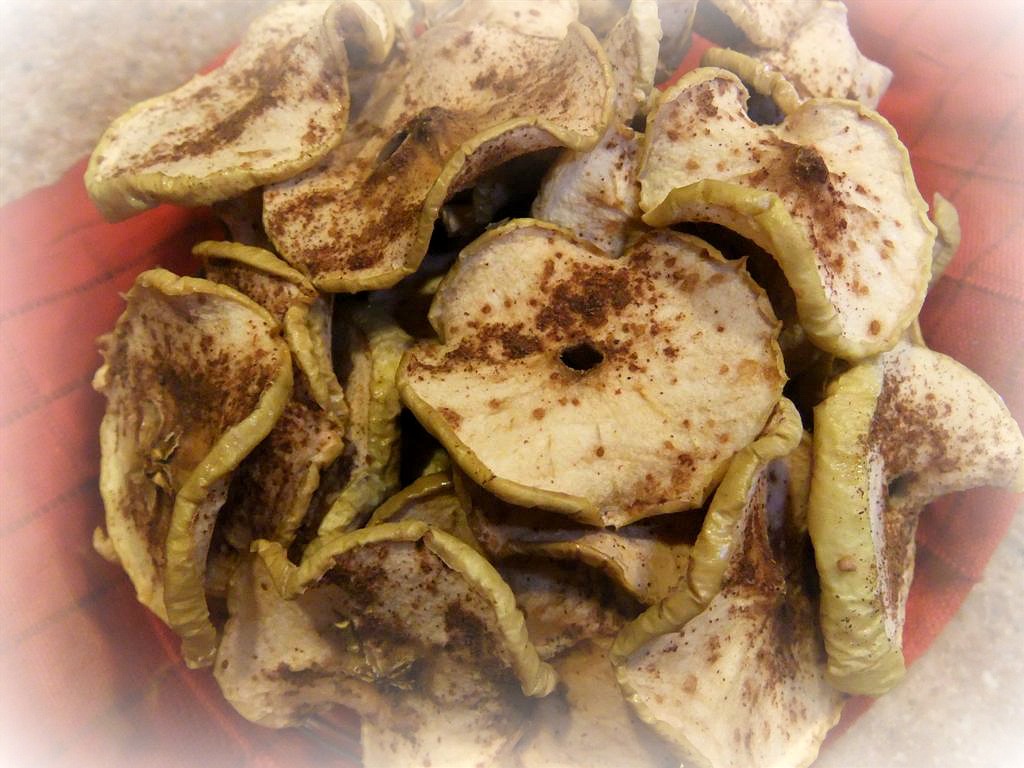 Nutrition Info:
Serving size: 1/2 cup
Calories:114
Fat: .1g
Fiber: 3.7g
Carbs: 31g
Protein: .4g
Weight Watchers PointsPlus: 3 (Previous Method 2)
Baked Apple Crisp Chips
INGREDIENTS
2 APPLES, ANY KIND
1/2 TSP CINNAMON
OPTIONAL: 1/2 TBSP SUCANAT
DIRECTIONS
PREHEAT OVEN 200 DEGREES.
THINLY SLICE APPLES, REMOVING SEEDS AS YOU SLICE.
LINE A BAKING SHEET WITH PARCHMENT PAPER.
MIX CINNAMON AND SUCANAT( if using) IN A BOWL.
PLACE THINLY SLICED APPLES ONTO PARCHMENT PAPER, NOT OVERLAPPING.
SPRINKLE 1/2 OF THE MIXTURE ON ONE SIDE OF THE APPLES.
BAKE 1 HOUR , FLIP OVER AND SPRINKLE THE REST OF THE MIXTURE ON THE APPLES.
BAKE 2-3 MORE HOURS OR UNTIL NO LONGER MOIST.