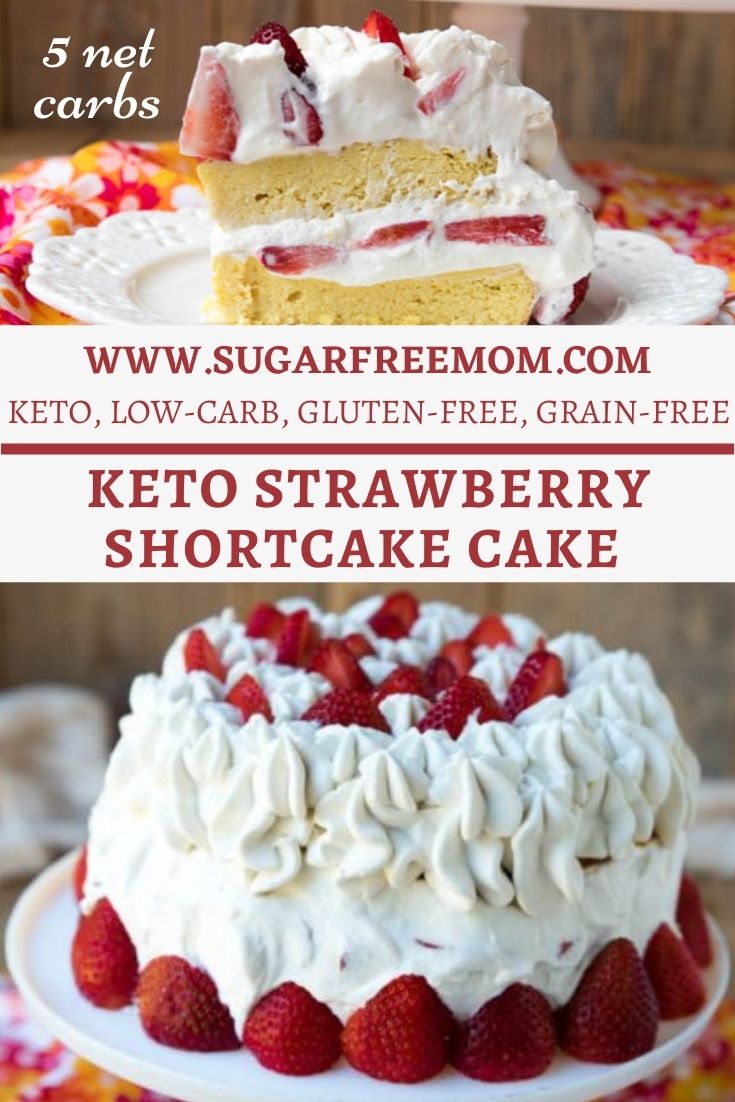 This gorgeous Keto Strawberry Shortcake Cake is low carb, gluten free, sugar free and even nut free!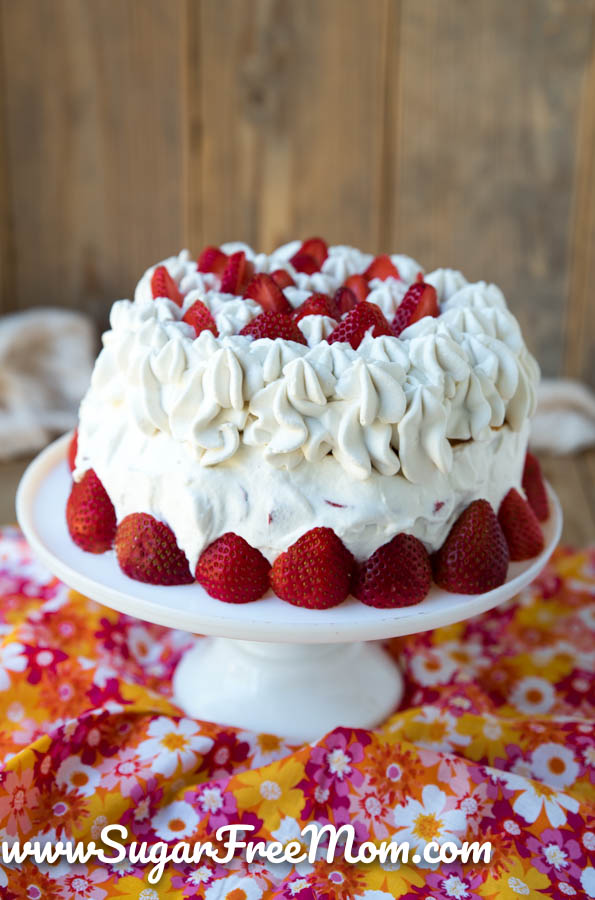 STRAWBERRY SHORTCAKE
Traditional strawberry shortcake is made with a sweet cake or biscuit which is split in half and the bottom is covered in strawberries and whipped cream and topped with the other half of the biscuit. It's a wonderful dessert in the summer months when fresh strawberries are in season. This recipe is a slight twist on the traditional version. A bit of extra effort goes into decorating the festive cake but nonetheless it is a spectacular dessert to share with family and friends.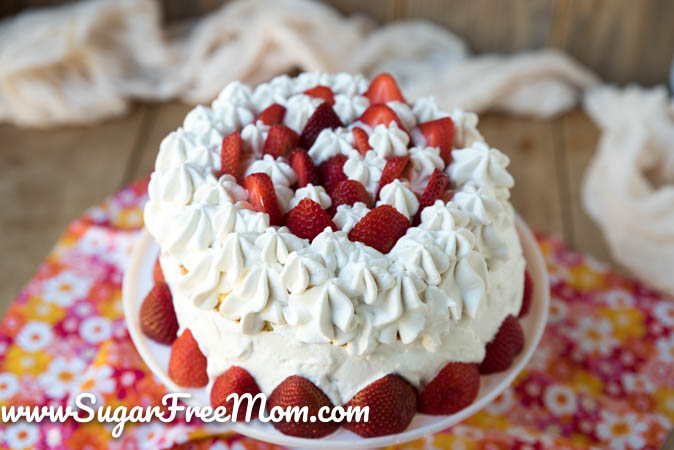 SHORTCAKE VERSUS CAKE
The difference between shortcake and cake is that a shortcake is more like a sweet scone in texture and cake is usually a softer texture and not as dense. For this recipe I adapted my Sugar Free Lemon Mug Cake into two cakes for layering as you would have when slicing a biscuit in half for the typical shortcake recipe.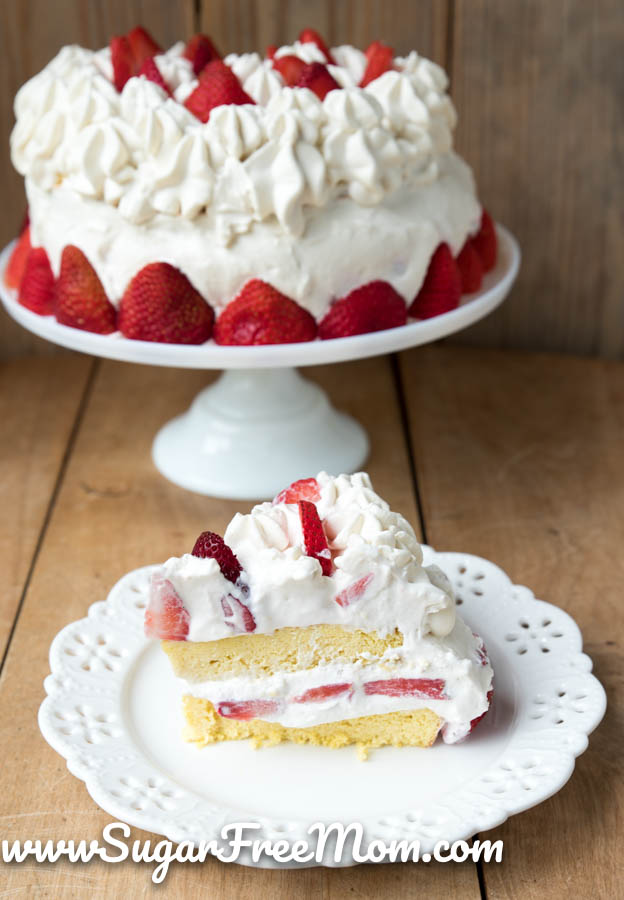 WHY SUGAR FREE STABILIZED WHIPPED CREAM
Why would you want to stabilize your whipped cream? Whenever you are wanting to make a dessert one day ahead and you want your whipped cream to keep its shape on your cake, you should stabilize your whipped cream. With a small amount of gelatin, your stabilized whipped cream will be easier to pipe and will keep well in the refrigerator until you are ready to serve your dessert.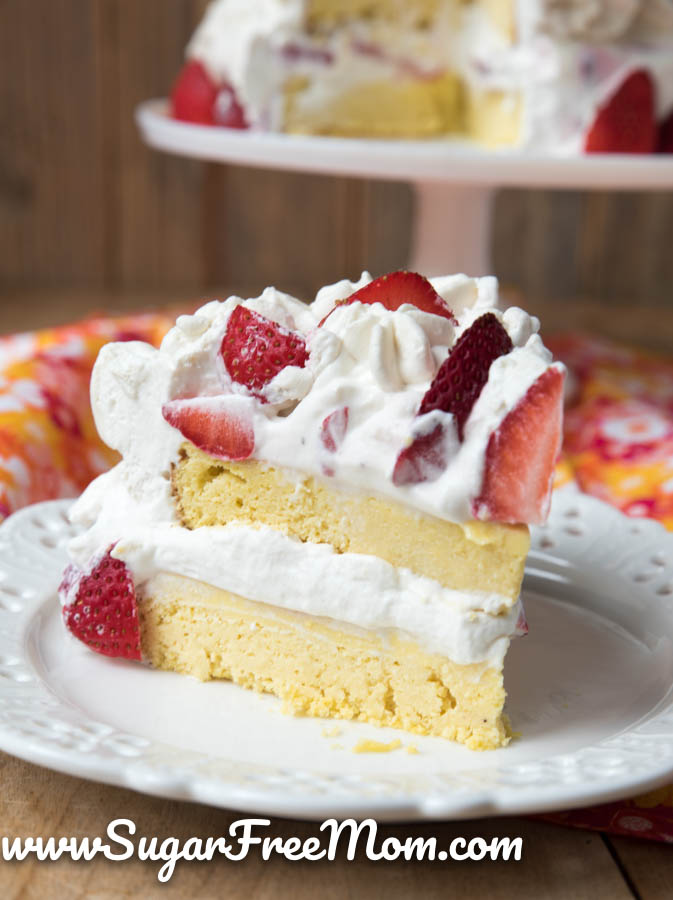 SWEETENER SWAPS
One of our newer favorite low carb sweeteners that doesn't leave an aftertaste, is Better than Sugar by Sweetleaf. They have a confectioners powdered sweetener which would be best for this recipe and they also have a granulated option. It's a combination of erythritol and stevia and has plenty of sweetness as sugar would provide.
Swerve confectioners sweetener is also low carb, but doesn't have as much sweetness and you may need to use a bit more to get this as sweet as you like. Allulose would be another option, but again it isn't as sweet as using the Better than Sugar sweetener. Allulose comes in a liquid, and granulated form.
Use my updated Sweetener Conversion chart to look up the different sweetener options and find the right amount to use.
Once you've got all the makings for this cake the assembling is the fun part! I chose not to add any sweetener to my strawberries, but feel free to add a bit of Confectioners Swerve or Powdered Monk Fruit if you're strawberries aren't as ripe and sweet as you would prefer.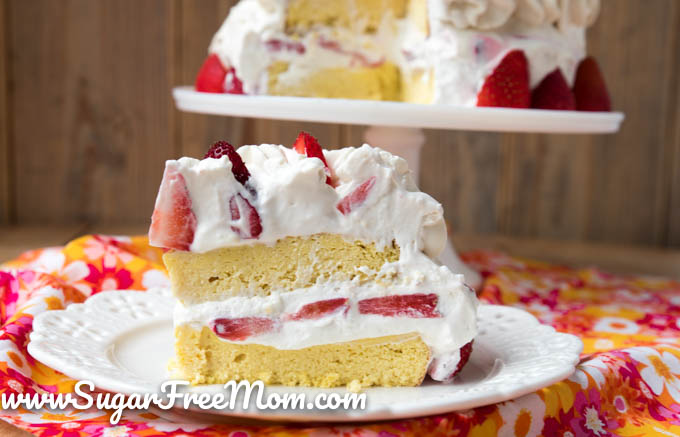 COCONUT IS NOT A TREE NUT
I'd like to clear up this constant question get asked almost daily about whether coconut is a nut. While the US Food & drug Administration (FDA) claims that coconut is a tree nut becomes it comes from a tree, it is in fact a FRUIT. People who have tree nut allergies may be allergic to coconut as well, but being allergic to coconut is not the same as having a tree nut allergy.
My own son was diagnosed with a Peanut and Tree Nut allergy at the age of 2. He has safely eaten coconut all these years without issue and he is now 14. Coconut is a fruit, called a drupe. It's like a peach with a pit.
The American College of Allergy, Asthma and Immunology says it well: "Coconut is not a botanical nut: it is classified as a fruit, even though the FDA recognizes coconut as a tree nut. While allergic reactions to coconut have been documented, most people who are allergic to tree nuts can safely eat coconut. If you are allergic to tree nuts, talk to your allergist before adding coconut to your diet."
More Low Carb Strawberry Recipes you might like:
Here are some other fresh strawberry recipes you might enjoy this summer: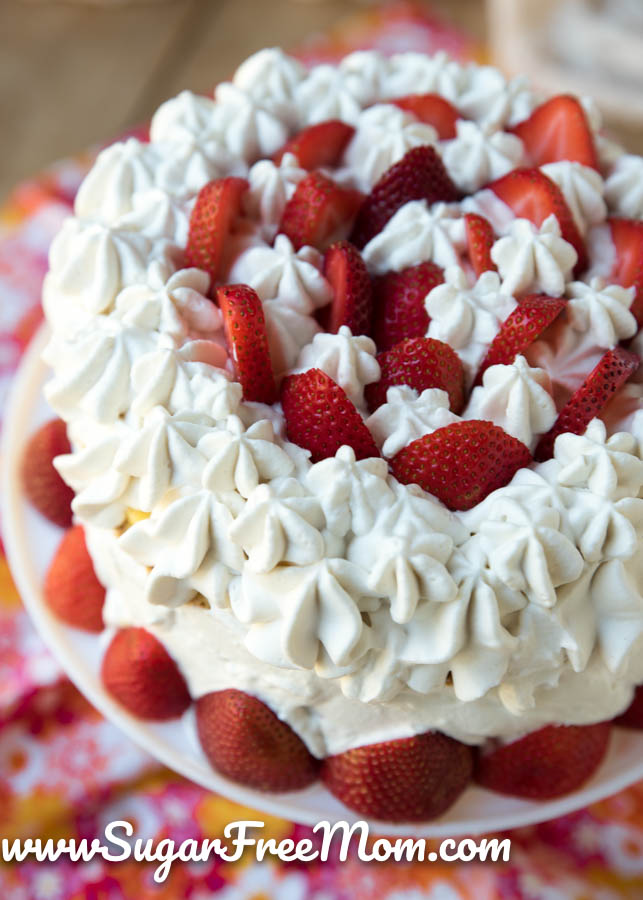 LOW CARB KETO MEAL PLANNING
If you love recipes like this for yourself and family, you might be interested in my meal planning membership. Weekly low carb keto dinner meal plan sent to your inbox every Friday with shopping list. The best part about my meal planning feature is that if you aren't interested in one of the dinner meals you can swap it out for something else! You can even change serving sizes and the shopping list will adjust! It pretty amazing software and I hope you'll take advantage of it. You can have a sustainable low carb/keto lifestyle when you're well prepared and planning meals is the key! LEARN MORE TODAY!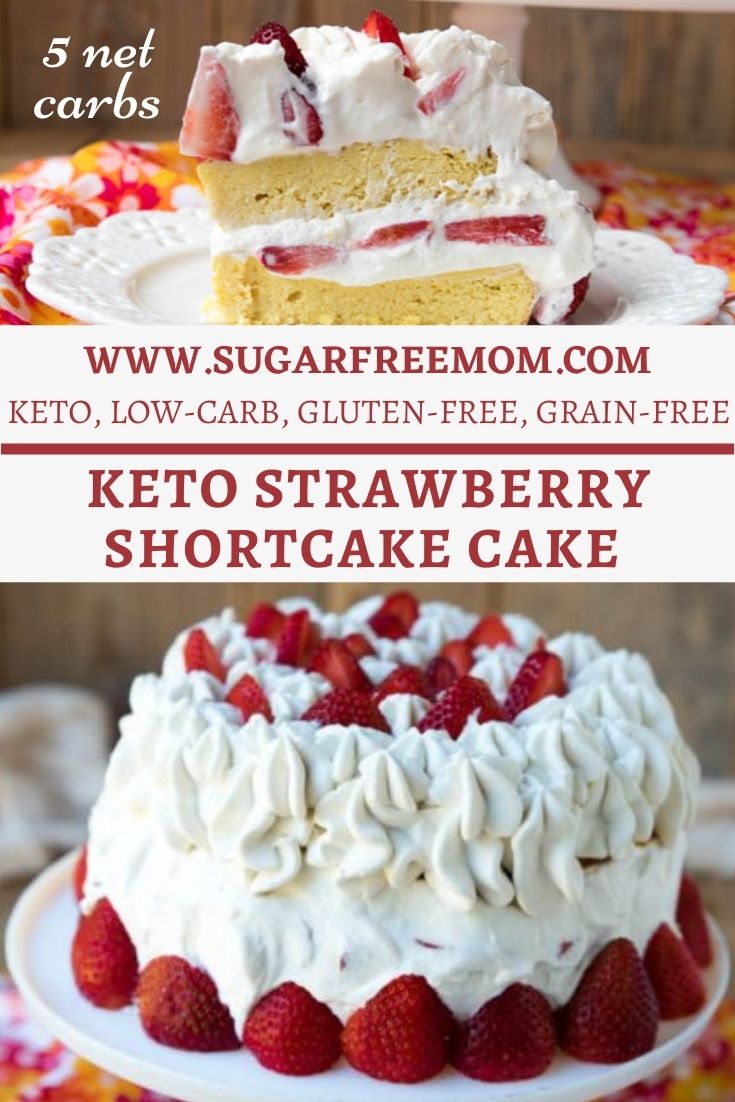 KETO STRAWBERRY SHORTCAKE CAKE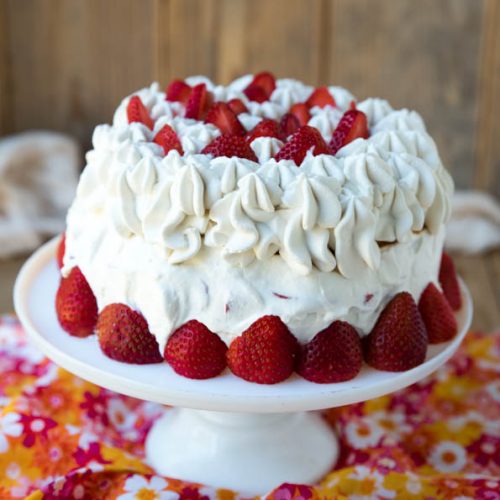 Print
Keto Strawberry Shortcake Cake
Ingredients
Stabilized Keto Whipped Cream
2

tablespoons

water

½

teaspoon

gelatin

unflavored

1.5

cups

heavy cream

pinch salt
Instructions
Cake
Grease two-7 inch spring form pans bottom and sides. Preheat oven to 350 degrees F.

Place eggs, lemon juice, cream, extract, stevia and Swerve into a stand mixer and blend until combined or whisk by hand.

Whisk the coconut flour, salt and baking powder together then slowly pour into into the wet ingredients in the mixer while it's on low speed. Once well combined, evenly pour batter into each of the pans.

Bake for 30 minutes or until a toothpick in the center comes out clean. Allow to cool for 10 minutes then use a sharp knife to loosen the edges around the edges of the pan. Remove the sides and let cool completely before assembling.
Stabilized Whipped Cream
Place the water in a microwavable bowl and sprinkle the gelatin over it. Let sit for 2 minutes then microwave for 10 second intervals, stirring after each interval, until dissolved. May take up to 30 seconds. Allow to cool while you make whipped cream.

Using a clean bowl for the stand mixer, pour in the heavy cream, Swerve and salt. Using the whisk attachment, beat the cream until soft peaks form. Change the speed to low and drizzle the gelatin into the whipped cream until combined. Set aside or refrigerate until ready to assemble.
Assemble
Slice 6 ounces of strawberries into ¼ inch slices. Save 4 ounces, whole strawberries, for later.

Place one cake onto a serving plate. I flipped mine over to have a flatter surface to work with. If you do not want to cover the sides of the cake with whip cream then use half the cream for this middle layer and the remaining for the top layer. Or if you want the cake like mine in the photos, spread ⅓ of the whipped cream onto the cake.

Lay about 4 ounces of sliced strawberries over the cream, save the other sliced strawberries to add to the top layer.

Place or flip the other cake over onto the strawberry layer. Spread the remaining cream or another ⅓ portion of the whipped cream onto the top of the cake or pipe it like I did. Insert slices of strawberries around the top layer of whipped cream. If covering the sides of the cake, use the remaining whipped cream to spread over the sides. Keep refrigerated for up to 3 days.
Notes
Needed: Two- 7 inch spring form pans with removable bottoms, leak proof
Net Carbs: 5g
This recipe was published first in June 2019 and updated in April 2021.
Nutrition
Serving:
1
slice
|
Calories:
360
kcal
|
Carbohydrates:
9
g
|
Protein:
7
g
|
Fat:
30
g
|
Saturated Fat:
19
g
|
Cholesterol:
164
mg
|
Sodium:
225
mg
|
Potassium:
249
mg
|
Fiber:
4
g
|
Sugar:
3
g
|
Vitamin A:
240
IU
|
Vitamin C:
23.8
mg
|
Calcium:
84
mg
|
Iron:
1
mg