This Low Carb Keto Chicken Taco recipe is effortlessly and quickly made in the Instant Pot in less than 15 minutes and is easily customizable for serving to a family with different dietary needs and wants! Thank you to Atkins for sponsoring this recipe.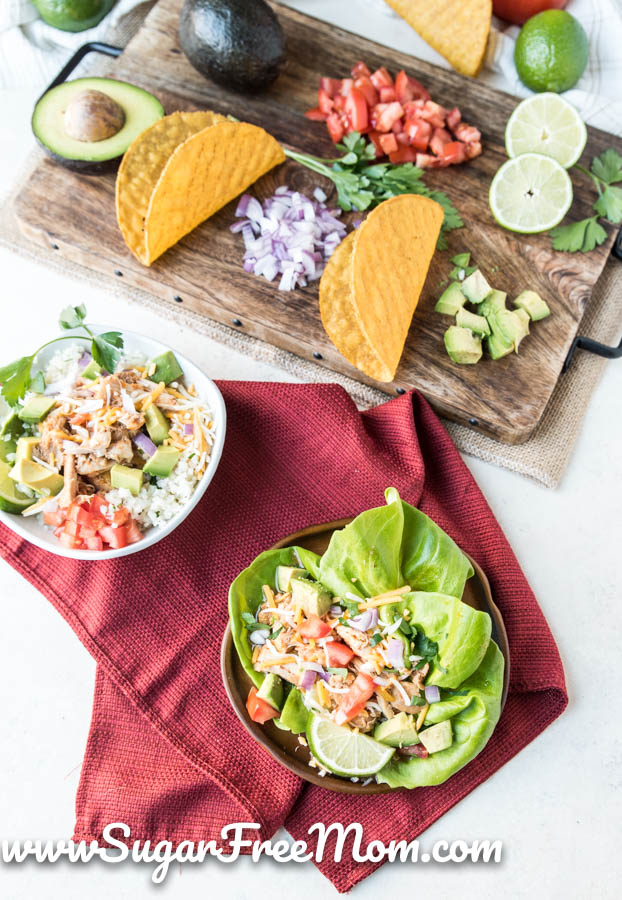 COOKING LOW CARB WITH A FAMILY
As a mom of three, with picky kids and a picky hubby, I have had to learn how to please them all when it comes to our family meals. I started my low carb journey back in 2006 and my husband did not follow in my dietary choices until 2018. I can tell you that even if you are doing a keto or low-carb diet alone without your spouse, it can be done. Planning delicious low carb meals that can be easily adjusted and customized for a family who might want more carbs than you, is possible, because I've been doing it for years. I've been sharing my family friendly low-carb and keto meals, since 2011 here at SugarFreeMom.com and I hope you've tried some and been pleasantly surprised that your whole family loves the recipes, even if they aren't following a low-carb or keto diet.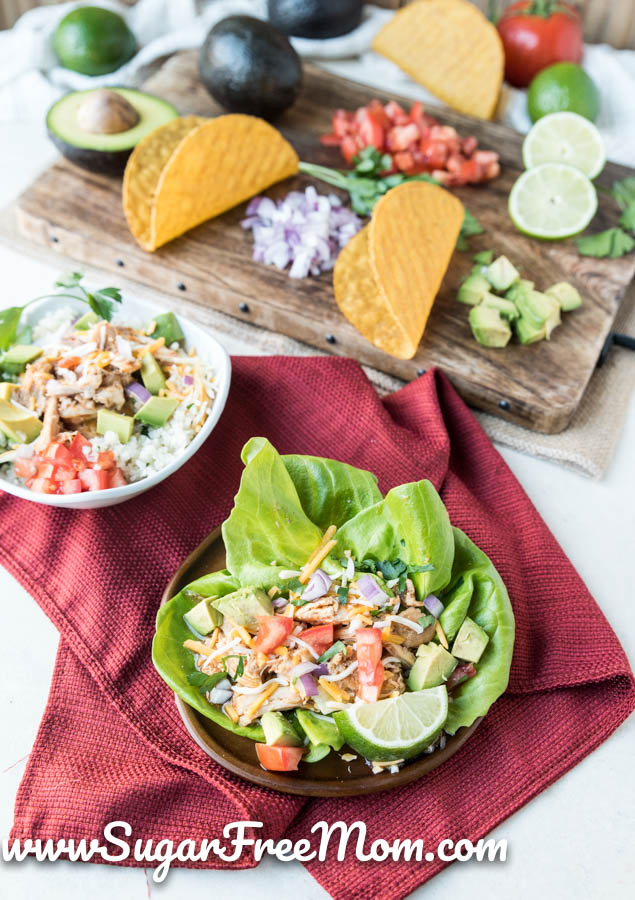 MEALS CUSTOMIZING DIETARY NEEDS
In order to not have to make 3 different dinners for all the needs of your family and not drive yourself insane in the process, you have to start with a great protein that everyone loves, then customize the sides and serving options to fill those needs and wants. In this recipe for Instant Pot Chicken Tacos, everyone in my family loves chicken thighs. You could use chicken breasts if you prefer, but chicken thighs will ensure you will have tasty chicken that isn't dry.
Once your chosen protein is picked, you can include sides that have a variety of carbs. For example, a fantastic keto side dish with just 2 net carbs for 3 pieces would be my Cheesy Prosciutto Wrapped Asparagus. A bit higher in carbs for another side option would be my Mexican Cauliflower Rice for 6 net carbs per serving and would be a perfect side for these Instant Pot Chicken Tacos. For those who hate cauliflower rice, in that same Mexican Cauliflower Rice recipe, the cauliflower could be swapped with white or brown rice. I think the most important part of planning a meal is to try to include 2-3 sides that each one in your family enjoys at least one of those items. My kids love cucumbers so this Cucumber salad would be perfect with any protein choice.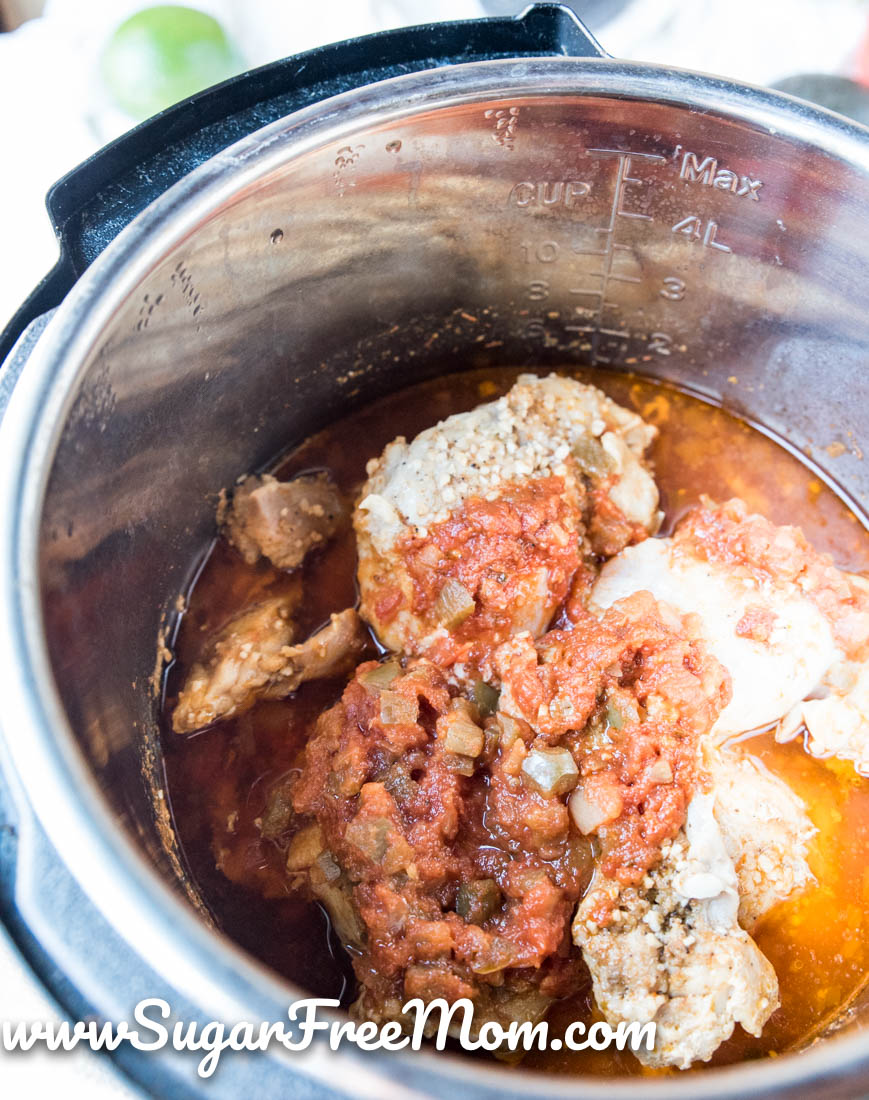 INSTANT POT CHICKEN TACOS
Making chicken tacos cooked in the Instant Pot, provides you the time to prepare the sides while it's effortlessly cooking and you don't need to tend to it. Once you season the chicken with the spices in my recipe, the rest is quick and easy. Add some broth to the pot, place chicken in, top with salsa, cover, seal and set timer for just 12 minutes! It is truly that simple! This is a very low-carb meal as is, and can be "carbed up" if needed for those in the family who like more carbs than you.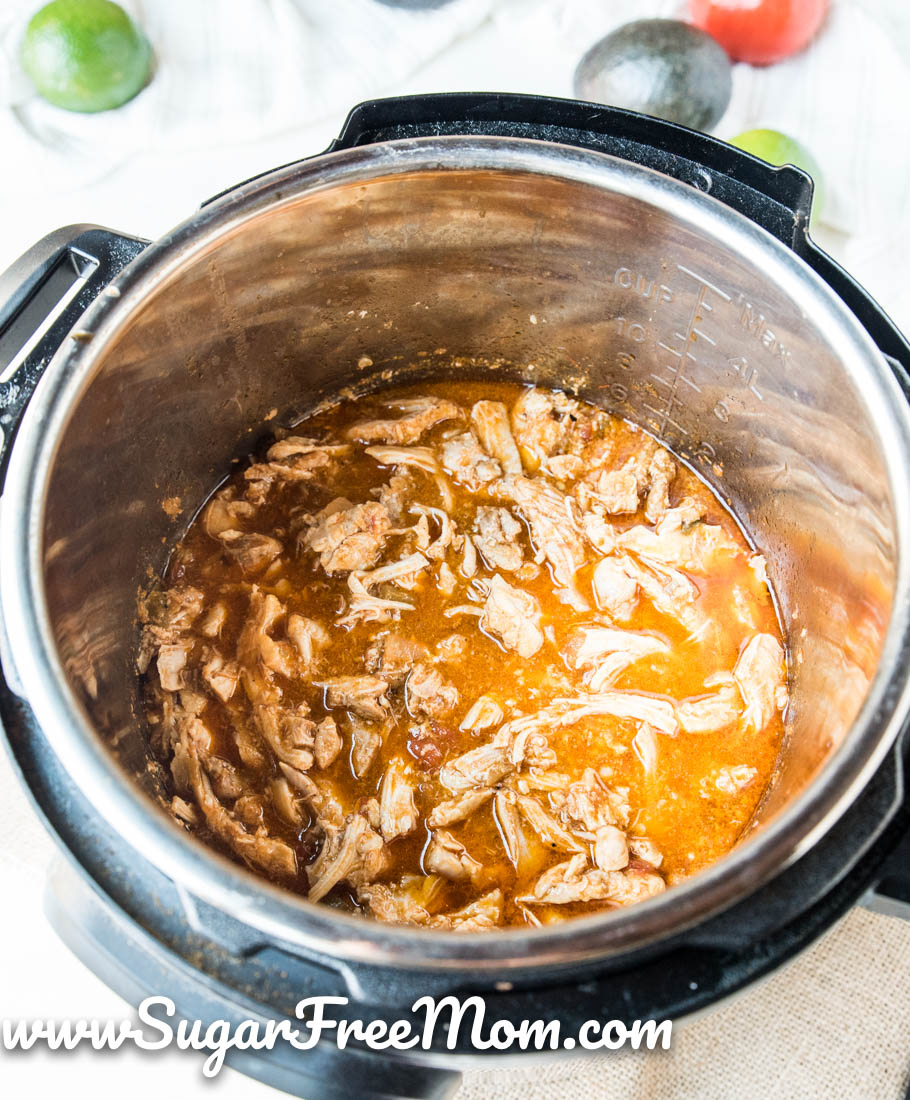 DR. ATKINS DIET REVOLUTION
In 1972, after his own success with a low-carb diet, Dr.Robert Atkins, published his first book, Dr. Atkins Diet Revolution and became well known as a trailblazing cardiologist advocating a low-carb diet. His approach has lead to decades of research and debate within the medical community. While the ketogenic diet has become one of the most popular diets at the present moment, Atkins is the orginial and really what propelled so many low-carb and keto variations.
As a young girl growing up in the 80's, I was aware of the Atkins diet from a young age since my mom picked up Dr. Atkins book and fell in love with his approach. She has continued to use this approach as a lifestyle. She is a fit and fabulous 75 year old who has maintained a balanced weight on her short 5 foot frame and she credits it to learning about the Atkins approach and sticking with it all these years.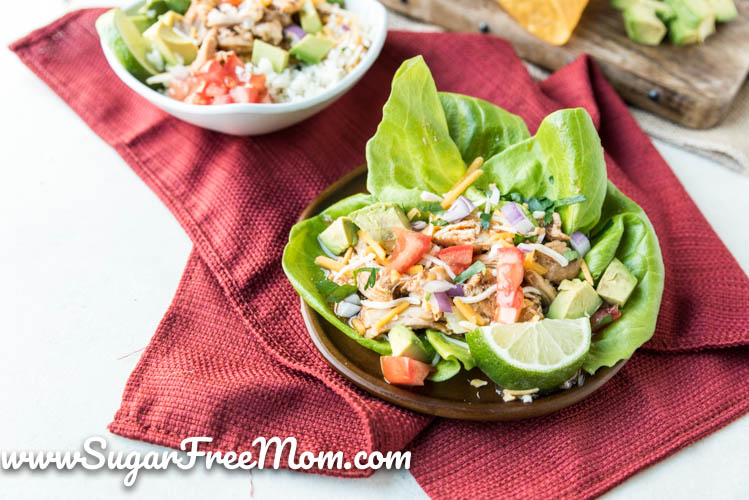 THE ATKINS 100 EATING SOLUTION
The newest Atkins book, The Atkins 100 Eating Solution, is written by Colette Heimowitz, Atkins VP of Nutrition and Education and New York Times Best-selling Author. The book's foreword is written by Rob Lowe, low-carb advocate and Atkins spokesperson. The book shares cutting edge low carb science, 50 exclusive recipes, and in-depth explanation of Atkins 100.
All recipes in the book are designed for Atkins 20. At the end of each recipe are suggested foods to add to make the recipe compliant for Atkins 40 and Atkins 100. Atkins 100 is a new low carb track. Atkins 100 is an eating approach for people looking to maintain a healthy weight. The plan suggests sticking to 100 net carbs per day so long as weight is maintained.
What I really liked about this new book as I read it over to review it, was that it clearly explains the science behind the Atkins approach and the basics of carbs, protein and fat. It also clearly shares the Atkins 20 plan as well as the Atkins 40 plan before proceeding into the new Atkins 100 plan. What was most important to me was seeing the great low-carb recipes included in the book. All are designed for Atkins 20, but with easy ingredient swap options that can level up the carbs to the Atkins 40 or 100 plan, which is incredibly helpful when you have to feed a family with different needs and wants. This new book is a great read for anyone starting out and wanting to figure out which low-carb plan is best for them. My Instant Pot Chicken Taco recipe also fits perfectly into this approach for a family.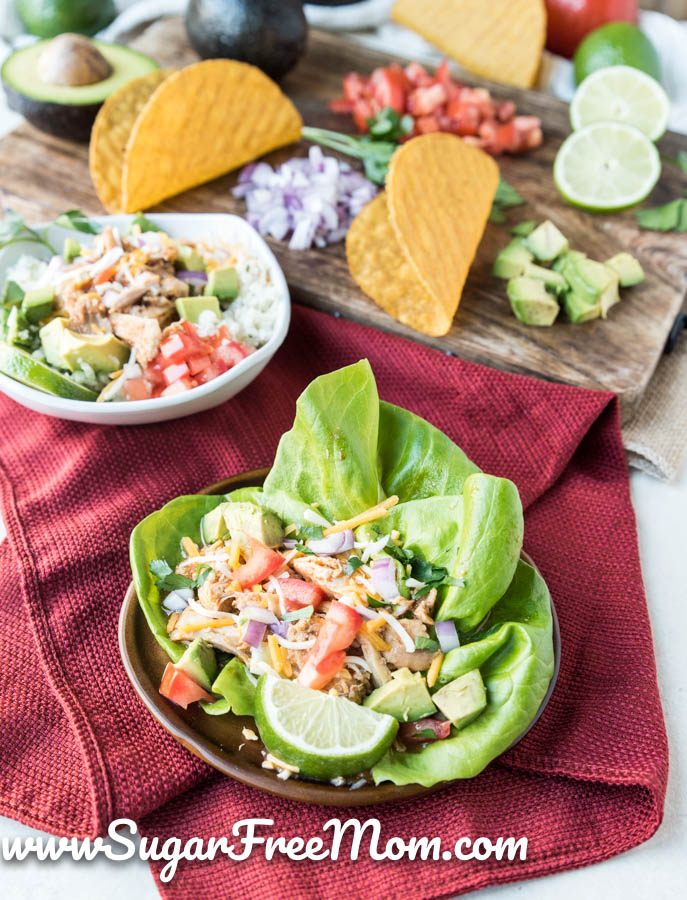 CHICKEN TACO SERVING OPTIONS
This recipe for Instant Pot Chicken Tacos lends itself to accommodating everyone in the family with different carb options for serving. If you are on a 20 carbs a day plan, using lettuce leaves or my Cheesy Taco Shells, as your taco will be the lowest carb option. If you are on a plan of up to 40 carbs a day, turning this into a taco bowl using my Mexican cauliflower rice recipe and all your favorite toppings would fit perfectly into your carb count. Lastly, for those who are maintaining weight or enjoying up to 100 carbs a day, using these Grain Free Taco Shells made from cassava flour and avocado oil would be a great choice. My kids love these shells and I have no problem providing these for my family as an option for tacos since the ingredients are clean and have no GMO's.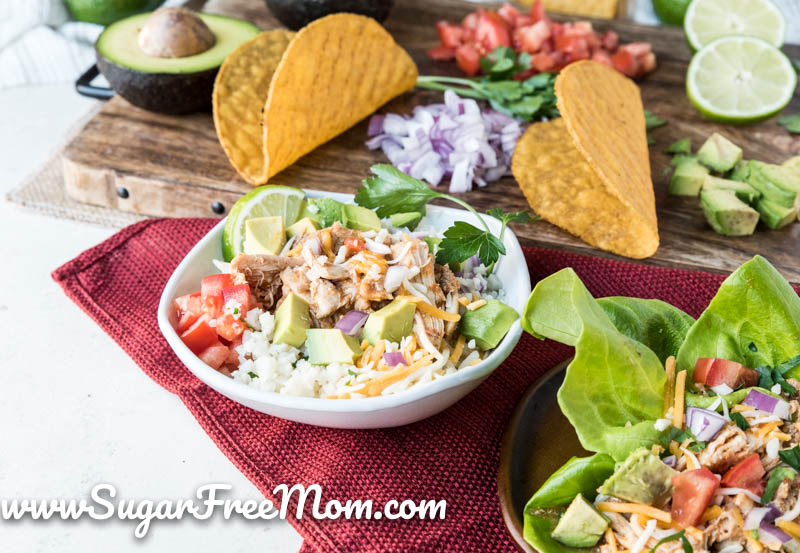 SLOW COOKER OPTION
If you don't yet have a fabulous Instant Pot, you can also make this recipe in your slow cooker. Of course it takes a few hours to get that juicy, tender chicken cooked but it's still just as delicious. I adapted my Slow Cooker Mexican Chicken for this Instant Pot Chicken taco recipe. The Slow Cooker Mexican chicken does use chicken breasts, but you can easily swap them with chicken thighs if you prefer.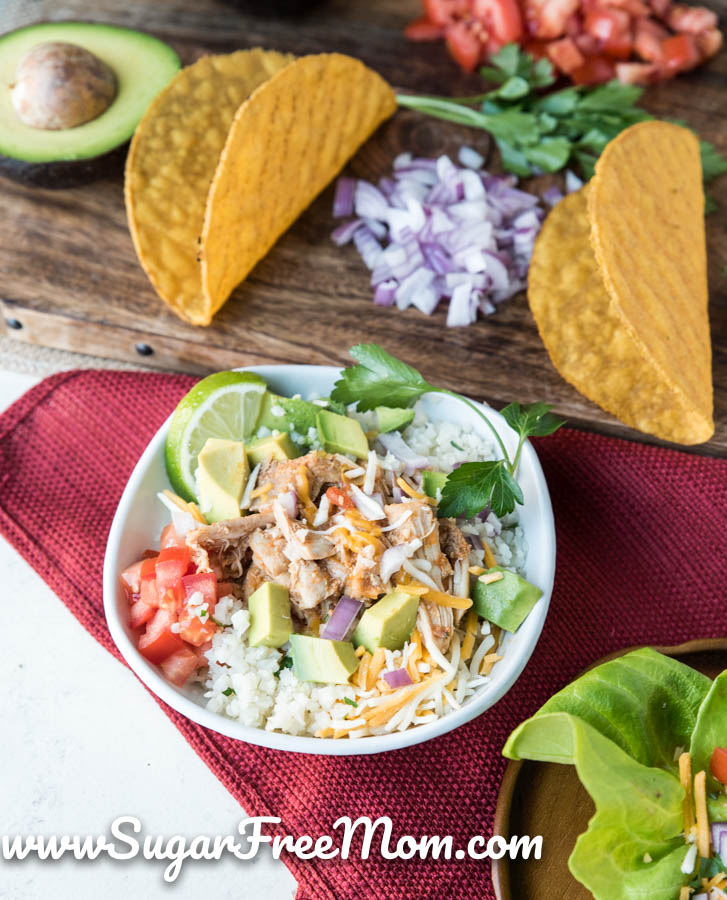 CHICKEN TACO TOPPINGS
The chicken thighs absorb the fantastic spices, spicy salsa, broth and then create their own juices when cooked in the Instant Pot, creating a deliciously tasty party in your mouth and could certainly just be eaten on its own without anything else. But of course, calling these tacos means, you need some awesome toppings!
Setting up your kitchen counter with a few different topping choices like cheddar cheese, sour cream, red onion, avocado, fresh chopped tomato, fresh chopped cilantro, and fresh lime juice will provide everyone the ability to pick and choose their own favorites. It's a win win recipe that will please all the family and their personal needs. We hope you enjoy this quick, easy, customizable Instant Pot Chicken Taco recipe in your house as much as we do in ours!

INSTANT POT CHICKEN TACOS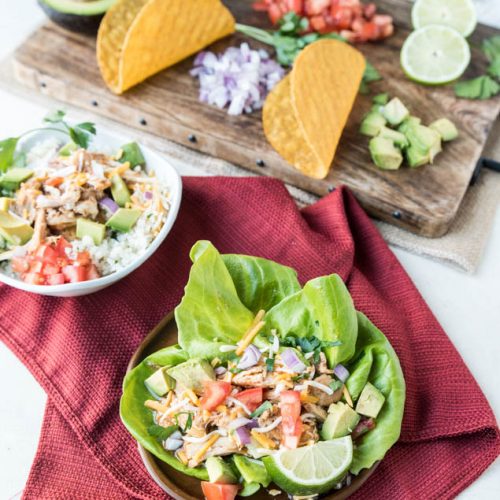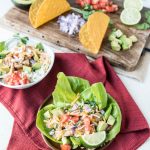 Print
Instant Pot Chicken Tacos (Low Carb, Keto, Gluten Free)
Servings
8
@ 6 ounces each
Ingredients
3

pounds

boneless, skinless chicken thighs

2

teaspoons

minced garlic

1

teaspoon

dried onion flakes

1

teaspoon

cumin

1

teaspoon

salt

½

teaspoon

pepper

1-2

tablespoons

chili powder- optional

½

cup

chicken broth

1

cup

salsa
Instructions
In a small bowl, whisk together the garlic, onion, cumin, salt, pepper and optional chili powder. Rub this all over both sides of each chicken thigh.

Pour the chicken broth into the instant pot. Add all the chicken thighs to the pot. Pour the salsa over the chicken.

Cover the lid of the Instant pot and make sure it is set to "sealing". Press the "poultry" button and set timer for 12 minutes. Once it beeps, use a long wooden spoon to prevent steam burning your finger, switch to "venting" and the Instant Pot will quick release.

Uncover and shred the chicken thighs using two forks and stir together with the broth and salsa and serve.
Taco Toppings
fresh chopped avocado, tomato, red onion, cheese, cilantro, fresh lime juice
Serving Options:
Place chicken into 2-3 butter lettuce leaves and add your choice of toppings.

Make it a Taco Bowl using cilantro cauliflower rice.

Enjoy as traditional tacos using grain free taco shells.
Notes
Nutrition Info is for the chicken only, not additional toppings or serving options. 
Nutrition
Serving:
1
serving
|
Calories:
217
kcal
|
Carbohydrates:
3
g
|
Protein:
33
g
|
Fat:
7
g
|
Saturated Fat:
2
g
|
Trans Fat:
1
g
|
Cholesterol:
162
mg
|
Sodium:
726
mg
|
Potassium:
540
mg
|
Fiber:
1
g
|
Sugar:
2
g
|
Vitamin A:
201
IU
|
Vitamin C:
2
mg
|
Calcium:
32
mg
|
Iron:
2
mg