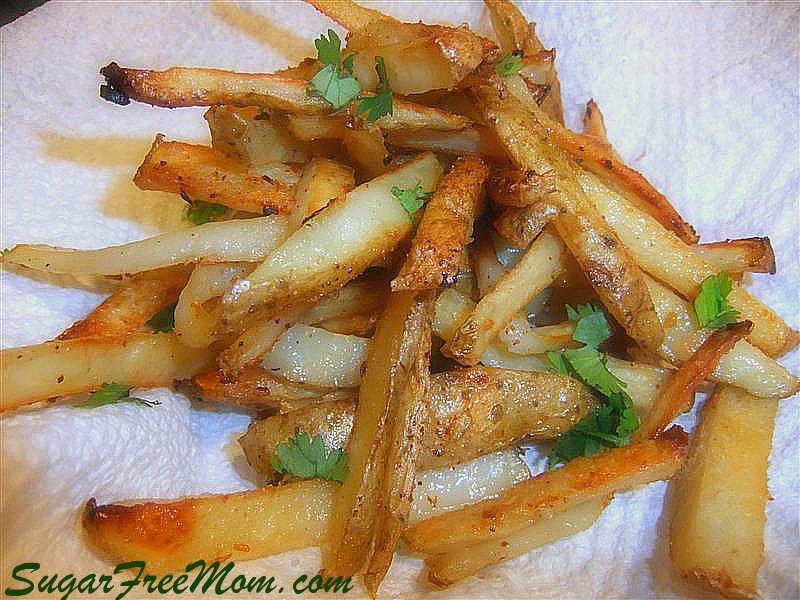 I could pass on sweet things any day, but salty snacks or food are another story. I really have to watch what I eat daily because once I slack that is when the weight slowly, but surely starts sneakily creeping back up, one little pound at a time.
I really try not to eat fries from fast food places at all, but I do still like potatoes and I do not avoid them. I just try to limit how often I eat them simply because they are very comforting to me. I could eat one a day for the rest of my life which wouldn't be a problem I guess if my metabolism wouldn't suffer, but its does so I don't eat potatoes more than 3 times a week.
Making french fries baked at home are a whole lot healthier then "fried" fries in a restaurant. In fact since I get to chose the seasonings, I almost prefer them. But again I don't even make these weekly in my house because the portion I WANT to eat is much more than I SHOULD eat. If I have them around I will finish them off. So I limit how often I make them to avoid the overeating because they are REALLY good!
You have been warned! Proceed with caution!
This is a review of the recipe I found in my new cookbook hubby bought me for my birthday. Ellie Krieger: The Food You Crave. The only thing I added were some extra garlic seasonings. Other than that it is straight from her cookbook. They are perfect and delicious!
Nutrition Info:
Servings: 4 (3/4 cup)* Calories: 270* Fat: 7g* Fiber: 3.5g* Carbs: 47g* Protein: 6g* Points+: 7* Old Points: 5*
Sugar-Free Mom's Review Rating
Taste: A+
Prep time/Cook time: B+ ( A little extra time needed to cut potatoes thinly)
Family Friendly:A+
Weight Loss Friendly: C+ ( I wouldn't eat these regularly, but if you are really needing your french fries fix, these are a healthier choice then take-out!)
Garlic Baked Fries
Ingredients
3 large baking potatoes
1 tbsp.minced garlic
2 tbsp canola oil
1 tbsp fresh chopped parsley
1 tsp. garlic salt
1 tsp. garlic powder
salt to taste
Directions
Preheat oven to 450 degrees.
Cut potatoes into 1/4 in. thick matchsticks.
In a large bowl, toss together potatoes, oil, garlic, all seasonings except parsley.
Coat a baking sheet with cooking spray and spread potatoes on it in a single layer.
Cook for about 30-35 minutes until golden and crispy.
In a serving bowl lined with a paper towel, toss them with chopped parsley and salt if needed. Serve immediately.