Cheddar Cauliflower Bacon Bites are the perfect healthier appetizer for all your holiday entertaining or an easy weeknight side for the family!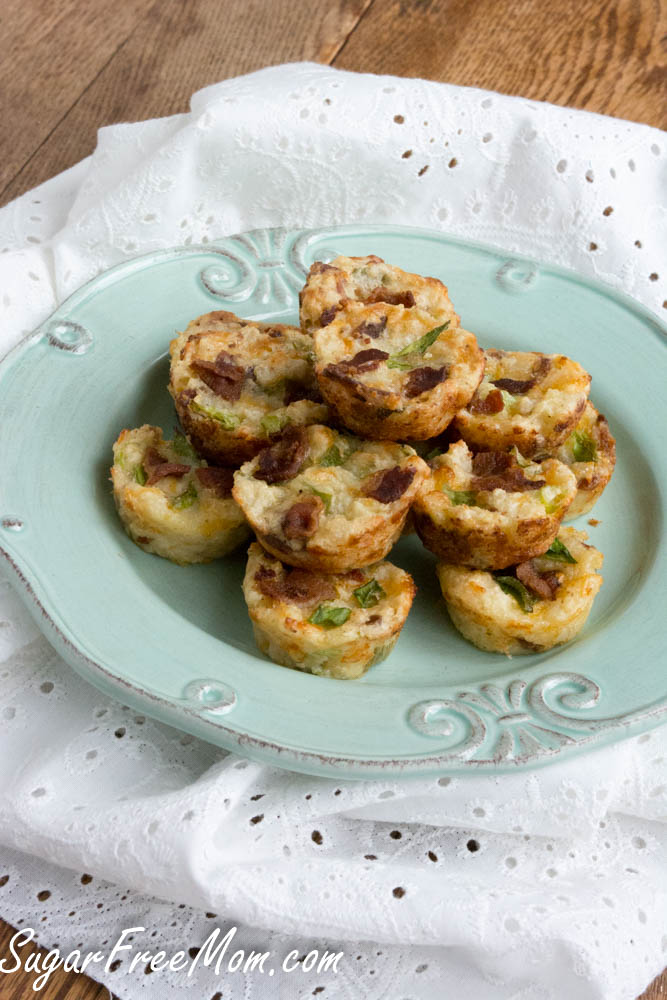 Entertaining during the holiday season can be a downfall when you're trying desperately to watch your weight and eat healthier. Forget trying to lose weight, I'm talking let's just maintain status quo, right? The biggest trouble I find is all the picky finger foods! I could eat my weight in those alone just by gabbing and grabbing. The next thing I know I'm full before the party begins or the sit down meal starts.
I've made this recipe quite a few times, changing it and tweaking it along the way for my family. I remember the first time I made them, they were more like fritters which I adapted from my Zucchini Fritter recipe. I thought it would be the only way to fool my kiddos into eating cauliflower.
And I was right! They never saw it coming.
Packed with scallions and bacon, the oldest, who's a teen said, "WHAT!! YOU GOT ME TO EAT CAULIFLOWER, NO WAY???? THESE ARE SOOOO GOOD MOM!"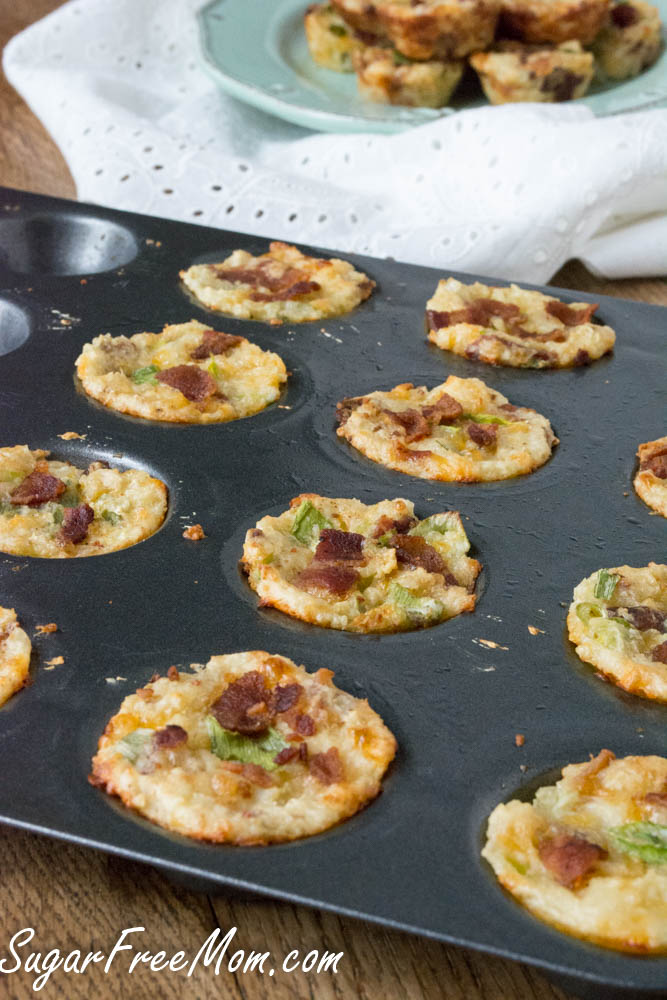 SO I made them quite a few times as a fritter but wasn't quite happy with how hard it was too cook them in a saute pan and flip them over. Quite flimsy and difficult. I thought, if I'm having trouble flipping these babies no one else will like that either despite the fact the taste is outstanding. I tweaked the ratio of flours a bit, trying different kinds each time and reducing egg and cheese, it was a science experiment every time, but each time, my family ate them all up no matter how I made them.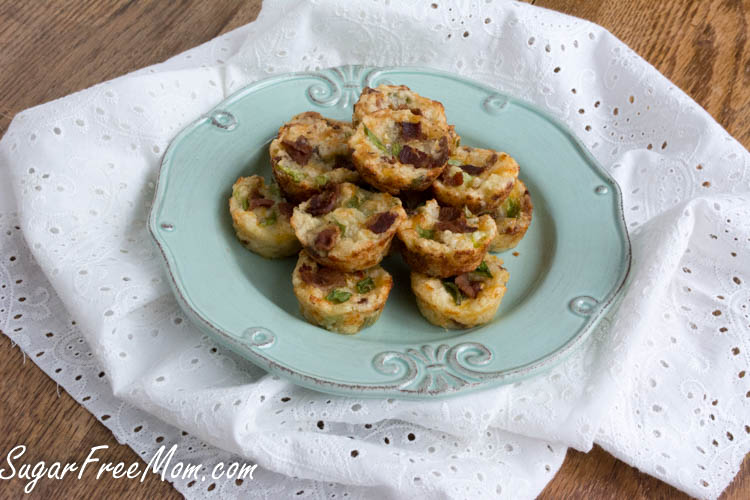 I decided......well, actually, credit must go to the hubby on this one who said, "just bake them like you do with those zucchini bites you've made before." And he was right. Worked like a charm, no flipping, no frying, easy peasy easy! You might be able to sub the gluten free flour for quinoa as I did in my Broccoli Cauliflower Quinoa bites, although not sure if they would hold as well like the flour but it's worth a try.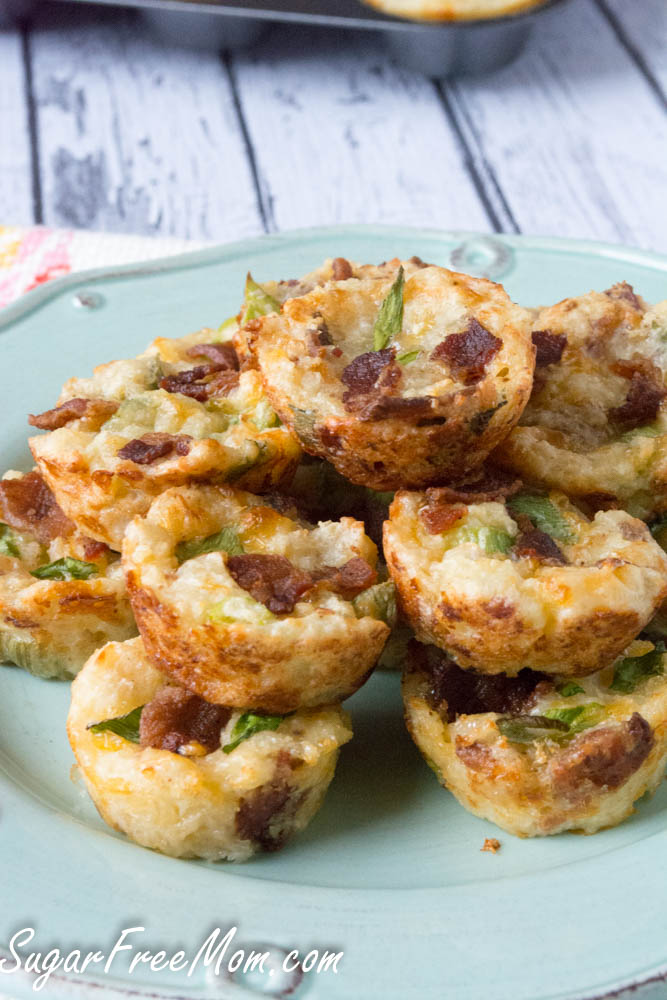 These are a win for the family and a great alternative at the holiday appetizer table! You can eat 6 per serving for only around 200 calories, and gluten free as well. You could use regular flour if gluten is not an issue for you. Enjoy!!
Please note: I re-calculated my nutritional information as saw a difference in using Bob's Red Mill All purpose gluten free flour compared to their new 1 to 1 gluten free flour. The difference in one cup is 88 grams of carbs to 120 grams of carbs. Also the calories for the 1 to 1 are 520 in one cup and using the all purpose it is only 400. On 12/4/14, I readjusted the calculations using the regular all purpose gluten free flour instead of the 1 to 1.
UPDATE: I removed the gluten free flour and now use coconut flour, tastes just as good!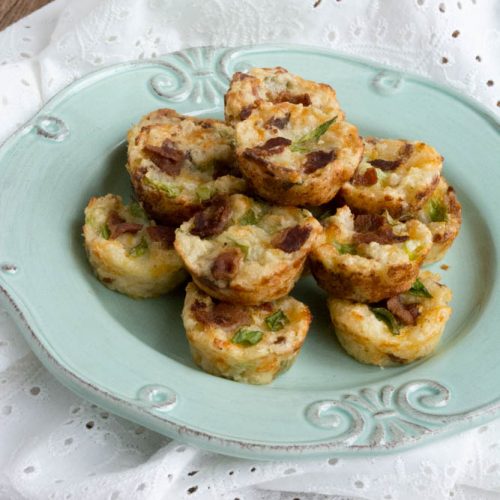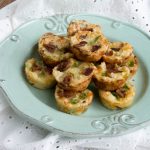 Print
Cheddar Cauliflower Bacon Bites
Ingredients
4

cups

cauliflower florets

6

ounces

uncured nitrate free bacon

cooked till crisp

1

egg

1

teaspoon

baking powder

¼

teaspoon

salt

⅓

cup

scallions

chopped

½

cup

coconut flour

1

cup

shredded cheddar cheese
Instructions
Preheat oven to 400 degrees.

Steam cauliflower until fork tender. Cool then add to food processor.

Pulse until fine crumbs.

Transfer to a large bowl and add the rest of the ingredients.

Stir until combined.

Grease a mini muffin tin.

Fill mini muffin cups by adding a heaping tablespoon of batter and pressing into each cup. Fills 30.

Bake 15 minutes and let cool about 10 minutes then remove from pan.

Enjoy immediately!
Notes
Net Carbs: 4.5 grams per serving
Nutrition
Serving:
5
g
|
Calories:
172
kcal
|
Carbohydrates:
10.2
g
|
Protein:
10.4
g
|
Fat:
10.2
g
|
Saturated Fat:
5.2
g
|
Cholesterol:
55
mg
|
Sodium:
391
mg
|
Fiber:
5.7
g
|
Sugar:
1.6
g
The Sugar-Free Mom Cookbook has been Released!! Hitting shelves in days and Amazon is selling it at a discount right now!