This Low Carb Chocolate Pecan Pie is the pie you've been waiting for all your healthy life! Made low carb, gluten free and sugar free!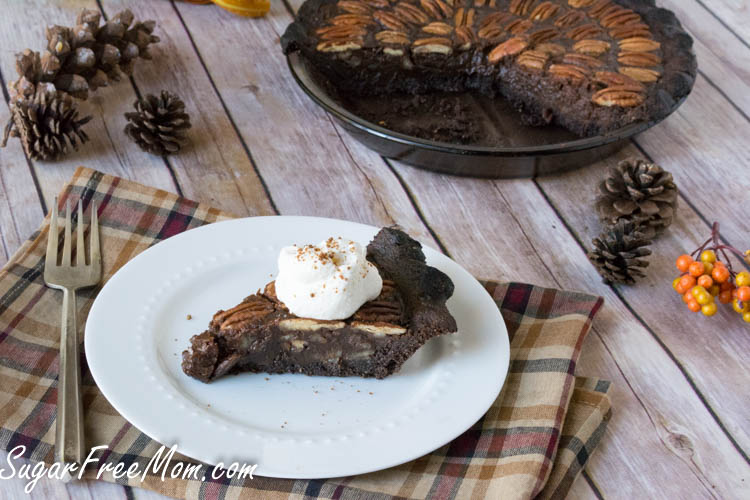 "This is the BEST dessert you have EVER made!!!", says the picky hubby who still loves white sugar and white flour products. A chocolate pecan pie made completely from scratch, low carb and gluten free. How can it be possible? People do crazy things when their birthday comes around. Mine is today!
It's my Birthday and I didn't want cake, I felt like Pie.
We celebrate my birthday with extended family on Thanksgiving every year since I was a baby. So although this pie might be late to the party in the grand scheme of getting Thanksgiving recipes to you on the blog, it was worth waiting for.
And you still have 4 days until Thanksgiving to make it.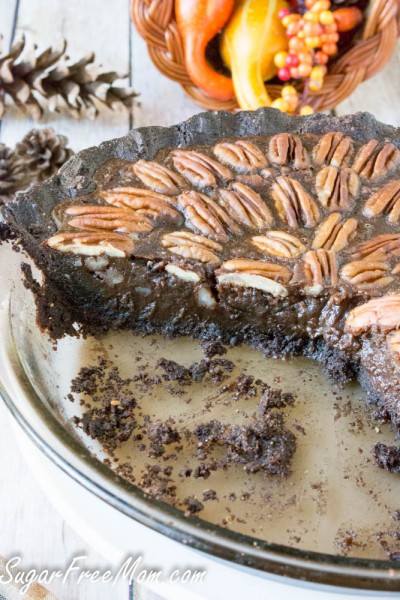 It all began with an idea once I made the Salted Caramel Sauce. I knew it would be the most amazing filling used in a pie so I got experimenting. Had to make it multiple times but no one complained. Had to make the awesome low carb, grain free pie crust a few times too, but isn't anything in life that's extraordinary worth a little bit of hard work? I believe it is.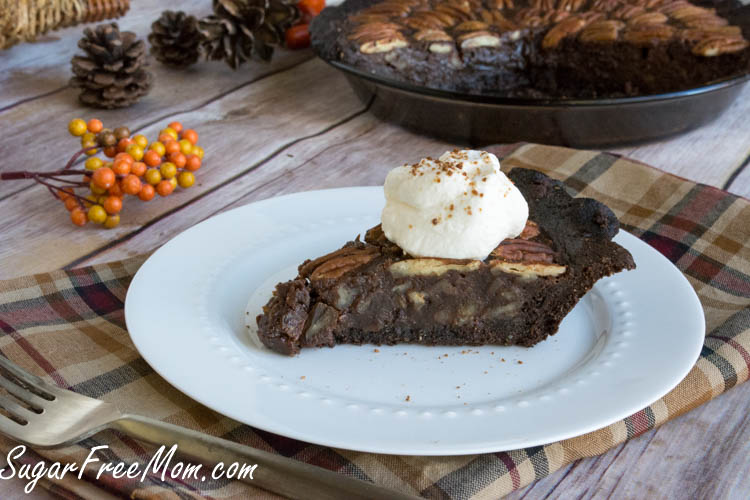 This pie makes me happy, not only because it's my birthday, but because it was on my foodie bucket list for a very long time and I finally tackled and successfully accomplished it. I feel that victory in my soul and it thrills me to share it with you.
I'm 43 today and this doesn't really thrill me as much. Can't say I'm not a little depressed about turning 43. I was hoping to share how I finally lost those stubborn 15 pounds I gained when I wrote the cookbook, but it hasn't happened and I've been stagnant for months.
I can't say I feel like I'm 23 or even 33 even though I'm a faithful exerciser who loves a good cardio and strength training workout.
I CAN say I'm a blessed and happy woman who's grateful for everything in her life. I may not be 15 pounds lighter as I was when I was 23, but I'm healthy and have a beautiful family and husband who loves me and I get to do what I love for a living, and that is priceless. I am grateful and don't take anything for granted.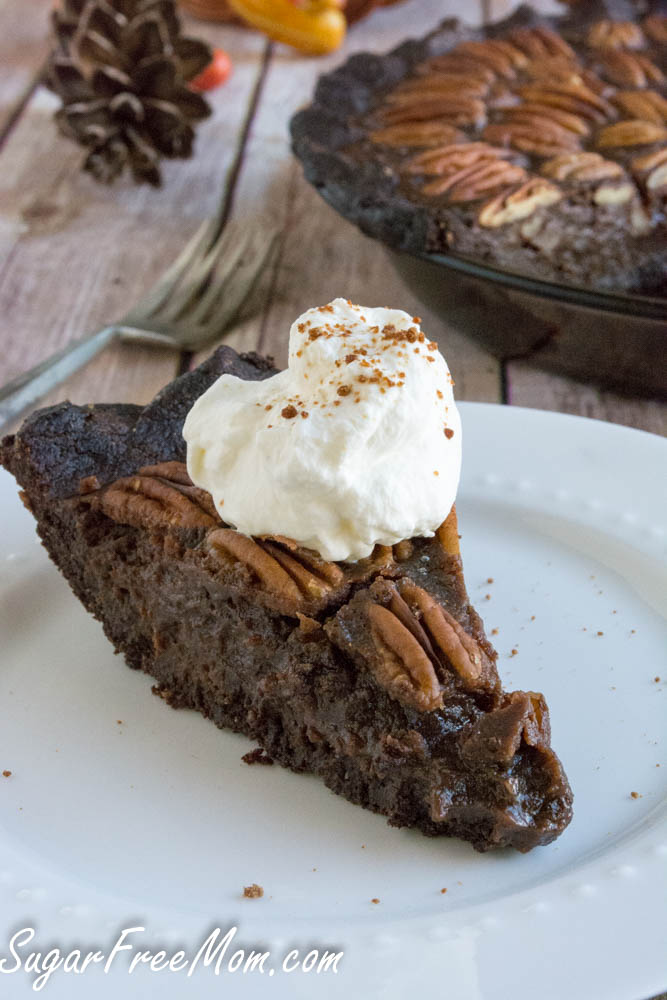 And maybe....just maybe.... there is a slight bit of truth to the fact that when you're over 40 you don't feel as worried about what others think and you just do your own thing, moving on to the next project, and enjoying life just a little bit more than when you were 20 something, maybe.
Before you freak out at the calorie count and fat, remember this one thing, IT"S CHOCOLATE PECAN PIE!! It is INDULGENT. It is for a special occasion. It's not an everyday kind of dessert. It was for my birthday. While low carb and healthier, it is still high in calories and fat, just saying.
Brenda's Notes:
If you don't have Swerve you can use Truvia or another sugar free baking blend.
If you don't have liquid vanilla stevia you can eliminate it and I think the pie would still be sweet but not as sweet as typical pecan pie. You could also use another flavor of liquid stevia like Cinnamon or toffee flavor. You could also use ¼ teaspoon of pure stevia extract if you don't have the liquid version of stevia.
If you don't have arrowroot powder you could use cornstarch.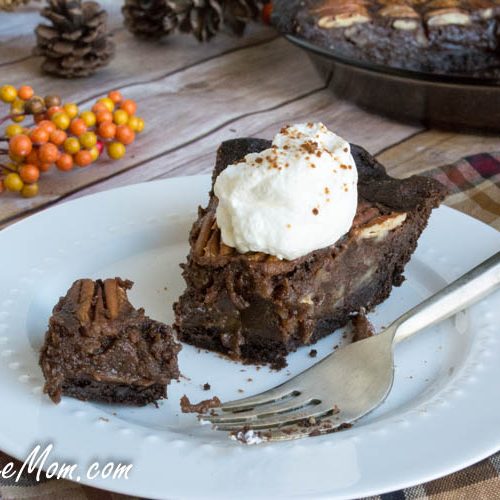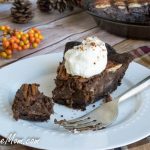 Print
Sugar-Free Chocolate Pecan Pie
Instructions
Preheat oven to 350 degrees.

In a stand mixer add the eggs and ¼ cup Swerve and blend on high until smooth. Set aside.

Melt the butter in a sauce pan over medium heat and add the rest of the swerve, maple syrup and molasses. Stir constantly until melted and combined.

Whisk in the cream and arrowroot and bring to a boil.

Continue to stir and simmer for 3-4 minutes until it starts to thicken.

Turn off the heat and add the vanilla extract, stevia, salt and chocolate chips.

Stir until chocolate chips are all incorporated and melted, no lumps.

Slowly add in some of the chocolate into the egg mixture to temper it and stir well.

Add the rest of the egg mixture into the chocolate mixture.

Stir in the 1 cup of chopped pecans and pour into prepared crust.

Top with remaining pecan halves to decorate top.

Cover the edges of the crust with aluminium foil and bake 50-55 minutes or until the center comes out clean with a skewer.

Cool 2 hours then refrigerate.

Warm individual pieces for 30 seconds in microwave or reheat pie in oven at 325 degrees for about 15-20 minutes.
Nutrition
Serving:
1
slice
|
Calories:
374
kcal
|
Carbohydrates:
11
g
|
Protein:
10
g
|
Fat:
33
g
|
Saturated Fat:
7
g
|
Polyunsaturated Fat:
3
g
|
Monounsaturated Fat:
7
g
|
Trans Fat:
1
g
|
Cholesterol:
61
mg
|
Sodium:
132
mg
|
Potassium:
93
mg
|
Fiber:
4
g
|
Sugar:
2
g
|
Vitamin A:
303
IU
|
Vitamin C:
1
mg
|
Calcium:
21
mg
|
Iron:
1
mg