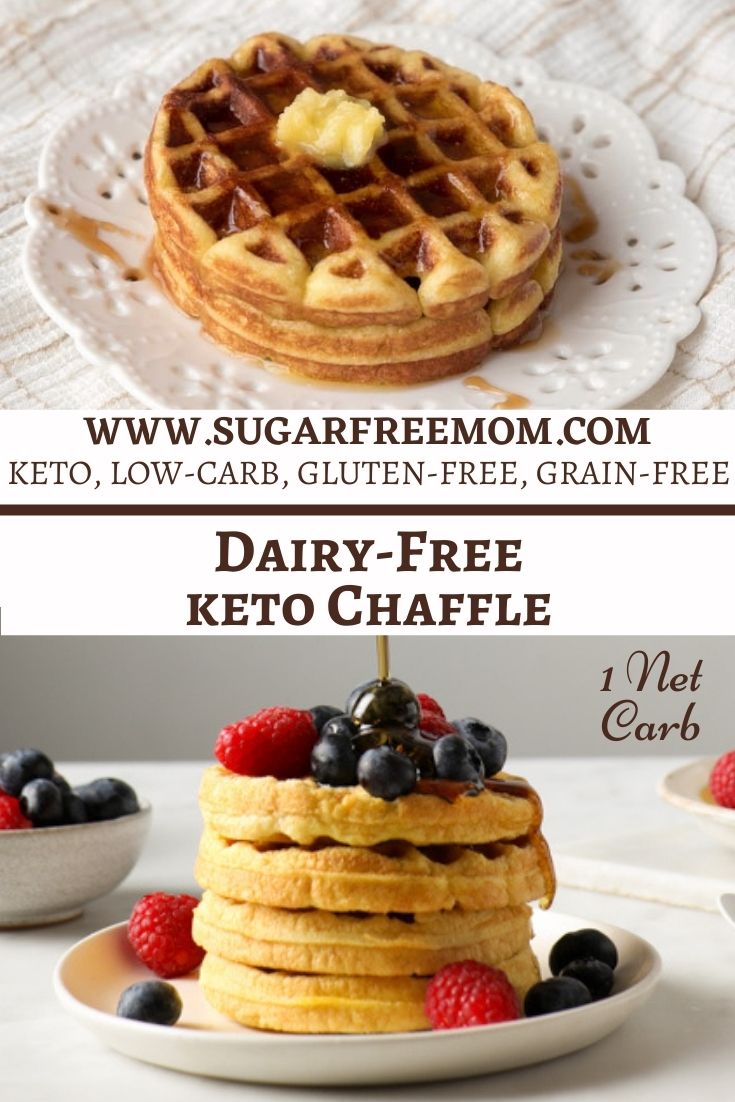 Dairy Free Keto Chaffle Recipe are keto waffles made with just 5 ingredients and made in 5 minutes! Nut free, gluten free, paleo, grain free and quick and tasty for breakfast or even use as sandwich bread. 3 variations (Basic Dairy Free Chaffle, Dairy Free Cinnamon Sugar Chaffle, and Dairy Free Chocolate Chaffle). Just 1 net carbs per serving!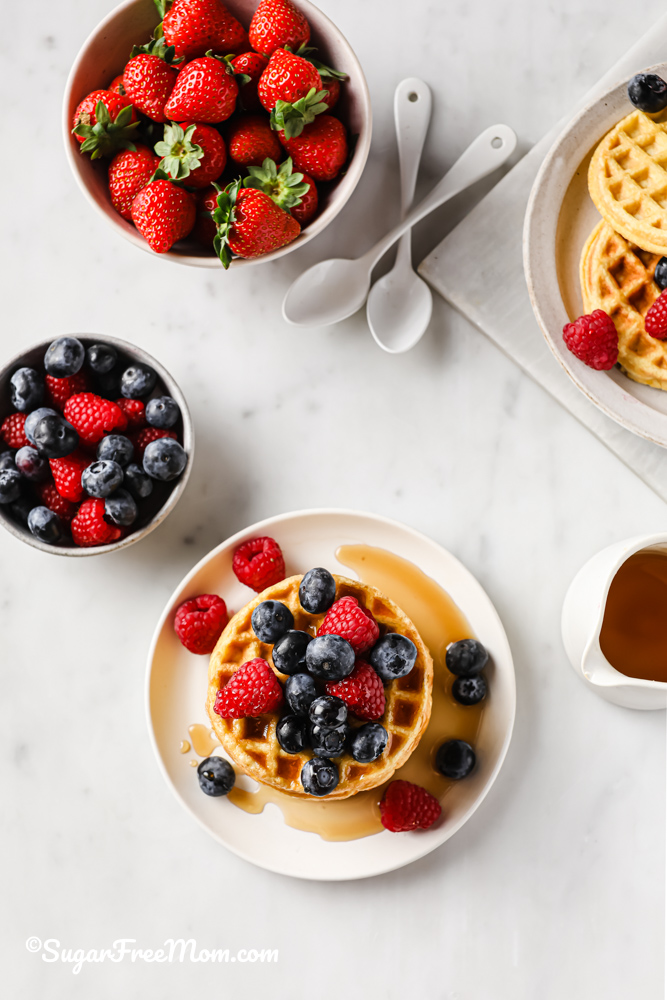 What are Chaffles?
If you are new to the keto community, cheese chaffles are all the rage these days!
You can find a bunch of different ways to create the classic chaffle on Facebook. They can be a quick breakfast for anyone and require just 2 ingredients; 1 egg and ½ cup of shredded mozzarella cheese.
Some keto chaffle recipes use cream cheese and other cheeses for savoury chaffles, but for the most part it is basically a cheese waffle. If you haven't tried them yet, you should!
Though they are made with cheese, these crisp up after cooking them in your waffle iron and are amazing topped with sugar free maple syrup and butter!
Plus, you can go crazy with different variations of this basic chaffle recipe. From savory to sweet options, if you can think of it, you can turn it into a crispy chaffle, like Pizza chaffles, garlic bread chaffles, cookie chaffles, chocolate chaffles, etc.
Chaffles got its name from Cheese and waffles= Chaffles!
I'm not sure who created this concoction, but it works and it works well for those of us on a keto diet or low carb diet.
But the biggest issue with this basic recipe with main ingredients being cheese that works for so many , is that sadly it's not something those who cannot have dairy can enjoy. My own daughter is dairy free because of stomach issues and this pushed me to create a keto dairy free chaffle for her to enjoy.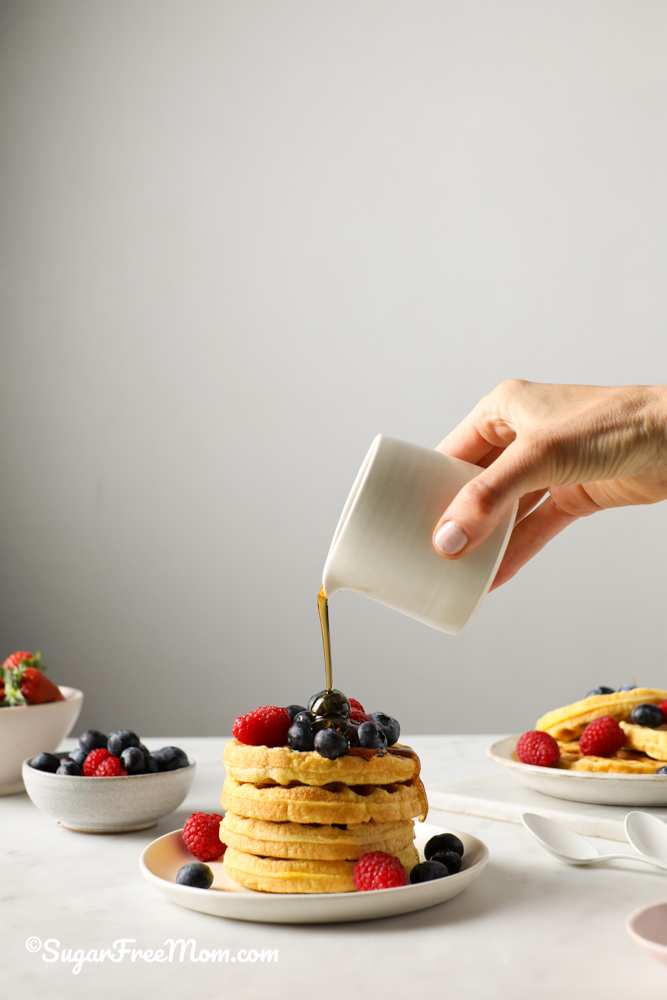 How to Make Dairy Free Keto Chaffles
Creating a dairy-free option for a keto chaffle wasn't an easy task. I first tried using vegan cheese options but really did not like the flavor.
So essentially this dairy free keto chaffle has no cheese in it at all, but it tastes amazing and is just as quick as making a classic keto chaffle.
You could try swapping shredded mozzarella for vegan cheese in the classic chaffle recipe mixed with one egg to see if you like that. Most of the vegan cheese I've found contains nuts or ingredients I choose not to ingest like soy so vegan cheese is not a nut-free option for many. My youngest has a tree nut allergy so nuts are not an option for us.
Eliminating the cheese from the classic keto chaffle to make a dairy free keto chaffle, doesn't really make it a chaffle, it's more just mini waffles, but the name is catchy!
The recipe is still easy with just 4 ingredients if you don't count a sprinkle of salt. The addition of beef gelatin powder might seem odd, but I created a fantastic Belgian waffles on page 95 of my cookbook, Naturally Keto and decided adding it here for this recipe might work, and it really does create a fluffy texture!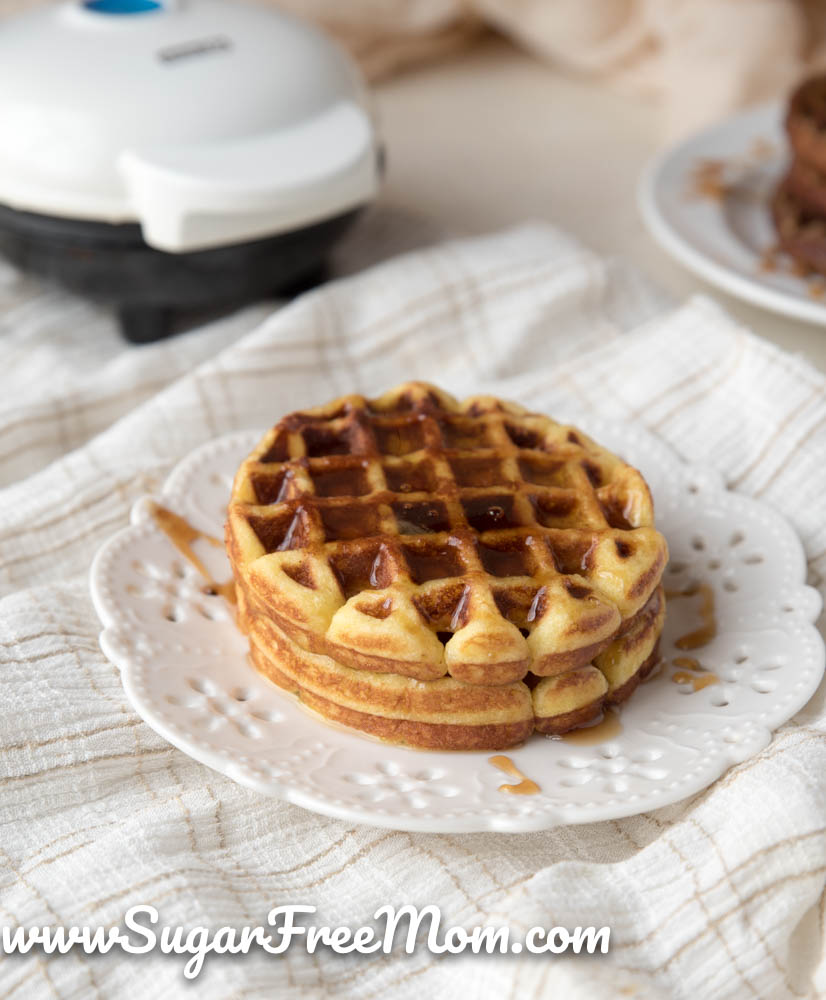 Keto Chaffle Variations
Your basic dairy free chaffle recipe is below, which has a nice neutral flavor without added sweetness. You can always add your favorite sugar free sweetener if you like your waffles like that for breakfast.
Here are two variations to my basic dairy free keto 5 Ingredient chaffle:
Cinnamon Sugar Chaffle
Add 1-2 teaspoons of ground cinnamon to the batter, 1 teaspoon of vanilla extract, 1 tablespoon Swerve Brown Sugar Sub, 1 tablespoon Allulose Maple Syrup or your favorite sugar free keto maple syrup sweetener.
Chocolate Chaffle
Add 1 tablespoon of unsweetened cocoa powder or cacao powder, a pinch of salt, and ½ teaspoon chocolate liquid stevia.
Top with coconut cream and sugar free chocolate chips if desired. Dessert chocolate waffles can easily be enjoyed on your keto lifestyle.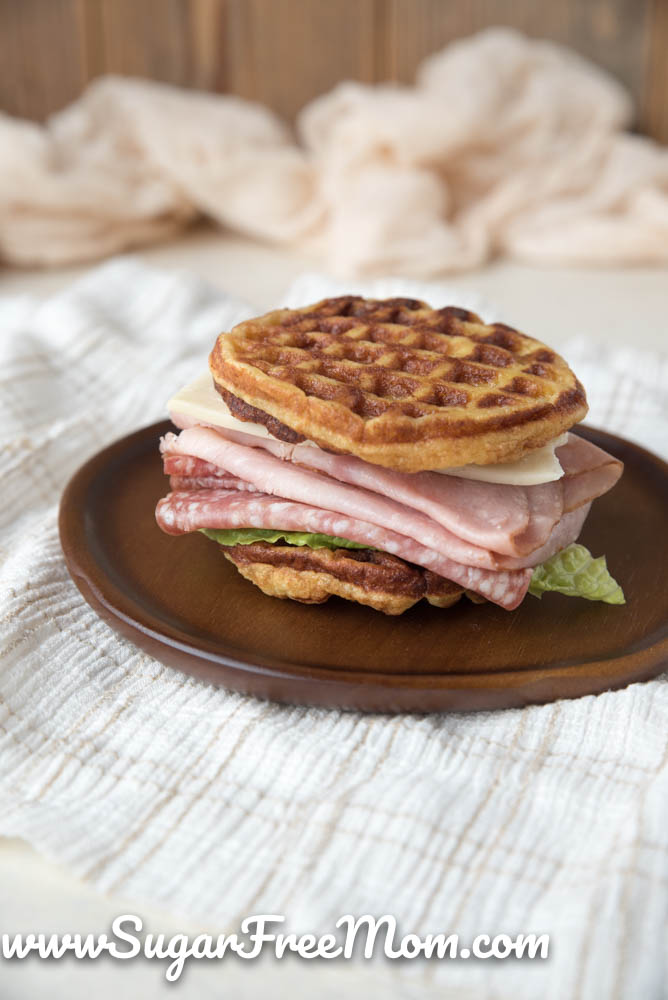 Tools to make Dairy Free Keto Chaffles
Dash Mini Waffle Maker-The mini waffle maker is fun, doesn't take up much space and quick to heat up and makes the best size for a keto low-carb waffle sandwich!
Standard Waffle Maker- If you don't want to purchase a dash mini waffle iron and you already have a standard waffle maker, you should be able to make typical waffles with this waffle batter. The amount of batter you need for a traditional waffle would equal two mini.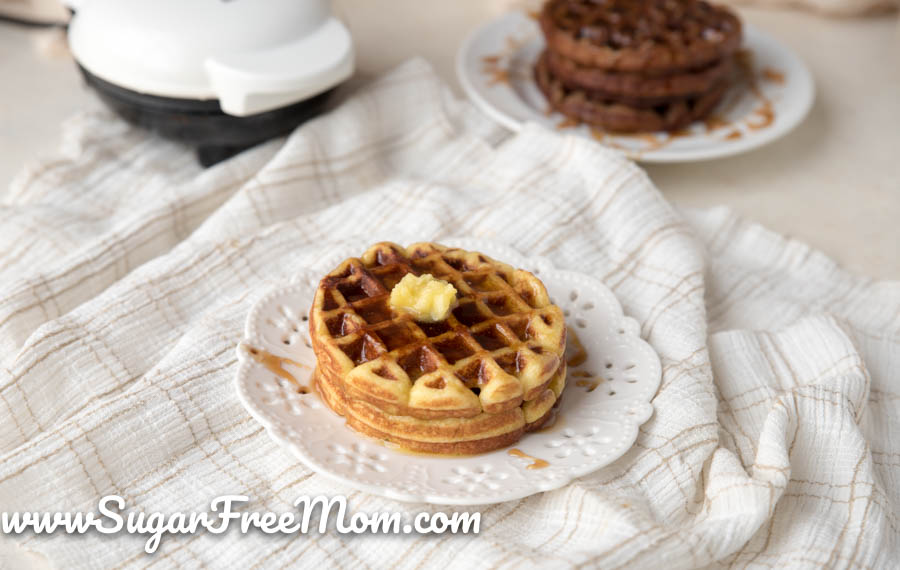 Frequently Asked Questions
Can I replace gelatin with collagen peptides?
Collagen peptides will not work to replace gelatin as it does not gel up like gelatin does and the consistency and texture of the dairy free waffle will be altered.
Can I use a different low carb sweetener?
Yes you can use any low carb sweetener you prefer. Please see my complete guide to low carb sweeteners here.
How do I store these low carb waffles?
Store these low carb waffles in the fridge in an airtight container for up to 3 days.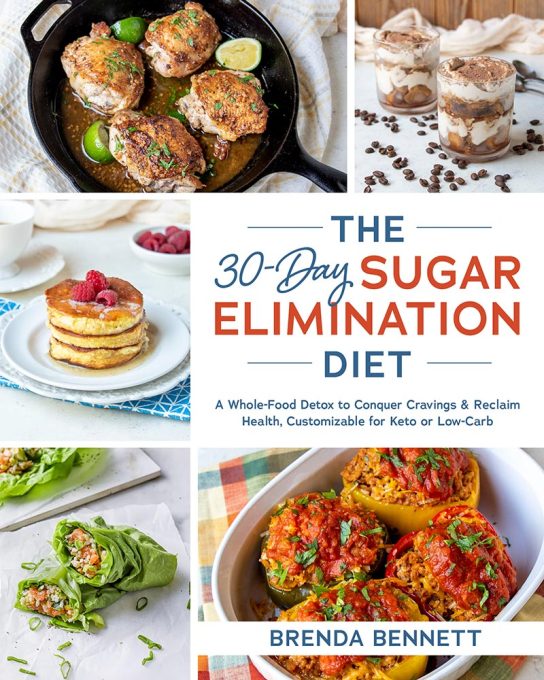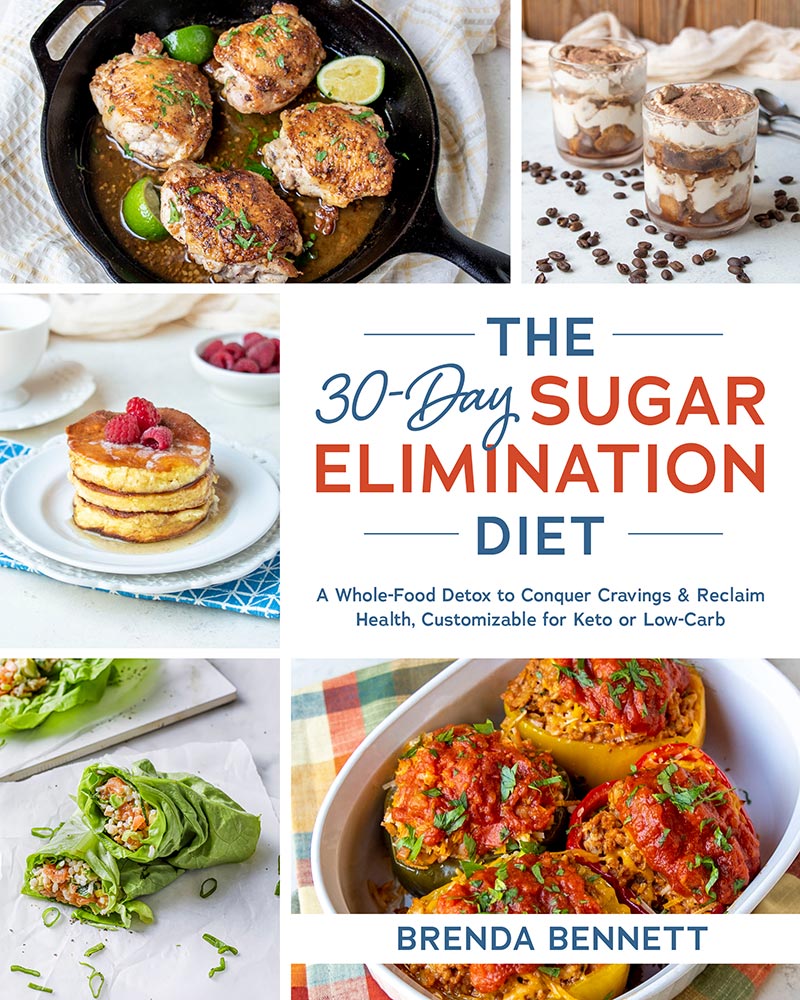 This recipe for Dairy Free Mini Waffles or Chaffles is in my new book, The 30-Day Sugar Elimination Diet, that will be coming out in December! It's available now for preorder!
Are these gluten-free waffles?
Yes these are all gluten free.
Can I add xanthan gum?
You do not need to add xanthan gum because the texture is perfect.
Can I add peanut butter?
I have not tested the basic keto chaffle recipe adding peanut butter, but I think if you do add just add one tablespoon.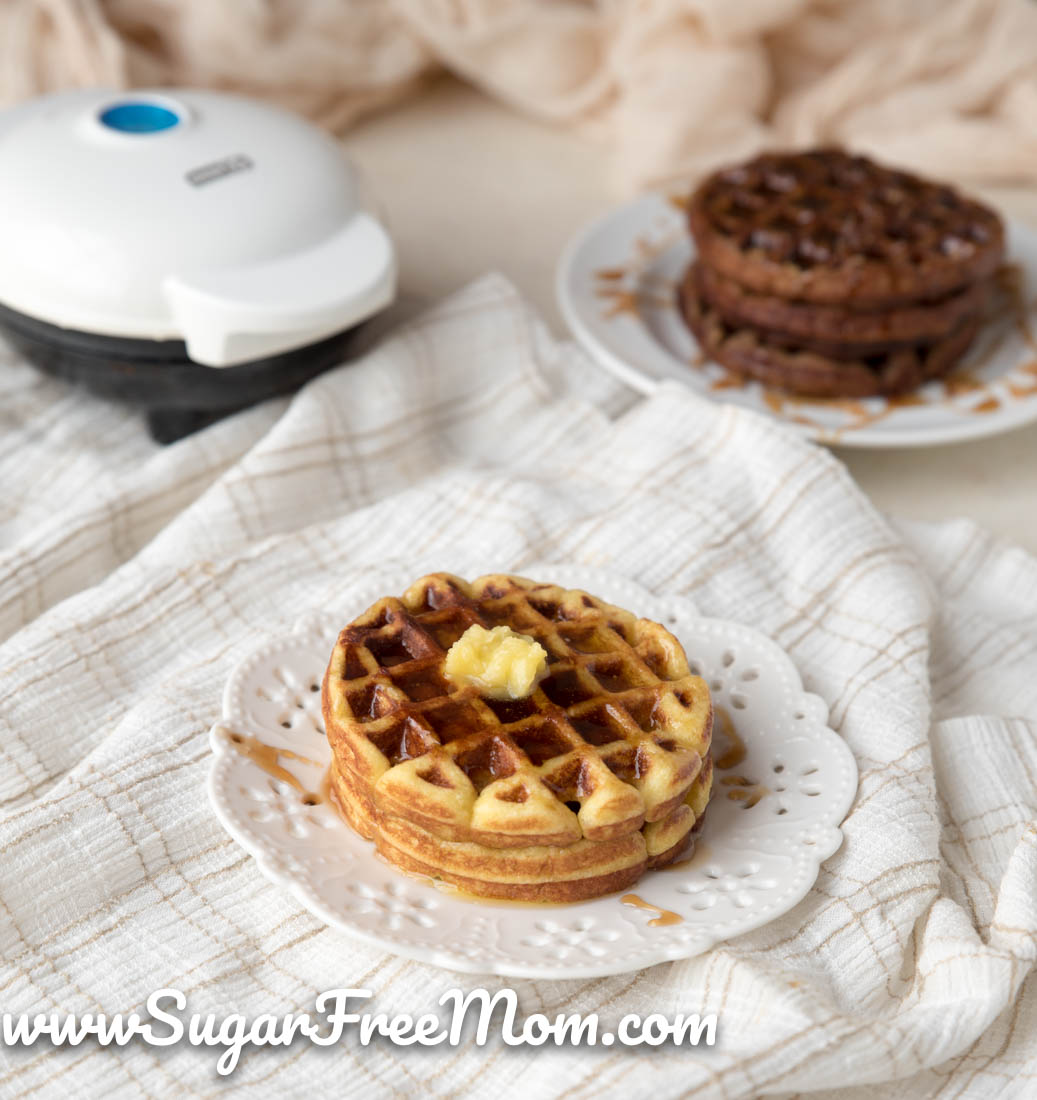 5 Top Tips for Best Dairy Free Chaffle
Top Tip #1
Gather all your ingredients while you let the waffle iron heat up.
Top Tip #2
Be sure to spray the waffle iron prior to pouring batter. Use avocado oil spray for its mild flavor.
Top Tip #3
Whisk your dry ingredients together first then add liquid ingredients to help avoid lumps in the batter.
Top Tip #4
If you don't like the eggy taste, replace one egg with two egg whites.
Top Tip #5
If you don't like coconut flour you can swap it with 2 tablespoons of almond flour but reduce your eggs to just one.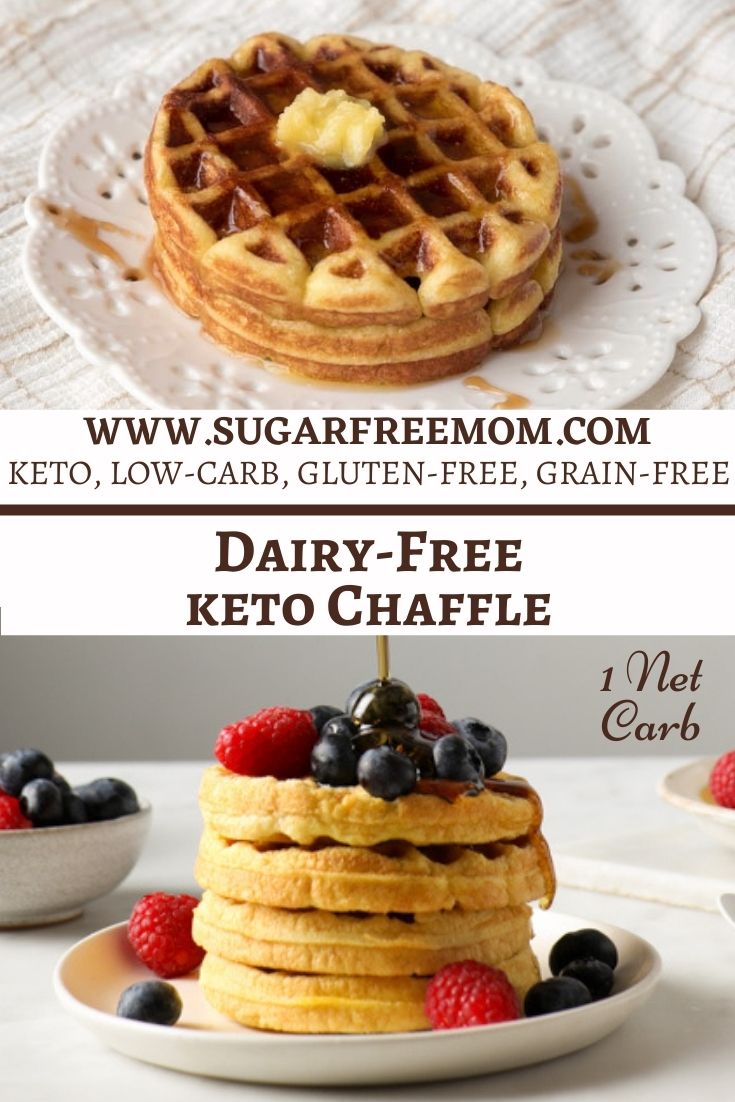 Dairy Free Keto Chaffle Recipe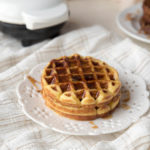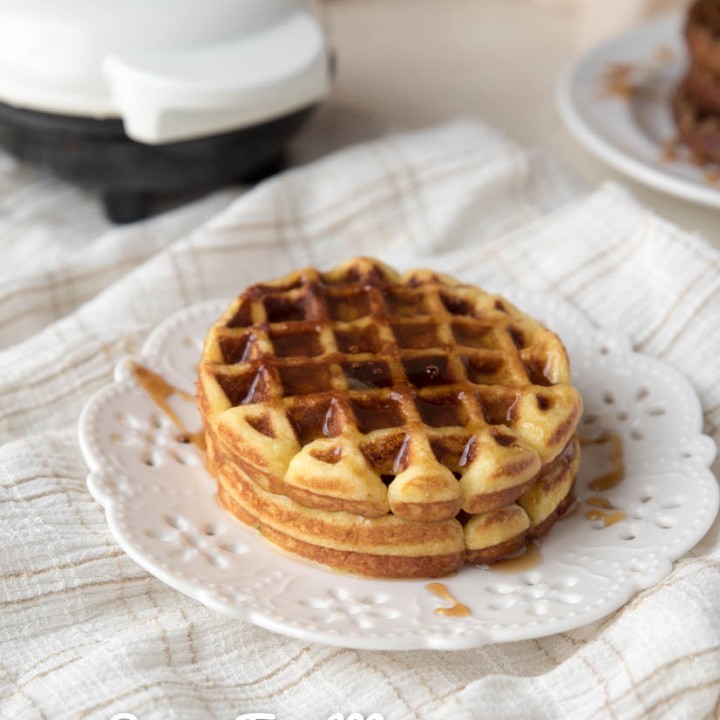 Print
Dairy Free Keto Chaffle
Instructions
In a small bowl, whisk together the coconut flour, beef gelatin and salt.

Whisk in the eggs, and mayo into the dry mixture. Spray the waffle maker with avocado oil spray.

Separate the batter into thirds and place ⅓ portion into the waffle maker. Close the lid and wait for the light to shut off, about 2 minutes. Check that it's browned to the desire you like. Remove carefully to a plate and spray the waffle maker again with oil spray. Repeat with the remaining 2 portions of batter.

Enjoy immediately or refrigerate and use for a sandwich anytime.
Notes
Net Carbs: 1g
This recipe was first published in February 2020.
Nutrition
Serving:
1
chaffle
|
Calories:
109
kcal
|
Carbohydrates:
2
g
|
Protein:
7
g
|
Fat:
8
g
|
Saturated Fat:
2
g
|
Cholesterol:
146
mg
|
Sodium:
202
mg
|
Potassium:
52
mg
|
Fiber:
1
g
|
Sugar:
1
g
|
Vitamin A:
204
IU
|
Calcium:
21
mg
|
Iron:
1
mg