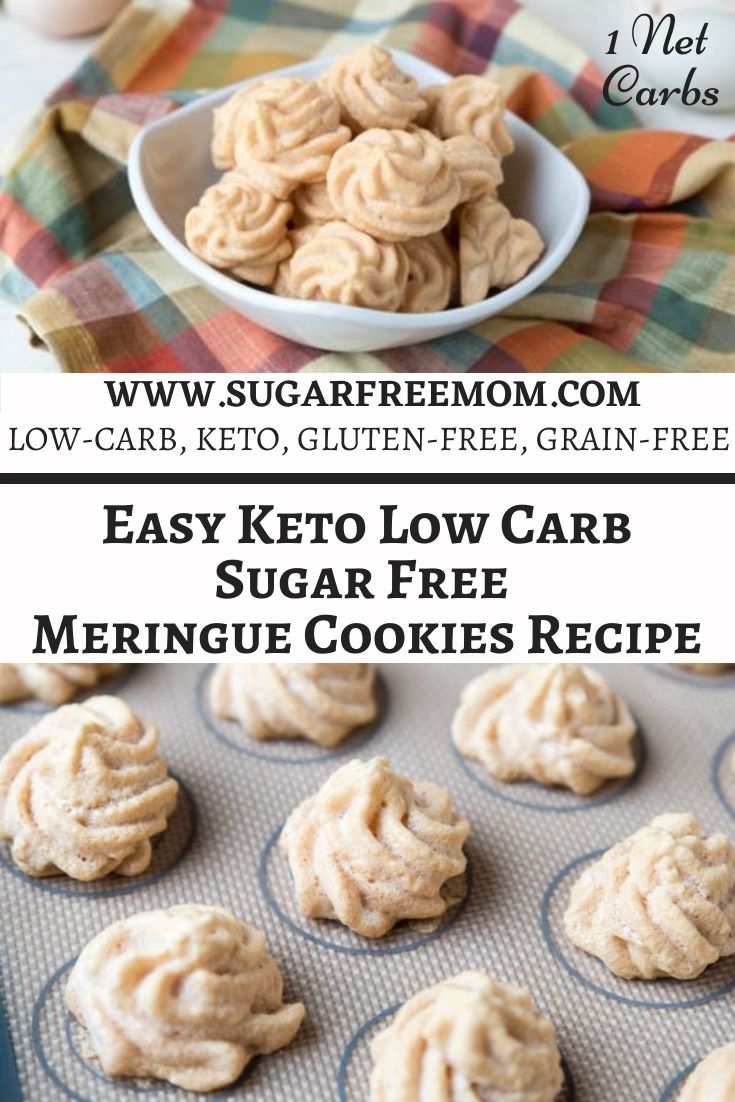 These easy sugar free keto meringue cookies are perfect for your keto or low carb diet and are melt-in-your-mouth, delicious using just 4 simple ingredients and low calorie! Just 6 calories for 4 keto meringues!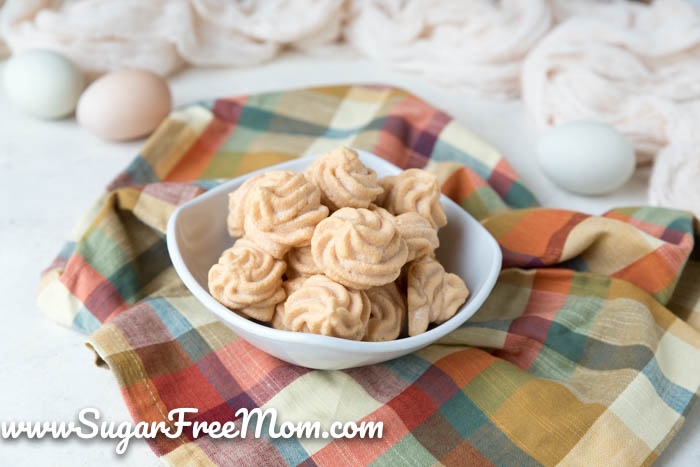 Sugar Free Low Carb Meringue Cookies
Delicious sugar-free meringue cookies are a light, airy and tasty little treat for very low carbs. In fact, you can enjoy 4 meringues for a total of just 1 carb which is pretty wonderful, especially if you're on a keto diet.
Making these cute little keto meringues just take 4 ingredients and you can choose any sugar-free sweetener you prefer, but of course I'll share my favorites below.
Learn about all my tricks and tips below to get the perfect, crisp, melt-in-your-mouth delicious meringues without fail!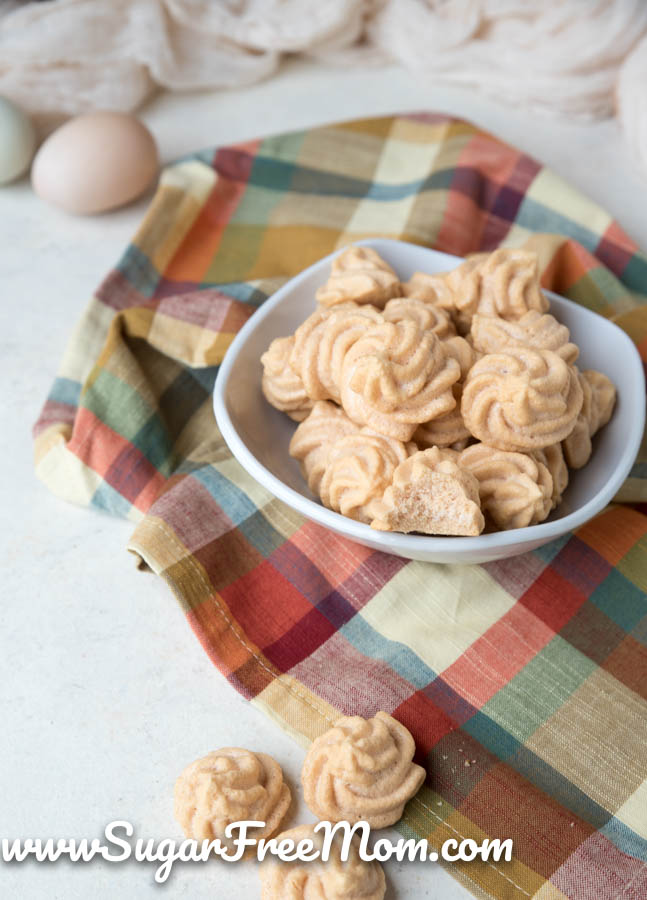 How to get Stiff Egg Whites
Testing out different strategies for this keto meringue cookie recipe has been something I've attempted many times over the years, only to give up and try again when I had the courage.
The issue has always been that I want perfection. I want the very best results and that perfect crunch all the way through the entire meringue. I do not want any aftertaste with the sugar substitute used.
Needless to say, some sugar free sweeteners do not work as well as the one suggested within the recipe below. The other issue I have always had was wanting these cute little cookies to have height and not go flat, and that my friends is all about stiff egg whites.
Make sure to use room temperature eggs that are FRESH!!
Make sure to have a very clean bowl to whip the eggs in.
Make sure to use an stand electric mixer or hand mixer.
Make sure no egg yolks at all is in the egg whites once cracked.
Make sure allow the stand mixer to whip as long as it takes to start seeing the egg whites pull away from the sides of the bowl.
You should be able to flip the bowl over and no egg whites will spill out. This can take as long as 10-15 minutes to get them nice and stiff.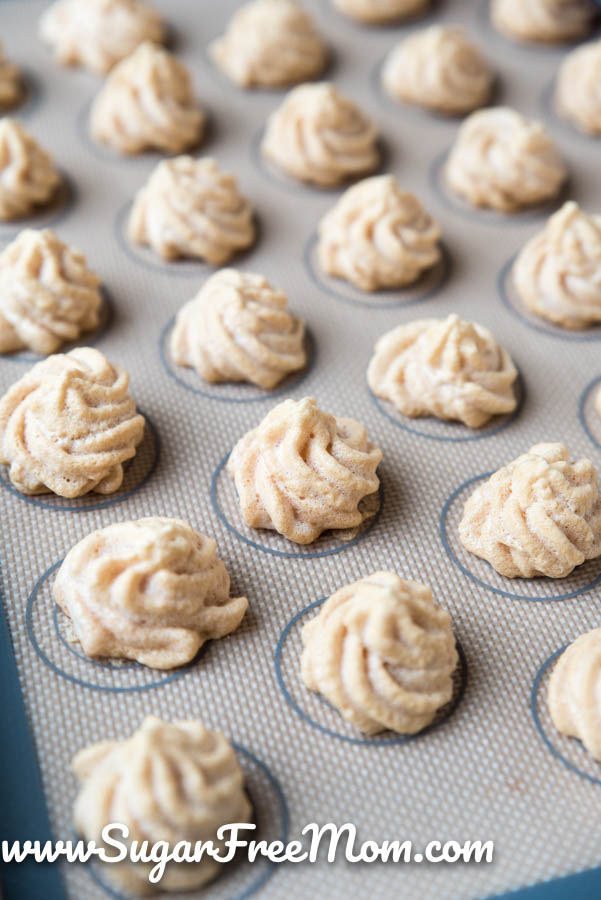 Tools to Make Meringue Cookies
Stand Mixer- I love my Kitchenaid stand mixer and use it almost daily in my kitchen for savory and sweet recipes.
Silpat- Having the nice perfect little shaped circles on the silpat will help you get evenly shaped meringues that will bake evenly.
2 Baking sheet pans-You need to large sheet pans for this meringue recipe as it makes 44 cookies.
Easy Decorating Tool- For those of you who are like me and have a little bit of difficulty using a pastry bag, this tool makes dessert decorating so much easier and easy to clean as well!
Are Meringue Cookies Keto?
Traditional meringue cookies are not keto as they contain sugar and that will spike your blood sugar levels and kick you out of ketosis.
There are a few different types of meringue cookies, but it's rare to find any store bought meringue cookies that are sugar free, so just make my recipe!!
Swiss meringue cookies are softer and denser than classic meringues, often used for Pavlovas.
Italian meringue cookies are more sturdy then any other and often uses a simple syrup to sweeten the egg whites.
Classic French meringue cookies are light and fluffy. Sugar is beaten into the egg whites until dissolved.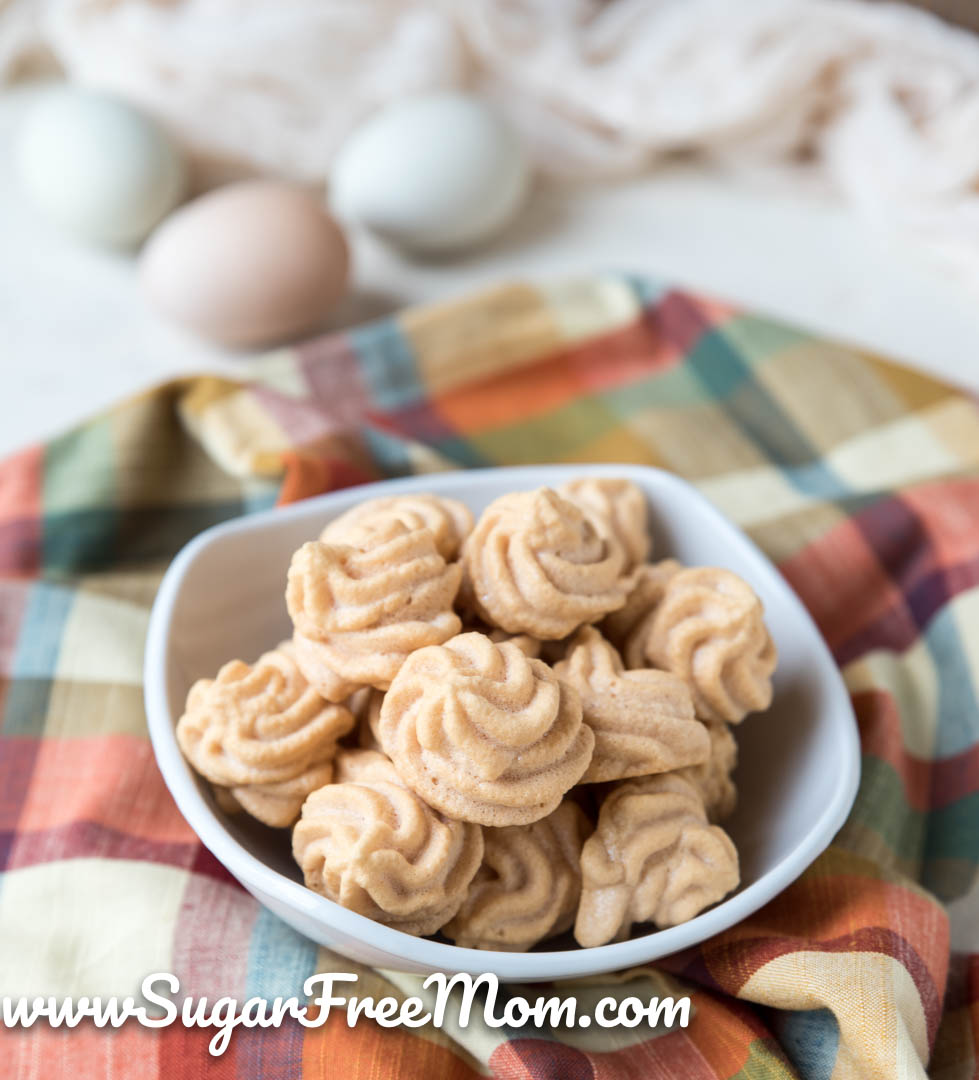 Different Flavors of Meringue Cookies
The different flavor extracts can be found on Amazon by clicking the links in blue.
Lemon Meringue Cookies- Replace the vanilla extract with a teaspoon of fresh lemon juice and zest.
Almond Meringue Cookies- Replace the vanilla extract with almond extract.
Raspberry Meringue Cookies- Replace the vanilla extract with raspberry extract.
Banana Meringue Cookies- Replace the vanilla extract with banana extract.
Peppermint Meringue Cookies- Replace the vanilla extract with peppermint extract.
Maple Meringue Cookies- Replace the vanilla extract with maple extract.
Chocolate Meringues- Add 1 tablespoon of unsweetened cocoa powder.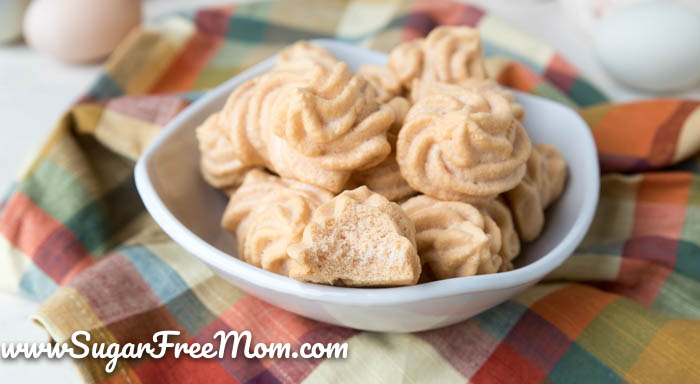 Best Sugar Free Sweeteners for Meringues
I have tried using Swerve (erythritol) but found it to have a very cooling unpleasant aftertaste in these meringues. We had to throw the whole batch away as it was truly inedible.
I have tried using just vanilla stevia and found they really did not have any height or substance to them. I have not tried monk fruit or xylitol.
The newest Sweetleaf product that I received recently called Better than Sugar is by far our favorite in these cookies.
There is absolutely no aftertaste at all. It combines both erythritol and stevia as measures cup for cup for sugar. I only used ⅓ cup for these meringues and they are only slightly sweet, which is perfect for our family.
If you prefer or are just not used to sugar free sweetened recipes yet, please use about ½ cup which will yield much sweeter meringues. Use my Sweetener Guide & Conversion chart if trying a different sweetener.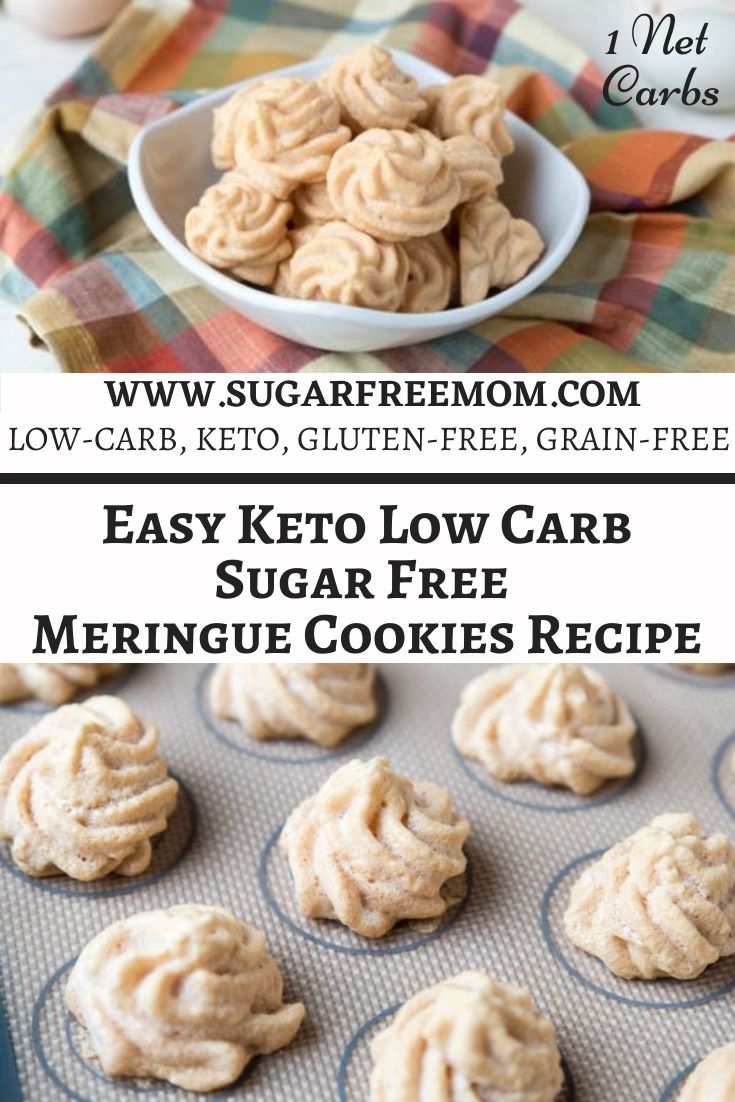 Sugar-Free Low Carb Meringues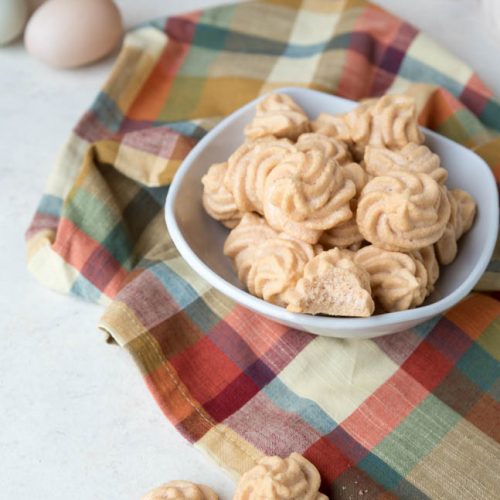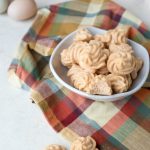 Print
Sugar Free Vanilla Meringue Cookies (Keto)
Servings
11
servings @4 cookies
Ingredients
3

large

room temperature egg whites

pinch of

salt

1

teaspoon

vanilla extract

*see paragraph above for flavor variations

⅓

cup

Better Than Sugar

or another sugar free sweetener

optional; natural food coloring if desired- I didn't use any.
Instructions
Preheat your oven to 225 degrees F. Place silpats or parchment onto 2 cookie sheet pans.

Place egg whites into clean bowl or stand electric mixer. Using the whisk attachment, start whipping on a low speed and as it begins to form continue to increase to medium speed. Sprinkle in salt and continue to whip egg whites. Drizzle in vanilla extract. When you start to see soft peaks forming, add a small amount of the sugar free sweetener. Continue to add small amounts while whipping at a high speed. Continue to whip until the egg whites have started to pull away from the sides of the bowl and you see stiff peaks. If you're unsure if they are stiff, you should be able to flip the bowl over and nothing moves or slips.

Place half of the whipped whites into the decorating tool or pastry piping bag with a star tip.

Make small swirls onto the baking sheet pan using the small circle shape on the silpat or on parchment paper measuring 1.25 inches. Continue with the remaining whipped whites. You should be able to make 44 cookies.

Bake for 2 hours. Then shut the oven off and leave them in the oven for another hour. Remove from the oven and allow to sit out on the counter to completely dry out. This can take a few more hours. Store in an airtight container. We found ours crisp in the center of the meringue the next day.
Notes
This recipe makes 44 little meringues. I used the small center circle of a macaron silpat that measures 1.25 inches.
1 serving is 4 meringues= 1 total carbs
This recipe was first published in September 2020.
Nutrition
Serving:
1
serving @ 4 meringues
|
Calories:
6
kcal
|
Carbohydrates:
1
g
|
Protein:
1
g
|
Fat:
1
g
|
Sodium:
15
mg
|
Potassium:
15
mg
|
Sugar:
1
g