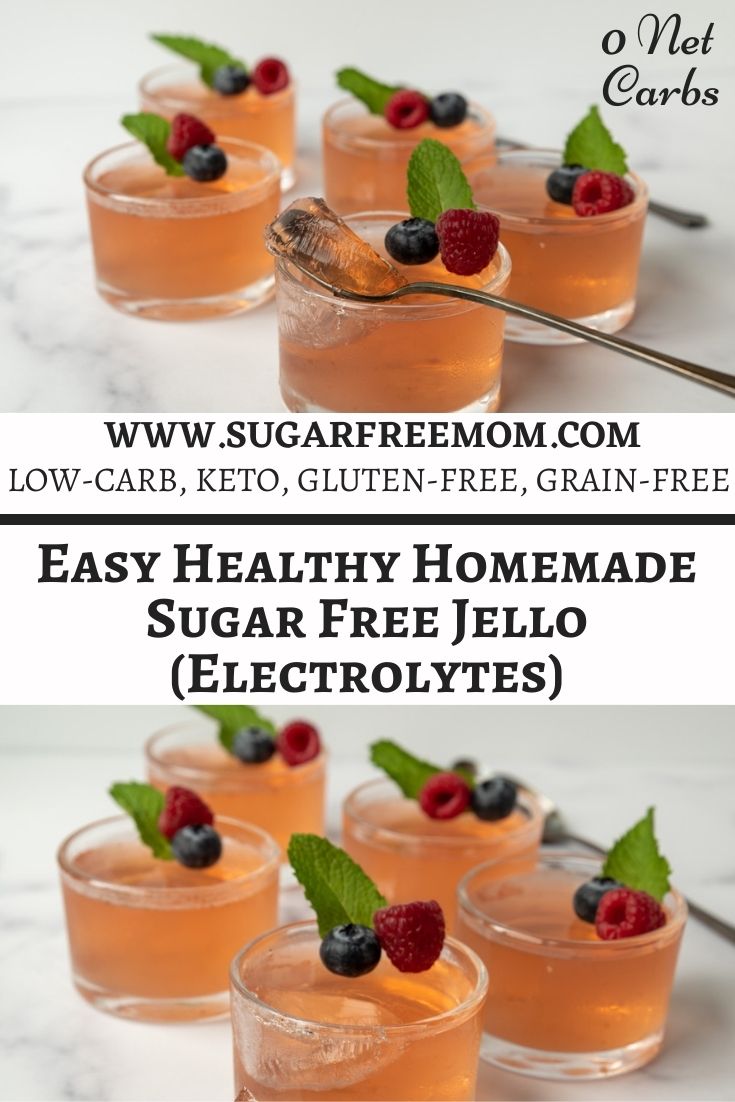 This easy homemade jello has no added sugar, artificial sweeteners, artificial colors or artificial flavors, and is a sweet treat for the whole family, plus it also contains amazing electrolytes! This sugar-free jello recipe uses 3 simple ingredients and has 0 net carbs, 0 total carbs, 3 grams protein and just 14 calories!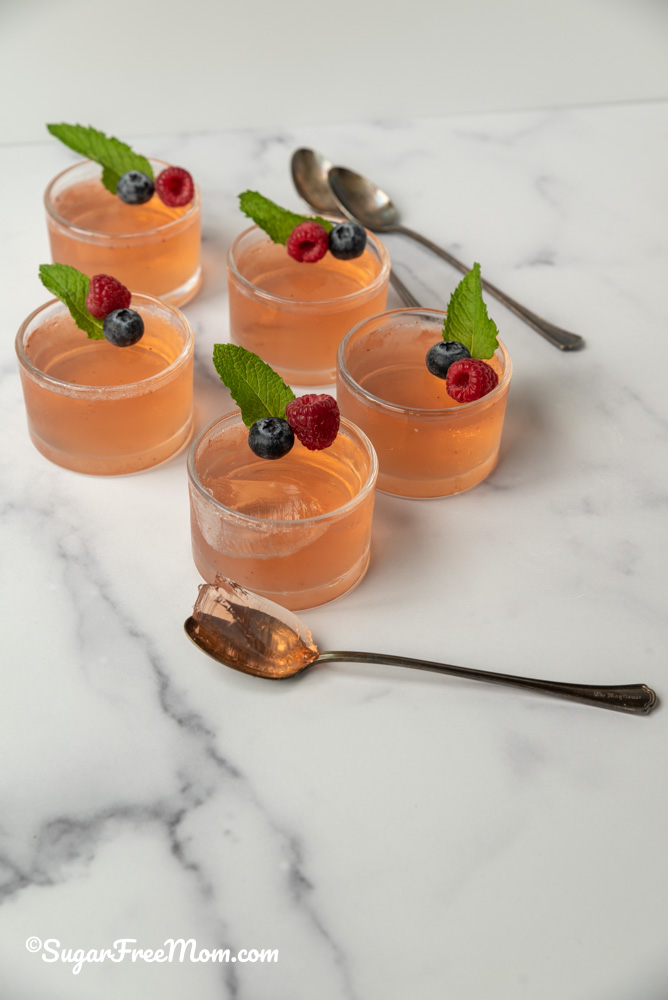 Is Regular Jello Keto?
When you have a sweet tooth, Jello seems like a guilt-free treat and harmless sweet snack to enjoy, especially if you are on a weight loss journey, but it's not a great option if you're on a keto diet.
Sugar is first on the ingredient list so avoiding it is necessary when following a low carb or keto diet.
Strawberry flavored Jell-O contains SUGAR, GELATIN, ADIPIC ACID, CONTAINS LESS THAN 2% OF ARTIFICIAL FLAVOR, DISODIUM PHOSPHATE, SODIUM CITRATE, FUMARIC ACID, RED 40.
If you happen to have allergies to food dyes or artificial dyes, you will want to stay away from store bought jello which uses red dye 40.
How Many Carbs in regular Jell-O?
In store bought jello cups there are 17 carbs and about 70 calories for the strawberry jello flavor and all of those carbs are coming from added sugar.
Though store bought sugar free jello have sugar carbs, they are full of artificial ingredients and artificial sugar.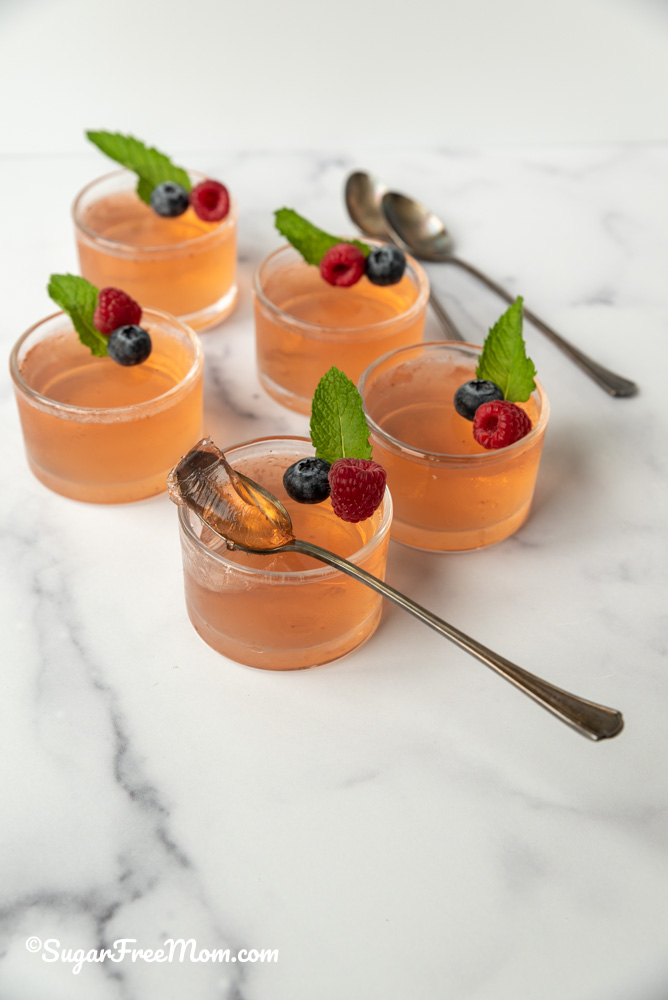 Is Sugar Free Jello Keto?
Ingredients in sugar free jello aren't any better than regular jello, especially if you have to watch your sugar intake. The maltodextrin in packaged sugar free jello will spike your blood sugar just as high as regular sugar will.
Ingredients include; GELATIN, ADIPIC ACID, DISODIUM PHOSPHATE, MALTODEXTRIN, FUMARIC ACID, ASPARTAME* (SWEETENER), CONTAINS LESS THAN 2% OF ARTIFICIAL FLAVOR, ACESULFAME POTASSIUM (SWEETENER), SALT, RED 40. *PHENYLKETONURICS: CONTAINS PHENYLALANINE.
Though it has fewer calories, if you're following a clean keto diet, you will want to steer away from store bought sugar free jello because it contains artificial sweeteners which often spikes blood sugar levels.
While some people who follow a dirty keto diet indulge in this and may not have a blood sugar spike, others will. The artificial sweetener in this sugar free jello is maltodextrin.
Here's my chart of hidden sugars and artificial sweeteners to avoid.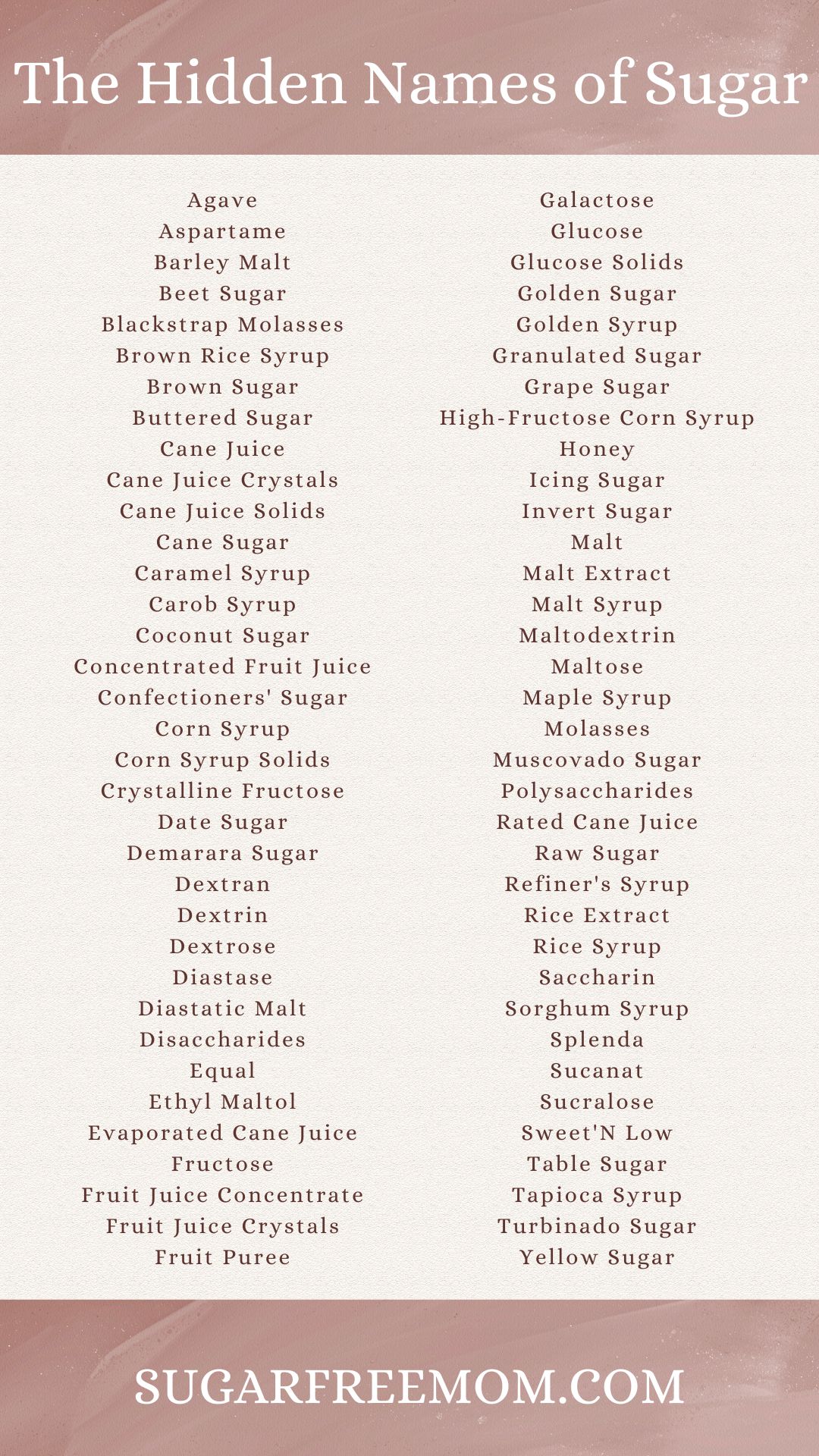 Even if you're not on a keto diet, maybe you're following a low-carb diet if you happen to have diabetes, studies show that artificial sweeteners do cause blood sugar spikes.
If blood sugar is spiked, fat loss is stopped. If you're working on weight loss, you want your blood sugar levels to be evenly balances without spikes throughout the day.
I use natural sweeteners in my sugar free recipes since I started my blog back in 2011 because I found when I first went sugar free back in 2004, and used artificial sweeteners, I felt just as addicted as I did when I consumed white refined sugar.
So in 2008 I switched to Stevia and have not had sugar cravings again.
Our healthy jello recipe is a natural sugar-free dessert that is a good choice for a healthy snack, whether for yourself, your children or even your parents or grandparents.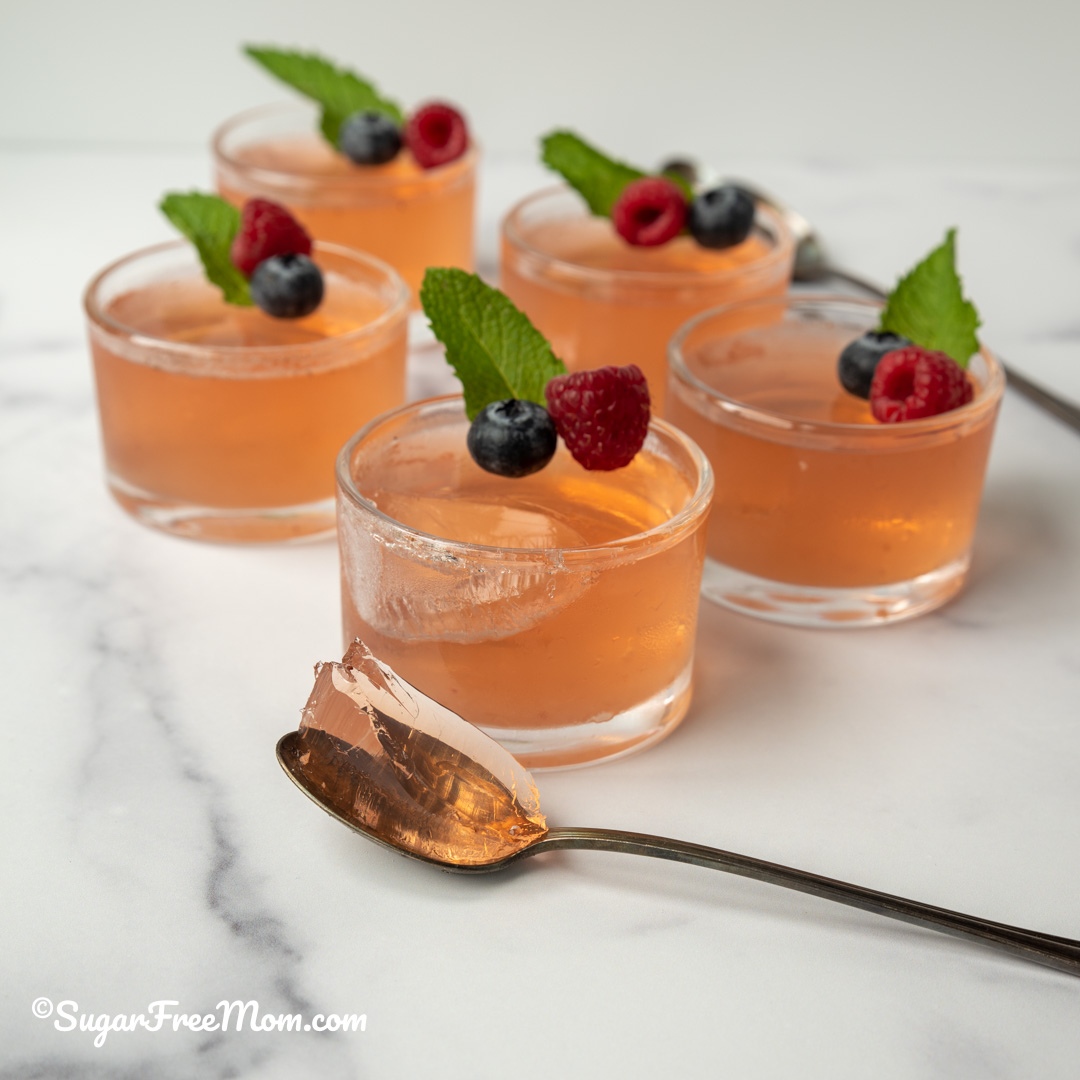 Natural Sweeteners
Have fun and experiment with adding in optional flavor pairings like vanilla, cinnamon, lime or even lemon juice, though if using lemon, I think you need the low carb sweetener to balance the flavors.
You can use any keto sweetener you like in this sugar free keto jello recipe.
The different sweeteners I use are Stevia, Erythritol, Allulose and Monk Fruit. All are natural ingredients occurring in nature and studies show they do not spike blood glucose.
If you're not familiar with these sweeteners, here's my Guide & Conversion chart which is very informative and provides conversions when you want to swap out any sweeteners I am using in my recipes.
Best Unflavored Gelatin Options
​Gelatin is a fantastic ingredient to use to thicken recipes like keto panna cotta and jello gummy bears.
It can turn a liquid into a gel like consistency so it is a perfect ingredient to use for homemade jello. While xanthan gum is a thickener in most baked keto desserts, using it for this recipe would not work as well.
This Grass-Fed Gelatin is the one I use because of the fact of what I learned in Nutritional Therapy School about toxins.
All toxins are stored within our fat cells, people and animals, so if you want to make sure you aren't ingesting toxins, using grass fed gelatin is the best option for your health.
Other gelatin brands I like:
There is no nutritional value in either store bought sugar free jello or packaged regular jello because it actually doesn't even contain healthy gelatin powder.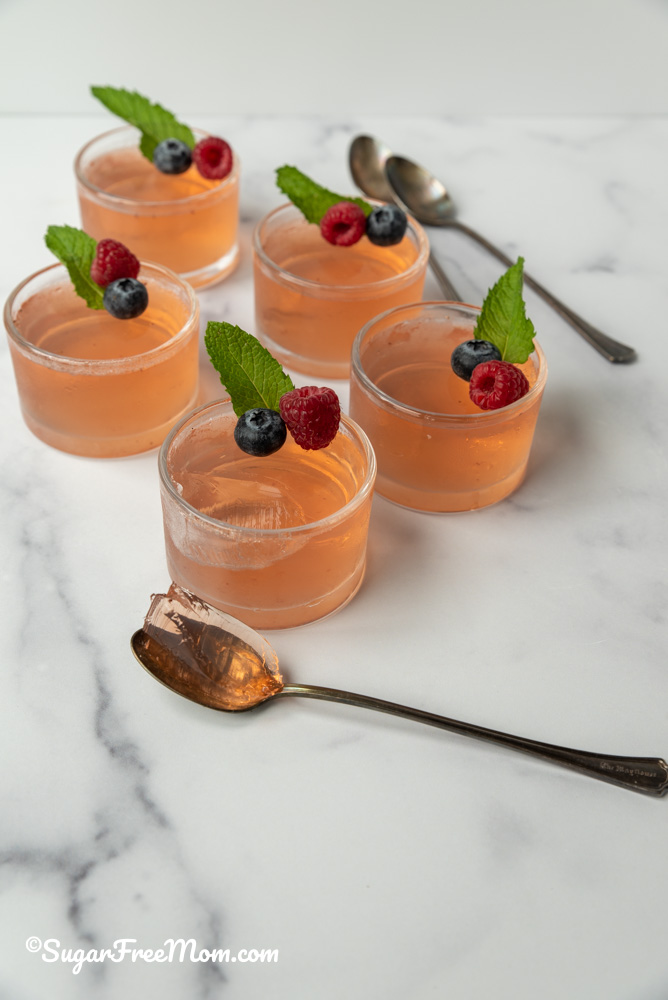 What is Bloomed Gelatin?
​Allow the gelatin to "bloom", by not stirring and letting it sit on top of the water for about 5 minutes, then proceed with the recipe by heating the mixture to bring to a simmer.
This simmering while continually stirring will help the gelatin to dissolve smoothly.
​Food Coloring
The good news with my sugar free jello desserts is that none of them use or need artificial food coloring or dyes.
If you want a more vibrant color than what you see here in my pics, you can use fresh or frozen fruit which is explained below or you can purchase a natural food coloring like this brand.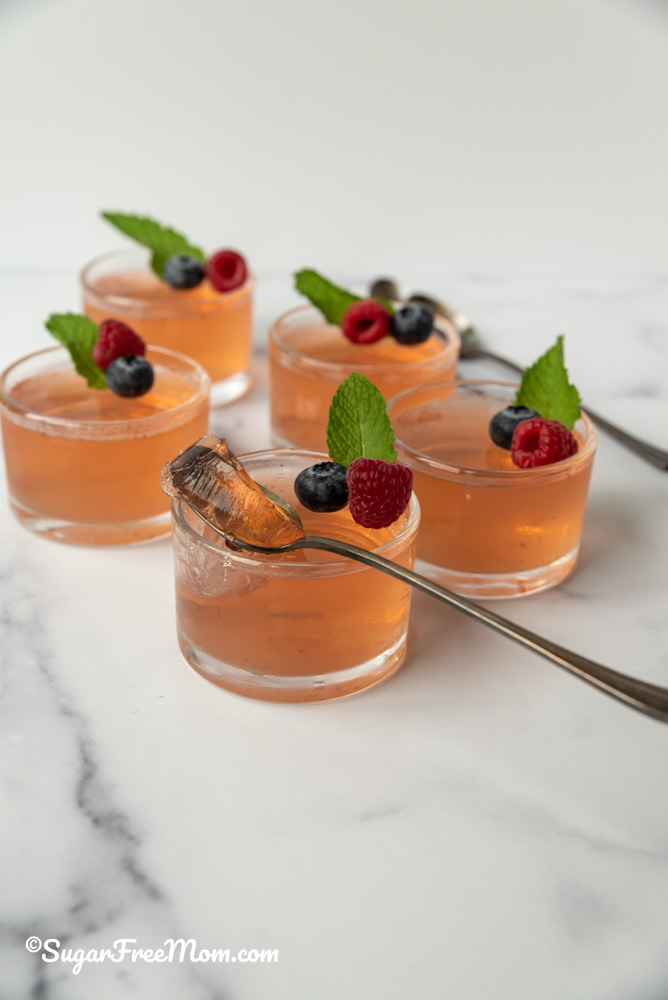 Can I skip the Electrolytes in this sugar free jello recipe?
Electrolytes are a great way to get in those important minerals like magnesium, potassium and sodium.
Electrolytes are charged minerals that conduct electricity to power your nervous system. They also regulate hydration status by balancing fluids inside and outside your cells.
Electrolytes and water don't require glucose to be absorbed in the gut. The average American consumes over 60 pounds of sugar per year, so likely the last thing we need is added sugar.
The brand I am using for this healthy treat is LMNT because of how delicious it is and the health benefits of high amounts of each of these minerals. They don't use any artificial flavorings, just stevia to sweeten slightly.
I've partnered with LMNT to give you a free sample pack of 8 different flavors when you order. For new or returning customers, you get a free sample pack with every order.
You could leave it out but you will need to add some form of sweetness otherwise it will be a gelatin mixture without any flavor. For a sugar-free option, I'd recommend berry liquid stevia.
Could I use fresh fruit in this keto dessert jello?
If you wanted to use fresh fruit in this gelatin dessert, I'd recommend fresh strawberries, raspberries or blueberries with a squirt of lime juice.
Just be mindful of the fact that using any fruit will add carbs to the jello mixture.
For best results using fresh or frozen berries, be sure to strain the berries using a fine mesh strainer. The berry mixture should be just the juice of the berries, no clumps of fruit, just liquid then add that to the hot water.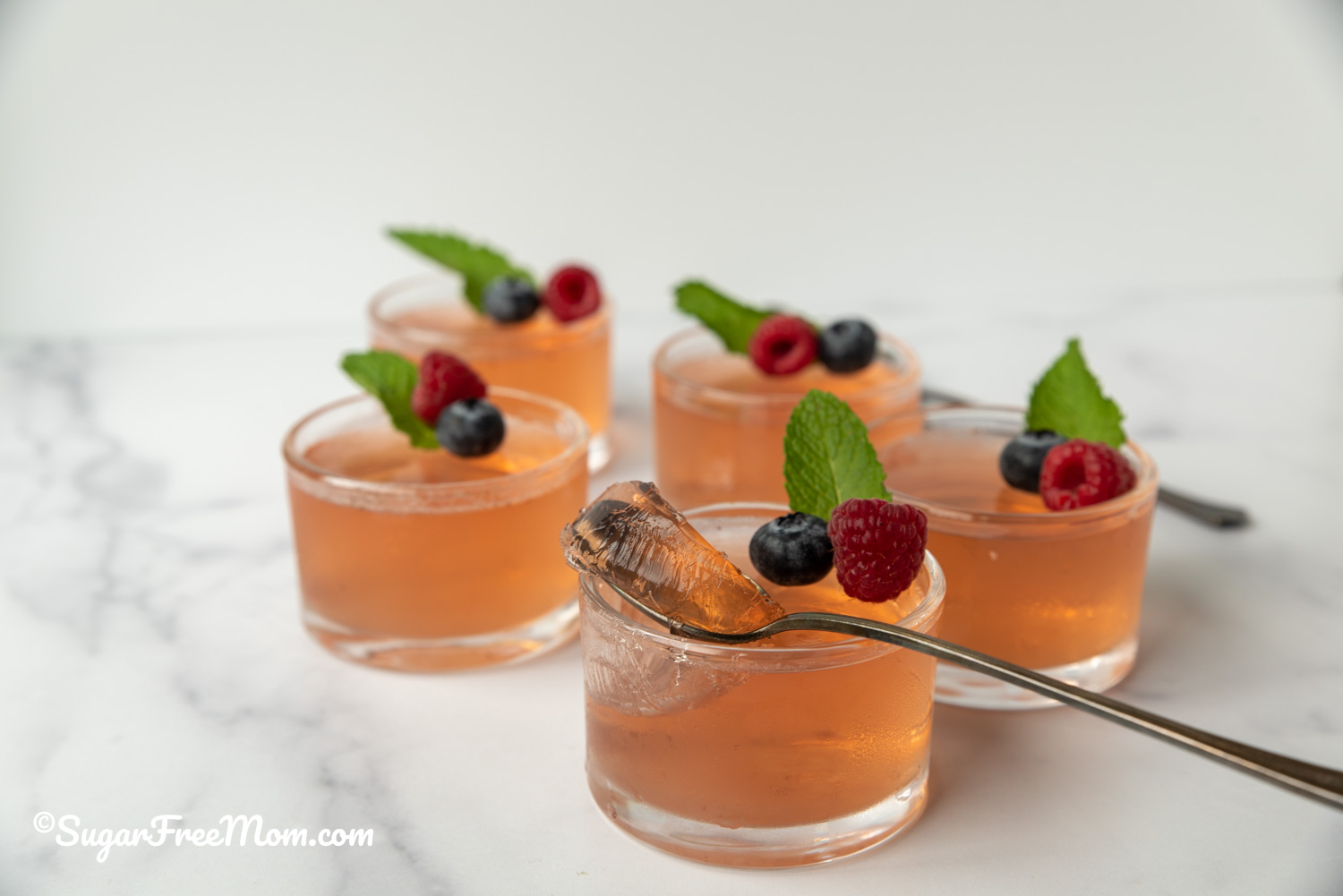 Tools for making sugar free Jello
​Glass Bowls- perfect for using in the microwave or using as a double boiler method over a sauce pan on the stove.
Fine mesh seive- You could strain the berries with a cheesecloth or use this seive which is quicker in my opinion.
How to Store
Store sugar free jello in it's glass, molds or baking dish, covered in the refrigerator for 7 to 10 days.
More Easy Sugar Free Jello Recipes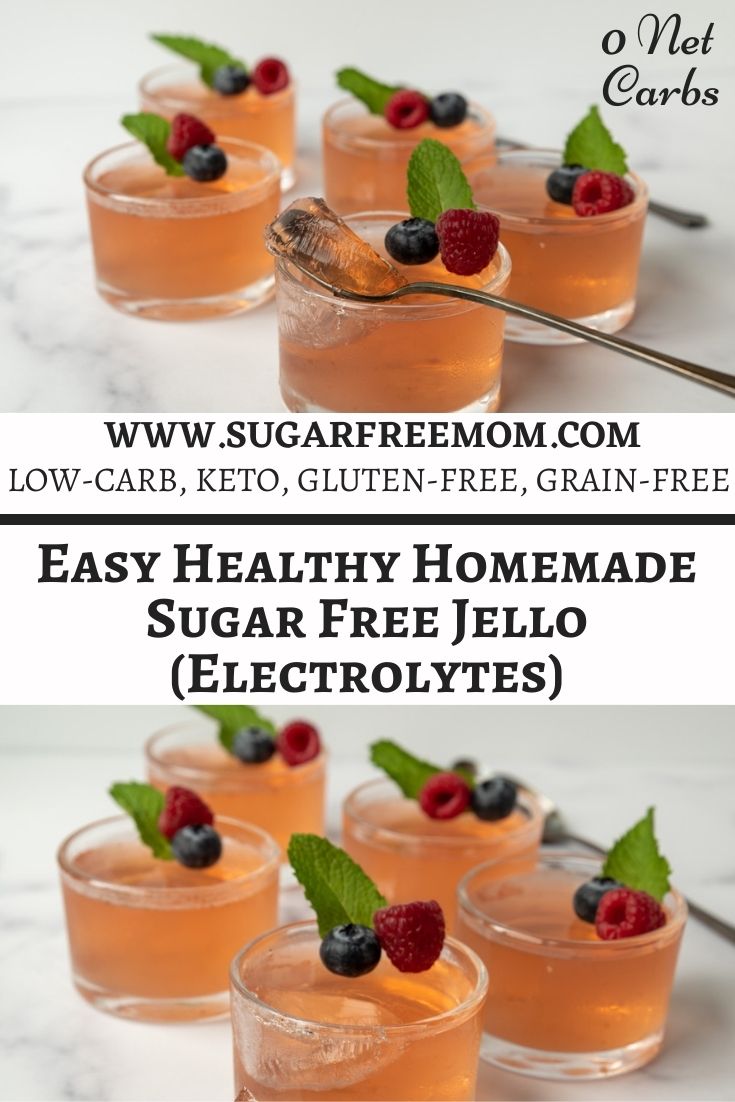 Natural Sugar Free Jello Keto Friendly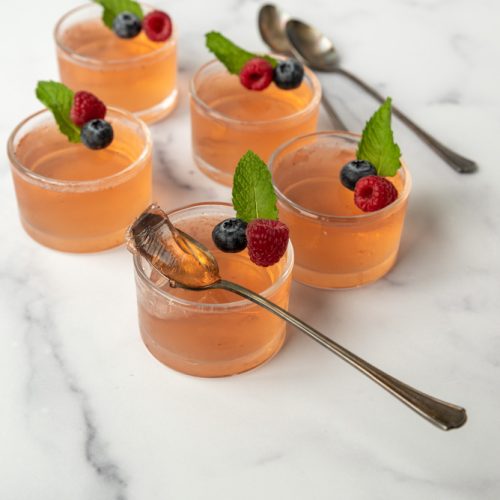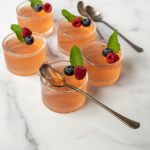 Print
Easy Sugar Free Jello with Electrolytes
Instructions
Add the water to a pot and sprinkle the gelatin over the water to allow it to bloom for about 5 minutes.

Place the pot over medium heat and boil the water and gelatin on the stove or in the microwave and stir until gelatin is dissolved.

Remove from the heat and add electrolytes and any optional ingredients.

Taste and decide if it's sweet enough, if not, add sweetener.

Pour into serving glasses or even silicone molds. Refrigerate until set, 2-3 hours.

Top with sugar free whipped cream to serve.
Nutrition
Serving:
1
@ ½ cup
|
Calories:
14
kcal
|
Protein:
3
g
|
Sodium:
6
mg