Quinoa Brownie Bites are nut, gluten, sugar- free and low calorie too!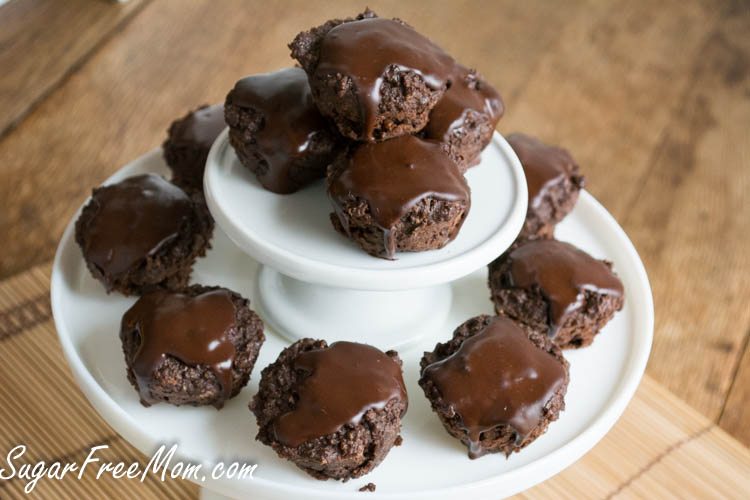 Would you ever think a brownie bite would look so good made without flour? Subbing quinoa for the flour in these little bites makes for a fudgy and moist bite of chocolate goodness! Quinoa is a fabulous gluten free seed that cooks in 15 minutes and is a great alterative to rice and even pasta in traditional dishes. Trying it for a dessert wasn't a new idea for me as I had my Cocoa Quinoa Bar recipe to work with. I wanted to remove the dates used as a sweetener to make it sugar free. The results are a perfectly little bite that takes the edge off when you need a little chocolate to curb a craving without going overboard on your calorie budget for the day.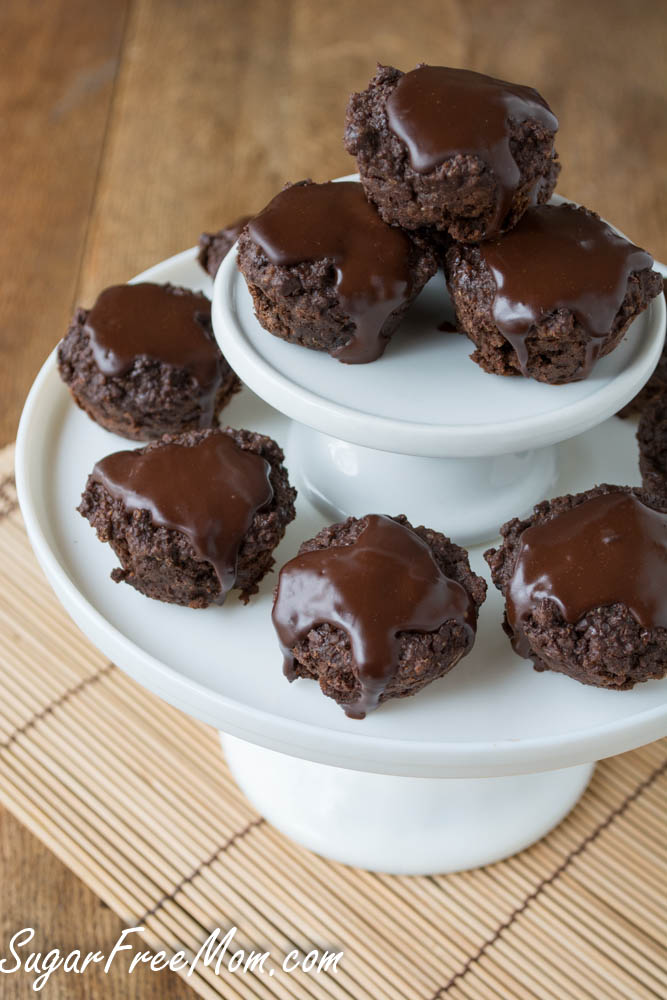 The chocolate ganache was a new idea as the little brownie bites needed some shine and bling! Once you make the ganache you can pour it over the bites or even over a cake or on ice cream. The ganache sets up and slightly hardens in a short time so you can easily transport these in a airtight container to bring to a birthday party or friends house.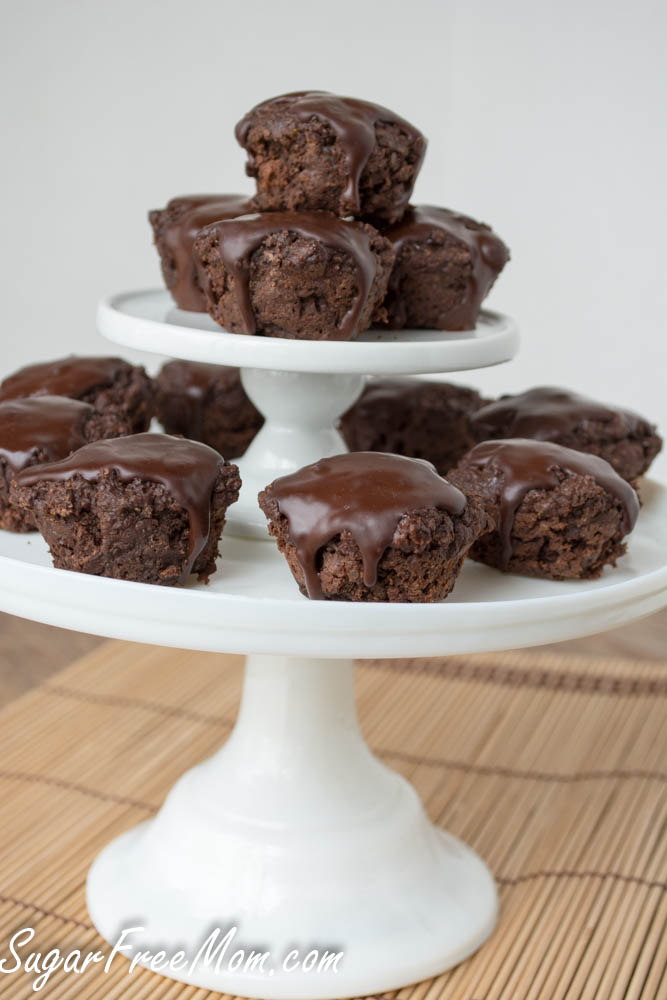 Make these for your kiddies for afterschool and they will do any chore you ask. I've done it. It works. 🙂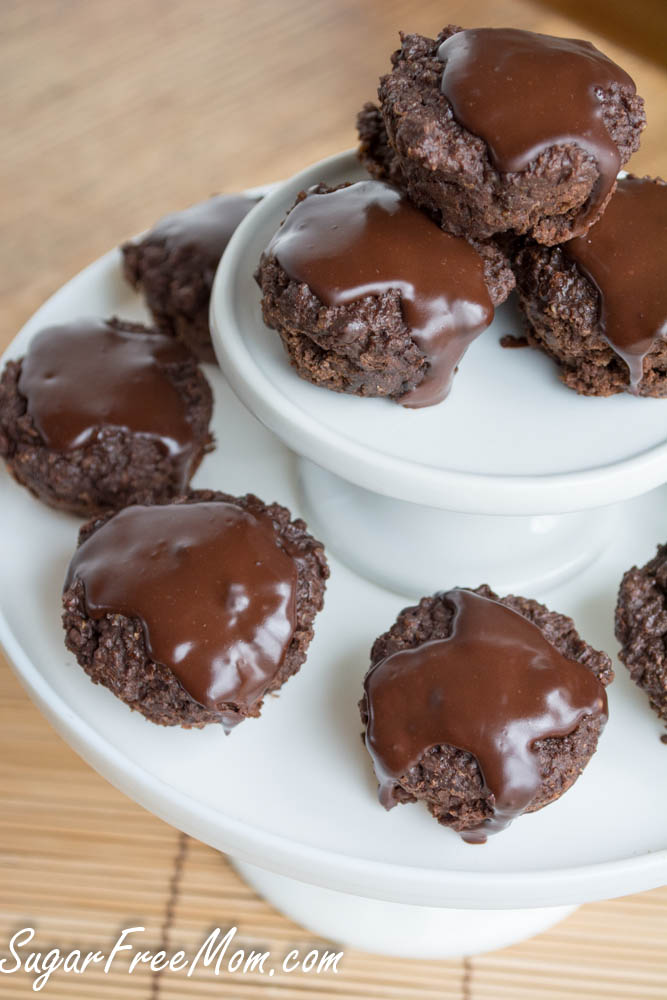 Notes on substitutions:
If you can't find sugar-free chocolate chips from Whole Foods, you can also use unsweetened carob chips that are still slightly sweet and add a nice flavor. The brand I found at Whole Foods for the sugar-free chocolate chips was by Lily's, sweetened with stevia.
You could also look for chocolate chips or a chocolate bar that has the highest amount of cocoa in it, maybe 80-90%. You may need to add more stevia if the chocolate is too bitter for you.
If you need an allergy friendly chocolate chip, Enjoy Life is a great brand I've used before for my boys.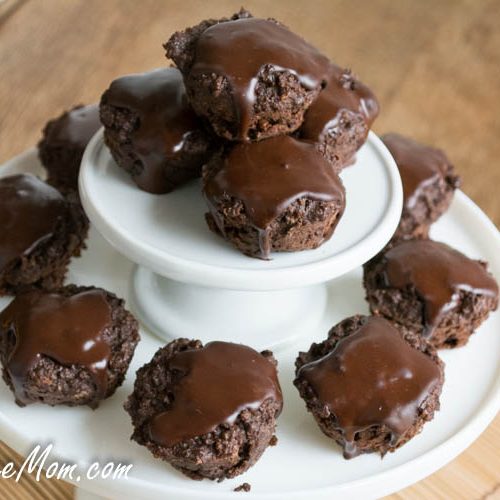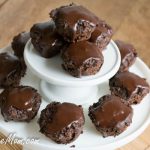 Print
Gluten & Sugar Free Quinoa Brownie Bites with Sugar Free Ganache
Instructions
Bring water and quinoa to a boil.

Cover and reduce heat to a simmer.

Cook for 12-15 minutes until water is absorbed.

Add salt and set aside. Preheat oven to 350 degrees.

In a large bowl, whisk eggs until frothy.

Add stevia and extract together with eggs.

In a food processor combine quinoa, cocoa powder, milk, flax seed and chocolate chips.

Process until combined well then add egg mixture, baking powder and process again.

Pour mixture into 24 mini muffin cups.

Bake for 20 minutes.

Cool slightly then loosen edges with a knife.

Remove and cool on a wire rack.

Once cooled add sugar free chocolate ganache.
Ganache
Heat cream, vanilla extract, and stevia over low heat in a sauce pan.

Once it comes to a gentle boil turn off heat and whisk in cocoa powder until smooth.

Pour over brownie bites or as a chocolate syrup over ice cream.

Allow to set before serving or storing in airtight container.
Notes
Weight Watchers PointsPlus: 3*
Nutrition
Serving:
1
g
|
Calories:
102
kcal
|
Carbohydrates:
14.6
g
|
Protein:
3.3
g
|
Fat:
5.8
g
|
Saturated Fat:
3.1
g
|
Cholesterol:
17
mg
|
Sodium:
45
mg
|
Fiber:
3.4
g
|
Sugar:
0.1
g