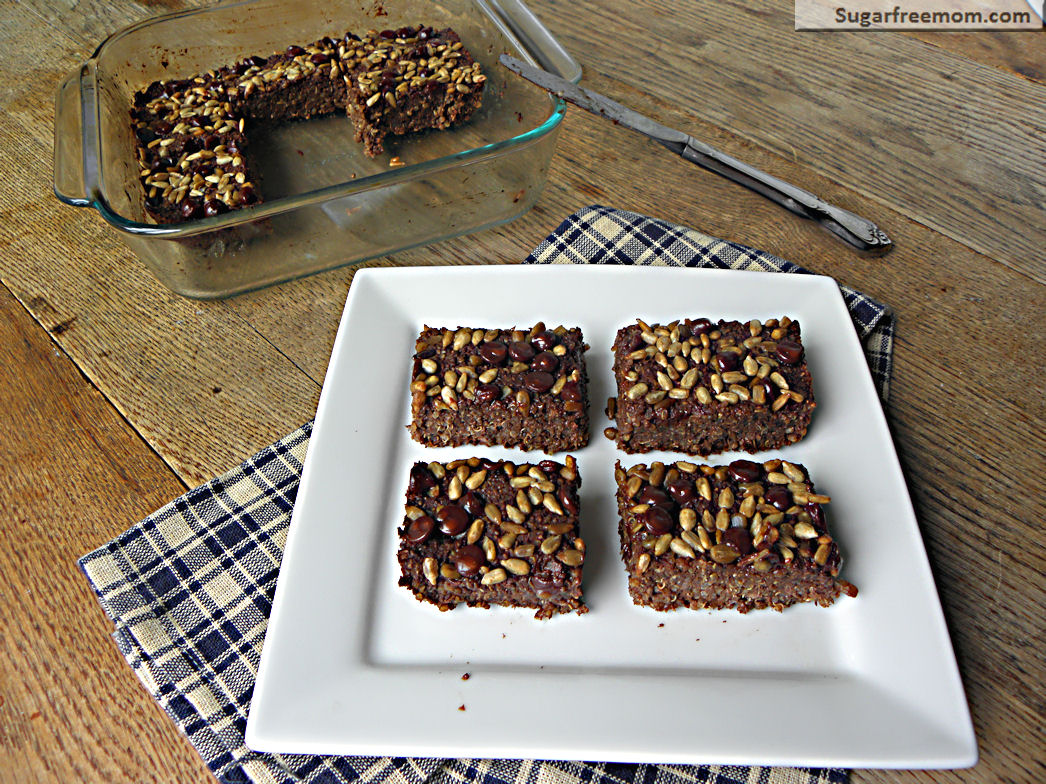 These look like brownies don't you think? Well they could certainly pass for one but the secret is QUINOA!! You cook some up and boy you can do some many things with it. I've made a bunch of quinoa salad recipes with it and lately have been enjoying baking with it. It is gluten free and works really well when combining it with other fabulous ingredients.
This recipe takes only about 10 minutes to put together and bakes for about 45 minutes but once you make it you've got a great grab-n- go snack for your family!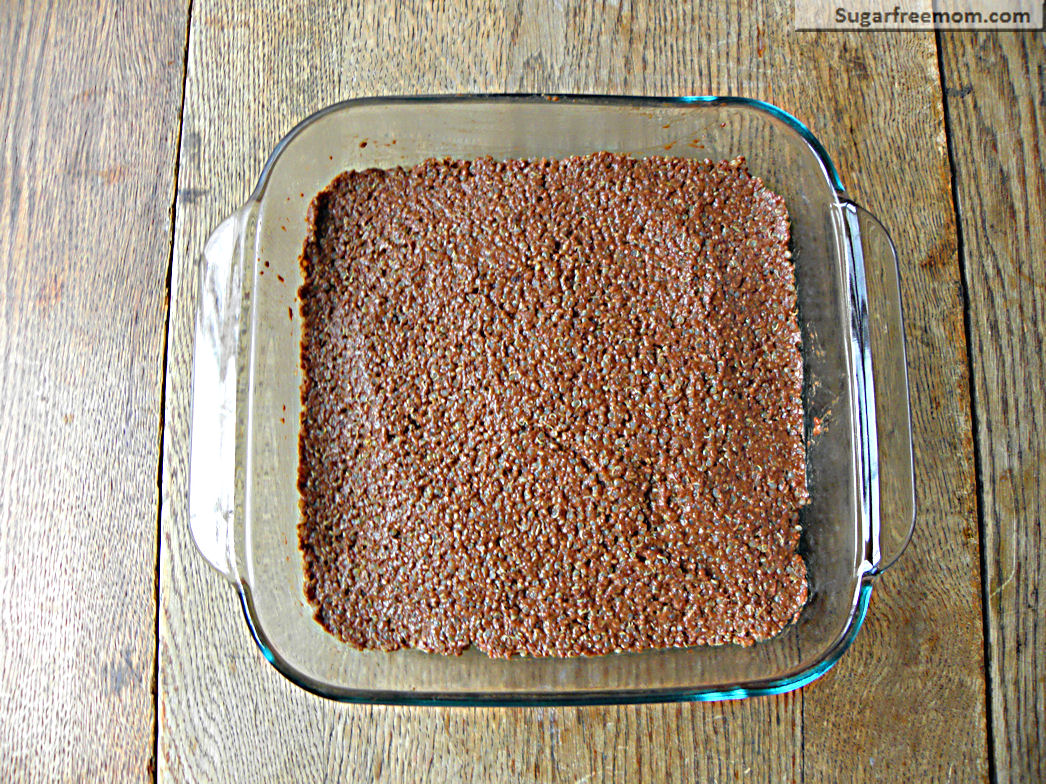 Mix some wonderful ingredients together in your blender or food processor and bake it like this or add some toppings!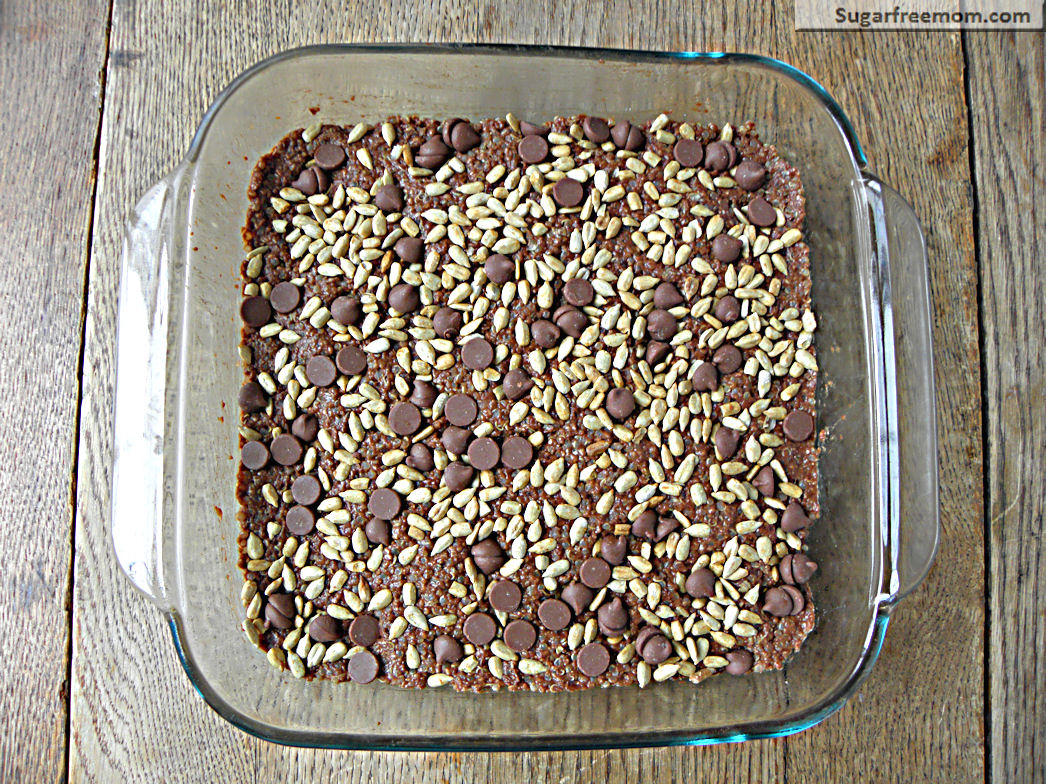 Here I added some grain sweetened chocolate chips and roasted sunflowers. Dried fruit and chopped nuts would be fantastic. These are only slightly sweet on their own without chocolate chips so if your family is used to sweeter snacks you may want to add in some stevia. But my family enjoyed it like this. 🙂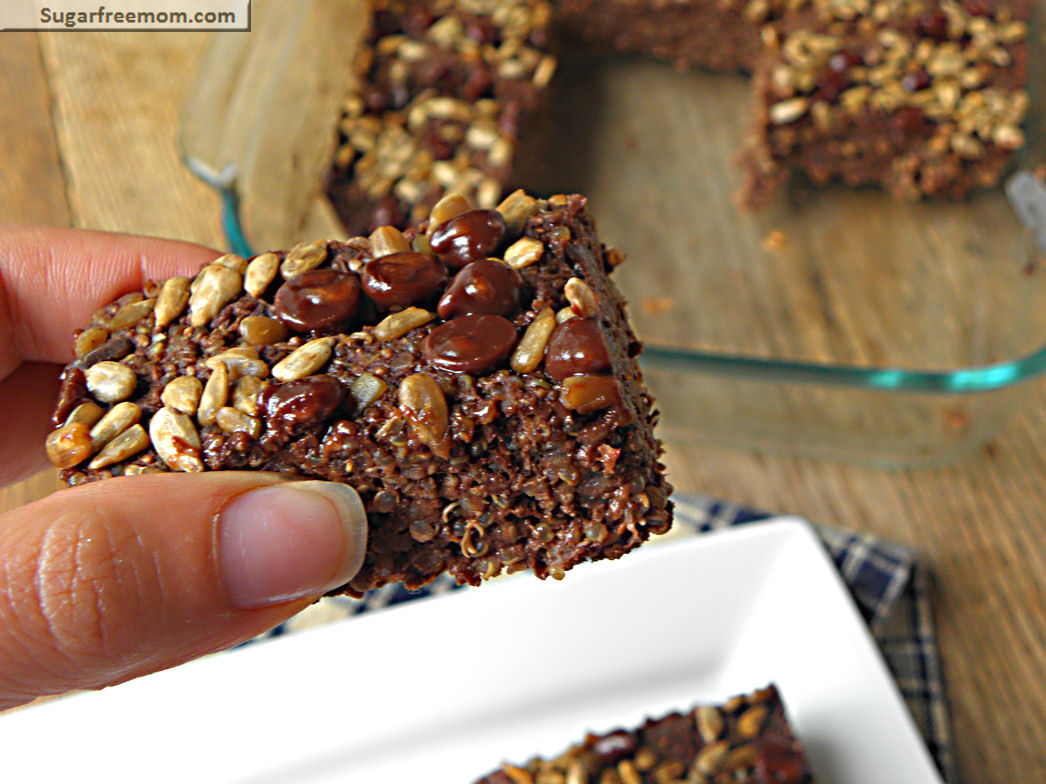 They hold their shape well and you can easily take them to go. They aren't dry like the texture of a granola bar, but if my picky 12 year old liked them I think ANY kid will. My son is surely HARD to please!
P.S. I NEVER told him they were quinoa bars. He knows only the name chocolate baked bars to go!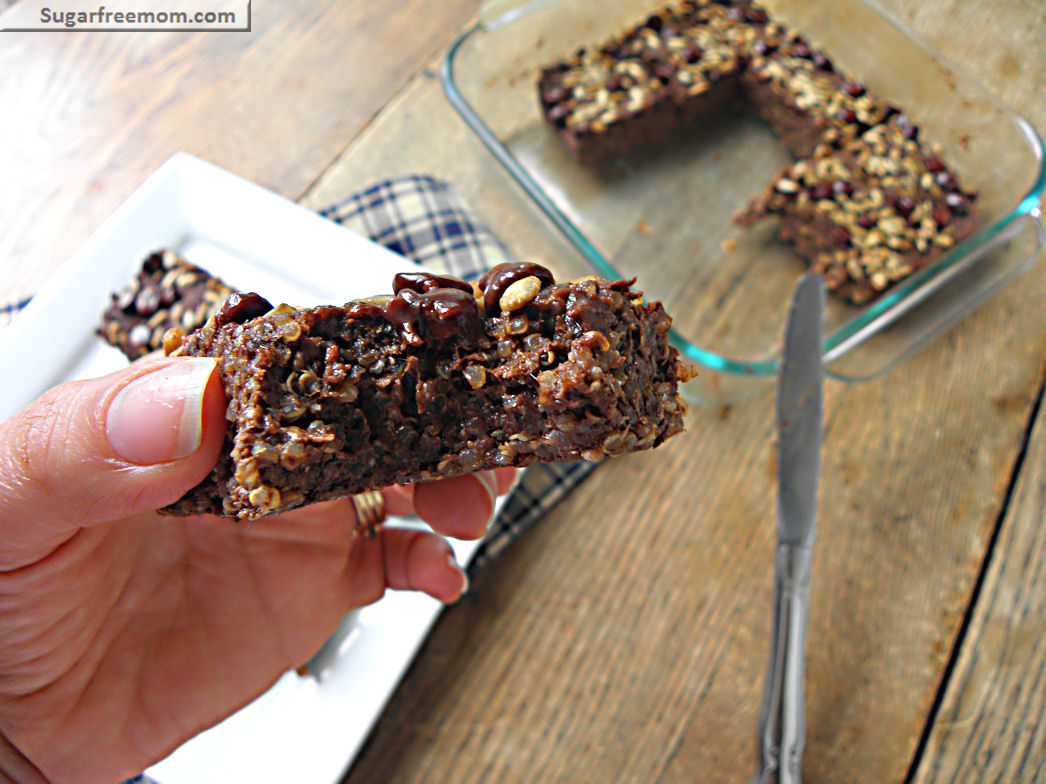 YUM! Enjoy some and then store in the fridge.
Wrapping individually with plastic wrap ensures they won't stick together, makes it easier to handle and it's perfect to pack into lunches as well.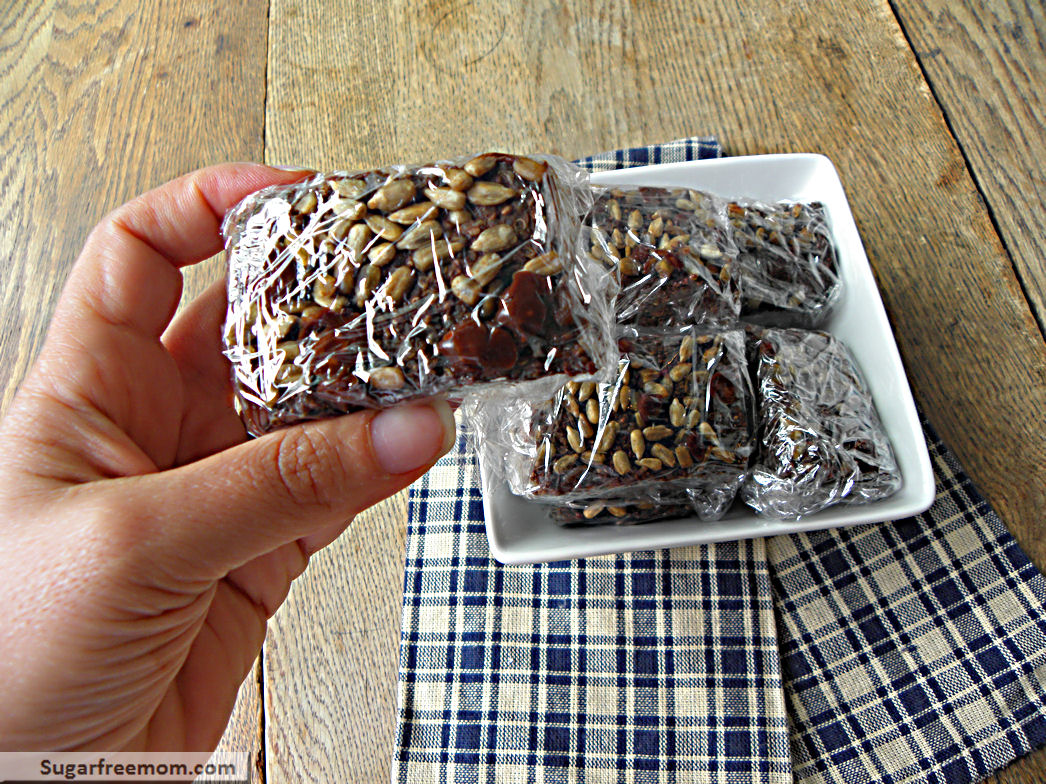 *adapted from WholeFoodsMarket.com
*Check this post if you are not sure how to cook your quinoa
I've adapted this recipe to be completely SUGAR-FREE as well as in the CROCK POT! Check it out here: CROCK POT SUGAR-FREE CHOCOALTE QUINOA BROWNIES!
Cocoa Baked Quinoa Bars: No Sugar Added, Gluten Free, Dairy Free
Author:
Prep time:
Cook time:
Total time:
Ingredients
Ingredients
½ cup raw almonds*
1-½ cups almond milk*, unsweetened (or milk of choice)
1 cup pitted dates
2 cups cooked quinoa
¼ cup chia seeds
¼ cup applesauce*, unsweetened
⅓ cup cocoa powder, unsweetened
¼ teaspoon salt
¼ cup flaxseed meal*
optional: ½ teaspoon liquid chocolate stevia, ¼ cup chocolate chips, ½ cup sunflower seeds, chopped nuts, shredded coconut, dried chopped fruit
Instructions
Preheat oven to 350 degrees.
Chop your almonds in your blender or food processor.
Add your pitted dates and almond milk in a high powdered blender or food processor (slowly, a few at a time).
Add chia seeds, applesauce, cocoa and salt and blend until smooth.
Transfer to a bowl and add your cooked quinoa and flaxseed meal.
Prepare an 8 by 8 baking dish with nonstick cooking spray or use parchment paper.
Place your cocoa quinoa mixture into the prepared dish and spread evenly.
Add optional toppings.
Bake for 45 -60 minutes or until firmly set on top. Mine were perfect at 45.
Let cool for 30 minutes before cutting into 12 squares.
Keep refrigerated or wrap in plastic wrap and freeze.
Serving size:
1
Calories:
202
Fat:
11g
Carbohydrates:
24g
Sugar:
9g
Sodium:
6mg
Fiber:
8g
Protein:
7g
Cholesterol:
0mg
Notes
* Make this nut free by removing the almonds and using milk of choice, increase flax and applesauce to ½ cup. Bake as recipe follows.[br]Weight Watchers PointsPlus: 5*
Other Baked Quinoa recipes you might like: