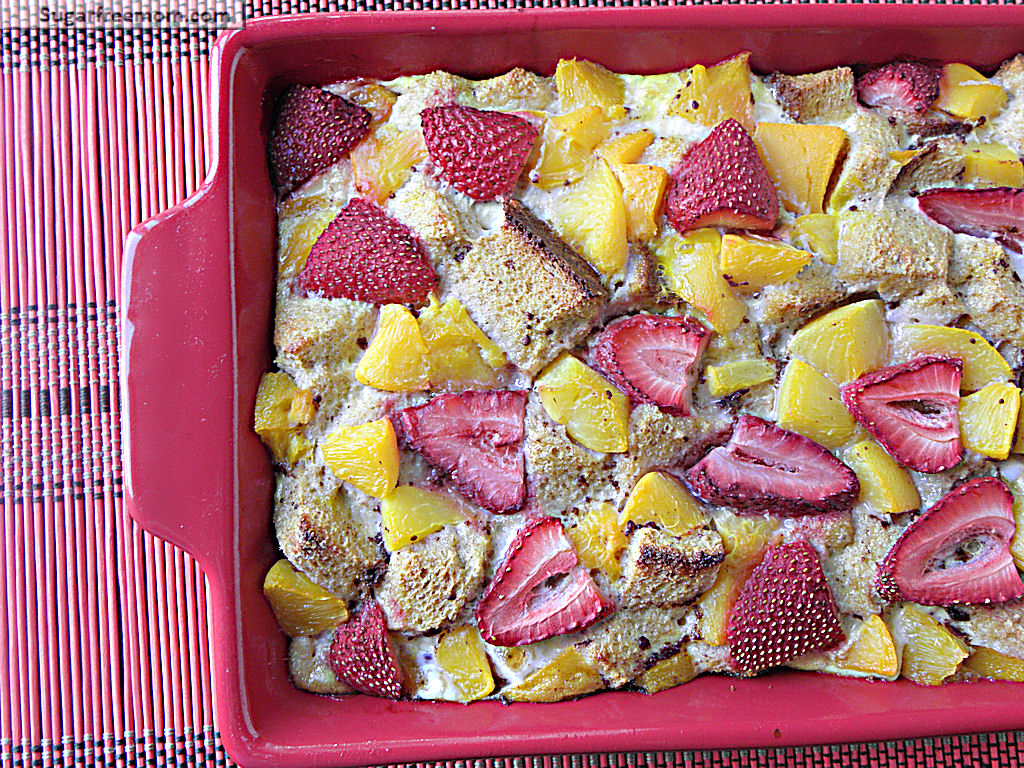 What do you do with a few slices left of bread that everyone is tired of having? Chop it up and make this recipe!!!
Add some fruit, mix some eggs, bake and........wha...la.....a healthy breakfast!
If you follow my blog then you know my aversion to standing at the stove flipping things like pancakes. This is also my feeling about french toast. Lucky for me my kids aren't too keen on regular french toast anyway. 🙂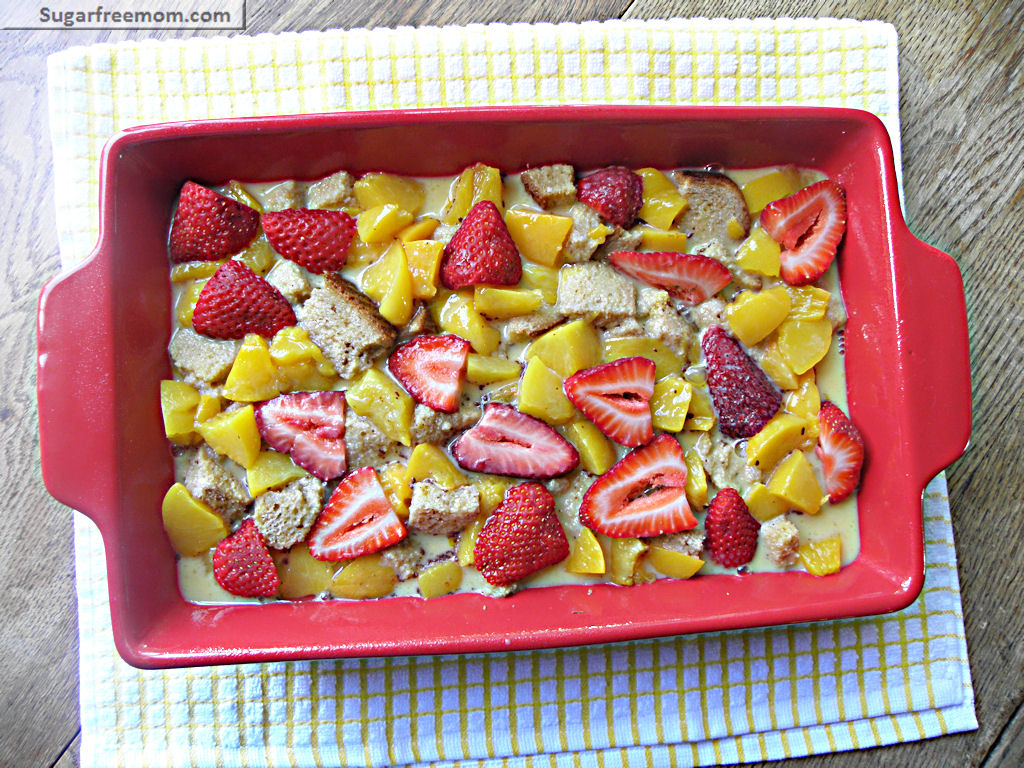 This is a super quick to prepare dish, takes some time in the oven but it is worth it. You just mix up the egg mixture, cube the bread, lay it in the dish, cover it with fruit and pour the egg mixture on top. You don't have to add strawberries, but I had some that were bruised and my kids are so picky they won't eat them with one tiny smoochy spot so I sliced them up and put them on top too!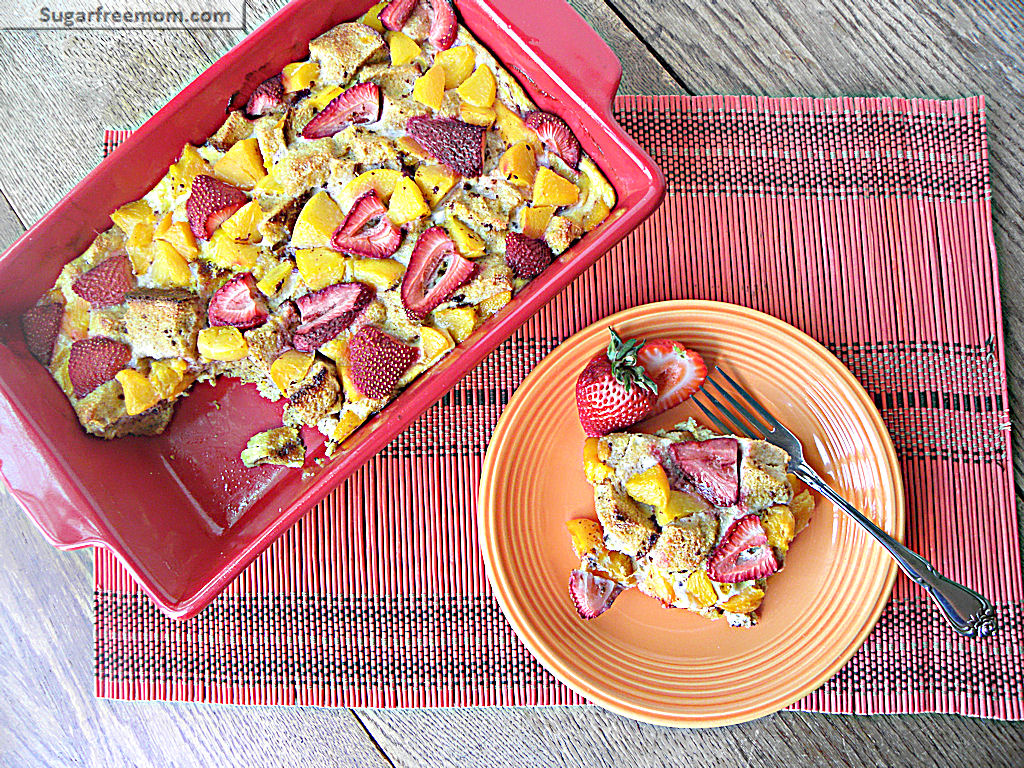 You could also probably add whatever fruit you like. I was out of fresh fruit options so I went with canned peaches in their own juices. You could use frozen berries, drained, which I love, but my kids have been getting tired of them as well.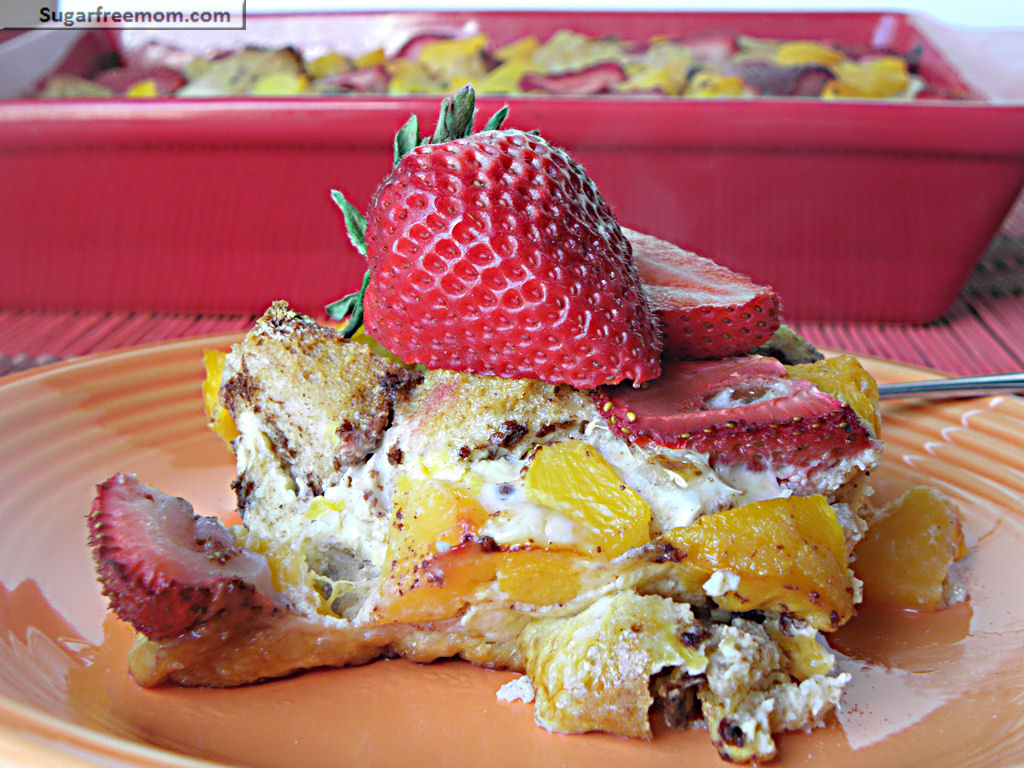 (recipe being shared at The Gooseberry Patch, The Country Cook)
The hubby loved this dish so I will be making it for Father's Day the day before and just reheat in the morning before we head to church!! Even the oldest picky child liked this better than traditional french toast.
I used regular 1% milk but If I could have used almond milk or soy I would have. My boys are allergic to both. The bread I had on hand was from Walmart, Nature's Pride whole wheat and was 70 calories per slice.
Have you seen my Healthy Bread video on YouTube? I share all about how to find a healthy whole wheat bread.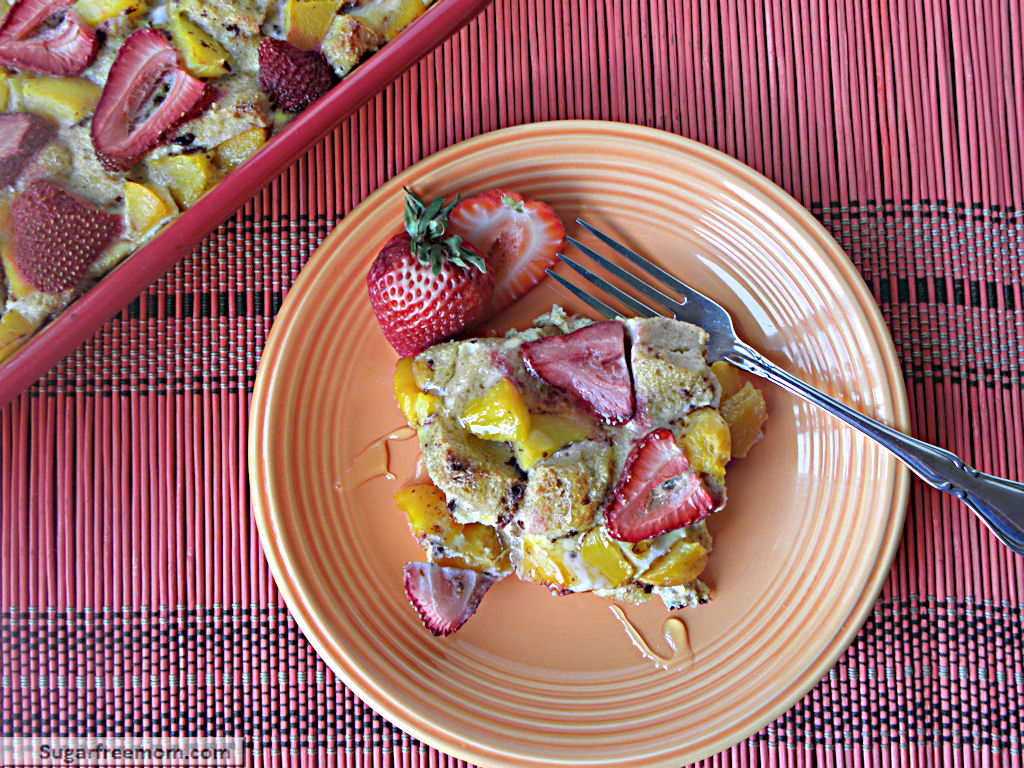 Add some honey on top and enjoy!
Easy, make ahead meal for brunch or overnight guests! I like that, I like that a lot...Don't you?
Healthy Baked Peachy French Toast
[sc:Ziplist]
Ingredients
1 ½ cups milk ( I used 1%)
1 teaspoon vanilla extract
1 teaspoon Sweetleaf Stevia Liquid, Vanilla Creme
½ teaspoon ground cinnamon
⅓ cup egg whites
6 whole eggs
6 slices hearty whole wheat bread ( or about 8 ounces total), cubed
2 cups chopped, drained, canned peaches, no sugar added
optional: ½ cup sliced strawberries
nonstick cooking spray
Directions
Preheat oven to 375 degrees. Whisk together all ingredients except bread and peaches. Spray a baking dish with cooking spray. Place bread into dish, add peaches on top. Pour wet mixture over the peaches and bread. Bake uncovered for a good 45-50 minutes until center is not visibly liquidy.
Nutrition Info [with peaches only]

Servings: 6* Calories per serving: 213* Fat: 7g* Fiber: 3g* Carbs: 25g* Protein: 14g* Points+: 6*