This tender keto veal parmesan has an incredible keto breading that is nut free, gluten free and tastes out of this world amazing!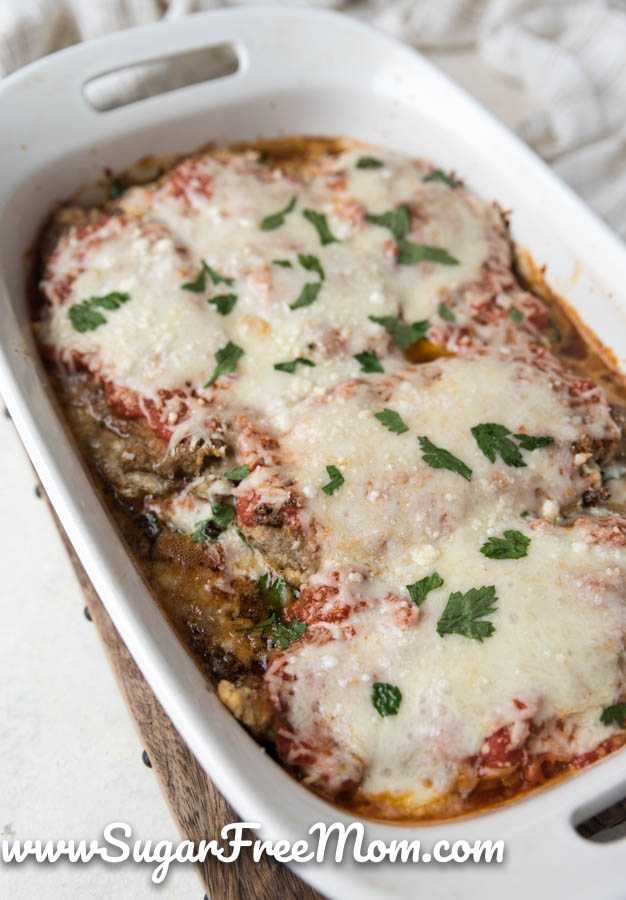 KETO BREADING
A keto breading that works for any kind of meat you might be frying is usually just made with crushed pork rinds. It works, but isn't really like an Italian breading made for chicken or veal parmesan. I've discovered a tastier option and I'm sharing this keto breading with you today which is an exclusive recipe in my cookbook, Naturally Keto. Using a special ingredient, this keto breading is fantastic for all your frying type recipes that you have missed and loved!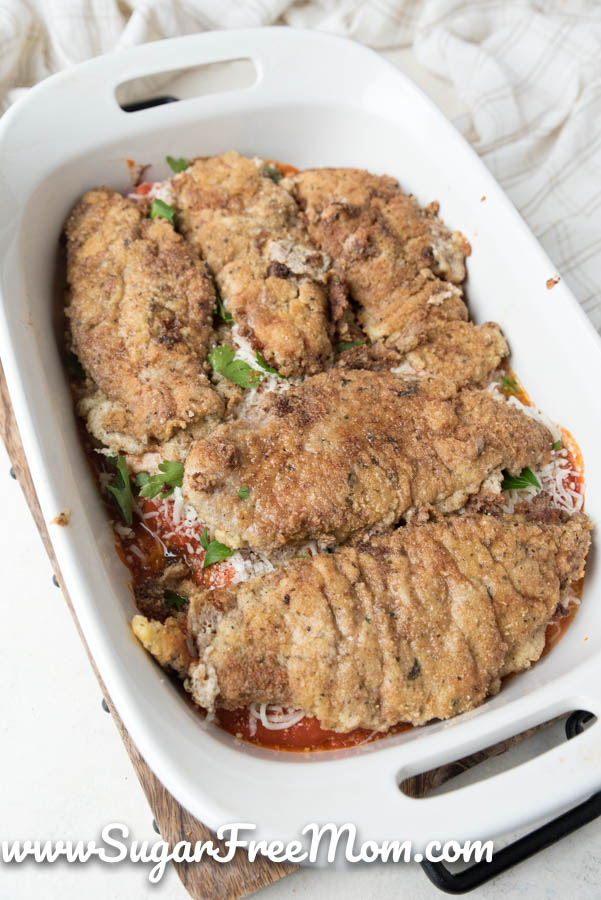 VEAL OR CHICKEN PARMESAN
Chicken parmesan is a traditional Italian family favorite recipe. Making a keto version for the breading traditionally made with breadcrumbs is how I created all the same flavors and texture of my beloved childhood recipe. Veal or chicken cutlets will equally work in this tender keto parmesan. In fact you could even use turkey cutlets! Choose your favorite, but be sure to pound the cutlets very thin so they fry up quickly and are perfectly tender!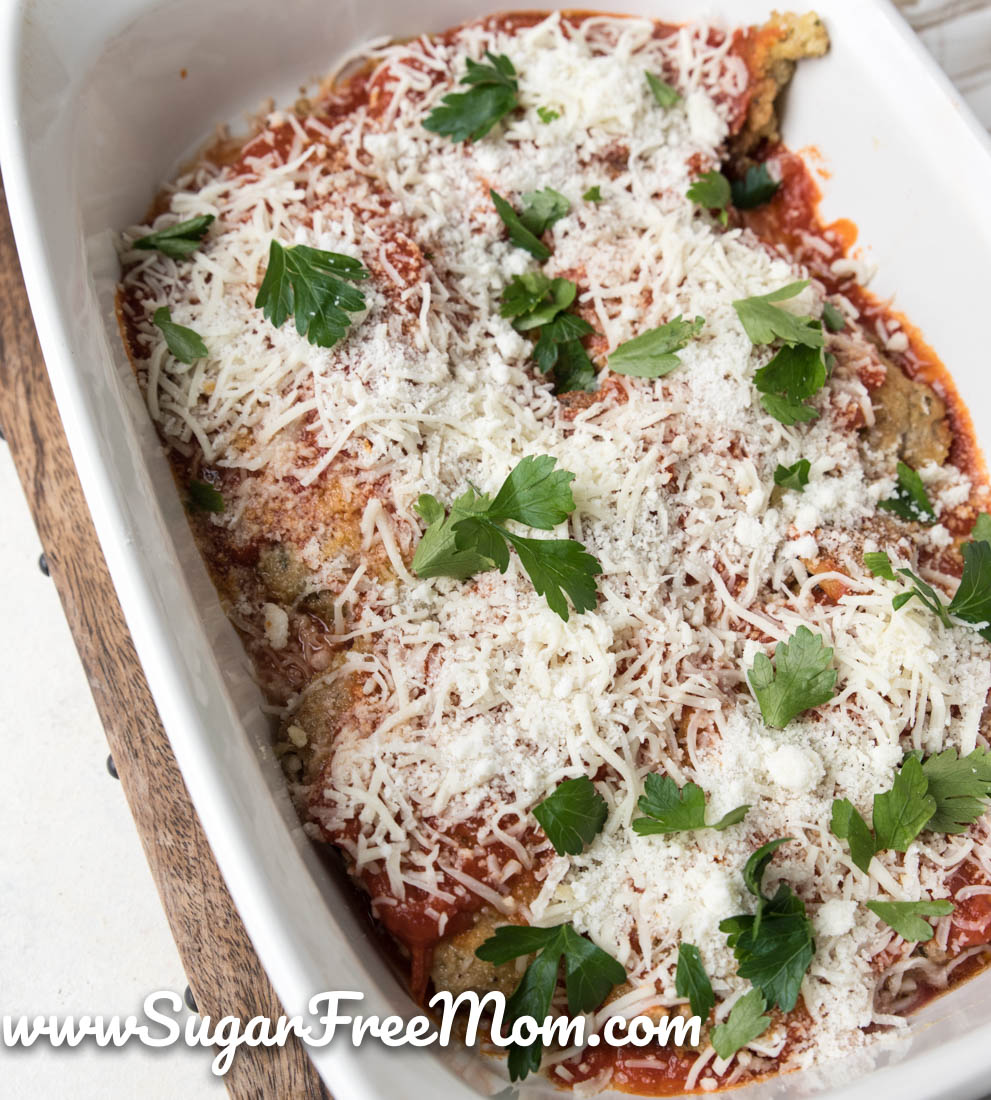 NATURALLY KETO COOKBOOK
Have you just started the keto diet? Not sure what to make, where to begin or how to feed the whole family so you can stay on the course? Have you been on a keto diet with success, but have now stalled? Do you need some keto food variety in your life? Do you or someone in your family have food allergies? Would it make life easier if you just had meal plans for yourself? Naturally Keto will help you in all these areas!
Whether you're just trying to remove sugar from your life, or just learning to eat low carb or even if you've been doing keto for a long time, Naturally Keto will bring you recipes that satisfy and inspire you, that even the novice cook can make with nothing too complicated or fancy or hard to find ingredients.
This book provides you keto friendly family meals that everyone will love, even the picky ones. Order Naturally Keto!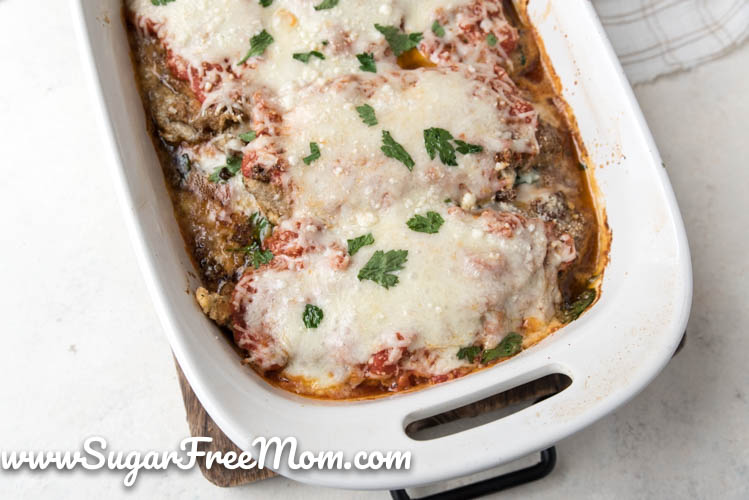 30% OFF KETO LOW CARB MEAL PLANS
I can't think of a better time to get started on meal planning, especially if you've never tried it before! We are hoping you are ready to get started with out Keto or Low Carb meal plans and to make this even easier for you, we are giving a coupon for the new year! Use code NY2021at check out today off our monthly or yearly membership and you'll get 30% OFF! This offer ends at the end of January so act now!
You can choose from Three Meal Plan Options:
Low Carb Meal Plan includes breakfast, lunch, dinner, and snacks with 40 net grams of carbs or less per day.

Keto Meal Plan includes breakfast, lunch, dinner, and snacks with 20 net grams of carbs or less per day.

Intermittent Fasting Keto Meal Plan includes 2 meals per day plus one protein/fat rich snack daily with no more than 20 TOTAL carbs per day.

KETO VEAL PARMESAN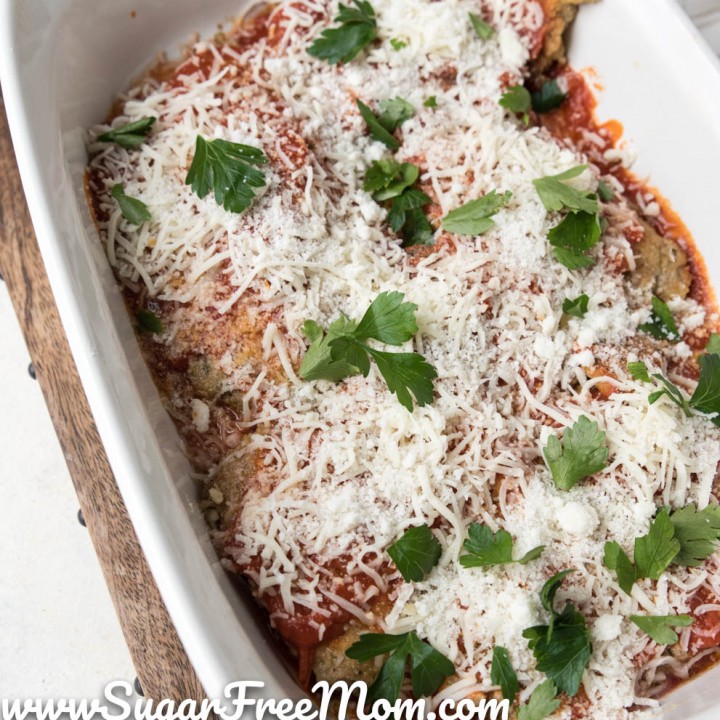 Print
Keto Veal Parmesan
Instructions
Preheat the oven to 350 degrees F.

Place the cutlets between pieces of parchment paper and use a meat mallet to pound the cutlets to about ⅛ inch in thickness.

In a shallow bowl, whisk together the pork rind crumbs, whey, baking powder, Italian seasoning, salt, pepper, garlic and onion powder.

In another shallow bowl, beat the eggs together.

Dip one cutlet at a time into the eggs then breading. Place breaded cutlets on a baking sheet pan while you finish coating the rest.

Heat the oil in a large skillet. Once oil is hot, place 4 cutlets in the pan and fry 2-3 minutes on each side until nicely browned. Remove and fry remaining cutlets.

Pour a half cup of sauce into a 9 by 13 baking dish. Spread it over the bottom. Place 4 cutlets on the sauce. Top with one cup sauce. Sprinkle ¼ cup of grated parmesan cheese over the sauce. Add 4 ounces of shredded mozzarella cheese over the top. Repeat this for the remaining cutlets. Cover and bake 25-30 minutes until sauce is bubbling and cheese is melted. Serve with fresh chopped parsley.
Nutrition
Serving:
1
cutlet
|
Calories:
405
kcal
|
Carbohydrates:
5
g
|
Protein:
44
g
|
Fat:
22
g
|
Saturated Fat:
8
g
|
Polyunsaturated Fat:
1
g
|
Monounsaturated Fat:
1
g
|
Trans Fat:
1
g
|
Cholesterol:
229
mg
|
Sodium:
925
mg
|
Potassium:
752
mg
|
Fiber:
1
g
|
Sugar:
1
g
|
Vitamin A:
335
IU
|
Calcium:
266
mg
|
Iron:
2
mg