Sugar Free Grain Free Raspberry Almond Scones would be a wonderful breakfast or tea time snack that any mom would love to enjoy on Mother's Day!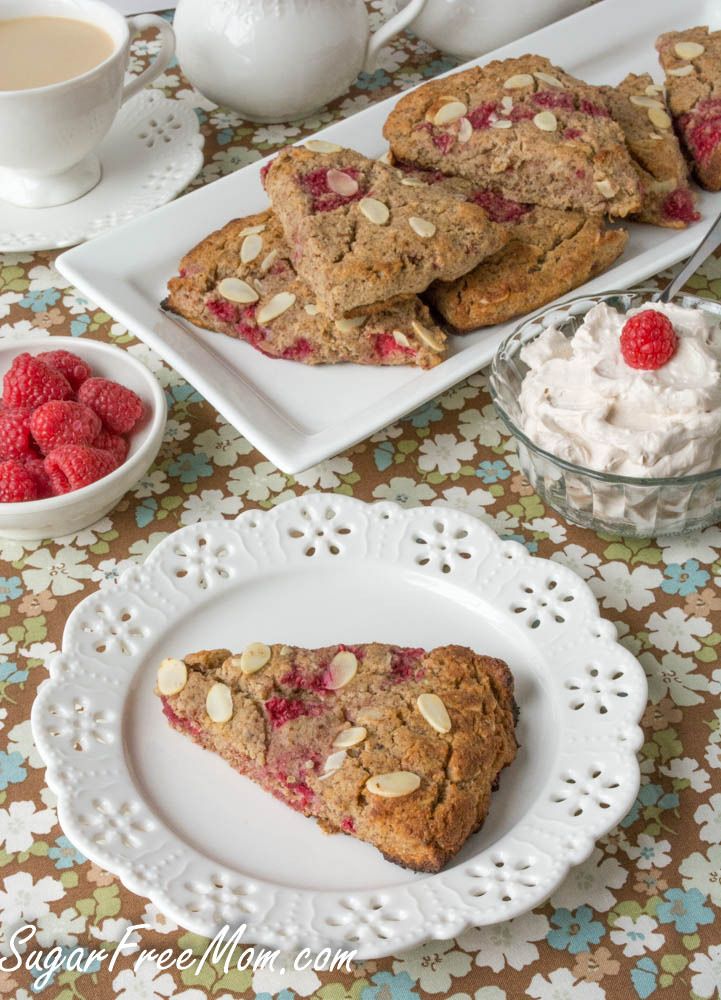 Breakfast in bed and a full day of pampering where the family waits on your every need is the ideal Mother's Day don't you think?
Most Mother's Day though that never quite happens. Not for me anyway. I always hope for a relaxing day but with the business of being a mom and having children who are involved in multiple activities, their needs come before my own.
Thankfully I don't envision this Mother's Day being spent at a soccer field as in some years past and I'm grateful as the weather in New England hasn't been very spring like in temperature.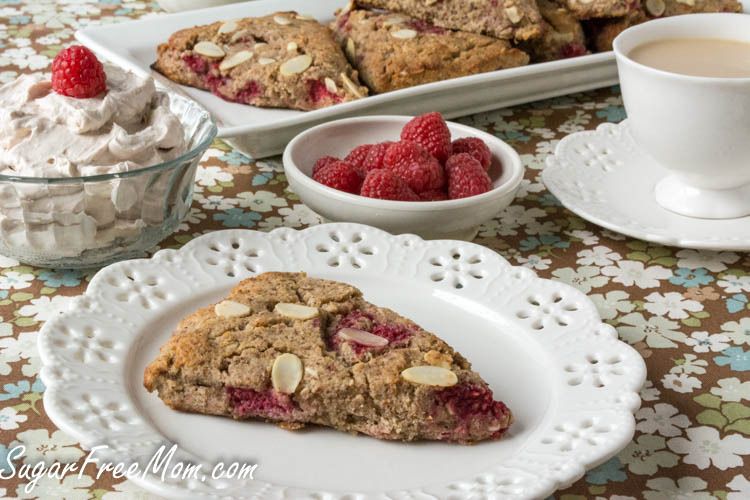 What I do envision is a day starting off with these scrumptious raspberry almond scones with a raspberry cream cheese spread on top!
The way to this mom's heart is not store bought gifts, but instead homemade cards and healthy, sugar free, low carb but completely luscious food that won't make me feel the least bit of guilt indulging in.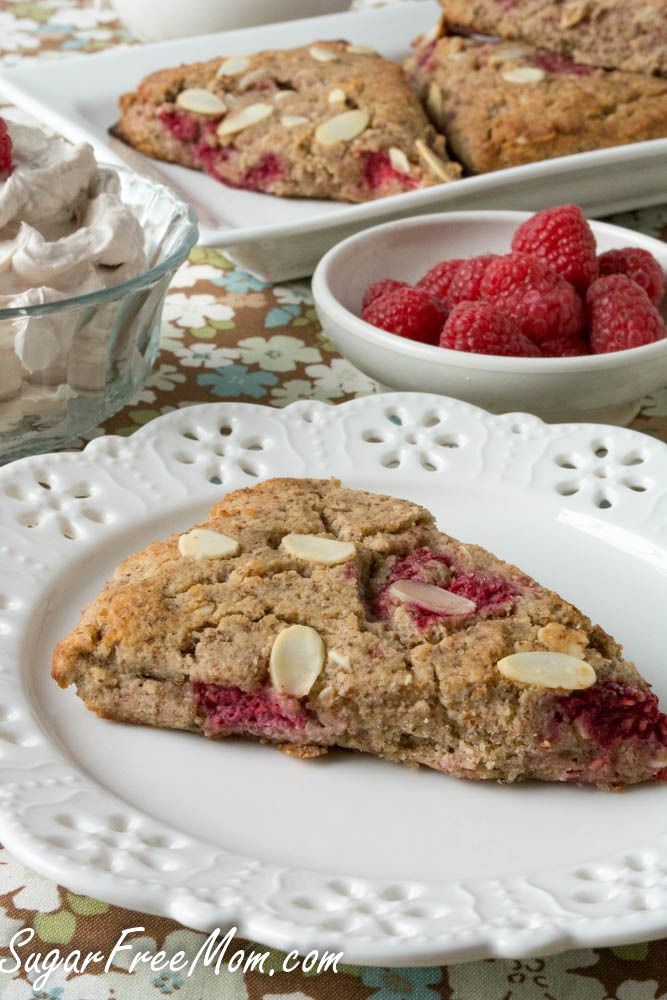 While my oldest is almost 15 he is not into cooking or baking at all. My 12 year old daughter, now that is a different story. Just give her a recipe and away she goes in the kitchen, just like her momma. In fact we often come up with recipe ideas together and she helps me immensely in the kitchen.
She encourages me when a recipe has failed and gives me that push to try again.
And in fact I think my failures that happen in the kitchen help her to learn from them as well. She is a self taught seamstress. Yes she is only 12 and taught herself to not only sew with a real adult size sewing machine, but now makes American Girl doll clothes. She also taught herself to crochet and knit! This kids is amazing and she didn't learn any of that from me. I can't even sew a button, no lie.
But when she does fail during a sewing or other craft project I remind her of all the times I failed at recipes and that puts a big giant smile on her face.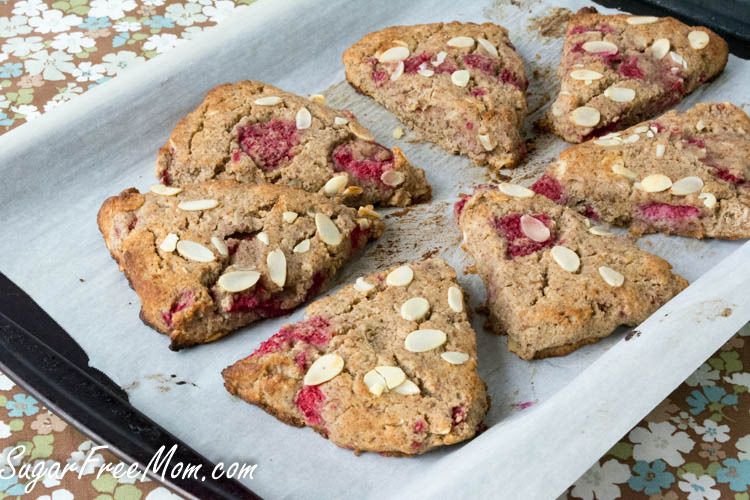 She must certainly take after my grandmother. My grandmother was also a self taught seamstress, crocheter and talented cook and baker.Wonderful memories and certain recipes in the kitchen, especially around Mother's Day, remind me of my grandmother. Scones is one of them. Hence this recipe for Mother's Day I'm sharing with you. Grandma loved almonds, berries and all things involved with baking!
My daughter never really got to know her as she passed 10 days after my daughter turned 1, eleven years ago, but there isn't a day that goes by that I don't think about her since I see so much of my grandmother in my daughter. I cherish the time I had with my grandmother and the memories I'm making in the kitchen with my daughter and that to me is the best Mother's day gift ever.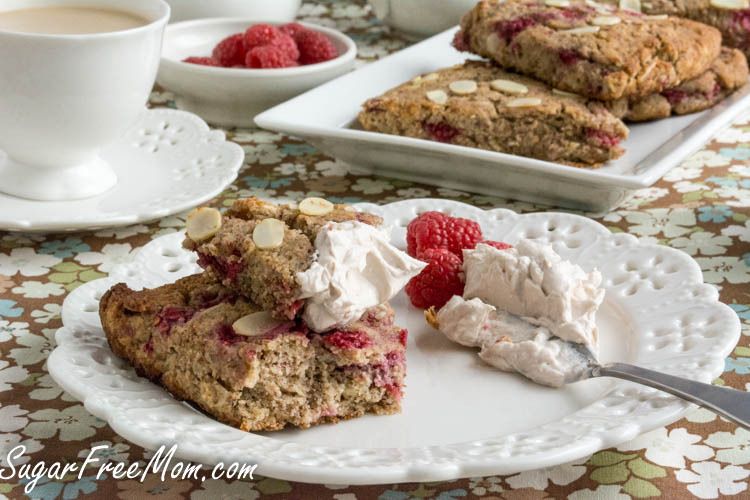 My grandmother was an amazing Italian cook and baker. Although I have to recreate many of her recipes to make them gluten free, sugar free and low carb I think she would extremely proud of the recipes I've made that honor her legacy. Many of them are in my cookbook, Sugar Free Mom: Naturally Sweet and Sugar Free Recipes for the Whole Family. Yes I think she would be proud.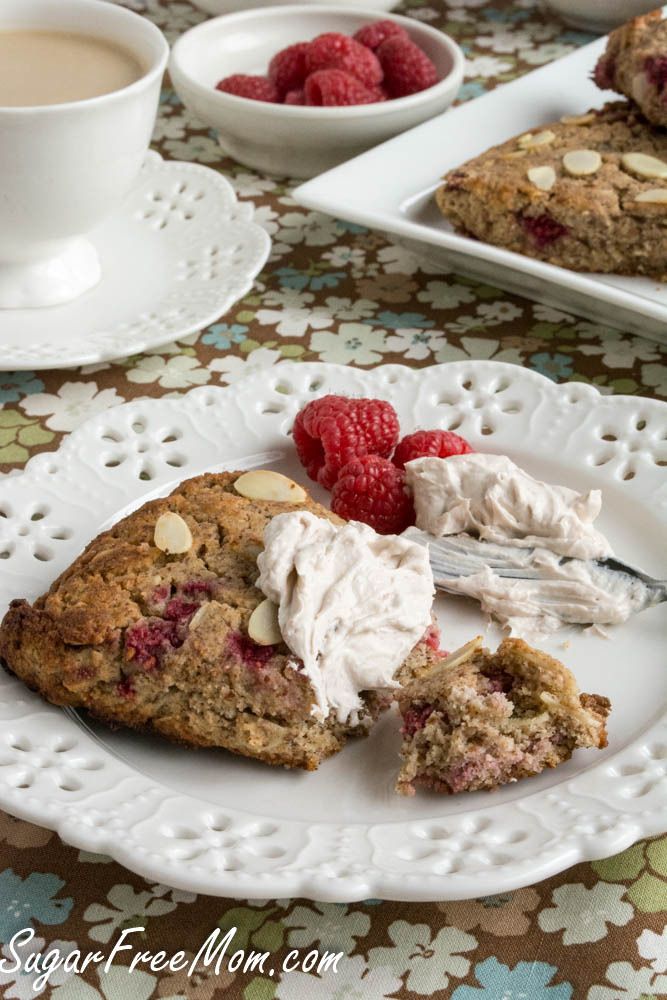 Of course this recipe had to include Silk Unsweetened Almond Milk as it fits perfectly in the scones my grandmother would have loved. Sign up for the Silk Newsletter to read more inspiring and wonderful Mother's Day recipes and posts!
To fancy up the scones rather than use butter as a spread, I chose Horizon cream cheese. It's super creamy! You can find Horizon on FB and Twitter! When adding a bit of seedless raspberry jam to the cream cheese with a little bit of Silk unsweetened almond milk to make it smooth, it's simply heavenly with the scones!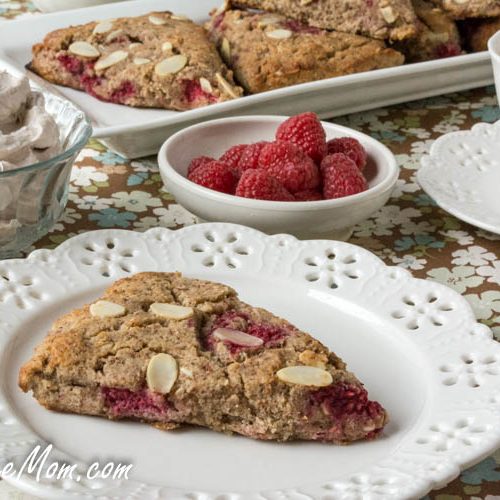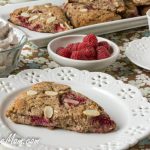 Print
Sugar Free Grain Free Raspberry Almond Scones
Ingredients
Raspberry Cream Cheese Spread
8

ounces

Horizon cream cheese

room temperature

2

tablespoons

raspberry jam

I used Organic Farming Fiordifruta which is sweetened with fruit juice only

1

tablespoon

unsweetened Silk Almond Milk
Instructions
Preheat the oven to 375 degrees F.

Whisk the first 6 ingredients together.

Cut in the butter using 2 butter knifes or place in a food processor and pulse until combined.

In a stand mixer place the eggs, almond milk, extract, and liquid stevia.

Blend until combined.

Pour the dry ingredients into the stand mixer and blend on low until incorporated.

Gently stir in the slivered almonds and raspberries.

Place batter onto a parchment lined baking pan.

Make an 8 inch circle.

Using a greased pizza cutter or knife cut the circle into 8 triangles.

Using a greased spatula, separate the scones from each other and bake for 20 minutes.

Allow to cool 15 minutes before removing from pan.

To make the cream cheese spread, allow the cream cheese to get to room temperature fora 2-3 hours then add in the rest of the ingredients in a stand mixer.

Blend on high speed until completely smooth.

Taste and decide if you need to add any sweetener.

Enjoy a scone with 1 ounce of spread.

Keep spread refrigerated.
Nutrition
Serving:
1
g
|
Calories:
433
kcal
|
Carbohydrates:
17.2
g
|
Protein:
12.4
g
|
Fat:
37.7
g
|
Saturated Fat:
13
g
|
Cholesterol:
100
mg
|
Sodium:
448
mg
|
Fiber:
7.3
g
|
Sugar:
3.8
g
This conversation is sponsored by Silk and Horizon. The opinions and text are all mine.