This 1-Minute Low Carb Cinnamon English Muffin is the Nut Free version of my original 2- Minute Low Carb English Muffin!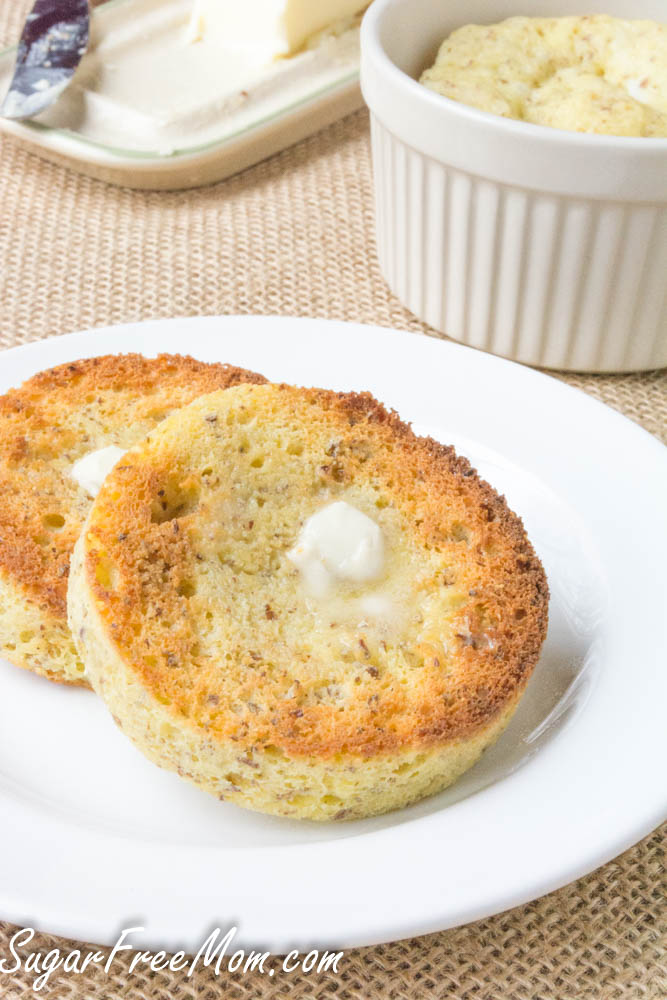 When your tree nut allergic child begs you to make something nut free, what do you do?
You get to work of course!
My most popular 2 Minute Low Carb English Muffin has gone viral and I'm thrilled! But my little guy broke my heart when he asked when I would make a nut free version just for him! I've worked on this particular recipe a LOT to get just the right texture and to hear my youngest boy say he loved it.
I had quite a few unsuccessful attempts and my little guy taste tested them all. He is also the greatest coconut detector of all, and truly hates the flavor of it. Making low carb, gluten free AND tree nut free recipes is always a challenge.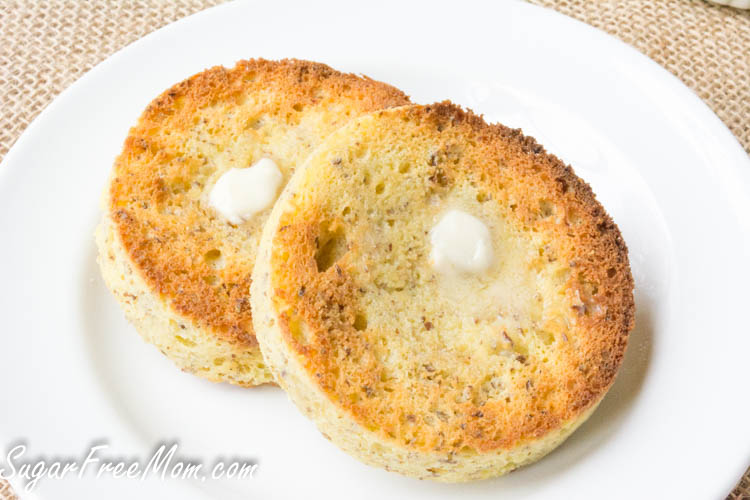 These have absolutely NO coconut flavor in them at all. I promise! My notes below will explain all the ways I changed this recipe around until I got the best version.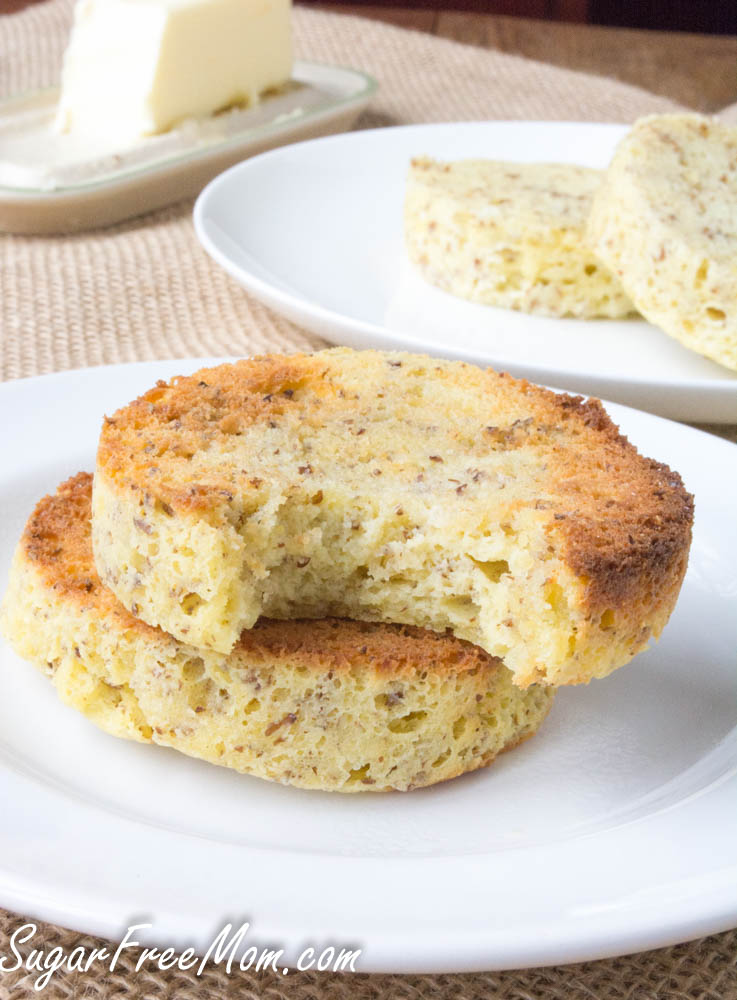 This recipe makes 2 English Muffins and one is plenty to satisfy.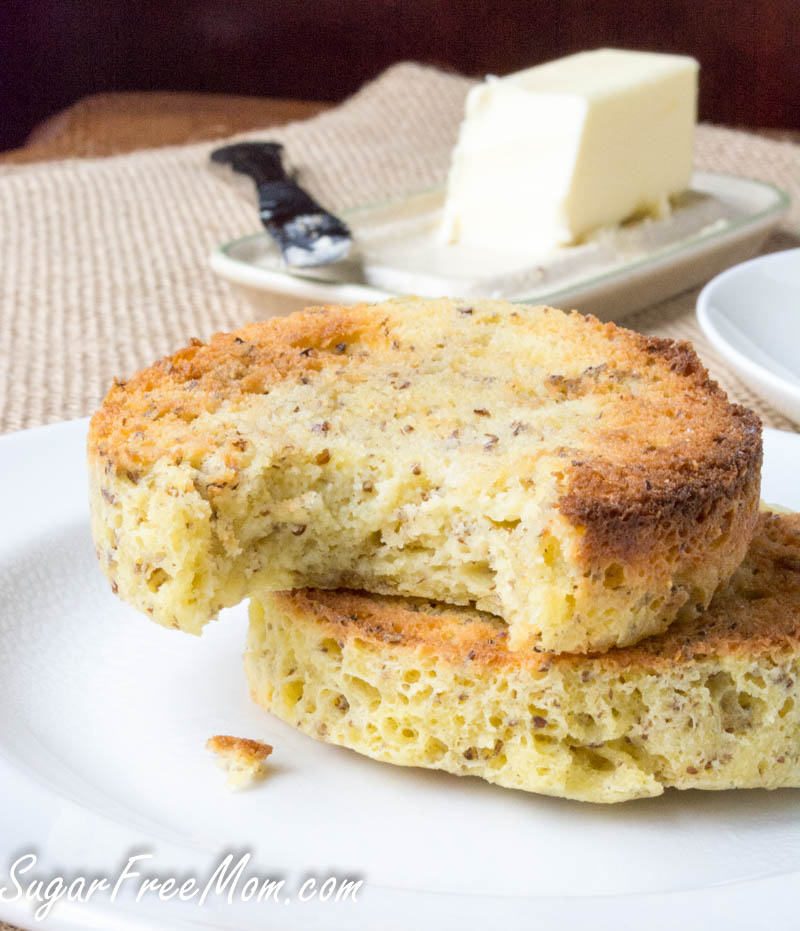 Hearing my youngest son tell me how much he loves these made all the work worth it! I hope you love it too!
Brenda's Notes:
I've made this 3 different times with 3 different substitutions. The first time I made this I used 1 tbsp of ground flaxseed in place of 1 tbsp of coconut flour. I enjoyed the taste of this option the best and it resembled "bread" best in texture. I decided to try hemp seeds as my second option, 1 tbsp in place of 1 tbsp of coconut flour in this recipe. It was a bit too spongey for my taste, but it still held together and was tasty, I just didn't prefer it over the flax. The third time I made this I used what you see in the recipe below and what I feel is probably the best in texture. The 2 tbsp of coconut flour serves as the best "bread" like texture.
I had my youngest son who is the one who hates coconut try these each time I made them and said he could not taste any coconut flavor at all and really liked them, but we did not notice as strong a cinnamon flavor as we would like.
If you aren't a fan of cinnamon you can eliminate it, but if you really like cinnamon I would suggest upping the amount to 1 ½ tsp for a stronger cinnamon flavor.
I've also tried making this with a little sweetness to it, using ½ tsp of cinnamon flavored stevia. I did not like it sweet, just my preference, but you could always add it if you like.
My ramekins used here are 5 ounces each.
Check out My other English Muffin Recipes: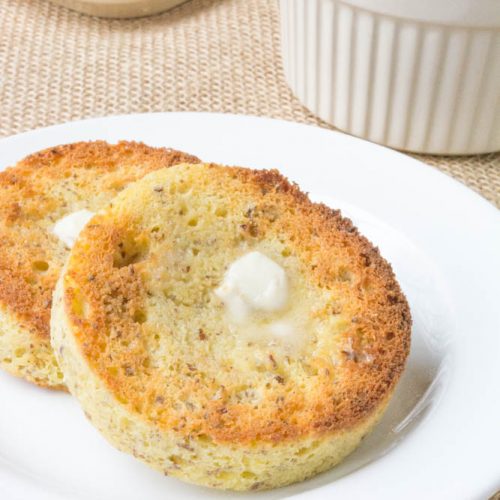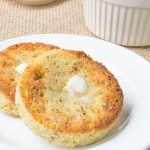 1-Minute Low Carb Cinnamon English Muffin (Nut Free)
Ingredients
1

tbsp

butter

2

tbsp

coconut butter

I used Artisana organics

2

tbsp

heavy cream

2

tbsp

coconut flour

I used Bob's Red Mill

⅛

tsp

salt

½

tsp

baking powder

1

tsp

ground cinnamon

2

eggs

beaten

Optional: ¼ tsp cinnamon liquid stevia or vanilla
Instructions
Melt the butter with coconut butter in a small microwaveable bowl. Stir until smooth.

Stir in heavy cream.

In another bowl whisk flour, salt, baking powder and cinnamon. Pour into the butter mixture and combine well.

Stir in the beaten eggs.

Pour evenly, filling half of each ramekin.

Microwave one at a time for 1 minute. If the center is not set, microwave another 30 seconds.

Cool slightly then remove from ramekin and slice in half.

Toast as desired.
Recipe Notes
Net Carbs: 4g
Nutrition Facts
1-Minute Low Carb Cinnamon English Muffin (Nut Free)
Amount Per Serving (1 Muffin)
Calories 292
Calories from Fat 216
% Daily Value*
Fat 24g37%
Cholesterol 199mg66%
Sodium 285mg12%
Potassium 186mg5%
Carbohydrates 9g3%
Protein 7g14%
Vitamin A 635IU13%
Calcium 102mg10%
Iron 1.6mg9%
* Percent Daily Values are based on a 2000 calorie diet.