How to Stop Emotional and Stress Eating Coaching Class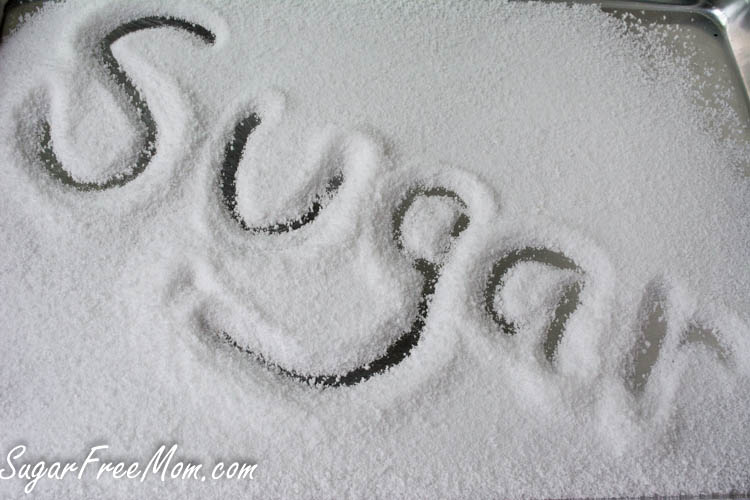 Sugar and Carb Cravings
Let's face it, stress happens to all of us. No one is immune to external or internal stress and how we deal with stress is different for everyone. Some turn to alcohol or drugs, but some turn to food to soothe ourselves. At some point it just became a habit our brains used to deal with stress and it's often a really hard habit to break. But I've got some good news if you happen to be someone in this group that stress eats with sugar and carbs, you can break free from it!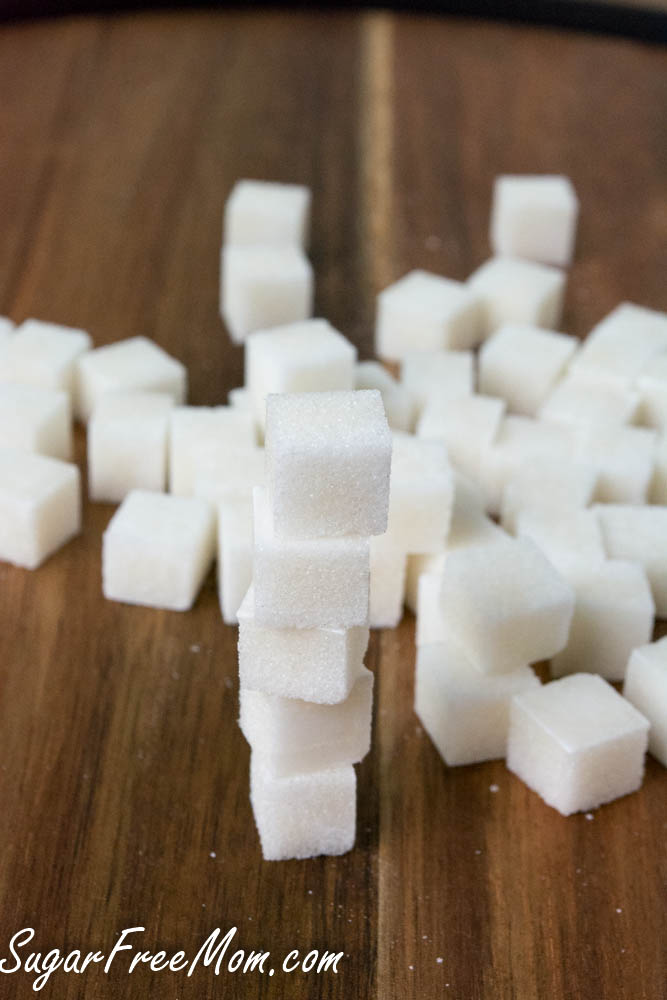 Stress and Emotional Eating
If it's beens years and years and you've dealt with whatever life throws at you by eating over it, then you know this is an ingrained habit in your brain. But there are simple ways to rewire our brains to stop the stress eating. Simple strategies that really work to retrain your brain to stop eating over your emotions. I said simple, but I didn't say they'd be easy. Simple and easy are two very different things, but with support it can be done and I'm going to share with you, not only how to stop the stress eating, but how to rewire your brain into using other strategies to reduce your stress, so you don't continue this destructive pattern.
Join me on Wednesday July 1, 2020 at 7pm eastern for a LIVE ZOOM Coaching Class to teach you How to Stop Stress and Emotional Eating, details below!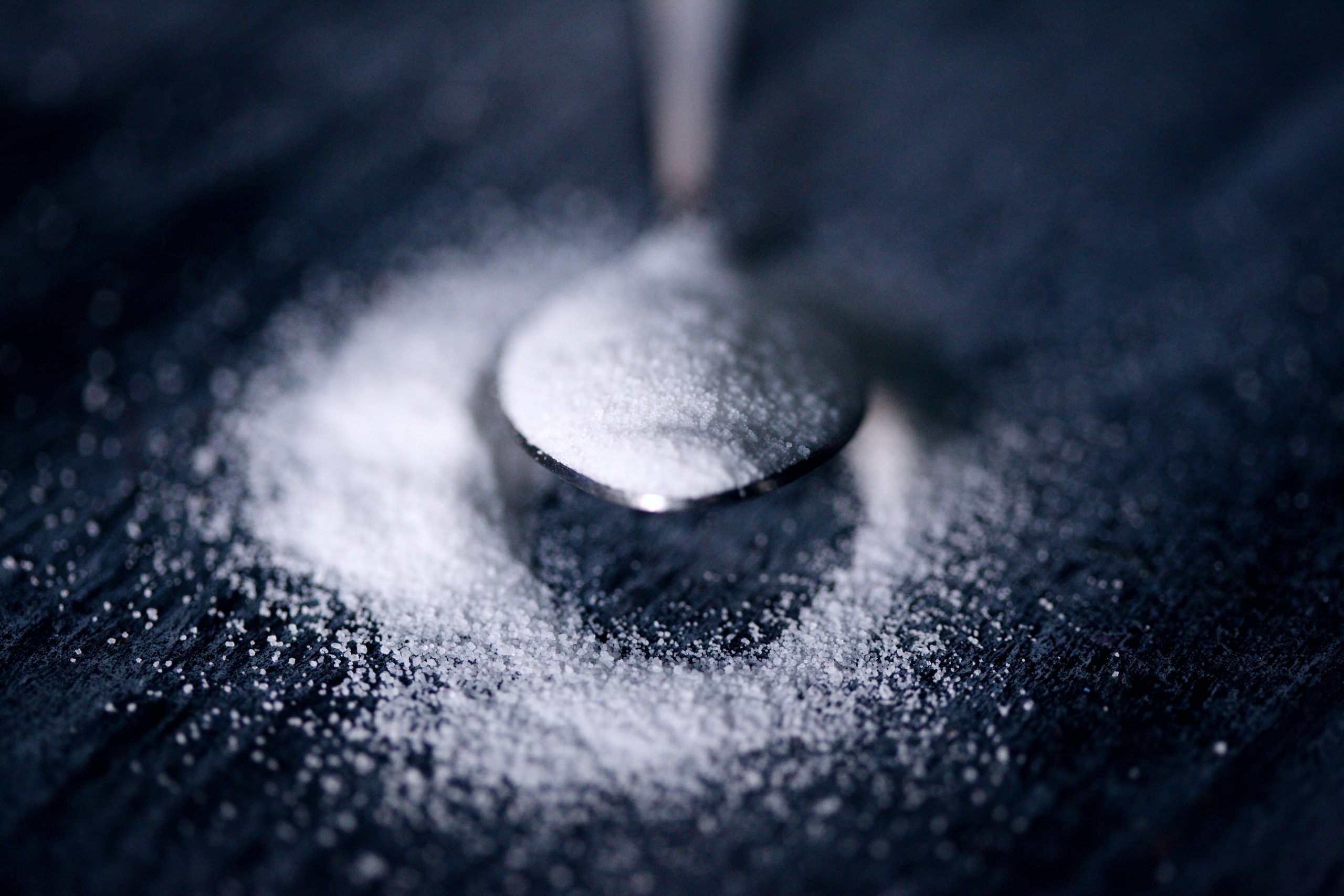 Sugar Detox Course and Membership
In May 2020, I designed and launched my 5 week Sugar Detox Course that was a revamped sugar detox program I originally created back in 2012. It was a huge success with many fantastic testimonials like this one:
Susan says, "I stepped on the scale this morning, after just one week on plan I'm down 4.8 pounds! So excited!"
If you missed the announcement and weren't able to join, you can get on the waitlist for the next class in September.
However after the course ended I felt many still needed support to continue on this sugar free path and that is how the Sugar Free Mom VIP Membership came to be!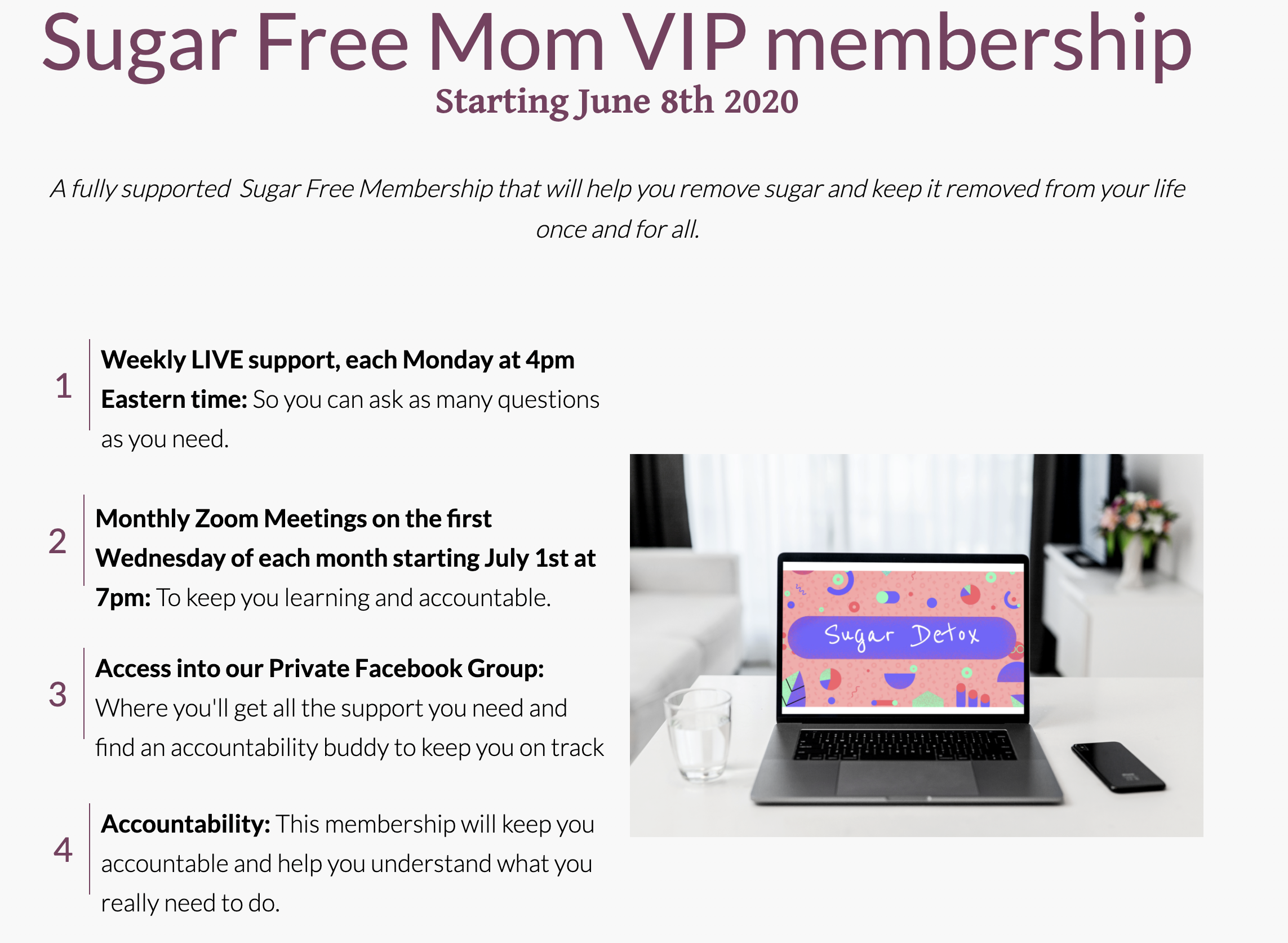 Each week in the membership, I am doing Live Coaching calls every Monday at 4pm eastern. If you don't make it live, the recordings are available in the FB group, but also on the membership website for those that don't do Facebook. I also answer questions during that time. So this is like having a personal health coach at your disposal 24/7!!
I felt that everyone can benefit from support like this so I did not want to exclude those of you who have not taken my Sugar Detox Course and that is why I am offering this membership to everyone. You can benefit from having group support, weekly lives, motivation, encouragement from others who are dealing with the same struggle with sugar and carbs. Each month I will be offering a Zoom coaching class. This first class is, How to Stop Stress and Emotional Eating, July 1st, 2020 at 7pm eastern. If you can't make it live the recording will be available on the member website. You can join the membership for one month at $19.99 or you can get a discount if you decide to pay the yearly price and you can also cancel at any time.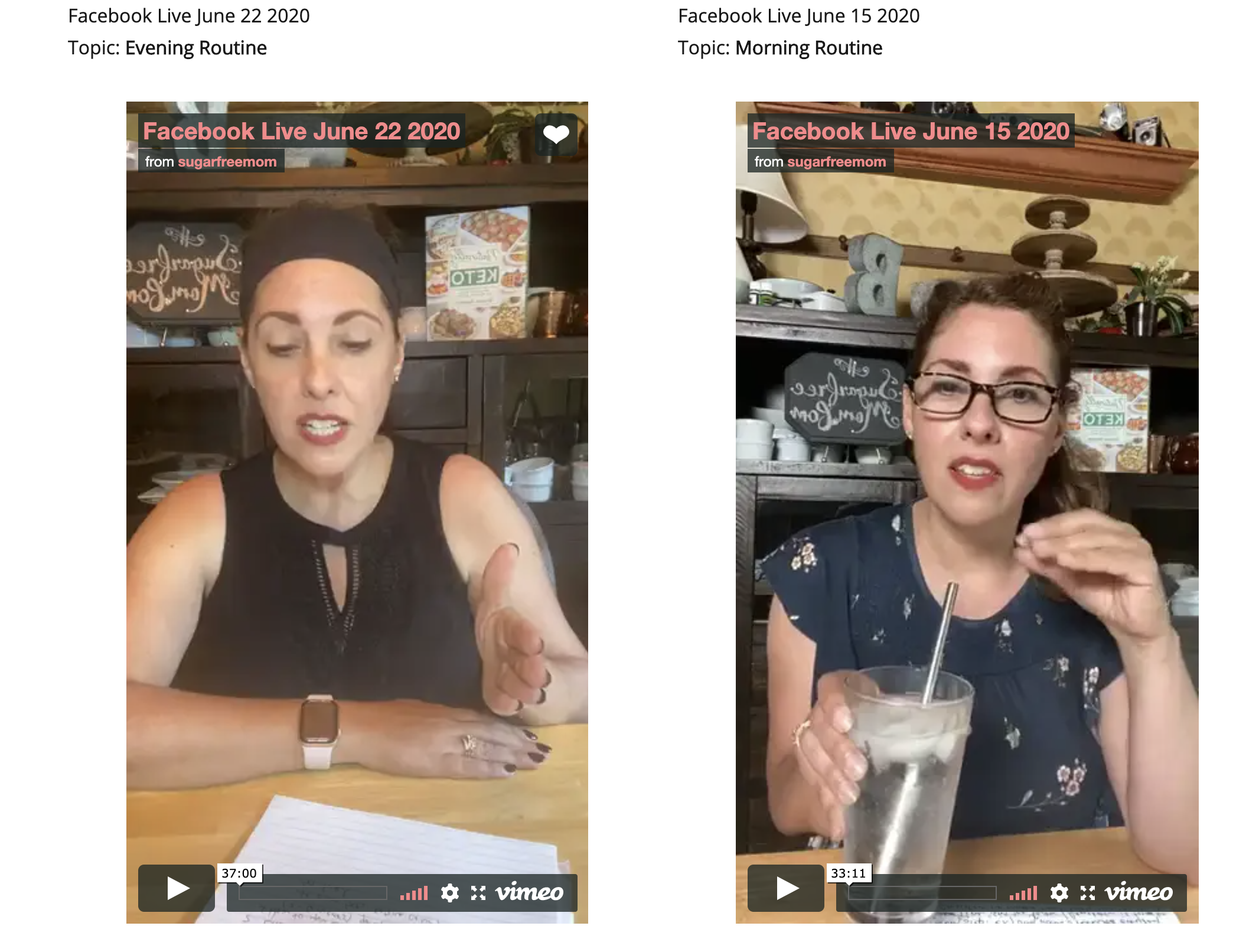 I'm a Certified Keto Coach and I'm also a student in the Nutritional Therapy Association. I will have my certification in November. Right now I'm finishing up term 2 so I am half way through my degree! I'm excited to share with you all I am learning and I know that group coaching works to help you achieve your goals!
June FB LIVES that you will be able to access as a member:
Meal Planning
Morning Routine
Evening Routine
Next Monday June 29th, Stop the PP (Picking while prepping)
July ZOOM Coaching Class- How to Stop Stress and Emotional Eating
August ZOOM Coaching Class- 2 Simple Tricks to Stick to Your Food Plan