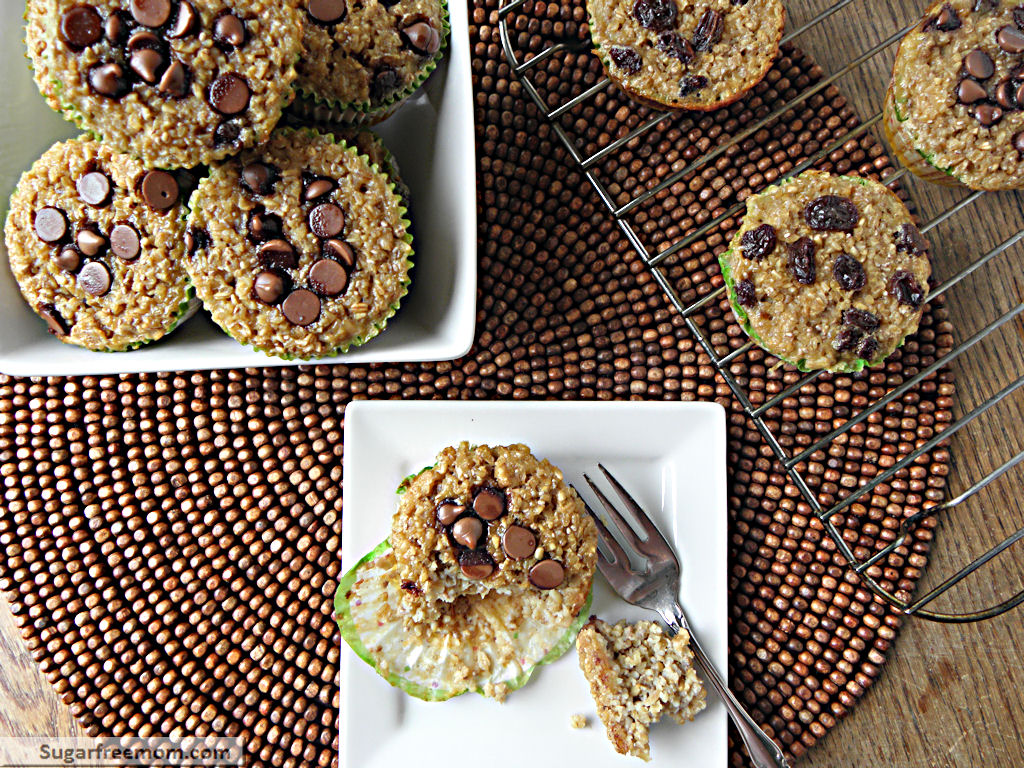 *This recipe requires the steel cut oats to be soaked in water for 24 hours.
OK friends........This recipe is for those of you who are unable to find 'quick' steel cut oats. If you don't have a Trader Joe's store near you or a Whole foods Market then making the Personalized Baked Steel Cut Oat Cups would be hard to do without them! The quick oats do NOT need any soaking therefore work fine in that recipe.
So I reworked my original Personal Sized Baked Oatmeal with Individual Toppings and created this recipe with the soaked oats to make these very tasty steel cut oat cups!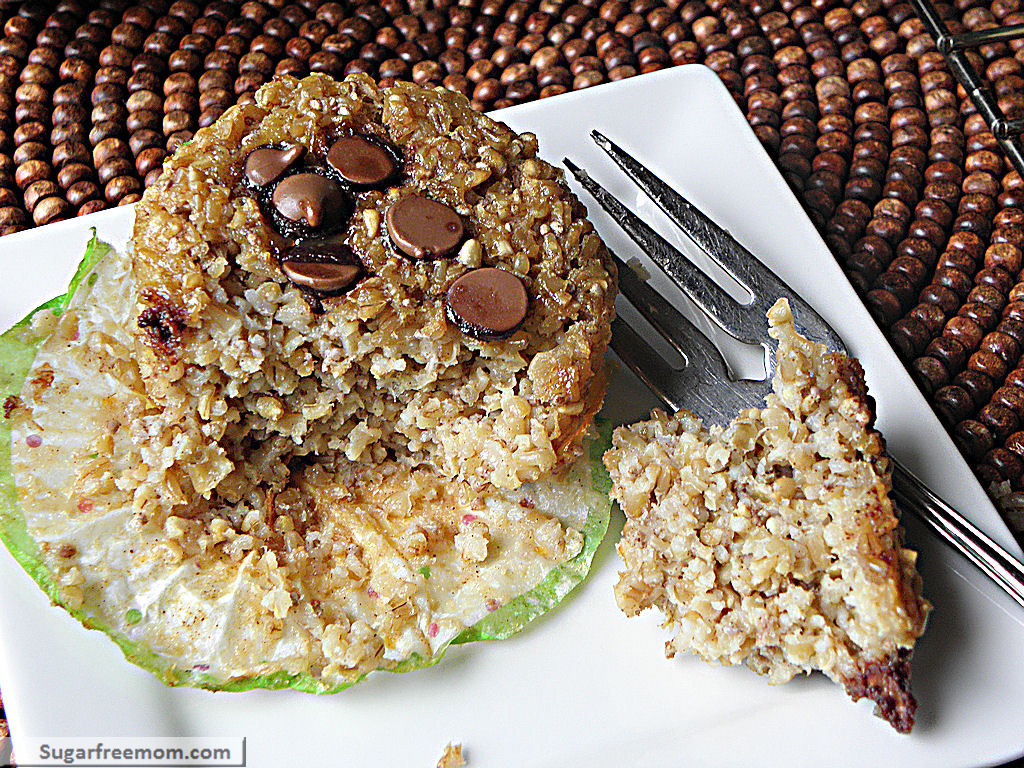 Due to the differences using soaked steel cut oats I would suggest the following:
Paper cup liners tend to tear with this recipe so I would recommend using silicone ones.
I would also NOT recommend using a silicone pan because they tend to need to cook longer and come out more mushy.
I prefer to eat them on a plate with a little lite coconut milk on top, but you can pick these up and take them to go as well.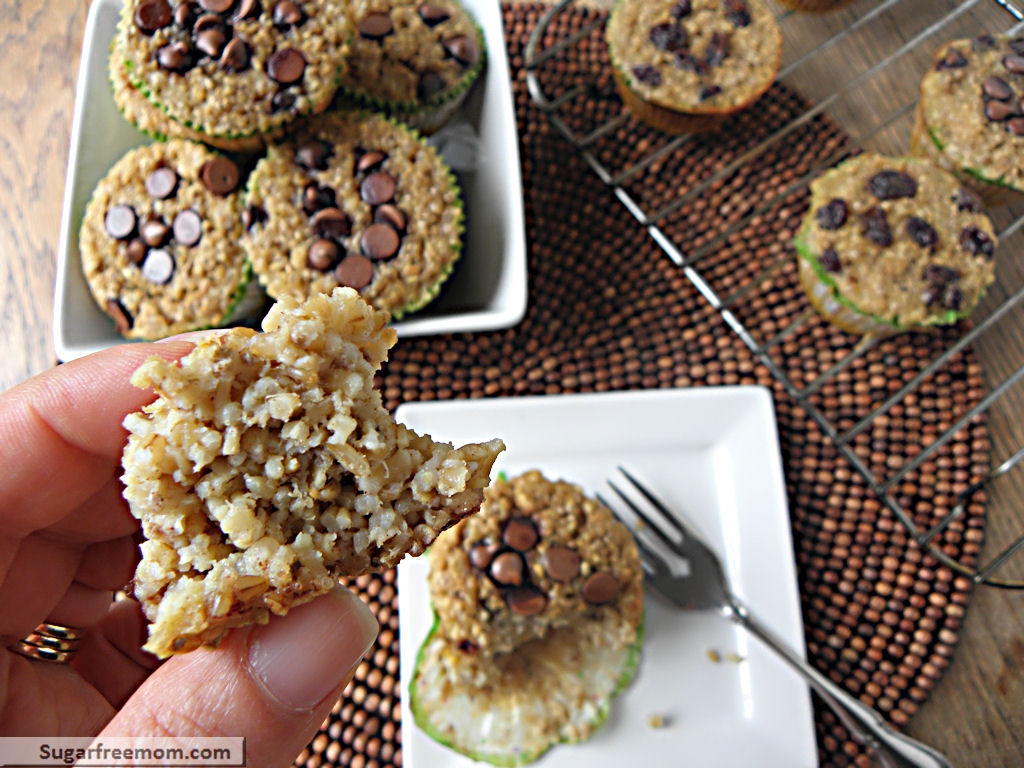 Before making this recipe this is what you need to do first.
In a very large bowl, pour in 2 and ½ cups of standard steel cut oats. Pour in 2 and ½ cups of water. Let it sit for 24 hours then stir and proceed with the recipe directions.
Nutrition Info [without toppings]
Individual Steel Cut Oat Cups [Pre-soaked, No Sugar]
Author:
Prep time:
Cook time:
Total time:
Ingredients
2-½ cups soaked steel cut oats
1 banana, mashed
2 eggs, beaten
1 cup applesauce, unsweetened
1 cup milk of choice [I used 1%]
1 teaspoon vanilla extract
1 teaspoon 100% Natural Stevia powder*
1 teaspoon ground cinnamon
3 teaspoons baking powder
½ teaspoon salt
2 tablespoons chia seeds
Optional toppings: raisins, nuts, fresh blueberries, raspberries, chocolate chips
Instructions
Preheat oven to 350 degrees.
Into the same bowl with the soaked oats, add the banana, eggs, applesauce, milk and vanilla. Mix well.
Add the rest of the ingredients into the wet mixture.
It will look loose and soupy, it is ok!
Use a ⅓ of a cup to pour mixture into each muffin cup.
Add your personal toppings.
Be sure to push them into the batter a bit. Bake for 40-45 minutes until a toothpick in center comes out clean.
Let them rest for 10-15 minutes before removing them from the muffin tin.
Cool them on a wire rack.
Enjoy warm in a bowl topped with cream or lite coconut milk.
Once cool they can be stored in the fridge in a Ziploc bag or airtight container for up to a week. They can also be frozen and thawed overnight. Reheat thawed cups for about 45-60 seconds in the microwave.
Serving size:
1
Calories:
150
Fat:
3g
Carbohydrates:
26g
Fiber:
4g
Protein:
5g
Notes
Weight Watchers PointsPlus: 4*
* If you do not have stevia powder, see this conversion chart.
Other OATMEAL recipes you might like: