Just 6 ingredients needed for this luscious, creamy, decadent custard! Enjoy any night of the week on your keto, low carb or carnivore diet!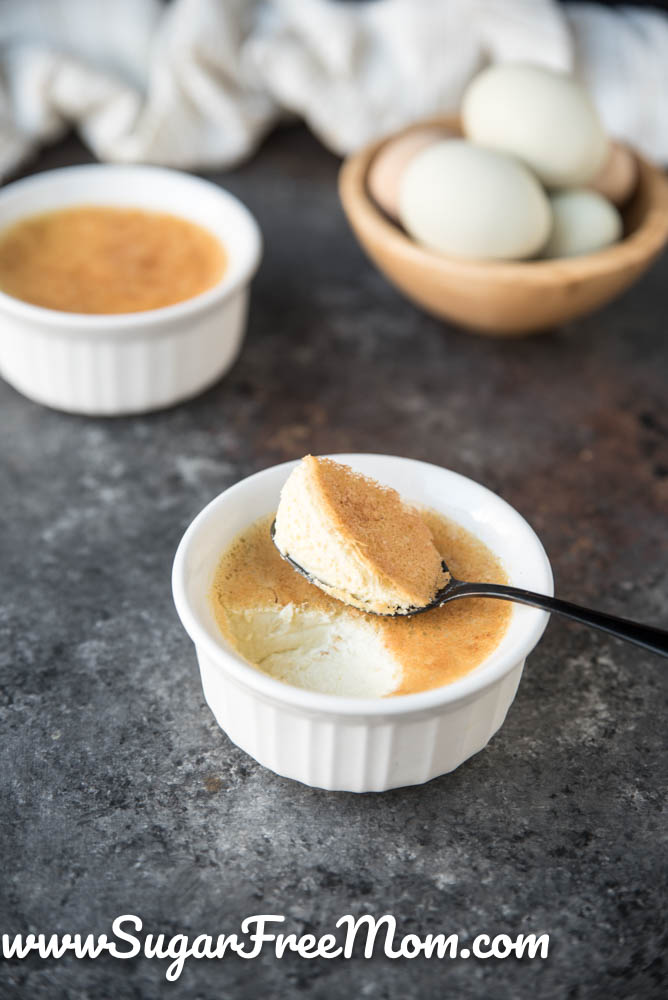 Blender Egg Custard
This easy keto egg custard is prepared very quickly using a high powered blender. This egg custard recipes takes just 6 ingredients and just a few minutes to prepare then bakes perfectly in the oven. Enjoy this creamy egg custard any time of day! With just 1 total carbs per serving this will fit into your macros easily on your keto diet.
When you really have a sweet tooth that you are trying to control on a keto diet or even low carb diet, making something that uses natural sugar free sweeteners is the way to go. Satisfy the sweet tooth without spiking your blood sugar. Keeping your blood glucose levels nice and steady throughout the day is one of the best ways to control sugar cravings and lose weight. This egg custard is just slightly sweet but can be adjusted to your preference. Topping with sugar free whipped cream is also a fantastic idea!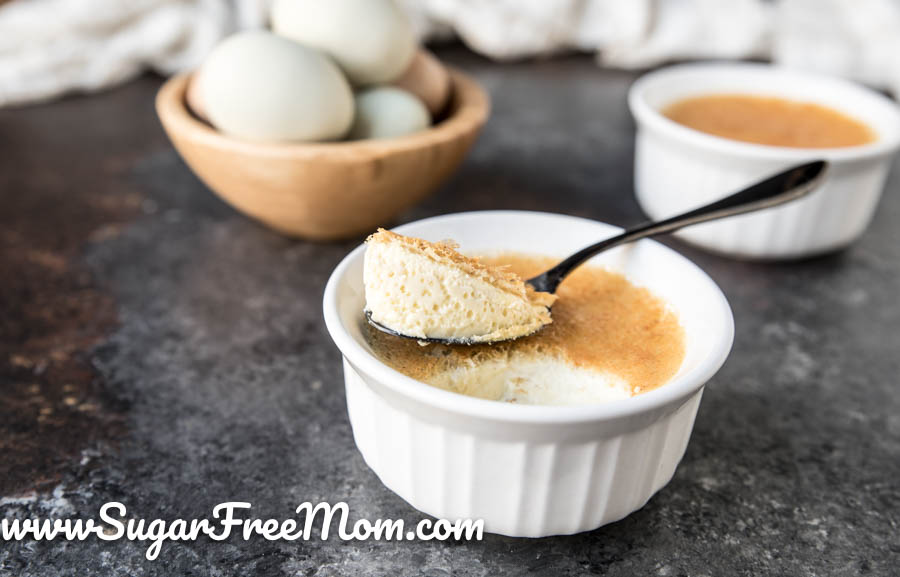 What is Egg Custard?
A simple, baked egg custard is simply eggs, milk, salt and sweetener. It is the basic ingredients needed to make a keto quiche. When baked with a low temperature, in a water bath, the texture is silky smooth and goes down like butter! To make this egg custard keto friendly, we swapped milk with cream as well as swapped out white refined sugar with our favorite sugar free, low carb, keto sweetener. Enjoying this custard every day will fit perfectly into your low carb life because it is just 1 carb and just around 200 calories making this an easy treat to enjoy while still losing weight.
Tools to Make Egg Custard
Blender-Using a high powered blender will get this egg custard prepped quickly to bake. You could whisk by hand but using a blender will ensure everything is blended well, no lumps.
Ramekins-I used 6 ounce ramekins but you could also use a 8 inch square baking dish. The ramekins make it easier for serving and are perfectly portioned.
Baking Dish-I used a 9 by 13 glass baking dish to place the ramekins in, then added hot water to the baking dish about half way up the sides of the ramekins.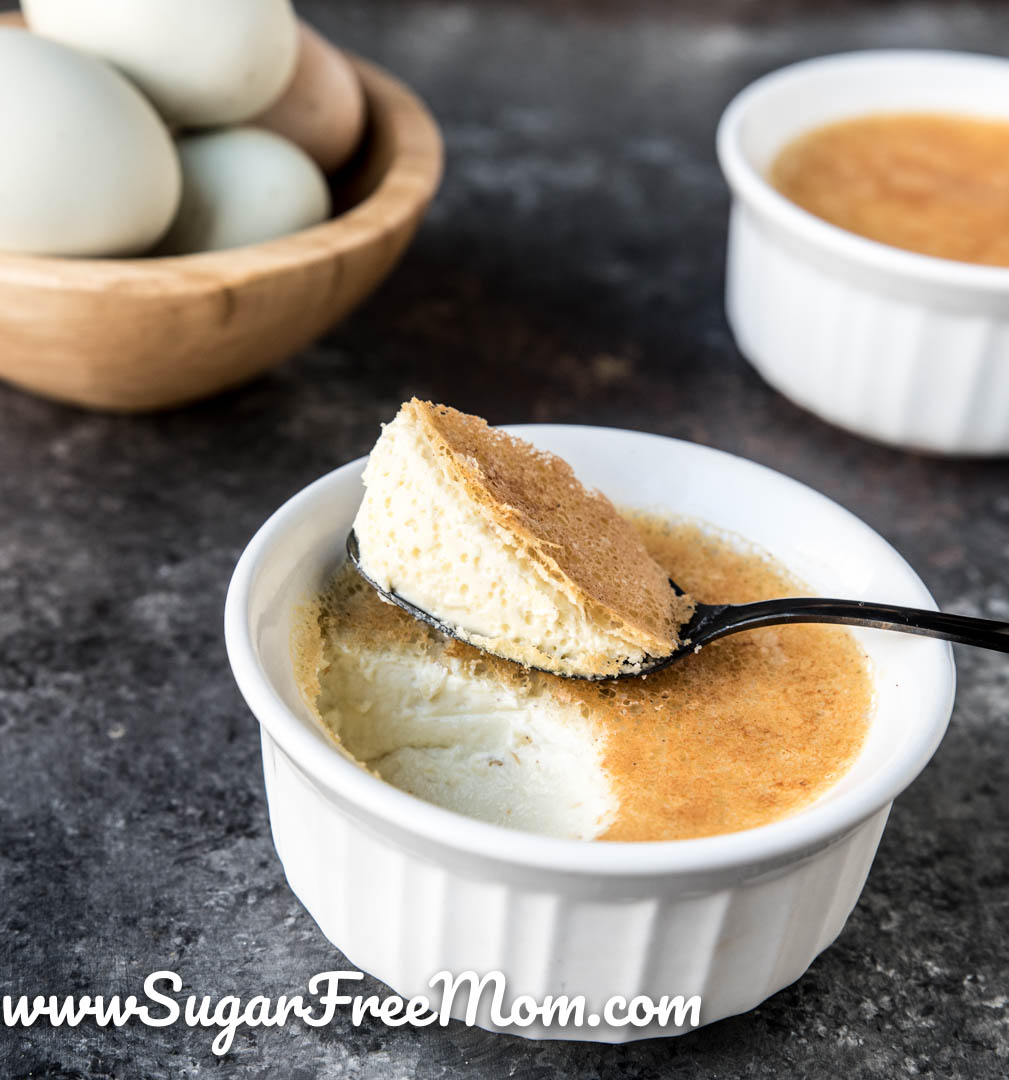 How to Store Egg Custard
You can enjoy these warm right out of the oven or chill them in the fridge to enjoy all week long. Allow to cool completely then place some plastic wrap or parchment over the top of each ramekin and store in the fridge for up to 5 days. I would not suggest freezing these as I'm not sure how well these will thaw out, but of course it could be done, but I think best if made fresh and just refrigerated.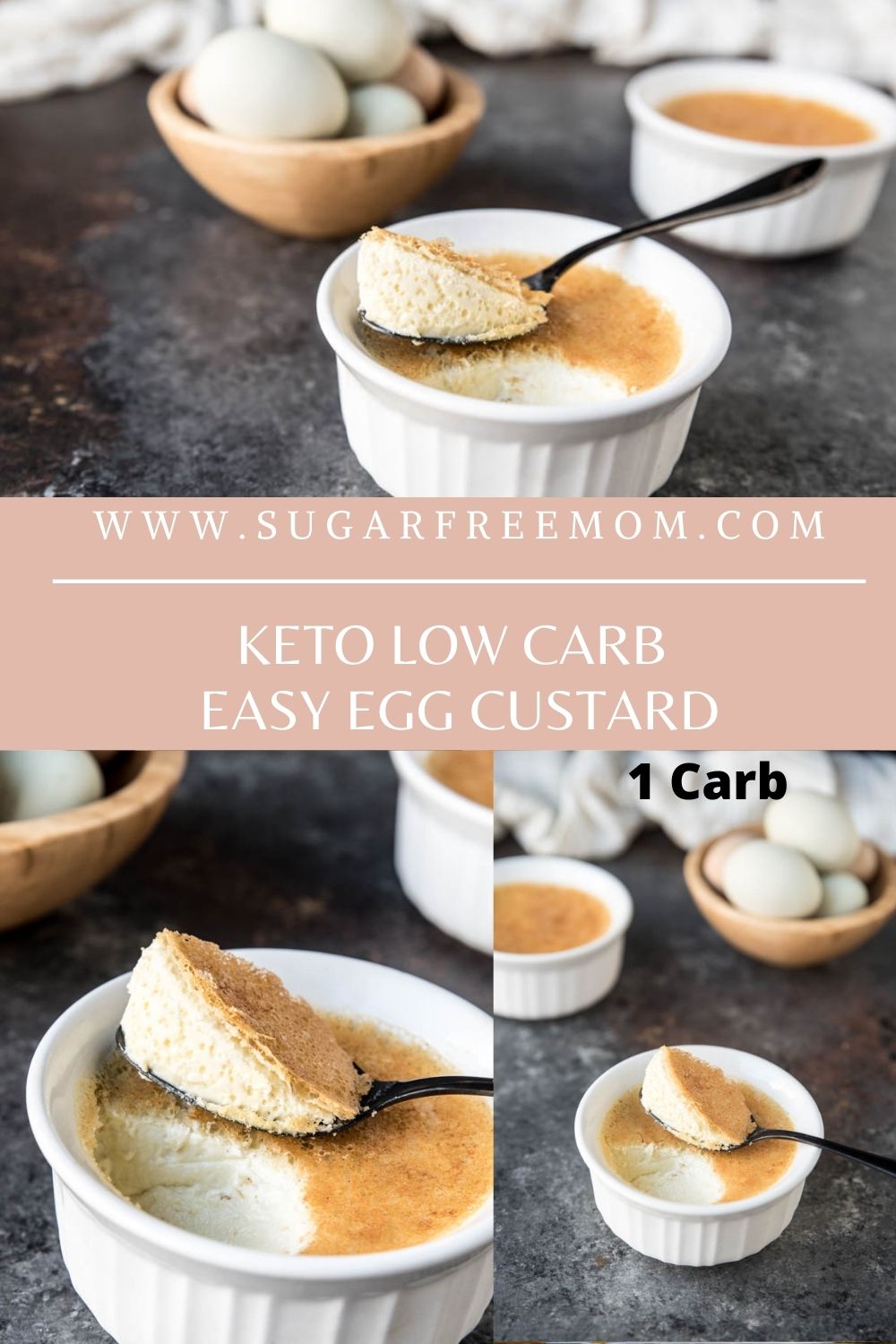 Other Custard Recipes you might like:
Sugar Free Keto Egg Custard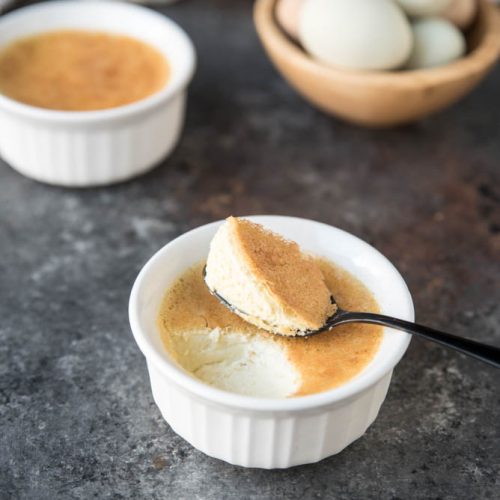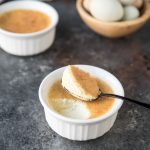 Print
Sugar Free Keto Egg Custard
Instructions
Preheat oven to 350 degrees F. Place 5 ramekins in a 9 by 13 baking dish.

Add all ingredients into a blender and blend until smooth. Pour evenly into ramekins.

Place 9 by 13 baking dish into the oven. Pour hot water into the baking dish until it reaches half way up the sides of the ramekins.

Bake for 30 minutes or until the tops are golden brown, but custard is still a bit jiggly. (If you have a gas oven, you may need 40 minutes). Remove from oven and allow to cool and set for about 10 minutes.

Enjoy warm or refrigerate and top with sugar free whipped cream.
Nutrition
Serving:
1
custard
|
Calories:
222
kcal
|
Carbohydrates:
1
g
|
Protein:
5
g
|
Fat:
20
g
|
Saturated Fat:
12
g
|
Cholesterol:
149
mg
|
Sodium:
57
mg
|
Potassium:
55
mg
|
Sugar:
1
g
|
Vitamin A:
216
IU
|
Calcium:
22
mg
|
Iron:
1
mg