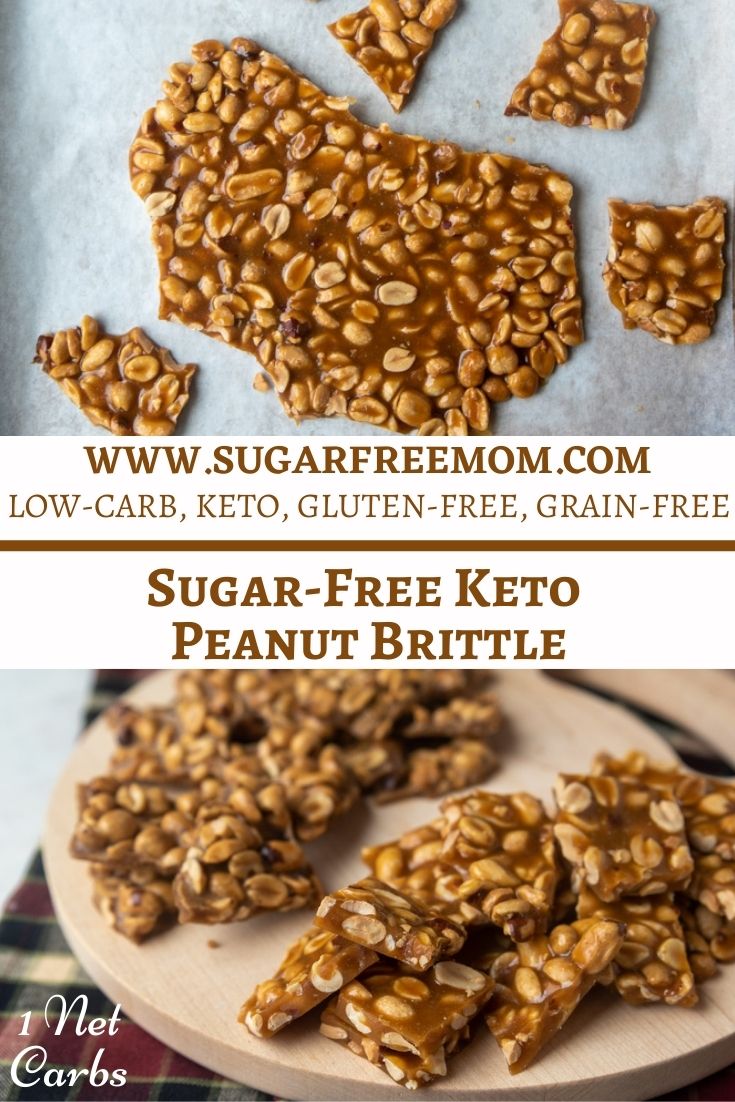 This easy keto peanut brittle recipe tastes like traditional, and has just a few simple ingredients. I've got you covered when it comes to which sugar substitute is best to produce the perfect peanut brittle every time! Just 1 gram net carbs per serving!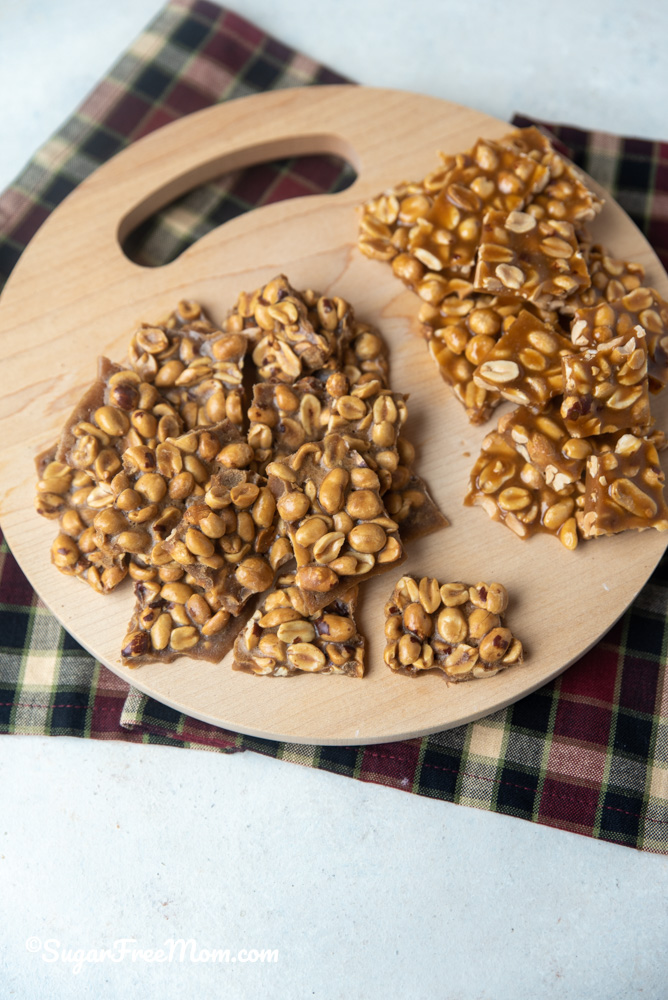 The Best Keto Peanut Brittle
The holiday season is often when you see amazing recipes being shared that are often family favorites passed down from generations.
The typical peanut brittle mixture is a very easy recipe that often uses white sugar, corn syrup, butter, vanilla extract and baking soda.
I don't have a peanut brittle recipe passed down from my grandmother, but when I received a beautiful hand-written recipe from Angie's grandmother, I was inspired to get in the kitchen and make a sugar-free, keto, low carb peanut brittle recipe.
Angie took my 6 week online Sugar Detox course back in 2020, then became an alumni member and is now my assistant! She's allowed me to transform her grandma's cherished recipe so that anyone on a ketogenic diet or low carb diet can enjoy it too!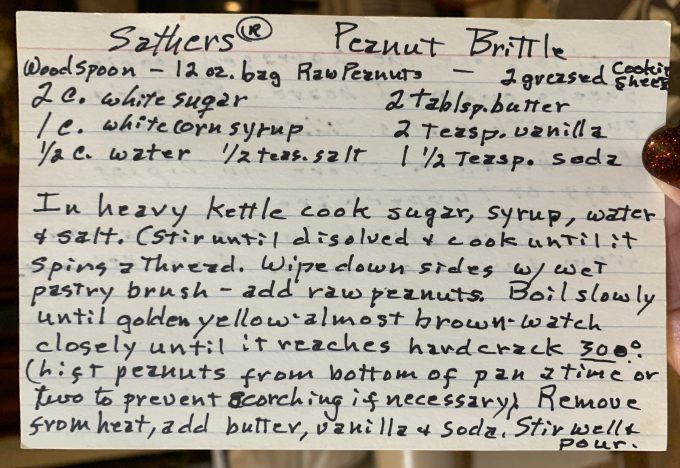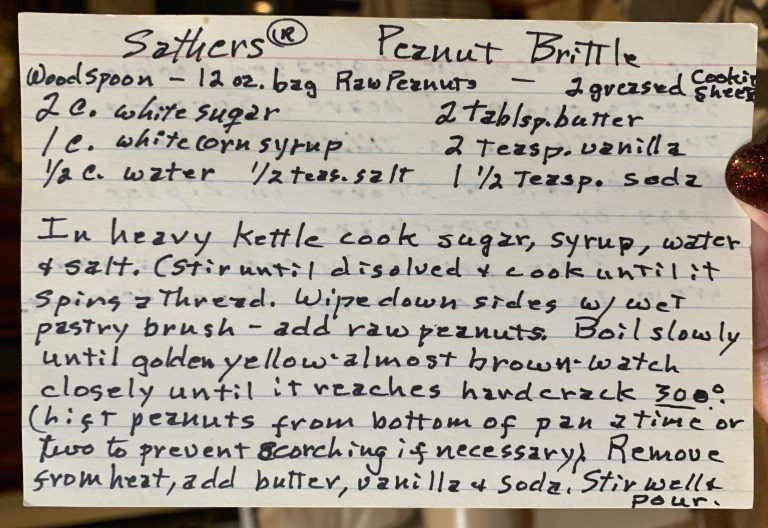 Tools needed:
Candy thermometer- I actually used an instant read meat thermometer and I find it easier to use than a true candy thermometer. Hubby uses it all the time for grilling meats but works great for candy too.
Parchment paper- Don't forgo using this or your brittle will stick terribly to your pan.
Wooden spoon- helps to see if your mixture is nicely coated and also great for not destroying any of your ceramic or stainless steel pans.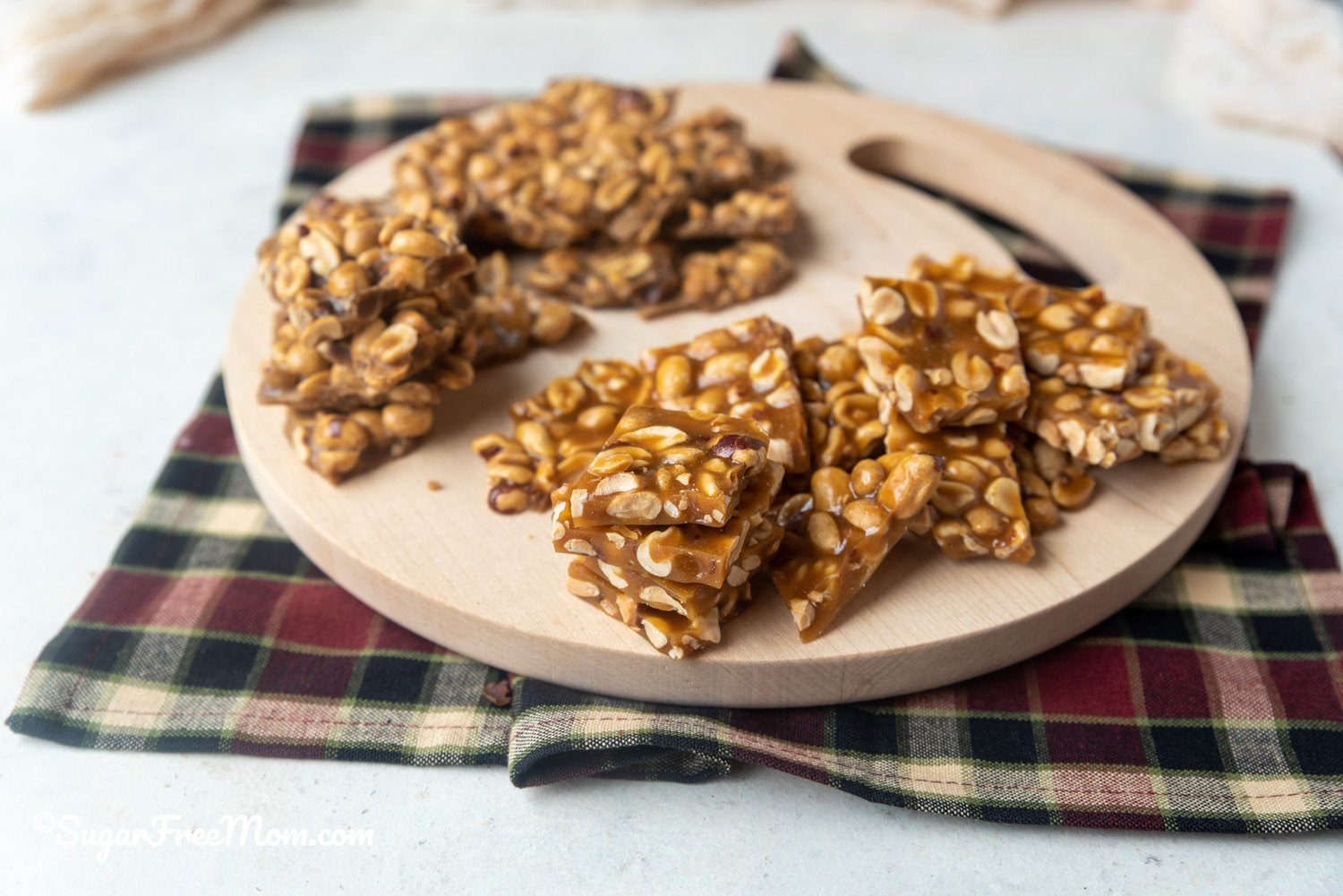 Best Sugar Free Keto Peanut Brittle
Ingredients Needed:
salted butter
Better than Sugar Confectioners or see notes above for options
caramel extract or use more vanilla
peanuts roasted, salted or see notes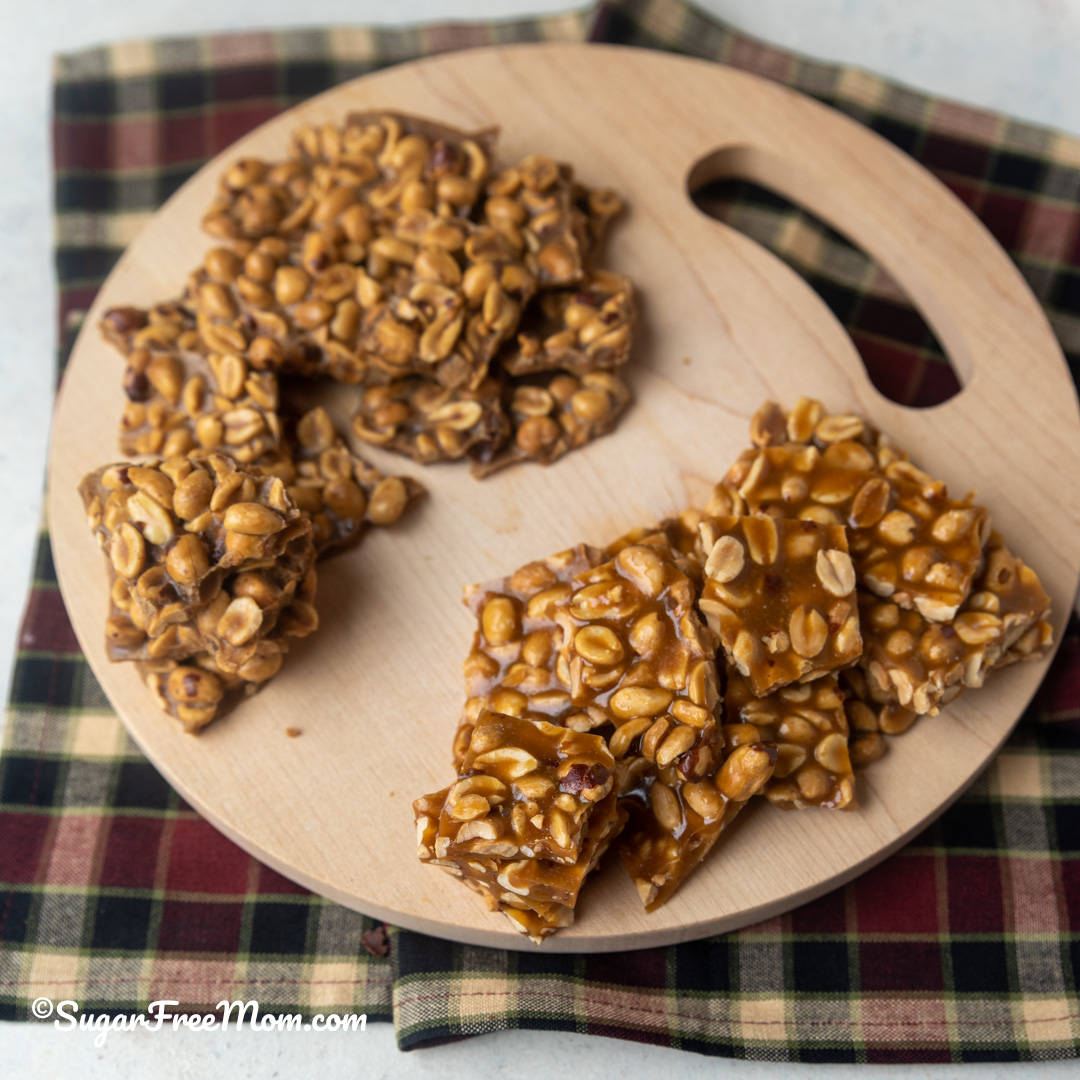 Best Tips for Making Sugar-Free Peanut Brittle
Tip #1: Choose your keto sweeteners carefully and consider what you prefer; smooth texture not grittiness or some crystallization and no chewiness.
Tip #2: Buy a thermometer if you don't have one. Guessing on whether the color is dark enough is a risk you take without a thermometer. If you go past the point of no return you could risk having brittle that takes burnt.
Tip #3: Keep the brittle refrigerated until ready to serve to ensure it will be nice and crisp with perfect snap. The longer it sits out on the counter, it can tend to soften a bit.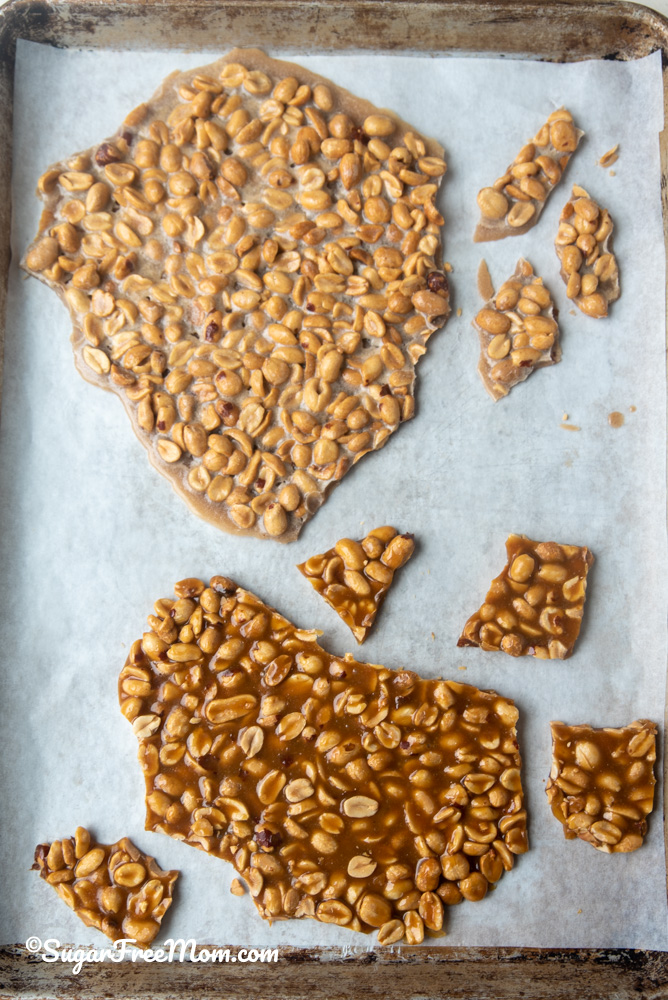 Keto-Friendly Sweeteners
I tested my low-carb version using 4 different sugar alternatives and I'm sharing my favorite, but of course, you can absolutely choose which keto sweetener you prefer.
Swerve granular sweetener (Erythritol)- My first attempt was using Swerve since I have a lot of it in my pantry and love it for many of my low carb keto recipes.
Unfortunately, it formed a lot of crystallization which we did not enjoy. In fact, I threw it away as no one wanted to eat it. The light color in the above picture is using Swerve.
Allulose granular sweetener-I thought this would best as I know with Allulose it helps make my keto ice cream recipes creamy and works well for the best texture in my Dairy Free Cloud Bread recipe.
It worked well, but does have a bit of chewy texture. Still has the crack to it, but after chewing the brittle you do feel the chewiness in your teeth.
The bottom brittle in the above picture with the nice golden brown color is using granular Allulose.
Swerve granular plus Allulose liquid combination- I tried combining these two together and the result was a fail.
This did not work at all to harden. In fact it stayed soft like a caramel even after freezing it.
Better than Sugar Confectioners ( Erythritol plus stevia)-
Produced a perfect sweetness, perfect brittle, still does have some crystallization, but not as bad as using the Swerve.
The darker brittle on the left of the picture below is using this sweetener.
My favorite was using the granular Allulose because I think it's nice and smooth, no grittiness and I don't mind the bit of chew. It's also not as sweet and the Better than Sugar.
My hubby liked the Better than Sugar because he says it had less grittiness, no chewiness and has the perfect sweetness.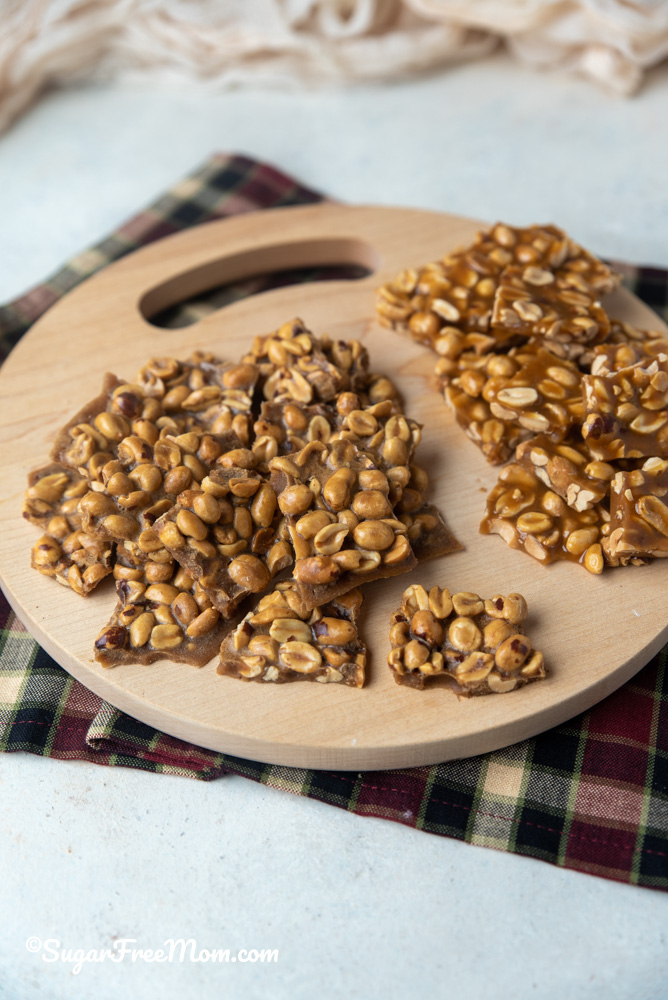 FAQs
Are peanuts keto friendly?
Some people following a keto diet may decide peanuts should not be eaten since they are a legume and legumes are usually high in carbs and not keto friendly.
There are many people who enjoy peanuts and follow a keto diet and can easily enjoy a serving of peanut butter or a serving of peanuts and still stay in ketosis, I am one of them.
Ketosis is a metabolic state, so how peanuts will effect you and your blood glucose or your ability to stay in ketosis can only be determined by testing it out on yourself.
Can I use other nuts besides peanuts?
Yes, if you're not a fan of peanuts, you can really use any nuts of your choice. I tried this with pecans and it was lovely. Macadamia, almonds, really any nut you like can work.
Can I use unsalted peanuts?
Yes, if you prefer unsalted nuts are fine. I prefer the salted as it gives the brittle a nice salty and sweet bite!
How do I store this easy keto brittle?
Store in an airtight container in the fridge for up to a month. You can also freeze for up to 6 months.
What about Monk Fruit sweetener?
I did not test with monk fruit but usually it contains erythritol and monk fruit like the blend from Better than sugar so I would guess you would have similar results.
Can I make caramel sauce with this recipe for brittle?
Actually no, this recipe wouldn't work if you want a creamy caramel sauce. You would need to add heavy cream to this recipe. Here's my easy keto recipe for Caramel Sauce.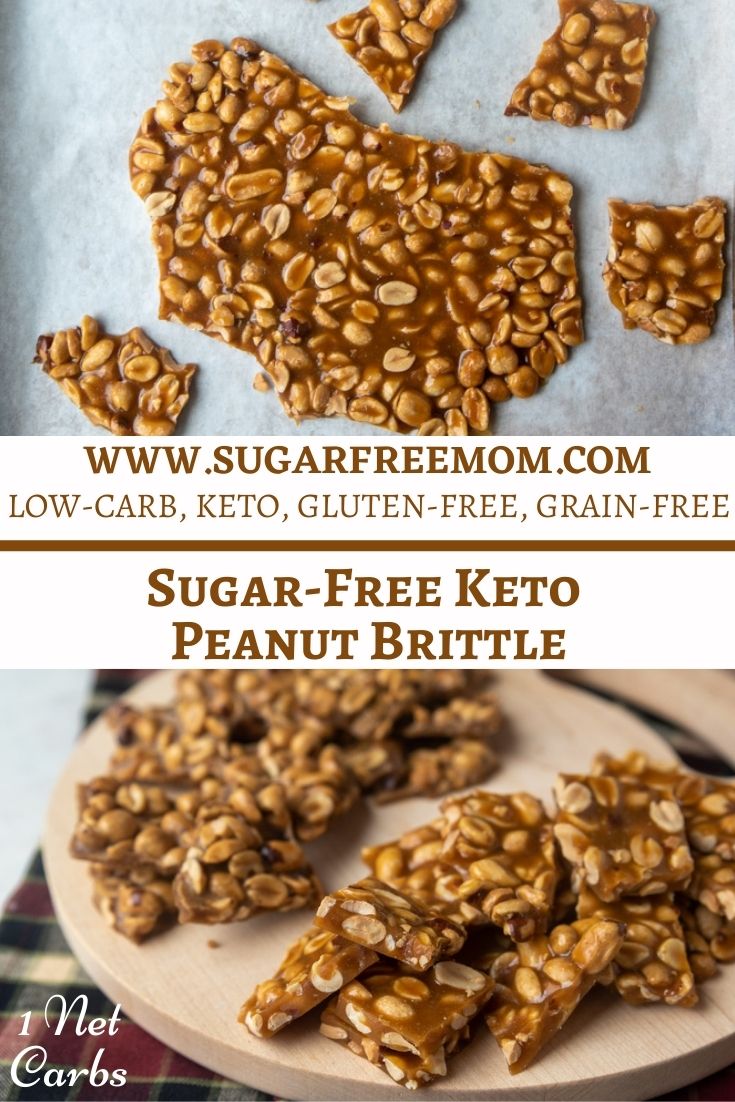 Is this the same as toffee?
Yes, pretty much is the same in texture as keto toffee.
How do I figure out the right size pieces for the serving?
Here's a great tip: measure the length and width of your hardened brittle then do your best to break it in half.
Once in half, you need to break off 12 small pieces.
Then do the same for the other half, breaking off 12 of the same sized pieces as best you can. You'll end up with 24 small pieces and one serving is 2 pieces.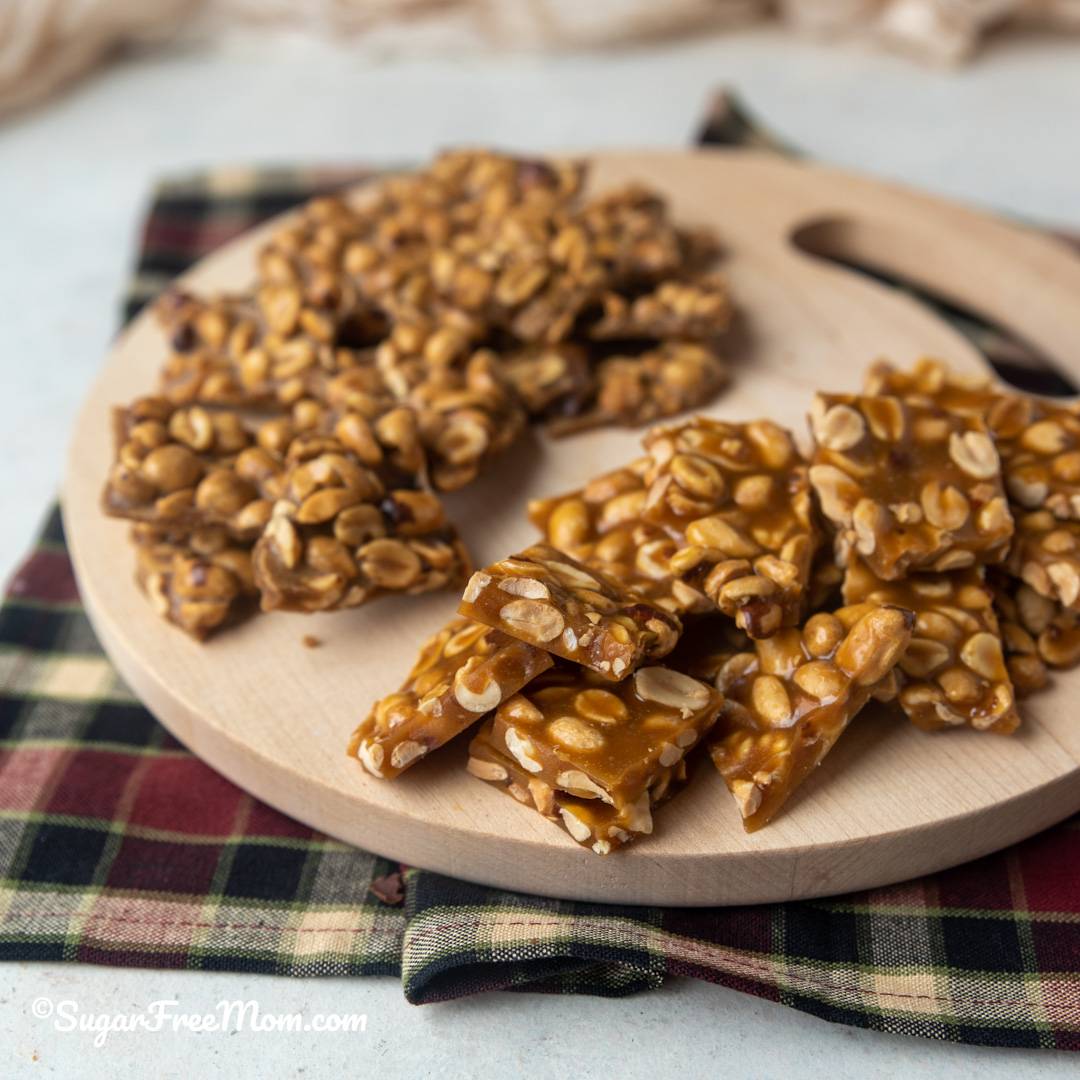 Easy Low Carb Keto Sugar-Free Peanut Brittle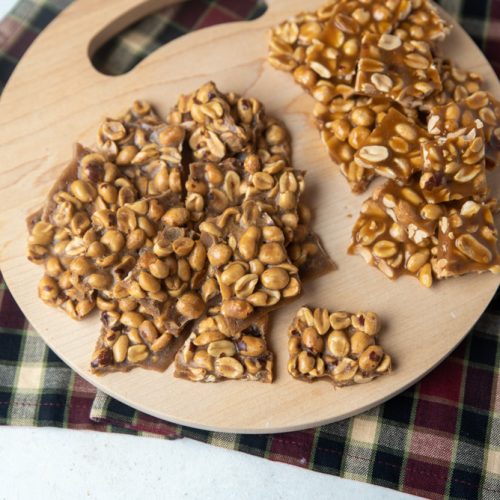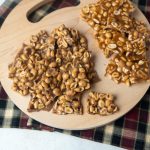 Print
Sugar Free Keto Peanut Brittle
Servings
12
servings @ 2 pieces
Instructions
Line a baking sheet pan with parchment paper.

In a small saucepan, add the butter, sweetener and salt. Stir together and bring to a boil over medium heat.

Once boiling reduce heat to low and stir constantly. The color will change to a dark brown, continue to stir until it reaches 300 degrees using a thermometer.

Turn heat off, add vanilla extract, caramel extract and vanilla stevia and stir together. Add baking soda, stir together then add nuts.

Pour the mixture on the baking sheet pan and spread the nuts in an even layer.

Allow to set on counter for 30 minutes then you should be able to break it into pieces. You can also refrigerate to set.

Storage: Best if kept in the fridge.
Notes
1 serving is 2 pieces which equals 1 net carb.
Nutrition
Serving:
1
serving @ 2 pieces
|
Calories:
104
kcal
|
Carbohydrates:
2
g
|
Protein:
3
g
|
Fat:
10
g
|
Saturated Fat:
3
g
|
Polyunsaturated Fat:
2
g
|
Monounsaturated Fat:
4
g
|
Trans Fat:
0.2
g
|
Cholesterol:
10
mg
|
Sodium:
127
mg
|
Potassium:
92
mg
|
Fiber:
1
g
|
Sugar:
0.05
g
|
Vitamin A:
118
IU
|
Calcium:
14
mg
|
Iron:
0.5
mg