This Bacon Burger Mac-N-Cheese is a fake out mac-n-cheese using cauliflower instead of pasta for a creamy, satisfying, but perfect low carb alternative to a comforting classic recipe!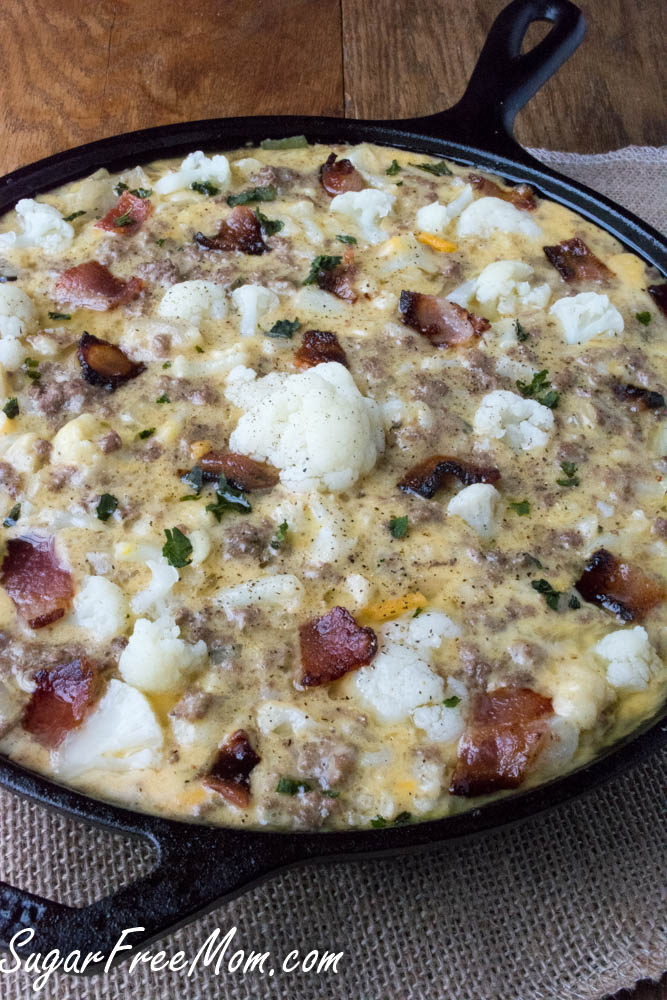 When I think back to my childhood and favorite comforting foods, it always goes back to pasta, actually mac-n-cheese.
It wasn't homemade; it was from a box, but it was the stuff I loved as a teen, the more carbs the better. The more cheese, the better and in a huge bowl please.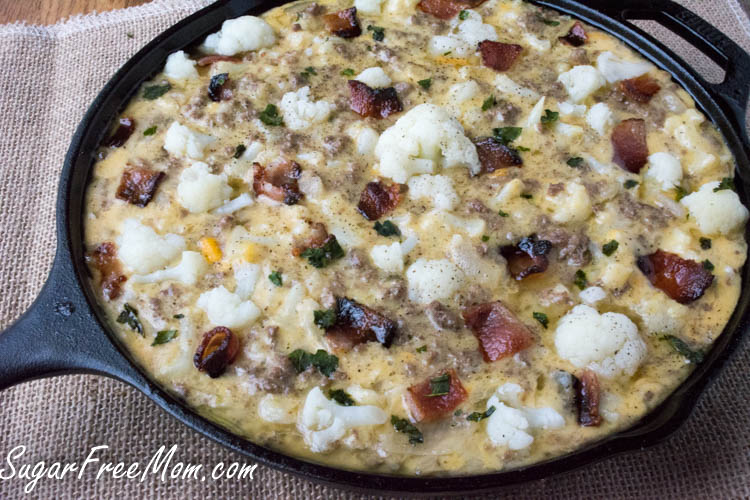 When I became a mom 15 years ago, I can't lie and tell you I made everything from scratch or that I didn't let my toddler enjoy mac-n-cheese from a box.
But with my second child, almost 13 years and trying to go sugar-free at that time, using less refined flours and eating more whole grains, I knew the boxed mac-n-cheese buying had to stop. If not just for their health, but my own. The temptation to eat a few bites off of their plates were more than I could bare some days.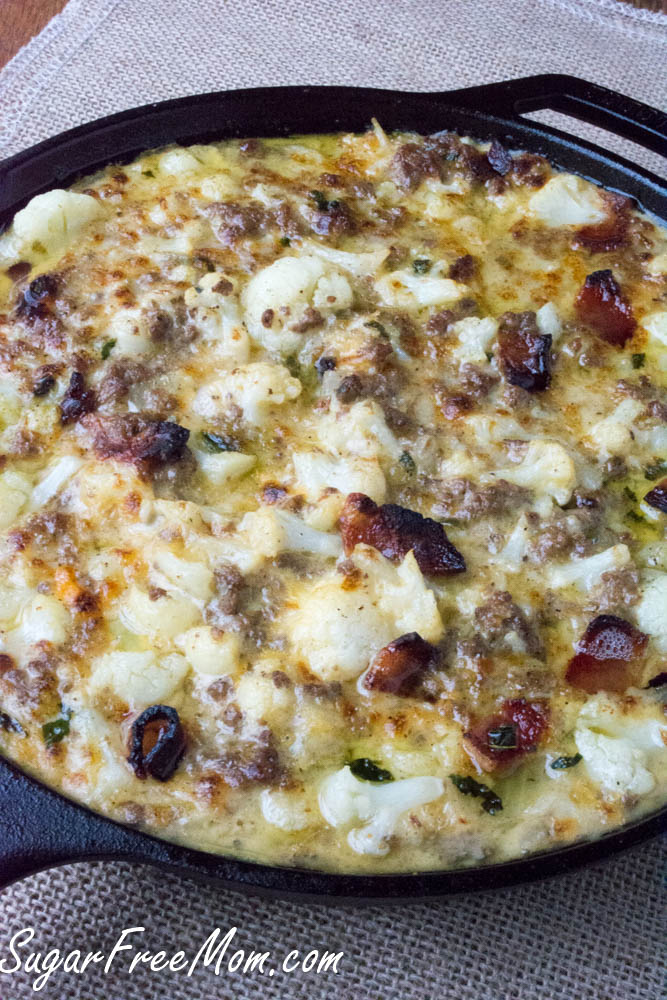 So now after my 3rd child 10 years ago, the boxed mac-n-cheese never calls my name. I don't want it and I don't eat it. I choose to make low carb comforting dishes that remind me of what I love most.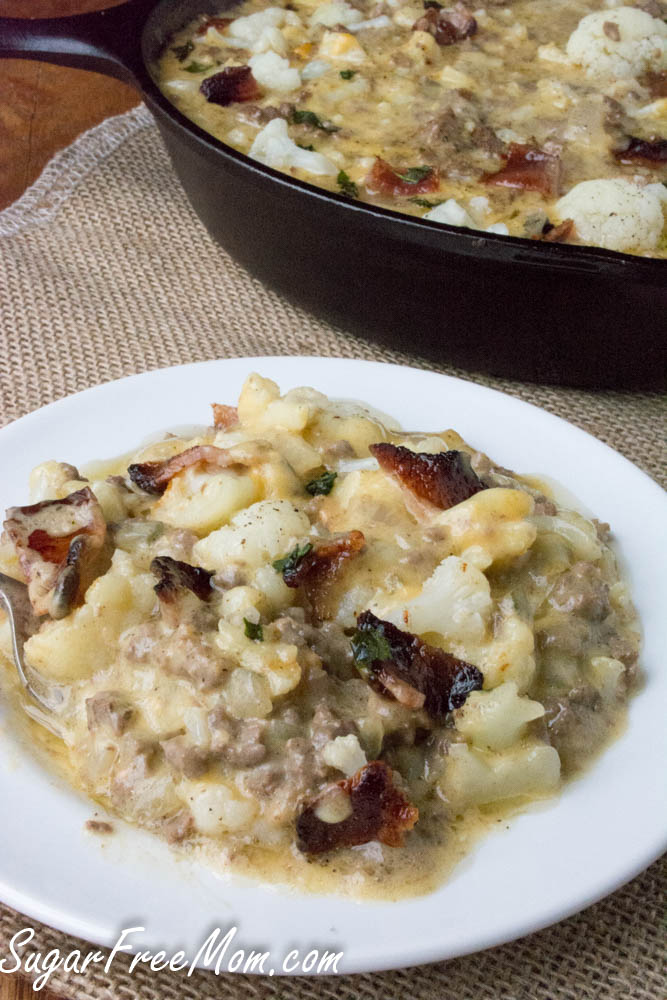 What I love most is a creamy, cheesy meal and if that means it's got cauliflower in it as a low carb substitute, well it just still works for me.
Might not work for you, but it works for me and that is enough for me to post this beauty of a recipe and tell you how good it is.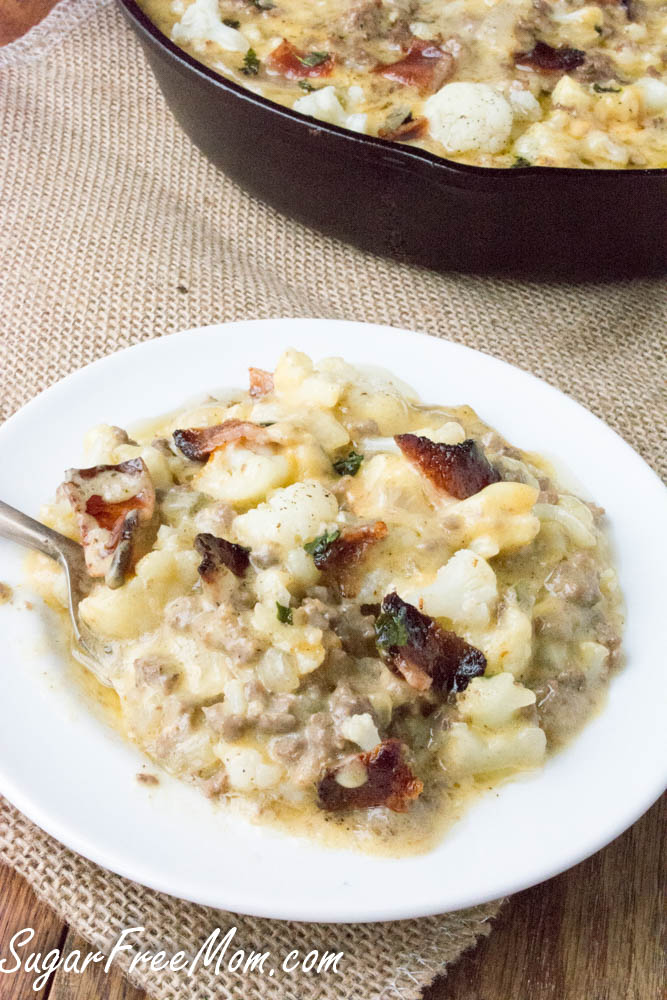 It's cheesy, meaty, hearty and filling, even without the carbs from pasta. 🙂
Brenda's Notes:
You can switch out the milk I used for unsweetened almond milk, since my youngest has a tree nut allergy and was eating this, I didn't use it. Other subs for the milk would be Half & Half or light cream. If using the almond milk your nutrition info would be:
Calories: 552, Fat: 37.9g, Sat Fat: 18.7g, Cholesterol: 152mg, Sodium: 1189mg, Carbs: 11.3g, Fiber: 3.1g, Sugars: 3.2g, Protein: 42.3g, Net Carbs: 8.2g
My Hubby LOVED this and that is a saying a lot because he has just started eating low carb and has been a pasta lover for years!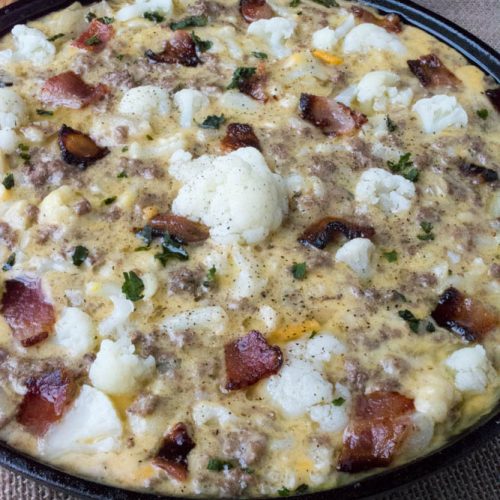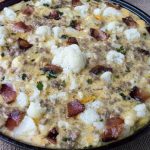 Print
Low Carb Bacon Burger Mac-N-Cheese
Ingredients
6

cups

cauliflower florets

4

ounces

nitrate free bacon

1. 25

pound

ground beef

½

cup

chopped onion
Cheeseburger Sauce
¼

cup

butter

2

tablespoon

arrowroot powder

1

cup

milk

1%

½

teaspoon

salt

¼

teaspoon

pepper

¼

cup

dill pickle relish

2

tablespoon

organic no sugar added ketchup

1

tablespoon

mustard

2

cups

shredded cheddar cheese
Instructions
Place your cauliflower florets in a steamer and steam until just tender, you don't want them too soft.

Set aside.

Cook your bacon in a large skillet until crisp. Remove and set on a paper towel lined plate.

Drain the bacon grease from the skillet and cook the ground beef in the same skillet, once browned add the onion and cook until softened.

Add the florets and keep on low while making the cheddar cheese sauce.

To a medium sized sauce pan, add the butter on low heat to melt.

Whisk the arrowroot powder and milk together in a bowl.

Pour this into the sauce pan and bring to a simmer.

Reduce heat to low and stir constantly until mixture thickens and coats the back of a wooden spoon.

Add the remaining ingredients and stir until cheese is melted.

Serve this over the cauliflower burger mixture.

If you'd like this a little more browned on top, just place it under the broiler for a few minutes.

Top with bacon and enjoy immediately!
Nutrition
Serving:
1
g
|
Calories:
564
kcal
|
Carbohydrates:
13.2
g
|
Protein:
43.5
g
|
Fat:
37.8
g
|
Saturated Fat:
19
g
|
Cholesterol:
154
mg
|
Sodium:
1179
mg
|
Fiber:
2.9
g
|
Sugar:
5.2
g