This Low Carb Keto Italian Lemon Cream Cake is also nut free, and gluten free, and a stunningly beautiful elegant cake for any celebration to impress your family and friends!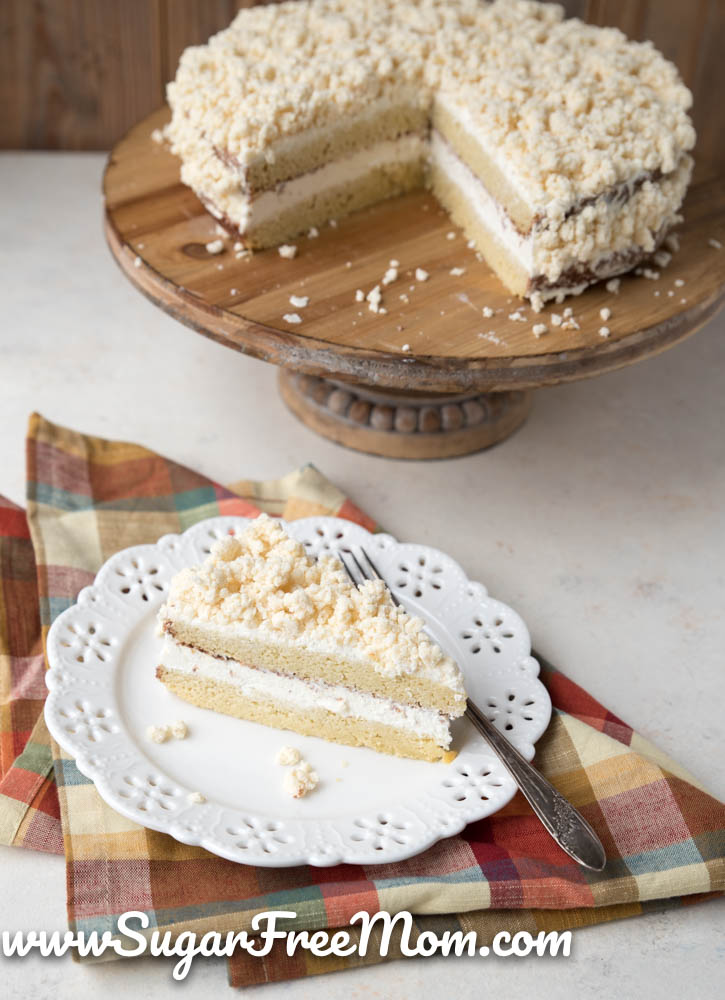 Italian Cream Cake versus Italian Lemon Cream Cake
Have you ever wondered what the difference is between an Italian Cream Cake and an Italian Lemon Cream Cake? I'm an Italian American born in the States and my father is from Sicily. He and I both, and my mother, an Italian American, have never heard of or tried an Italian Cream Cake. My Nonna, my father's mother, born and raised in Italy all her life, never once made an Italian Cream Cake. How it got the name Italian in front of this cake, we shall never know. The origin of an Italian Cream Cake seems to be from the Southern American states. It starts with a yellow cake mix, buttermilk and also includes pecans and coconut. Like I said, my father, nonna, mother and I have never seen it when in Italy or have tried it so it wasn't on my top foodie list to recreate a keto version. But this Italian Lemon Cream Cake I'm sharing today was my birthday cake a few months ago and it did not disappoint my Italian family!
An Italian Lemon Cream Cake has no resemblance to the Southern Italian cream cake, except for the fact you have a yellow cake as the base. When my parents would take us to Olive Garden they discovered this Italian Lemon Cream Cake and then for every holiday or family party, would purchase one to enjoy together. The origin of this Italian Lemon Cream Cake is also not one found in Italy, but with a lemon mascarpone filling, lemon flavored yellow cake and butter crumb topping, this is more Italian than any other version you'll try.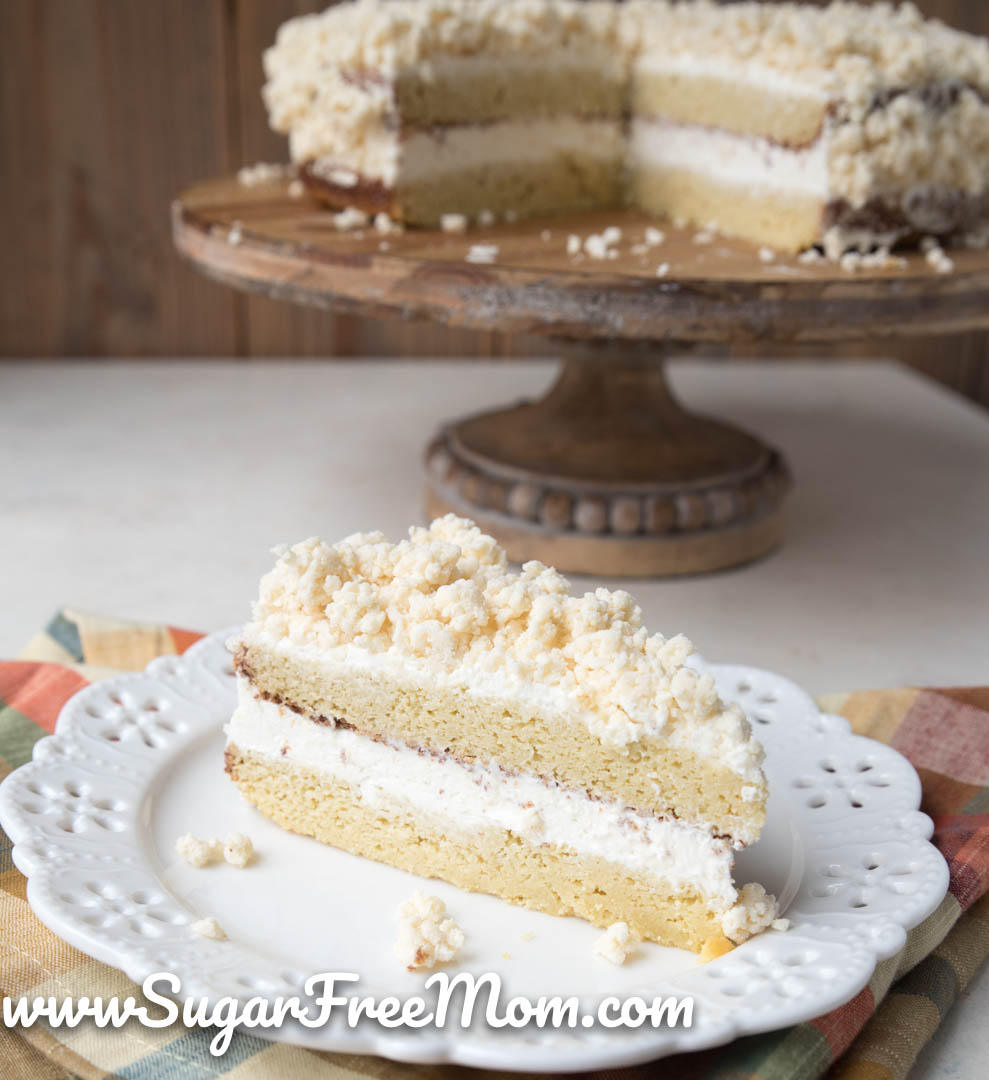 How to Make a Keto Italian Lemon Cream Cake
You start with a fantastic keto yellow cake and since I have very few cakes on my website, I adapted my fabulous Coconut Flour Muffin recipe to create this perfectly, nut free, keto yellow layer cake! Making an easy zingy, lemony, creamy filling wasn't hard at all. The biggest issue for some is your choice of keto sweetener to use.
If you're not a fan of liquid stevia and Swerve as I use in this recipe, you can swap with whatever you prefer but just use a small amount then taste and adjust or use my Sweetener Conversion Chart. You can always add more but you can't take it away. Just a note, Swerve is 70% less sweet than traditional sugar. I use less since I don't want any cooling effect. If Swerve bothers you, try Pyure sweetener, Monk Fruit or Allulose.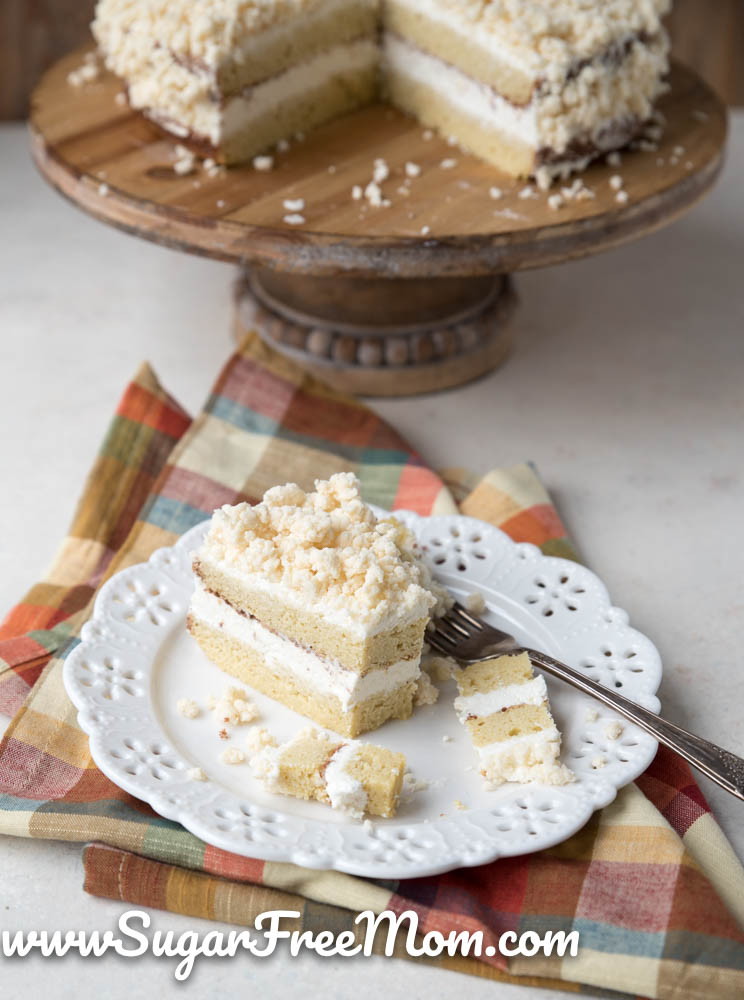 Tools to make an Italian Lemon Cream Cake
KitchenAid Mixer- Using both the paddle attachment for the cake ingredients and then using the whisk attachment to create a fluffy mascarpone filling, this mixer is my best friend!
Food Processor- The Butter Crumb topping is literally made in minutes with nice, cold butter, pulsing it in the food processor. You would have to cut the butter into the coconut flour for quite some time to create the same crumb topping effect.
Spring Form Cake Pans-Spring form pans are one of the best kinds of cake pans, helping you easily remove delicate cakes without destroying the cake. I use two-9-inch spring form pans for this recipe.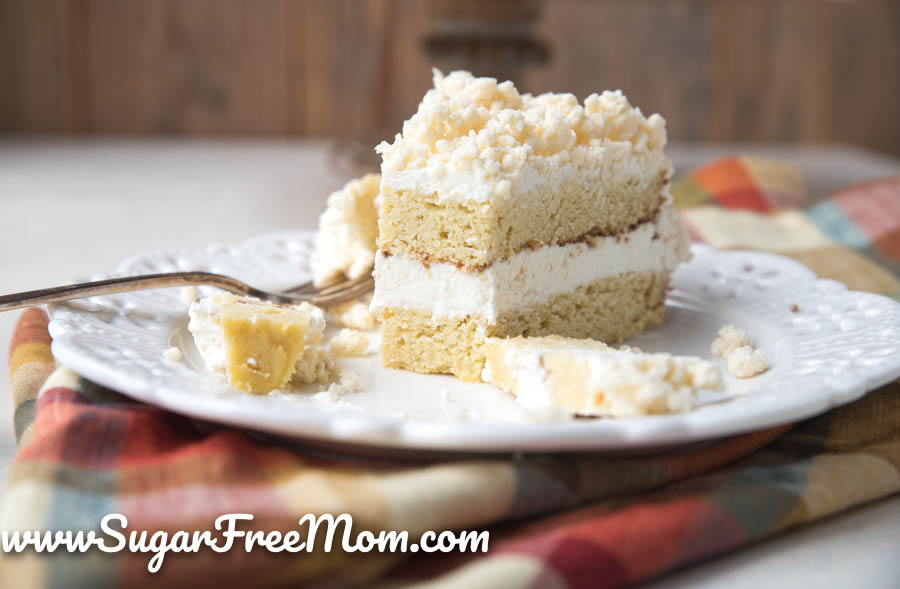 Glucomannan versus Xanthan Gum
Xanthan gum is a common food additive that helps to thicken and stabilize foods, especially baked goods that are gluten free. It's provides that texture that gluten would have provided. It's a soluble fiber that your body doesn't breakdown and can't digest so it doesn't provide any calories or carbs. Some people don't like to use it because it is a sugar derived typically from corn. If you're not a fan of using xanthan gum, glucomannan is the next best choice.
Glucomannan is a natural, water soluble, dietary fiber made from the root of the konjac plant. It can be found as a powder, which is what I used in this recipe, but can also be found in capsule form. Because of its ability to soak up liquids, it is an impressive thickener and emulsifier. If you've never heard of it before, maybe you've tried shiritaki noodles? It is the main ingredient for those noodles and has very little carbs and calories. Either of these will work well in this recipe.
All my Italian family absolutely loved this copycat version of the Olive Garden Italian Lemon Cream Cake! I enjoyed this for my birthday and would make it and take it to any party with non keto friends! It's a show stopper! Enjoy!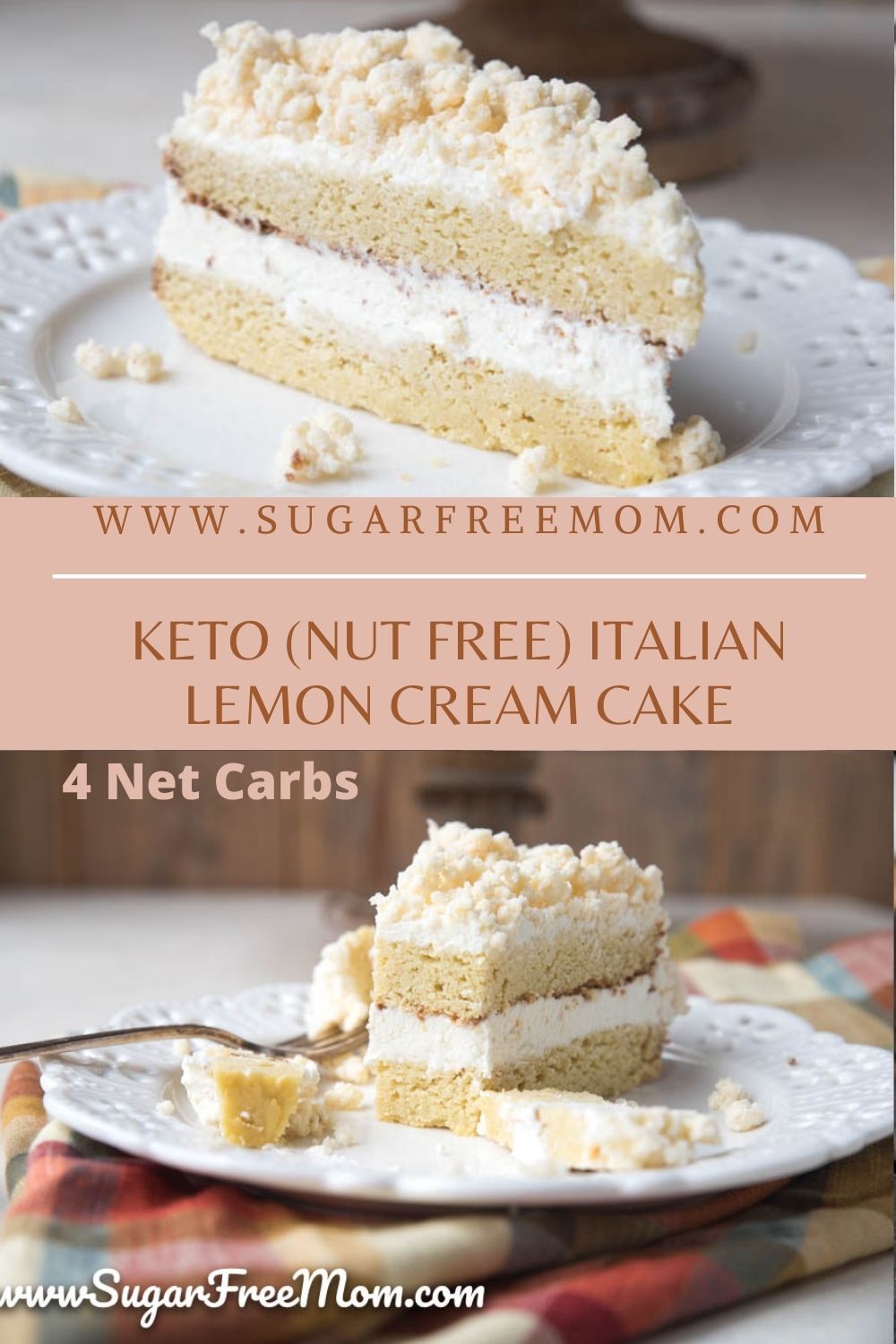 SWAPPING SUGAR FREE SWEETENERS
I've been creating sugar free recipes for the last 15 years using many different sweeteners. My Keto Sweetener Guide and Conversion Chart is written from my vast experience with experimenting with all these sweeteners. You may see many of these conversion charts online, but they are not all the same and some I've seen I greatly disagree with. You can trust my keto sweetener conversion chart as the most accurate and precise sugar free sweetener conversion chart and the last one you will ever need for all your keto baking.
Low Carb Italian Lemon Cream Cake (Keto, Nut Free)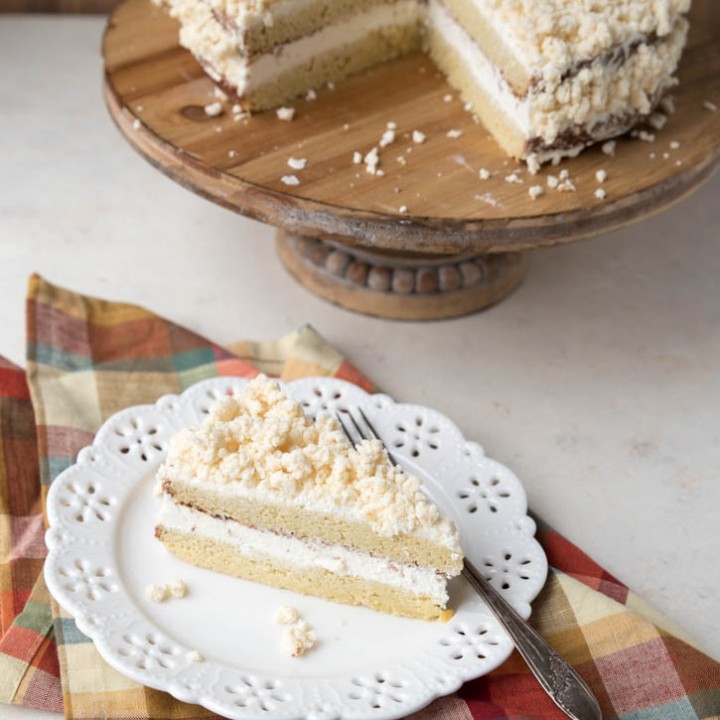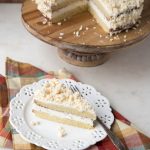 Print
Keto Nut Free Italian Lemon Cream Cake
Ingredients
Filling
8

ounces

mascarpone cheese

or cream cheese, softened

½

cup

Swerve confectioners

½

teaspoon

lemon zest

1

tablespoon

lemon juice

1

cup

heavy cream
Instructions
Cake
Preheat oven to 350 degrees F. Grease two 9 inch spring form pans and set aside.

Whisk together coconut flour, Swerve, baking soda, powder, salt and glucomannan or xanthan gum. Set aside.

To a stand mixer or use an electric hand mixer, add the sour cream, softened butter, heavy cream, lemon extract and stevia and blend until combined. Add one egg at a time until combined. Pour in half the dry ingredients and blend until well combined. Add remaining dry ingredients until nicely incorporated.

Pour cake batter evenly into each cake pan. Bake for 25 -30 minutes or until a toothpick in center comes out clean. Allow to cool 5 minutes then use a butter knife to loosen all around the edges of the cake. Allow to cool completely before removing the sides of the spring form pan.
Filling
Place all the ingredients, except the heavy cream, into a clean bowl or stand mixer and blend until smooth using the paddle attachment. Taste and adjust sweetener if needed. Pour in the heavy cream with the whisk attachment, whisk on medium high until nice and smooth and thickened. Set aside in the refrigerator until the cake is cooked and cooled.
Butter Crumb Topping
Place the dry ingredients into a food processor and process to combine. Add in cold butter. Pulse until crumbs form. Do not over process. Set aside.
Assemble
Place one cake layer on your serving plate. Spread about ¾ of the filling onto the cake, saving ¼ of filling for the top layer. Place the second cake layer over the filling. Spread the remaining filling over the top. Carefully using your hands, sprinkle over the crumb topping over the top of the cake and sides, pushing lightly into the cake. Keep refrigerated until ready to serve.
Notes
Net Carbs: 4g
This recipe was published first in January 2020 and updated in April 2021. 
Nutrition
Serving:
1
serving
|
Calories:
335
kcal
|
Carbohydrates:
8
g
|
Protein:
6
g
|
Fat:
31
g
|
Saturated Fat:
19
g
|
Cholesterol:
158
mg
|
Sodium:
282
mg
|
Potassium:
81
mg
|
Fiber:
4
g
|
Sugar:
1
g
|
Vitamin A:
1040
IU
|
Vitamin C:
1
mg
|
Calcium:
68
mg
|
Iron:
1
mg