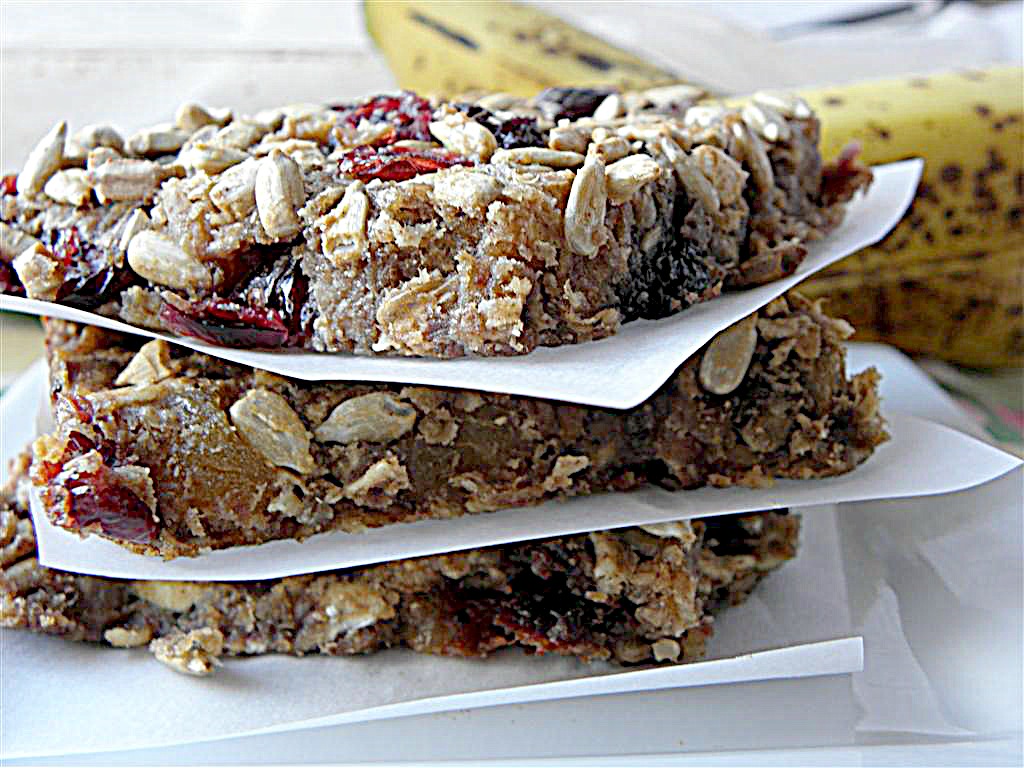 HAVE you ever intended to make one recipe and then it didn't turn out at all like you planned, but in fact it worked better?
That's what happened with this recipe. I made it first to be more like a breakfast cookie and they tasted fantastic, but they looked downright hideous!
I mean they were ugly as ugly comes. So the second time I made them I spread out the batter I worked with and......
.......low and behold they became the best oatmeal and fruit bar I have ever had.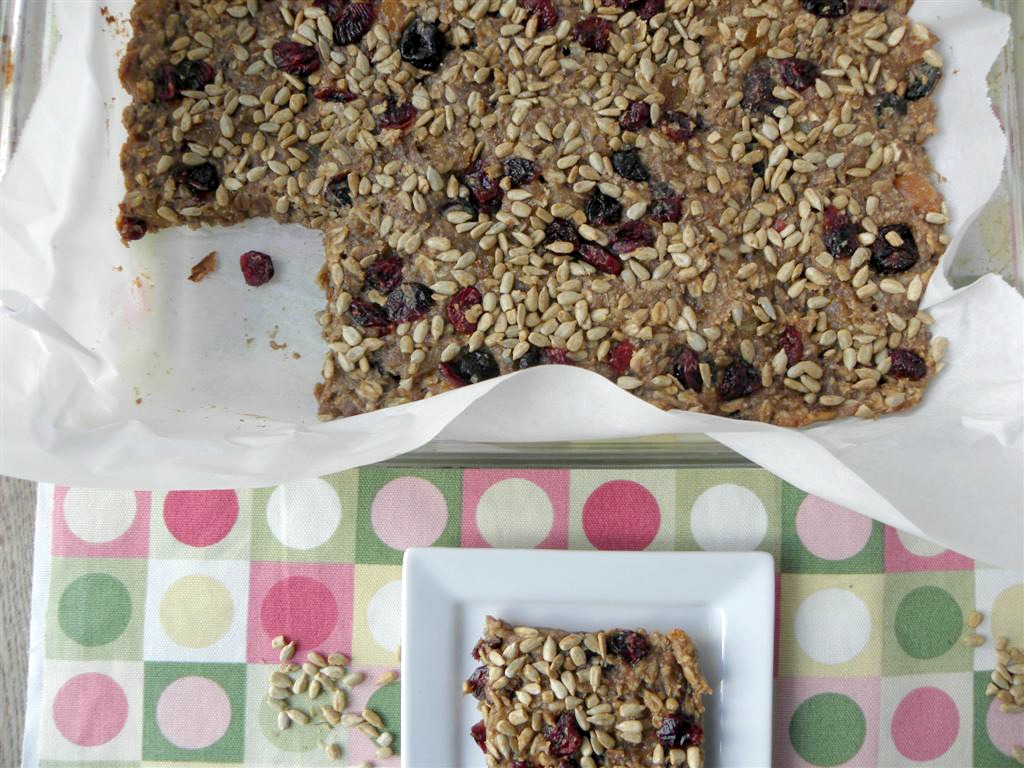 You can feel really good about letting your kids have this for breakfast. Full of healthy oatmeal and dried fruit. Its a perfect on the run breakfast or easy snack to take anywhere.
My oldest hates oatmeal so by sneaking it in this recipe he doesn't even notice he's having it.
You can really get even a little more versatile with them and add some nuts if you and family aren't allergic. You can change the dried fruit as well. But this is what worked for us and I'm sticking with it. If you do make variations with it I'd love to hear from you.
Additional Notes:
Spread some nut-butter on top for more protein.
If you are gluten free, make sure you are using gluten free oats.
You could change the tahini to any nut butter of your choice.
Replace sunflower seeds with nuts if you like.
If you don't have tahini you can sub it with sunbutter.
I do NOT recommend any other substitutions except for the tahini, sunflower seeds and dried fruit.
Do NOT eliminate the dates in this recipe. They are what add the awesome sweetness to the whole bar.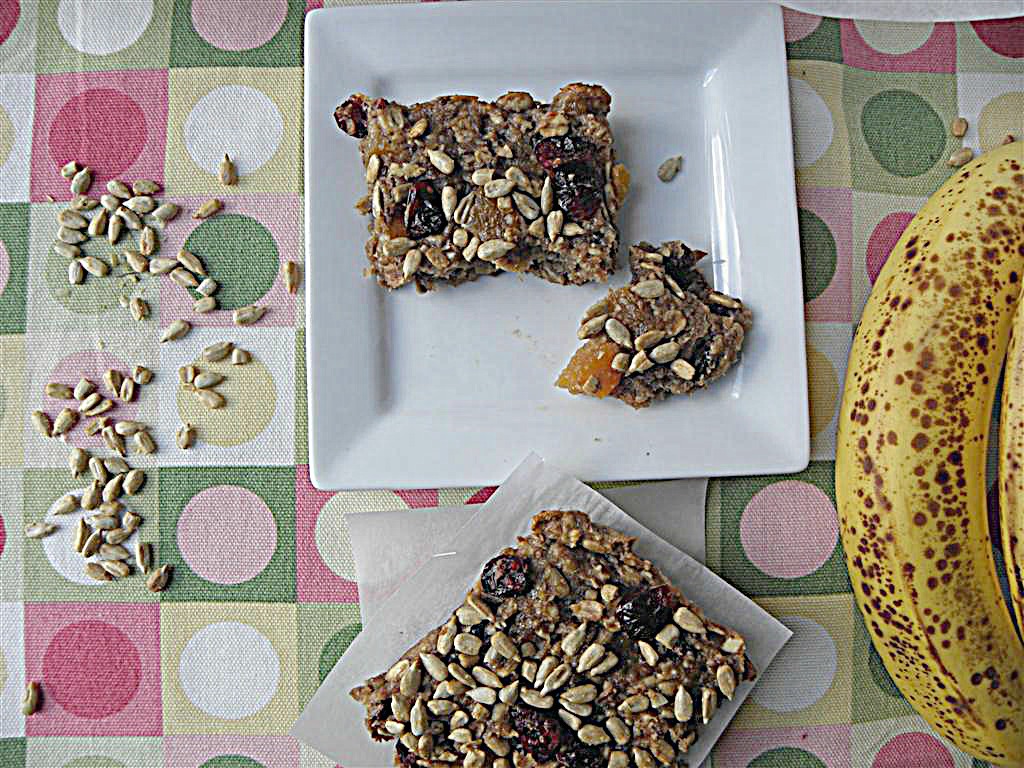 Recipe adapted from Eat Better America.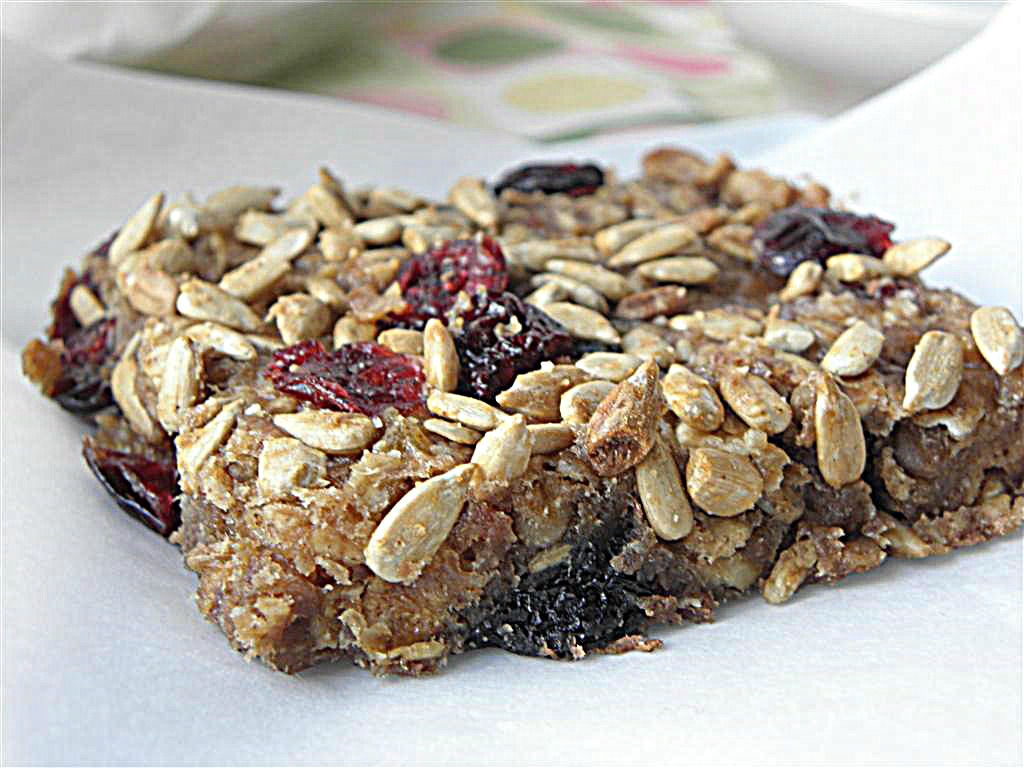 Oat & Fruit Breakfast Bars: Dairy, Egg, Sugar, Flour, Nut & Gluten- Free
Author:
Prep time:
Cook time:
Total time:
Ingredients
½ cup old fashioned rolled oats
½ cup tahini
½ cup dried apricots, chopped
½ cup dried cherries
½ cup sunflower seeds
1 cup dates, chopped
1 tablespoon vanilla extract
1 tablespoon flax seed, ground
½ cup coconut flakes, unsweetened
1 teaspoon cinnamon
¼ teaspoon baking soda
2 bananas, mashed
nonstick cooking spray
optional: 1 teaspoon[url href="http://www.iherb.com/p/11070?at=0&rcode=yaj035" target="_blank"] liquid stevia, vanilla creme[/url]
Instructions
Preheat oven to 350 degrees.
In a food processor, add the coconut, banana, flaxseed, cinnamon, vanilla, baking soda and tahini. If using stevia, add it now. Process until smooth.
Add chopped dates a little at a time until smooth.
Remove mixture from processor and place in a bowl.
To the bowl add chopped apricots, cherries, ¼ cup sunflower seeds (save ¼ cup seeds for top), and old fashioned oats and mix well.
Line a 9 by 13 casserole dish with parchment paper. Spray the paper with nonstick cooking spray.
Pour the batter onto the parchment paper and spread out touching edges of dish all around as best you can.
Sprinkle the top with ¼ of reserved sunflower seeds.
Bake 15-18 minutes until a toothpick in center comes out fairly clean.
Let stand 10 minutes before cutting into bars.
Serving size:
1
Calories:
225
Fat:
1g
Carbohydrates:
35g
Fiber:
4g
Protein:
4g
Notes
Weight Watchers PointsPlus: 4*