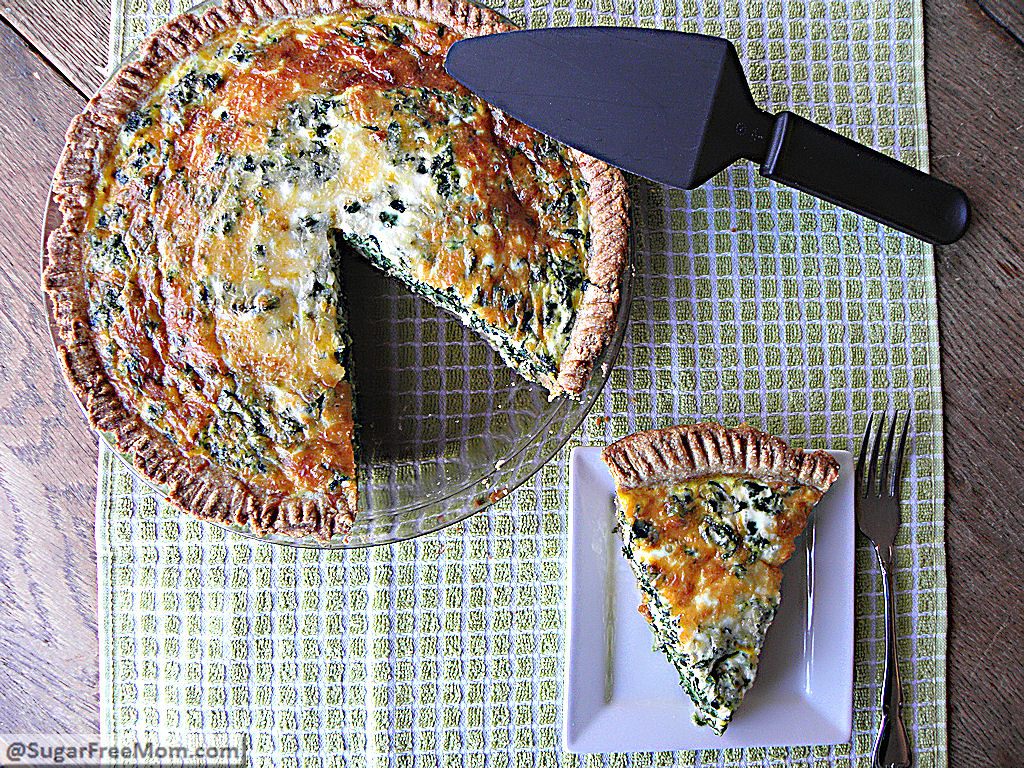 Have any meat loving family members in your life? You know the ones who turn up their nose at you if you gave them a quiche or salad for dinner without some sort of meat in it. Yep, I have one of those in my life, the hunky hubby.
Hearty meals don't HAVE to have meat in them. This is one meal that my meat lovin' hubby will eat even though there isn't a sliver of meat in this scrumptious dish.
I used my Healthier Pie Crust recipe that makes 2 and had frozen one, so it was super simple to prepare having had this crust in the freezer already to go in its pie plate.
Use whatever crust you like, but just so you know, my nutrition info is using the crust from my recipe.
I use frozen spinach most of the time. I like the inconvenience of it already chopped and staying fresh until I want to use it. All I had to do was measure it out and microwave it a little to defrost it. If you want to saute your spinach, just use nonstick cooking spray in a pan until it is wilted.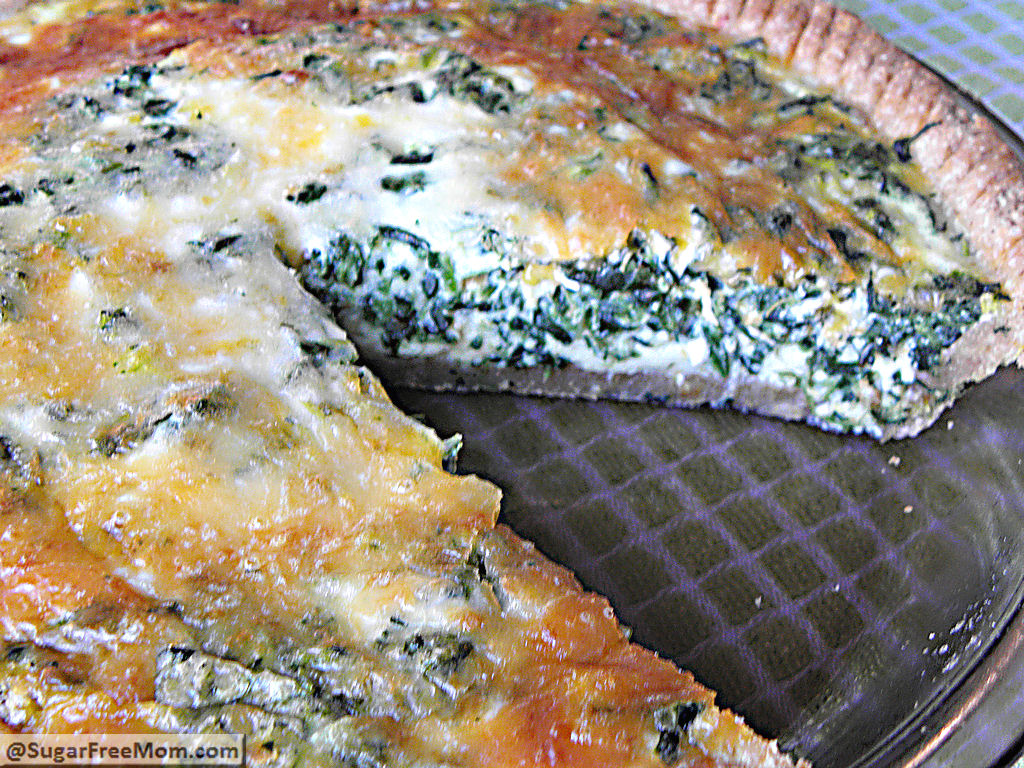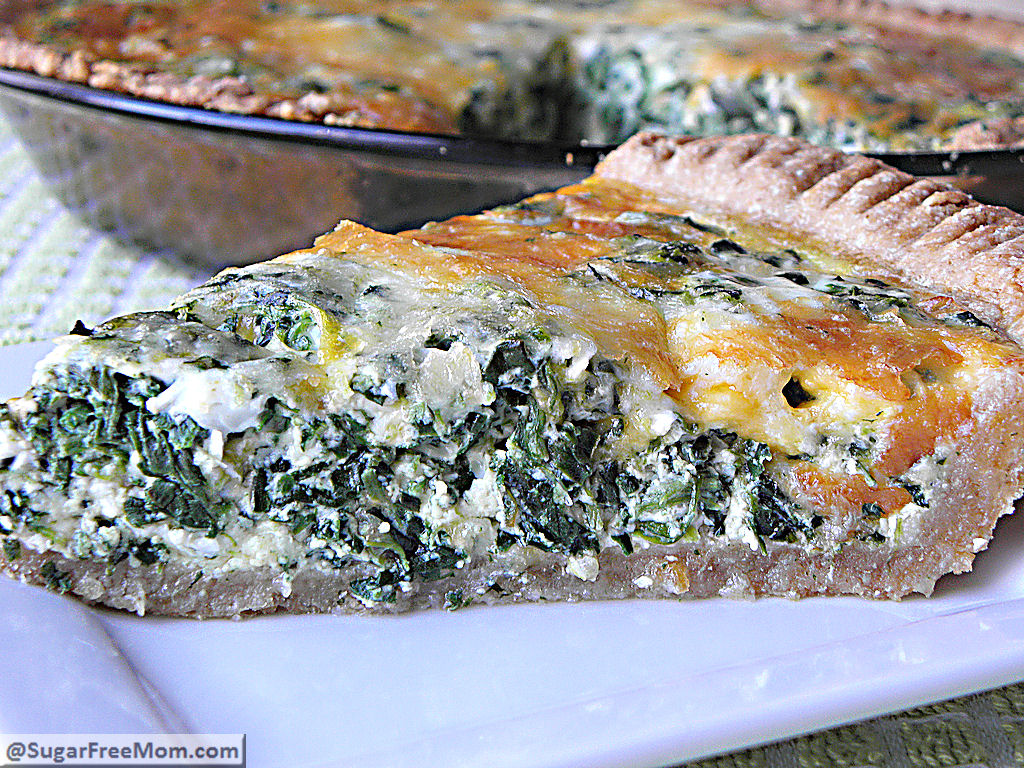 Doesn't that look so good? It tastes even better than it looks! The best part is the crust is NOT soggy!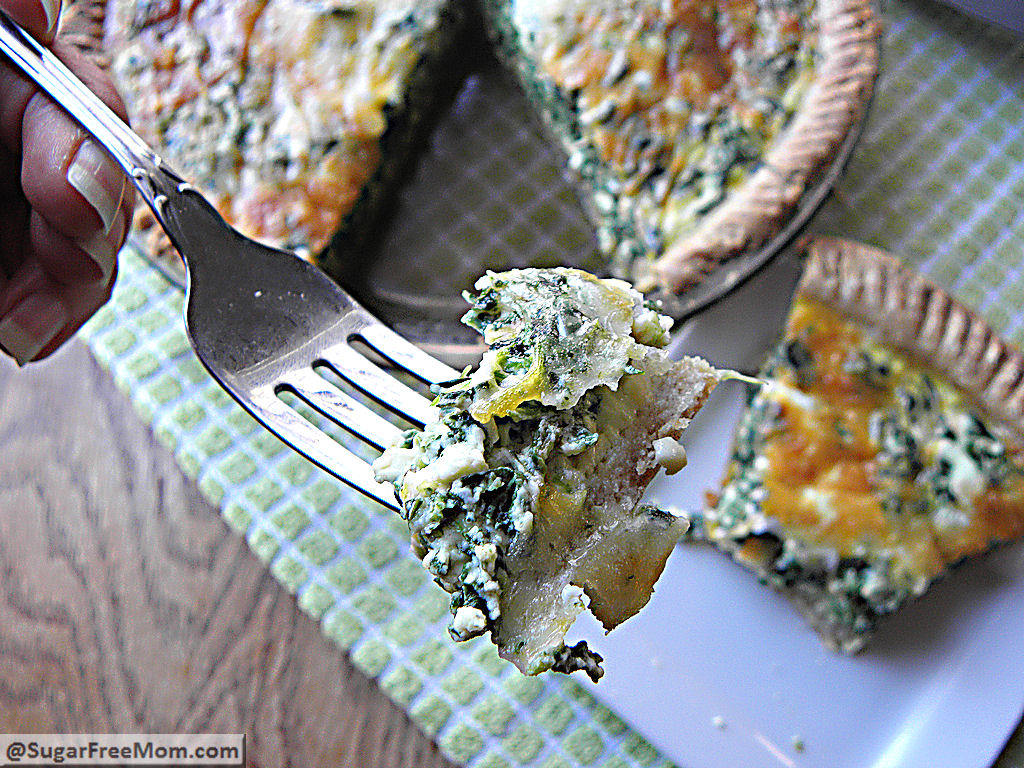 Notes:
You can make this with any milk of choice.
You can eliminate the crust and it will be just as tasty.
If using frozen spinach be sure to squeeze as much water out of the cooked spinach before adding to the pie crust.
If using fresh spinach you do not need to cook beforehand.
Meatless Monday: Healthy Italian Spinach Pie
Author:
Prep time:
Cook time:
Total time:
Ingredients
1 [url href="https://www.sugarfreemom.com/recipes/healthier-whole-wheat-pie-crust-makes-2/" target="_blank" title="Healthier Whole Wheat Pie Crust (Makes 2)"]whole wheat pie crust[/url]
2 cups fresh or frozen, chopped spinach
4 eggs, beaten
1 cup milk ( I used 1%)
1 cup shredded cheese, divided in half ( I used a reduced fat Italian cheese blend of asiago, mozzarella, Parmesan)
1 teaspoon salt
1 teaspoon minced garlic
pepper to taste
Instructions
Preheat the oven to 375 degrees.
In a large bowl, lightly beat the eggs.
Add salt, pepper, garlic, ½ cup shredded cheese and milk. Mix well.
Evenly distribute the spinach into the pie crust.
Pour the egg mixture over the spinach then add the ½ cup of cheese on top. Bake 40-60 minutes until the center is cooked.
Let stand 15 minutes before slicing.
Can be frozen after its cooled. Wrap well with saran wrap and then aluminum. Thaw overnight and reheat, covered with aluminum at 350 degrees for 30-45 minutes. Take aluminum off and heat for another 5-10 minutes.
Serving size:
⅛th
Calories:
236
Fat:
16g
Carbohydrates:
11g
Fiber:
2g
Protein:
14g
Notes
Weight Watchers PointsPlus: 6*
Directions