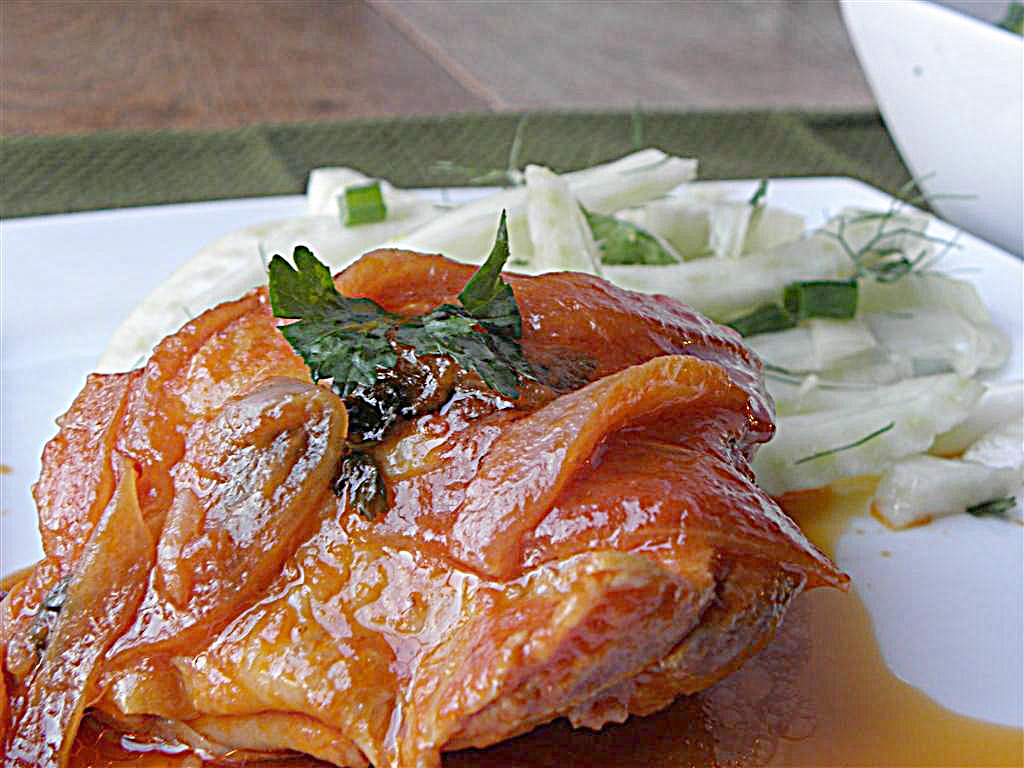 Chicken caccitore is a big favorite in many a household, Italian or not. Cacciatore means 'hunter' in Italian. A hunter-style meal would include onions, herbs, veggies and wine. Northern Italians would prefer using white wine, but Southern Italians use red and that's basically how I grew up having this dish. For those of you who don't normally cook with wine or drink it, don't worry because the alcohol is burned off during cooking, no one can get drunk eating caccitore. When made on the stove it should simmer covered for about an hour to really get the most tender fall of the bone chicken, but if you have a pressure cooker it takes only 12 minutes! Yep you heard me right!
Pretty much in love with my new.............

Fagor 10-qt. Splendid Pressure Cooker
I learned to use the pressure cooker from my grandmother and mother and because I learned young I was never afraid of it. I often heard the jingling noise and just grew accustomed to hearing it quite a few nights a week. If you have an older one that you know the jingling noise I'm referring too. Fortunately the newer versions just make a steaming noise and this Fagor pressure cooker is no exception and by far the BEST kitchen appliance I have. I would totally recommend purchasing one to shave off cooking time by at least half for most meals.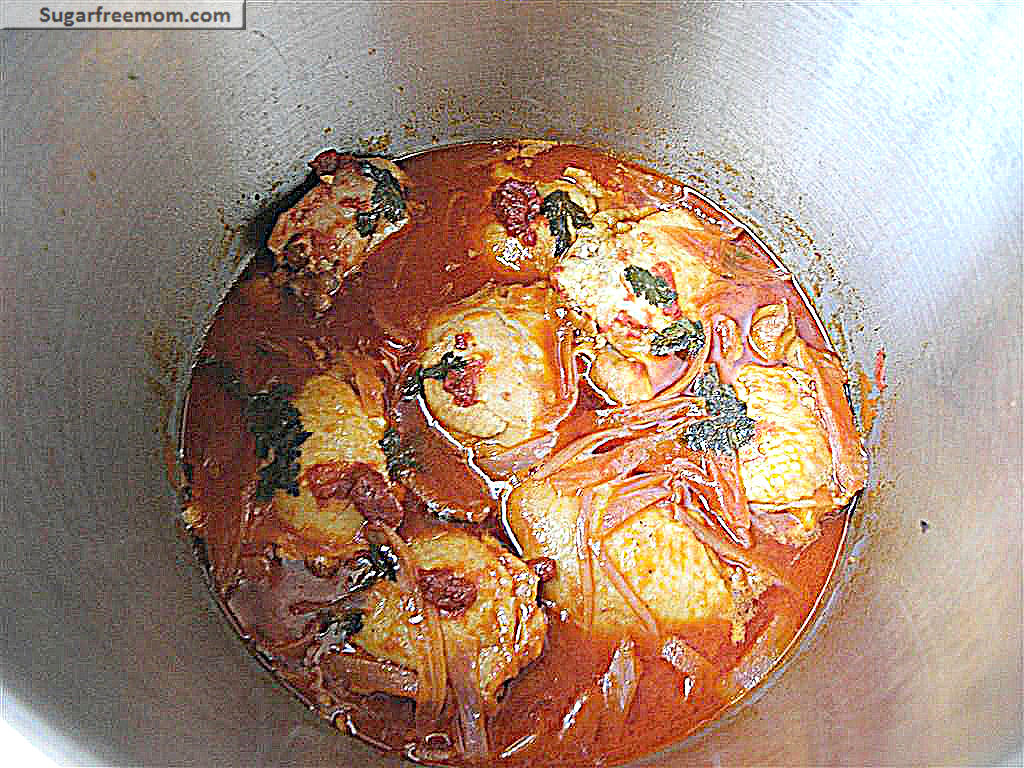 12 minutes is pretty amazing for tender, melt in your mouth chicken.
But don't be sad if you don't have a pressure cooker, you will just have to cook everything a bit longer making it on the stove.
Follow directions, but add an additional 1-2 cups of marinara sauce over the top of the chicken, then cover and simmer for about 45 -60 minutes on low until chicken is cooked through.
Nutrition Info
Servings: 8* Calories per serving: 227* Fat: 14g* Fiber: 1g* Carbs: 7g* Protein: 11g* Points+: 5* Old Points: 5*
[This recipe is being shared at Slightly Indulgent Tuesday, Tasty Tuesday.]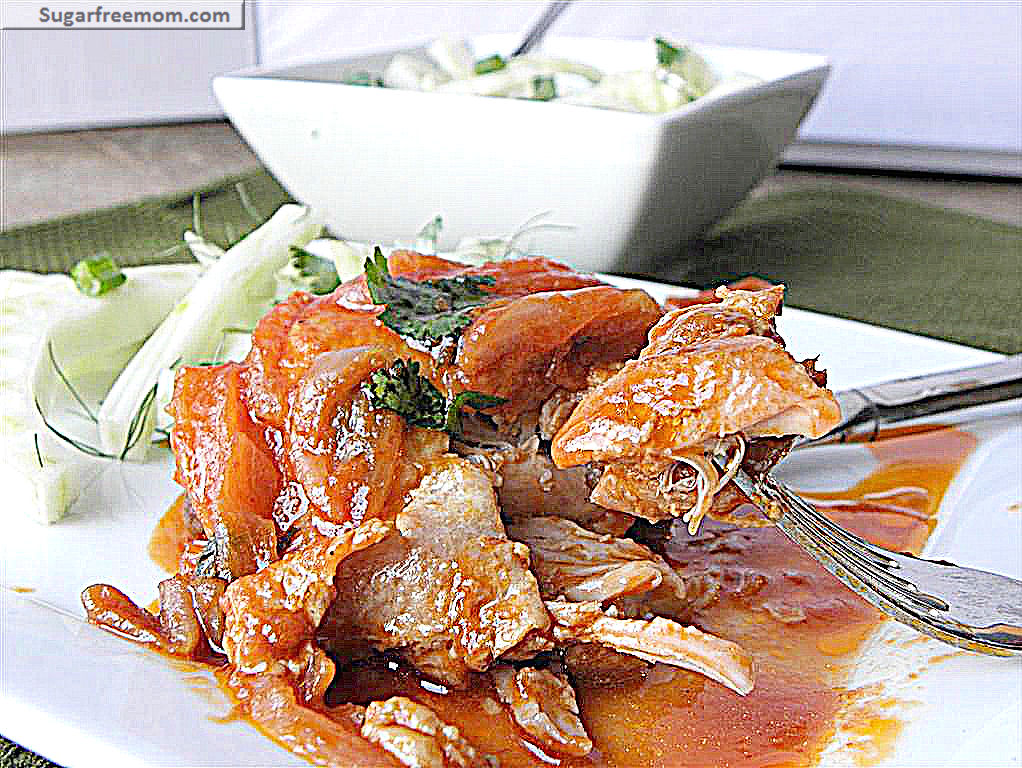 Want to skip the pasta? Add a nice Fresh Fennel Salad instead!
Quick & Healthy Chicken Caccitorre
[sc:Ziplist]
Ingredients
3 pounds bone in thighs ( 8 thighs)
3 tablespoons olive oil
2 teaspoon minced garlic
½ cup water
1 ½ cup red cooking wine
1 cup sliced onion
1 teaspoon thyme
1 teaspoon salt
¼ teaspoon pepper
1 can tomato paste
½ cup fresh, chopped basil
optional: 1 cup sliced mushrooms, chopped tomatoes, peppers
Directions
In pressure cooker, heat olive oil and add garlic. Cook garlic about a minute, careful not to burn it.
Season chicken with salt and pepper and it to the pan. Brown on each side, about 5 minutes.
Turn the heat to low while you add all the other ingredients into the cooker.
Cover the lid, lock it and bring to pressure, lower the heat and cook for 12 minutes.
Release the pressure and then remove the lid.
Serve with your favorite pasta and marinara sauce!