This post and photos may contain Amazon or other affiliate links. As an Amazon Associate I earn from qualifying purchases. If you purchase something through any link, I may receive a small commission at no extra charge to you. All opinions are my own.
These easy keto granola bars are perfect for a snack or breakfast or anytime!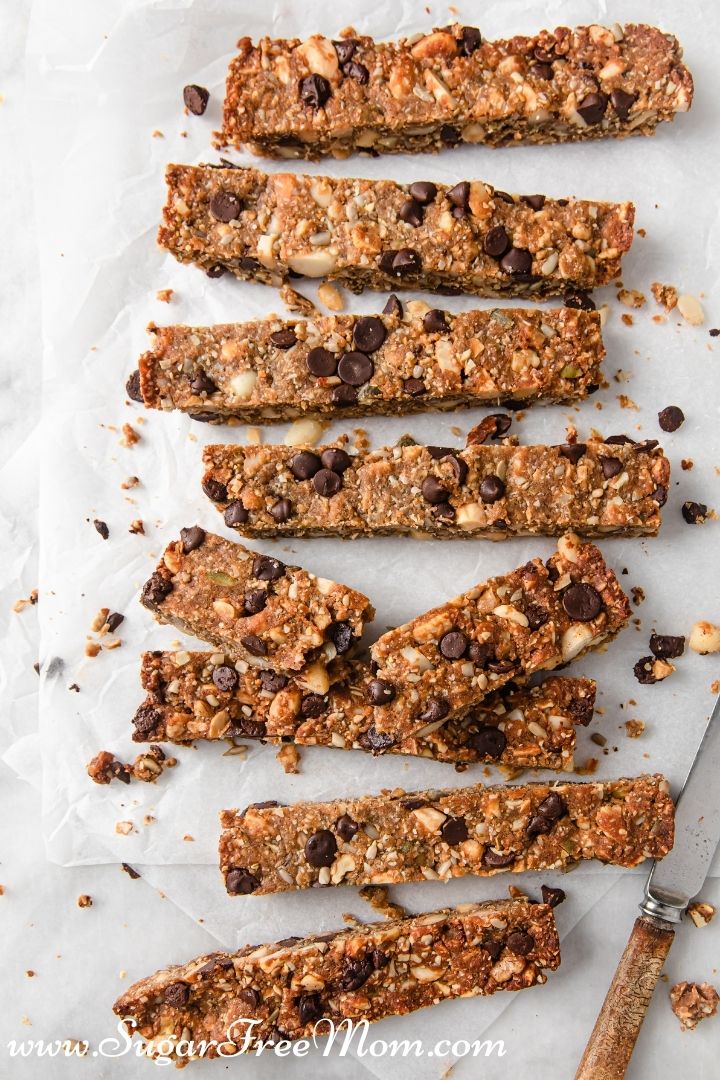 HOMEMADE LOW CARB GRANOLA BARS
Chewy, crunchy, sweet and a little salty flavor packed into a perfectly portioned bar is the beauty of these keto granola bars! Making homemade low carb granola bars just got easier using my favorite low carb liquid sweetener that doesn't spike blood sugar, Allulose. Using just a small amount of this keto sweetener helps bind these granola bars together with all the nuts and seeds used and brings just a slight sweetness to these low carb granola bars.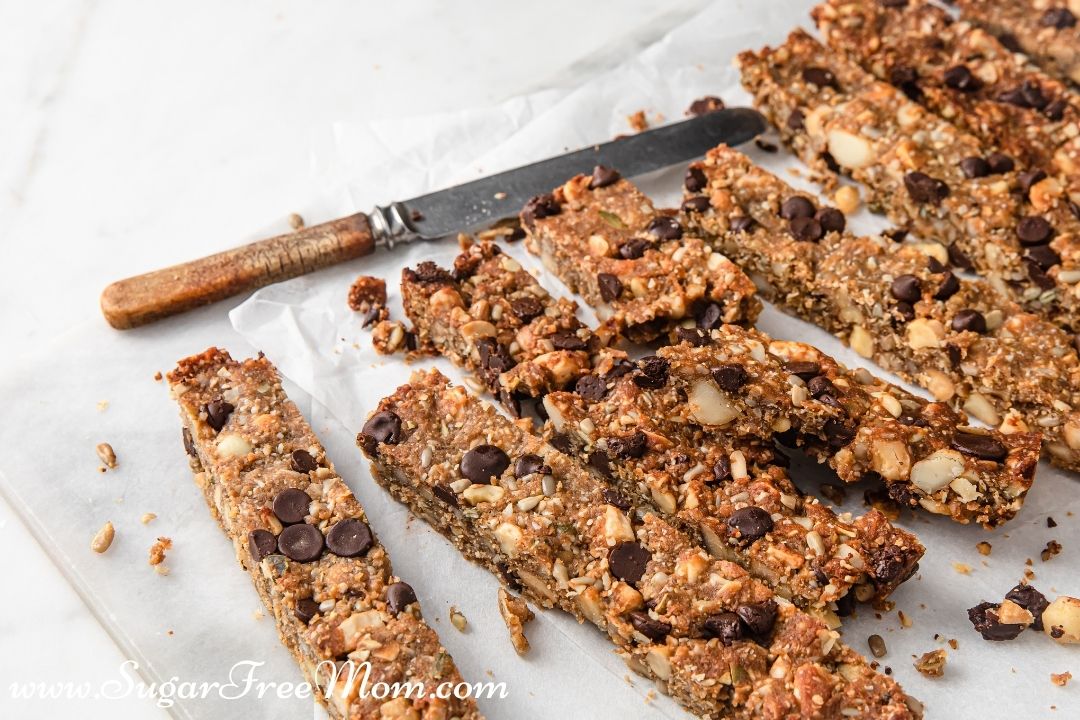 SUGAR FREE SWEETENERS
Finding a low carb sweetener that is liquid and helps bind ingredients hasn't been an easy task. While there are plenty of them out there, the keto sweeteners I like to use are not artificial and don't spike blood sugar. Keto sweeteners like Swerve and Monk fruit and Stevia great, but they wouldn't be the right one to use since those are either granular or confectioners style. Liquid Allulose comes in a granular form as well as in a liquid, but the liquid version works best in this recipe.
Our other favorite low carb sweetener that doesn't leave an aftertaste, is Better than Sugar by Sweetleaf. It's a combination of erythritol and stevia and has plenty of sweetness as sugar would provide. Swerve confectioners sweetener is also low carb but doesn't have as much sweetness and you may need to use a bit more in a recipe to get this as sweet as you like. I've also used Sukrin Gold Syrup, which you also might like using, in some past granola bar recipes, like my grain free low carb granola bars.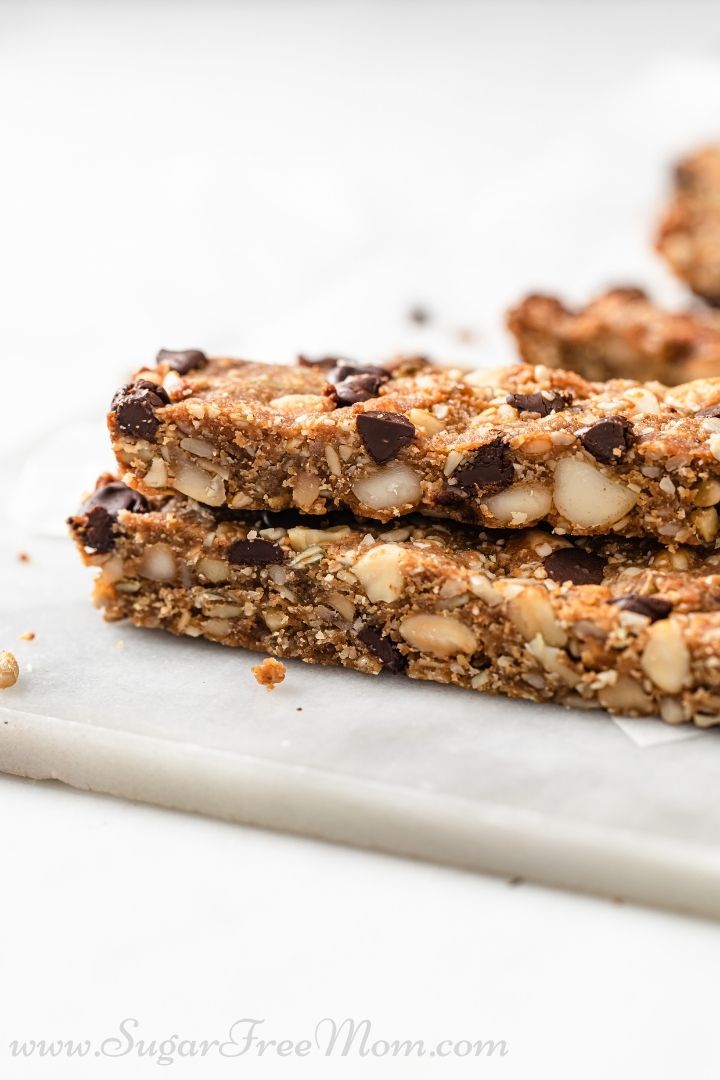 SUGAR FRE NUT BUTTER OPTIONS
I used natural, no sugar added peanut butter in these low carb granola bars, but you can certainly swap that out with almond butter, macadamia butter or even sunflower seed butter if you prefer.
HOW TO STORE GRANOLA BARS
These can be left out on the counter and they will stay perfectly fine for up to 5 days. I like to refrigerate though, which will keep them crisp and will last a bit longer if you do. You can also freeze these for up to 3 months. Wrap individually for easy grabbing from the freezer.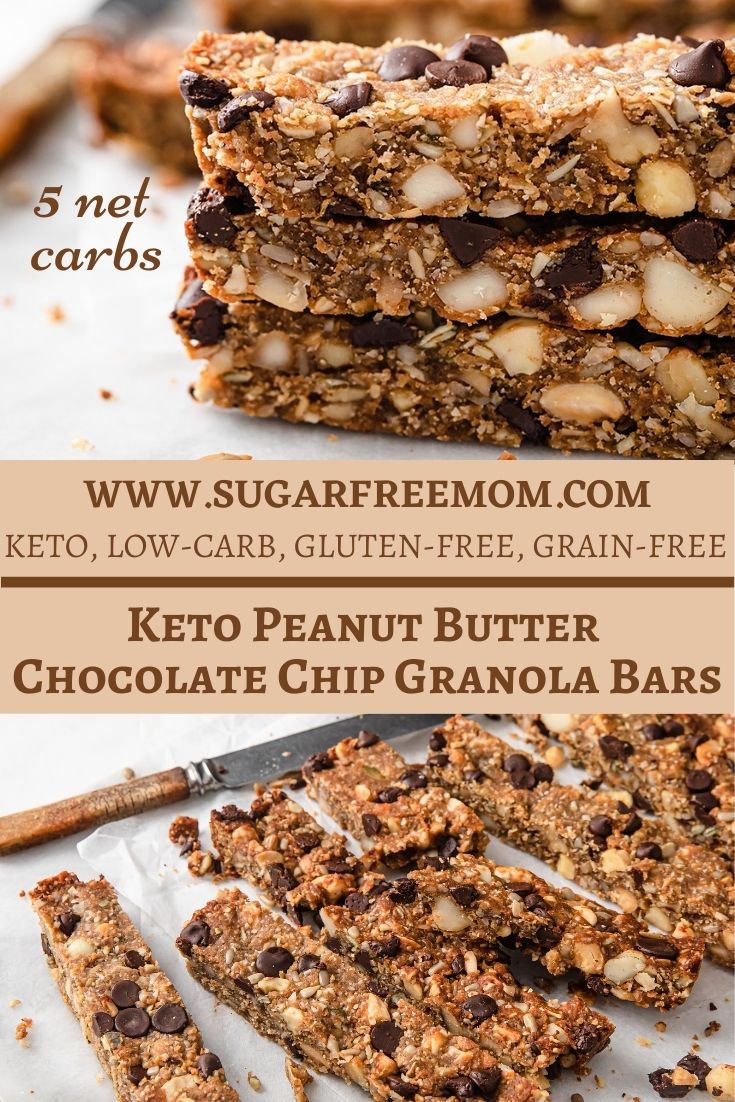 Meal Planning
If you love recipes like this for yourself and family, you might be interested in my meal planning membership. Weekly low carb keto dinner meal plan sent to your inbox every Friday with shopping list. The best part about my meal planning feature is that if you aren't interested in one of the dinner meals you can swap it out for something else! You can even change serving sizes and the shopping list will adjust! It pretty amazing software and I hope you'll take advantage of it. You can have a sustainable low carb/keto lifestyle when you're well prepared and planning meals is the key! LEARN MORE TODAY!
SUGAR FREE KETO GRANOLA BARS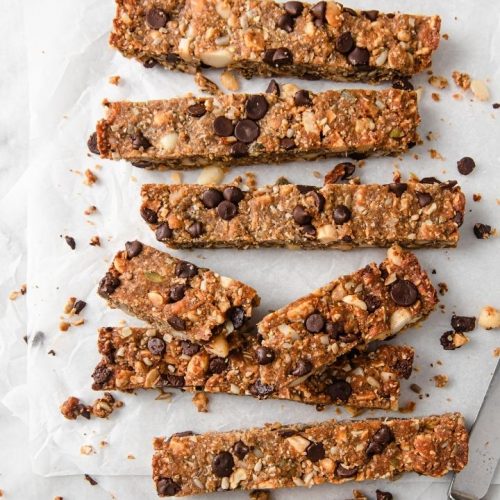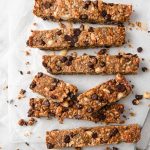 Sugar Free Keto Chocolate Chip Granola Bars
Seriously tasty and super easy to make, these Peanut Butter Chocolate Chip Granola Bars are great for a healthy keto breakfast, to take on a road trip or to work.
If you've been hitting the zoom fitness classes or just fancy a healthy keto treat, these granola bars are perfect for you.
By roasting the nuts and seeds first, it gives these low-carb granola bars the BEST taste ever!  
Instructions
Preheat the oven to 400F / 200C / 180fan.

Place the nuts and seeds on a baking tray and roast for 10 minutes until slightly golden. Remove from the oven and allow to fully cool.

Meanwhile, melt the peanut butter and coconut oil in pan, stirring with a balloon whisk until fully melted. Allow to fully cool. Mix through the allulose and vanilla. Dip a spoon into the mix, careful not to burn your mouth and adjust the sweetness to your taste, remembering we have the chocolate chips still to add!

Add the cooled nuts to a food processor and pulse so some are blitzed and some are chunky. I actually chopped some with a knife too so I got a nice mix of finer and chunky. You can do it all by hand using a sharp knife and chopping board if you prefer.

Place the cooled peanut butter mix, nuts, seeds, egg whites, almond flour, salt and dark chocolate chips in a mixing bowl and stir to fully combine.

Line a 16 x 24 x 2cm or 8 by 8 baking tray with grease proof paper and press the mix into the tin until level.

Reduce the oven temperature to 355F /180C / 160 fan and bake the keto granola bars for about 20-25 minutes until golden. Don't worry if you see any surface fat, it will soak in as it cools. Remove from the oven and allow to fully cool. You could also place in the fridge to set them quicker. Once set, slice into 10 bars.

Storage: Tupperware for up to 5 days. Freezer for 3 months
Recipe Notes
Net Carbs 5g
Nutrition Facts
Sugar Free Keto Chocolate Chip Granola Bars
Amount Per Serving (1 bar)
Calories 242
Calories from Fat 198
% Daily Value*
Fat 22g34%
Cholesterol 1mg0%
Sodium 46mg2%
Potassium 112mg3%
Carbohydrates 7g2%
Protein 8g16%
Vitamin A 3IU0%
Vitamin C 1mg1%
Calcium 32mg3%
Iron 1mg6%
* Percent Daily Values are based on a 2000 calorie diet.