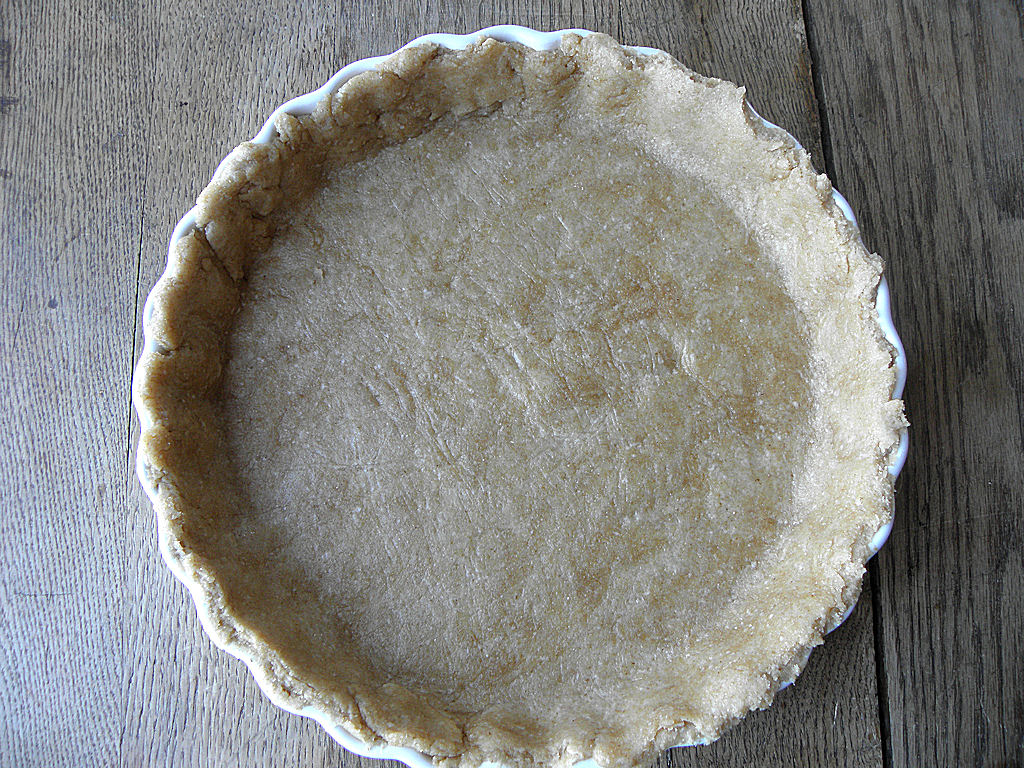 Can you think of the endless possibilities when you have a terrific and healthy whole wheat pie crust to start with? I do! Whatever you like can be added to make a fantastic quiche, beef or chicken pot pie, anything really!
This is the second whole wheat pie crust recipe on my blog. The first one was a review of Whole Foods Market recipe for whole wheat crust. You can read more about that here.
And that was a good crust, but I wanted to make it a bit healthier. I was able to reduce the fat and increase the fiber and protein, and still keep a fabulous tasty, flaky crust!
Nutrition Info
Per Serving: ⅛ of crust* Calories: 143* Fat: 8g* Cholesterol: 1mg* Sodium: 9mg* Fiber: 3g* Carbs: 17g* Sugars: 0mg* Protein: 3g* Points+: 4*
Healthier Whole Wheat Pie Crust
[sc:Ziplist]
Ingredients (makes 2)

2 ¾ -3 cups whole wheat pastry flour or white whole wheat
1 teaspoon salt
½ cup oil
1 cup milk
Directions

Mix flour and salt together in a bowl.
Pour milk and oil into a bowl, do not stir. Add all at once to flour. If using whole wheat pastry flour and dough is sticky, add ¼ cup more flour.
Stir until mixed and shape into 2 flat balls. Wrap in plastic wrap and chill for ½ an hour.
Lay one dough onto plastic wrap, sprinkle some flour on plastic wrap and on top of dough and lay another piece on top. Roll out with a rolling pin as large as your pie dish is. (see this post for pictures)
Spray your pie plate with nonstick cooking spray, take the top piece off and flip over into the pie dish, pressing dough all around.
Prick the bottom of the dough with a fork. Cut off the excess so the crust is flush with the rim.
Save your second dough in the refrigerator wrapped in plastic wrap to use within a few days or roll out into a pie dish following same procedure as above and freeze into a Ziploc freezer bag for another day.
What healthy recipe will you make with this delicious crust?