No Bake Sugar-Free Nanaimo Bars are a decadent, delicious and sinless dessert that everyone will fall in love with! Low in carbs, gluten free, grain free, and nut free!
I have to be honest with you.
I am not Canadian and I've never had a "real" authentic Nanaimo bar.
Meaning, I've never tried one full of sugar and chocolate and creamy filling.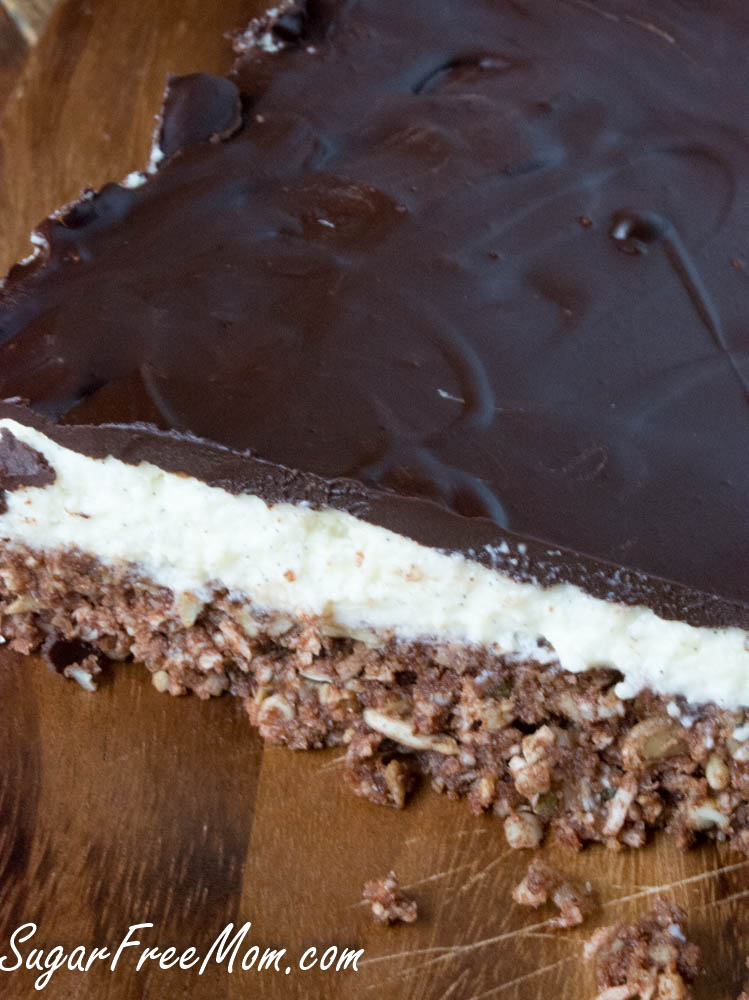 BUT I have seen a billion and one recipes for these bars and really wanted to try my hand at making a low carb and sugar free version.
I did a little research and discovered that the filling actually has something called custard powder in it.
Again something I've never seen in any store where I live so I adapted to what I thought would work about the same way.
If you too have never heard about or tried nanaimo bars, today is your lucky day! It also usually contains nuts in the crust base which I can't use since my youngest has a tree nut and peanut allergy. I just adapted to try and get as close to a crunch as possible.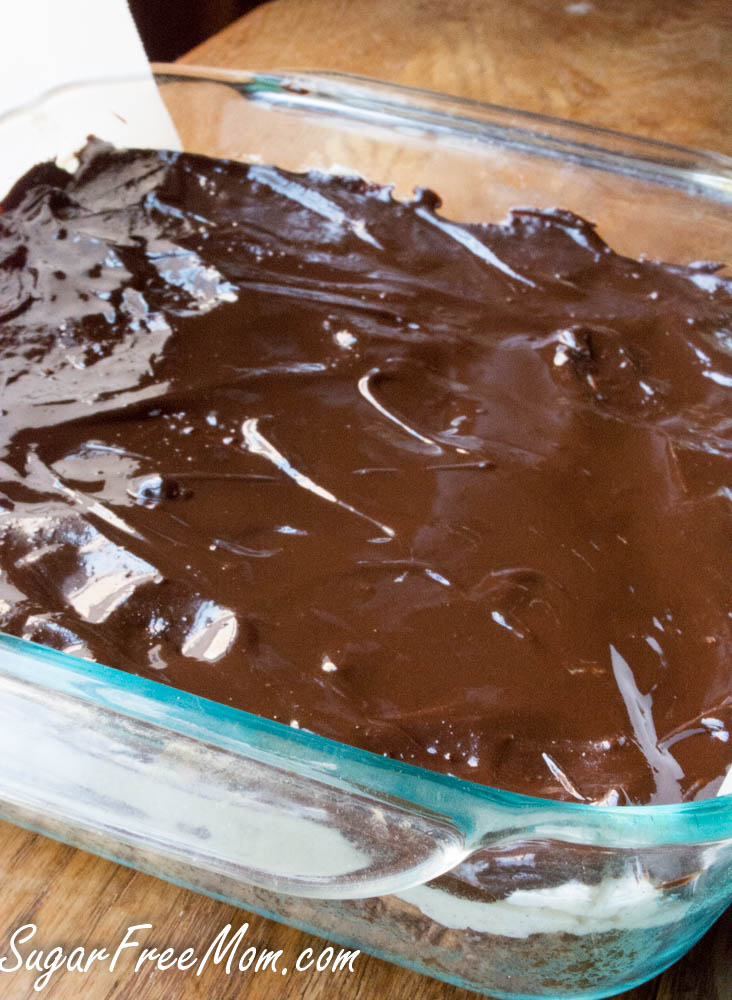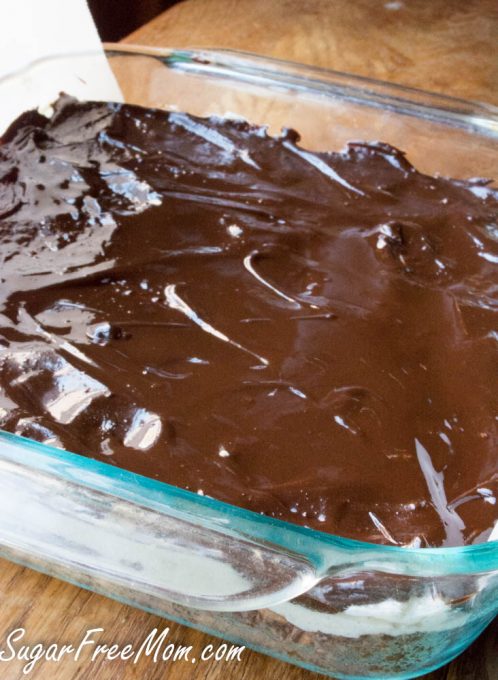 3 layers of crunchy bottom crust for the base, creamy custard filling in the center which is sort of a cross between buttercream frosting and a whipped cream frosting and finally topped with a layer of chocolate.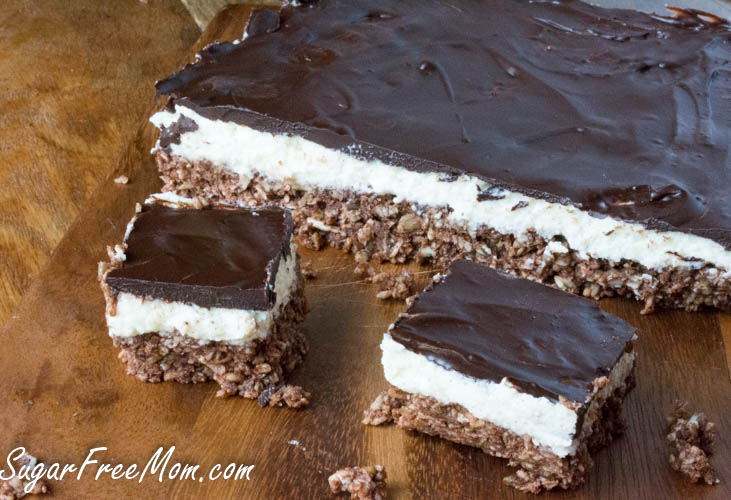 Not sure if the original is a no bake recipe but mine sure is and I am proud of that! No bake recipes are my jam. I love them! I need them in my life!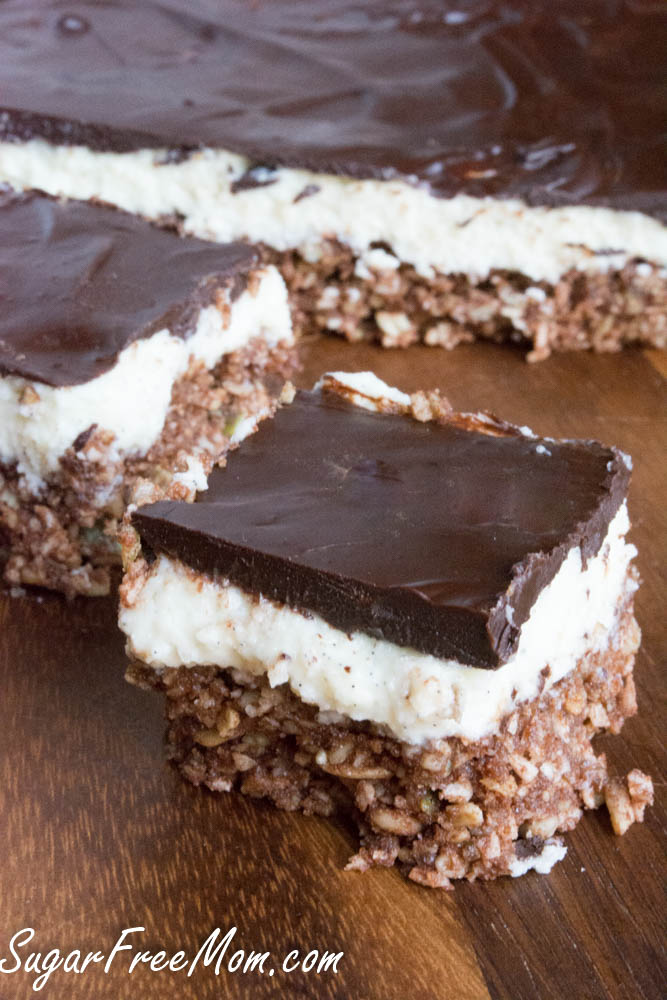 So what you don't want to do is bring this to a party that might possibly have a Canadian who has many a time eaten authentic nanaimo bars and whose mother is a professional at making them.
Yep you don't want to do that.
And of course this happened to me. And he ate it. And he said it was pretty much not like what "his mother" makes whatsoever. Hhmmphh.
But when he first saw them he recognized them as nanaimo bars so that counts for something!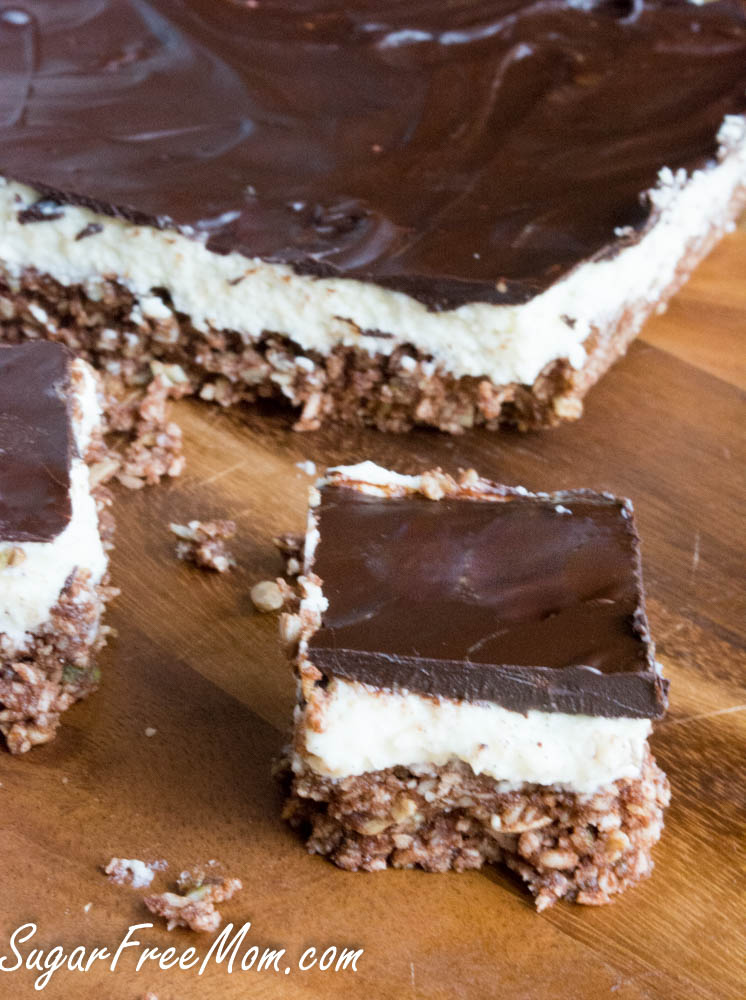 This is also though, coming from a man who does not eat sugar free or gluten free or low carb in any way shape or form, ever.
BUT he ate it and he ate it down to the last crumb on his plate.
So he still liked it but........not.like.his.mothers. Ho.Hum.
So if you make these awesome, tasty, terrific and perfectly acceptable replica of a nanaimo bar......
.............just don't..........
give it to a Canadian man who might have a mother who has made them all the time and expects perfection.
Otherwise all those who are living sugar free and low carb and those like me who have children with tree nut and peanut allergies, YOU, you are the ones who will love this recipe. YOU are the ones who will rave about it and YOU are the ones I cherish opinions of.
So please make them and share what you think.
Brenda's Notes:
I didn't have nor could I find, "custard powder" which is typically seen in the custard filling. If you have it you can remove the vanilla bean, arrowroot powder, sea salt and powdered milk and replace it with 4 tablespoon of custard powder.
Swerve sweetener is a granulated low carb sugar free substitute that I like to use to replace sugar in recipes. It is not as sweet as other sugar free subs so I also like to add some liquid stevia. If you use another granulated sugar free sub that just remove the stevia so your recipe doesn't become too sweet.
Kids and hubby approved! Little man with the nut allergy was sooooo happy he could eat these!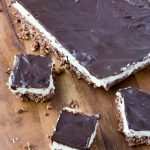 Print
No Bake Sugar-Free Nanaimo Bars
Instructions
Place all the ingredients for the crust into a food processor and process until combined well. It should be sticky.

Line an 8 by 8 baking dish with parchment paper. Spray the paper with olive oil cooking spray.

Press the crust base into the dish and press it evenly over the bottom of the dish.

Prepare the custard filling by adding all ingredients into a stand mixer and blend until smooth.

Spread this filling over the crust.

Prepare the chocolate layer by melting the chocolate and butter in a bowl over simmering water or microwave for 30 seconds stirring until smooth and no lumps.

Spread chocolate over the custard filling.

Refrigerate at least 2-3 hours before slicing.
Nutrition
Serving:
1
g
|
Calories:
306
kcal
|
Carbohydrates:
6.2
g
|
Protein:
5.8
g
|
Fat:
30.6
g
|
Saturated Fat:
14.1
g
|
Cholesterol:
44
mg
|
Sodium:
247
mg
|
Fiber:
2.2
g
|
Sugar:
1.3
g