Cauliflower and Thyme Soup is a low carb, satisfying, vegetarian soup perfect for a cold winters day!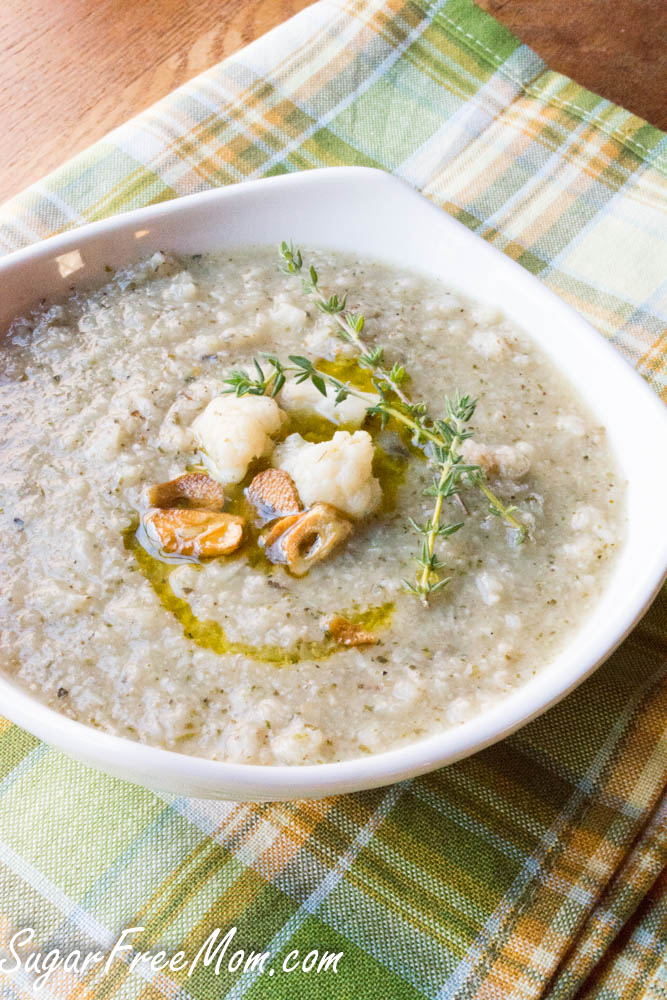 We recently moved about a month ago into our house in the woods! Country living at its best or should I say, no store or gas station for at least 20 minutes away. Something to get used to for sure!
Needless to say, just getting unpacked, homeschooling and feeding my family is about all I can handle at the moment.
I've had to stop myself and think about whether I had actually eaten even though I feed my kids 3 square meals a day. But as mom, I'm constantly on the go and rarely have a moment to stop. Multitasking is the name of the game with 3 kids.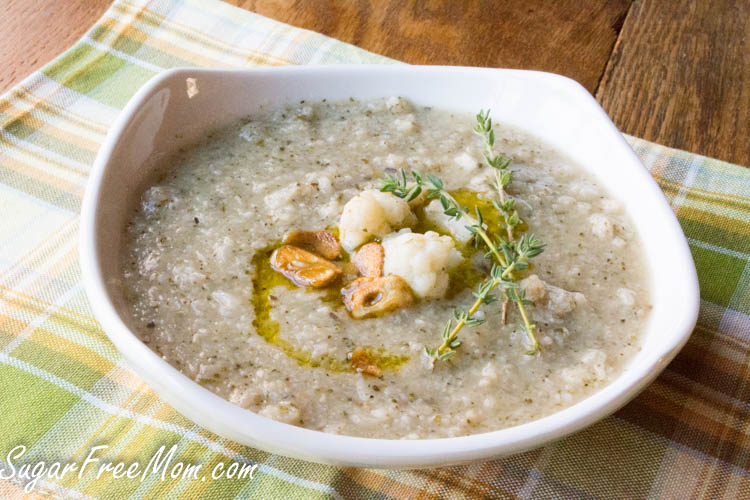 When it comes to lunch I want fast and easy. Make it once, enjoy it for a few days for myself so I don't need to waste any time. I want in and out in the kitchen, especially now trying to still unpack boxes a month later and with Christmas coming, ugh I don't even want to think about decorating yet.
My friend Miryam over at the blog, Eat Good for Life reviewed my Sugar Free Mom Cookbook last year on her blog and shared my Garlic Parmesan Chickpea recipe. Last month she came out with her own cookbook and of course I wanted to return the favor because that's what friends do.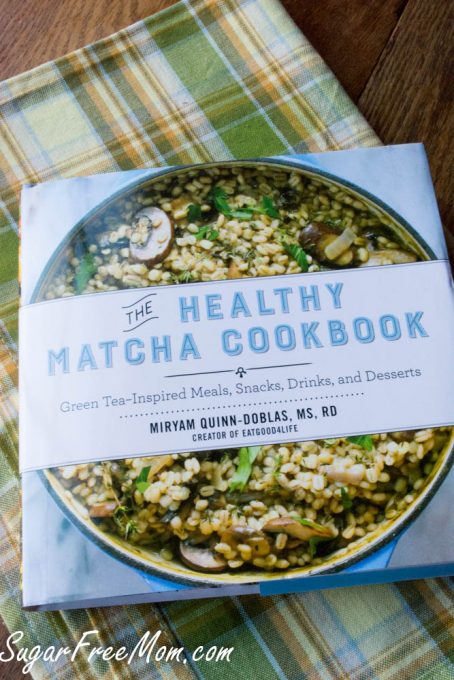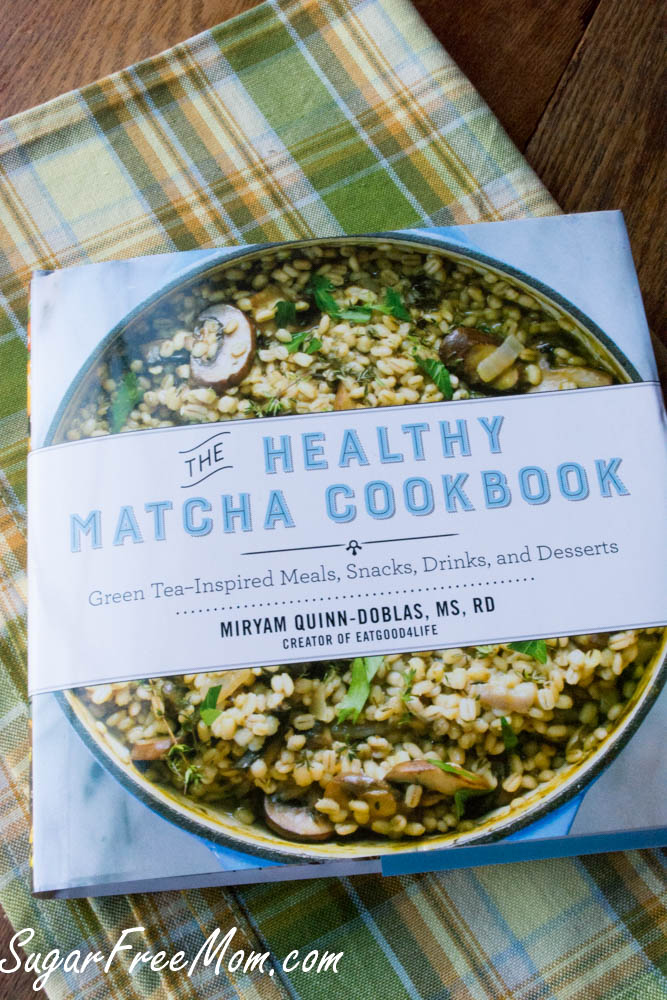 ABOUT MIRYAM
On paper, I am actually a clinical dietitian. I earned a BS degree in Bioinformatics (molecular genetics and computer science) and a BS degree in Psychology. I later attended graduate school to obtain a Masters degree in Human Nutrition and currently I am studying to become a physician assistant. I guess I am the never ending student, or as I describe it, the professional student. Will see how this journey goes because as I stand, blogging, studying and taking care of my family is a lot of hard work! I think I am the master multitasker…lol!!
Right now I live in Westfield, New Jersey, with my husband and two kids. It is not bad but at some point, hopefully in the near future we would like to move. Maybe back to Spain, who knows, but for now, New Jersey is what we call home.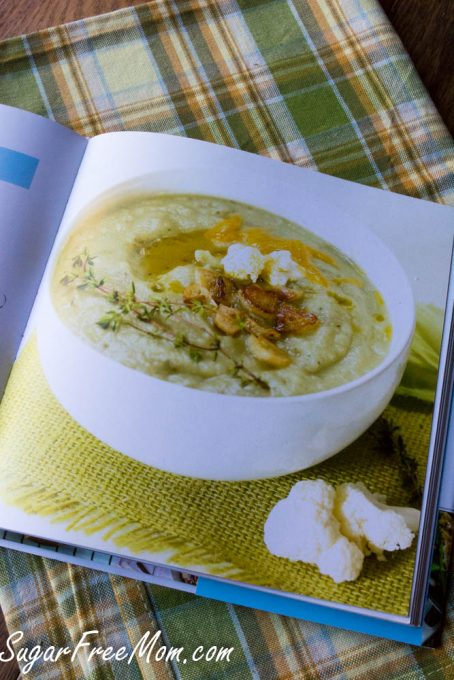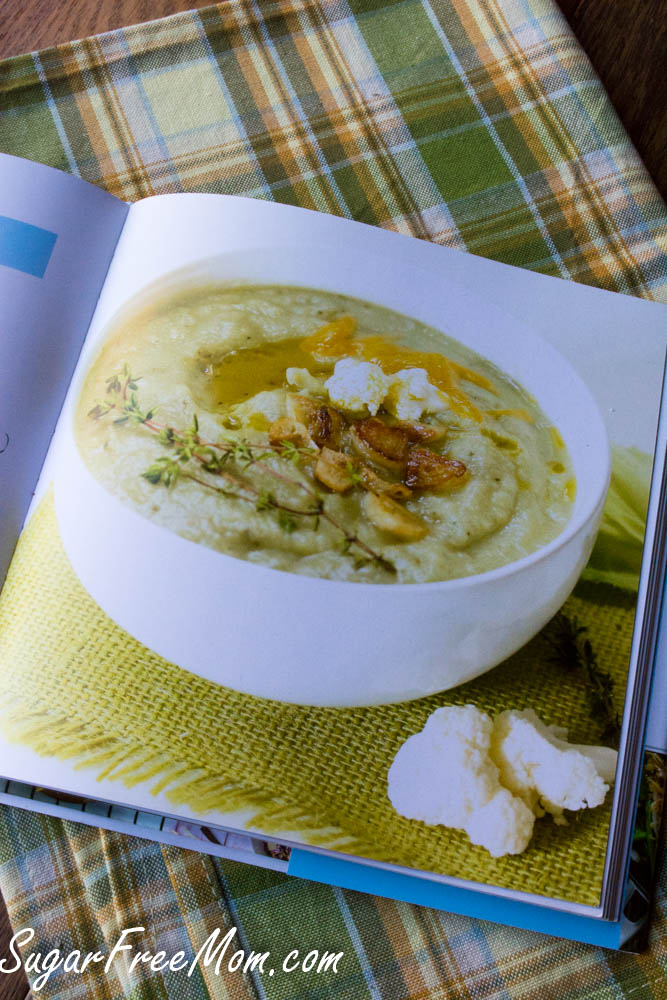 Her cauliflower soup caught my eye as an easy lunch for me for a few days!
Matcha Green Tea is really good for you and since I had recently made this Cool Lime Refresher over the summer using it so I was excited to use it again.
WHAT IS IN
THE HEALTHY MATCHA
COOKBOOK?
A comprehensive introduction guide that includes: History of green tea, Green tea basics, Health benefits of matcha powder and lists of the major ingredients used in my pantry.
4 chapters which includes energizing breakfast (10), healthy snacks (10), lean green meals (23), decadent desserts (16).
Many recipes are gluten free, vegan, vegetarian and dairy free. Substitutions for recipes that are not vegan or gluten free are also given.
Recipes that are full proof.
A total of 59 recipes with colored photographs.
2 week meal plan.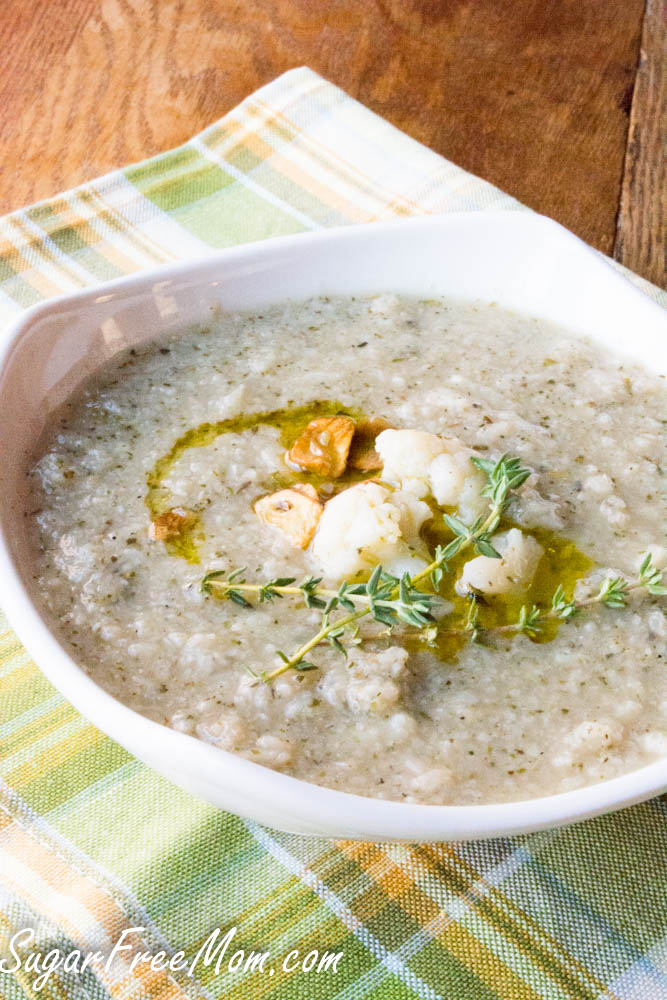 THE HEALTHY MATCHA COOKBOOK RECIPES:
Breakfast: Granola, Mango protein smoothie, Overnight oats, Breakfast smoothie bowl, Breakfast frittata, Cream cheese spread, Kiwi and pineapple jam, No bake breakfast bars, Breakfast muffins, Breakfast parfait.
Healthy snacks: Energy truffles, Nana ice cream, Energy bars, Kale and hot pepper grilled cheese sandwich, Energizing smoothie, Avocado and eggs on flatbread, Lemon coconut bites, Dark chocolate pomegranate seed bites, Sesame squares, Ricotta and cucumber toasts.
Lean green meals: Barley Risotto, Fish green curry, Noodle salad with Asian vinaigrette, Quinoa burgers with habanero mayo, Curried coconut broccoli soup, Quinoa stir-fry, Baked chicken fingers with spicy mayo, Asian quinoa salad, Cauliflower salad, Mac and cheese, Spinach and chive mushroom pasta, Roasted veggies, Oven roasted chicken fajitas, Creamy kale tomato pasta, Cauliflower and thyme soup, Mushroom kale chicken pasta, Mahi Mahi in tomato sauce, Tofu stir-fry, Asparagus and tomato quinoa salad, Lentil and arugula salad, Asian cabbage salad, Kale mushroom flat bread pizza, Rice noodles with tofu.
Decadent desserts: Fudge, Coconut ice cream, Chocolate chunk cookies, Blueberry crisp, Flourless brownies, Baked chocolate donuts, Brownie mug cake, Frozen Popsicles, No bake cashew banana pie, White chocolate mousse, No bake coconut macaroons, Whole wheat sticky buns, Chocolate cake with heavy cream frosting, Cream bars, No bake pistachio pumpkin cookies, Apple walnut bundt cake.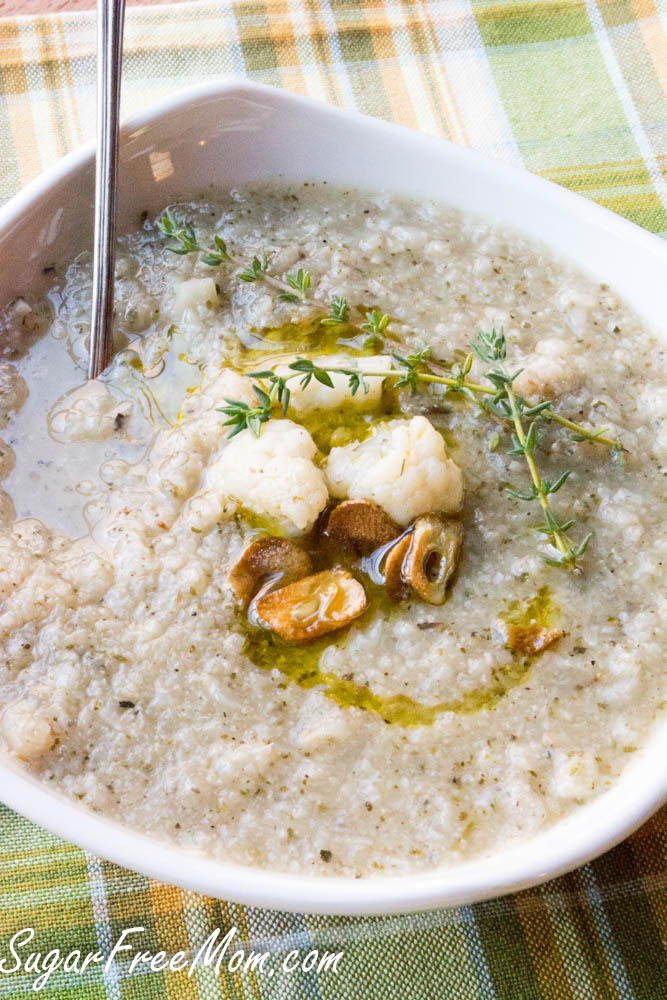 Plenty of options to choose from for healthy meals.
If you decide on purchasing please note the dessert recipes are NOT sugar free. Many use unrefined sugars like maple syrup which can easily be replaced to your favorite sweetener of choice.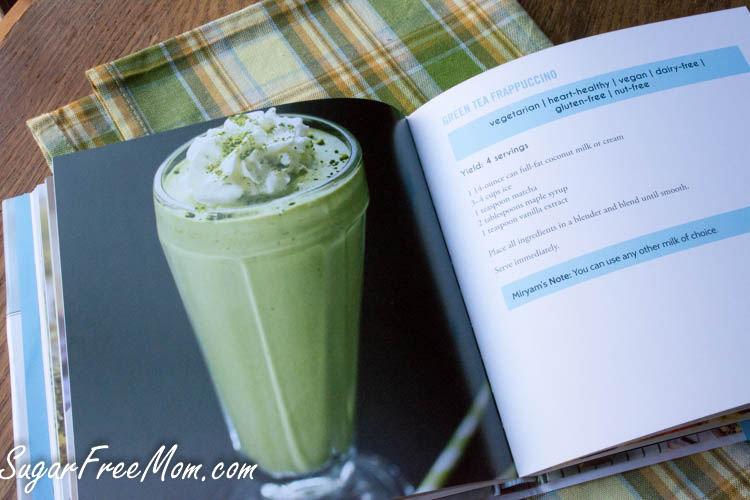 You will find this cookbook on Amazon for order, titled, The Matcha Cookbook: Green Tea-Inspired Meals, Snacks, Drinks and Desserts is a collection of healthy recipes which some are gluten free, vegan, vegetarian, and dairy free.
Brenda 's Notes:
The size of your cauliflower will matter. Mine was small and as florets was only about 2.5 cups. If you use a large cauliflower, you may have double this amount and therefore your servings will be more like 1 cup than just ½ cup serving as here.
I didn't have thyme powder so I used dried Italian seasonings instead.
If you don't like much spice, use less pepper.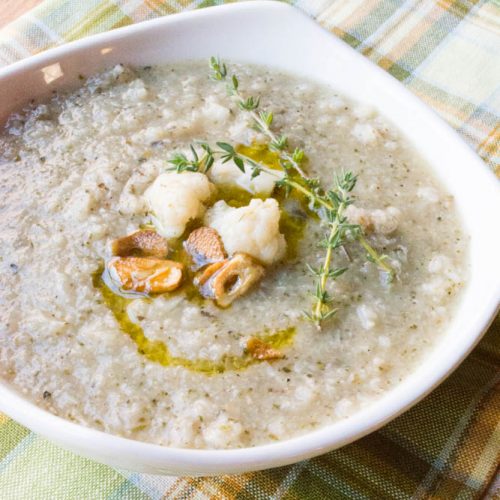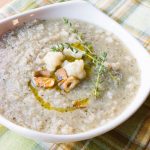 Print
Low Carb Cauliflower and Thyme Soup
Ingredients
3

cups

vegetable stock

2

teaspoon

thyme powder

½

teaspoon

matcha green tea powder

1

head cauliflower

about 2.5 cups

1

tablespoon

olive oil

5

garlic cloves

chopped

1

teaspoon

Celtic sea salt

1

teaspoon

black ground pepper
Instructions
Over medium to high heat, add the vegetable stock, thyme and matcha powder to a large pot and bring to a boil.

Add the cauliflower broken into florets and cook until cauliflower is tender.(Mine took about 10 minutes.)

In the meantime, in a small sauce pan, add the olive oil and garlic and cook until fragrant, about 1 minute.

When the cauliflower is almost tender, add the garlic and salt and pepper, and cook another 1-2 minutes.

Turn off the flame and with an emersion blender, blend the soup until smooth.

Serve immediately.
Nutrition
Serving:
1
g
|
Calories:
51
kcal
|
Carbohydrates:
6.7
g
|
Protein:
1.5
g
|
Fat:
2.4
g
|
Saturated Fat:
0.4
g
|
Sodium:
564
mg
|
Fiber:
1.4
g
|
Sugar:
1
g