These Easy Crispy Salt and Vinegar Zucchini Chips are only 40 calories per serving, gluten free, grain free and low carb too!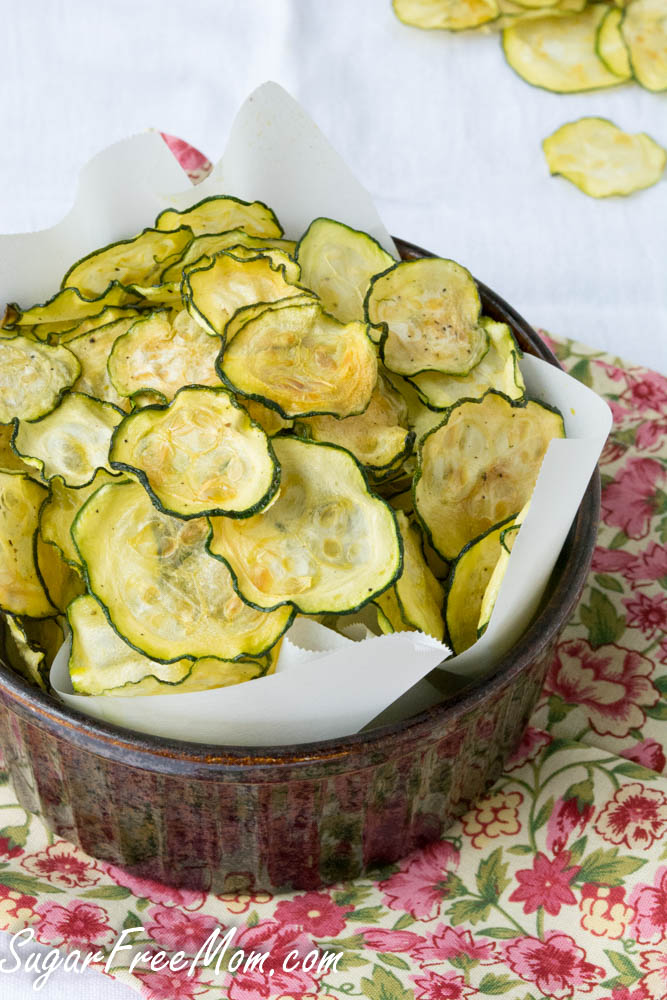 Zucchini Chips
A Guilt Free Chip you can make in no time at all! When Zucchini is in season this is the best way to use them up if they are overflowing in your garden! I published this recipe De.29th 2014 and decided to update it today with a video to share again!
Christmas is over and New Year's Eve is upon us. As a mom of 3, going out to a New Year's Eve party hasn't happened in years!
I'm not proud of this fact, I wish it were different sometimes, but it is what it is.
We are party poopers. In recent years the hubby hasn't even made it up to midnight lol!
The last time the hubby and I went out for a night on the town was when I was pregnant with my first born who is going to be 15 in May! That tells you though we much prefer to be home with our family anyway. We could probably get a babysitter but like I said, we prefer home with our kids to going out to a party.
A few friends in recent years who have children as well have had an annual party and you bring the kids. It's a great idea if you don't mind driving after midnight with cranky, tried kids in the car.
I will pass on that thank you. 🙂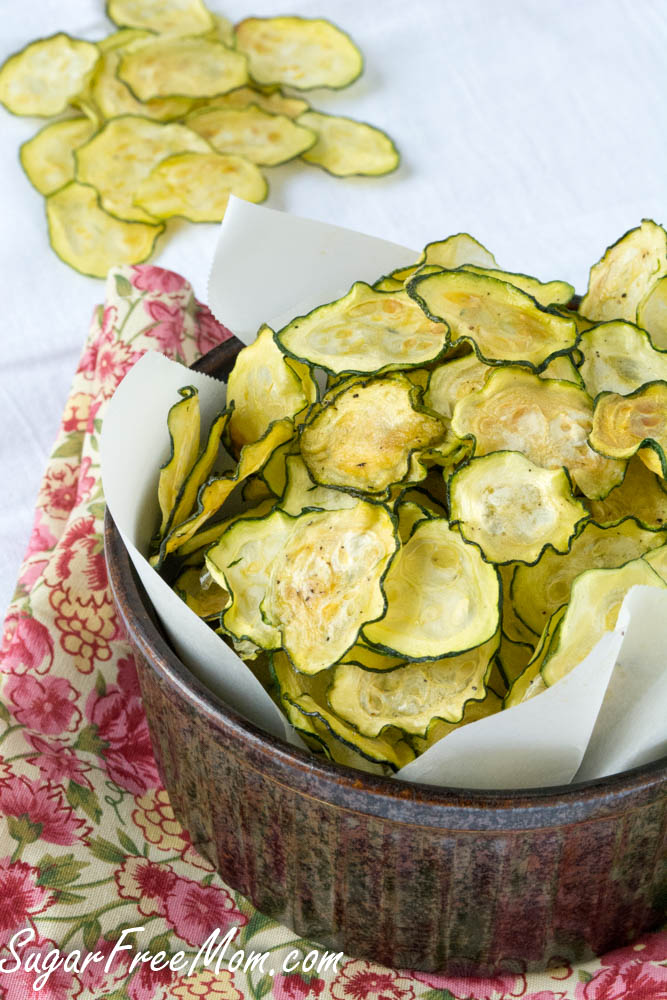 But what I won't pass on is the opportunity to celebrate the incoming New Year with the ones I love and with awesome, stress free food. After the holiday baking, gift buying and wrapping I'm all set with involved recipes that require too much of my time.
I want easy. I want yummy. I want to relax with my family rather than be in the kitchen.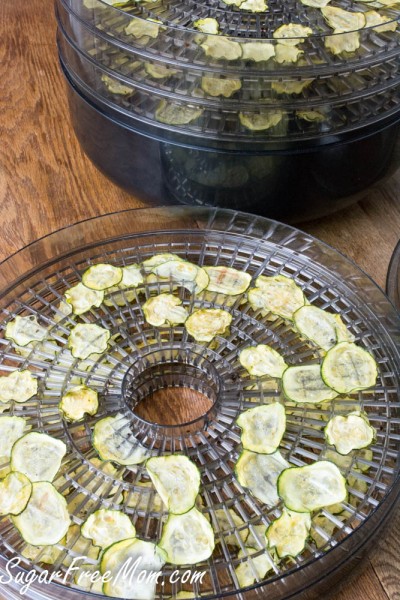 This recipe is a perfect home run for me. I love picky finger foods for New Year's Eve. Just something about watching the Dick Clark or I guess I should say now the Ryan Seacrest New Year's Eve Countdown and enjoying light bites in front of the TV.
You can make this recipe in the oven if you don't have a dehydrator.
Veggie Chips
The key to making a real good chip out of zucchini is all in how you slice it. Use a mandolin or food processor to get the slices as thin as possible. Toss with my other ingredients and you'll be in denial how fantastic these are!
What's even better????? Knowing that one serving is just 40 calories!!!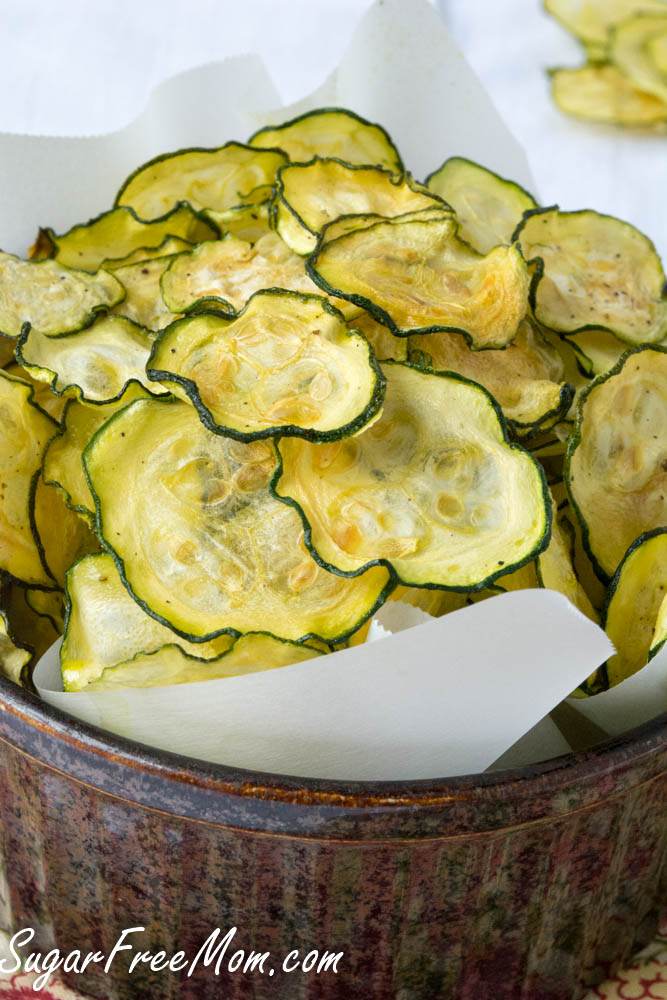 Enjoy the New Year's bash at home or at a party and bring these! Everyone will want them so you might want to make double! You know where I will be.....home in my pj's enjoying a serving or two or these healthy chips!
Other Appetizers you might enjoy:
Some notes on the recipe:
You can use any oil you prefer. I've made this with olive oil, avocado oil and sunflower oil. The sunflower oil seems to have a very mild flavor so I feel it works better than the other two so you can really taste the vinegar.
You can use a mandolin to slice or just slice thin with a knife. You will get more slices using the mandolin but either thick or thin they are both equally delicious.
I've not swapped the vinegar for any other as I feel the White Balsamic is the best choice in this recipe, it's light and slightly sweet.
This is the dehydrator I use.
I first published this recipe Dec.29th of 2014 and updated it with a video to re-share to all who may have never seen this awesome chip!
Enjoy!
Salt & Vinegar Zucchini Chips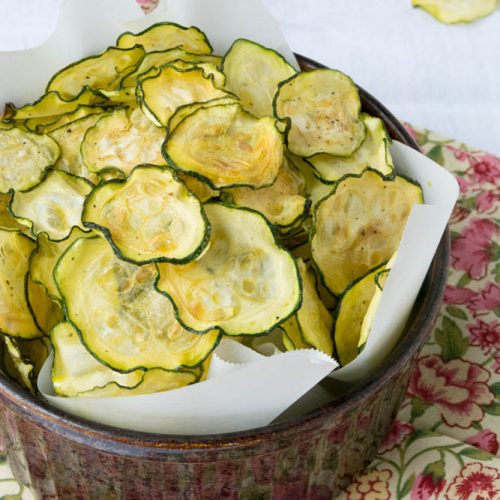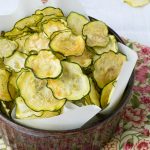 Print
Salt and Vinegar Zucchini Chips
Ingredients
4

cups

thinly sliced zucchini

about 2-3 medium

2

tablespoons

extra virgin olive oil

avocado oil or sunflower oil

2

tablespoons

white balsamic vinegar

2

teaspoons

coarse sea salt
Instructions
Use a mandolin or slice zucchini as thin as possible.

In a small bowl whisk olive oil and vinegar together.

Place zucchini in a large bowl and toss with oil and vinegar.

Add zucchini in even layers to

dehydrator

then sprinkle with coarse sea salt.

Depending on how thin you sliced the zucchini and on your dehydrator the drying time will vary, anywhere from 8-14 hours. My temperature setting was 135 degrees F.

To make in the oven: Line a cookie sheet with parchment paper. Lay zucchini evenly. Bake at 200 degrees F for 2-3 hours. Rotate half way during cooking time.

Store chips in an airtight container.
Nutrition
Serving:
0.5
cup
|
Calories:
40
kcal
|
Carbohydrates:
2.9
g
|
Protein:
0.7
g
|
Fat:
3.6
g
|
Saturated Fat:
0.5
g
|
Sodium:
571
mg
|
Fiber:
0.6
g
|
Sugar:
2
g