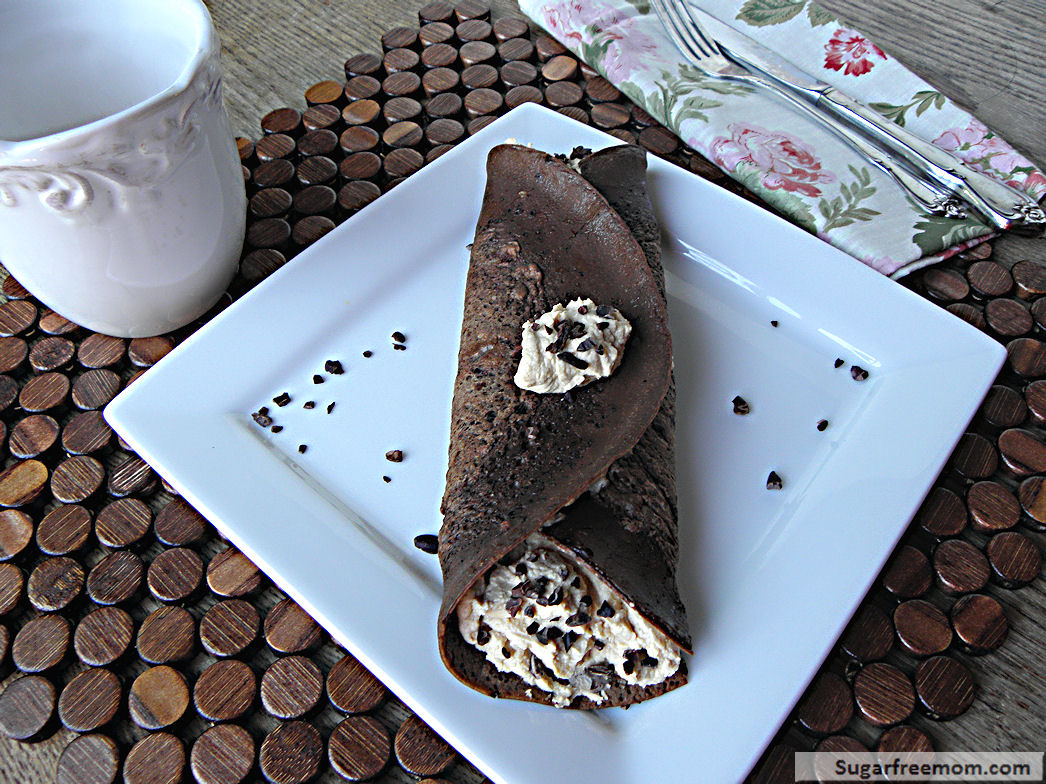 A Chocolate dessert for breakfast??? Well not quite dessert but it sure does look like it doesn't it? You can definitely have it for breakfast!! YES, yes you can!!! Made with egg whites, oats and an incredible filling that tastes AMAZING, but is totally healthy I promise!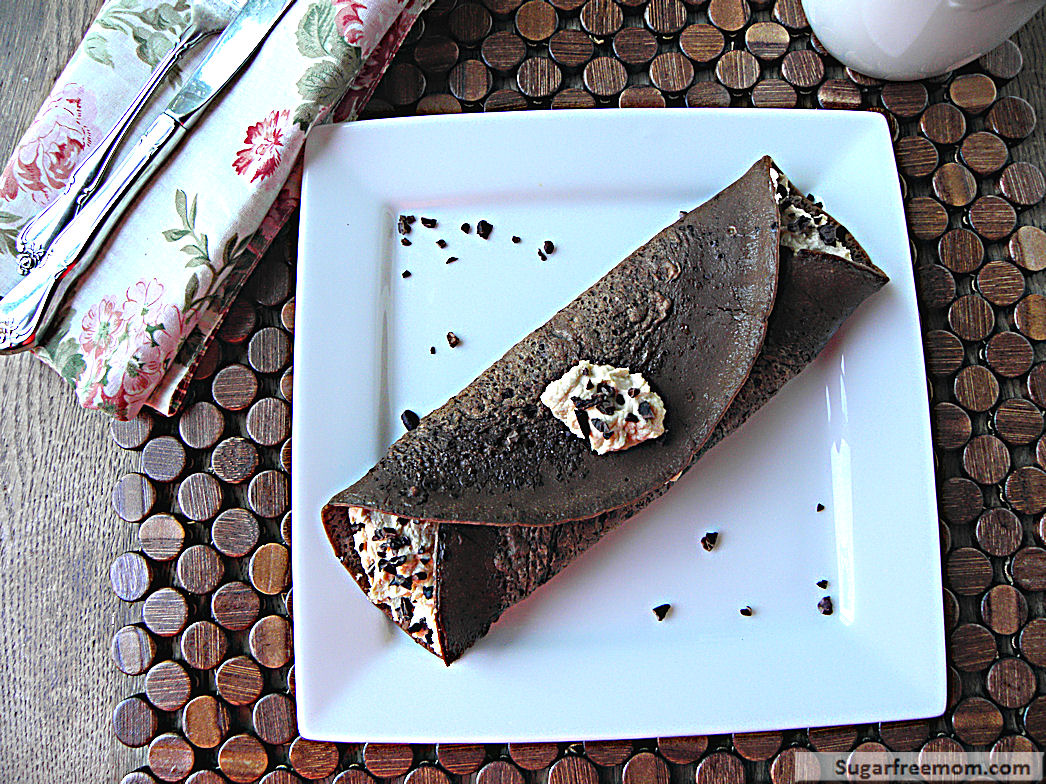 My Italian heritage strikes again. You must see the resemblance to a cannoli right? Only this one is super sized! Of course when making this giant pancake a few times I thought how nice an easy filling would be and well......yep it looks like a cannoli. Doesn't have the sugar or calories of a cannoli so you will have no guilt when eating one of these babies!
The little chocolate chips are actually unsweetened cacao nibs and give a nice crunch to the filling. They are certainly optional and of course you could add fruit, nuts or chocolate chips instead.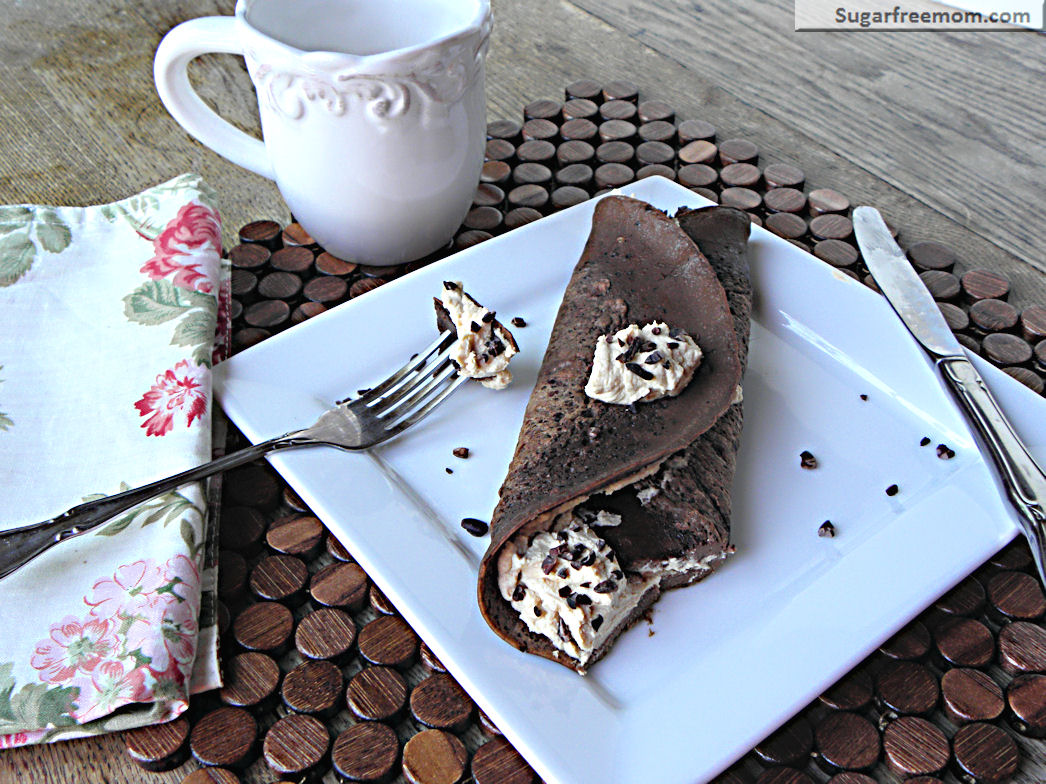 You can eat this giant stuffed pancake all by yourself, no sharing necessary! It's around 250 calories and has a nice even amount of protein and carbs, around 23 grams of protein!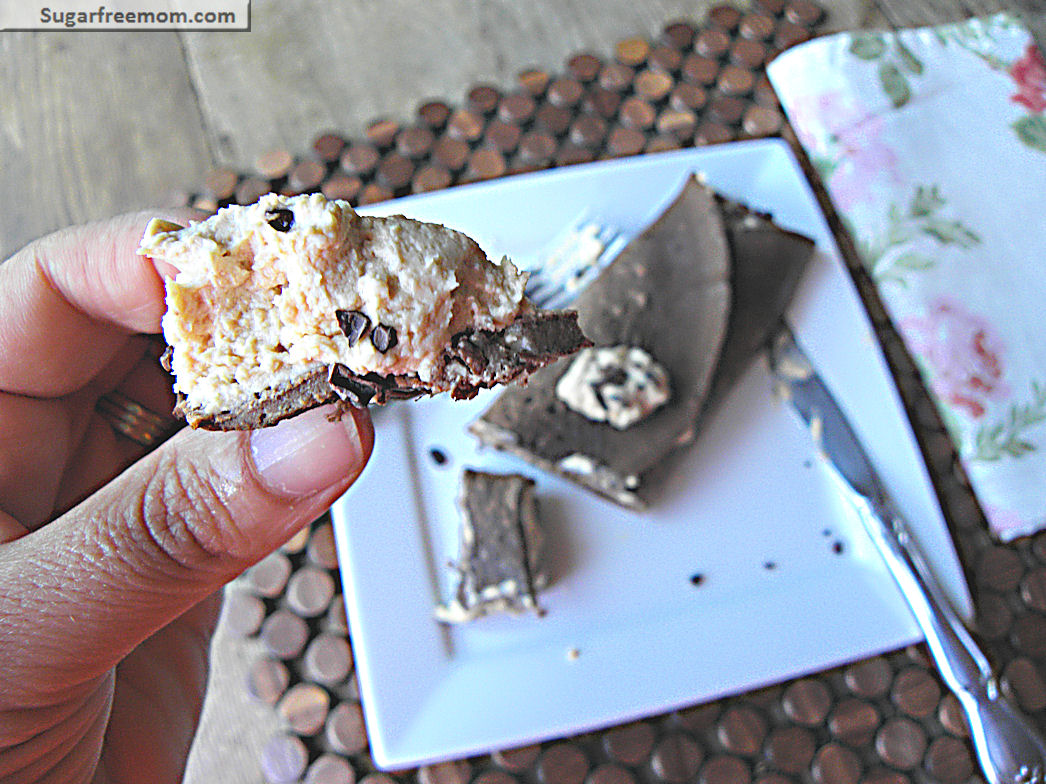 The BEST part about this recipe is this insanely delicious healthy filling I made up! Great plans ahead for this filling, you will definitely see it appear again in some future recipes!!!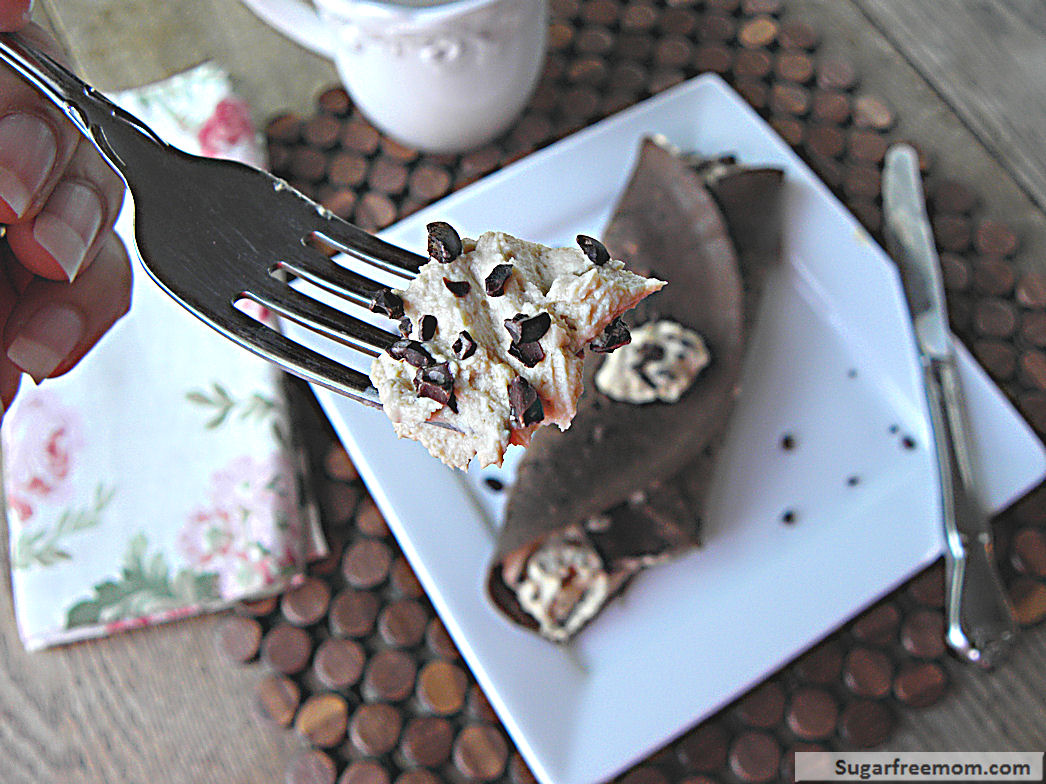 Notes on Recipe:
*If you don't have chocolate liquid stevia just use ½ packet or ¼ teaspoon plain stevia powder
* Make sure your oats are GF. Bob's Red Mill is the brand I used.
Chocolate Oat Peanut Butter Stuffed Pancake: Gluten Free, No Sugar Added
Author:
Ingredients
½ cup egg whites
¼ cup rolled oats* or oat flour ( DIY:grind rolled oats in your blender)
1 tablespoon cocoa powder, unsweetened
1 tablespoon almond milk, unsweetened
2 droppers chocolate [url href="http://iherb.com/p/11070?at=0&rcode=yaj035" target="_blank"]stevia[/url]
dash of salt
Filling
1 tablespoon natural peanut butter, unsweetened or nut butter of choice
2 tablespoons plain Greek yogurt, nonfat
1 dropper full [url undefined]liquid vanilla stevia[/url]
Instructions
In a blender or whisk by hand in a bowl the egg whites, oats, cocoa, almond milk, stevia and salt.
Spray a small saute pan with nonstick cooking spray.
Heat on medium high heat and pour batter into pan.
Cook for about 2-3 minutes until edges are set and somewhat set near center. Flip over carefully and cook another 2 minutes.
Place on a large plate.
Mix filling ingredients together in a small bowl.
Spread filling down the center of the pancake and fold over the sides
Serving size:
1
Calories:
253
Fat:
9g
Carbohydrates:
22g
Sugar:
3g
Sodium:
260mg
Fiber:
5g
Protein:
23g
Notes
Weight Watchers PointsPlus: 6*
Other recipes you might like: