Sour Cream and Onion Cucumber Chips, light, low calorie, crispy, low carb and incredibly tasty!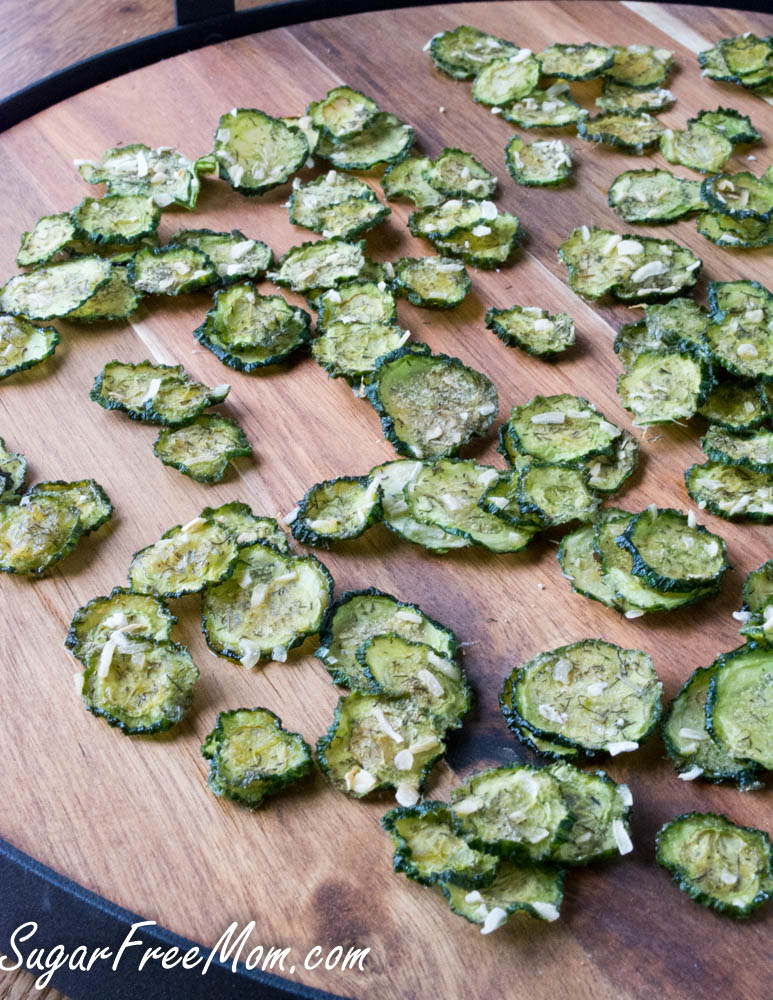 When I think how far I've come with changing my lifestyle to a sugar free one, I never thought I'd also have to exclude potato chips.
And I didn't for a long time.
My thought was always, "They don't contain sugar so I can still eat them!" And I was adamant and determined to "enjoy" them very infrequently, without a problem.
Only at parties.
Only on special occasions.
Do you see where this might be going?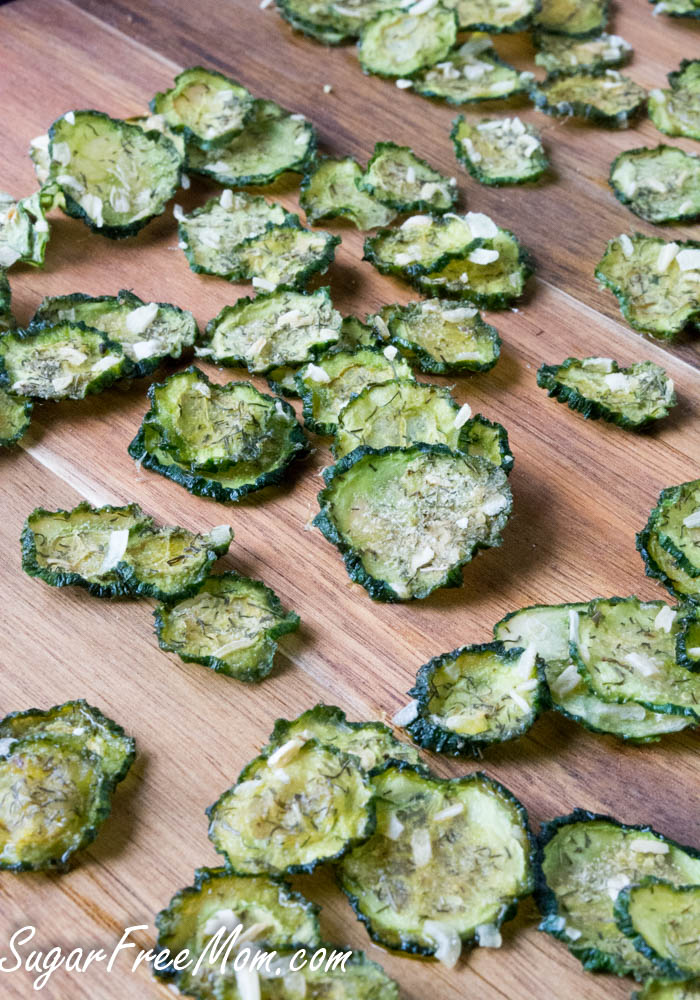 Since I was probably about the age of 12 my greatest weakness has always been the potato chip.
The grease. The salty bite. The comfort of it all.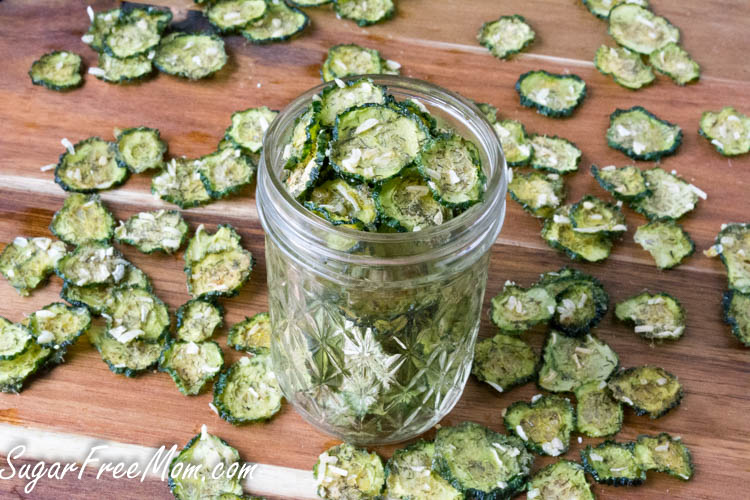 I've been leading a sugar free life for 11 years now.
Yes it has changed over these years, revealing more and more things I need to remove in order to stay in control of my portions.
Chips and I have never had a balanced relationship. I can't eat just a serving, so I've eliminated them and don't miss potato chips in any way. Surprised? Don't be. When I make substitutions like my Salt & Vinegar Zucchini Chips or my Homemade Ranch Zucchini Chips I can eat just a serving. They taste incredible and they don't make feel the least bit guilty for enjoying them afterward.
THAT my friends is progress. That is a balanced relationship. That is how want to live my life.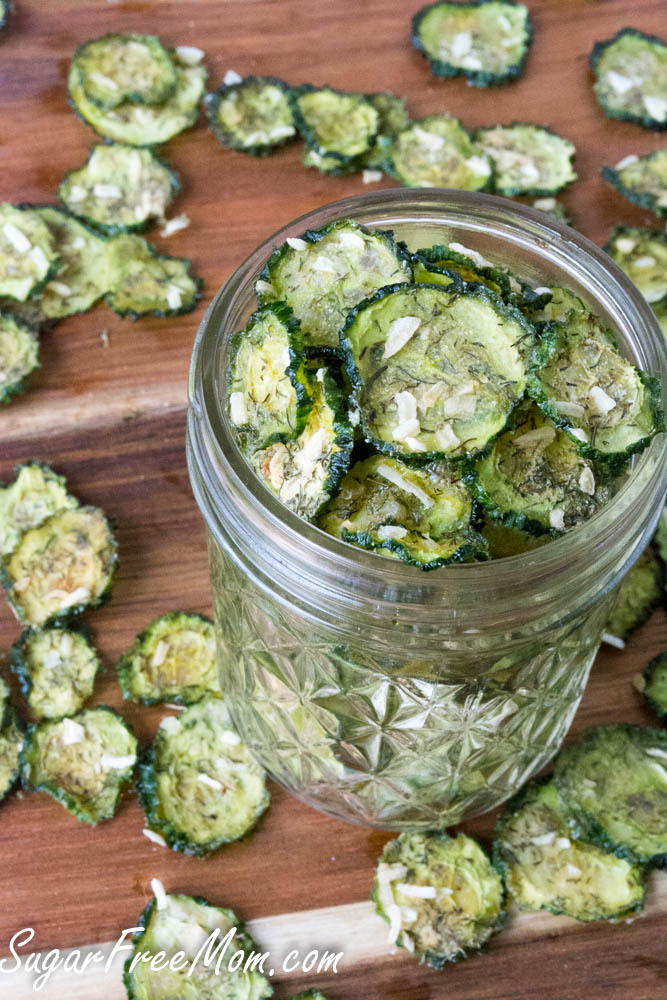 When I thought about a new idea flavor for a healthy chip, my kids and I were in the kitchen cutting up some mini English cucumbers for our lunch. Ah-Hah moment! Why not make chips out of cucumbers instead of zucchini this time? I excitedly shared this with my children who all gave me a puzzled look of uncertainty.
My daughter says she even likes these cucumber chips BETTER than the Zucchini ones! The boys still favor the Salt & Vinegar Zucchini Chips but said these are a close second!
Either way, my kids are eating healthy chips and I love THAT!
Other Recipes you might enjoy: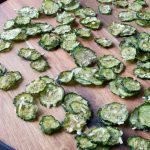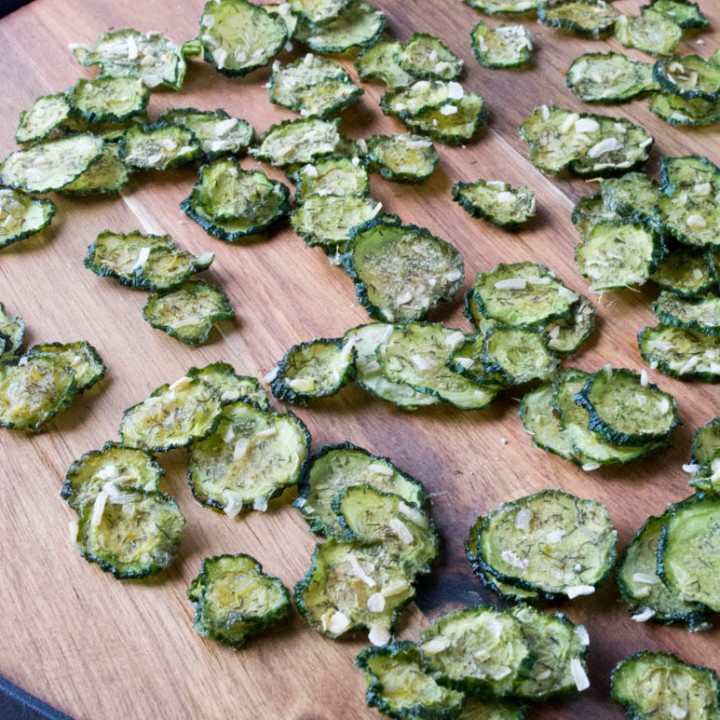 Print
Sour Cream and Onion Cucumber Chips
Ingredients
4

cups

thinly sliced English Cucumbers

with skin (about 2 large)

2

tablespoons

extra virgin olive oil

1 ½

tablespoons

buttermilk powder or nonfat dry milk powder

1

tablespoon

onion powder

1

tablespoon

dried minced onion

2

teaspoons

garlic powder

1

teaspoon

dried dill weed

½

teaspoon

coarse sea salt

2

teaspoons

Swerve sweetener
Instructions
Coat sliced cucumber with olive oil and set aside.

Whisk the rest of the ingredients together in a bowl.

Lay the slices evenly onto the dehydrator shelves. Sprinkle dry mixture over the slices.

Cover and dehydrate for 4- 6 hours.
Nutrition
Serving:
0.5
cup
|
Calories:
44
kcal
|
Carbohydrates:
4.6
g
|
Protein:
0.8
g
|
Fat:
3.7
g
|
Saturated Fat:
0.6
g
|
Cholesterol:
1
mg
|
Sodium:
148
mg
|
Fiber:
0.4
g
|
Sugar:
2.2
g