Sugar-Free Chocolate Chip Cookie Pie is low carb, gluten free and just as incredible as the traditional toll house cookie pie!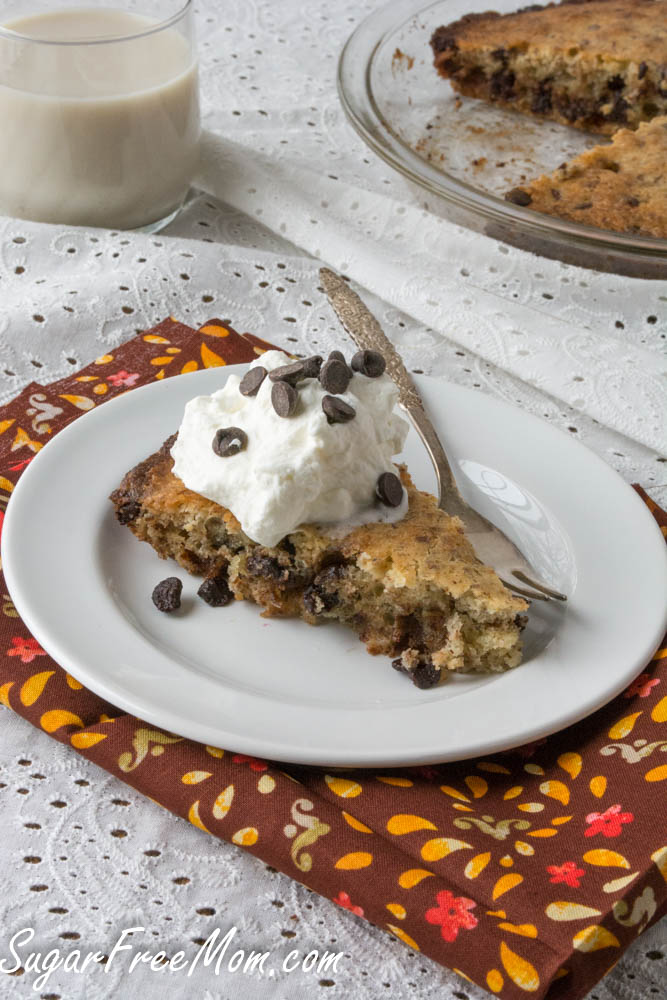 Do you have a foodie bucket list? You know the one that might just be in your own mind, hoping to get to recipes you want to make healthier.
This list is ongoing in my head. I don't actually have a foodie bucket list on paper but it's always there, in the back of my mind.
When I see something that looks and sounds amazing, I get this urge and need to recreate it to make a healthier version.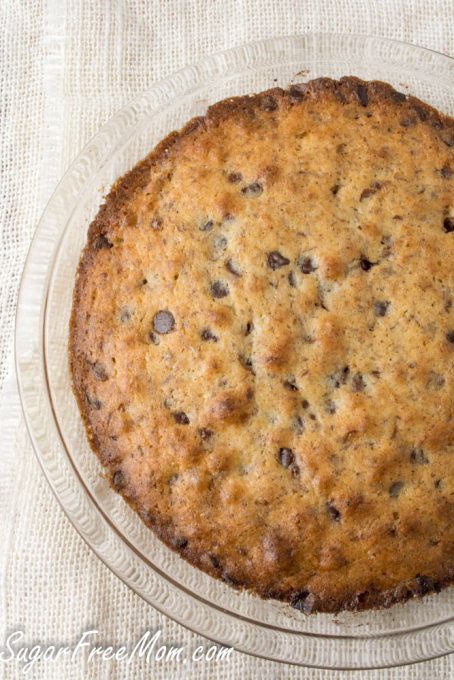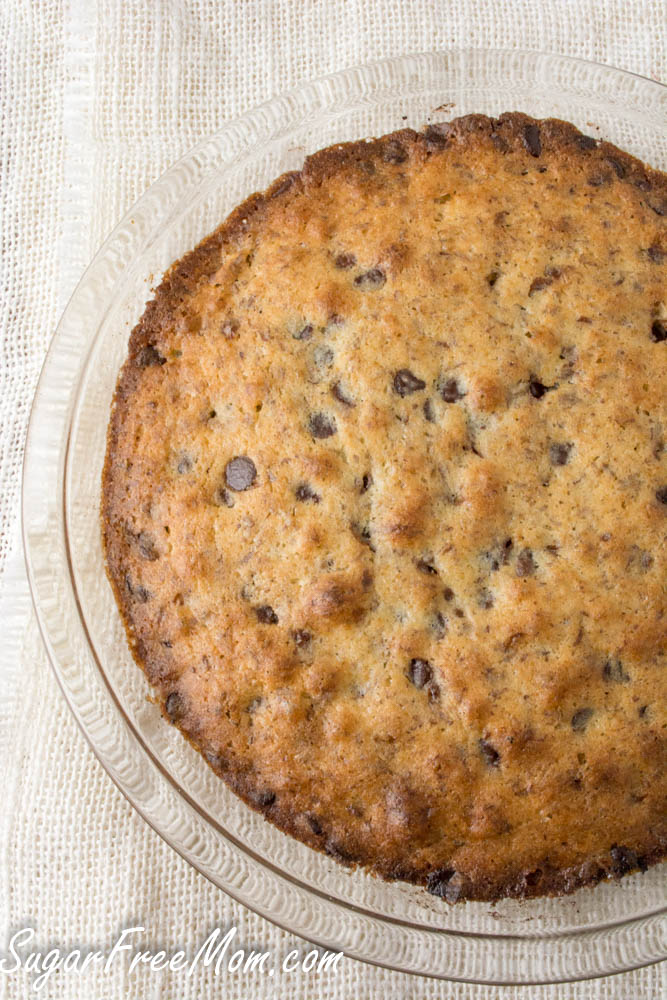 For instance, take the classic TollHouse deep dish cookie pie as our example.
You have seen it. You may have even eaten it in the past.
But now you might be choosing to forgo sugar and carbs for a healthier way of life. And that's why you are here on my website right?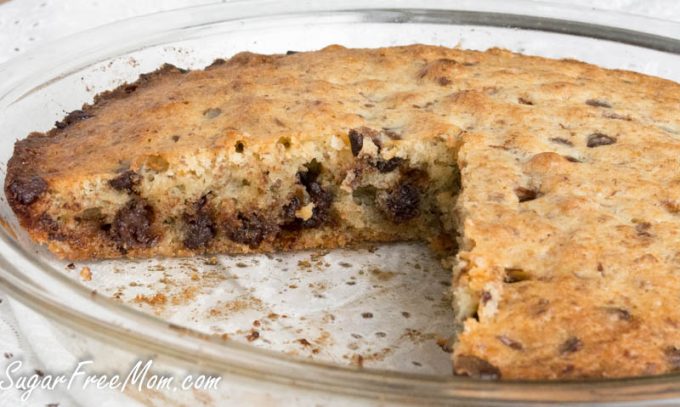 No one wants to feel left out.
No one wants to feel like just because they are choosing to live a healthier way of life means no more chocolate or pie.
How terribly sad would that existence be?
NOT.FOR.ME. and not for you either!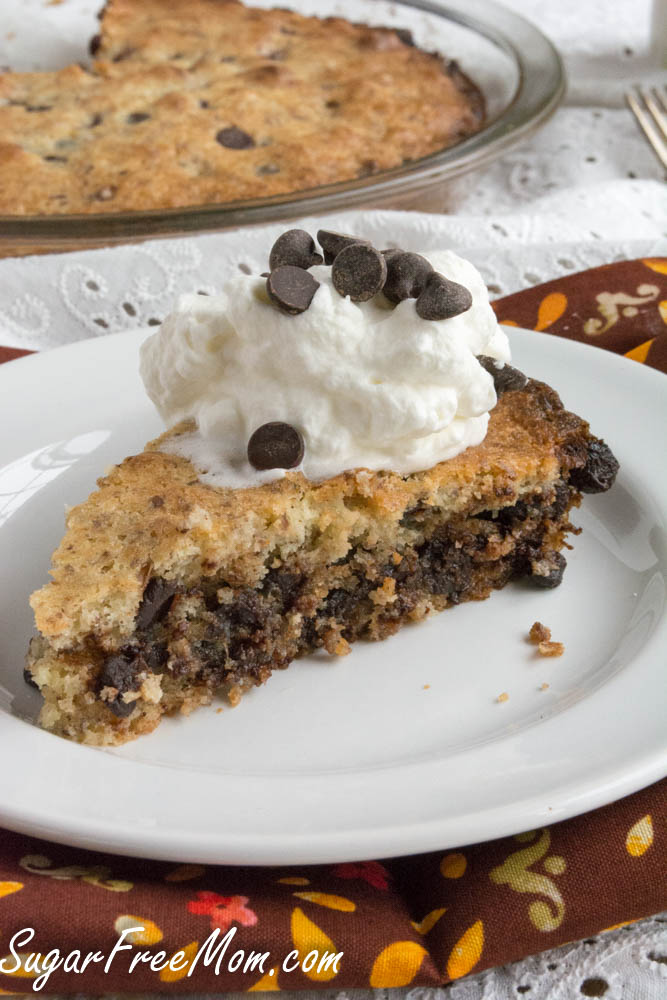 I never want to feel deprived.
And I don't. That's why I do what I do!
There's no cheating on my sugar free way of life because there's no need to.
I never feel even the least bit upset not to eat typical traditional sugar filled desserts.
Why?
Because I can make them just as delicious at home and so can you!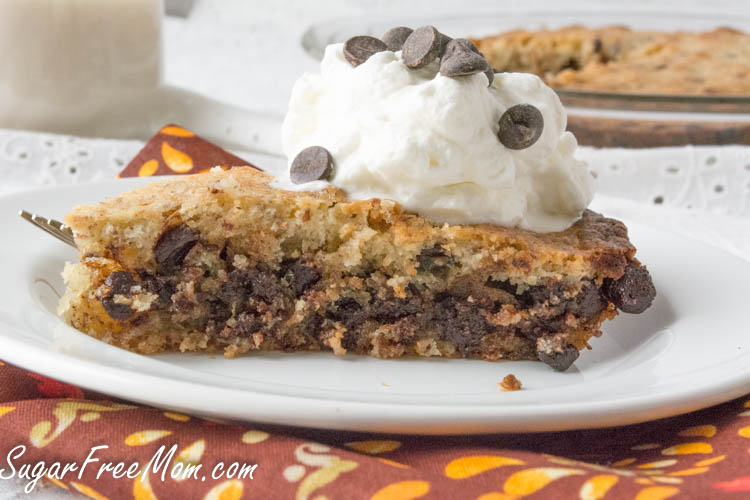 And this is the case with this pie!
I've made this recipe 3 times before posting it with you today. I plan on making it every time we have company. Even guests who don't live a sugar free lifestyle will devour this pie!
I've all ready tested it out on my 3 picky kids. My picky white sugar loving hubby and sister in law. As well as my kids friends who slept over during school vacation week.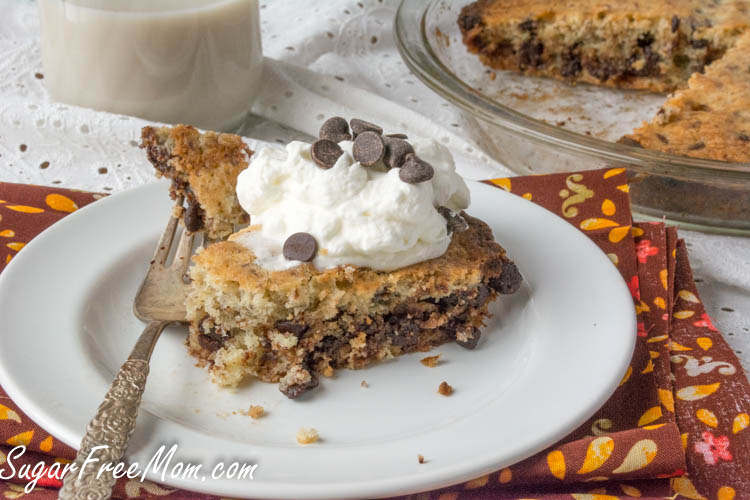 They all at it up, even the very picky friend of my daughter who doesn't eat much in real food.
Deprivation isn't for anyone. There's no need to ever feel like you are missing out on desserts.
And that is the difference between a life style and a diet, one sticks while the other is temporary.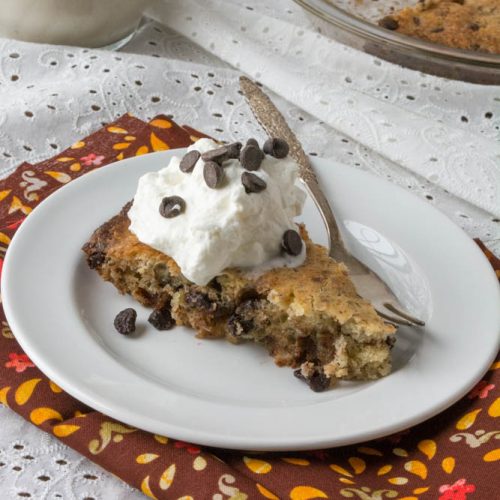 Print
Sugar-Free Chocolate Chip Cookie Pie
Instructions
Preheat oven to 350 degrees.

Beat eggs until foamy.

Whisk flax, flour, baking powder, salt and swerve together and add to mixer.

Blend until combined.

Blend in softened butter, vanilla extract and stevia and mix until incorporated.

Stir in chocolate chips.

Spread mixture into a glass pie plate.

Bake 35 minutes or until center comes out clean with a toothpick.
Notes
Weight Watchers Points Plus:8*
Net Carbs= 11.7
Nutrition
Serving:
1
g
|
Calories:
280
kcal
|
Carbohydrates:
15.9
g
|
Protein:
4.4
g
|
Fat:
25.6
g
|
Saturated Fat:
15.1
g
|
Cholesterol:
91
mg
|
Sodium:
265
mg
|
Fiber:
4.2
g
|
Sugar:
0.1
g