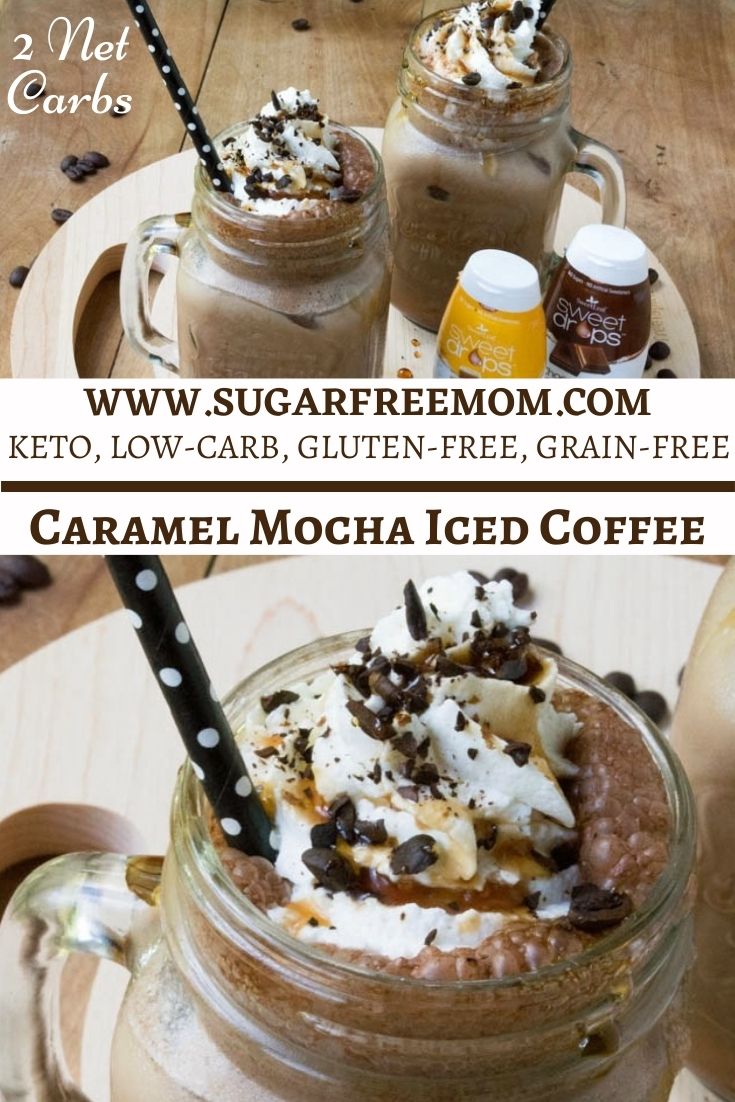 This Easy Sugar-Free, Luscious Frozen Caramel Mocha Iced Coffee is low-carb, keto just 46 calories and has just 2 net carbs or 4 total grams of carbs per serving! The most perfect summer drinks for those on a keto diet or low carb or just trying to be sugar free!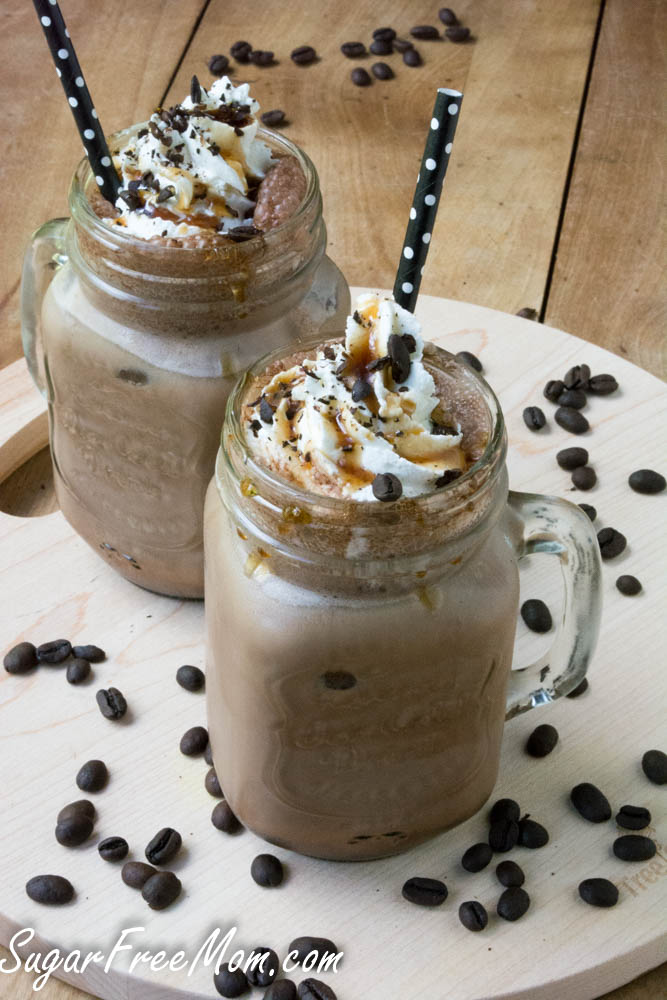 Carbs in a Dunkin Donuts Mocha Iced Coffee
What's better on hot summer days than an easy mocha iced coffee? Nothing better in my opinion when you're a coffee lover like me. In the summer I brew a pot of coffee just to have cold coffee on hand for whenever I want to make a sugar-free iced mocha.
The problem with most of the delicious drinks you see in a coffee shop like Dunkin Donuts and Starbuck's, is the copious amounts of sugar and carbs in every single one! Starbucks has a sugar-free syrup, but it's filled with artificial sugar substitute that can cause a huge spike in your blood glucose which causes cravings.
Mocha Iced Coffee from Dunkin has 280 calories, 44 grams of carbohydrates, and 41 grams of sugar.
BUT you won't find any sugar in this delicious drink! The only small difference is, yes, you have to make it at home. Boo hoo! Seriously, not a big deal at all.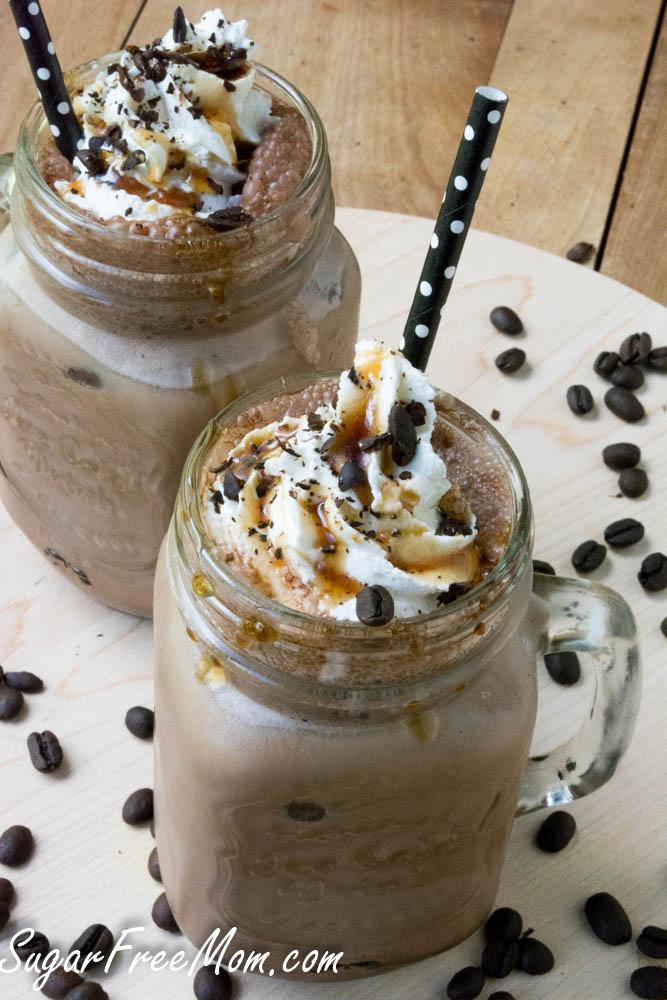 What if I don't have a Blender?
When you've got a good blender and all the ingredients, it literally takes minutes to make! Grab your glass, head outside and enjoy!
But if you don't have a blender, this is easy enough to whip up by hand, except for the crushing of ice. Use a hand held immersion to whisk or use a frother to mix all ingredients, except ice.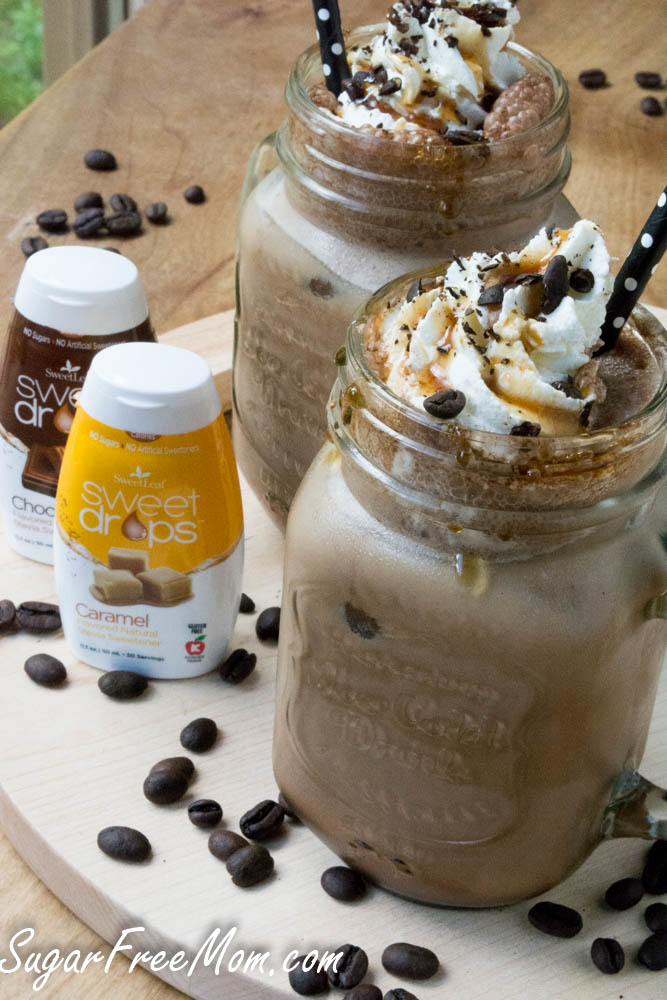 What also makes this coffee drink better than any other you've tried is the newest sugar free liquid stevia from Sweetleaf! The caramel sweetdrops are out of this world amazing! I kid you not, I enjoy a few drops in my coffee every morning!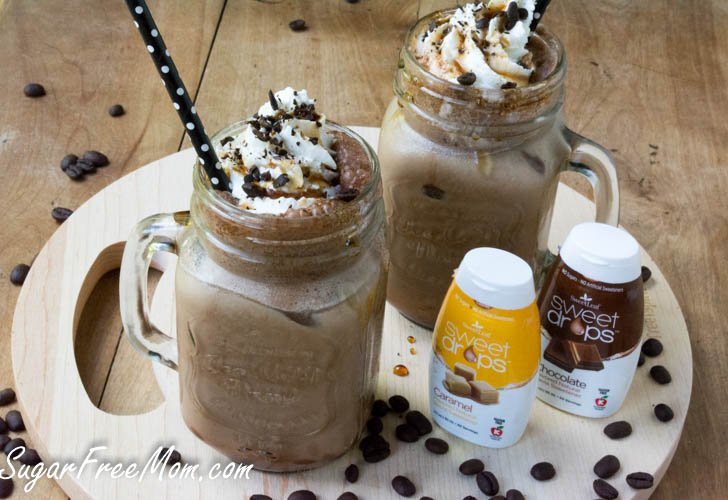 Optional Protein Additions to this Iced Coffee
Want to add in some extra protein for a boost in your daily protein intake, that is super easy and won't effect the flavor of this iced coffee?
Option #1 Swap the unsweetened cocoa powder with chocolate collagen
Option #2 Swap the unsweetened cocoa powder with chocolate whey protein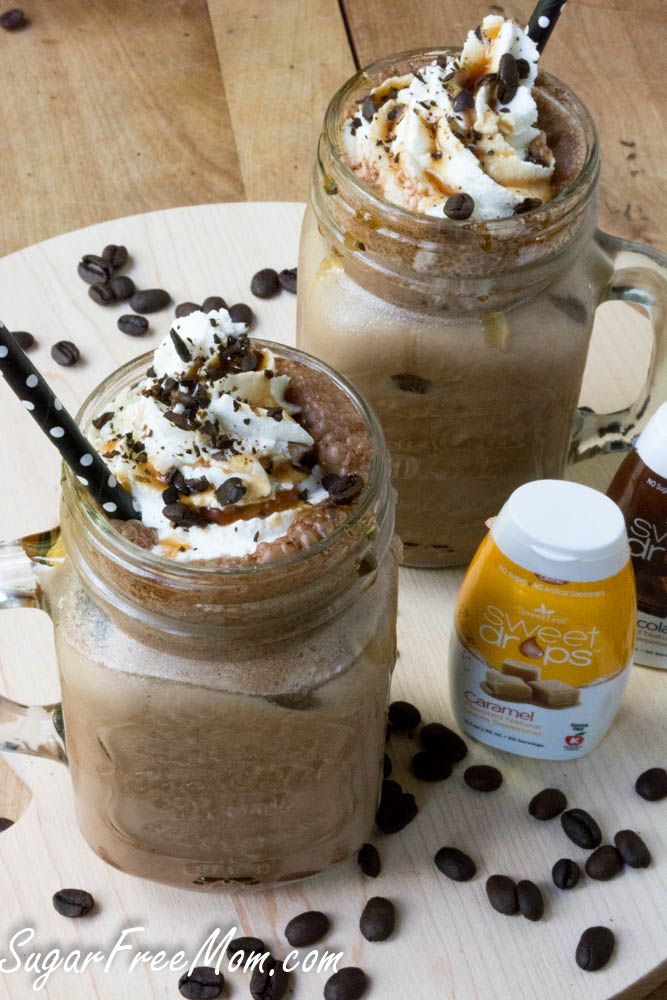 How to Swap Low-Carb Sweeteners
If you're not a stevia fan, I can guarantee you will fall in love with it now, just by tasting a few drops of the caramel stevia in this coffee drink.
I honestly think you could make this iced coffee for friends who aren't sugar free and they would fall in love with it as well. I mean what's not to like, it's the flavor of caramel and chocolate combined!!!
My sister in law who is not low carb or sugar free has been using my stash of Sweetdrops and now it's almost gone. To say she likes it and she's not even living sugar free, well, that's enough of a statement isn't it?
BUT if I really can't convince you to try stevia, no problem you have options!
I've been creating sugar free recipes for the last 15 years using many different sweeteners. My conversion chart is written from my vast experience with experimenting with all these sweeteners.
You may see many of these conversion charts online, but they are not all the same and some I've seen I greatly disagree with. You can trust my keto sweetener conversion chart as the most accurate and precise sugar free sweetener conversion chart and the last one you will ever need for all your keto baking.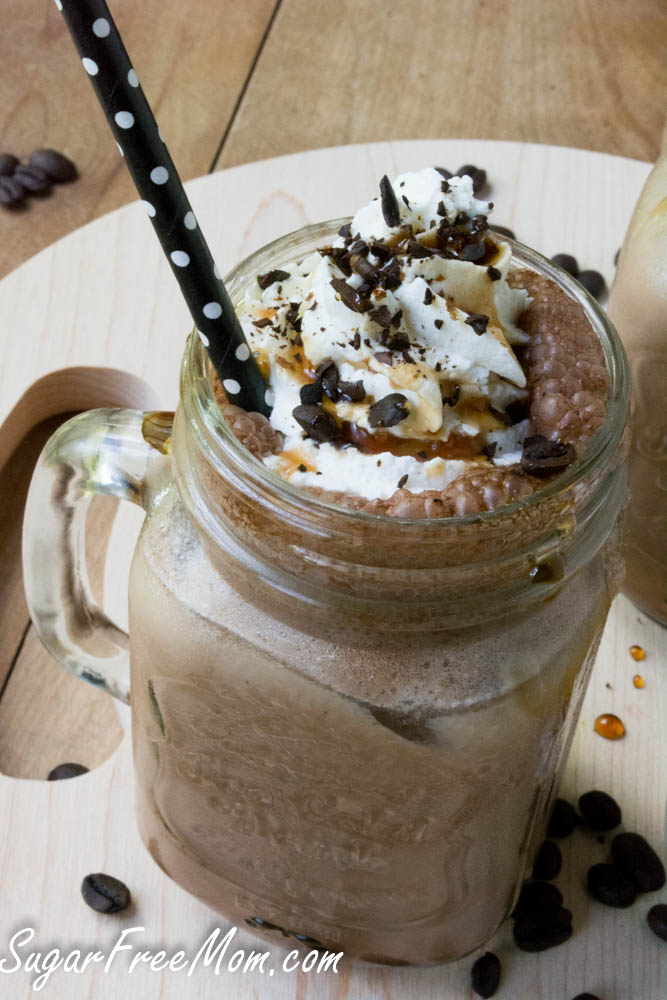 Can this Mocha iced coffee be made nut free?
Yes you can swap out the unsweetened almond milk I used and change it to any other unsweetened milk or non -dairy milks you'd like to use.
I'd recommend unsweetened coconut milk or Fairlife lactose free milk.
HERE'S MY VIDEO SHOWING HOW EASY AND QUICK THIS IS!

Can I make this without coffee?
Yes you could swap out the strong chilled coffee if you like.
Option #1 to replace coffee; try iced tea
Option #2 to replace coffee; try just using all unsweetened almond milk
Option #3 replace coffee with bone broth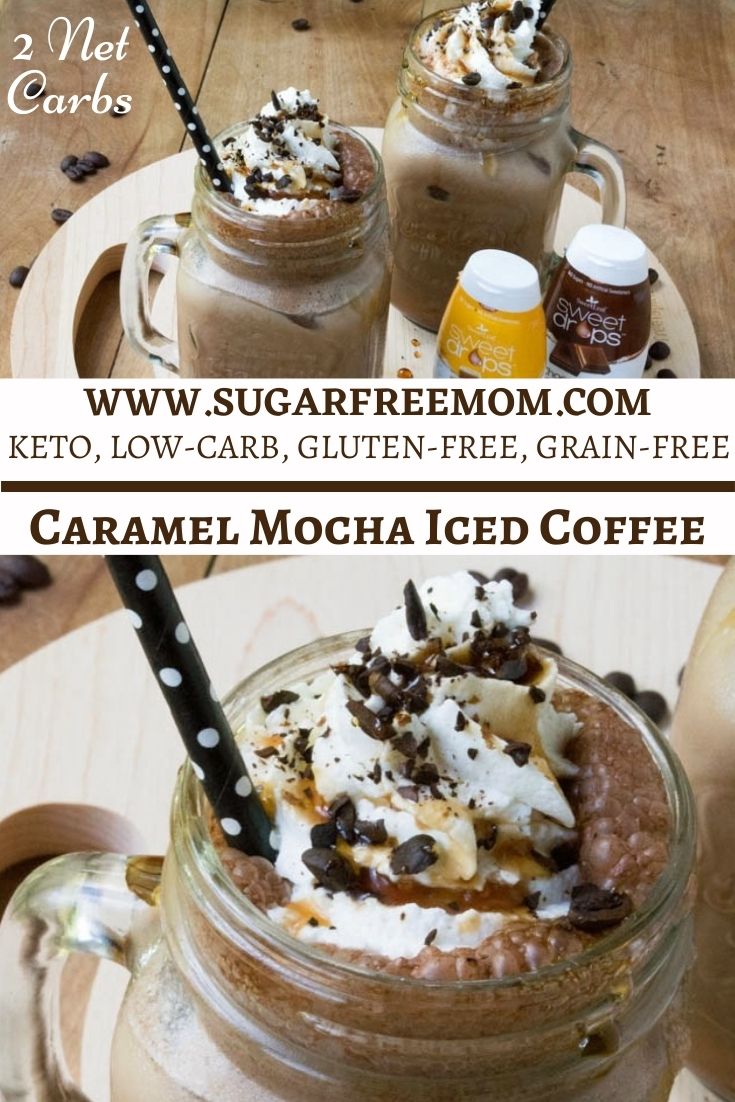 Optional Keto Toppings
Enjoy with some sugar-free caramel sauce and sugar-free whipped cream!
The next time you're ready for a nice cold drink, and easy sugar free recipe, make this easy sugar free iced mocha recipe instead of your regular cup of coffee! It will change the way you think of iced beverages forever!
Sugar-Free Caramel Mocha Iced Coffee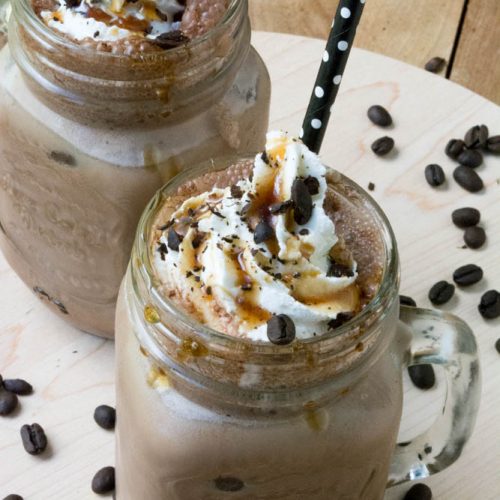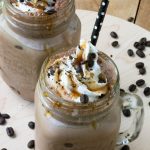 Print
Sugar Free Caramel Mocha Iced Coffee
Instructions
Place all ingredients into a high-powered blender and blend on high until smooth. Taste and adjust stevia, as needed. Enjoy with optional toppings, if desired.
Notes
Net Carbs: 2g
This recipe was first published in August 2016.
Nutrition
Serving:
1
serving
|
Calories:
21
kcal
|
Carbohydrates:
4
g
|
Protein:
1
g
|
Fat:
1
g
|
Saturated Fat:
1
g
|
Sodium:
8
mg
|
Potassium:
116
mg
|
Fiber:
2
g
|
Calcium:
7
mg
|
Iron:
1
mg