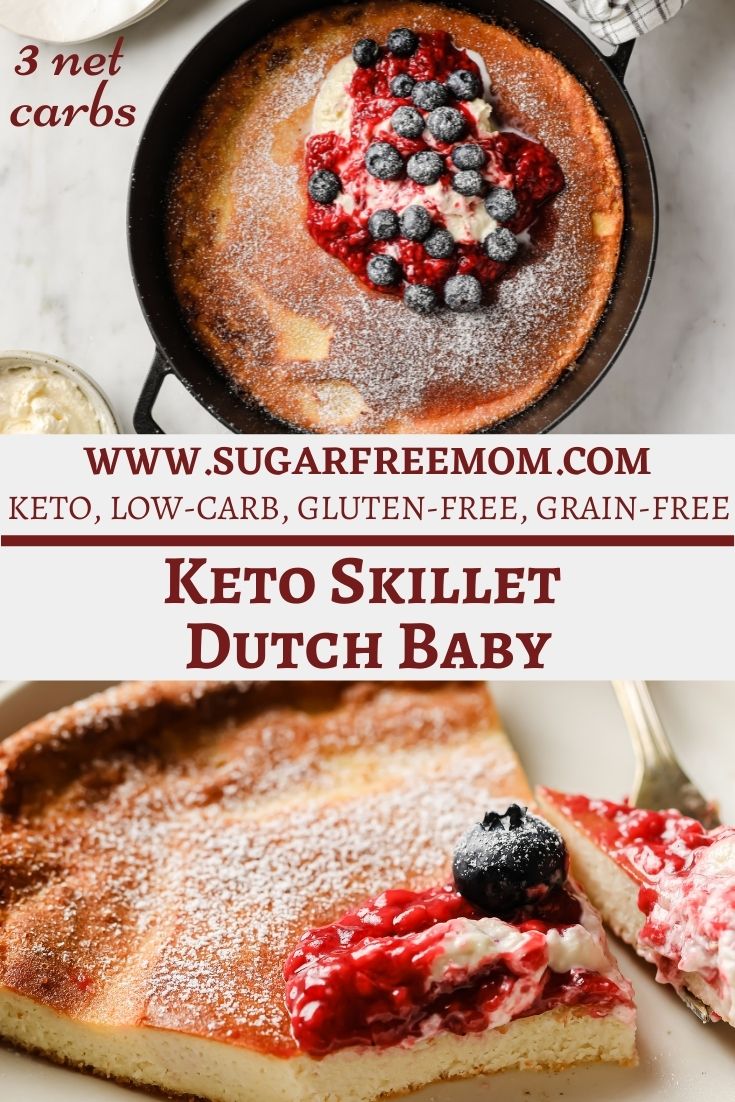 This easy, cast iron skillet keto Dutch baby is made with just 7 ingredients, whips up quickly in the blender and can be made nut free as well!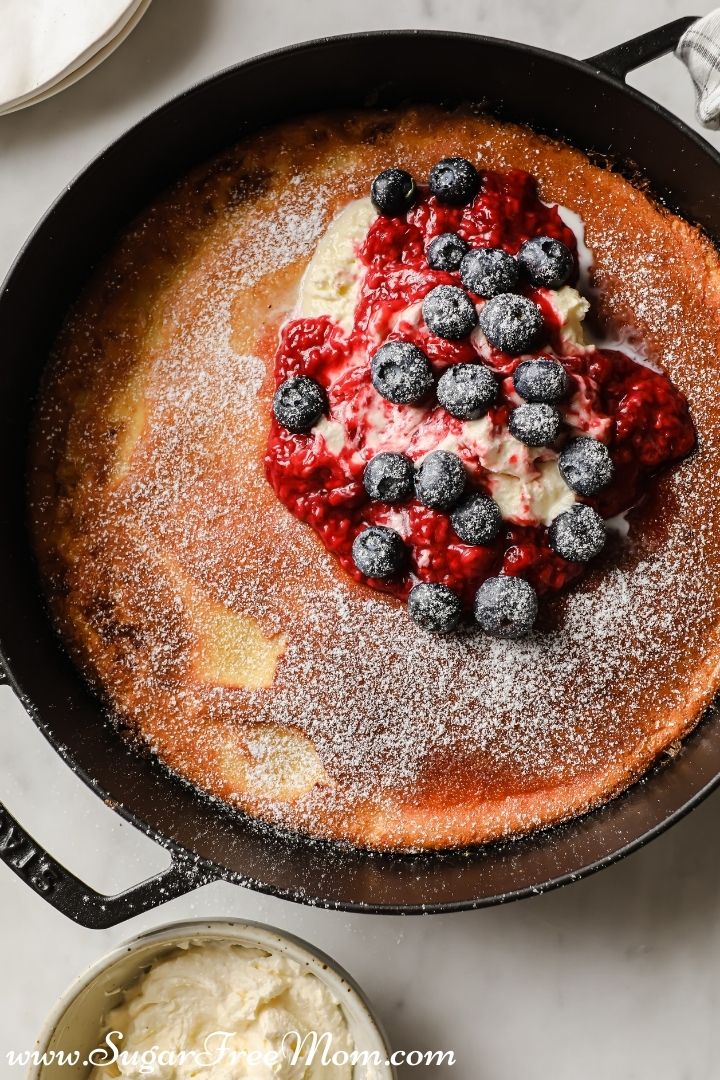 WHAT IS A DUTCH BABY?
A Dutch Baby is essentially a puffy, giant-sized pancake. Sometimes called a German pancake and similar to a Yorkshire pudding or a large American popover. It's a scrumptious, fluffy, versatile puff pancake that can be enjoyed with so many different topping options!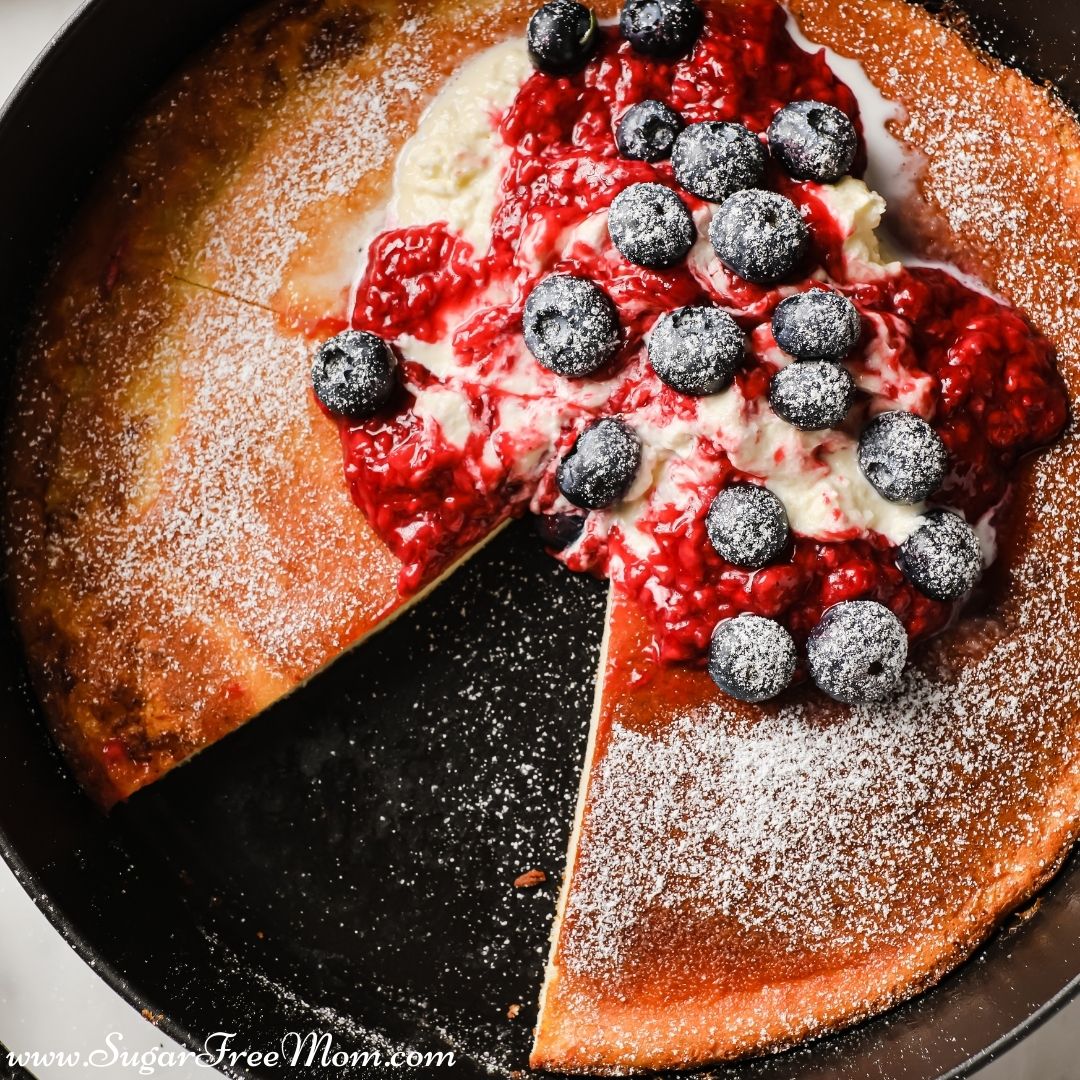 HOW TO MAKE A KETO DUTCH BABY
Ingredients
You need eggs, almond flour, (see options below for nut free), almond milk, vanilla extract, salt, baking powder, unsalted butter and low-carb sweetener.
Directions
Start by preheating your oven to 425 degrees F.
Place a 10-inch cast iron skillet in the middle of the oven for 15 minutes to preheat.
Add all the batter ingredients to a bender and blend until smooth, about 20 seconds.
When the skillet is hot, remove from the oven using a glove and add the butter. Place back in the oven for 1 minute.
Once the butter is melted and sizzling, pour the batter into the skillet and place back in the center of the oven for 12 - 15 minutes or until cooked through and golden on top to your liking. Try not to open the oven before at least 12 minutes. Opening the oven too many times will make it denser.
Brush with a little more butter.
Cut the Keto Dutch Baby into 6 slices and serve with your favorite optional toppings.
Today's recipe is served with optional toppings that include whipped cream, stewed raspberries, fresh blueberries and dusted with a little powdered sweetener. See more sweet and savory options below.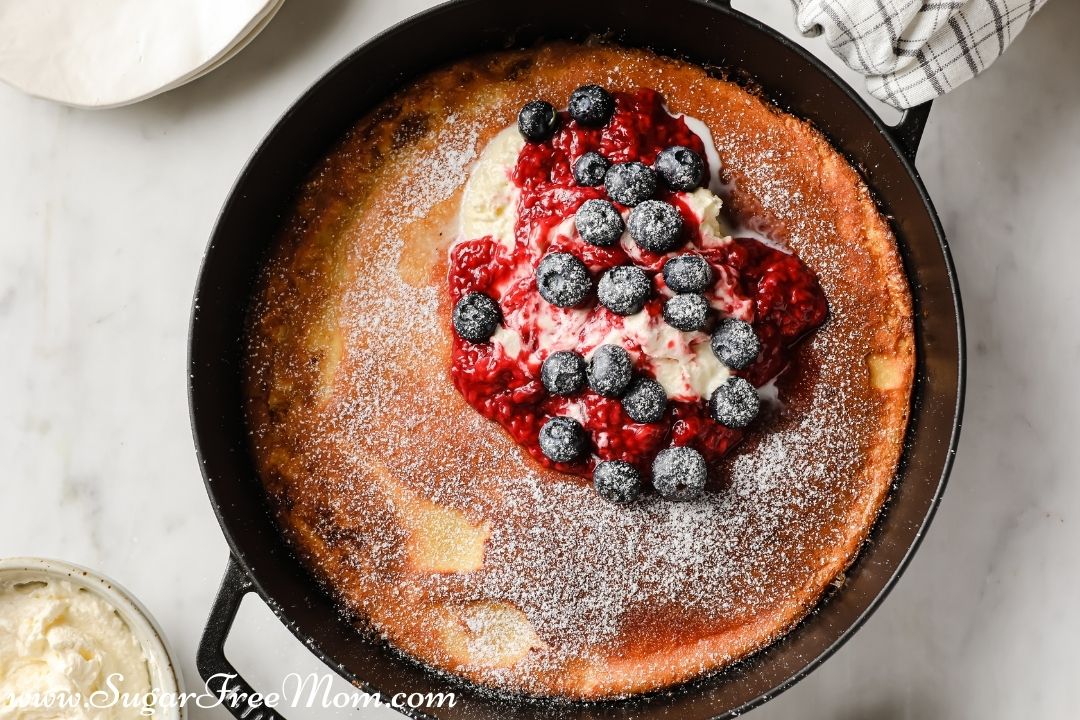 WHAT MAKES A KETO DUTCH BABY RISE?
Traditionally it's all about the steam, and since we're not using flour with gluten here, some baking powder is added to the mix to get a nice rise to the pancake. Whipping the eggs in a blender and adding the batter to a super hot, preheated cast iron skillet, creates the right conditions for the batter to puff up. As we're not using flour it won't puff up like the real a traditional Dutch baby made with refined flour, but it's nice and soft and delicious!
For Best Results
To get the best results for this Keto Dutch Baby, it's best to use superfine / defatted almond flour. It just makes the batter a bit lighter. Normal ground almonds will make it heavier and denser.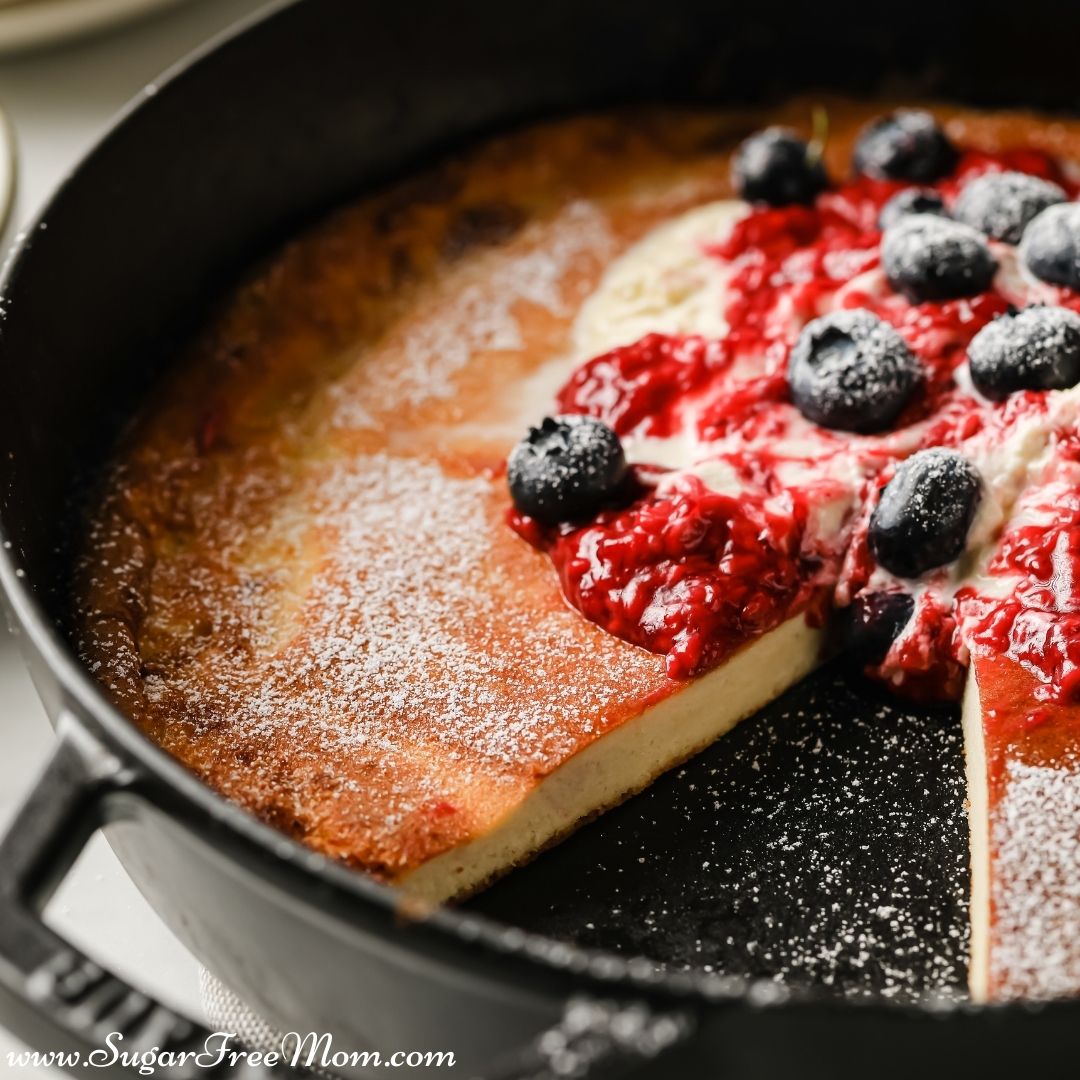 HOW TO MAKE A SAVORY DUTCH BABY
To make this dutch baby savory, simply leave out the sweetener and add 2 tablespoons of cream cheese. Some other good savory toppings include:
A fried egg
Some shredded cheese and herbs
Smoked salmon and cream cheese
Bacon, a fried egg, avocado + hot chili sauce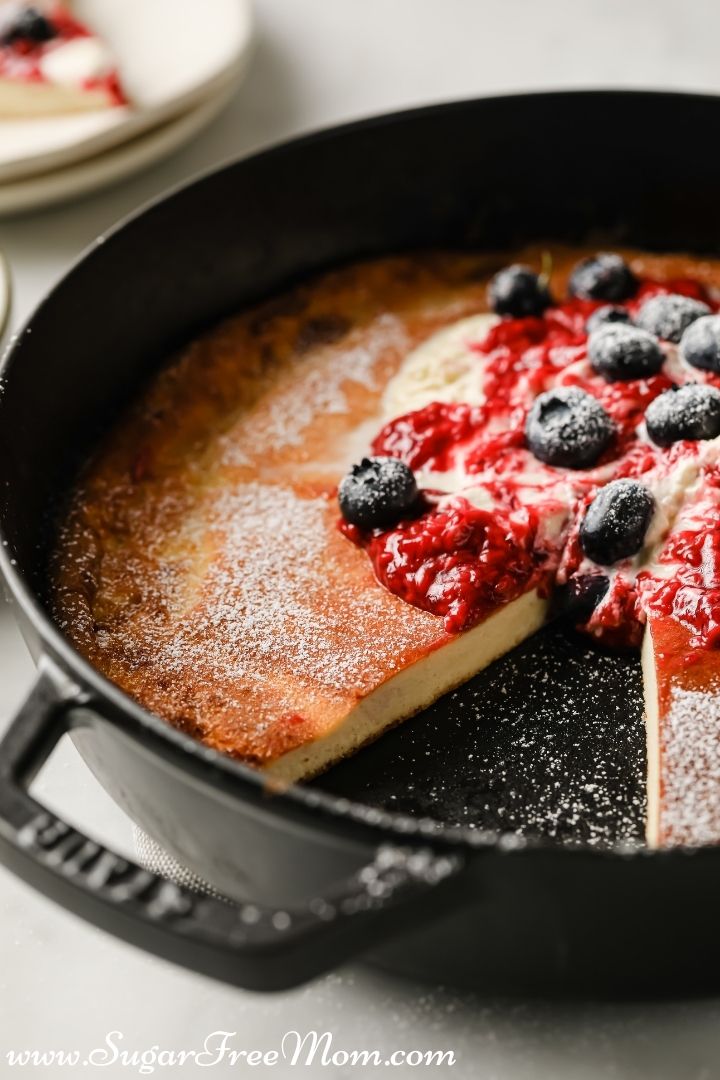 TOPPINGS FOR KETO DUTCH BABY
Keto toppings are endless for this flourless Dutch baby! The great thing about this Keto Dutch Baby is that it's so versatile and can be adapted to whatever toppings you have in your fridge and cupboards.
Some classic keto toppings include:
CAN I MAKE THIS WITHOUT A CAST IRON SKILLET?
As long as you have a 9 or 10 inch oven safe skillet, you can make this Keto Dutch baby. You don't have to use a cast-iron skillet, but a cast iron skillet provides the most even heat and also a nice crusty outside texture that is hard to beat with any other skillet.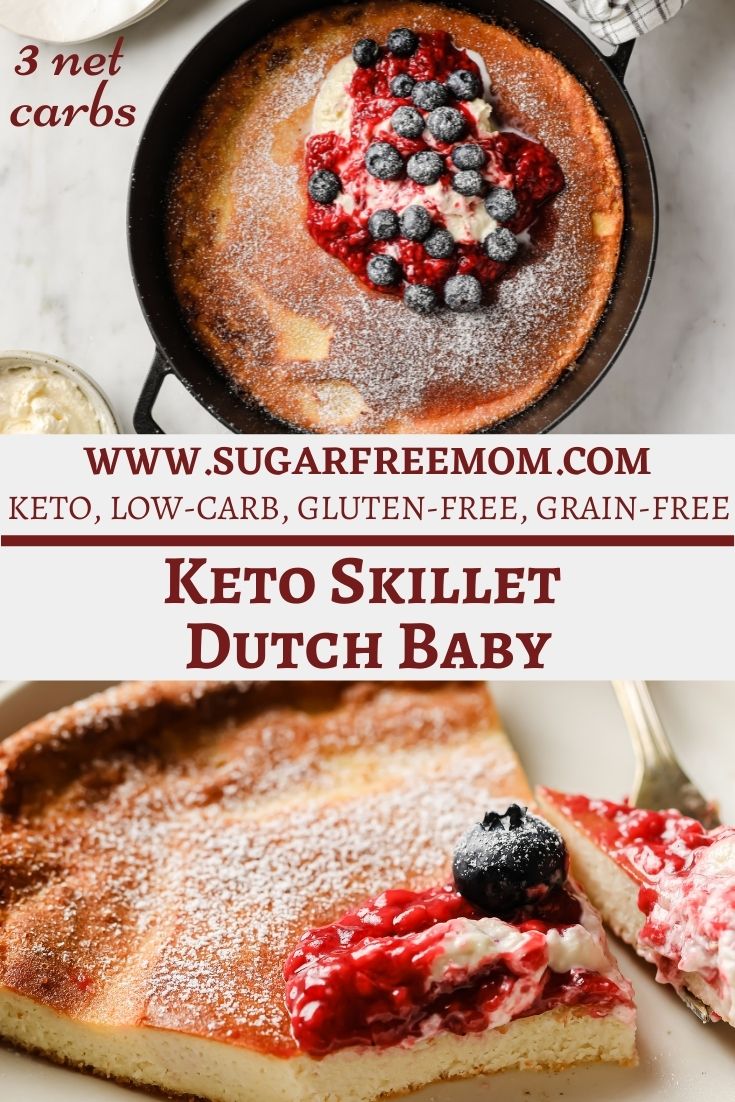 CAN I MAKE THIS NUT FREE?
Yes you can make this keto Dutch baby nut free! You can evenly swap almond flour for sunflower seed flour. The color will be darker then using almond flour but it will still work using the same amount.
Swap the unsweetened almond milk with heavy cream or unsweetened coconut milk.
KETO SKILLET DUTCH BABY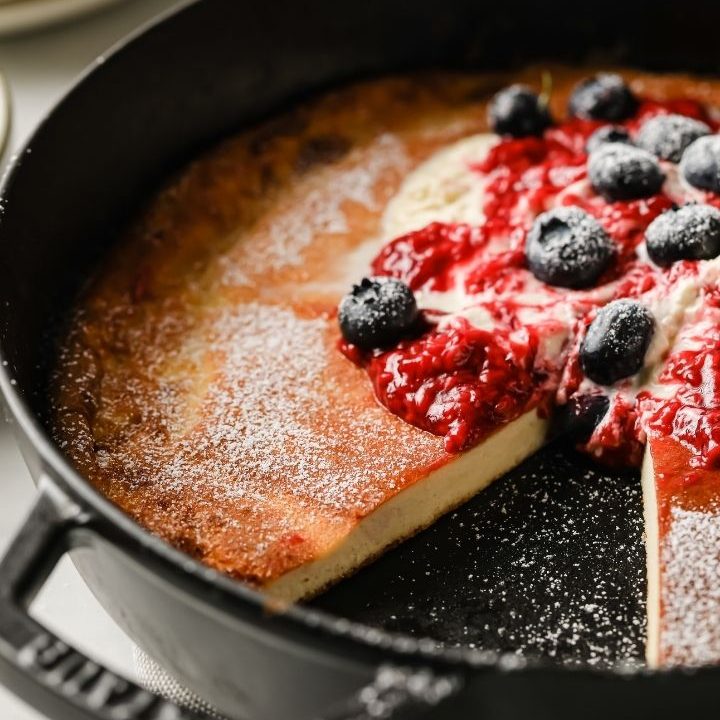 Print
Keto Skillet Dutch Baby
Ingredients
SKILLET
2

tablespoons

butter

(plus a little to brush on top)
Instructions
Preheat the oven to 425°F.

Place a 10-inch cast iron skillet in the middle of the oven for 15 minutes to preheat.

Meanwhile, add all the batter ingredients to a bender and blend until smooth, about 20 seconds.

When the skillet is hot, remove from the oven using a glove and add the butter. Place back in the oven for 1 minute. Once the butter is melted and sizzling, pour the batter into the skillet and place back in the center of the oven for 12 - 15 minutes or until cooked through and golden on top to your liking. Try not to open the oven before at least 12 minutes. Opening the oven too many times will make it denser.

Brush with a little more butter. Cut the Keto Dutch Baby into 6 slices and serve with your favorite optional toppings. Today's recipe is served with optional toppings that include whipped cream, stewed raspberries, fresh blueberries and dusted with a little powdered sweetener.

Storage: Fridge for up to 3 days
Nutrition
Serving:
1
slice
|
Calories:
224
kcal
|
Carbohydrates:
5
g
|
Protein:
8
g
|
Fat:
20
g
|
Saturated Fat:
6
g
|
Polyunsaturated Fat:
1
g
|
Monounsaturated Fat:
3
g
|
Trans Fat:
1
g
|
Cholesterol:
144
mg
|
Sodium:
146
mg
|
Potassium:
117
mg
|
Fiber:
2
g
|
Sugar:
1
g
|
Vitamin A:
413
IU
|
Calcium:
89
mg
|
Iron:
1
mg