Strawberry jam free of added sugars and pectin free as well and with no canning involved is a recipe all jam lovers will enjoy!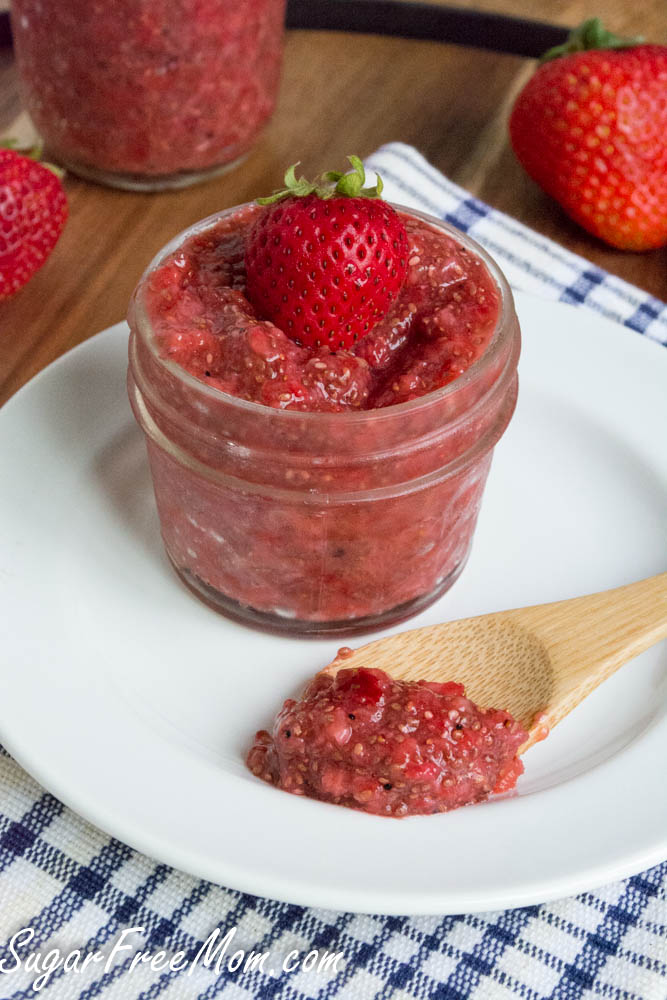 Have you ever had a project take over 6 months of your time, overwhelm you, frustrate you, make you cry, but fill you with such determination that you would do whatever it took to make it to the end? Quitting was not an option and to see the day come to pass is overwhelming. The only example I can give to explain it better is like pregnancy. You prepare, change, work towards this day your due to have your baby and give birth. I'm still in the 9 month, but not of a pregnancy, one step closer to giving birth though, in book form that is!
Today is the day folks! Today's the day I've been waiting and worried if I would ever get it done! The cookbook manuscript is complete and due TODAY! I'm happy to report although I've got a few pictures to edit still, I'm on my way to turning this baby in today! Beyond thrilled, but exhausted would be an understatement! I feel a weight lifted off my shoulders and I'm seeing the finish line! Certainly a great time to be done as the summer is here for us and I want to enjoy it with my family for sure!
With summer officially a few days away and the weather warming up here in New England, fresh beautiful strawberries are in season and require little effort to enjoy.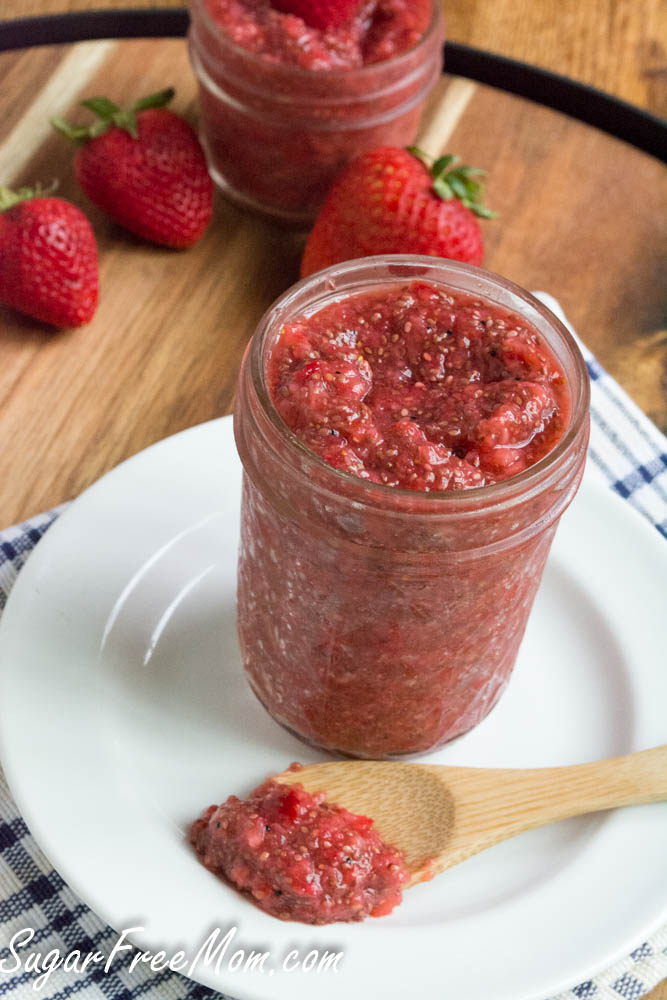 I couldn't think of a better way to begin summer season than bringing you a recipe that, like summer, the season is short so grabbing the sweet berries while you can is imperative. It's all about cooling down, spending less time in the kitchen and more time outside, and relaxing for the short few months we have to enjoy before cooler temperatures take over again. This refrigerator jam is the way to bring fresh berry season in your home without the process of canning which can be a lot of time spent in the kitchen instead of outdoors.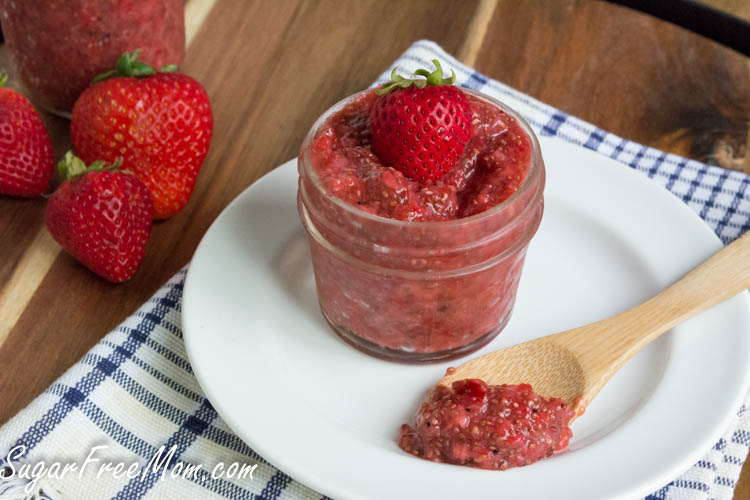 This can also be made with frozen berries when it isn't summer season, just thaw first and drain before using. You can also use other berries as well, blackberries, blueberries, raspberries would be wonderful!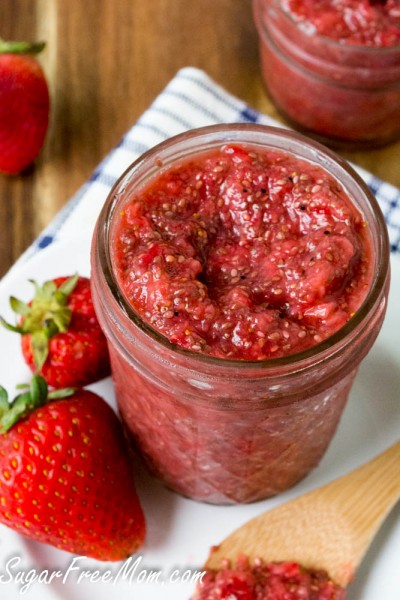 Today as you begin or end your Monday, wherever you are in this world, whether it is the start of summer for you or your start of winter, I hope you will find recipes that bring you joy in the kitchen!
Brenda's Notes:
If you don't have erythritol, you can use 1 teaspoon of vanilla stevia.
If you don't have vanilla stevia you can use powdered stevia. See this conversion chart.
You can use another berry besides strawberries if you like.
You can make this when it isn't berry season and use frozen berries instead of fresh, thaw first then drain.
I pulsed the berry mixture in my blender to still retain some bits of strawberries in the mixture.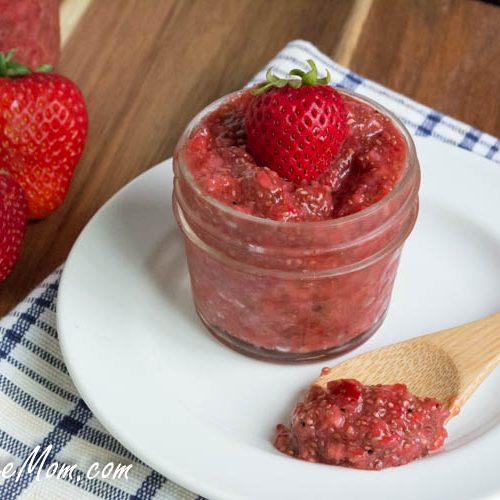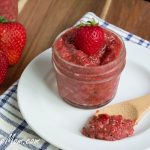 Print
Sugar-Free Strawberry Refrigerator Jam
Ingredients
2

cups

sliced fresh strawberries

hulled

1

tablespoon

lemon juice or ½ lemon

1

tablespoon

water

2

tablespoons

erythritol

I used Swerve

½

teaspoon

lemon liquid stevia

3

tablespoons

chia seeds

pinch

salt
Instructions
Process all ingredients together in a high powdered blender or food processor until desired consistency.

Taste and adjust sweetness as desired.

Pour into a mason jar and refrigerate for an hour to gel or overnight.

Makes 16 ounces after blending.
Notes
Weight Watchers Points Plus: 1*
Nutrition
Serving:
1
g
|
Calories:
20
kcal
|
Carbohydrates:
2.8
g
|
Protein:
0.7
g
|
Fat:
1
g
|
Fiber:
1.3
g
|
Sugar:
0.9
g