This easy, 6 ingredient low carb, keto raspberry chia jam takes very little time to prepare and is perfect on low carb, keto toast or keto bagels or even drizzled over keto ice cream!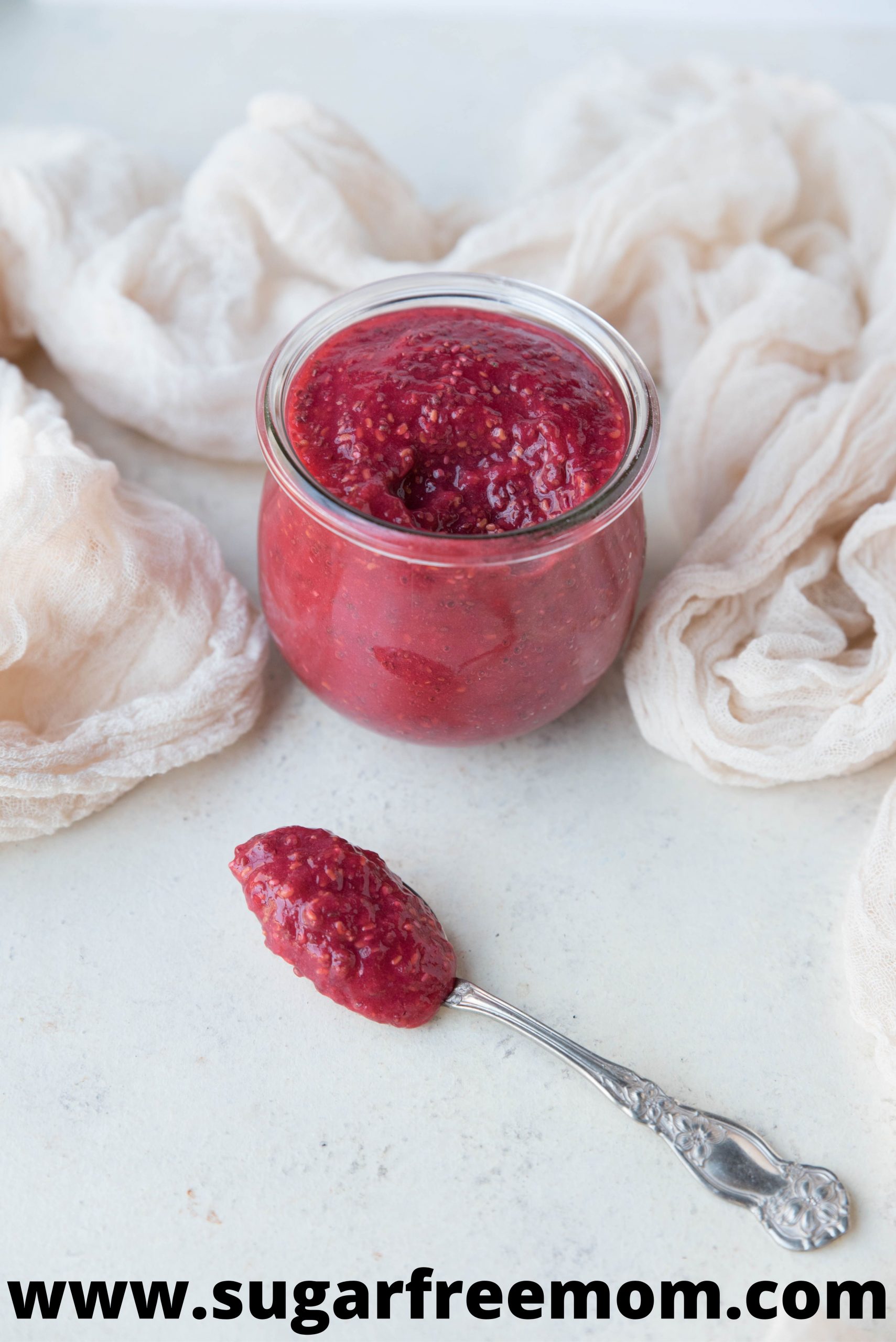 WHAT IS CHIA?
Chia seeds are an edible plant that comes from Mexico. It has a wonderful nutty flavor and when mixed with water, it takes on a gel like texture. It is wonderful option to use to replace an egg in a recipe. While chia seeds tend to be high in carbohydrates, they are also high in dietary fiber, making them a fantastic choice for a low carb or even keto diet. 2 tablespoons of chia seeds, has about 12 carbs and 11 grams of fiber. If you are counting your net carbs, that would be just 1 net carb per 2 tablespoons.
Chia seeds can absorb about 1o times their weight in water. They are mild in flavor and can really be added to sweet or savory recipes. Because of their incredible absorbency, they can be added to smoothies or even soups to thicken them. Chia seeds ability to gel, makes them perfect substitution to replace pectin in a traditional jam recipe.
Chia seeds are also a really great source of protein with about 5 grams per two tablespoons. Chia seeds are a complete protein, meaning that they contain all nine essential amino acids that can not be made by the body on its own. Add a sprinkle in your smoothie or on your salad, or even in your dressing.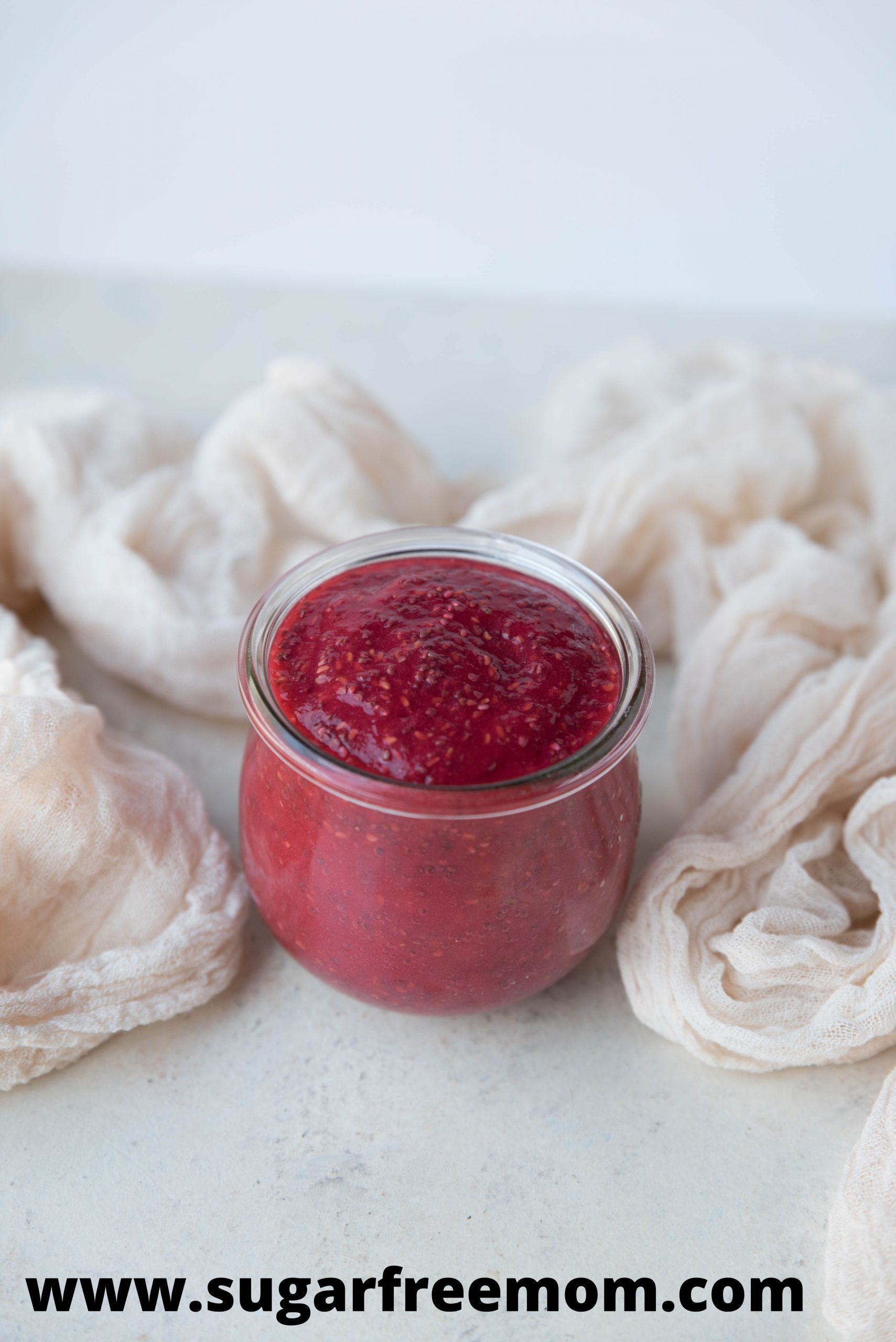 WHAT OTHER BERRIES CAN I SWAP WITH RASPBERRIES?
Berries are packed with vitamins, minerals and fiber and are a great option on a low carb or keto diet. If you're not a fan of raspberries, you can easily swap them out with any berry you like. A delicious and still low carb berry would be blackberries, blueberries, and even strawberries.
Net Carbs in Berries
The net carbs are calculated by subtracting dietary fiber from total carbohydrates. Serving amount is about a ½ cup or 60-70 grams:
Raspberries=3 net carbs
Blueberries= 9 net carbs
Blackberries= 4 net carbs
Strawberries= 6 net carbs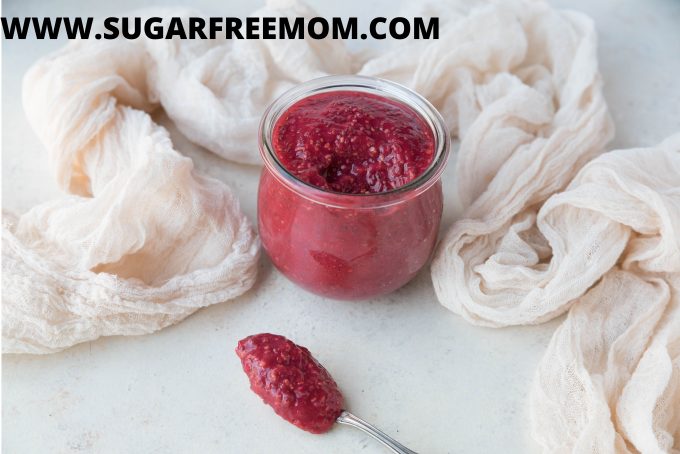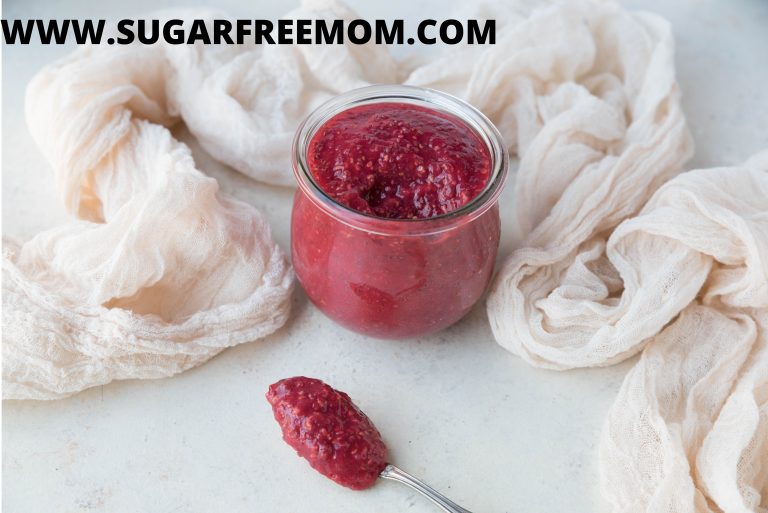 HOW TO STORE CHIA JAM
Store this raspberry chia jam in a covered container in the refrigerator for up to 2 weeks. I would not freeze this chia jam. Best if used fresh or within two weeks.
RECIPES USING CHIA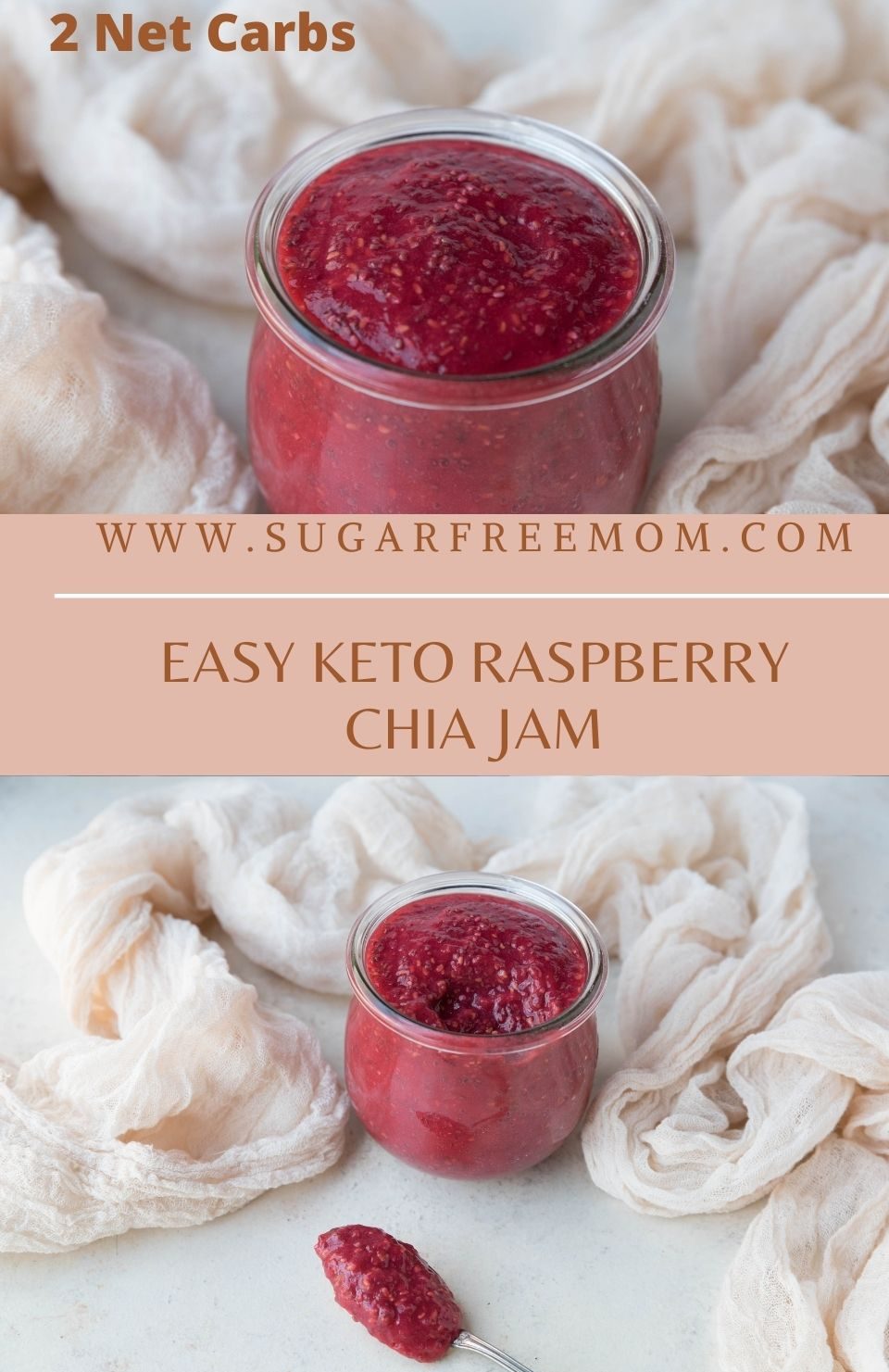 SUGAR DETOX TESTIMONIAL
Suzanne says, "Well I can't believe this is actually working! Yesterday I tried on all my jeans and I haven't been able to wear them for over a year and they fit!!! I wore a pair out and it felt amazing! This morning I weighed myself and I have lost 6.6 pounds since last Wednesday and also Thursday!!! Thank you Brenda! I have learnt so much so fast and my husband has now joined me on this challenge! "
HOW TO REPLACE AN EGG WITH CHIA
To replace one whole egg in a recipe, add 2 teaspoons of ground chia seeds into a small bowl. Add 3 tablespoons of water, stir to combine. Allow to sit untouched for about 5 minutes. You will start to see the mixture thicken as it sits. Once you see it thick, almost like a raw beaten egg in texture, it is ready to use in your recipe.
LOW CARB KETO RASPBERRY CHIA JAM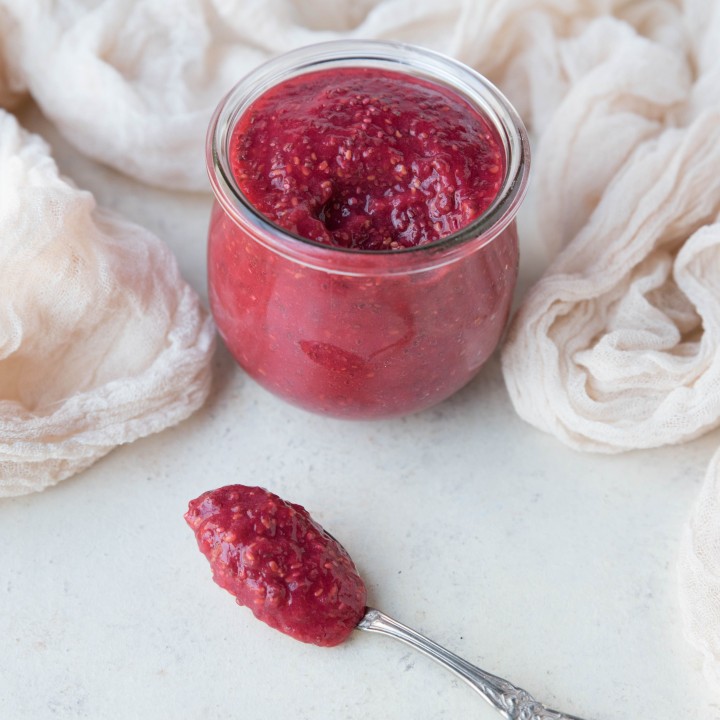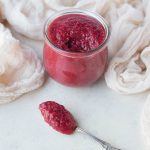 Print
Keto Raspberry Chia Jam
Servings
6
@ 2 tablespoons each
Instructions
Place all ingredients except chia seeds into a high powered blender or food processor and blend on high until smooth or desired texture. Taste and adjust sweetener if needed.

Add the chia seeds and pulse two or three times to combine.

Pour jam into mason jar, cover and refrigerate for 1 hour before using.
Nutrition
Serving:
1
@ 2 tbsp
|
Calories:
51
kcal
|
Carbohydrates:
7
g
|
Protein:
1
g
|
Fat:
2
g
|
Saturated Fat:
1
g
|
Trans Fat:
1
g
|
Sodium:
2
mg
|
Potassium:
87
mg
|
Fiber:
5
g
|
Sugar:
2
g
|
Vitamin A:
17
IU
|
Vitamin C:
12
mg
|
Calcium:
48
mg
|
Iron:
1
mg