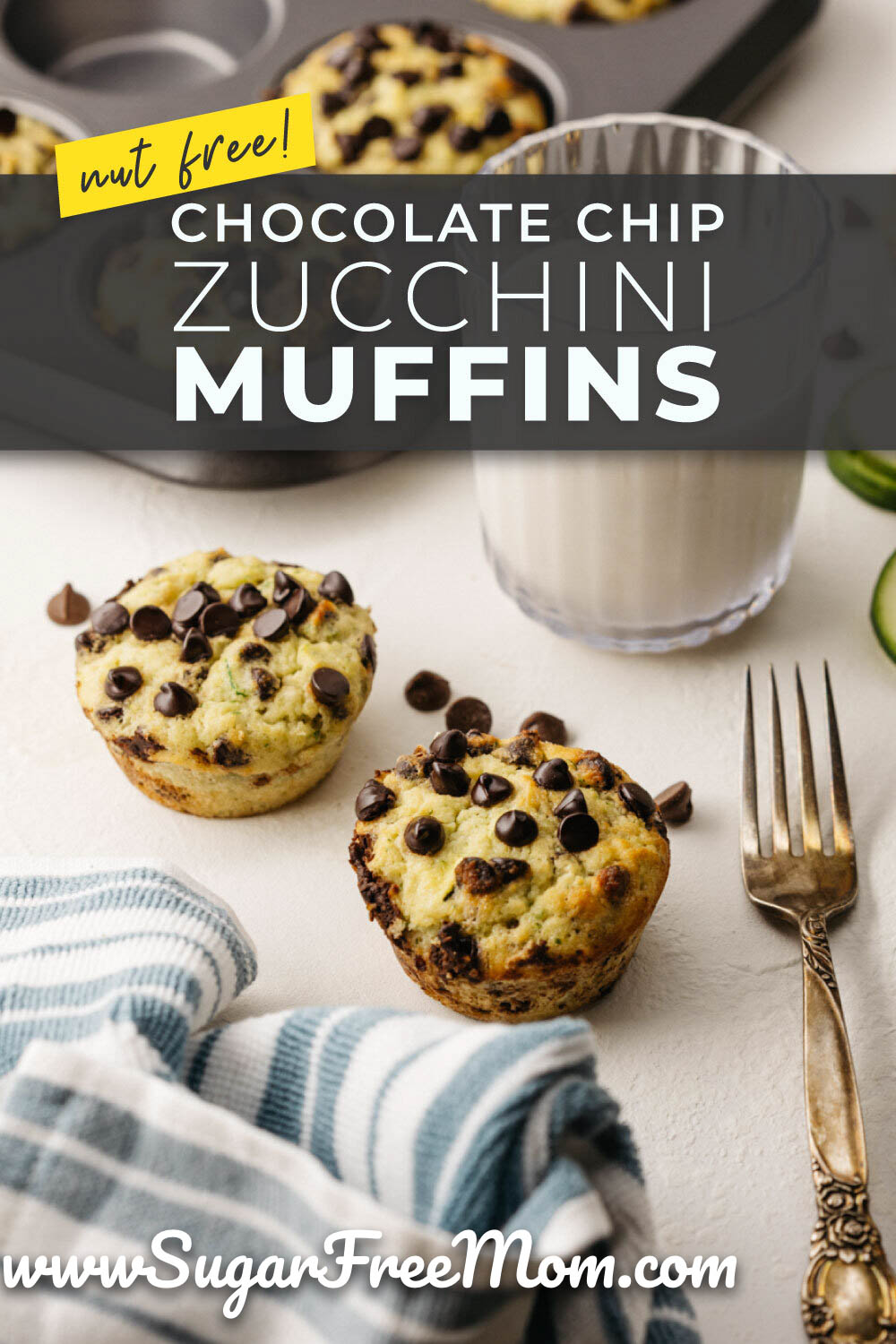 Healthy chocolate chip zucchini muffins
Today's guest post is from Matt and Megha Gaedke who share practical tips for low carb living on their food blog KetoConnect.net.
Hey everyone, we're excited to share this nut free chocolate chip zucchini muffin with you. This is a fun one we enjoy making together as a family and we're sure you will enjoy it too!
If you've never been to our site before then you're going to want to try our two most popular recipes - Keto Chocolate Chip Cookies and Chicken Crust No Carb Pizza.
Nut Free Chocolate Chip Zucchini Muffins
Most of the time when people try to make zucchini muffins healthy they think that means switching white -> whole wheat flour. However, switching to whole wheat flour or gluten free flour alone won't make a recipe healthy.
That's why we created a delicious gluten and nut free zucchini muffin recipe that is packed with fiber. Rather than using almond flour and making the recipe unavailable to those on a nut free diet, we chose to use coconut flour.
Per serving of coconut flour (2 tbsp) you are looking at 60 calories, 1.5 grams of fat, 3 grams of protein, 9 grams of carbs, 5 grams of fiber, and just 4 net carbs!

Can I Make Chocolate Chip Zucchini Muffins Dairy Free?
Another common dietary restriction is dairy, and don't worry we've still got you covered. If you can't have the butter, feel free to substitute in some coconut oil instead.
Coconut oil has a bit of a different flavor, but all and all is still super delicious in this recipe.
If you don't like the coconut flavor it brings you can always switch it for ghee or clarified butter, however, we would not recommend trying to use olive oil.
Lactose is strained from ghee making it easier to digest, hence why many people who can't have dairy can still have ghee.

Using Sugar Free Chocolate Chips
Nowadays pretty much everything can be made sugar free. There are tons of brands making low sugar or sugar free chocolate chips to use for baking. So, the tricky part isn't finding sugar free chocolate chips; it's finding sugar free chocolate chips that aren't made with bad sweeteners.
When buying chocolate chips it's important to look at the ingredients. Even if they are marketed as healthy they may just be using coconut sugar or brown sugar instead of regular white cane sugar.
We buy chocolate chips made with stevia and or erythritol and avoid cheap artificial sweeteners like Maltitol at all costs.
Some of our favorite brands are Lily's healthy chocolate chips that come in a variety of flavors. Another option is Choc Zero Dark Chocolate chips that are sweetened with monk fruit. Either of these brands are a great option for low sugar chocolate to use when baking.

How to Make Chocolate Chip Zucchini Muffins
Healthy zucchini and chocolate chips don't sound like two things that would go together in a muffin, but trust us. These muffins are moist, dense, and super chocolatey; perfect for a healthy yet indulgent treat.
Ingredients
To make these healthy zucchini muffins you will need butter, a keto friendly sweetener, eggs, baking powder, vanilla extract, salt, coconut flour, coconut milk (unsweetened), and grated zucchini.
Make sure to squeeze as much liquid as possible out of the zucchini between paper towels before baking. Extra moisture can result in a muffin recipe that falls apart or takes forever to bake.
Making Chocolate Chip Zucchini Muffins
To make this recipe for zucchini chocolate chip muffins begin by preheating the oven to 350 degrees.
Then in a medium bowl combine the melted butter, zucchini, eggs, and sweetener. The butter will start to re-solidify a bit which is fine, you just want the ingredients to be well combined. The butter should also get a bit fluffy thanks to the sweetener.
Now add the remaining ingredients minus the baking powder and coconut flour. When everything is well incorporated you can add the final two dry ingredients and mix again to prevent clumping.
Stir in your chocolate chips (we used sugar free chocolate chips from Lily's).
Finally scoop your batter into a silicone muffin pan (it should make 12 muffins.) Then bake for 30 minutes, or until a toothpick comes out clean.
Make sure to let the muffins cool completely before removing from the pan so the hot zucchini and chocolate chips don't cause the muffins to fall apart.

How to Store Zucchini Muffins
This zucchini bread style muffin recipe stores well to be enjoyed all week. An important thing to note though is that shredded zucchini, even after being strained, still has a lot of excess moisture. That moisture can lead to muffins going off faster if not stored properly.
Make sure to store any leftover muffins in an airtight container inside of your fridge. These muffins should NOT sit on the counter, they will go off too quickly.
Help, My Muffins Went Grainy!?
This is fairly common in keto baked goods so don't fret. Granular sweeteners like erythritol can tend to become grainy again once chilled so if you find your baked goods are turning out too grainy try:
Switching to a powdered sweetener- The fine powder usually dissolves better to avoid any graininess

Reheat the muffins- A quick microwave not only gives you a warm breakfast, but also a less grainy baked good.
These are the two most common solutions to try that we find work out almost every time.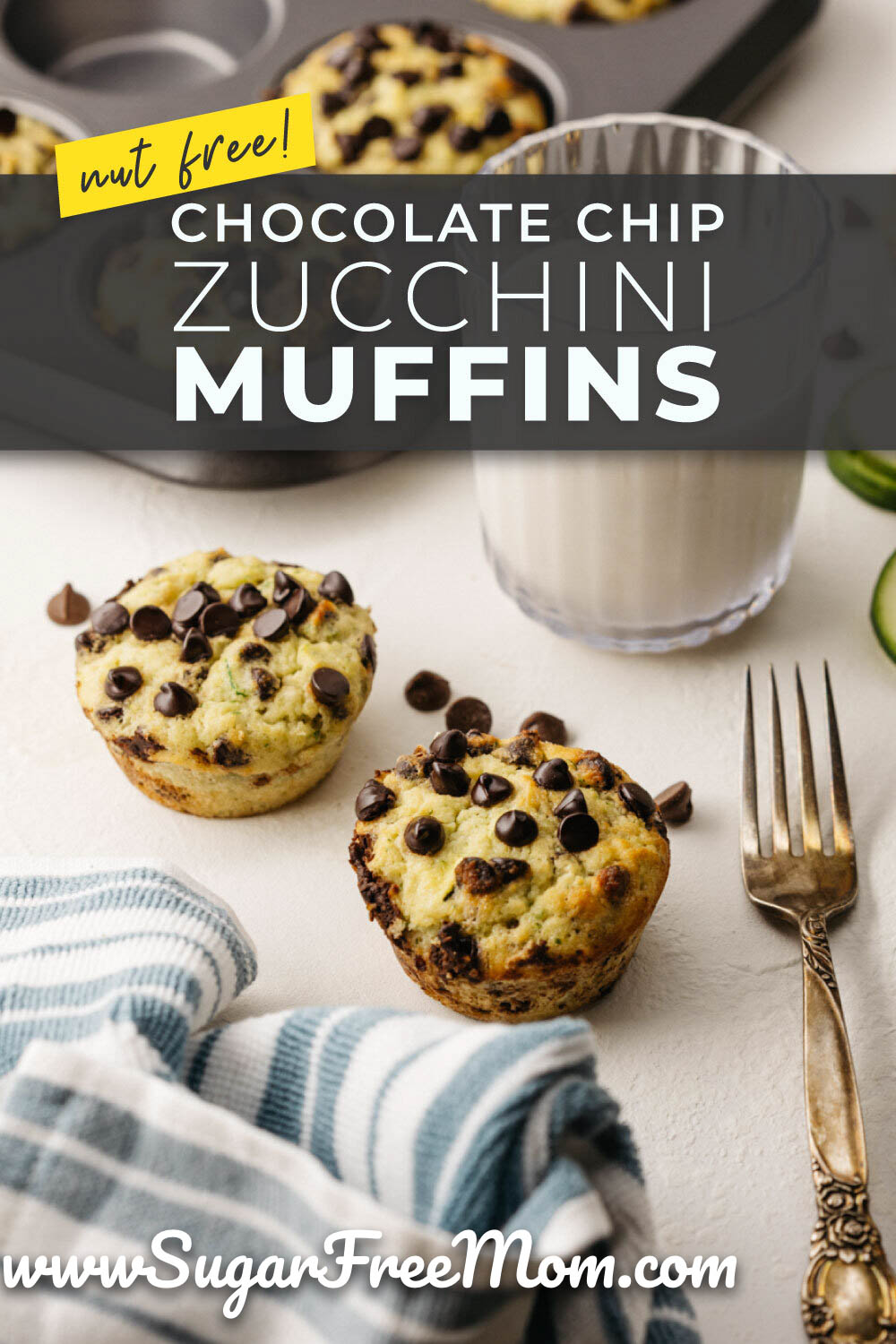 More from KetoConnect
Thanks so much for checking out our guest post. If you like what you see here, then stop by our food blog for hundreds of recipes, all of which are keto friendly. If you're new to keto then there are two articles I would recommend starting with - the basics Keto Shopping List AND our ultimate Keto Fast Food guide. If you have any questions feel free to shoot us an email and we'll try our best to help.
LOW CARB KETO CHOCOLATE CHIP ZUCCHINI MUFFINS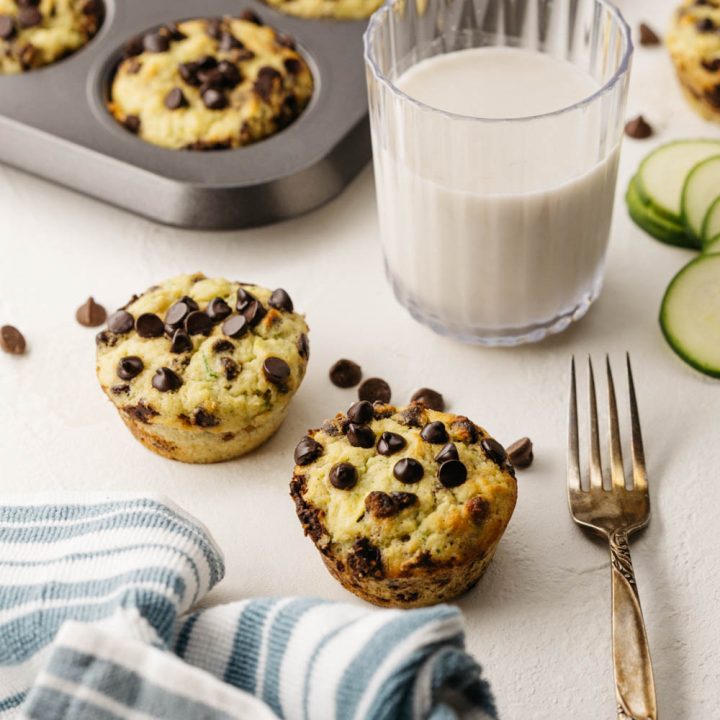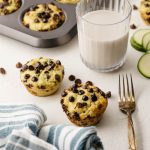 Print
Low Carb Keto Chocolate Chip Zucchini Muffins
Instructions
Preheat the oven to 350 degrees F. Grate the zucchini and squeeze dry with paper towels and pack into a measuring cup.

Melt the butter and mix together with the zucchini, eggs, and sweetener.

Once mixed add in the vanilla, milk, and salt. Stir again to combine.

Now add the baking powder and coconut flour. Whisk or stir well until there are no coconut flour clumps and the batter has thickened. Stir in optional chocolate chips.

Pour the batter into a silicone muffin pan or a lined muffin tin. Bake for 30- 35 minutes, or until a toothpick comes out clean.
Nutrition
Serving:
1
muffin
|
Calories:
124
kcal
|
Carbohydrates:
4
g
|
Protein:
3
g
|
Fat:
11
g
|
Saturated Fat:
8
g
|
Polyunsaturated Fat:
1
g
|
Monounsaturated Fat:
2
g
|
Trans Fat:
1
g
|
Cholesterol:
65
mg
|
Sodium:
165
mg
|
Potassium:
122
mg
|
Fiber:
2
g
|
Sugar:
1
g
|
Vitamin A:
206
IU
|
Vitamin C:
1
mg
|
Calcium:
28
mg
|
Iron:
1
mg