No Bake Raspberry Cheesecake Bites are made low carb, sugar free, gluten free and the prettiest of candies for special occasions like Valentines!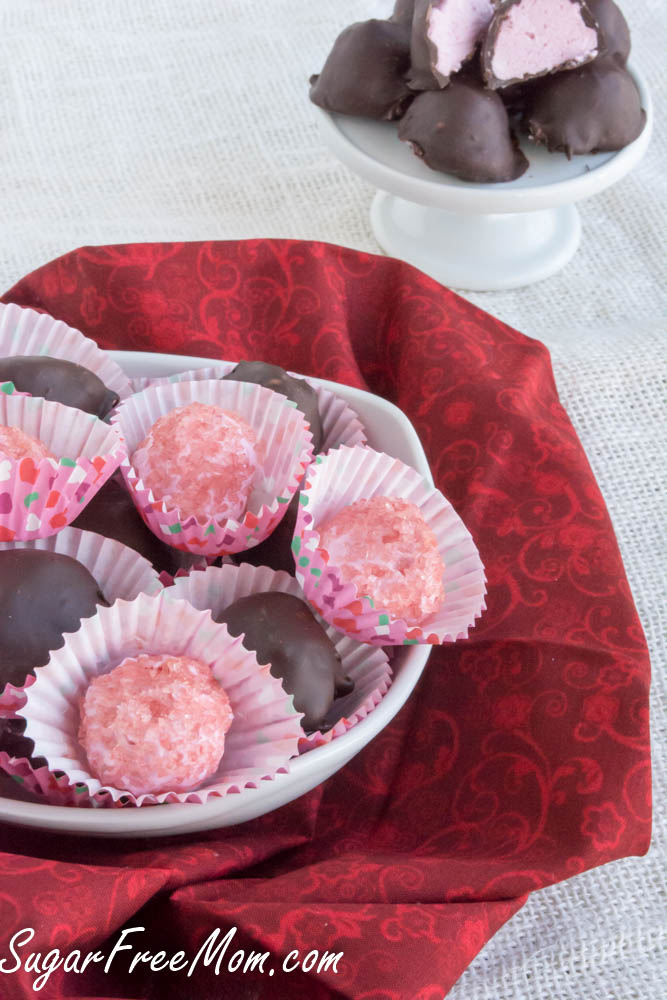 SUGAR FREE CHEESECAKE BITES
These amazing grain free, sugar free cheesecake truffles have the creamiest of centers, and all the flavor of raspberry without any seeds getting in your teeth!
When I think of favorite kinds of candy for enjoyment I've always been one to love a soft center. Before I was sugar free ( about 14 years ago now) the hubby would buy me a box of chocolates for Valentines Day. By the next day or so he'd look in that box and what do you think he'd find?
Practically all the candies would have one bite in them. Yep. That's how I roll.
I was searching for only the ones I liked and left them flat in the box just like that if they didn't appeal me!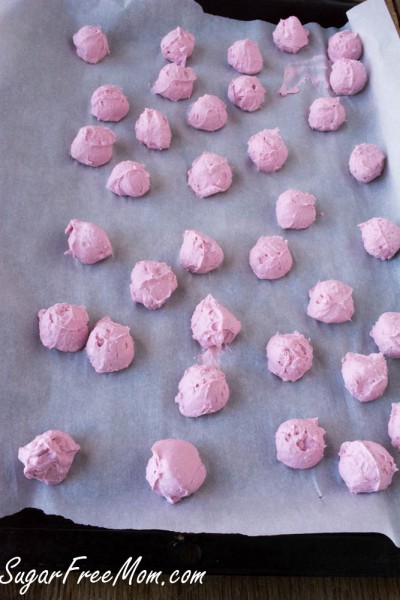 SUGAR FREE CANDY
More often than not I was left dissatisfied with a box of store bought chocolates. I'd much prefer a creamy soft candy to a hard or even caramel filled centered candy.
So this recipe is a little mix of both of my favorites. A soft smooth center and of course CHOCOLATE coated!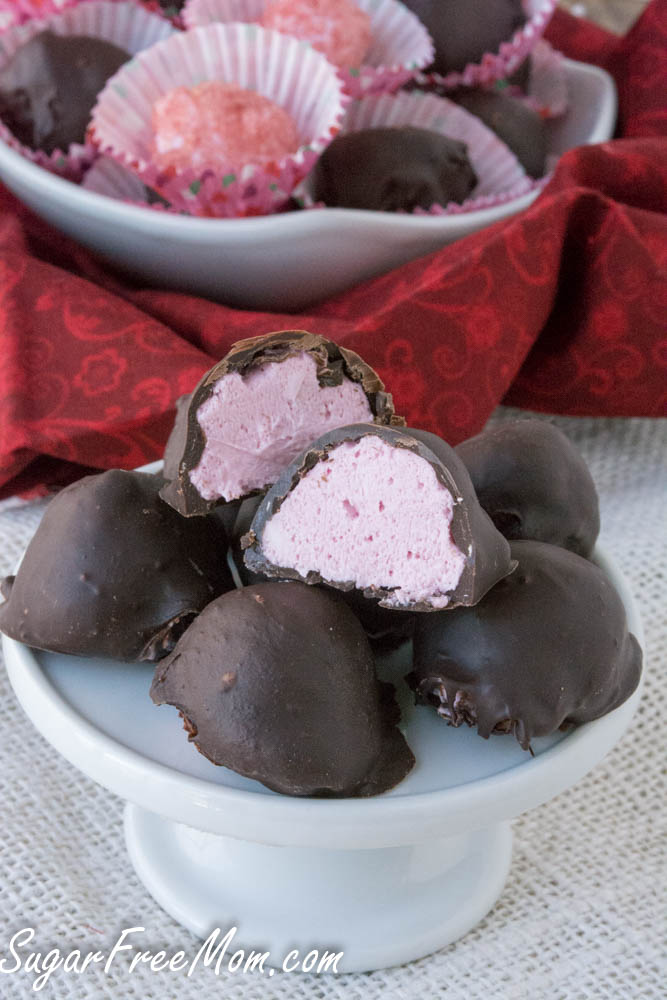 While these need to stay refrigerated until ready to serve since they contain cream cheese, but they are worth it!
Looking for more Easy Truffle Recipes? Check out my eBook, No Bake Sugar Free Truffle Recipes!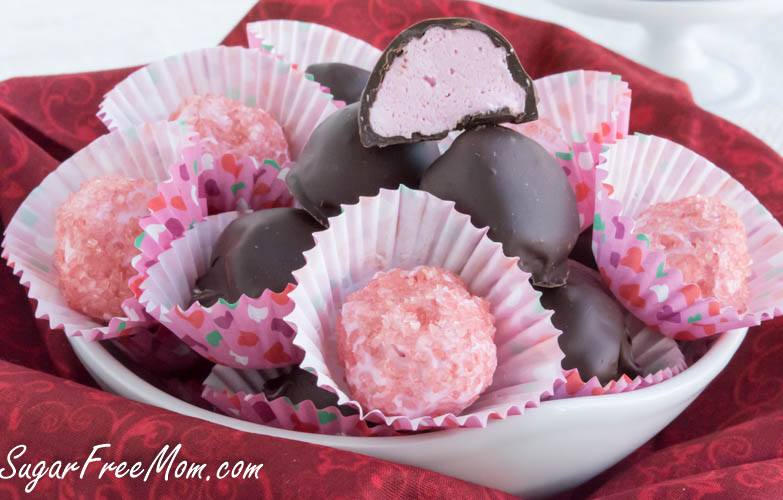 One of the reasons my hubby has ALWAYS hated raspberry anything is because of the tiny seeds that get in his teeth. I, on the other hand love fresh raspberries, and the little tiny seeds don't bother me at all.
But I knew when creating this recipe I could not use fresh or frozen raspberries or my man would not even try one bite.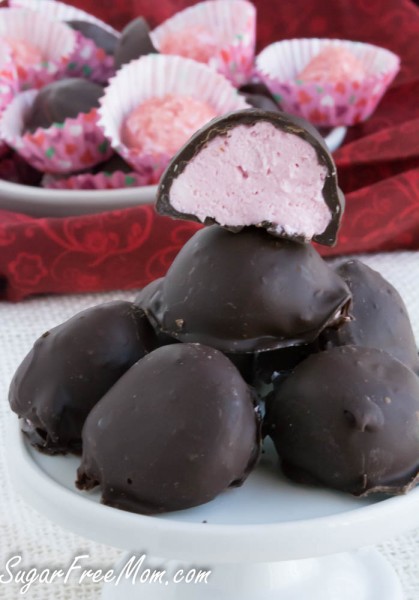 He has claimed these, "The Best Dessert you've ever made!"
So there you go.
From the picky hubby who is a white sugar loving man, that is a pretty good sign you and your family may like these too!
Brenda's Notes:
My hubby is loving that I'm using Swerve more often as he doesn't get any aftertaste like often he would notice if using stevia.
The only substitute I could recommend is using another alternative to Swerve, like Sukrin.
You could eliminate the chocolate if you like and just roll the balls in natural sprinkles that can be found at Whole Foods.
Looking for more Valentine desserts? Try my Red Velvet Couple's Mug Cake or my Red Velvet Truffles!
Enjoy!
This recipe was first published February 2015 and updated with video 2018.
SUGAR FREE NO BAKE RASPBERRY CHEESECAKE BITES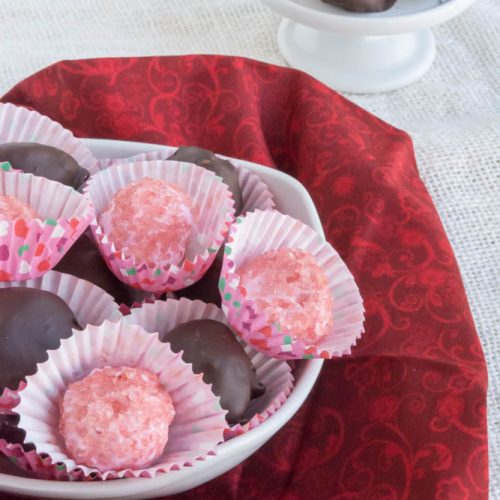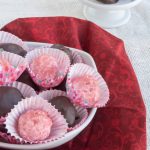 Print
Sugar Free No Bake Raspberry Cheesecake Bites
Servings
40
cheesecake bites
Instructions
In a stand mixer blend the cream cheese and Swerve together until smooth.

Add the cream, stevia, salt and raspberry extract, natural food coloring until combined well.

Slowly add in the coconut oil and continue to blend on high until it's incorporated.

Scrape down the edges of the bowl to make sure it's all mixed well.

Using a 1- ¼ inch mini cookie scoop, scoop batter onto a parchment lined baking sheet.

Freeze these for 1 hour before coating with melted chocolate.

Drop one cheesecake bite into melted chocolate at a time and place on parchment lined pan.

Refrigerate for another hour.

Must be kept refrigerated until ready to serve.
Notes
Nutrition
Serving:
1
serving
|
Calories:
59
kcal
|
Carbohydrates:
1
g
|
Protein:
1
g
|
Fat:
6
g
|
Saturated Fat:
4
g
|
Cholesterol:
6
mg
|
Sodium:
18
mg
|
Potassium:
8
mg
|
Sugar:
1
g
|
Vitamin A:
76
IU
|
Calcium:
6
mg
|
Iron:
1
mg