This easy, chicken BLT salad with zingy lime dressing is a perfect lunch or dinner to break your fast!
Higher Protein on a Keto Diet
You just can't go wrong with bacon, lettuce and tomato for a salad or for toppings on a burger or any other sandwich really. But for me lately, that bacon would just not be enough protein in a salad to sustain me until my next meal.
I've been enjoying a lot more protein than I use to on my keto diet. In fact I actually use to fear too much protein would make me fall out of ketosis. I use to fill up on too much fat, never feeling satiated. When I finally decided to increase my protein at each meal, that's when I saw huge differences. I noticed I was less likely to want to snack or even need a snack between meals. I also just felt completely satisfied between meals. It might not be for everyone, but if you're active like me and get to the gym 2-3 times a week, you may need more protein than you are currently getting to feel really, really good!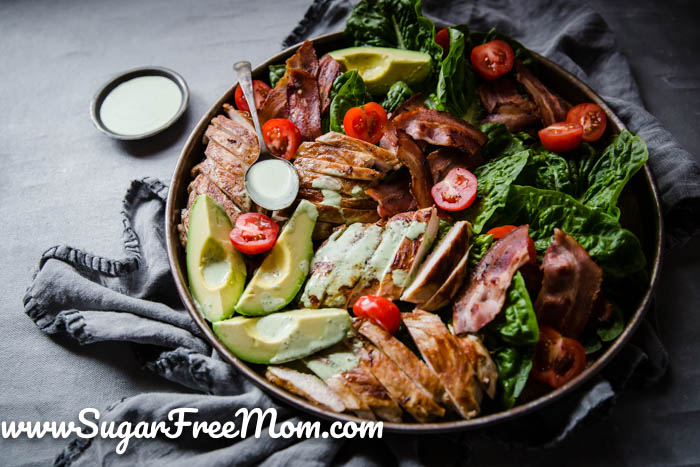 Chicken BLT Salad
Knowing that I love more protein, it's only fitting this salad would need the addition of some. Opting for chicken here is quick and easy make ahead recipe for lunch for the week or a quick weeknight dinner.
Some other salads I think you'll love;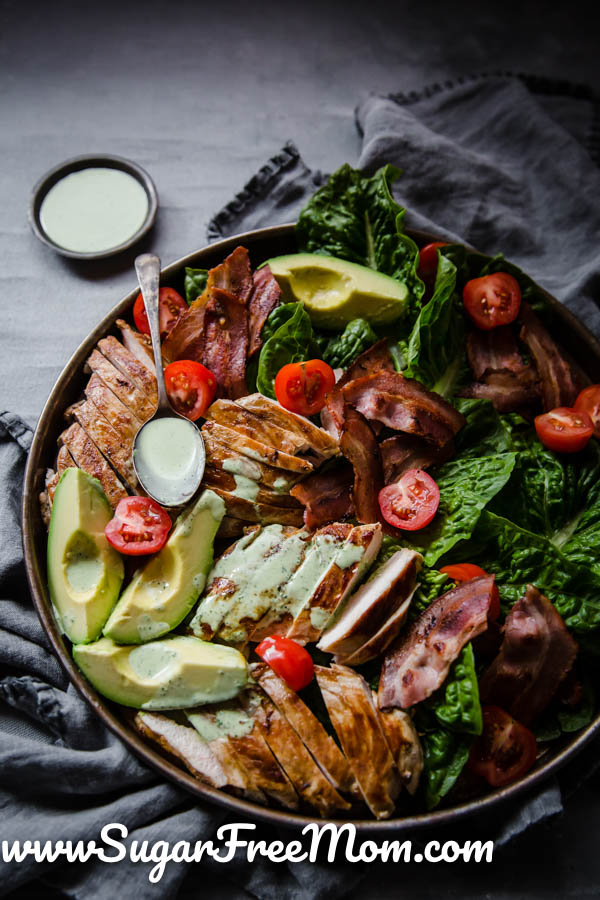 BLAT Salad
Adding in some perfectly ripe, avocado really does make this a BLAT salad, but the avocado can be removed if you so choose. I hear there are some people who are really not fans of avocado! Shocking to me, but it's true. So if you're not an avocado lover simply leave it out of this amazing salad and just enjoy the Bacon, Lettuce and Tomato! You'll have to adjust the nutrition info without the added avocado. Two apps I love to use for calculating nutrition, both are very accurate, Cronometer and KetoDiet app.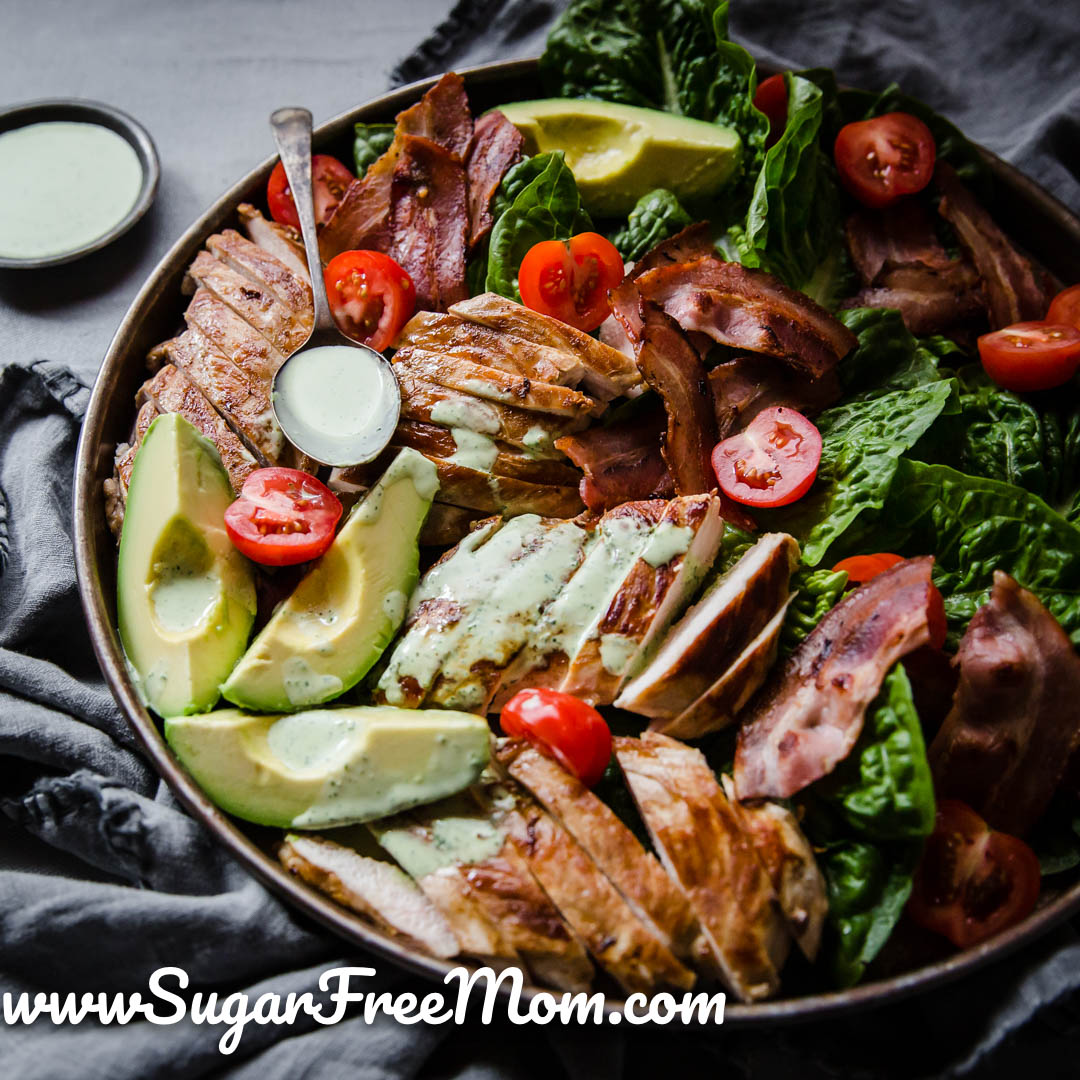 Meal Plan Membership
If you love recipes like this for yourself and family, you will love my meal planning membership. Weekly low carb and/or keto meal plan sent to your inbox every Friday with shopping list. The best part about my meal planning feature is that if you aren't interested in one of the dinner meals you can swap it out for something else! You can even change serving sizes and the shopping list will adjust! It pretty amazing software and I hope you'll take advantage of it. You can have a sustainable low carb/keto lifestyle when you're well prepared and planning meals is the key! LEARN MORE TODAY!

EVERYONE who has ordered, Naturally Keto is going to get a FREE COPY of my Everything but the Turkey ebook and anyone who leaves me a review on Amazon will also get a copy ! Just make sure you've sent me a copy of your receipt of ordering to [email protected].
Keto Chicken BLT Salad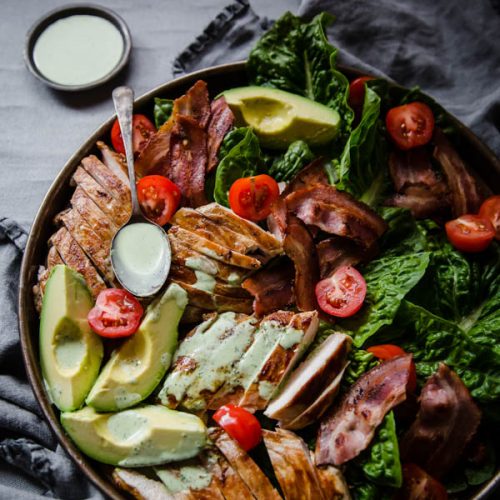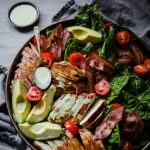 Print
Keto Chicken BLT Salad
I couldn't help but add some avocado to this incredible salad, so I suppose it is technically a
Chicken BLAT Salad. Enjoy!
Ingredients
1

pound

chicken breasts

skin of

2

tablespoon

olive oil

for searing

4

slices

bacon

uncured, low sodium, I use Applegate

8

leaves

butter lettuce

6

cherry tomatoes

halved

1

avocado

cut into wedges

salt and pepper
Dressing:

½

cup

Greek yogurt

¼

cup

mayonnaise

4

tablespoon

fresh coriander

chopped

1

teaspoon

lime zest

2

teaspoon

lime juice

½

teaspoon

salt

¼

teaspoon

ground pepper

1

tablespoon

fresh parsley

chopped
Instructions
Season the chicken breasts with salt and pepper.

Drizzle a small amount of olive oil into a heavy pan and heat until hot.

Sear the chicken on all sides until browned and cooked through.

Remove from pan and sit to one side to rest before slicing.

Chop the bacon into large chunks and cook in the pan until crispy.

Place all of the dressing ingredients into a small blender and blitz until smooth and bright
green.

To assemble your salad, place the lettuce leaves down as a bed and then layer the chicken,
bacon, cherry tomatoes and avocado wedges over the top.

Add a healthy splash of the green dressing and enjoy.

Each component can be made in advance and assembled at mealtime.

Store in the refrigerator for up to 3 days.

Dressing can be stored in a jar in the fridge for up to one week.
Nutrition
Serving:
1
serving
|
Calories:
488.07
kcal
|
Carbohydrates:
7.61
g
|
Protein:
31.14
g
|
Fat:
38.25
g
|
Saturated Fat:
7.15
g
|
Cholesterol:
103.34
mg
|
Sodium:
710.66
mg
|
Potassium:
869.09
mg
|
Fiber:
3.9
g
|
Sugar:
2.14
g
|
Vitamin A:
1336.91
IU
|
Vitamin C:
15.39
mg
|
Calcium:
52.51
mg
|
Iron:
1.4
mg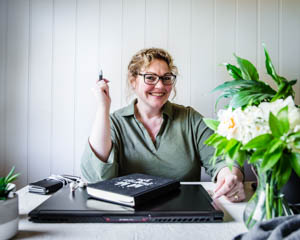 Naomi is the force behind Naomi Sherman | Food Creative. She is passionate about recipe development, food photography and styling. An accomplished home cook who was diagnosed with an auto-immune disease eight years ago, Naomi started to explore the connection between healthy, whole food and her symptoms, and a new love was born. She fiercely believes that what you put in your body is one of the most important factors for your physical, and mental, wellbeing.