Garlicky Pepper Salmon with Lemon Aioli made without eggs is a fabulously healthy weeknight or a special date night meal for Valentine's Day!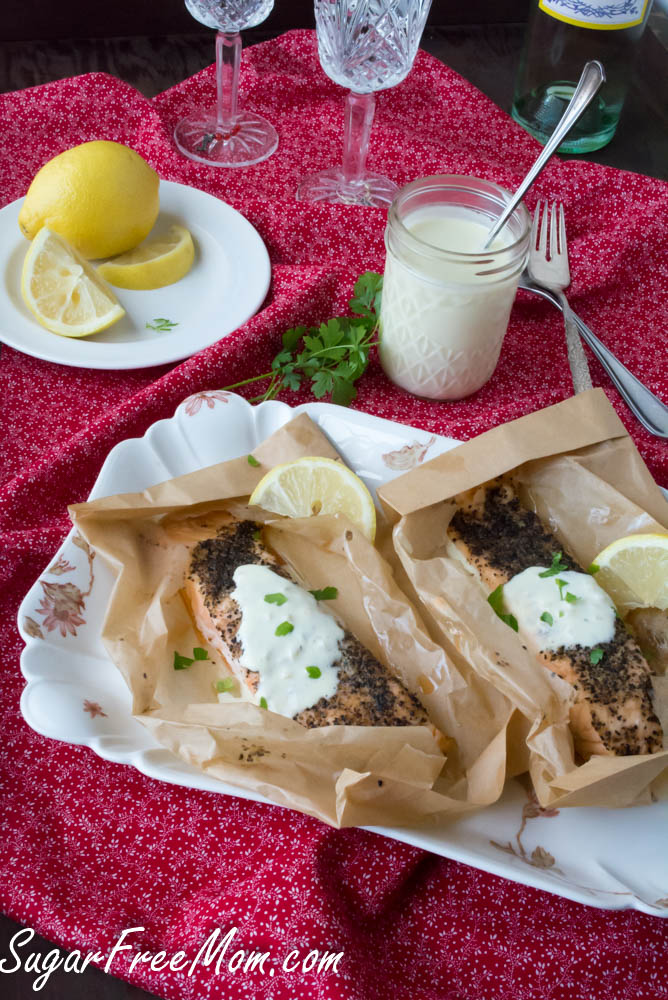 When I think about Valentine's now that I have children, it's a little different than when we were newly married, ok, a whole lot different. If we're lucky we'll have a babysitter or my sister in law to at least take the kids out to a movie so we can have some alone time.
Alone time to either go out to eat or eat at home? My hubby is the man that boycotts Valentine's day and eating out. He thinks the prices are outrageous just because the date is February 14th. I agree with him and we often enjoy a night out the evening before Valentine's day.
So more often than not, we are staying in having a meal with the 3 kiddies and that's typically how it goes for us. Not that I'm complaining, I love to cook! I hate to clean up and do dishes but I love to cook!
That's where my idea for a special seafood dinner, without a lot of work and very little to clean up and Bumble Bee SuperFresh selections come in to play!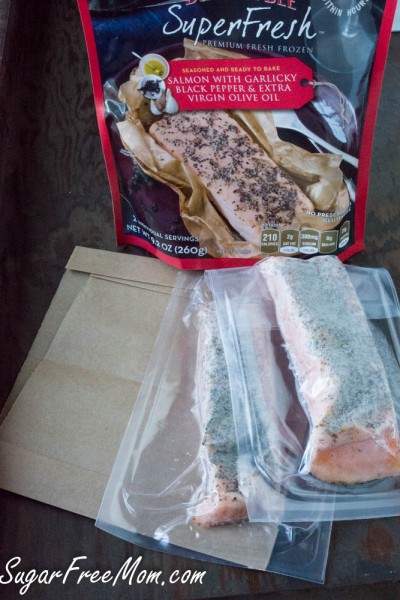 Bumble Bee SuperFresh Frozen products are the easiest way to prepare a healthy fresh fish dish without much effort or time! Each package has 2 servings and is vacuumed packed with all natural, perfectly seasoned ingredients. All you have to do is pop them in their provided parchment package and bake them for 20 minutes and your meal is ready!
I love that these are all ready seasoned so it makes the prep time super quick and easy.
If you're unfamiliar with Bumble Bee's new premium brand of seafood it can be found in your frozen seafood section of your super market. Fresh Frozen means that the seafood has been cleaned, cut and prepared with seasonings by a Chef and frozen, within hours of being caught, sealing in that freshness.
Even when you purchase "fresh" fish from your market, it's often been frozen and then thawed again and sitting on ice for several days for selling at the seafood counter.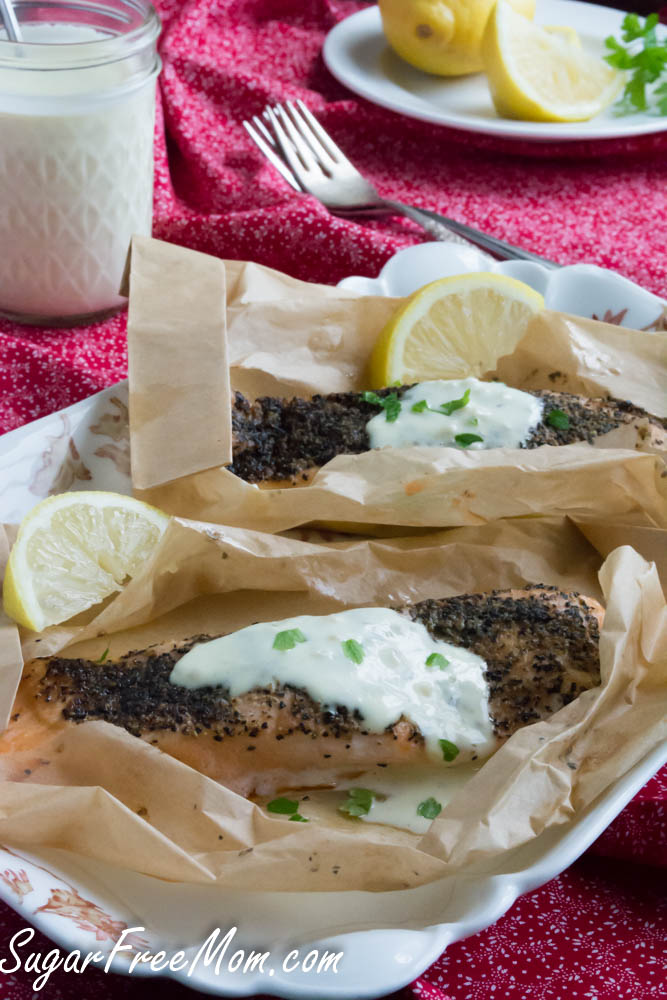 SuperFresh Premium Fresh Frozen seafood is available in seven varieties:
Tilapia with Garlic and Extra Virgin Olive Oil - SRP $8.99
Tilapia with Lemon, Pepper & Herbs - SRP $8.99
Lemon Shrimp with Garlic & Herbs - SRP $9.99
Spicy Shrimp Romesco - SRP $9.99
Salmon with Garden Pesto SRP $9.99
Salmon with Garlicky Black Pepper & Extra Virgin Olive Oil - SRP $9.99
Petite Scallops with White Wine & Garlic-Herb Butter - SRP $10.99
All are gluten-free and contain all natural ingredients and no preservatives. All items come with two servings. The shrimp and scallop packages can be made on the stove top and cooked for just about 6 minutes, the rest of the varieties take 20 minutes or less to bake!!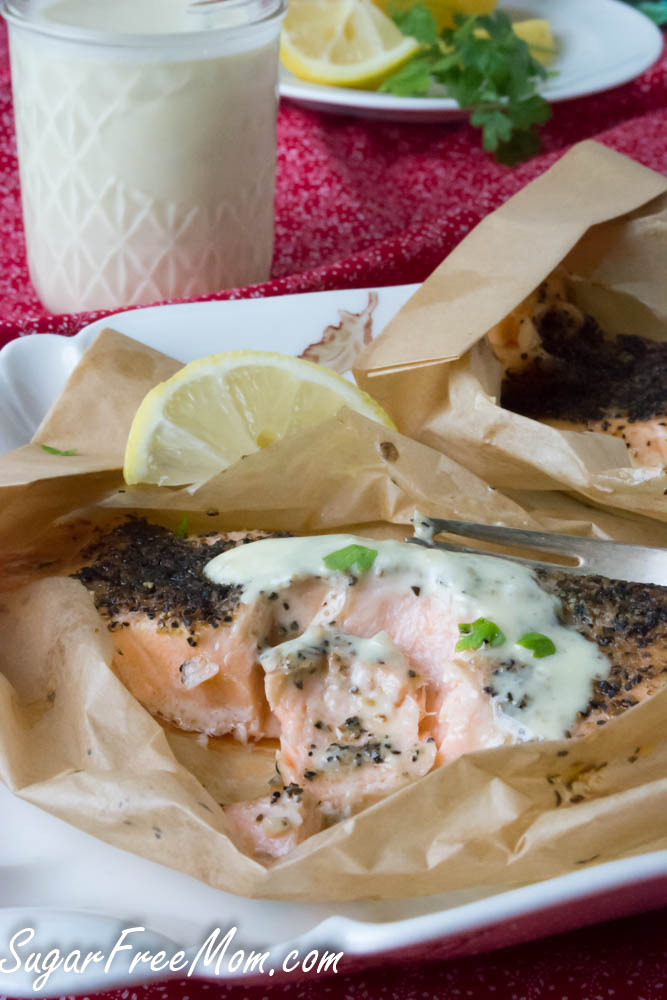 What I loved most of all, not including the fabulous taste, but there was no fishy SMELL in my kitchen!! Often thawing fish is what creates that smell in the kitchen but with these Bumble Bee packages it goes straight from the freezer to your oven so no smell that lingers!!
Parchment cooking is wonderful because it helps the fish retain it's moistness. My dad has been using this method for years, since I was a child and I've never had to experience a dry tasting fish so I grew to love all kinds of seafood!
Bumble Bee's Fresh Frozen parchment paper is unbleached and uncoated and it's so convenient to bake then throw away the mess, no cleaning any pans needed!
My ailoi sauce is delicious on any seafood so if you are enjoying this meal with just you and your spouse then you will have left over aioli sauce. Just keep it refrigerated and enjoy it on other meats as well. I was making this meal for my family of 5 so we all enjoyed a piece of salmon and my hubby enjoyed 2 servings! The children thought the pepper was a bit spicy, but the sauce was the perfect compliment to each spicy bite.
Sometimes Valentine's Day is a family event so a special seafood dinner is a nice change from the typical chicken.
Be sure to check out Bumble Bee's menu ideas and wine pairings to go with each seafood variety!
Nutrition info was calculated using My Food Diary and 6 servings of Bumble Bee SuperFresh Frozen Salmon Garlicky Pepper fillets with 1 ounce of sauce per serving. Other options from Bumble Bee Super Fresh Frozen will change nutrition information.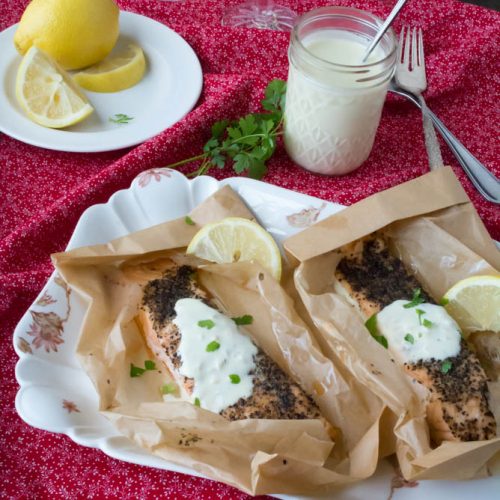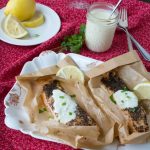 Print
Salmon with Garlicky Black Pepper and Egg Free Lemon Aioli
Ingredients
4

packages Bumble Bee SuperFresh Frozen Salmon fillets
Egg Free Lemon Aioli
½

cup

vegan mayo or organic mayonnaise

¼

cup

extra virgin olive oil

¼

cup

lemon juice

1

teaspoon

lemon zest

2

cloves

garlic

minced

optional: fresh chopped parsley

lemon wedges
Instructions
Preheat oven to temperature indicated on package.

Place each fillet in it's provided parchment package, fold up and lay on a baking sheet.

Bake 20 minutes.

Whisk ailoi ingredients together in small bowl and set aside until fish is done.

To serve, carefully open parchment package, be careful of steam.

Top each fillet with 1 ounce of sauce and chopped parsley and lemon juice if desired.

Any remaining sauce should be kept refrigerated.
Nutrition
Serving:
1
g
|
Calories:
427
kcal
|
Carbohydrates:
6.6
g
|
Protein:
25
g
|
Fat:
35
g
|
Saturated Fat:
5.3
g
|
Cholesterol:
52
mg
|
Sodium:
420
mg
|
Sugar:
1.6
g
This post is sponsored by FitFluential on behalf of Bumble Bee SuperFresh.