Taco Egg Stuffed Tomatoes are Perfect for a Mother's Day Brunch!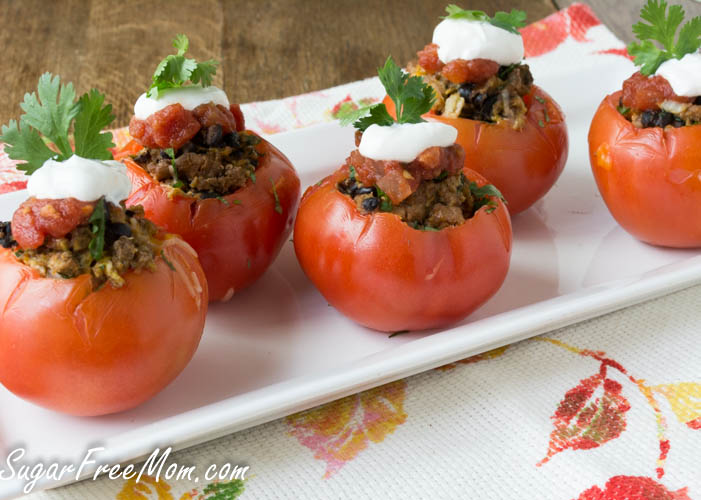 Today I'm sharing not only this new recipe for a Mother's Day brunch but joining with some other fabulous momma bloggers to bring you a Mother's Day Wisdom link up on how to find a balance working and being a mother. I surely am not the expert on this subject in the least because finding balance is hard! I'm not the least bit organized and fail miserably in this area. I wish I could tell you I've got it all together and I'm happily balancing my family obligations with my food blogging business, but sadly this is not the case. What I have learned though over the years of raising my children and working outside the home and now at home, one thing remains the same, my kids just want my time. Time where I focus on them, listen to them, play a game with them, make a snack together, read together, watch a movie, whatever it may be they just prefer my time.
So as I ponder on how to impart some sort of wisdom to all of you on how to balance motherhood, I can only share that often for me it's not quantity of time, but quality of time with my kids that they appreciate and desire the most. We as mom's are so busy with so many chores and activities, volunteer work and just day to day lives to keep our family running smoothly that making an effort to sit down and slow down is rare. As much as making time for the children is important, making time for oneself is equally as important. I make time for myself by getting up at the crack of dawn to work out because it makes me feel better, puts me in a better mood and just makes me happy. When I don't make time for myself, I find I'm short tempered and frustrated with my family, not a place I like to be.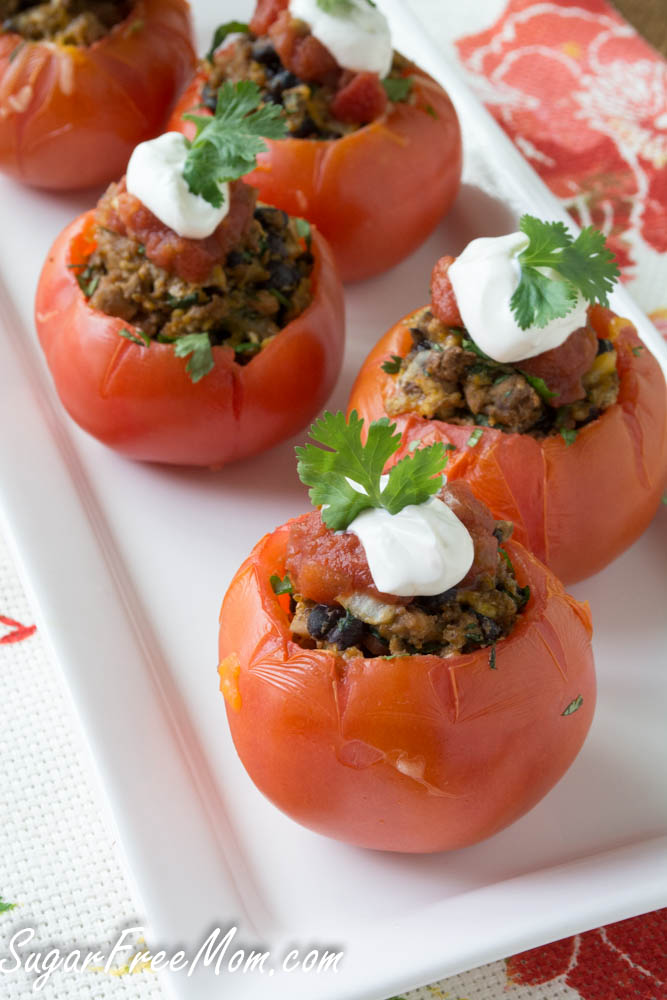 With this upcoming Mother's Day, I will try not to focus on all the things I haven't gotten to on my To Do list , but instead focus on the present and precious moments enjoying my family. Healthy kids, loving hubby, and good health of my parents are on my gratitude list. Having healthy food options on Mother's Day also brings me joy. I don't want to hurt by body with unhealthy choices and this recipe I'm sharing today is one I'd love for a healthy brunch recipe!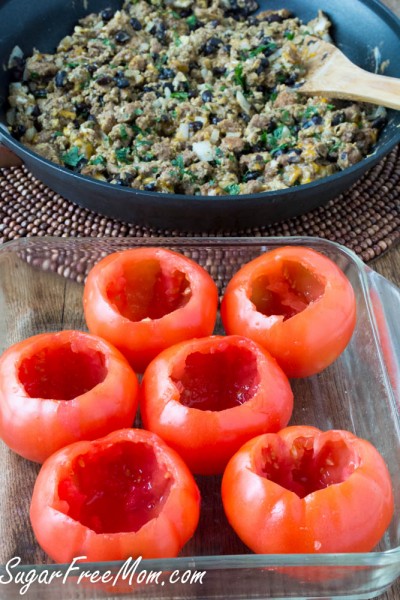 This probably wouldn't be a choice of my kids but the hubby and I loved it! My hubby is not really a fan of warm cooked tomatoes so he would have preferred them not baked. You could certainly skip the baking of the tomatoes if you prefer crisp and fresh! I love them warm and soft when their natural sweetness comes through!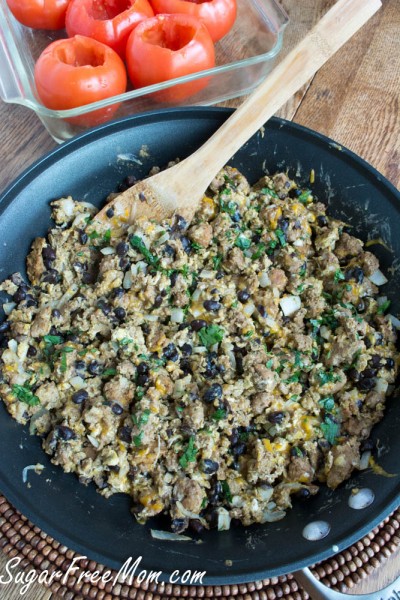 I love recipes that can accommodate picky kids as well so use this filling for regular tacos or breakfast burritos, just add the scrambled eggs, not shown here and fill into tortilla wraps!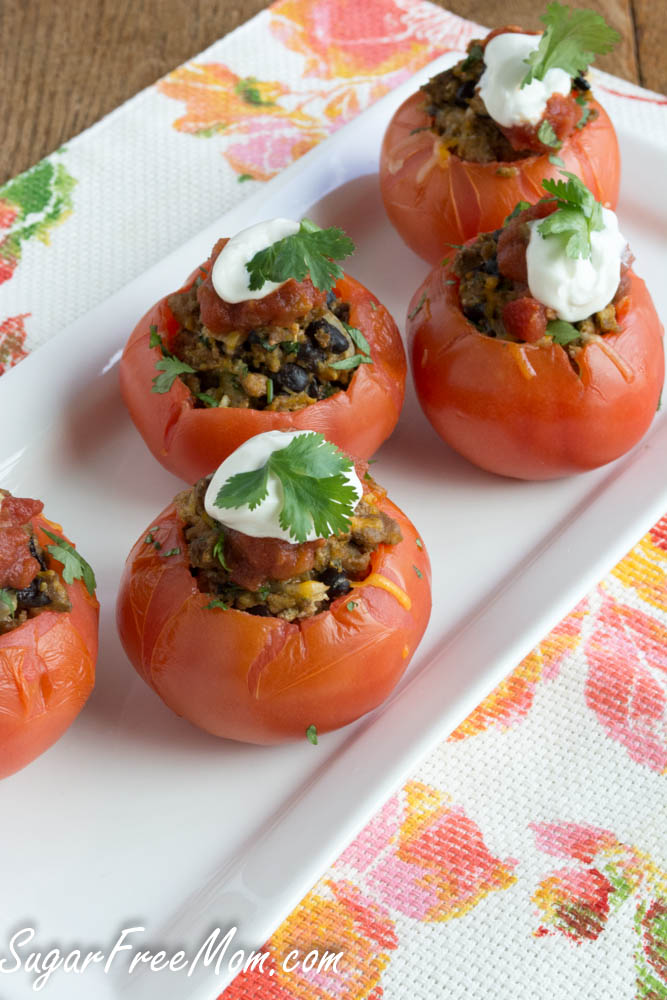 Here are my fabulous blogging buddies to inspire you for Mother's day with a new recipe as well as some tips to balancing this crazy life!
I wish you all a wonderful Mother's Day focusing on the positive and on what are your doing right and sticking with that! 🙂
Brenda's Notes:
Eating 1 is sufficient if you are having brunch and other food options so serving size is just for one stuffed tomato, but it making for Brinner, just double the nutrition info and enjoy 2!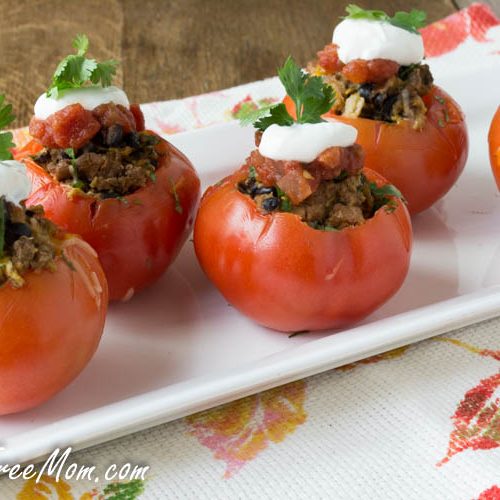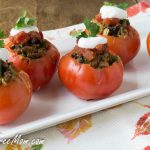 Print
Taco Egg Stuffed Tomatoes
Ingredients
12

ounces

ground turkey

1

tablespoon

coconut oil

½

cup

chopped onion

½

teaspoon

salt

¼

teaspoon

pepper

2

teaspoons

chili powder

1

teaspoon

cumin

1 ¼

cup

or 15 ounce can black beans

rinsed, drained

1

cup

shredded cheddar cheese

¼

cup

chopped cilantro

12

organic ripe heirloom tomatoes

6

eggs

whsiked
Instructions
Preheat oven to 350 degrees.

Cook turkey and onion in oil until turkey browned and is no longer pink.

Reduce heat to low and add the next 7 ingredients and stir to combine. Set aside.

Cut the stem and scoop out the center seeds and flesh of each tomato and place in an 9 by 13 baking dish. Set aside.

In a separate skillet cook eggs until scrambled.

Stir scrambled eggs into turkey and bean mixture.

Spoon ½ cup filling into each tomato.

Bake 20 minutes.

Top with salsa and sour cream if desired.
Notes
Weight Watchers PointsPlus:5*
Nutrition
Serving:
1
g
|
Calories:
180
kcal
|
Carbohydrates:
11.2
g
|
Protein:
13.3
g
|
Fat:
8.8
g
|
Saturated Fat:
3.8
g
|
Cholesterol:
120
mg
|
Sodium:
294
mg
|
Fiber:
2.1
g
|
Sugar:
4.3
g