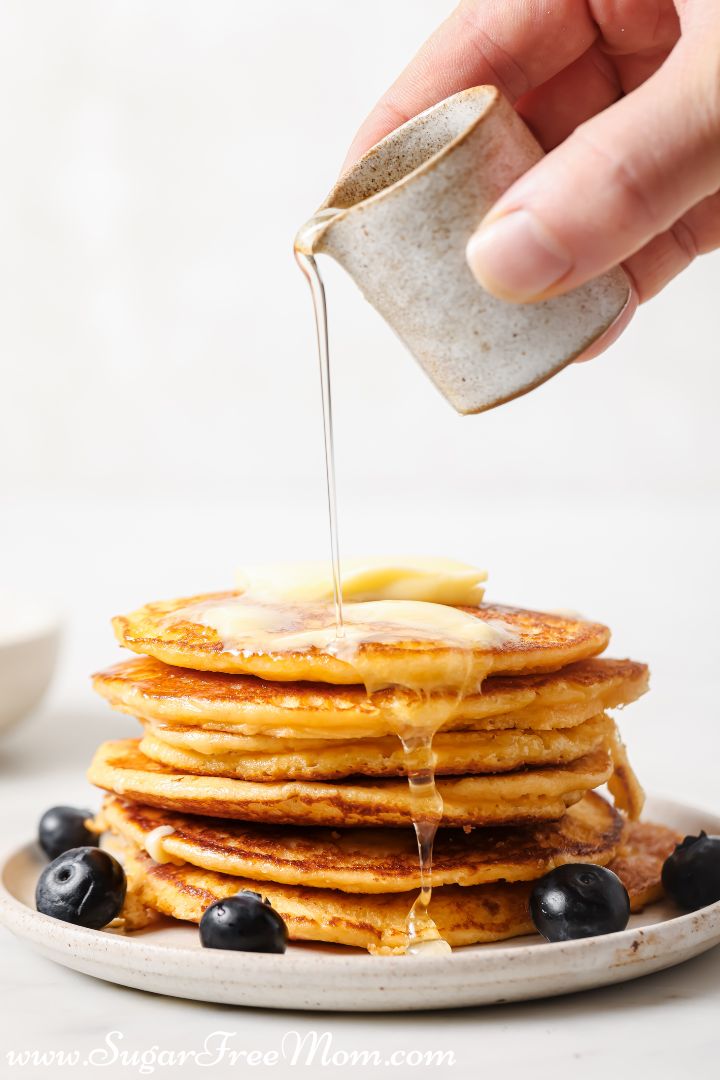 These scrumptious, low carb, keto, fluffy pancakes are high protein, with 6 simple ingredients and made quickly in a blender! 15 grams of protein and just 4 g net carbs for two protein pancakes!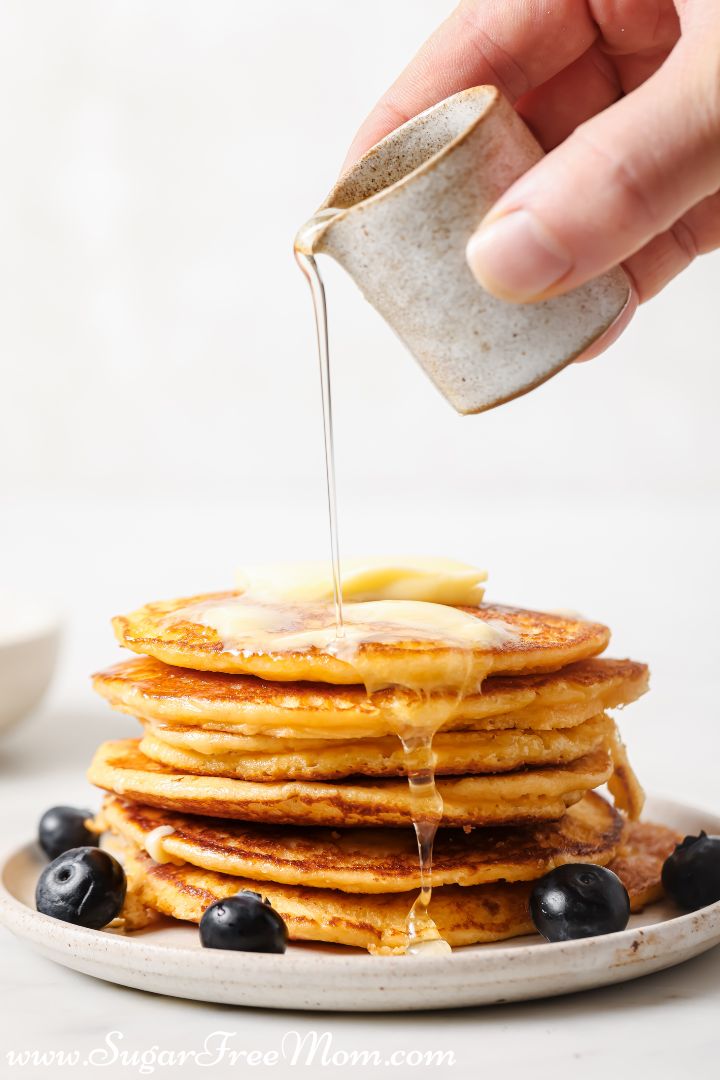 Keto-Friendly Cottage Cheese Pancakes
The main ingredient to these low carb pancakes is cottage cheese! These keto pancakes have an amazing fluffy texture and provide extra protein that typical pancakes don't provide making them a really great option for a healthy breakfast for the family.
If you're following a keto diet, low carb diet or you're changing your eating habits to reduce your added sugar and carb intake, this is the pancake recipe for you!
Carbs in Regular Pancakes
Typical pancakes made with white flour or whole wheat flour have 26.5 grams carb count, with 199 calories for 2 plain pancakes (4 inches diameter) from the Cronometer app.
Our original recipe has 7 total carbs for 2 pancakes with 15 grams protein and 4 g net carbs.
All the rest of the Nutritional value for our keto pancakes is at the bottom of this blog post in the recipe card.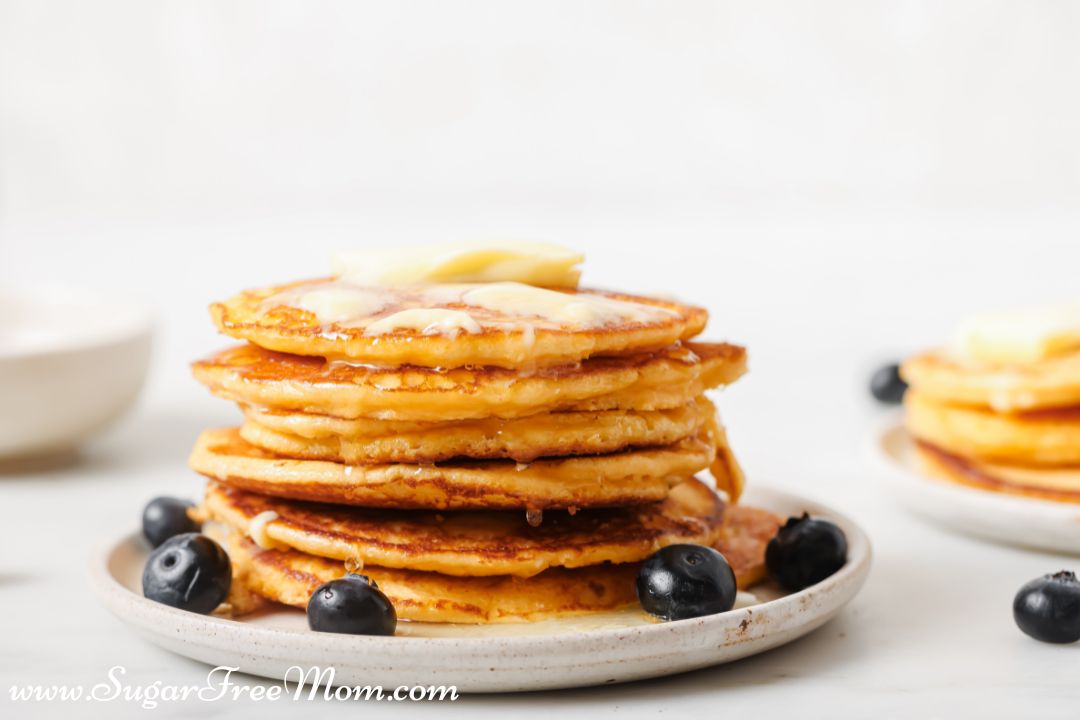 Best Cottage Cheese
Full-fat cottage cheese is the best to use for this keto pancake recipe and will provide better texture overall.
It doesn't matter if you use small curd or large curd cottage cheese because I recommend blending the ingredients in a blender to get the best results on a hot griddle.
I do not recommend fat-free cottage cheese as it won't be satisfying or provide that nice fluffy texture.
The specific brands I like are the Green Valley Lactose Free Full Fat Cottage cheese since my daughter and I have a lactose intolerance, this works better for us without stomach issues.
The Good Culture brand is also great if you don't have a lactose intolerance.
Can I Swap Almond Flour?
If you have a nut allergy you can swap out the almond flour used in this recipe for Low Carb Cottage Cheese Pancakes, with sunflower seed flour in the same amount.
​I don't recommend swapping almond flour with all purpose flour because it is a white refined flour which is high in carbs and will spike your blood sugar and cause sugar cravings.
You could swap almond flour with gluten-free flour, which is definitely better than all purpose flour but again it is high carb often containing ingredients like potato flour, or rice flour.
Can I Swap Cottage Cottage?
Yes you can swap cottage cheese and Greek yogurt as they are very similar, but cottage cheese does have more protein and a little bit less carbs.
I'd recommend full fat and plain Greek yogurt, no fruit or sweeteners included.
4% Cottage cheese in one half cup has 103 calories and 11.7 g protein and 3.5 carbs.
One half cup of plain Greek yogurt has 103 calories and 10 g protein and 3.9 carbs.
Can I Add Protein Powder?
I think you could add protein powder to these cottage cheese almond flour pancakes but I would probably reduce the amount of almond flour to ¾ cup instead.
Can I replace Almond Flour with Coconut Flour?
No I don't recommend swapping almond flour with coconut flour because coconut flour is more dense and requires more eggs and liquids. For example, 1 cup almond flour is about eual to just ¼ cup coconut flour.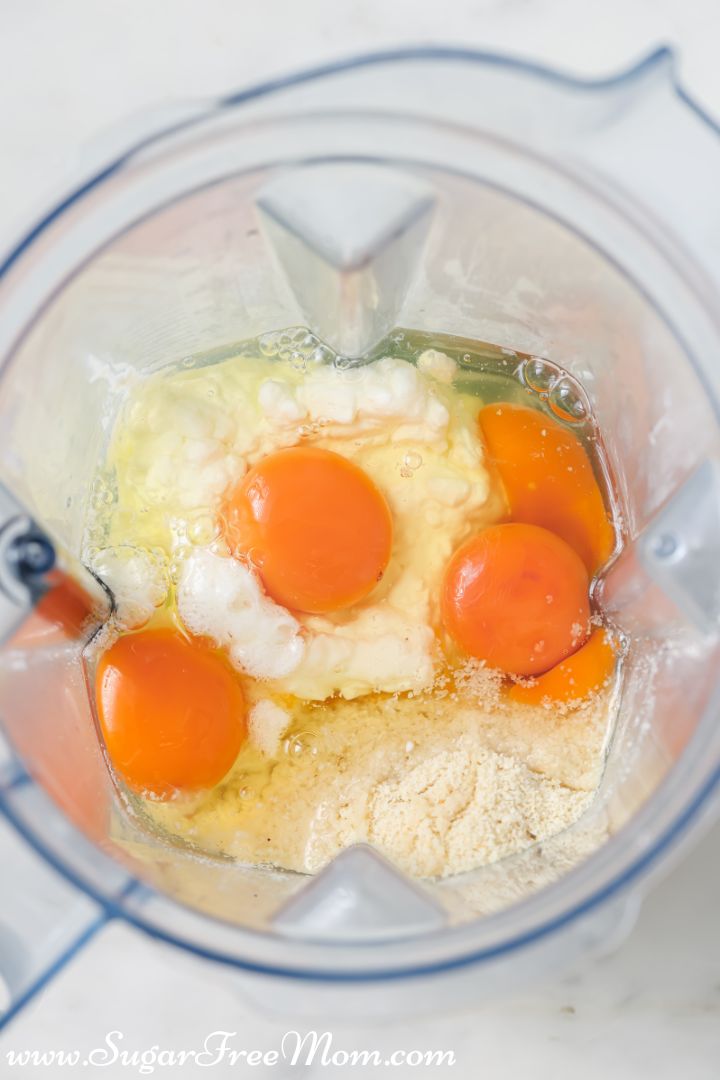 Low Carb Sweeteners
There are so many options for sugar free sweeteners on the market shelves today, many more options than when i first went sugar free back on 2006. I started using stevia back then and eventually went with erythritol as well.
I steered clear from artificial sweeteners as I found they cause me to have strong sugar cravings, but once I switched to natural sweeteners my cravings went away.
Today I also use Allulose and Monk fruit sweetener. I think adding the right amount of sweetness is important for serving these pancakes to children, especially if you want them to enjoy this new way of eating, if you're trying to get them on board.
You can really use any sweeteners for these pancakes, or you can leave it out as well, it's up to you. Here's my Sweetener Guide & Conversion chart.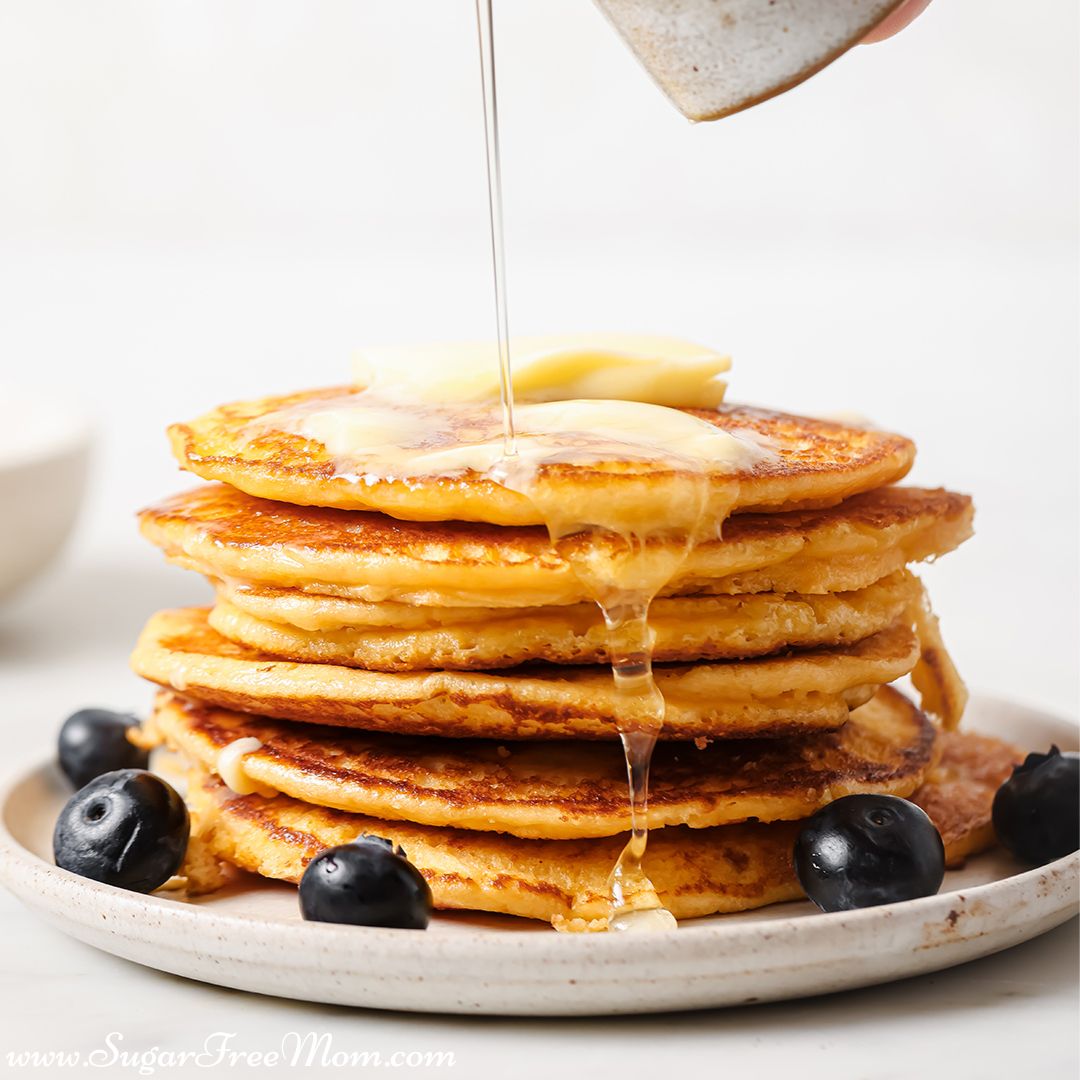 Low Carb Keto Pancake Toppings
Fresh Blueberries, raspberries or strawberries
Homemade Sugar Free Whipped Cream
How to Store Leftover Pancakes
​Once cooked and cooled, store leftover pancakes in an airtight container in the fridge for up to 3 days.
Reheat in the microwave with a little butter on top of the pancakes for 30 seconds to 1 minute or reheat in a hot non-stick skillet for 2-3 minutes to warm on each side.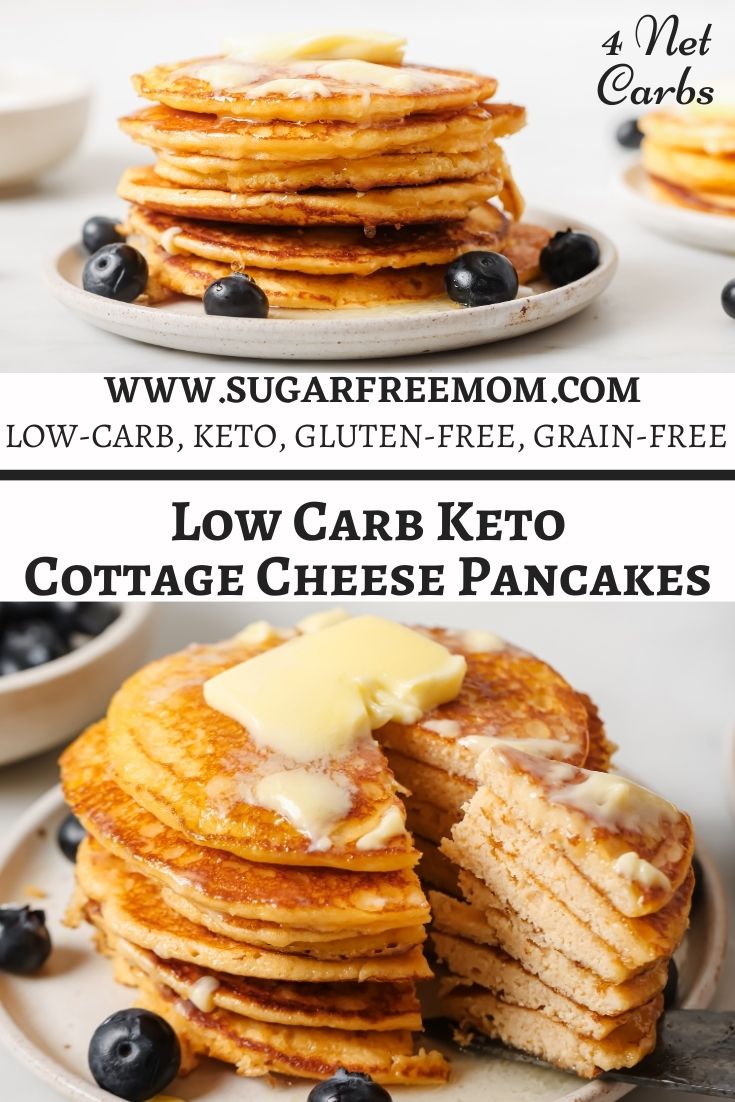 Healthy Pancake Recipes
Low Carb Keto Sheet Pan Pancakes
Low Carb Keto Ricotta Vanilla Pancakes
Low Carb Keto Gingerbread Pancakes
Best Keto Low Carb Cottage Cheese Pancakes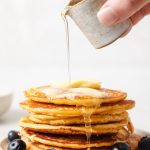 Print
Low Carb Keto Cottage Cheese Pancakes
Servings
4
servings @ 2 pancakes each
Instructions
Add the cottage cheese, eggs, almond flour, baking powder, sweetener and vanilla to a blender or food processor. You could alternatively add ingredients to a large mixing bowl and use an immersion blender to blend. Process until smooth and combined. Try not to over blend as this will make the pancake texture dense.

Allow the mix to stand for 5 minutes to firm up the smooth pancake batter.

Add a little avocado oil or butter to a non-stick pan. Heat on a medium heat. Once hot, add the batter, about ¼ cup per pancake. Cook for 2 - 3 mins per side until golden brown on both sides and crisp edges. The whole batch of batter makes 8 pancakes.

Serve with optional low carb drizzle of maple syrup and fresh berries or other favourite toppings.

Note: the batter can be made the day before and kept in the fridge if you need and cooked the next day.

Storage; Airtight container in the fridge for 2 - 3 days or can be frozen for 2 months.
Notes
Recipe makes 8 total pancakes.
Serving size is 2 pancakes.
Net Carbs 4g
Nutrition
Serving:
2
pancakes
|
Calories:
257
kcal
|
Carbohydrates:
7
g
|
Protein:
15
g
|
Fat:
20
g
|
Saturated Fat:
3
g
|
Polyunsaturated Fat:
1
g
|
Monounsaturated Fat:
2
g
|
Trans Fat:
0.02
g
|
Cholesterol:
190
mg
|
Sodium:
154
mg
|
Potassium:
148
mg
|
Fiber:
3
g
|
Sugar:
2
g
|
Vitamin A:
307
IU
|
Calcium:
130
mg
|
Iron:
2
mg