Over the years of eating refined white flour and sugar free, I've had to learn to get creative with my food choices. I realized pretty early on that if I didn't start trying new foods I would become bored and that would most likely cause me to throw my new habits and healthy lifestyle plan out the door. End result would be weight gain,upset and disappointment.
My biggest obstacle was lunch options. I just always felt making time to make a healthy lunch was the last thing on my to-do list. Homeschooling my 3 kids and making lunch for them was enough. I wanted to be done in the kitchen and move on with the day so grabbing something already prepared for myself helped immensely.
Although I love salads, eating one every day was not something I was completely thrilled about. I also didn't believe the idea that I shouldn't eat any carbs at all to lose my desired weight. But for a time I did chose to watch how many healthy carbohydrates I was eating daily and stuck with 3 portions a day or less. I searched for a lunch idea that could be made once and enjoyed for a few days later. Something that would be satisfying and filling so I didn't eat the left overs on my kids plates. A grab from the fridge meal so skipping lunch wasn't an option simply because I was too busy to make one for myself.
I discovered barley a few years ago and it has become my most favorite grain. If you have never had it, I hope this recipe will encourage you to try it. It is delicious and has such a hearty taste and texture, I prefer it over brown rice any day.
Serve it warm or even cold, straight from the refrigerator, is equally as good.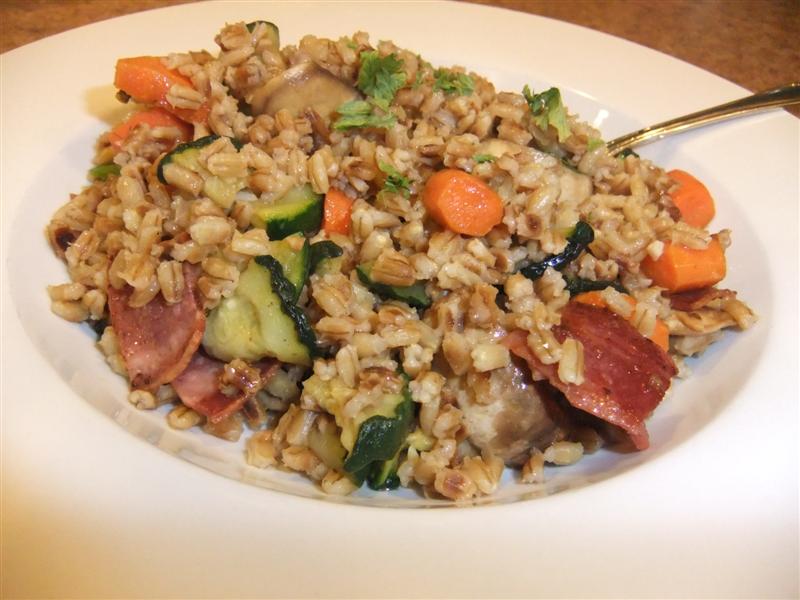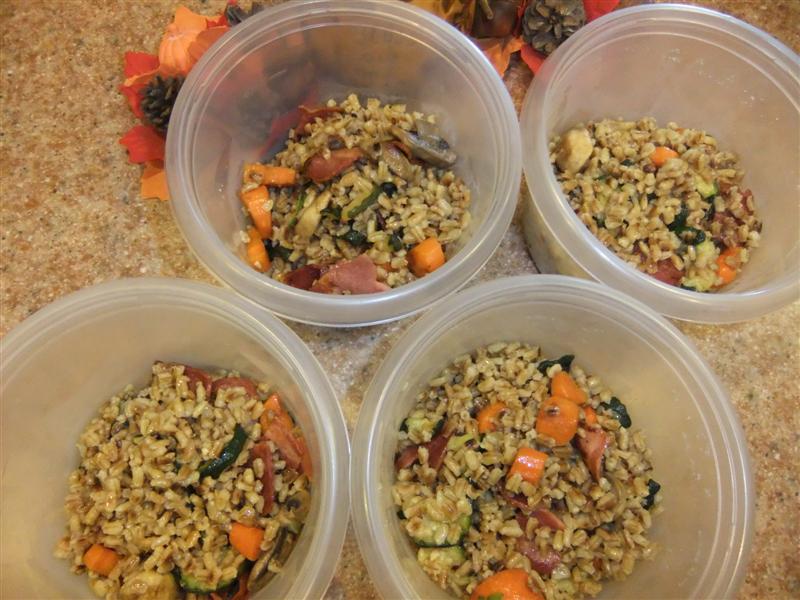 Nutrition Info:
Servings: 5*
Calories: 295* Fat: 5.5g* Fiber: 11.6g* Carbs: 53.4g* Protein: 9.6g* Points+: 7* Old Points:5
Toasted Barley Salad
[sc:Ziplist]
Ingredients
1 ½ c. pearl barley
5 c. chicken broth
5 c. water
6 slices turkey bacon, cut into ½ in pieces
1 tsp. minced garlic
3 medium carrots, chopped
1 c. sliced zucchini
1 tablespoon olive oil
4 tbsp. apple cider vinegar
1c. mushrooms, sliced
(Optional)½ c. fresh Italian parsley, chopped
salt & pepper to taste
Directions
Put barely in a saute pan and toast over medium heat until golden brown. Bring broth and water to a boil.
Add toasted barley to water and cook until tender about 20 minutes.
Drain and set aside barley.
Cook bacon until crisp. Set aside on a paper towel lined plate.
Add ½ tablespoon oil to saute pan, saute carrots 5-10 minutes until tender but not soft. If you find you need more oil to saute carrots simply add 2 tablespoon of chicken broth form pot of barley instead.
Add garlic, zucchini, sliced mushrooms and saute a minute or 2 more. Shut heat off and add vinegar, ½ tablespoon oil, parsley and salt and pepper.
Combine drained barley, vegetable mixture and bacon together. Enjoy!
This recipe is being shared at Comfy in the Kitchen.