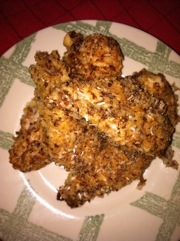 I love fried foods just like the next girl, BUT I do not like the calories, or unhealthy consequences that comes with it. Unfortunately, my family loves anything fried, chicken, fish, you name it, they will eat it as long as its crispy, its all delicious to them.
Of course its certainly about balance and on occasion its fine to indulge in some fried food every once in awhile, but weekly or daily for that matter and you will get yourself into trouble. Mostly because your taste buds will only really desire those things in that unhealthy fat, all other healthy, baked foods will pale to compare and you won't be satisfied.
If you are reading this blog, its most likely because you desire to eat healthier, desire better habits, you may want to lose weight, but you most certainly want to provide the best nutrition for yourself and your family. I know I do. For me its not just about maintaining a healthy weight, I want a healthy heart and to live a long life. I want my children to desire healthy habits and nutritious foods more often than not.
My goal lately for our family is to not have to make any separate meals, I want us to eat the same thing on most nights. To try to appease their taste buds I came up with this recipe and they DEVOURED it! To make the chicken a bit more crispy after it baked, I put it under the broiler for 5 minutes. You can put it in for longer if you want it more crispy. I added some homemade potato fries and a vegetable and there we no left overs!
Happy Family = Happy Mom!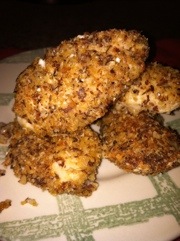 Nutrition Info: (8 servings)
Calories: 192 Fat: 5 g Fiber: 2 g
Weight Watchers PointsPlus: 4
Healthy Baked Chicken Fingers
Ingredients

4 boneless, skinless chicken breasts, cut into strips
1/4 c. flax seed, ground
1/4 c. oat bran
 1/2 c. whole wheat bread crumbs
1/4 c. Parmesan cheese
2 tbsp Italian seasoning
1 tbsp garlic powder
2 tsp.salt
2 tsp pepper
3 eggs
1/2 c. lemon juice
DIRECTIONS
 Preheat oven to 350 degrees.
Combine the dry ingredients with the spices.
Whisk the eggs with the lemon juice.
One strip at a time, dip chicken in the eggs, then the dry mixture and place on lined baking sheet.
Bake for 20-30 minutes until golden brown.
Place under broiler for 5-10 minutes to get them crispy!