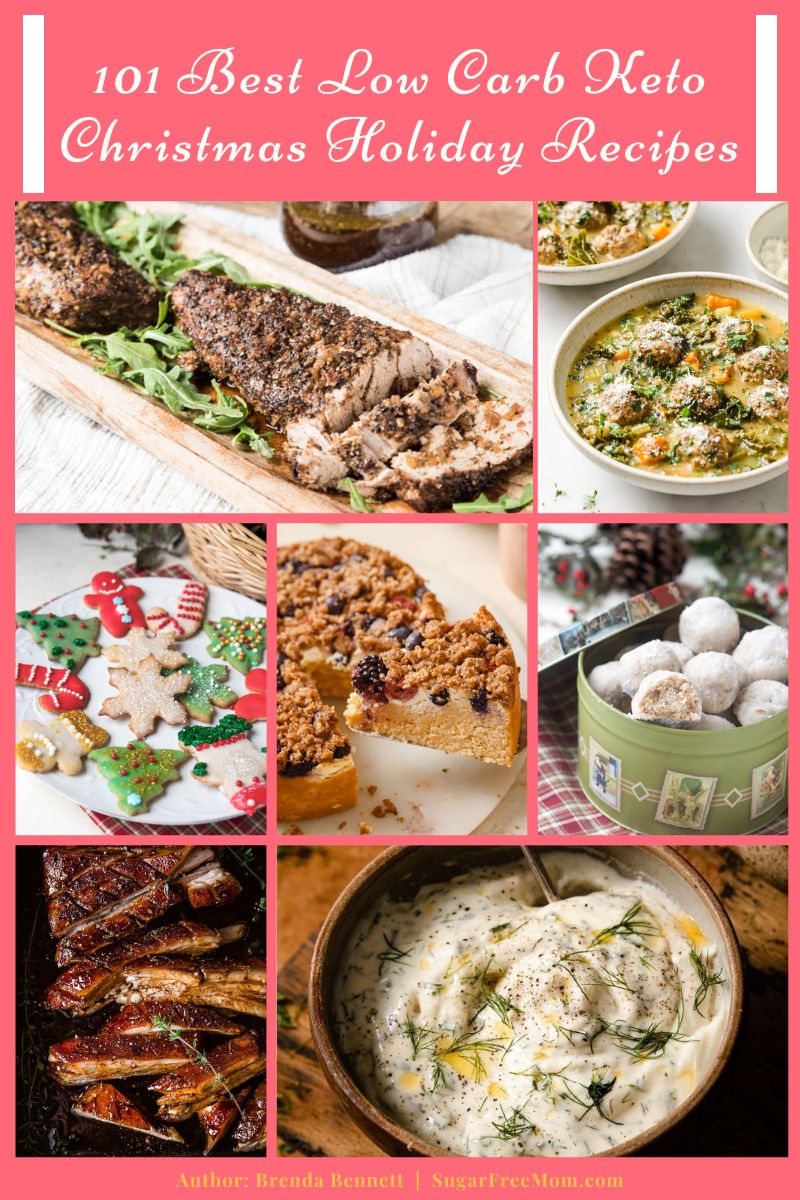 Enjoy the holiday season on your low carb, ketogenic diet with these delicious low carb breakfast, appetizers, main course, sides and sweet treats for your keto Christmas menu!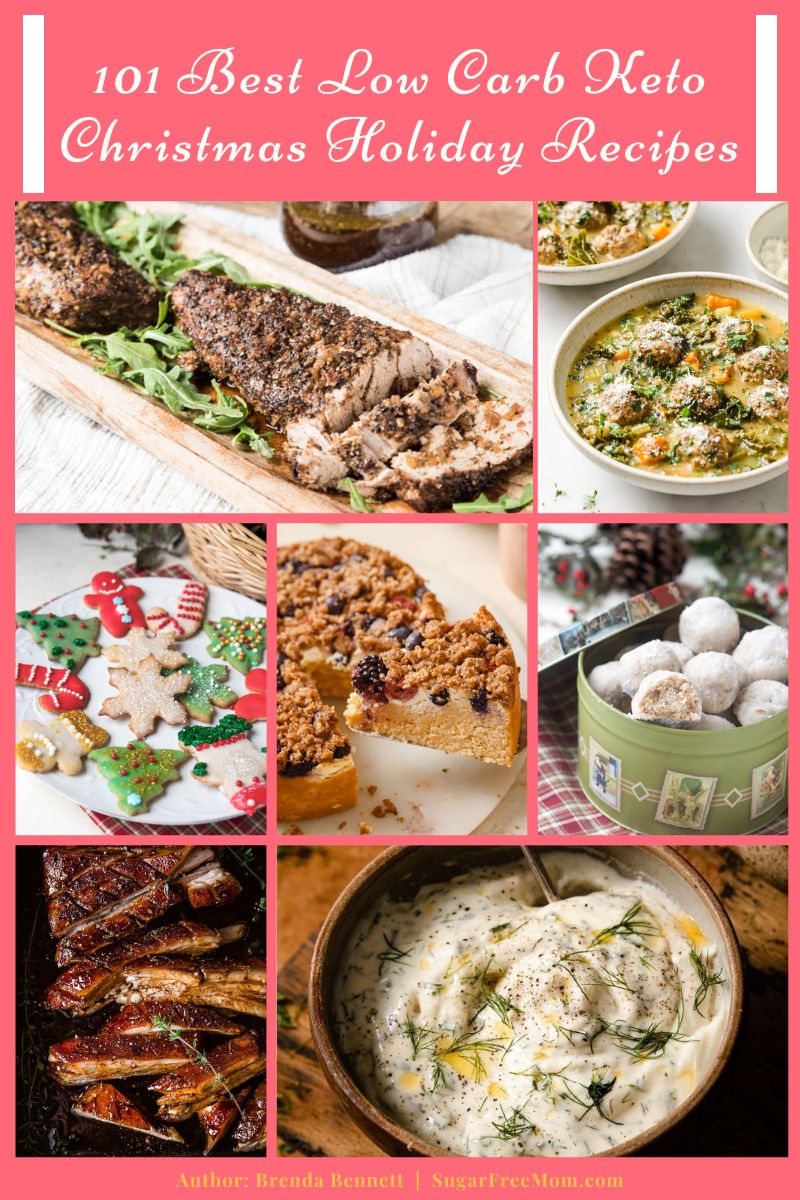 No need to worry about enjoying your favorite Christmas recipes this holiday season when you can enjoy a keto version that tastes amazing and won't spike your blood sugar!
The best way to keep you on track with your goals over the last year is finding your favorite festive treat made low carb so you don't feel deprived or have FOMO!
Prepping easy keto Christmas recipes for this time of year is how to make this way of eating sustainable.
CHRISTMAS BREAKFAST RECIPES
All of these delicious recipes for breakfast have simple ingredients and are fabulous low carb options as holiday treats as well.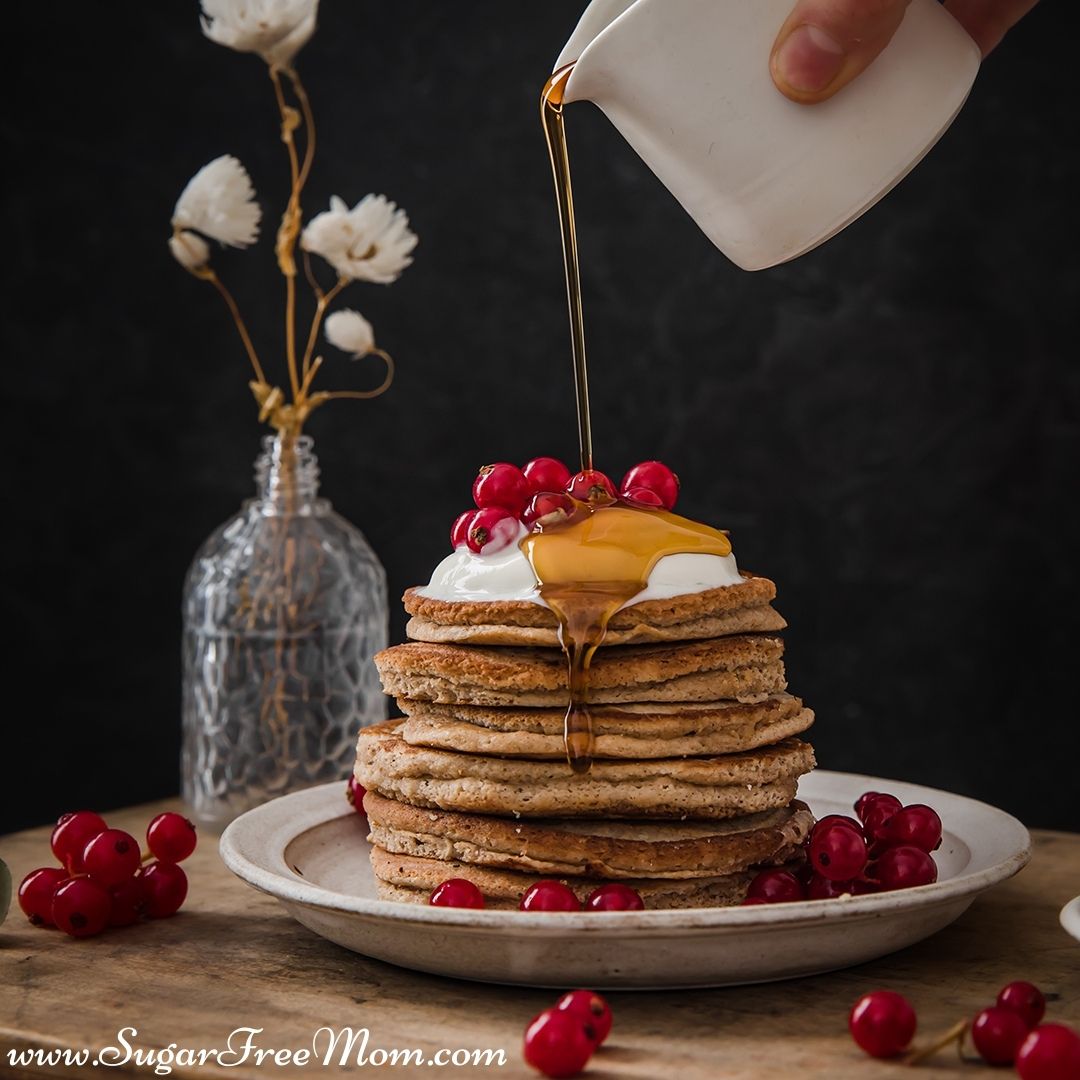 These easy, keto blender pancakes have a wonderful texture and all the spices of gingerbread for the perfect addition to your holiday brunch breakfast!
These keto gingerbread flavored keto blender pancakes are everything you imagine in a comforting keto breakfast or brunch to enjoy with a cup of coffee or tea!
The batter is quick to prep in the blender and you can even prep these ahead of your weekend, store in the fridge and reheat as needed.
These fluffy low carb Sugar-Free healthy Pumpkin Pancakes are a perfect breakfast for this festive season! These low carb pancakes are keto, gluten free and have no added sugar!
Every holiday not only needs fabulous desserts, but also fabulous low carb breakfasts or brunch recipes. Enjoy this Low Carb Keto Cranberry Cheese Danish for breakfast, brunch or dessert made sugar free, gluten free, and nut free!
If you're looking for a delicious breakfast the whole family will love and an easy meal prep to make ahead for busy holiday mornings, this easy keto breakfast casserole recipe is the perfect recipe for you! Just 4 total carbs per serving or 3 net carbs.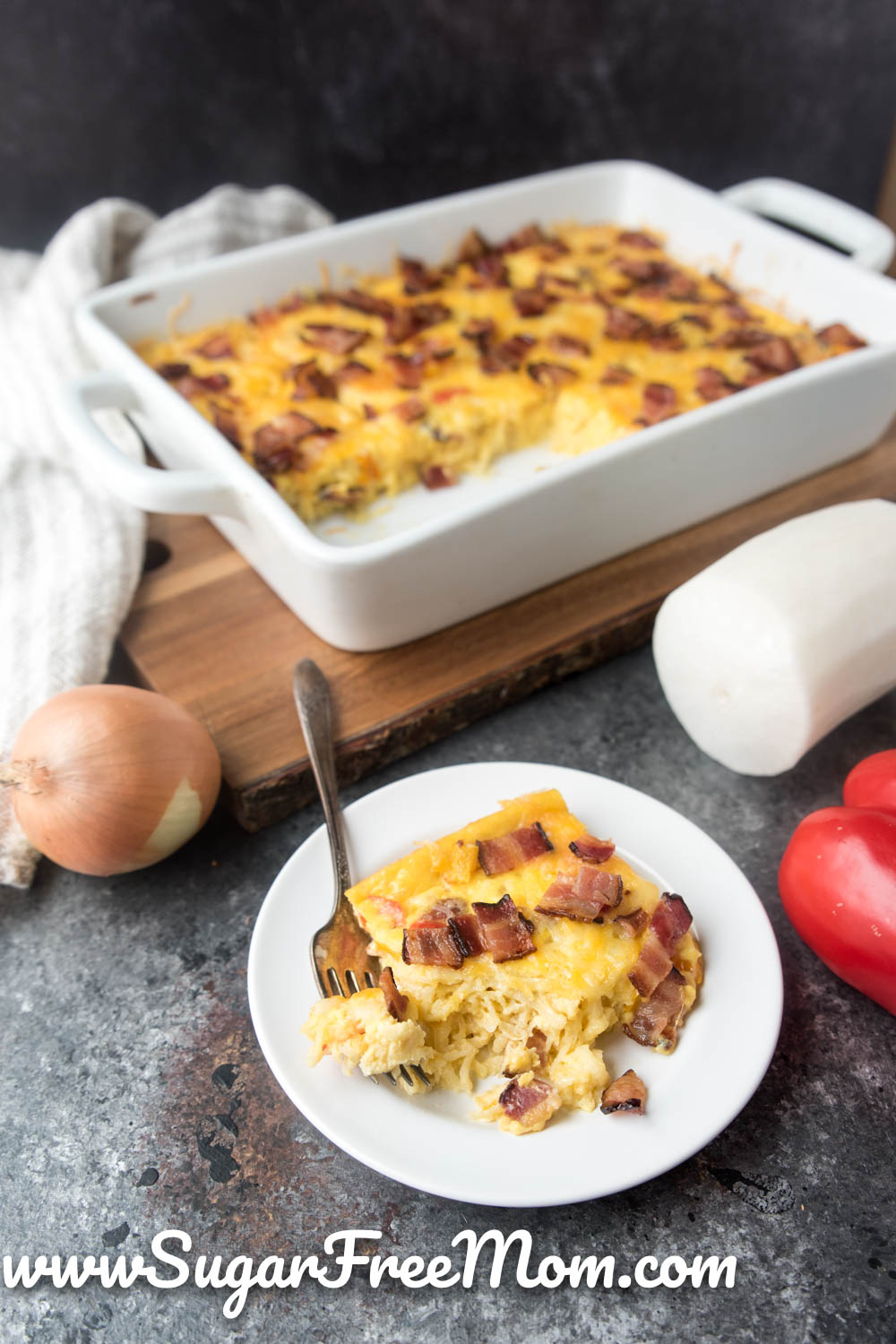 This comforting low carb hashbrown breakfast casserole is perfect to feed a crowd during the holidays, great for making ahead, and provides amazing leftovers! Full of protein and only 2 net carbs per serving!
This Slow Cooker Keto Mexican Breakfast Casserole is low carb and naturally gluten free! Slow cooker or baking option included! You can actually prep this the night before if you prefer, just wait to slow cooker or bake until the morning. Or make it on the weekend and store in the fridge for an easy breakfast during the holidays!
This easy recipe for breakfast sausage makes for a wonderful protein filled breakfast to serve to your family! It's made without sugar, or fillers, and much tastier than any store-bought breakfast sausage! Serve with eggs and keto pancakes or waffles for a complete holiday breakfast feast!
This delicious recipe for low carb keto fluffy pancakes are made in a sheet pan for easy meal prep and delicious breakfast the whole family will enjoy during the holidays! No flour needed and high in protein! Just 1.9 grams of net carbs!
This Fluffy Cloud Bread French Toast is keto, low carb, sugar-free, gluten free, nut free, but best of all, tastes so much like a traditional French Toast, you'll never feel deprived again! Just 2 net carbs per serving!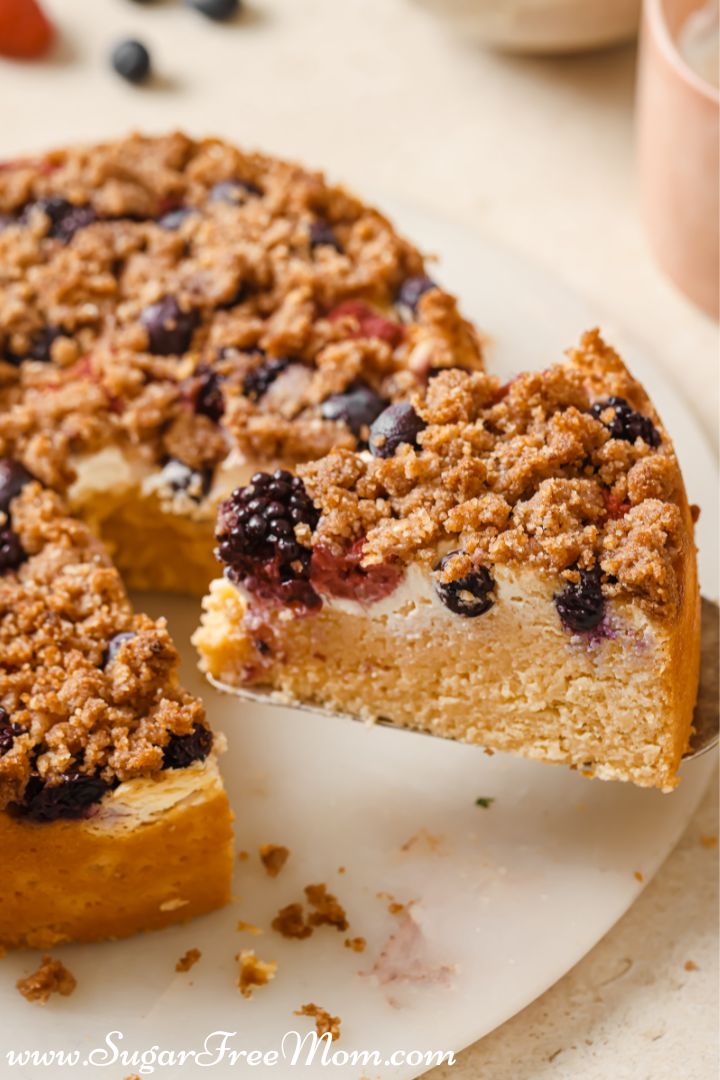 This beautiful Low Carb Berry Cream Cheese Keto Coffee Cake recipe starts with a moist cake batter, topped with a delicious cream cheese mixture with fresh blueberries, raspberries and blackberries and an incredible cinnamon streusel topping! Just 5 net carbs per serving!
This sugar free, low carb espresso coffee cake has rich coffee flavors, a buttery crumb topping and an espresso glaze drizzle, making a very tasty breakfast or snack. It's gluten free, keto, and nut free as well!
Scones scream brunch! If you're into decadent breakfasts like this, you are going to drool over these keto blueberry scones. These delicious scones are perfectly tender, slightly sweet but not too sweet, freshly baked, with a bit of butter over the top once out of the oven! Amazing!
These Keto Maple Pumpkin Scones are the perfect breakfast, brunch or snack! Enjoy warm right out of the oven with a pat of butter or just room temperature with a warm cup of coffee or tea! These delicious keto scones are just 4 net carbs per scone!
Coffee cake is typically a cake with a streusel topping and served with coffee or tea. The cake can be flavored with coffee, but it's not required to make a delicious, tender, comforting cake.
Berries are also optional, but add a nice, sweet punch of color and burst of flavor in each bite. Making a keto coffee cake will be delicious when you follow this fool proof method!
These simple and delicious keto muffins have a raspberry filled center keeping them perfectly moist and topped with sugar free white chocolate chips. These low carb muffins are delightful with a cup of coffee or tea when serving your holiday guests!
These Low Carb Keto Pumpkin Cheesecake Muffins are a delicious breakfast treat! Made nut free and gluten free with the best texture and pumpkin spice goodness! Just 4 g net carbs! Pumpkin muffins filled with cream cheese are the most scrumptious perfect breakfast for the fall and winter season.
These Low Carb Keto Cottage Cheese Breakfast Muffins are a great way to start the day. Adding cottage cheese gives them a wonderful tang that complements the buttery batter with the sweet burst of blueberries. It also helps increase the protein content of these easy keto breakfast muffins. These low carb muffins can be made ahead for those busy holiday mornings!
These Keto Cornbread Muffins are easy to make and festive enough to be served for the holidays with beautiful cranberries and spicy jalapeños! They are nut free, gluten free and low-carb and can easily be made into one large skillet cornbread if you prefer! Thanksgiving and Christmas holiday recipes must include cornbread in my opinion!
These Scrumptious Low Carb Blueberry Muffins are dairy free, gluten free, grain free, keto and perfect to make ahead for breakfast! What better way to start the day than with a delicious breakfast muffin! The fruit is enough to sweeten them naturally, meaning they're one of the healthiest breakfast options.
These Sugar Free Low Carb Cinnamon Rolls are made with Nut Free Fathead Dough! They're Gluten Free, Keto and the texture is so much like traditional cinnamon buns you will shock your family and even yourself! The holiday season, specifically Christmas is not complete without a breakfast of CINNAMON ROLLS and these beauties can hold their own in deliciousness!
These Keto Low Carb Strawberry Cream Cheese Cinnamon Rolls are gluten free, grain free and made with my nut free fathead dough! The dough for these cinnamon rolls are pretty magical. Made without flour or gluten or yeast, yet completely and utterly melt-in-your-mouth delicious. Satisfying to the core of you being!
CHRISTMAS APPETIZER RECIPES
These easy keto shrimp cakes are a fantastic, quick meal or side to enjoy anytime! Perfectly- pick-up-able for a fun keto appetizer for a party! To make these a keto shrimp cake, I used coconut flour to bind them together with eggs, spices and seasonings. They are crispy on the outside and soft and tender on the inside with lots of fresh spice and flavor!
These Low Carb Smoked Salmon Cream Cheese Mini Bell Peppers are no bake and ready in quick time. They are stuffed with a delicious cream cheese mixture and topped with smoked salmon for a perfect appetizer for any party! Whether on a keto diet or low carb diet, they have just 2 total carbs per serving!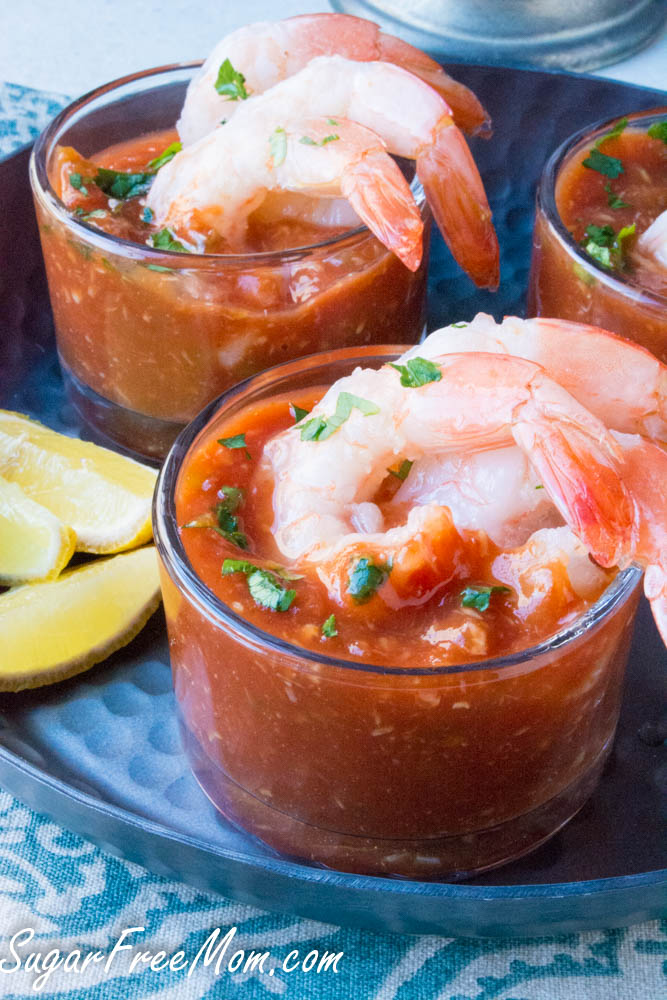 When it comes to holiday parties, hands down, Shrimp Cocktail is a much-loved favorite! This Easy Low Carb Cocktail Sauce comes together in a minute in your blender and contains no added sugar, just 5 ingredients and 3 net carbs!
Sugar Free Sweet & Spicy Bacon Wrapped Chicken Bites! A low carb, keto, easy, finger food appetizer for any party! One serving has 0 net carbs! Oven and Air Fryer Directions Provided.
Low Carb Keto Cheesy Spicy Sausage Stuffed Mushrooms is an easy appetizer to whip up for the any party! Just a few ingredients and little time in the kitchen and this fabulous keto appetizer will be your most favorite way to feed your friends and family!
Stuffed Baby Bella Mushrooms with Philly Cheesesteak filling is a fantastically tasty fun finger food.
Appetizers like these are what parties are all about and this one is sure to please. Grab a few on your plate and walk around chatting to your hearts content.
Cheesy Stuffed Zucchini Cups filled with Sausage and Spinach make for a perfect finger food for your holiday party! Once the perfectly portioned zucchini cups are scooped out, all the rest is a simple filling prepared on the stove then the cups are filled and baked!
Keto Antipasto on a Stick makes for an easier way for your guests to grab -n-go and then mingle. Antipasto is the first course or appetizer for all Italian meals and parties.
Choosing antipasto items for serving as a keto kabob is fun and simple to do. The usual items are cured meats, pickled vegetables like mushrooms, peppers, and artichokes, aged cheeses, and olives.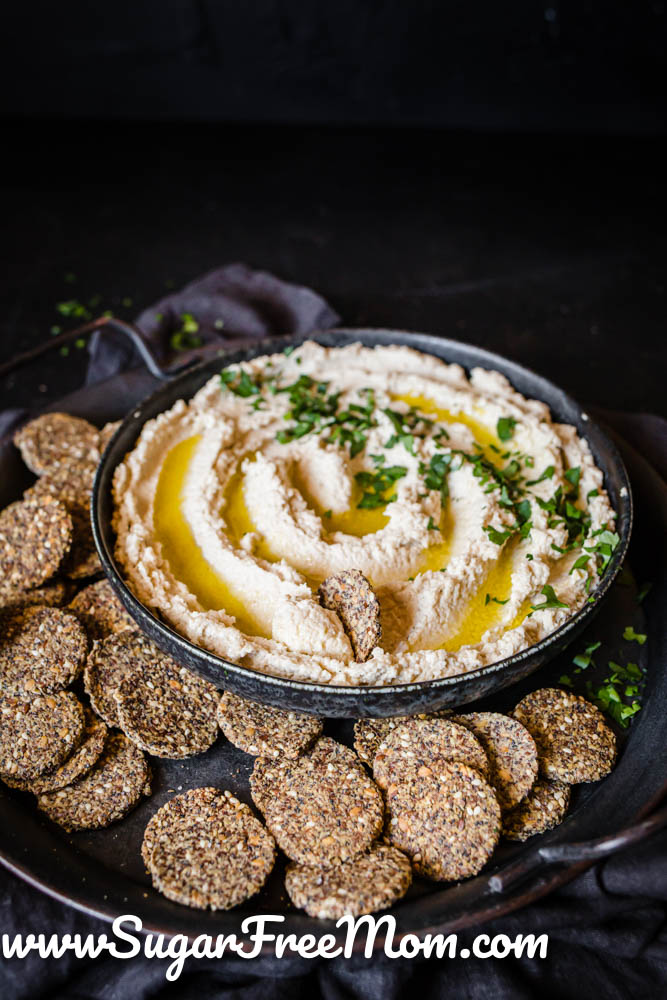 These Paleo Keto Crackers are made with nuts and seeds and perfect for a charcuterie board. This is a fun crunchy cracker you'll love to use to dip into keto cauliflower hummus!
This Keto Cauliflower Hummus has all the luscious flavors of traditional hummus minus the high carb count. This is a perfect recipe for an appetizer for a party!
These taco keto tortilla chips are easy to make at home, can be made nut free, and in your oven or air fryer! These keto tortilla chips are dairy free, gluten free and super crispy! They are the perfect party snack with any dip or salsa! Just 4 total grams or 2 g net carbs per serving!
Just a handful of ingredients and very little time to make this easy fresh salsa, homemade Pico De Gallo recipe. A great recipe with zesty fresh flavor and just 3 net grams of carbs per serving.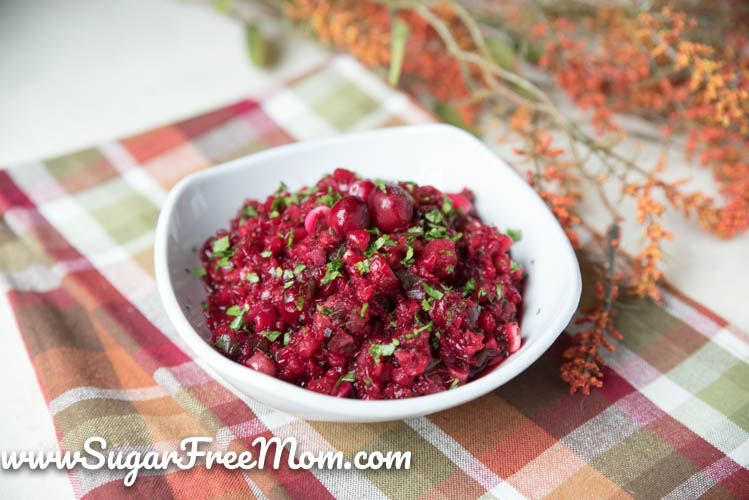 This Easy Low Carb Cranberry Salsa needs just 7 ingredients, and no cooking is required for a beautiful keto appetizer for the holidays! This Easy Cranberry Salsa is simple yet pretty and elegant for Thanksgiving, Christmas or even New Year's Eve!
This Creamy Keto Greek Feta Dip is a perfect appetizer. Add to a charcuterie board with keto crackers or fresh veggies to dip. This easy Greek feta dip is low carb, keto, sugar free and easily made in under a minute! Just add all ingredients to a blender or mix by hand.
We eat with our eyes so if it looks colorful and pretty the more likely we'll want to try some. Making veggie kabobs with a healthy spinach dip makes the perfectly healthier appetizer for any party, especially during the holidays when most of the appetizers won't be the healthiest!
This Dairy Free Keto Ranch Dressing is not just perfect for any salad, also use as an appetizer with fresh veggies! Made quickly with just 4 main ingredients plus seasonings.
HEALTHY CHRISTMAS RECIPES FOR SOUPS AND SALAD RECIPES
Many of these soups and salads could act like main dishes because of how hearty they are!

This sensational homemade Keto Italian Wedding Soup is a delicious keto meatball soup with just 5 g net carbs per serving! Enjoy our low carb soup whenever you like without guilt, especially on a cold winter day! Enjoy during the holidays with friends and family!
This Keto Unstuffed Cabbage Roll Soup is a comforting addition to your holiday menu. Cabbage roll soup is essentially a deconstructed cabbage roll turned into an easy soup! One of the most comforting meals on a cold winter's day you and your guests will enjoy. Serve for lunch or before your holiday meal.
This Creamy Chicken soup is a low carb bowl of comfort waiting for you! It's keto, gluten free and easy to make! It's creamy and rich and so nourishing. It comes together in only a very short time yet is impressive enough to serve as a dinner party starter! Top with crispy bacon or prosciutto and you'll be licking the bowl!
This incredibly flavorsome Keto Chicken Minestrone Soup will be a firm favorite in your low-carb soup repertoire. Packed full of healthy vegetables and chicken, and just 5 net carbs per serving. This recipe is tailored to a keto diet using just low-carb vegetables, konjac penne and roasted chicken!
This Easy One Pot Keto Cream of Chicken Soup with Cabbage is the most comforting and delicious low carb soup to make in any season! Just 4 net carbs for this creamy keto chicken soup recipe! And made from start to finish in an hour!
Creamy Broccoli Cheddar Soup is a perfect soup to enjoy on a cold winter's day! It's keto, low carb and vegetarian too! You can make this easy creamy broccoli cheddar soup at home with just 9 total carbs! Plus, it doesn't contain any gluten or wheat or potato to thicken it!
Enjoy this perfectly delicious and comforting Slow Cooker Keto Turkey Kale and Rice Soup during the holidays. Chopped turkey breast cooks up nicely with all the wonderful veggies and miracle rice. A perfectly delicious soup for a cold wintery day!
This Easy Iceberg Wedge Salad with Keto Blue Cheese Dressing is a fantastic appetizer for company and perfect for making ahead! This delicious salad is cold and crisp and has all the classic toppings of bacon and blue cheese dressing.
It's a very pretty way to present a salad to guests for a party. Having all your toppings ready to go in a salad bar style will make it even easier for your guests to serve themselves with as much or as little toppings as they like!
If you're looking for a super tasty easy salad to pair with your low-carb dinner, this Easy Arugula Avocado Salad is perfect. It's light and flavorsome and goes well with whatever protein your fancy. Peppery arugula with creamy avocado, tossed in a simple sugar-free and sweetener-free lemon dressing with shavings of parmesan.
This beautiful Greek Goddess Kale Salad make for a great compliment to a meal! It's low carb, gluten free, vegetarian and easy to customize, but the star of this salad is the creamy dressing! The dressing is so fresh and light and is really perfect for dipping fresh veggies into as well.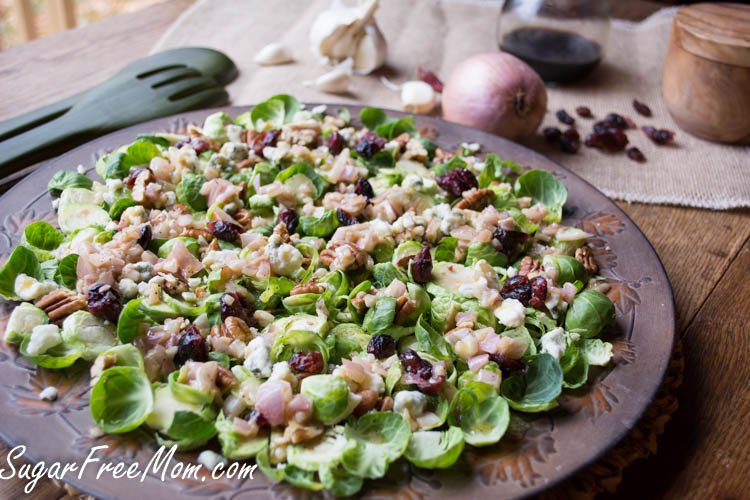 Low Carb Pecan Cranberry Brussels Sprout Salad is a no cooking required recipe that is ready in 15 minutes! Here's a festive salad that's super quick and easy to make for your holiday menu! A simple vinaigrette made with fresh shallots, garlic, red wine vinegar, extra virgin olive oil and seasonings then be ready for an explosion of zesty flavor in each crunchy bite!
Roasted Butternut Squash Pomegranate Salad with Tahini Dressing is a beautiful salad for the holidays! Roasting the butternut squash instead of boiling or steaming makes for a flavor that is unmatched. Perfect for your holiday table as a colorful dish!
Easy Keto Christmas Dinner Recipes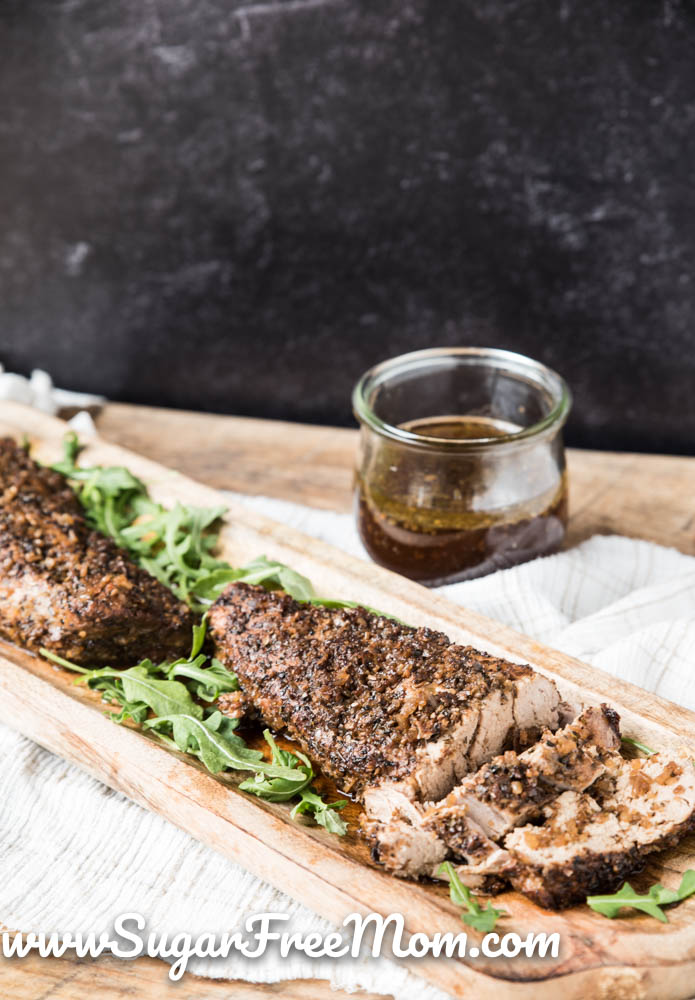 Slow Cooker Balsamic Pork Tenderloin is a wonderful keto, low carb, gluten free dinner the whole family will enjoy! Seasoned perfectly and seared well before cooking in the slow cooker is and easy comforting meal during the holidays!
These Crock Pot Low Carb Keto Beef Short Ribs recipe make the most satisfying and delicious meal, served over mashed cauliflower. The meat simple falls apart after cooking in the slow cooker and the flavorful sauce does not disappoint. It's comfort in a dish on a cold winter day!
New York Strip roast with garlic and herbs served with a creamy mustard sauce is a divine date night meal or for a family!
The first time I made this yummy herb and garlic crusted roast was actually for Christmas Day. It is incredibly tasty and the creamy mustard sauce is the perfect complement to this beef!
This Keto Beef Brisket will melt in your mouth! Amazing flavors and low carb, gluten free! This delicious, slow cooked, succulent beef brisket is seared to perfection then baked low and slow for mouthwatering goodness; this brisket meal will please the whole family!
Enjoy this quick and easy recipe for Keto Garlic Butter Steak Bites, that are juicy, tender and ready in just 10 minutes! Garlic butter makes the best sauce to dip cook your steak in as well as dip your steak bites into once cooked!
This delicious Keto Chicken Kiev recipe is low carb, gluten free and nut free. Chicken Kiev is a dish made from thinly, pounded chicken breast rolled and stuffed with a nugget of butter and herbs then coated with eggs and keto topping.
This recipe will up your chicken game and is well worth the effort to make it on a weekend entertaining friends and family!
Low Carb Keto Slow Cooker Balsamic Chicken Thighs are a perfect meal with the most tender, mouthwatering, flavorful, chicken the whole family will love! You can make this in your slow cooker, Instant pot or you can bake them! Just 4 carbs per serving!
If you're looking for a really tasty chicken low-carb keto dinner this Cilantro Lime Chicken sheet pan meal is a must make. Crispy chicken thighs and roasted low-carb veggies all nuzzled in a sugar-free and sweetener-free tasty cilantro sauce. This recipe is super easy to make, and you can use any low carb veggies you like!
Traditional Chicken Marsala made simple in the slow cooker! With prep time of only 15 minutes, this delicious dinner during the holidays is so simple and so delicious and leaves you plenty of time to enjoy your company while it cooks in the slow cooker!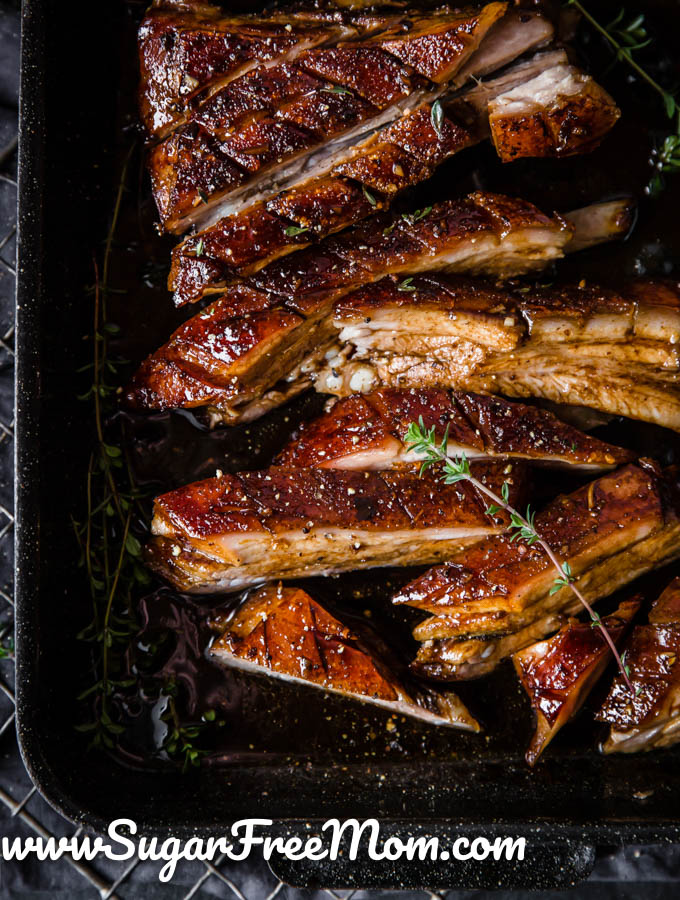 Keto Sticky Balsamic Pork Belly is the ultimate keto comfort food! The slow cooking creates a soft and unctuous blend of meat and belly fat, giving it an incredible mouth feel. Cooking it slowly in this sweet, tangy marinade flavors the meat deeply and results in a sticky, delicious glaze over the belly!
This perfectly seared and seasoned pork tenderloin is served over a creamy cauliflower mash. The key to making the best baked pork tenderloin is first searing the outside of the meat before popping it in the oven. This way it will have a nice crusty outer layer and a juicy soft inside!
Crispy pork cutlets made with a quick and easy keto breading is a wonderful family friendly meal everyone will love. Best part is that even if you have family and friends who don't follow a keto diet, they will still love and enjoy this easy recipe.
Super juicy and tender Salt & Pepper Keto BBQ Ribs slathered with a Sugar Free BBQ Sauce, which literally is the best BBQ sauce you'll ever try and without junk artificial ingredients! The salt and pepper plus the quick sugar-free bbq sauce take these keto sugar-free BBQ ribs from basic to magnificent and will keep you coming back for more!
If you love meatloaf, then this easy Keto Sheet Pan Mini Meatloaves Dinner is perfect for you. Ready in under 30 minutes! The meatloaves are made into individual portions meaning they're easy to serve your family and guests. Served with a colorful choice of low carb roasted vegetables, this easy keto sheet pan meal also means less dishes to wash! Bonus!
If you're looking for a keto dinner recipe that the whole family will enjoy, this low-carb Zucchini Cannelloni is a must to make! It's a crowd pleaser. So ridiculously tasty and can be made in bulk. The cheese sauce is super easy and fast! This low-carb cannelloni uses slices of zucchini instead of pasta and ground beef, but you could easily replace with ground turkey or chicken if you prefer!
This Easy Instant Pot, or rather, Electric Pressure cooker recipe, for a Whole Chicken and Low Carb Gravy is a perfect dinner when time is short. This can be made from start to finish in under an hour. There is truly something to be said when you can get a juicy chicken, especially the breast, cooked perfectly in under an hour that the whole family will enjoy!
If you're looking for a great recipe that is quick and easy and high protein, these low-carb keto Dijon Chicken Thighs are a delicious recipe the whole family will love! And when there is so much to do around the holidays it's wonderful that this recipe can be on the dinner table in 30 minutes and has 44 g protein per serving!
This Easy Sheet Pan Chicken Crack Slaw is effortless. So simple and can be made with fresh chicken breast, thighs or leftover cooked roasted chicken. It's cooks in under 30 minutes and uses just one pan. It's also rich in flavor without any added sugar or sweeteners.
CHRISTMAS KETO SIDE DISHES
These are the best keto recipes for holiday sides for the Christmas season!

This is the most creamy keto cauliflower mash you will ever try! Flavored with homemade keto Ranch dressing, you will never want cauliflower mash any other way again!
This pureed pumpkin and cauliflower mash is a delightful twist from the typical heavy carb mashed potatoes. A flavorful favorite during the holidays!
This Easy Slow Cooker Recipe for Creamy Mashed Cauliflower is a winning Low Carb, gluten free recipe! Instructions also include steaming cauliflower if you don't own a slow cooker.
This easy keto, low carb cranberry sauce has a hint of orange, and is perfectly sweet, but made without adding sugar and has just 5 ingredients!
This Easy Cheesy Brussels Sprouts Gratin may change your mind about Brussels Sprouts forever! It's gluten free, grain free and low carb!
This creamy, cheesy low carb turnips au gratin will bring you all the comfort of potatoes au gratin with half the carbs!
If you're on a keto or low carb diet, you can still enjoy stuffing for the holidays using my keto coconut flour bread! This tastes just like my Italian Grandma's Authentic stuffing and I know you are going to love it!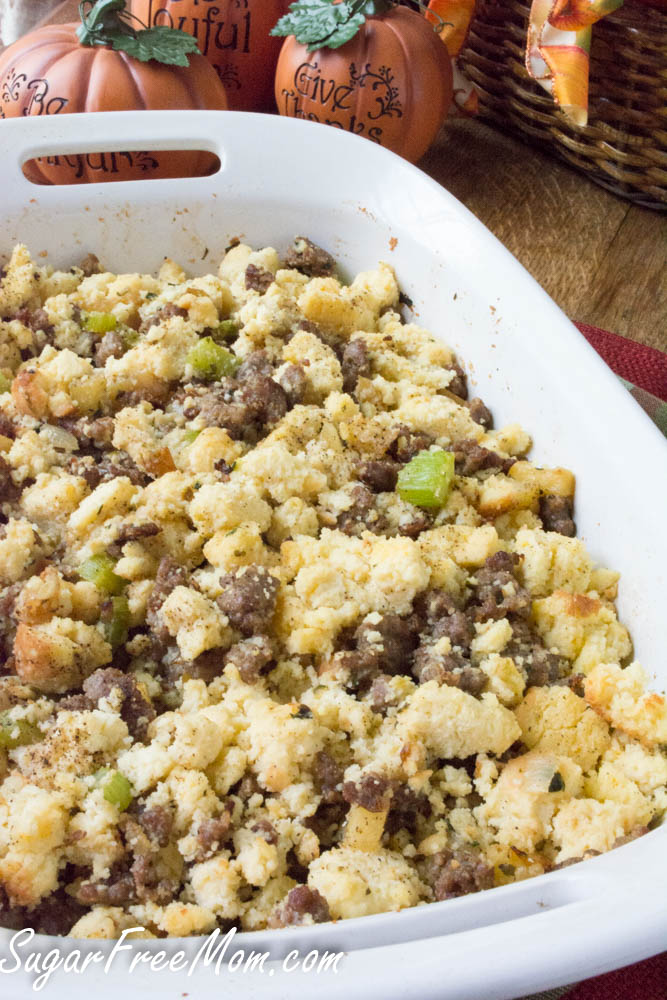 This Apple Sausage Cornbread Stuffing is a fantastic low carb stuffing that is full of flavor, no one will notice it's low in carbs!
Low Carb Keto Green Bean Casserole is creamy, easy and the perfect side for the holidays!
These luscious looking cheesy, garlicky crispy baked green bean fries are delicious, and full of flavor! You can make them in your oven or air fryer! These green bean fries are Low Carb, Gluten Free, Grain Free, Keto and 'Lick -Your- Fingers' Good!
This delicious low carb keto coleslaw recipe is easy, simple, and a great side dish with any entree! Just 4 grams of net carbs per serving!
This exquisite looking low carb ratatouille recipe is easier than you think and oh so tasty! It can be served hot out of the oven, room temperature or even cold.
This homemade keto gravy is an easy make ahead brown gravy to enjoy for your holiday meal! Less than 1 net carbs per serving!
These incredibly cheesy keto airy fryer rolls are the perfect little side to go with any entree! Prepared easily and quickly air fried, you can enjoy these in under 20 minutes!
These low carb, keto dinner rolls are made with a popular FatHead pizza dough recipe using mozzarella cheese, and are made almond flour free!
BEST KETO CHRISTMAS COOKIES & DESSERT RECIPES
All of these keto Christmas desserts can be made ahead and frozen before Christmas eve or Christmas day.

These Amazing Sugar Free, Nut Free, Keto Sugar Cookies are the Best Low Carb Sugar Cookie Recipe you will ever need or want again! Only 1 carb per cookie with frosting! For the finishing touch, top with sugar free sprinkles!
These Keto Snowball Cookies are sugar free, low carb, gluten free, grain free and can be dairy free too! These keto Christmas cookies are perfect if you're on a keto diet, low carb diet or even if you just want to reduce your sugar intake, with just 1 g net carbs for these classic favorite cookies!
This easy no bake keto pumpkin cheesecake lasagna is the ultimate keto dessert for pumpkin season! Just 3 g net carbs!
It's an easy way to make a fabulous looking, perfect dessert for your holiday table spread for family and friends, but with little effort in the kitchen and with no baking required!
Even if you're not a fan of cottage cheese, this easy whipped cottage cheese recipe will shockingly surprise you with the incredible creamy texture that you won't even believe it's cottage cheese! Just 2 ingredients, 1 minute to blend and 19 grams of protein!
These classic Christmas snowball cookies got a little update! We turned the classic snowball cookies into a nut free chocolate snowball keto cookie! Whether you're on a keto diet or low carb diet these are just 1 g net carbs per cookie!
These decadent tender low carb keto carrot cake cupcakes with creamy keto sugar free cream cheese frosting are so quick and easy to make and have just 3 grams of net carbs. A delicious holiday treat that will be enjoyed by everyone!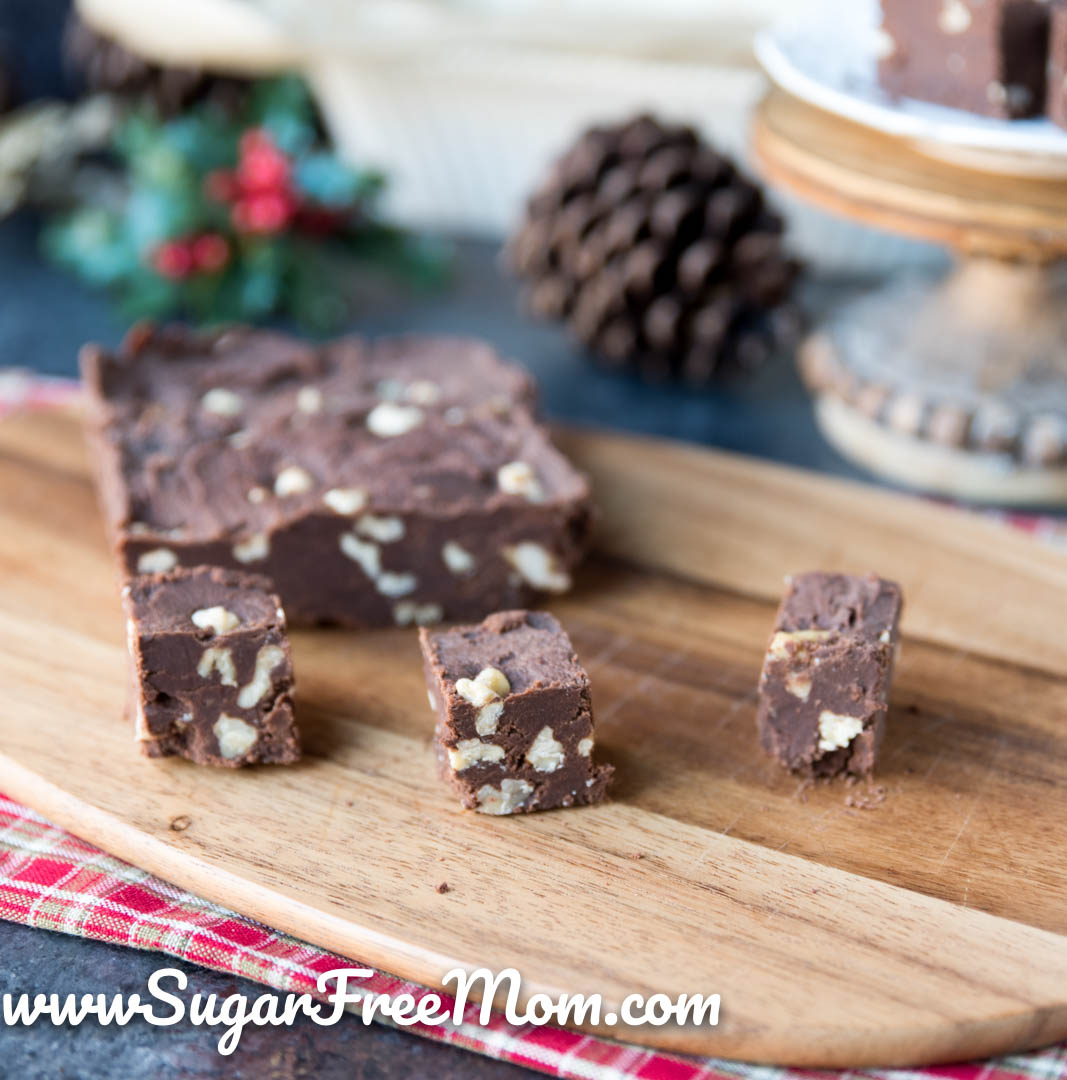 This easy sugar free fudge needs just 5 basic ingredients and very little time in the kitchen. It can easily be made ahead for the holidays and stores well in the freezer. One piece is just 2 net carbs!
This Copycat Starbuck's Keto Gingerbread Loaf is easy to make at home without all the carbs! This moist delicious keto gingerbread cake has all the warm spices you love for the holidays topped with outstanding keto mascarpone cream cheese frosting!
These Sugar-Free Gingerbread Cookies are nut free, low carb, keto, paleo and absolutely crispy and delicious!
If you love the warm spices of gingerbread, these classic keto Christmas cookie recipe should be on your cookie baking list for the holidays! Cinnamon, ginger, and nutmeg are the perfect and required flavoring of all things gingerbread!
These Sugar Free Chocolate Low Carb Truffles will need just 4 ingredients and are gluten free, sugar free, keto and so decadent and delicious! Just 2 g net carbs!
Homemade Sugar-Free Chocolate truffles are one of the easiest and quickest desserts you can make for the holidays, especially for Christmas time! They are perfect to display with keto cookies on a cookie platter!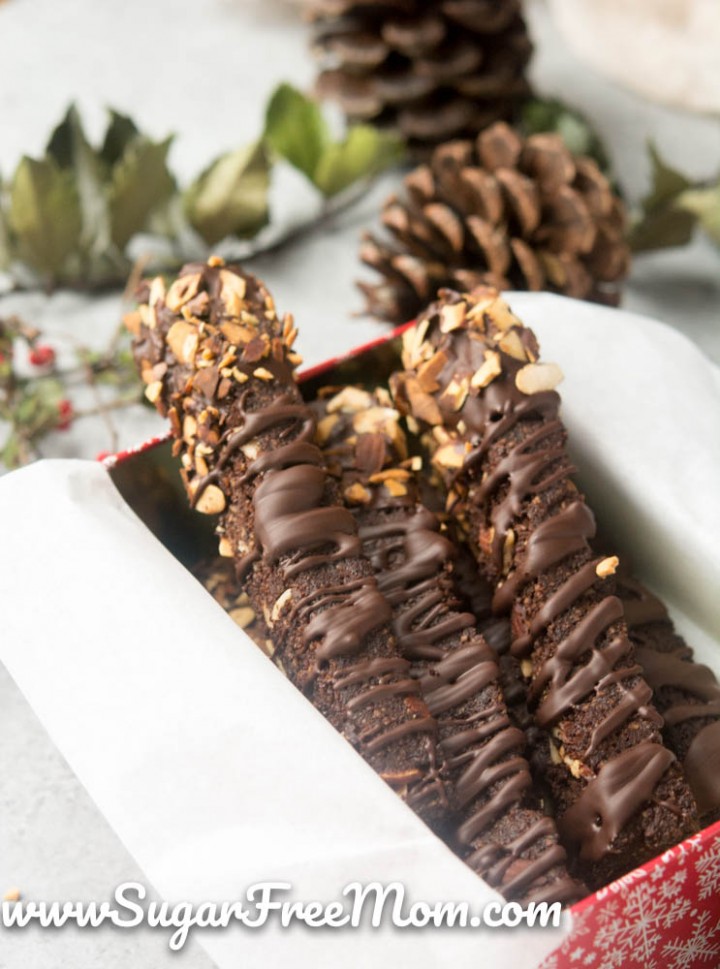 These beautiful Low Carb Chocolate Almond Biscotti are gluten free, grain free, sugar free and keto! These are the classic biscotti cookie for gift giving! Perfect whether on a keto diet, low-carb diet or just a great way to reduce your sugar intake. Just 2 g net carbs per serving!
This incredibly Easy Sugar-Free Low Carb Keto Peppermint Cheesecake Pie is a no bake sensation and will be your favorite dessert to make for the holidays with family and friends! This is also Nut Free with peppermint flavor throughout the cheesecake and well as the topping!
This super easy Sugar Free Low Carb Cheesecake recipe is no bake, made with just 5 ingredients and less than 4 g net carbs! Perfect for a keto diet or low carb diet! A super quick and easy take on a classic low-carb cheesecake without any baking required. This Low carb lemon cheesecake whips up in less than 5 minutes!
If you are looking for an easy festive keto cookie this Christmas, these sugar free Chocolate Crinkle Cookies are ready in 20 minutes. No chilling required and made in one bowl!
These Keto Classic thumbprint cookies are made gluten free, low carb, nut free and sugar free and taste just like traditional thumbprint cookies! Just 2 g net carbs per serving for delicious low carb cookies! Perfect for the holiday season whether you follow a keto diet, low carb diet or just looking to reduce your regular sugar intake!
These Low Carb Sugar-Free Salted Caramel Snickerdoodle Cookies are gluten free, grain free and perfect for the holidays! Snickerdoodle cookies are good, but adding in some homemade sugar free salted caramel to the center of each makes them 100 times more scrumptious!
These Keto Sugar-Free Peanut Butter Cookie Dough Truffles are Low Carb and can be made nut free as well as dairy free! A delicious treat to pop in your mouth and enjoy during the holidays!
The ultimate chocolate lovers dream is this triple chocolate layered brownie mousse cake made sugar free, low carb, keto, nut free and gluten free! Curbs those chocolate cravings on a low carb diet or keto diet!
Just 6 ingredients is all you need to make these no bake, sugar free, keto peanut butter balls. Perfectly portioned for your low carb or keto diet and just 4 total carbs per serving!
Happy Holidays!