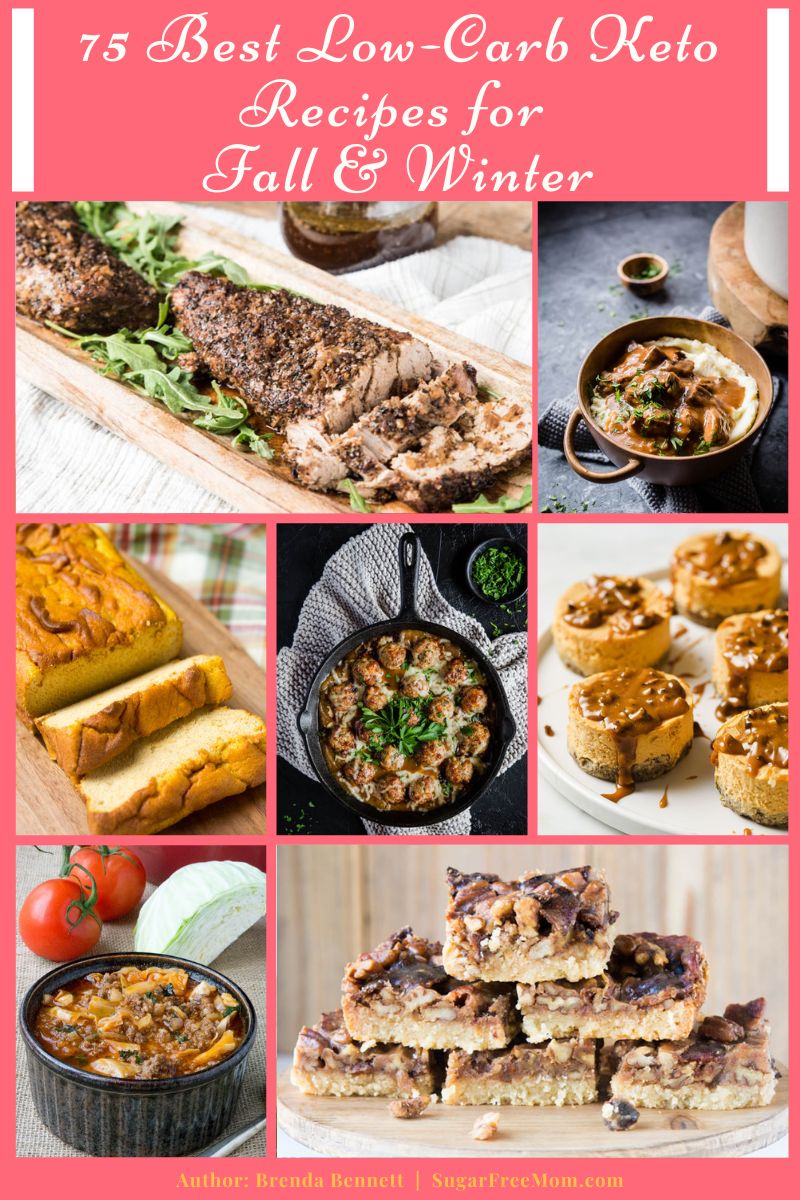 The Fall season is upon us and it's time for getting back into the kitchen for delicious comfort food for the whole family! If you took a little hiatus from cooking this summer, we've got you covered with amazing low-carb recipes for soups, stews, slow cooker, skillet, air fryer, instant pot, casseroles, side dishes, breads and keto desserts!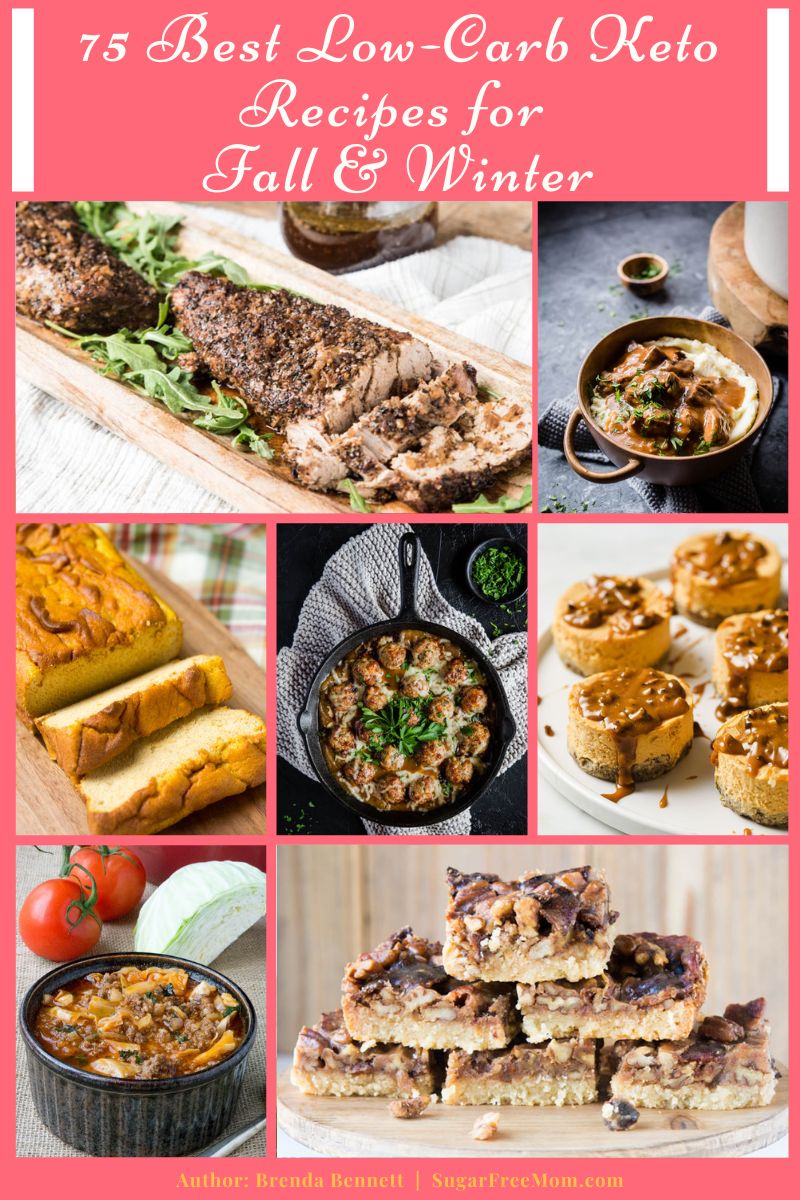 Low Carb Soups & Stews
Traditional soups and stews often use high carb foods like rice or pasta, but a great way to reduce the carbs in soups and stews is by swapping high carb foods with things like cauliflower rice, shirataki rice or pasta, Palmini rice or pasta or zucchini noodles.
These soups and stews are fabulous keto dinner ideas for any night of the week!
Nothing beats a large bowl of traditional Italian wedding soup on cold days of the fall and winter season, but if you're on a keto diet or even low-carb diet, this sensational Italian soup is too high carb to fit into your daily macros.
Our Homemade Italian wedding soup is a delicious keto meatball soup with just 5 g net carbs per serving! Enjoy our low carb soup whenever you like without guilt!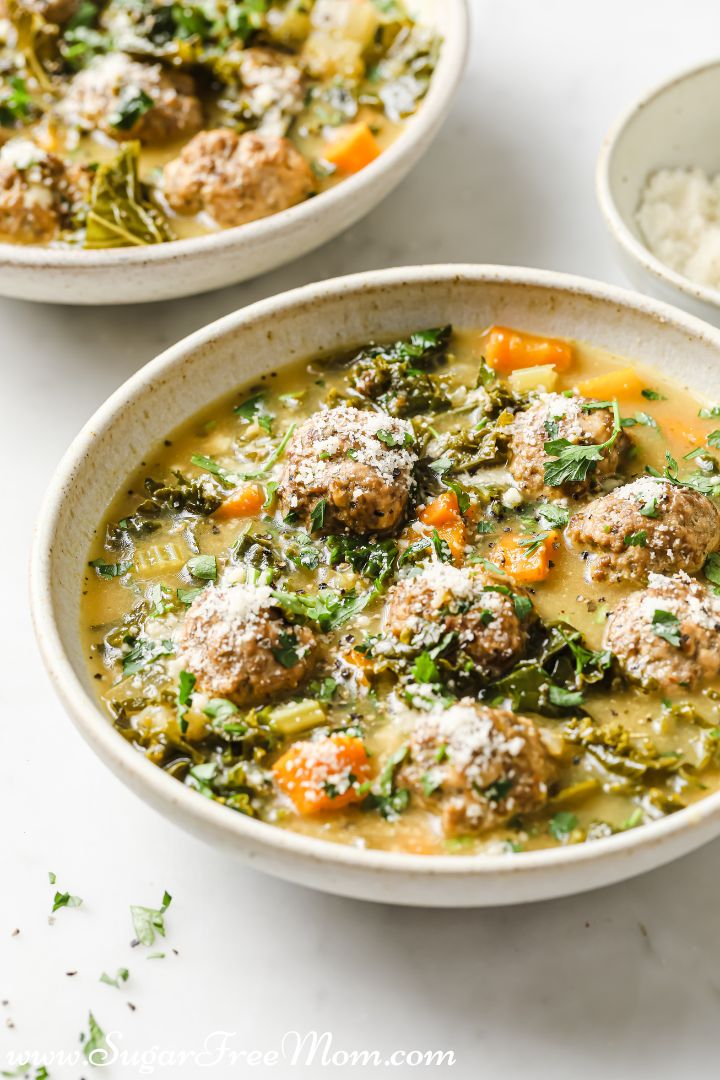 This incredibly flavorsome Keto Chicken Minestrone Soup will be a firm favorite in your low-carb soup repertoire. Packed full of healthy vegetables and chicken, and just 5 net carbs per serving.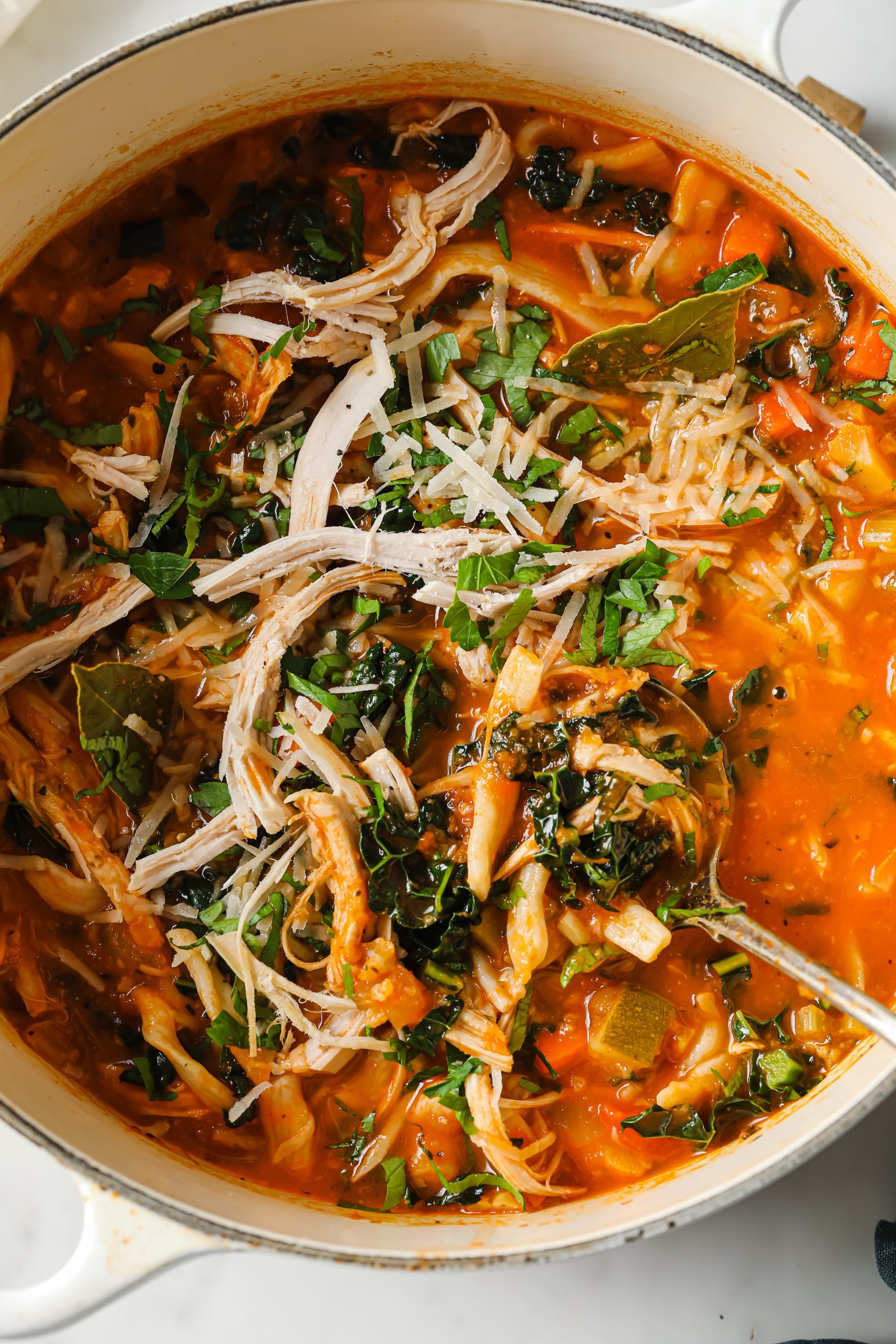 This Keto Unstuffed Cabbage Roll Soup is a comforting, hearty, low carb meal made easily in your slow cooker for any busy weeknight!
One of the most comforting meals on a cold winter's day made in your slow cooker or just simmer on the stove, but either way it's a hearty meal for the whole family.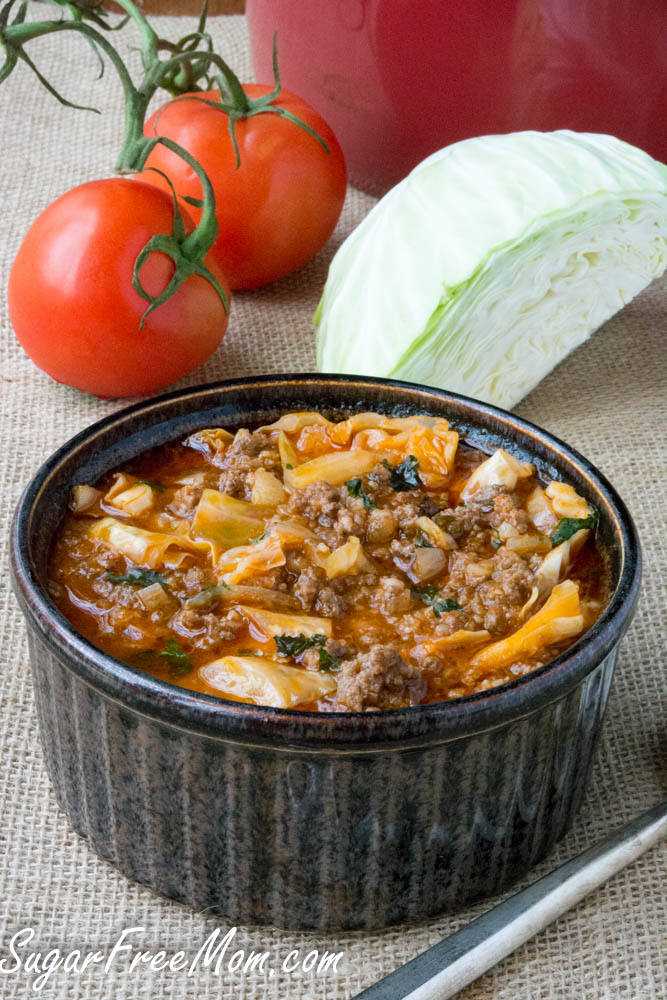 This Easy One Pot Keto Cream of Chicken Soup with Cabbage is the most comforting and delicious low carb soup to make in any season! Just 4 net carbs for this creamy keto chicken soup recipe!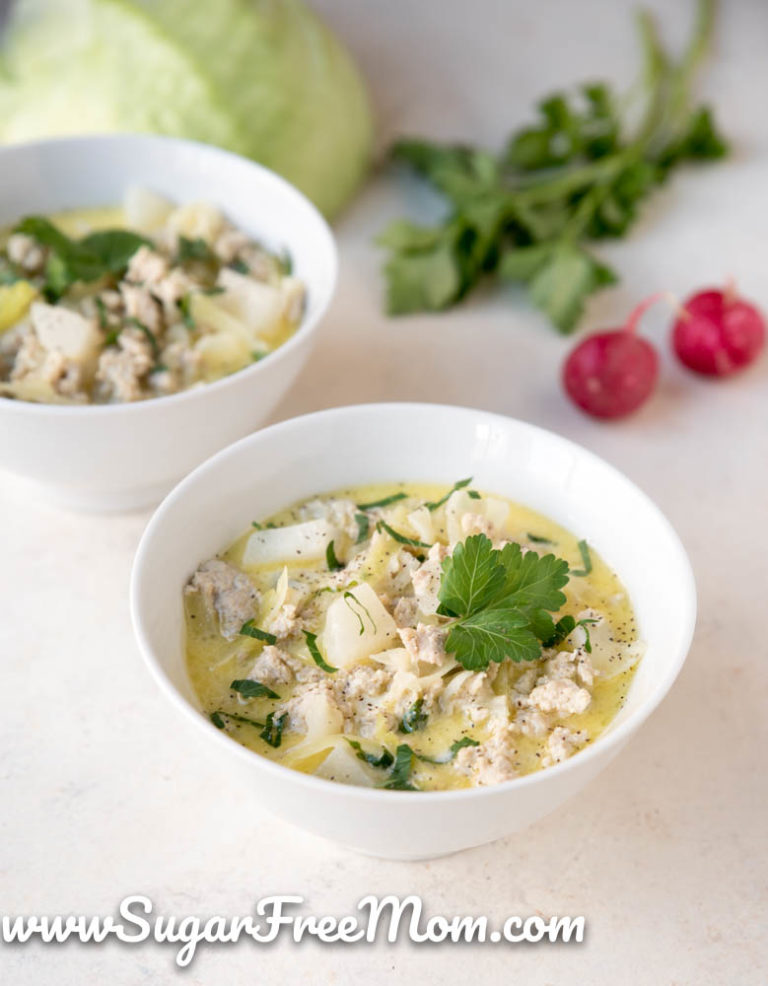 Slow Cooker Cabbage Soup with Sausage is a keto, low carb, gluten free, scrumptious easy, hearty soup any day of the week! Slow cooker or Dutch oven cooking options! Just 3 net carbs per serving!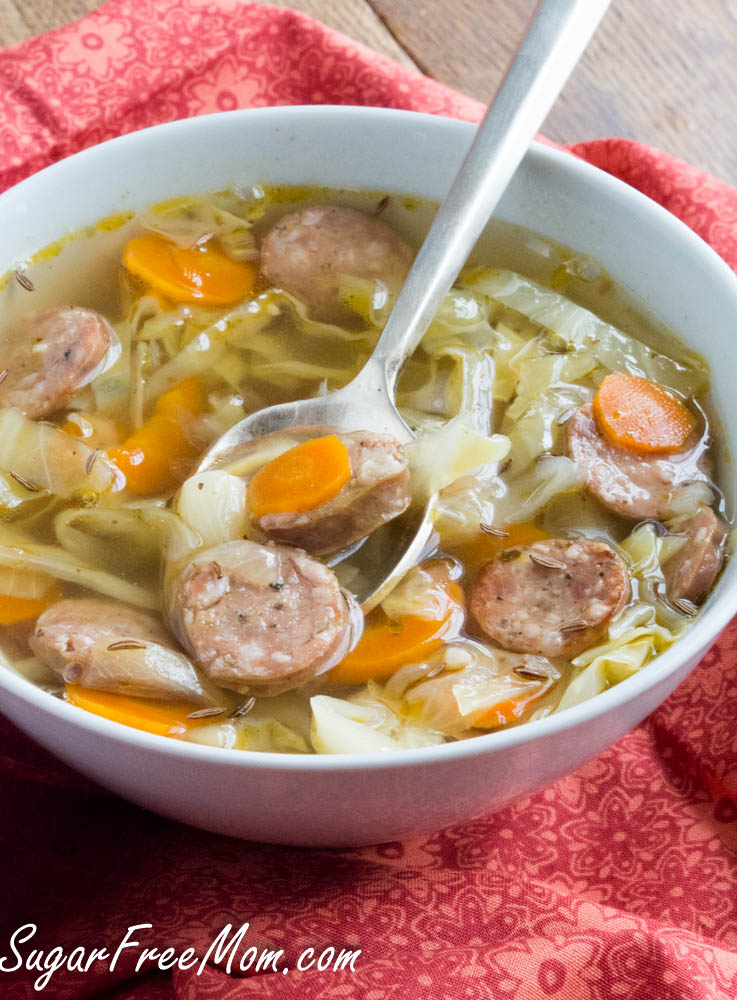 This easy keto taco soup recipe is a quick meal that can be made in under 30 minutes and is perfect for a cool day when you need some comfort in a bowl! Soup is one of the easiest ways to get a hearty meal on the table in no time at all.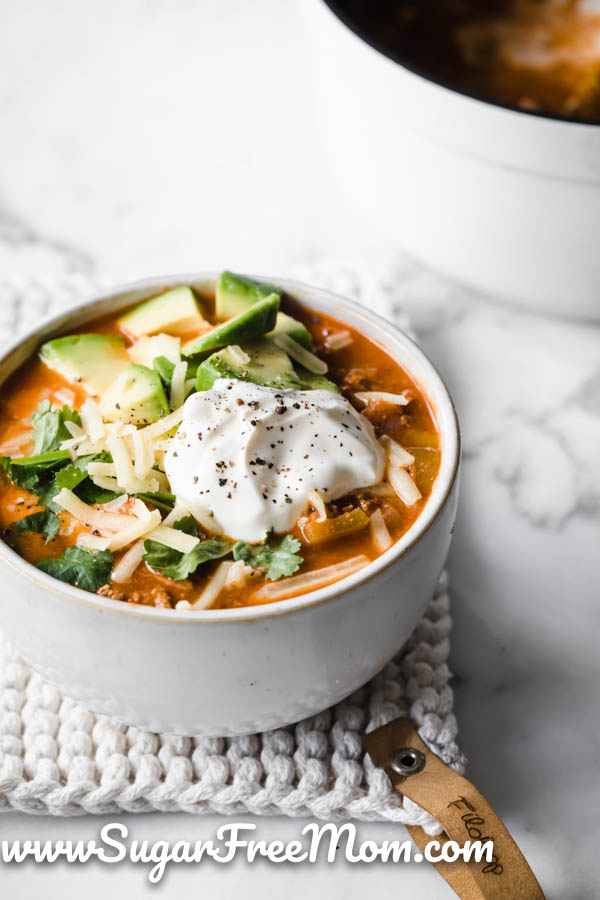 This Creamy Chicken soup is a low carb bowl of comfort waiting for you! It's keto, gluten free and easy to make! It's creamy and rich and so nourishing.
It comes together in only a very short time yet is impressive enough to serve as a dinner party starter.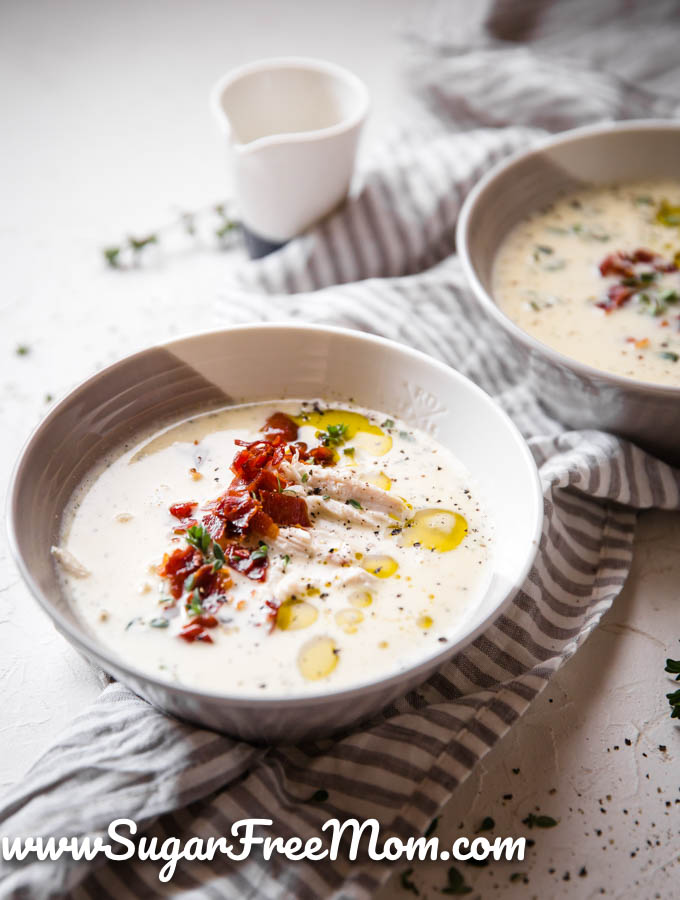 Creamy broccoli cheddar soup is the perfect meal to enjoy on a cold winter's day! It's keto, low carb and vegetarian too! Broccoli cheese soup is one of the creamiest soups you will ever try.
You can make this easy creamy broccoli cheddar soup at home with just 9 total carbs! Plus it doesn't contain any gluten or wheat or potato to thicken it!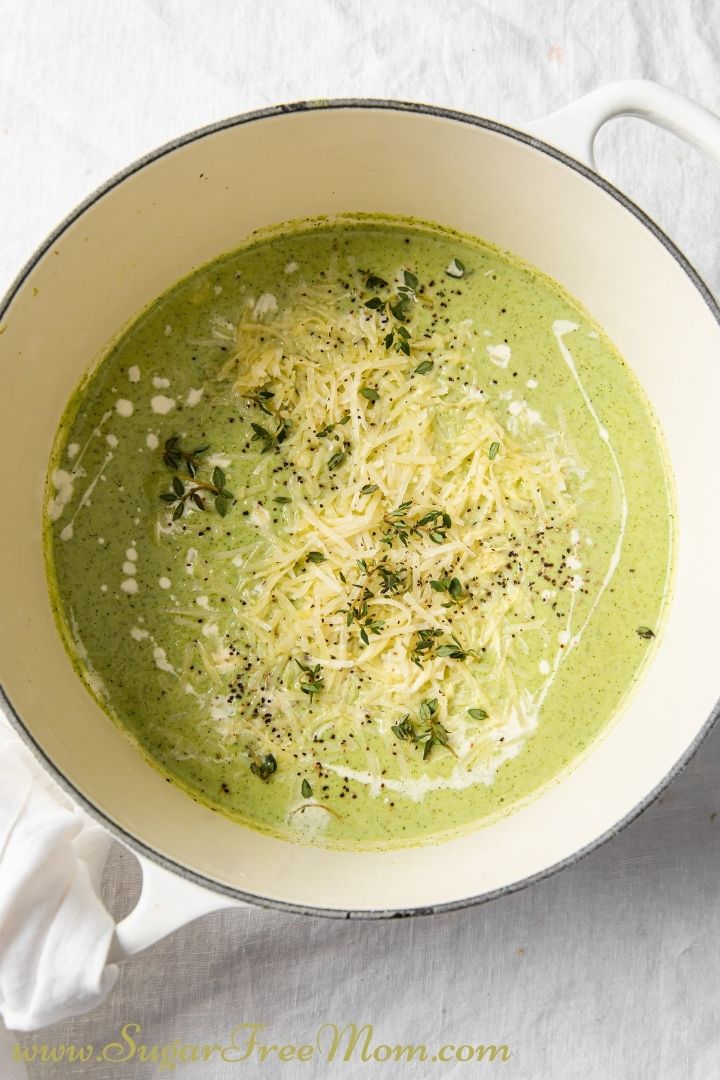 Cauliflower and Thyme Soup is a low carb, satisfying, vegetarian soup perfect for a cold winter's day!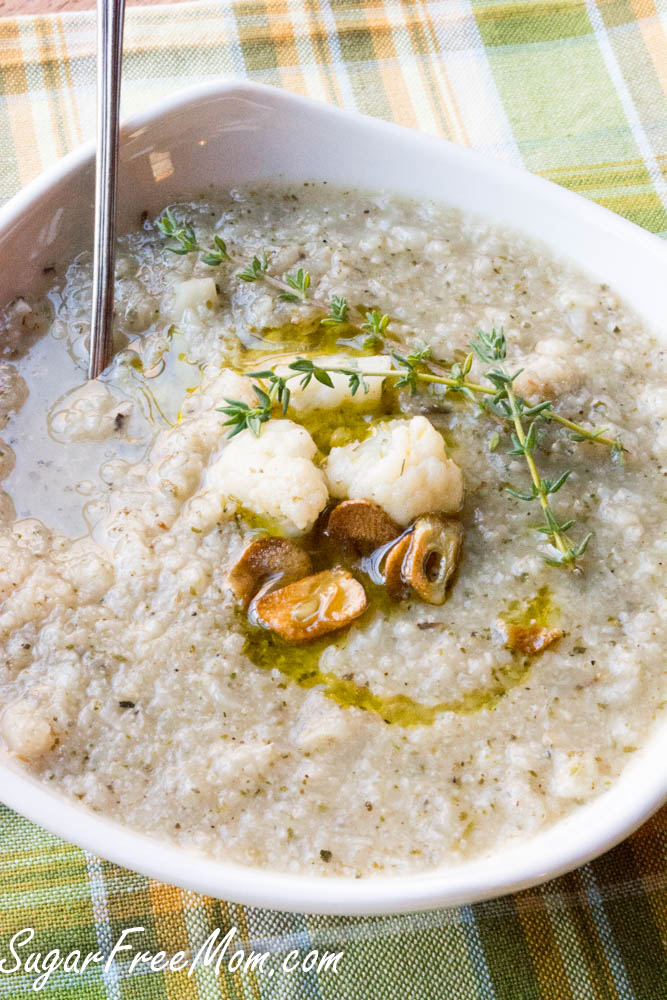 This slow cooker keto turkey rice soup is a warm comforting meal on a cold day or any day! If you have any leftover turkey tucked away in your freezer, thaw it now to make this comforting bowl of soup.
But even if not, you can use chopped raw turkey breast and it will cook up nicely with all the wonderful veggies and miracle rice.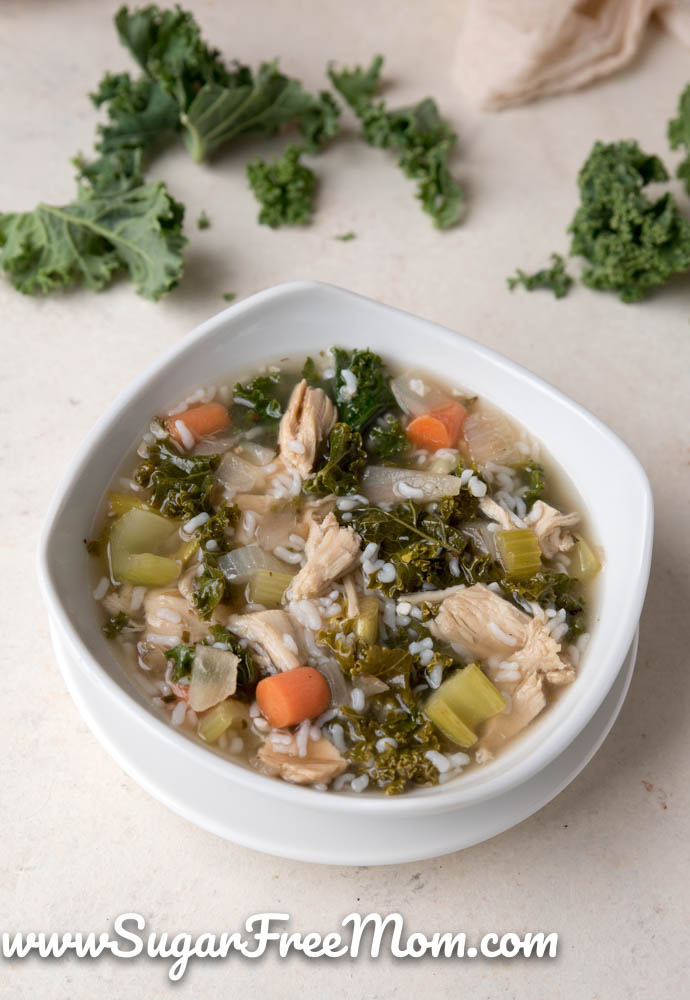 This Easy and Quick Italian Sausage & Pepper Soup is a low carb, gluten free, grain free, comforting soup made in an Instant Pot with an option to also make in a slow cooker.
Creamy Cream-less Tomato soup made with unsweetened vanilla almond milk makes for a delicious lunch or dinner on a cold night that your whole family will enjoy.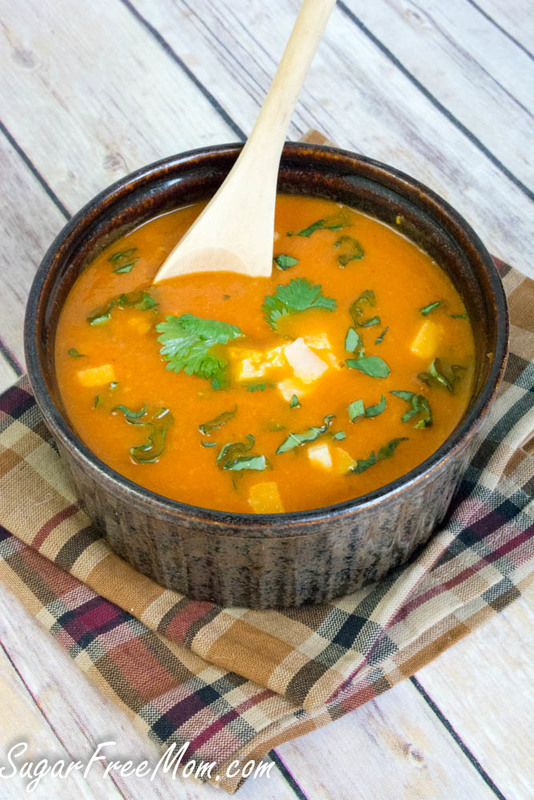 This amazing, tender, keto beef stew is perfect for a cold winter night and made all in one pot for an easy clean up! This easy one pot dinner is the best of the best beef stew you will ever have!
It's started in one pot on the stove, braising the beef until nicely browned, then adding in all the fabulous flavors from mushrooms, shallots, garlic and herbs. The beer or ale adds great flavor and is a wonderful addition to this stew.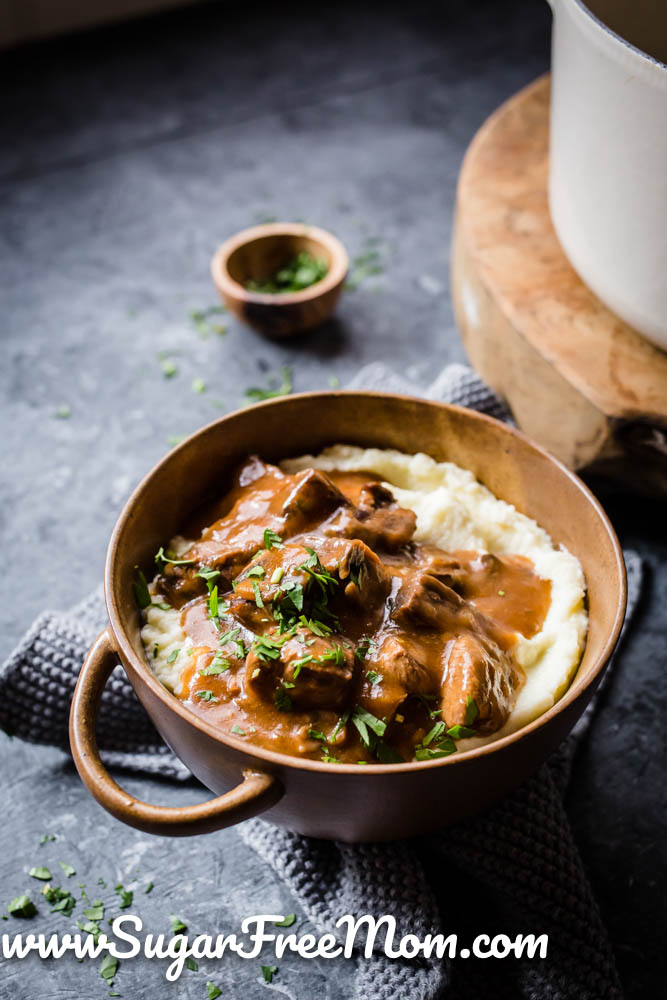 This Low Carb Instant Pot Keto Beef Stew takes under an hour from start to finish using fresh, whole nutrient dense foods and is comfort in a bowl on a cold winter's day! Stove top cooking method is also provided below.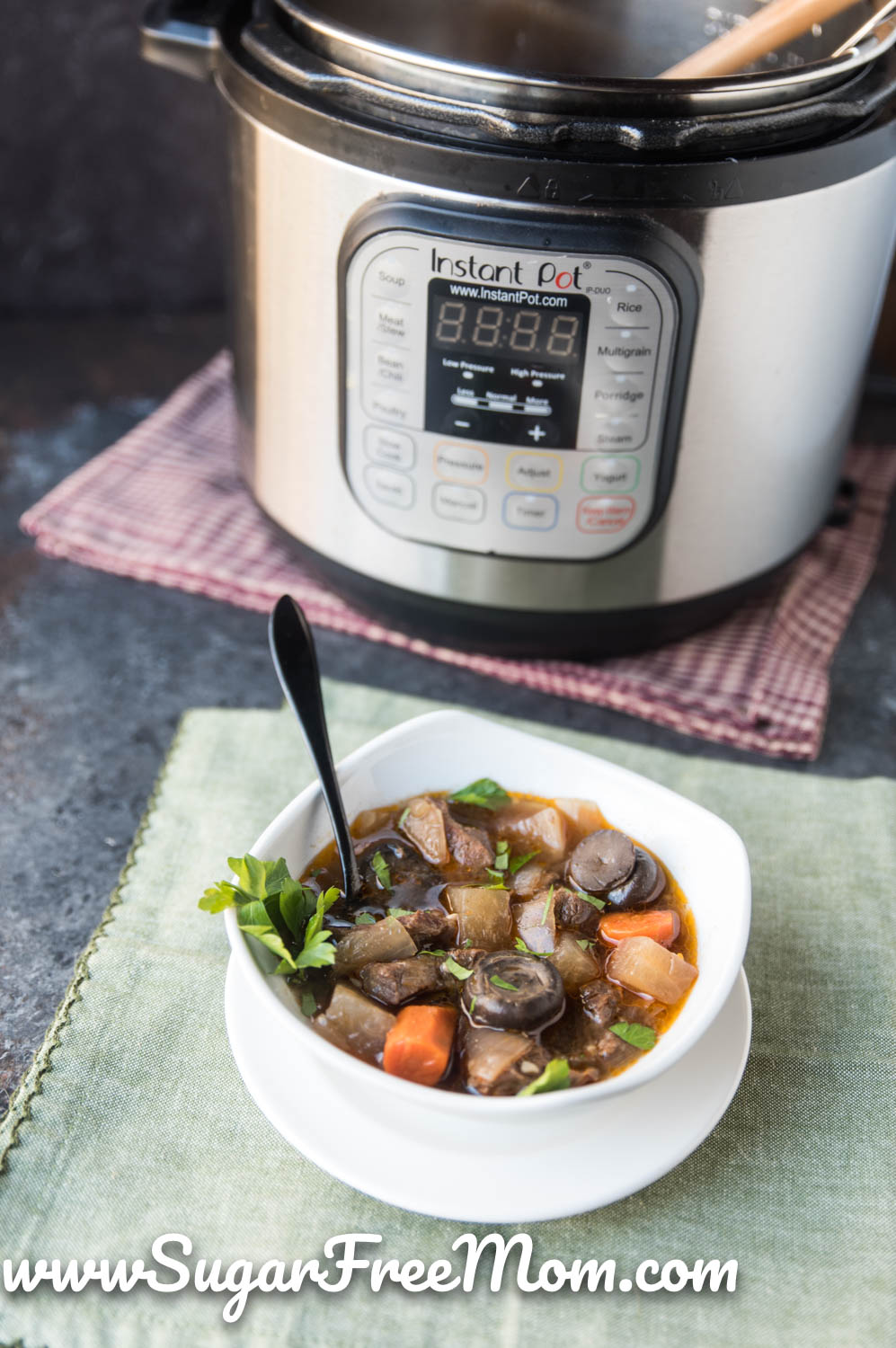 LOW CARB SLOW COOKER
The best fall keto recipes must include using the slow cooker in my opinion. It's the perfect choice when it comes to being a busy working mom on busy weeknights and all these low carb recipes can easily be prepped the night before or the morning before you are headed out for the day.
These Crock Pot Low Carb Keto Beef Short Ribs recipe make the most satisfying and delicious meal, served over mashed cauliflower.
It's comfort in a dish! Sear ribs to perfection then slow cooking the meat makes it simply fall apart. And that first bite and that flavorful sauce does not disappoint. It's everything you hoped it would be and more.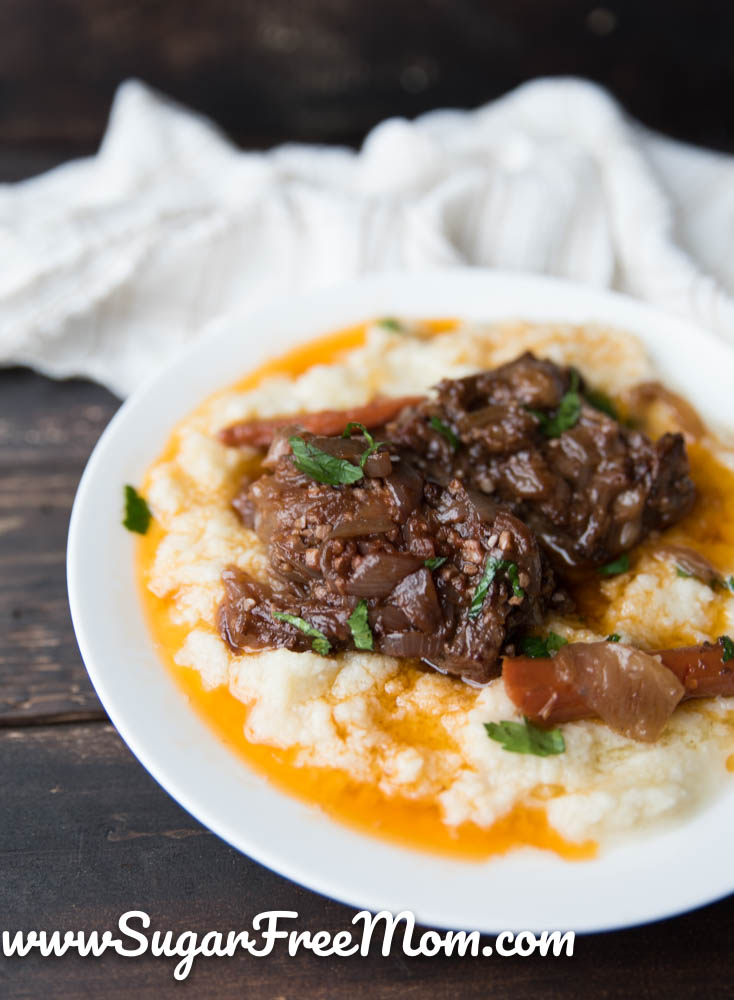 Crock Pot BBQ baby back ribs are made healthier and without added sugar! They're the ultimate football food! Perfect for any party you're having! I can't think of anything more fun to eat then finger licking good ribs!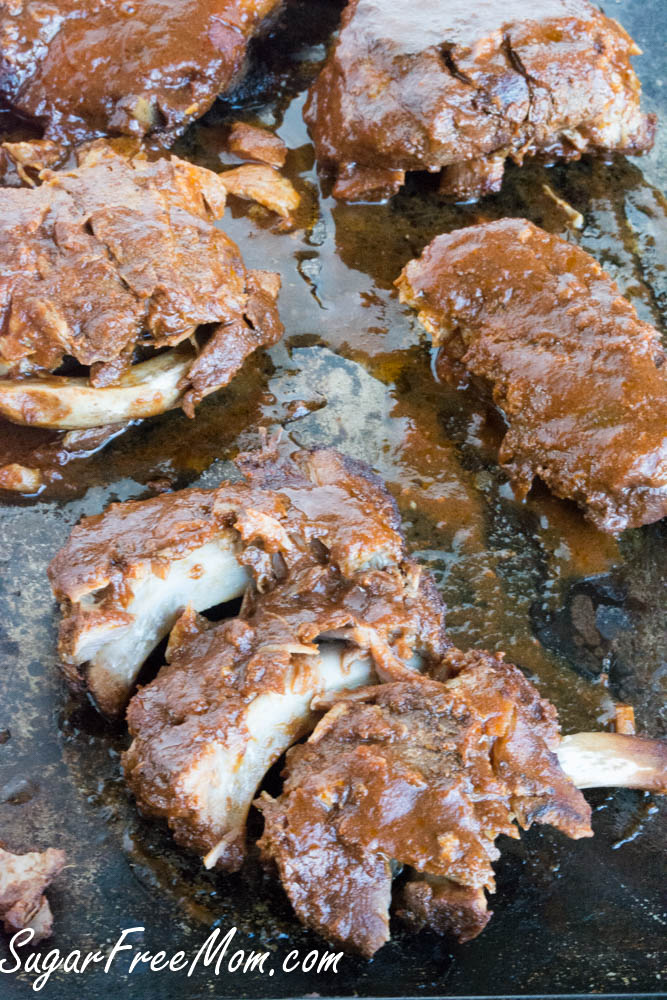 This Easy Slow Cooker Keto Chili is a hearty, no-bean, low carb, keto, gluten free chili and no one will miss the beans!
This keto-friendly chili has 7 grams of net carbs per serving and total carbs are 9 grams. On a cold winter's day there is nothing like a warm bowl of chili served up with a side of low carb cornbread!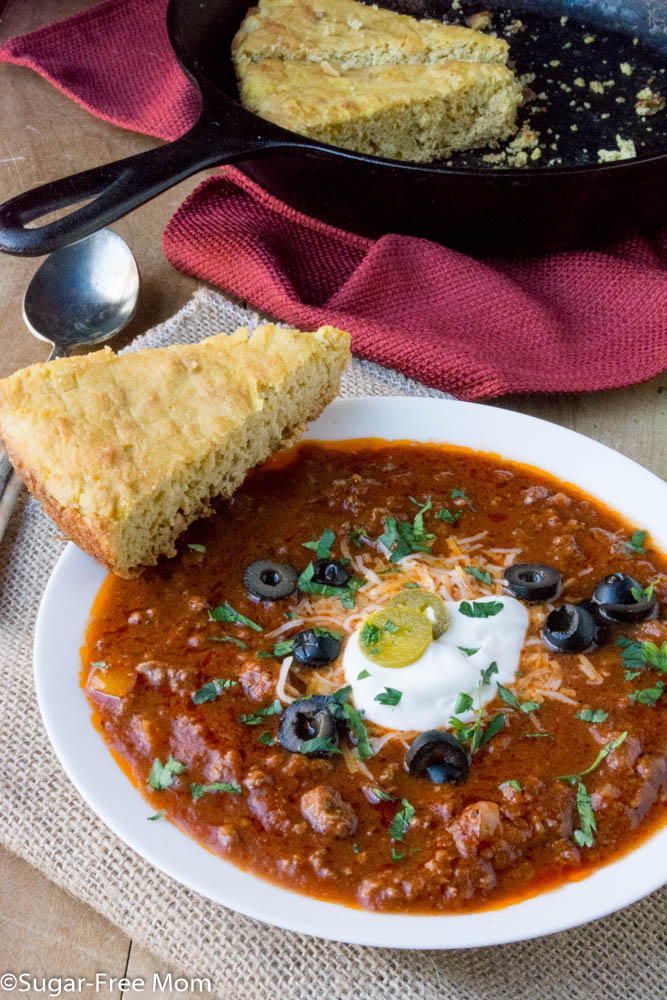 This delicious Keto White Chicken Chili can be made in the Instant Pot in 20 minutes or slow cooker if you prefer. Perfect for a busy weeknight! Just 5 net carbs per serving which will fit easily on your low carb diet or keto diet.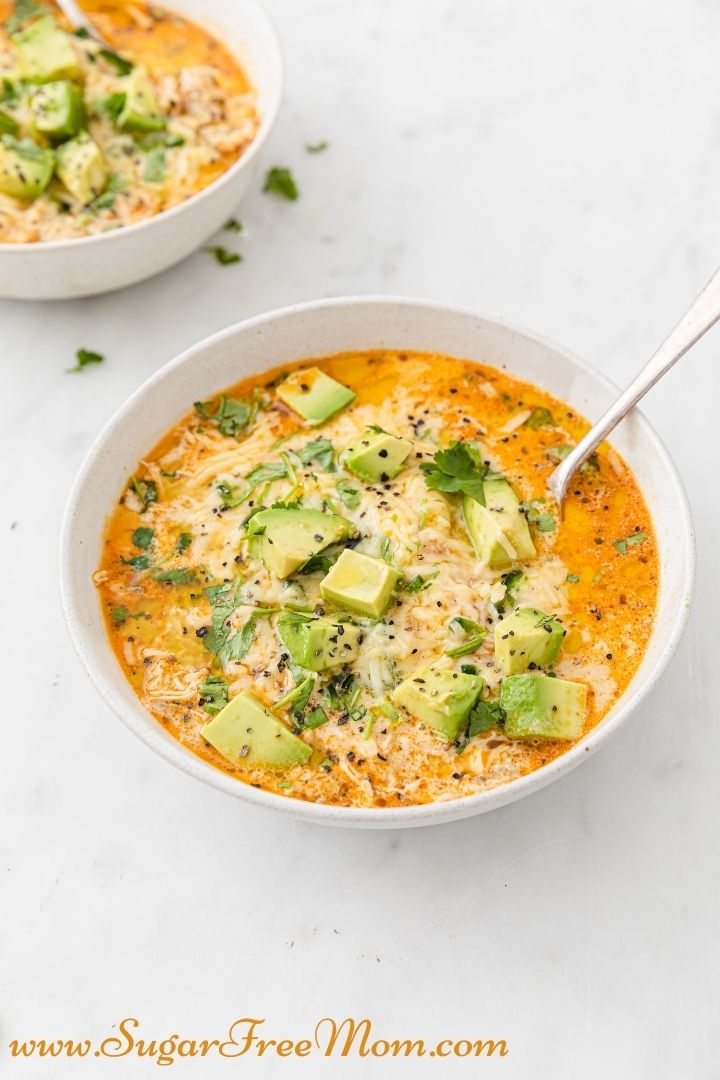 Low Carb Keto Slow Cooker Balsamic Chicken Thighs are a perfect meal for a busy weeknight. You can make this in your slow cooker, Instant pot or you can bake them! Just 4 carbs per serving!
With a few ingredients and 2-4 hours in your slow cooker, you have the most tender, mouthwatering, flavorful, chicken the whole family will love!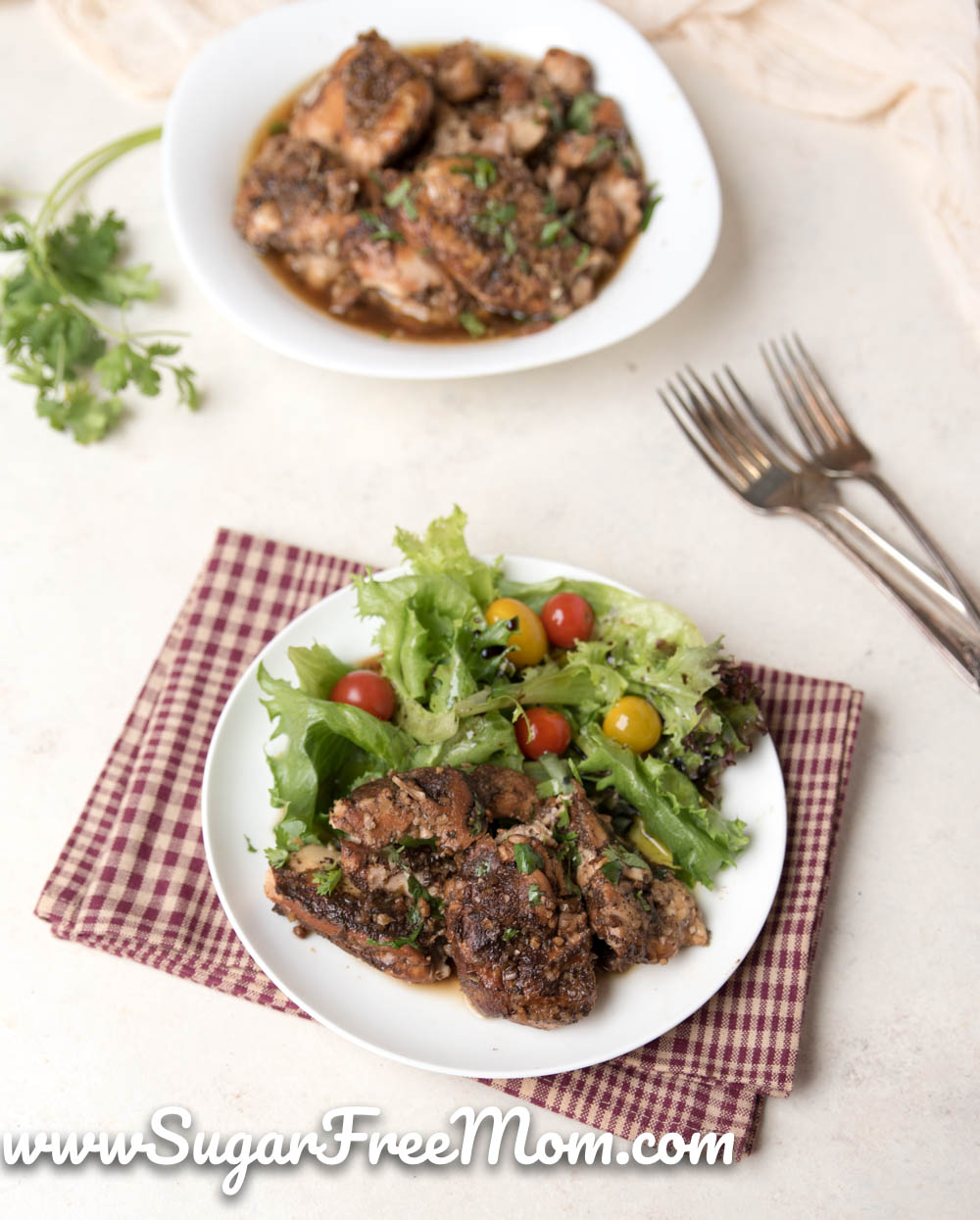 Juiciest Low Carb Chicken Thighs you will ever taste made easily in your slow cooker! This tasty Tahini mixture is spread over the chicken making a luscious broth. It's made with just 8 ingredients and its gluten free too!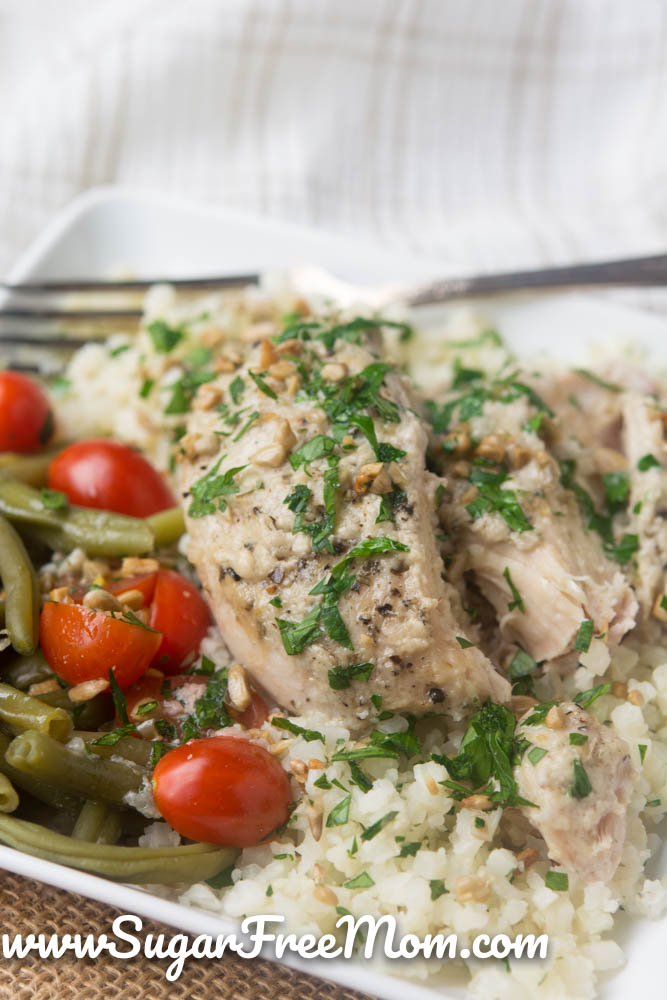 Slow Cooker Balsamic Pork Tenderloin is a wonderful keto, low carb, gluten free dinner the whole family will enjoy!
If you're looking for a lean protein pork tenderloin is a fantastic choice! Seasoned perfectly and seared well before cooking in the slow cooker and you've got an easy weeknight meal or weekend.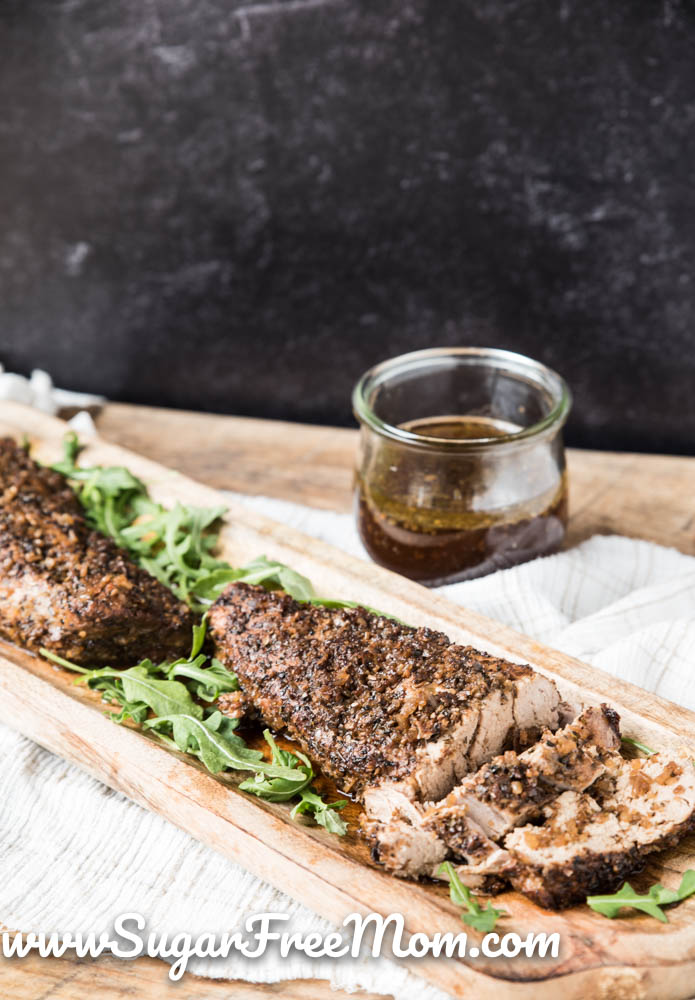 This easy slow cooker recipe for Balsamic Caprese Stuffed Chicken Thighs is out of this world delicious! It's also keto, low carb, gluten free and grain free! Quick Skillet directions also provided!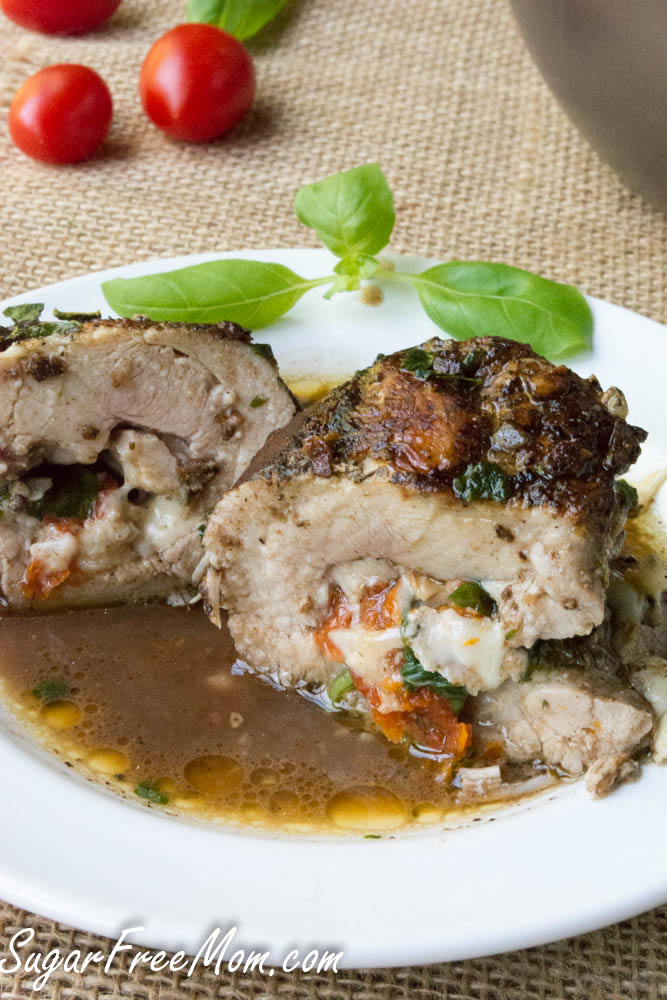 Crock Pot Low Carb Cheeseburger Chili is a cheeseburger lover's dream, all made low carb and in the slow cooker!
Cheeseburger Chili is a great idea mashed up with all the flavors or a juicy burger, topped with a cheddar cheese sauce and cheddar cheese croutons.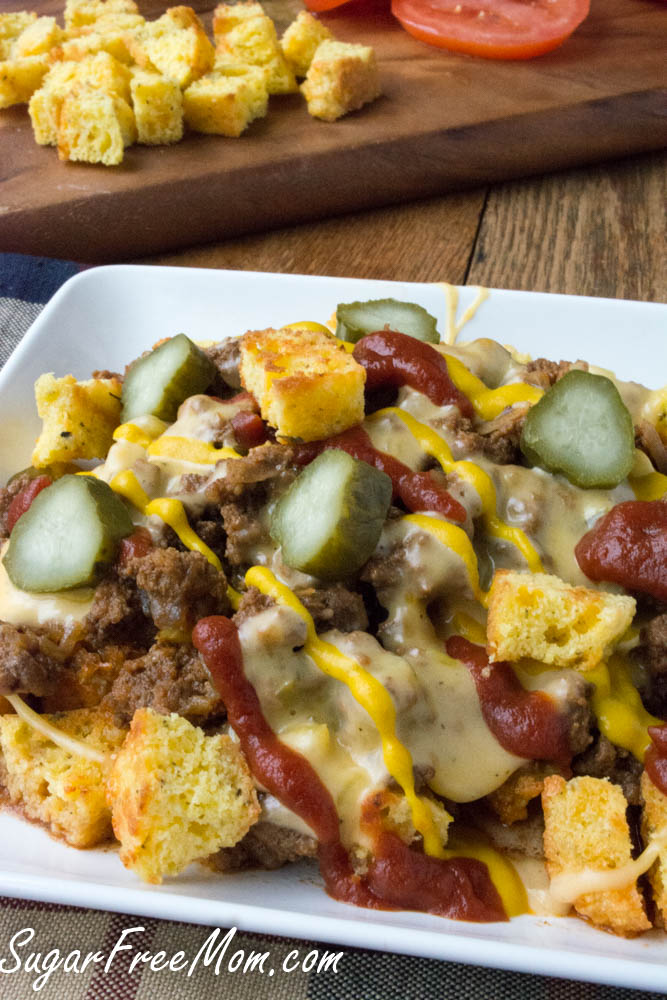 No Sugar Added Maple BBQ Pulled Beef made low carb and in your slow cooker! This is easy, tasty and fool proof for picky eaters. Toss it on a bun or a make a taco or top it on a portobello mushroom cap as seen here!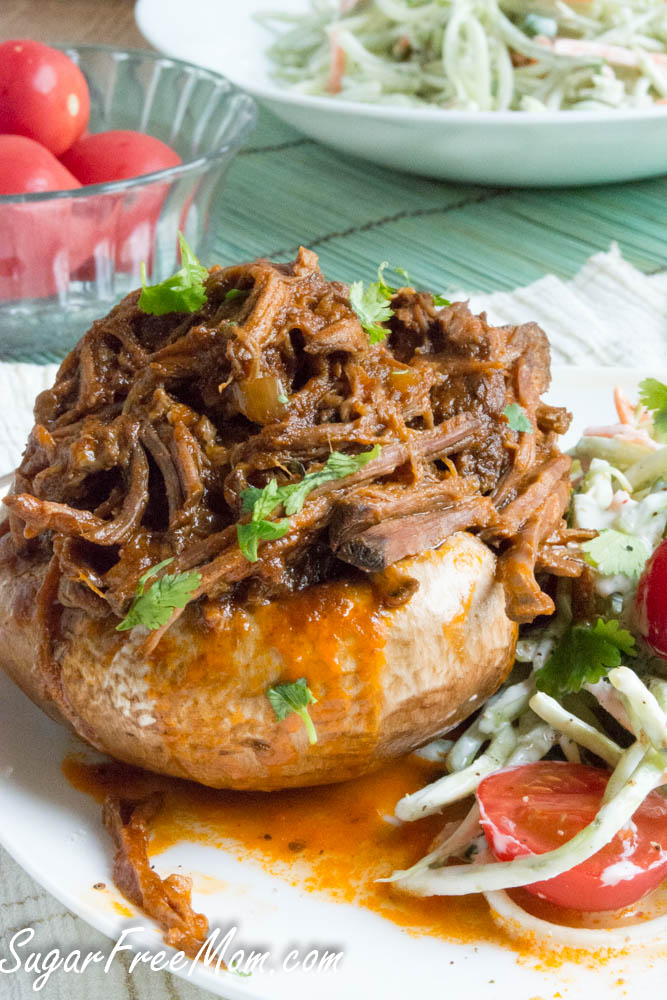 Traditional Chicken Marsala made simple in the slow cooker! I can't think of an easier meal than one made in the crock pot.
When you have the right recipe with the perfect amount of liquids and ingredients you can make some magic in the crock pot!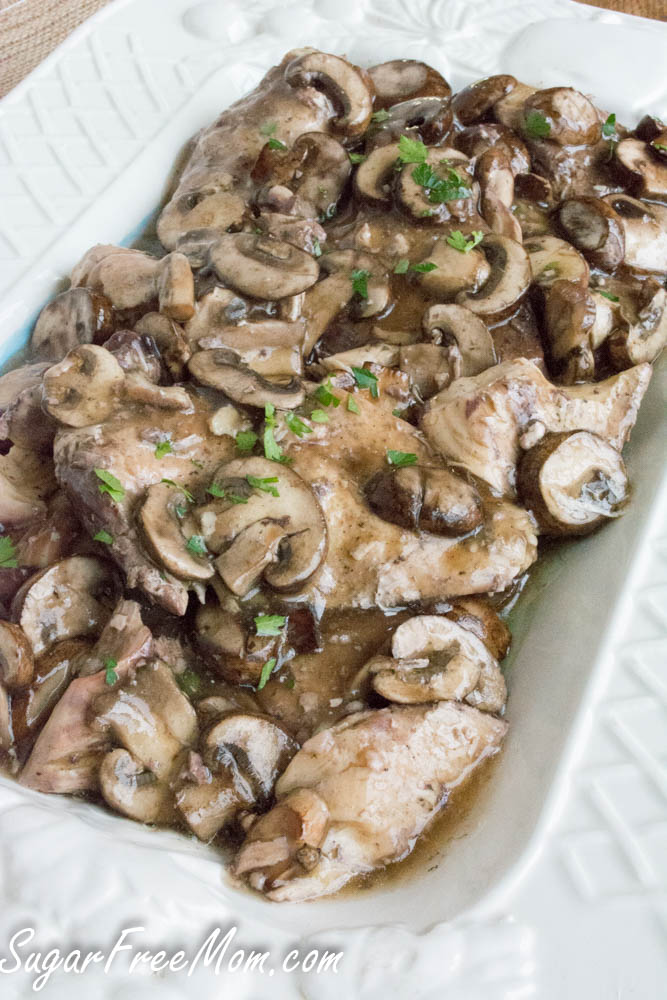 This Slow Cooker Keto Mexican Breakfast Casserole is low carb and naturally gluten free! Slow cooker or baking option included! Having breakfast warm and ready is key to starting a day on the right foot.
You can actually prep this the night before if you prefer, just wait to slow cooker until the morning. Or make it on the weekend and store in the fridge for an easy breakfast that everyone can just help themselves with.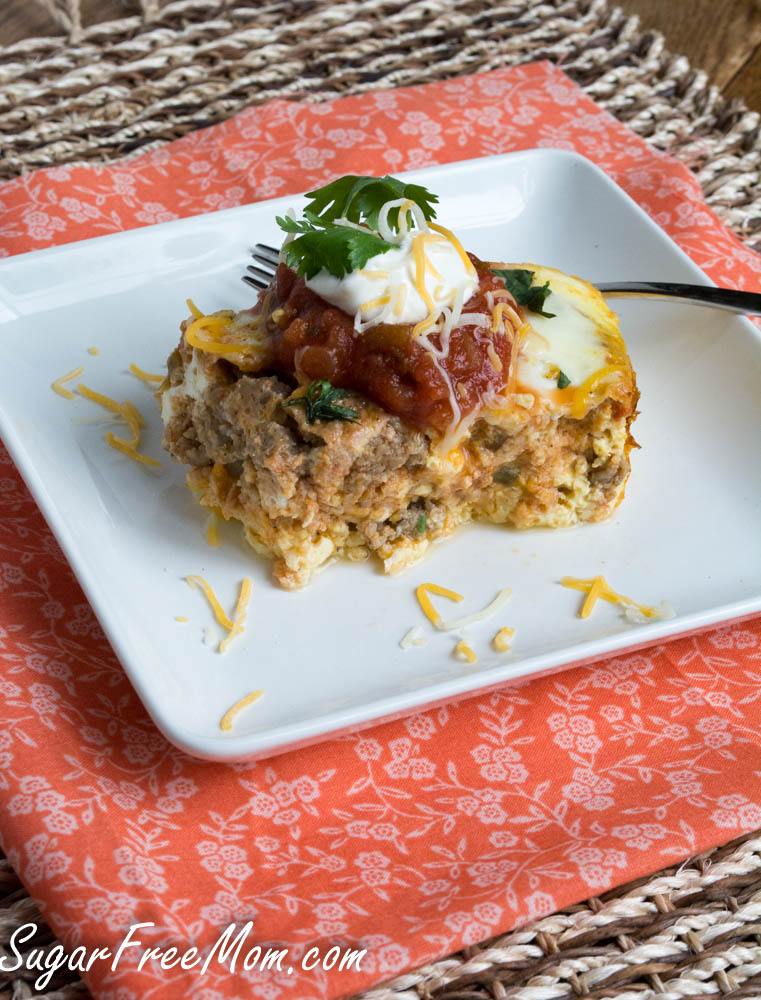 EASY LOW CARB SKILLET RECIPES
When I can make keto dinners for the whole family in one pan on the stove, I am a happy woman! The following are all my easy keto recipes made on your stove top in under 30 minutes!
This hearty, comforting low carb pumpkin chili has all the flavors of fall and is gluten free, low carb, sugar free, and keto!
It's made easily in a skillet on your stove top! If you've never made an easy skillet chili, you are going to love this skillet pumpkin chili recipe today! If you've never tried roasted fresh pumpkin in your chili before, you are going to be blown away!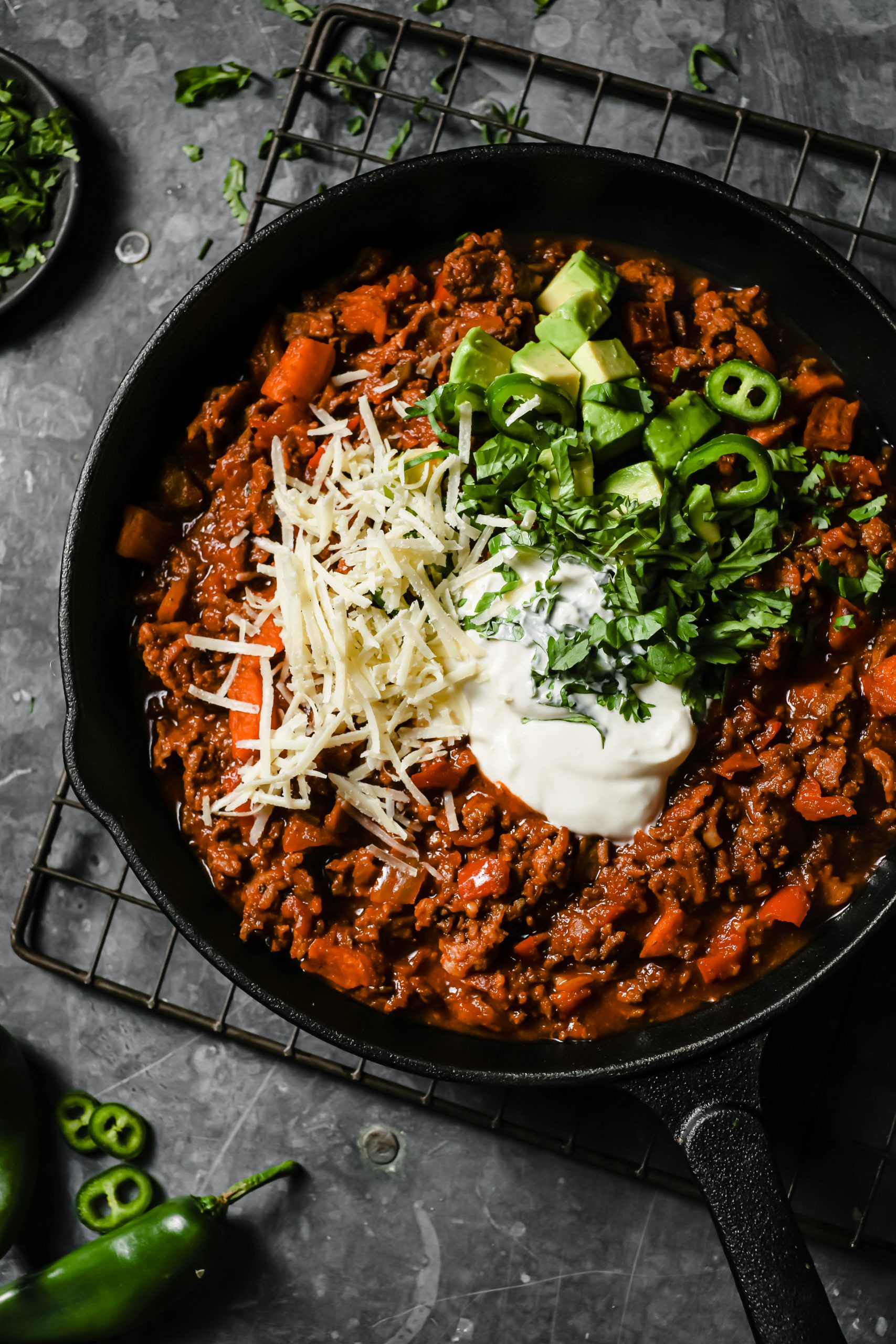 When you're looking for a quick and easy, low carb dinner you can get on the table for the family in under 30 minutes, these lemon chicken piccata meatballs should be on the menu!
Just 15 minutes to prep these delicious, low carb lemon chicken piccata meatballs and just under 15 minutes to cook in a luscious, buttery, creamy piccata sauce! Keto friendly, gluten free, nut free and just 2 net carbs per serving!
Keto Chicken Mushroom Casserole is a perfect low carb meal made quickly and easily in one pan! The whole family will love this creamy casserole, even the picky ones! Creamy chicken and mushrooms go so well together.
This Quick Easy Keto Skillet Lasagna uses simple ingredients and is ready in under 30 minutes! Having simple recipes with just a few ingredients is the best way to handle busy work weeks with a family.
When you can make simple low carb dinners in under 30 minutes that the whole family will enjoy and not complain about, that my friend is priceless!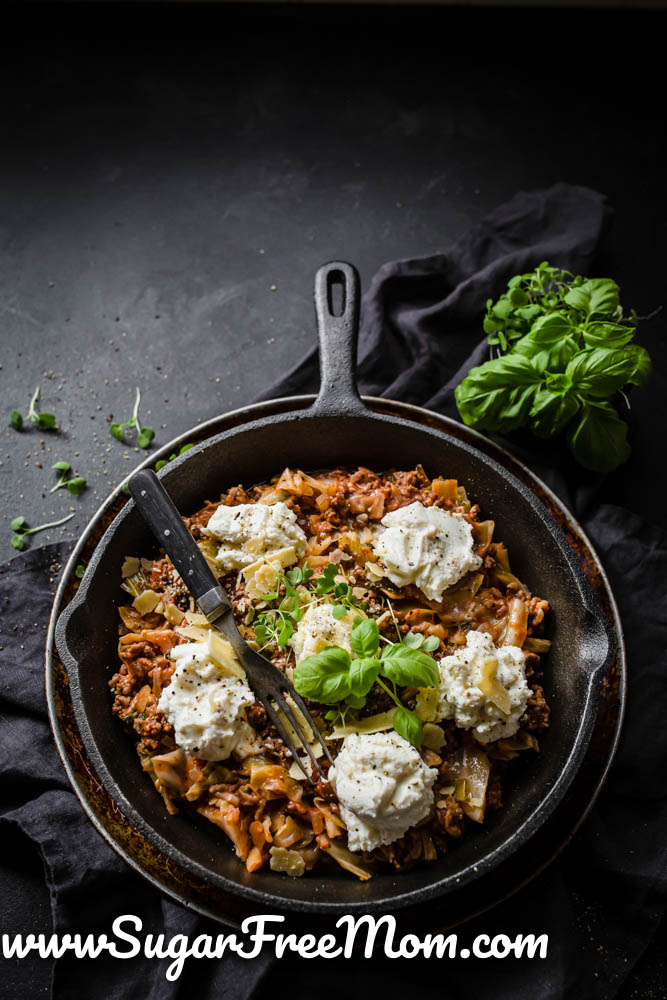 These tasty keto meatballs have all the flavors of French Onion soup packed in a perfect sized meatball! They are gluten free, grain free, low carb and perfect for a family meal!
Just a few simple ingredients and a short amount of time in the kitchen and this is an easy weeknight meal for a family. Double the recipe and freeze unbaked meatballs for another night when you're short on time.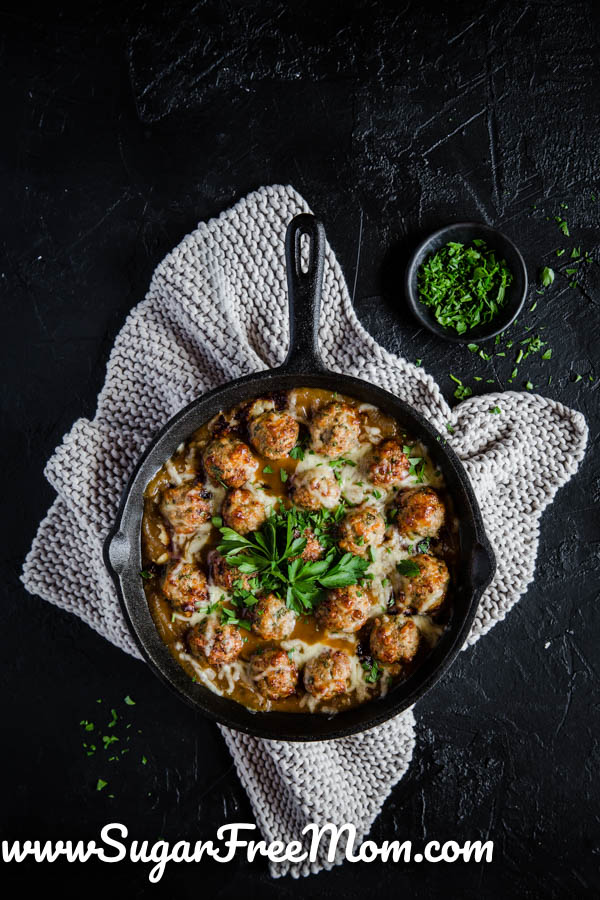 This Easy Low Carb Keto Skillet Chicken Parmesan is made in one pan and in 30 minutes! It's a nut free, keto, low carb chicken parmesan that is as good as grandma's!
Now you can enjoy a delicious low carb chicken parmesan even on a busy weeknight! This recipe makes it quicker, easier and still just as delicious as if you had baked it!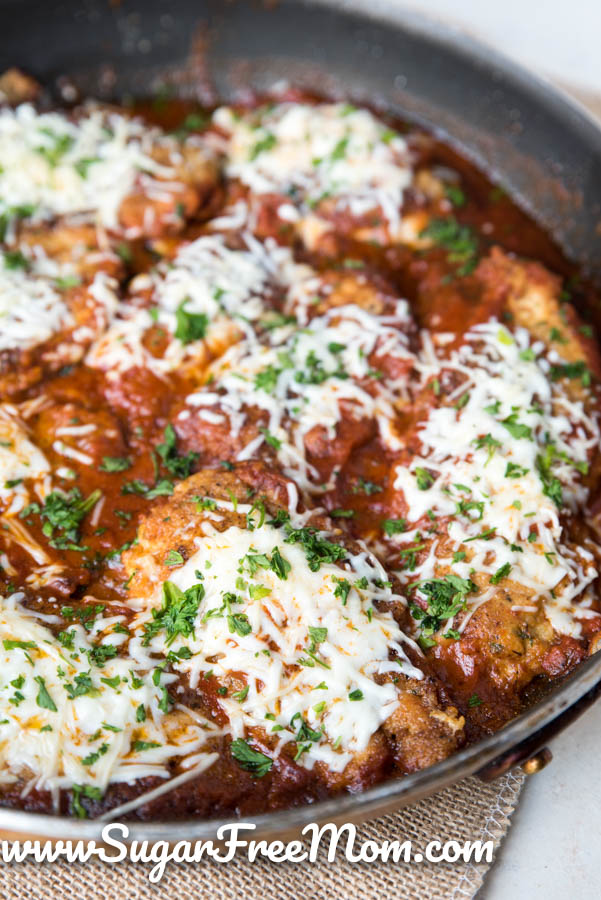 If you love a good keto chicken pot pie filling, but don't want all the heavy pastry, this Low-Carb Chicken and Bacon Rosti Pie Skillet is made for you!
It combines two great loves, a classic creamy chicken bacon pie filling with a keto friendly Rosti topping, made from zucchini and turnip!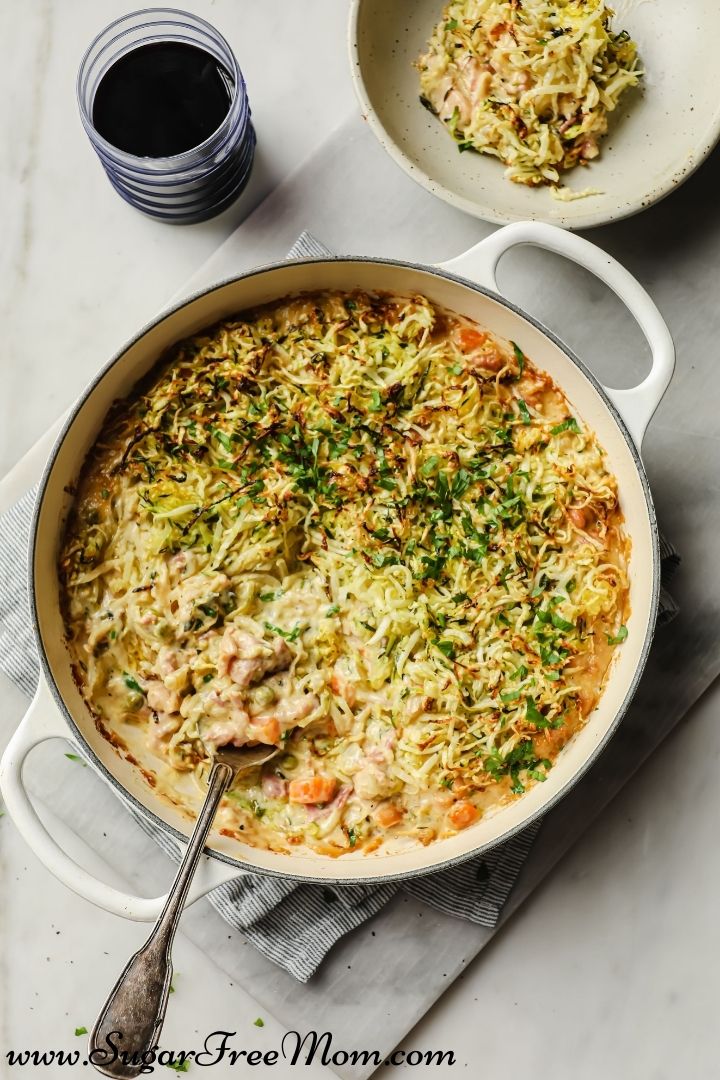 This quick and easy family-friendly keto meal is made with just 8 ingredients and takes less then 30 minutes from start to finish!
The savory spices in the scrumptious Italian sausage once cooked creates an amazing juice to then cook your veggies in, all in one pan. It's a win win using one skillet, not only for all the amazing the flavors that it creates but for the ease of cleaning up!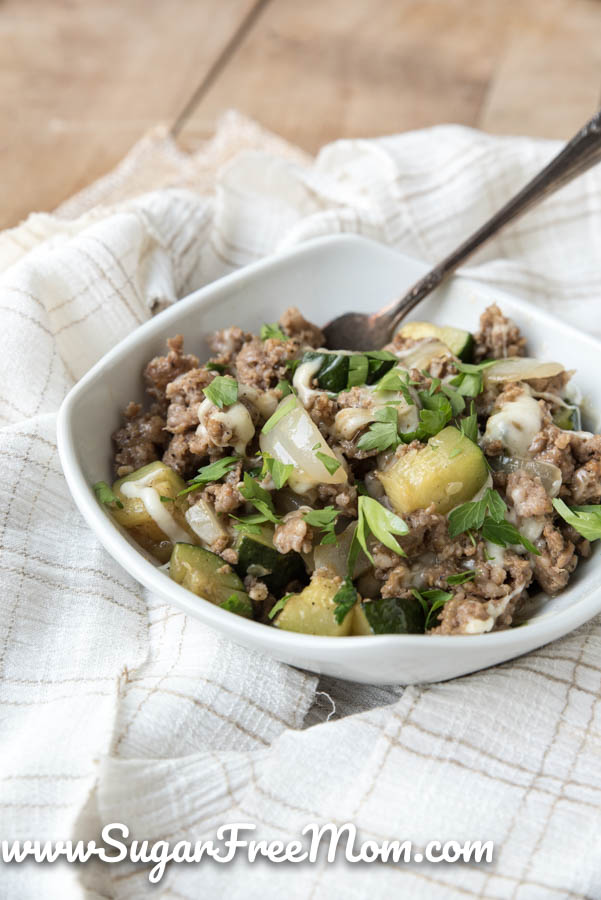 This Low Carb Mexican Tamale Skillet Pie is Gluten Free and Grain Free too! What is it about Mexican food that makes you want to indulge? Is it the spicy flavors or all the cheese?
Whatever it may be that makes you swoon, this Mexican Skillet pie is anything but sinful!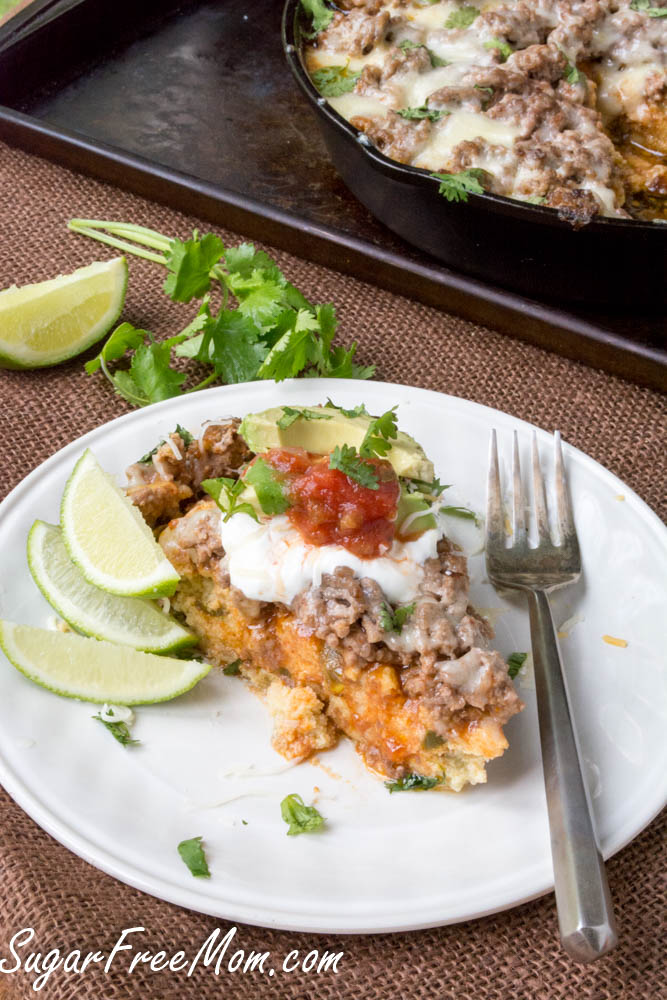 AIR FRYER & INSTANT POT
During the holiday season, your oven might be full and packed but having an air fryer or instant pot can help get more food cooked in less time!
Hearty stews and creamy soups can be cooked in half the time as on the stove top or in the slow cooker. These easy keto dinner recipes are perfect for the cold weather nights.
This Keto Instant Pot Chicken recipe is perfect for any night of the week! Oven directions also provided!
These Keto Crispy Chicken Carnitas are made in the instant pot for the ultimate in succulent meat. Then crisped under the broiler to add that delicious crispy flavor.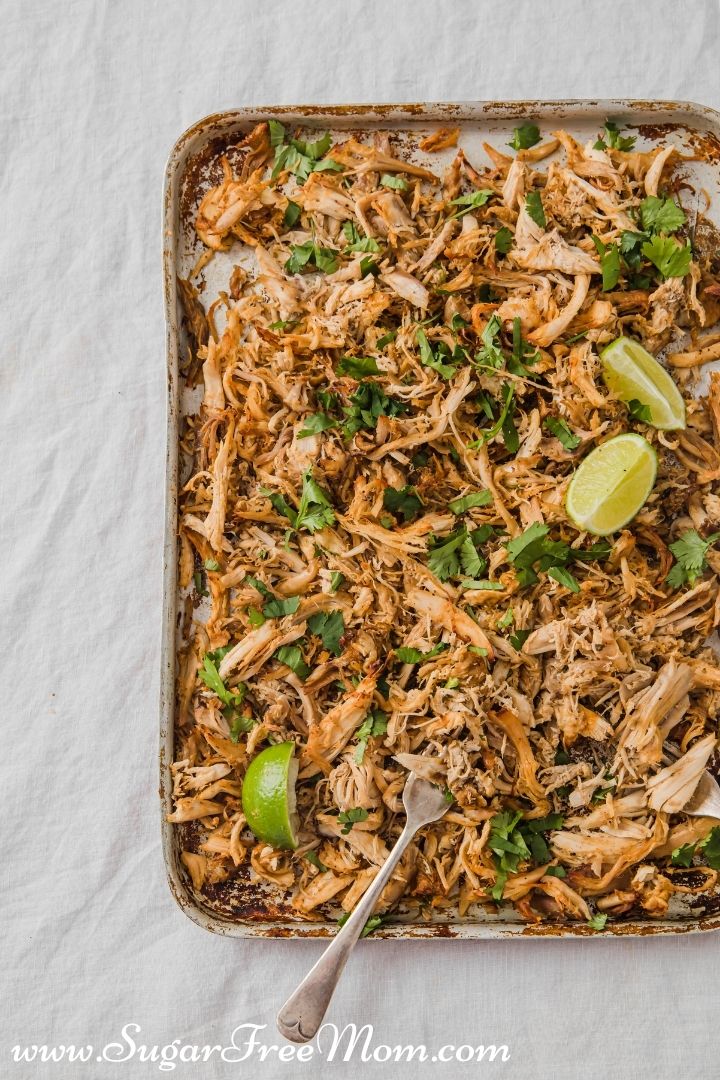 This Low Carb Keto Instant Pot Italian Beef recipe is quick, easy and full of amazing flavor! Slow cooker option also available! Either cooking method will produce juicy, tender beef that the whole family will love! Just 4 grams net carbs!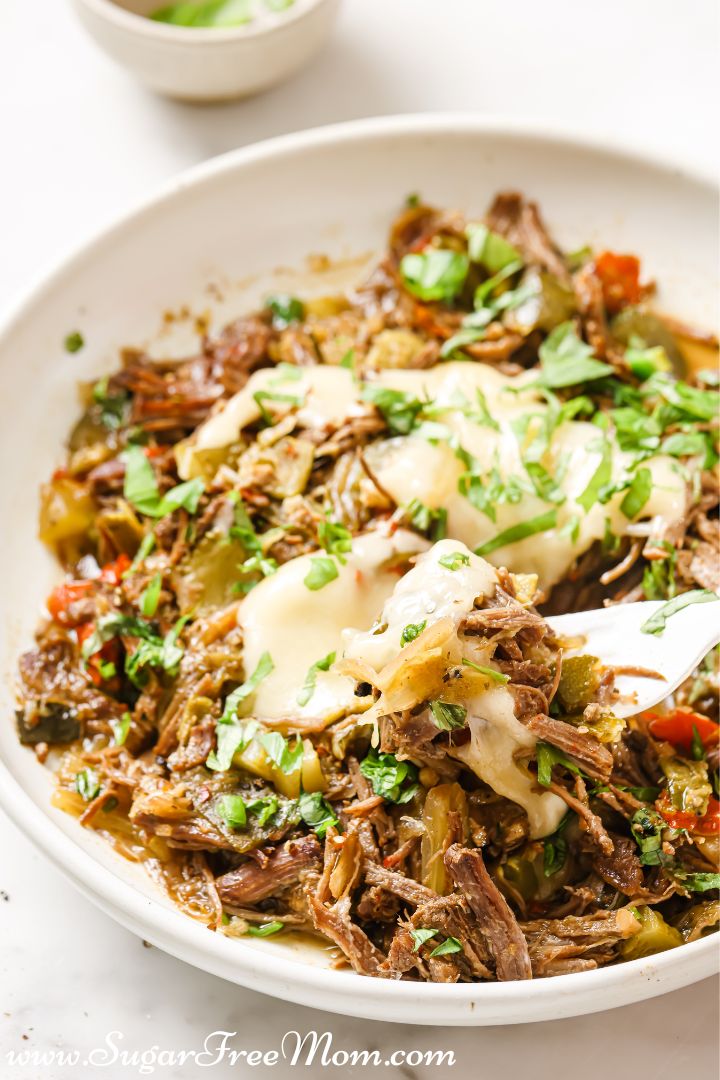 This Instant Pot Copycat Chipotle Barbacoa beef tastes just like the traditional and it's even better knowing it's keto and low carb! Slow cooker method is also provided.
The Instant Pot is one of the best ways to get that slow cooked and tender meat you're looking for in less than half the time it would typically take if slow cooked.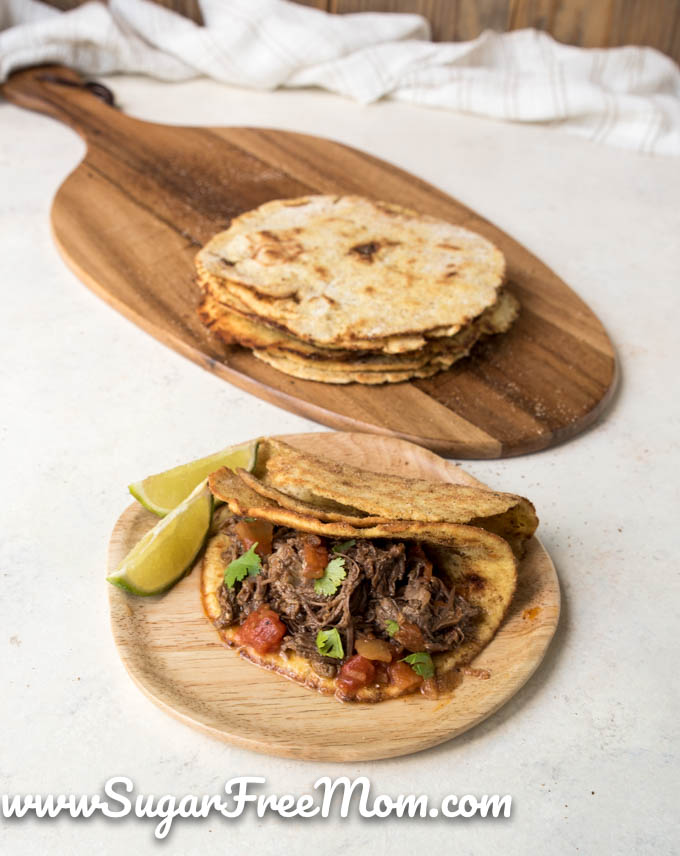 This Easy Instant Pot, or rather, Electric Pressure cooker recipe, for a Whole Chicken and Low Carb Gravy is perfect for any busy person when weeknight dinners are difficult because time is short.
This can be made from start to finish in under an hour for any weeknight!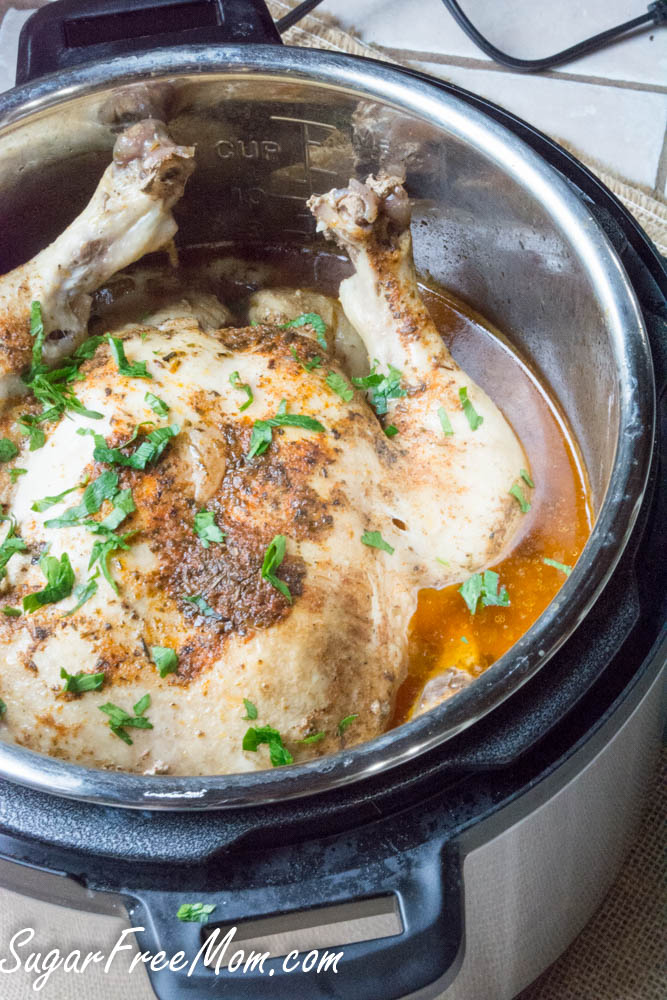 A delicious, bacon cheddar stuffed air fryer burger for any busy weeknight made in under 30 minutes! Air Fryer burgers takes dinner to a stress free level.
No need to heat the grill or the oven, the air fryer does all the work! All you need to do is a simple flip, half way through cooking, top with cheese if desired and you're done!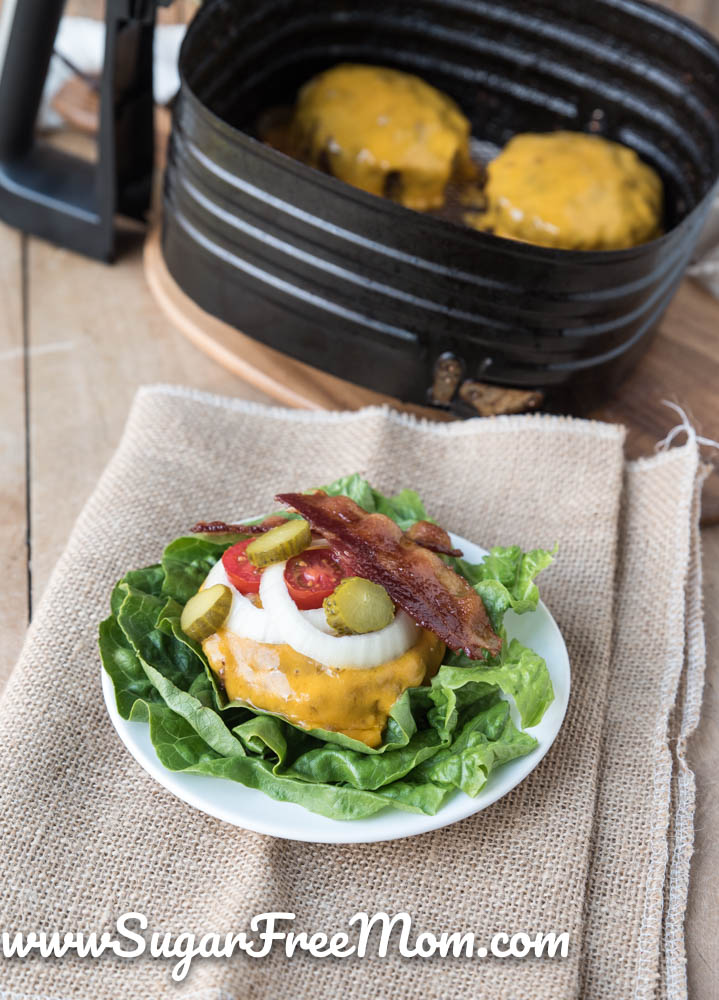 This easy keto air fryer salmon recipe is a quick low-carb, high protein, whole30 easy dinner that can be ready in 15 minutes with a delicious zingy, sugar-free dressing and perfect served with a side of any low-carb vegetable you enjoy!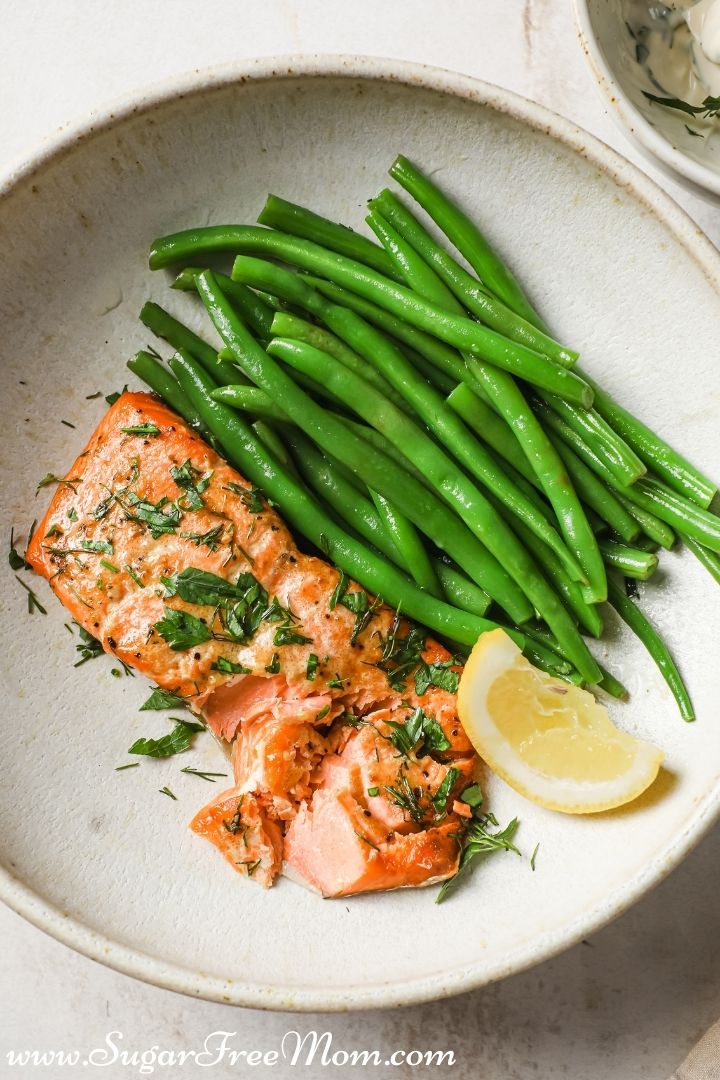 This Keto Coconut Fried Shrimp recipe will hit all the right notes in your mouth! It's a tasty, finger food party appetizer or entree to serve to even the non low carb family and friends!
If you've never tried coconut shrimp, now is the time my friends! It's basically an easy way to enjoy tasty shrimp! Fresh Shrimp coated in shredded coconut which is then fried, pan-fried, baked or even air fried!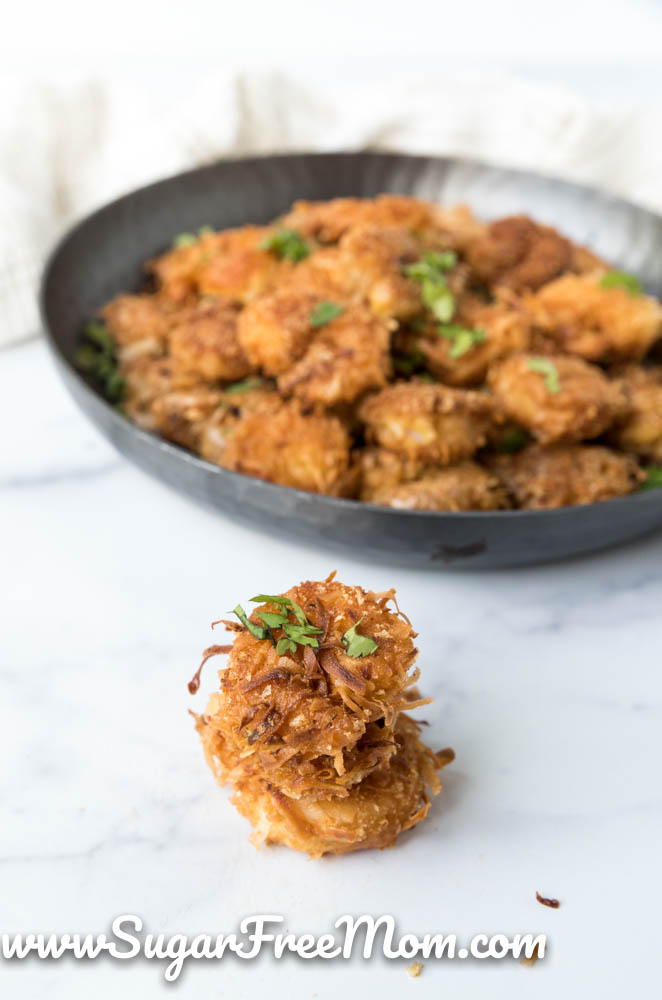 These gluten-free, air fryer, crispy keto breaded mushrooms make a great side dish to serve with any protein of choice or enjoy as a delicious appetizer with your favorite dipping sauce! Just 4 total grams of carbohydrates or 3 net carbs per serving!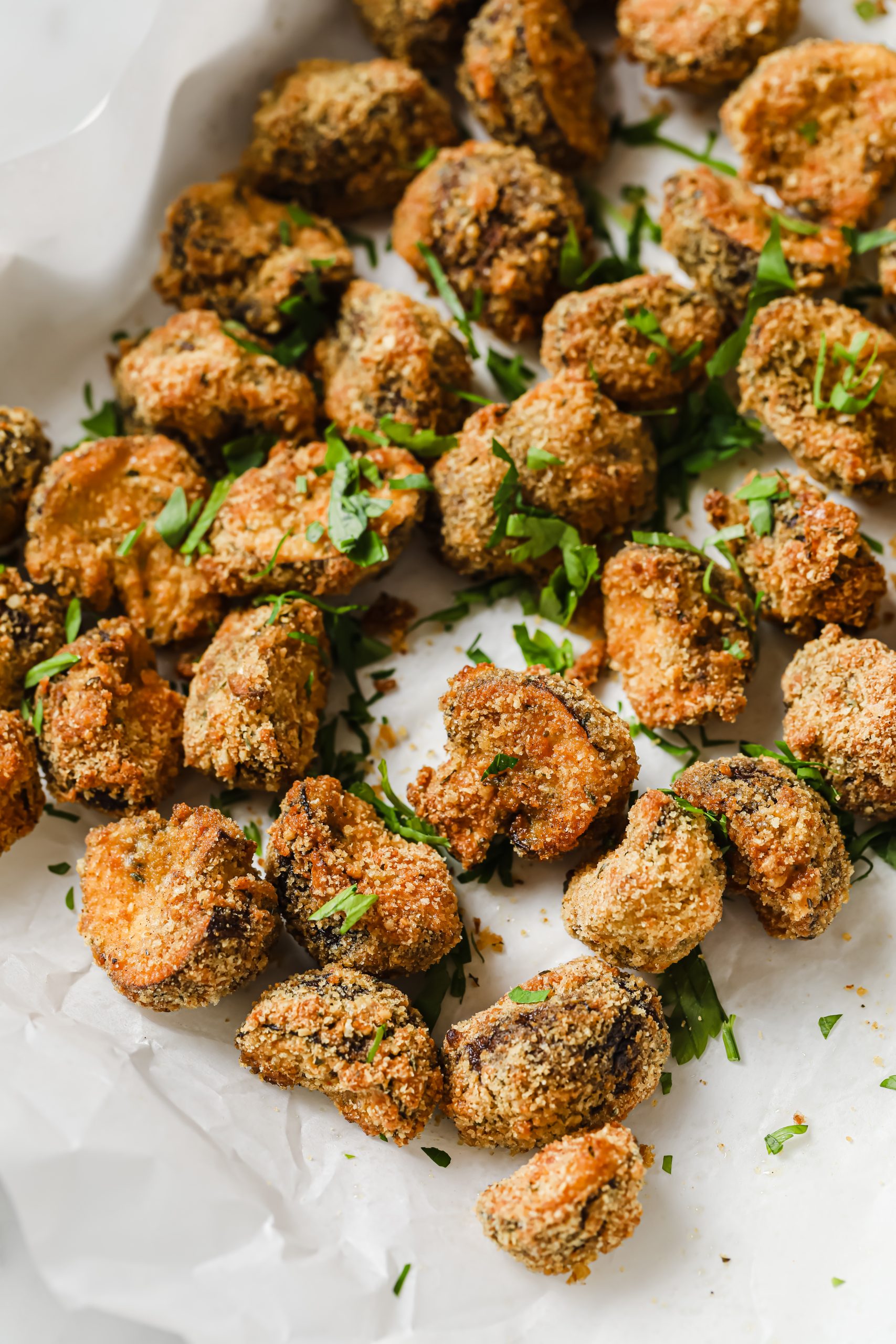 KETO LOW CARB CASSEROLES
When the cooler weather hits, I love me some cozy casseroles that include delicious protein, with keto vegetables, fresh herbs and are all in one dish for a complete meal.
This comforting low carb hashbrown breakfast casserole is perfect to feed a crowd, great for making ahead, and provides amazing leftovers! Full of protein and only 2 net carbs per serving!
It's a hearty, satisfying meal that can be enjoyed for breakfast, lunch of dinner! You can easily make this a day or two ahead, keep refrigerated until ready to bake.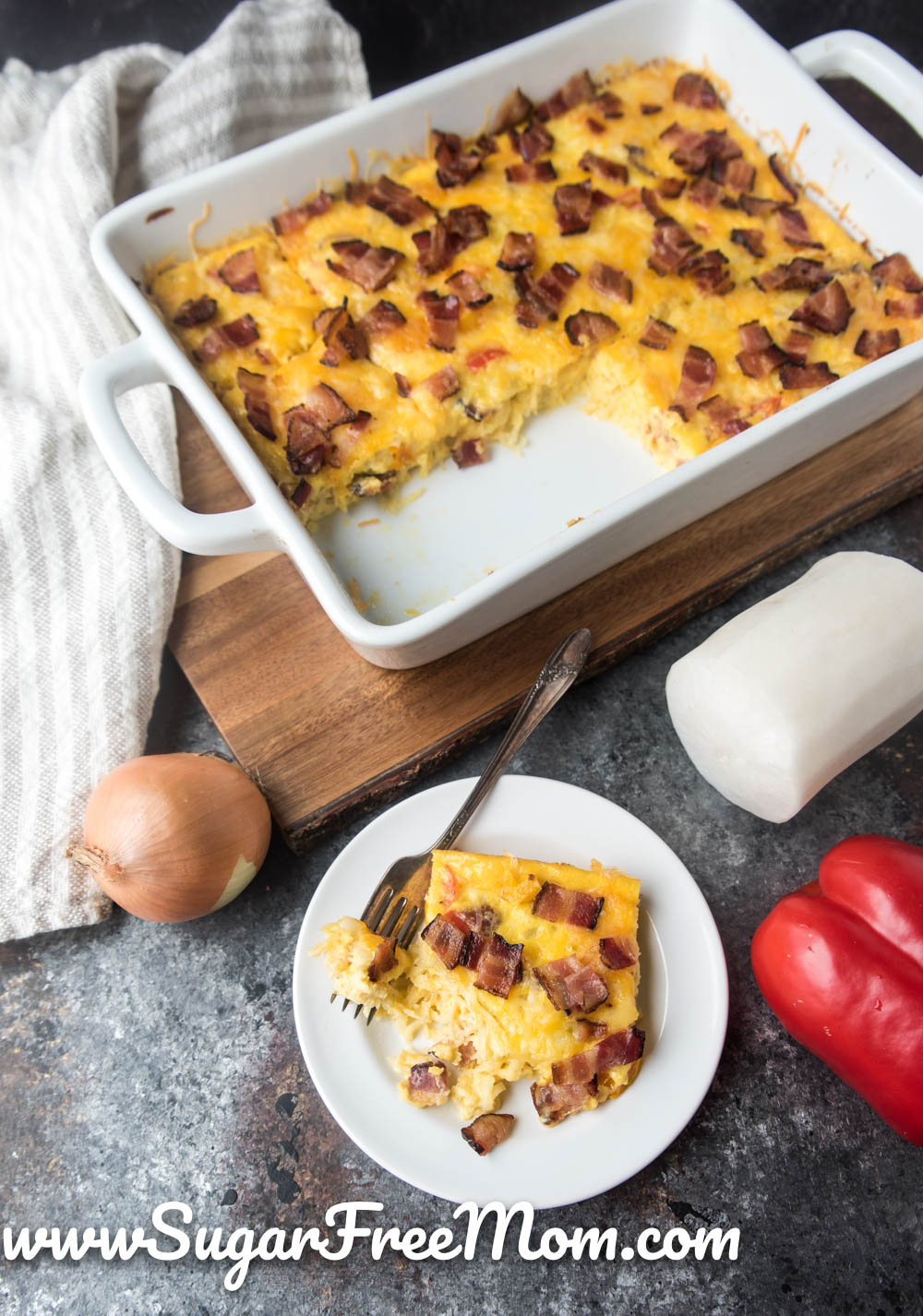 If you're looking for a delicious breakfast the whole family will love and an easy meal prep to make ahead for busy mornings, this easy keto breakfast casserole recipe is the perfect recipe for you! Just 4 total carbs per serving or 3 net carbs.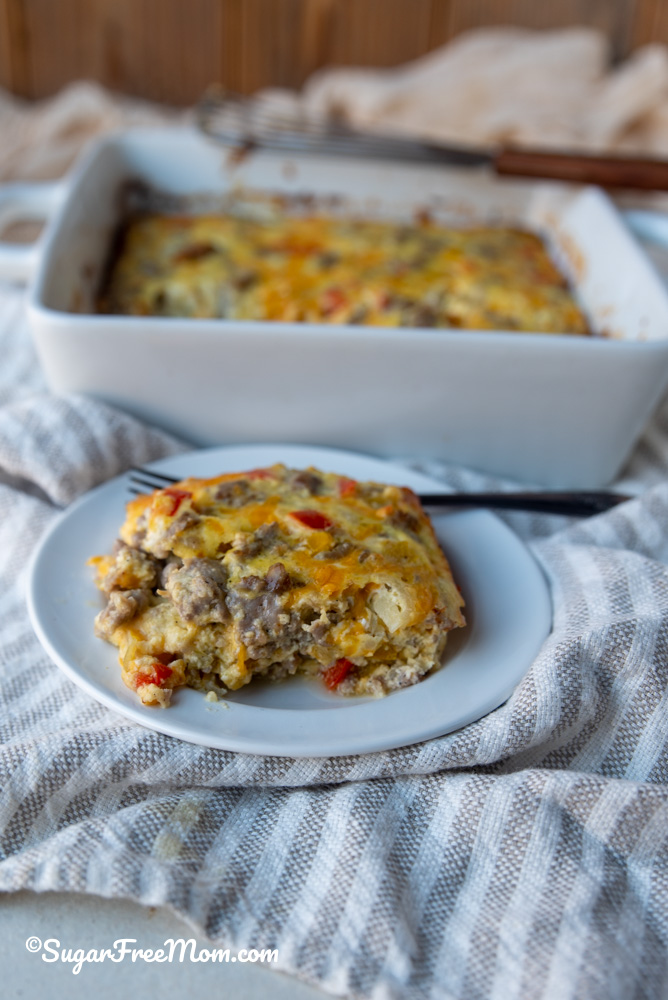 This Keto Caesar Chicken Casserole is an exclusive recipe I'm sharing from my cookbook, Naturally Keto!
This Caesar chicken casserole has all the flavors of an amazing, hearty low carb meal made quick and easy for the whole family. Caesar dressing mixed with delicious Rotisserie chicken, broccoli and of course cheese, is an all in one, family winning recipe everyone will devour!
Low Carb Reuben Style Cauliflower Casserole with Pastrami Meatballs is a combination of the flavors of a classic Reuben sandwich, but with a family friendly twist in casserole form.
The classic pastrami and dressing that makes the Reuben what it is, makes for a tasty way to spice up a casserole meal for a family.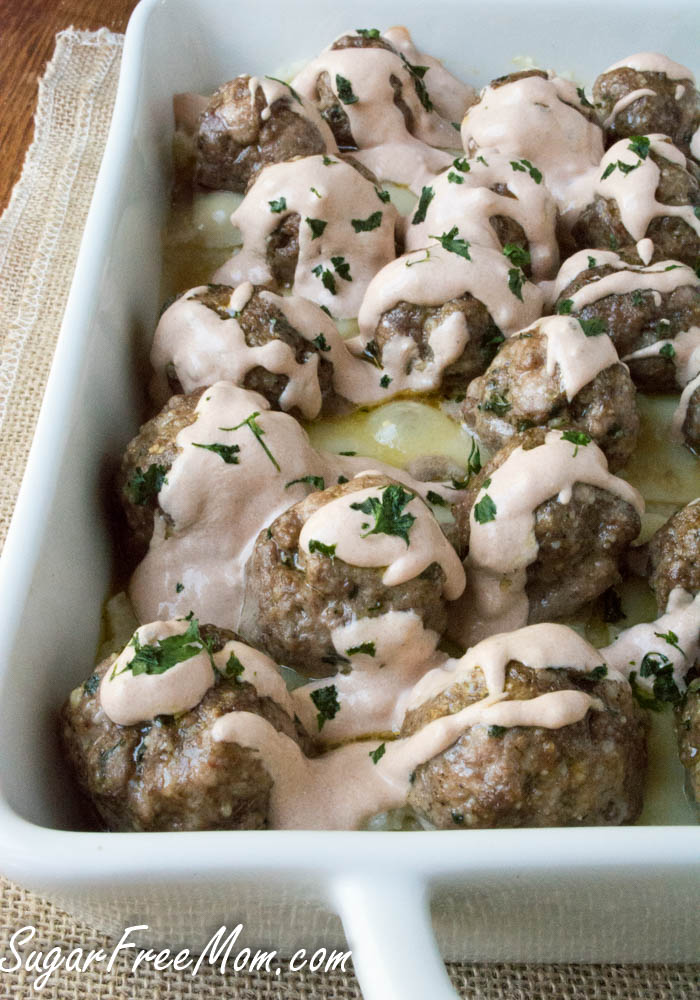 This Keto Pizza Cauliflower Casserole is a low carb lover's pizza dream! I've finally found a way to enjoy everything I love about a meat lover's pizza with a whole lot less carbs. It's my hidden cauliflower recipe strikes again!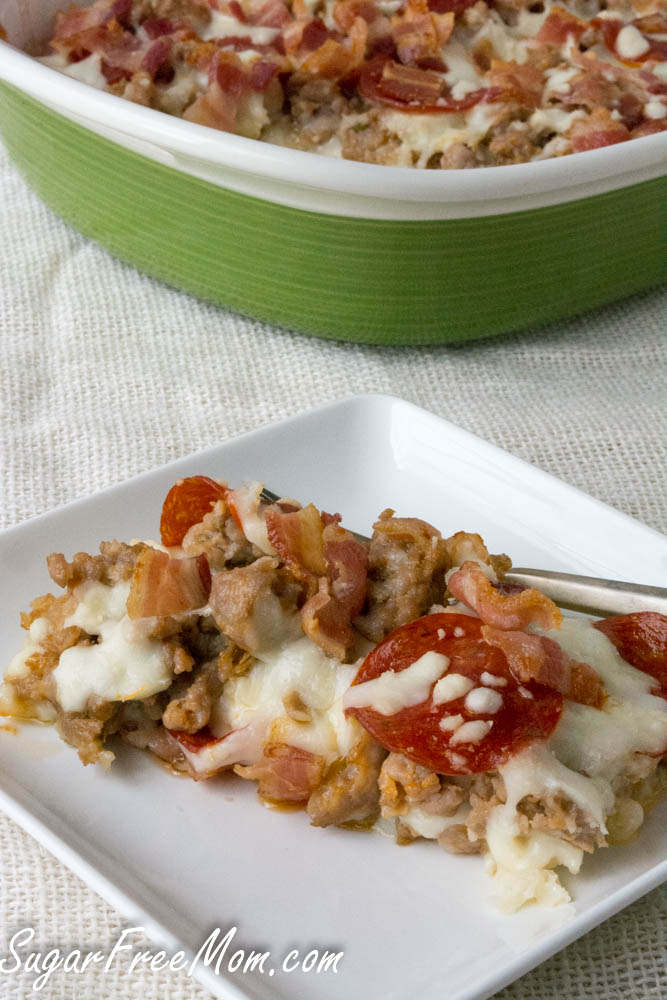 This Easy Mexican Cornbread Casserole is Keto, Low Carb, Gluten Free, Grain Free and one of the most comforting and satisfying meals you can make for your family!
With a layer of cornbread as the base, a mixture of spices with organic grass fed ground beef and another layer of cheesy cornbread on top, this scrumptious meal is not only a family friendly one, but simple enough for any busy weeknight!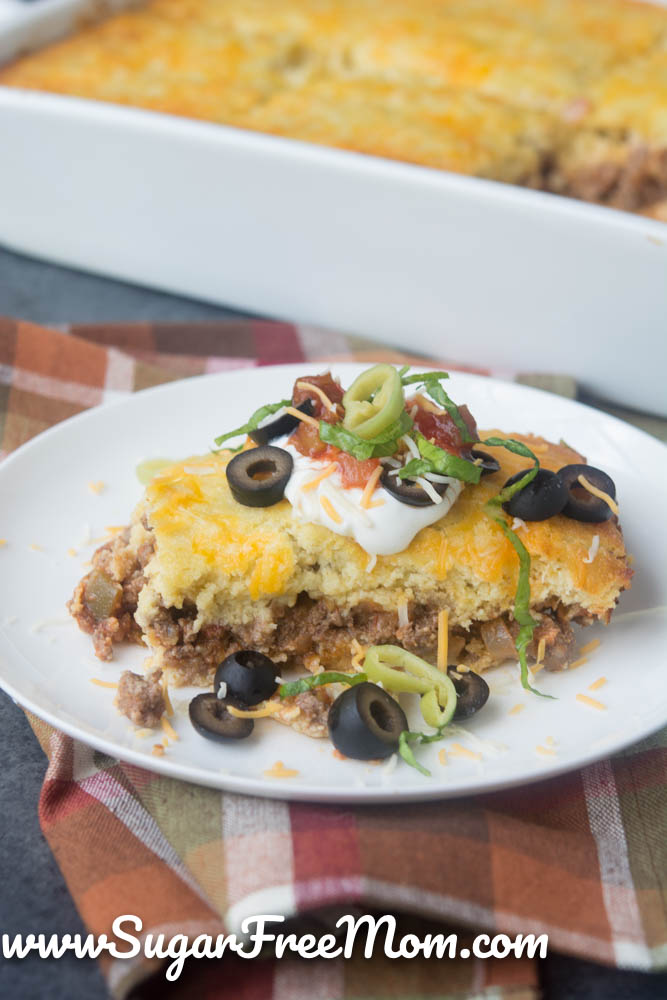 This Bacon Cheeseburger Casserole is made low carb secretly using cauliflower as the base and no one will know! It's low carb, keto, gluten free, nut free and grain free!
New & Improved Method makes this a much easier casserole to get on the table fast even on a busy weeknight! Just 4 grams of net carbs per serving, perfect for those on a low carb diet or keto diet!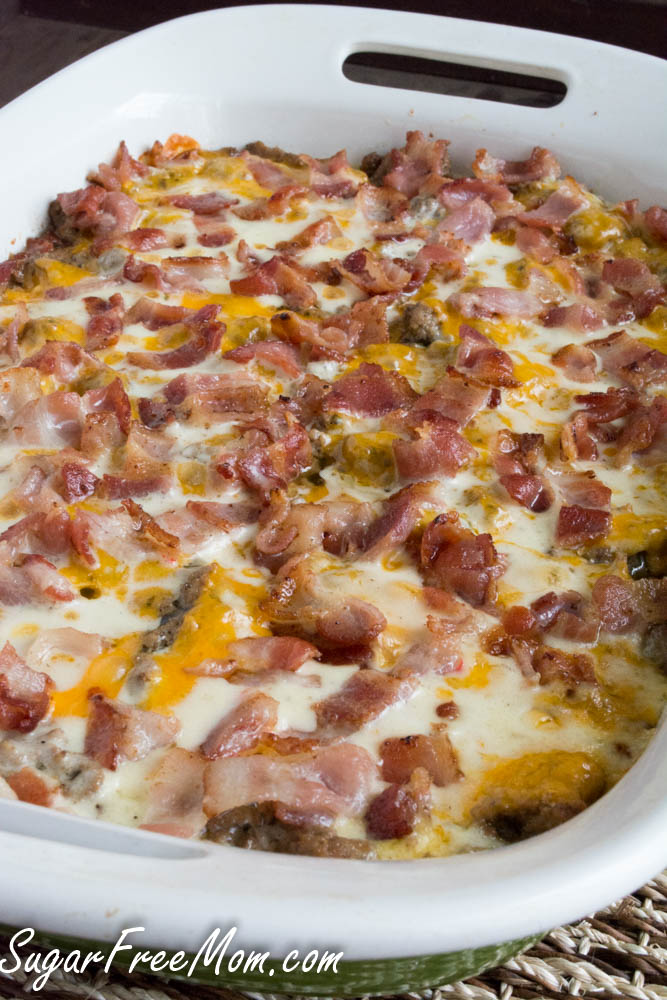 LOW CARB SIDE DISHES
Side dishes with fewer carbs make the holidays happier for those of us on a keto diet or low carb diet. These keto fall recipes are some of our favorites for the holiday season.
This Apple Sausage Cornbread Stuffing is a fantastic low carb stuffing that is full of flavor, no one will notice it's low in carbs! In memory of my sweet grandma who always made the spiciest of stuffings, I made my version on the spicy side.
Now it's not as spicy and she used to make where you actually needed a moment between bites to sit back and wipe the sweat off your brow. You can really alter the flavor and spices and much as you like.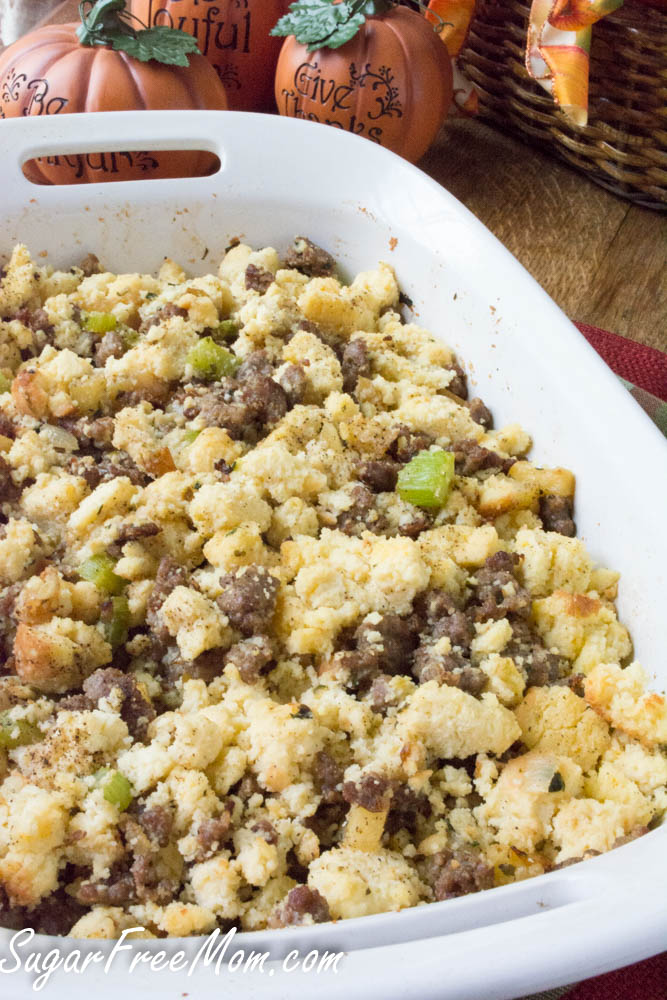 If you're on a keto or low carb diet, you can still enjoy stuffing for Thanksgiving using my keto coconut flour bread! This tastes just like my Italian Grandma's Authentic stuffing and I know you are going to love it!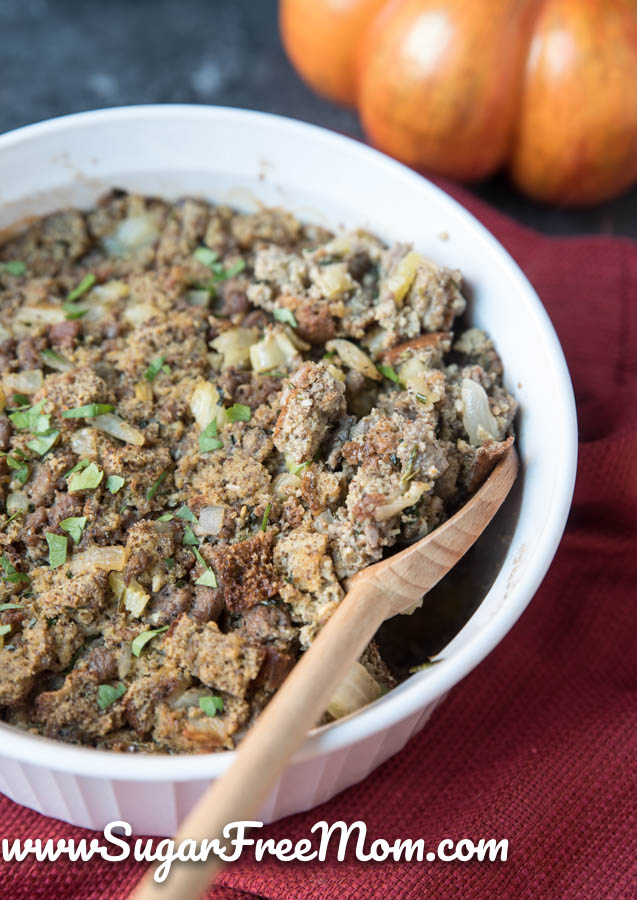 This easy keto, low carb cranberry sauce has a hint of orange, and is perfectly sweet, but made without adding sugar and has just 5 ingredients!
This easy keto cranberry sauce takes little time in the kitchen and is packed full of flavor! No one will be able to tell this cranberry sauce is sugar free and low carb!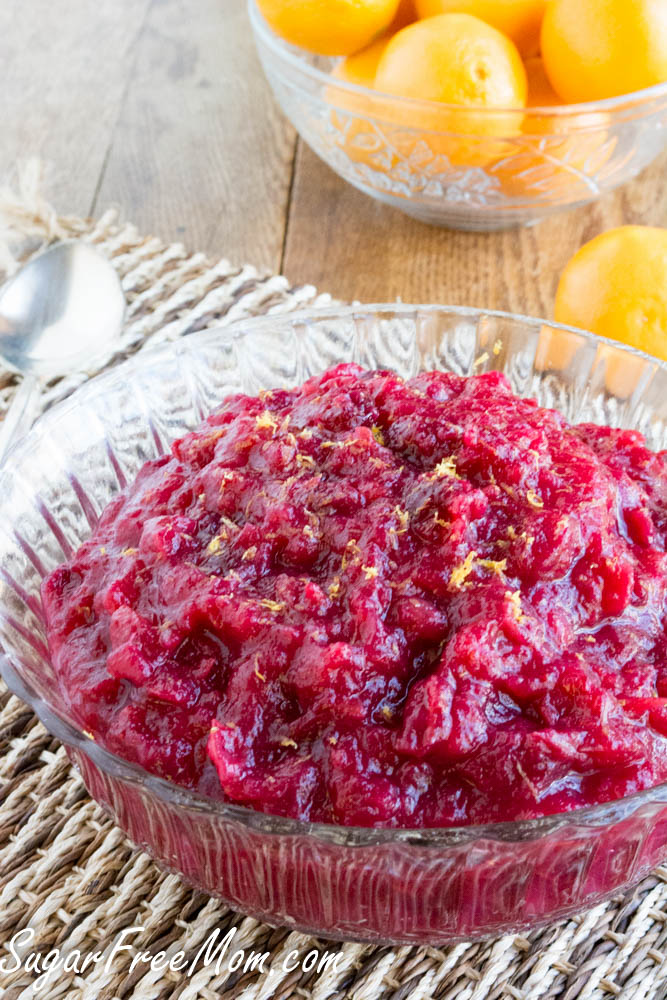 These easy keto broccoli tots are a delicious, nutritious snack or side with any entree. The whole family will love, even the non low carbers. Just 5 net carbs per serving!
If you're looking for a really tasty low-carb savory snack or even breakfast, these Keto Broccoli Tots are a favorite. They're great for both adults and kids so if you need to fuel the whole household in one easy meal.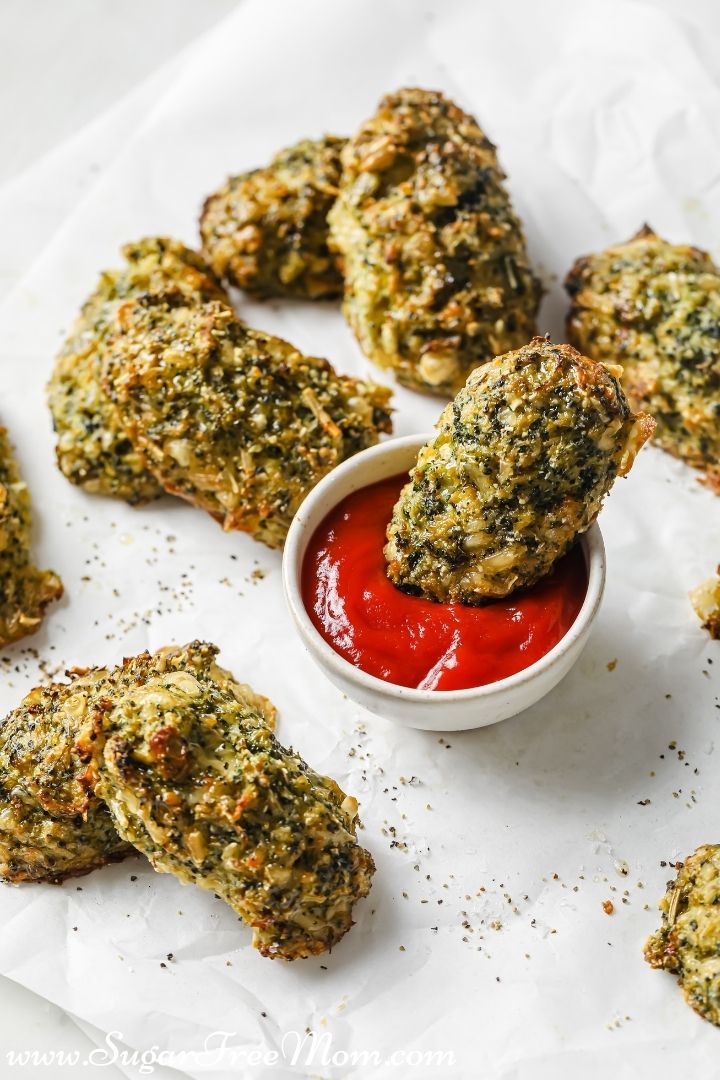 Low Carb Keto Green Bean Casserole is creamy, easy and the perfect side dish! Creating a delicious, low carb, keto version isn't as difficult as you would think and is a even tastier, in my opinion, using fresh ingredients.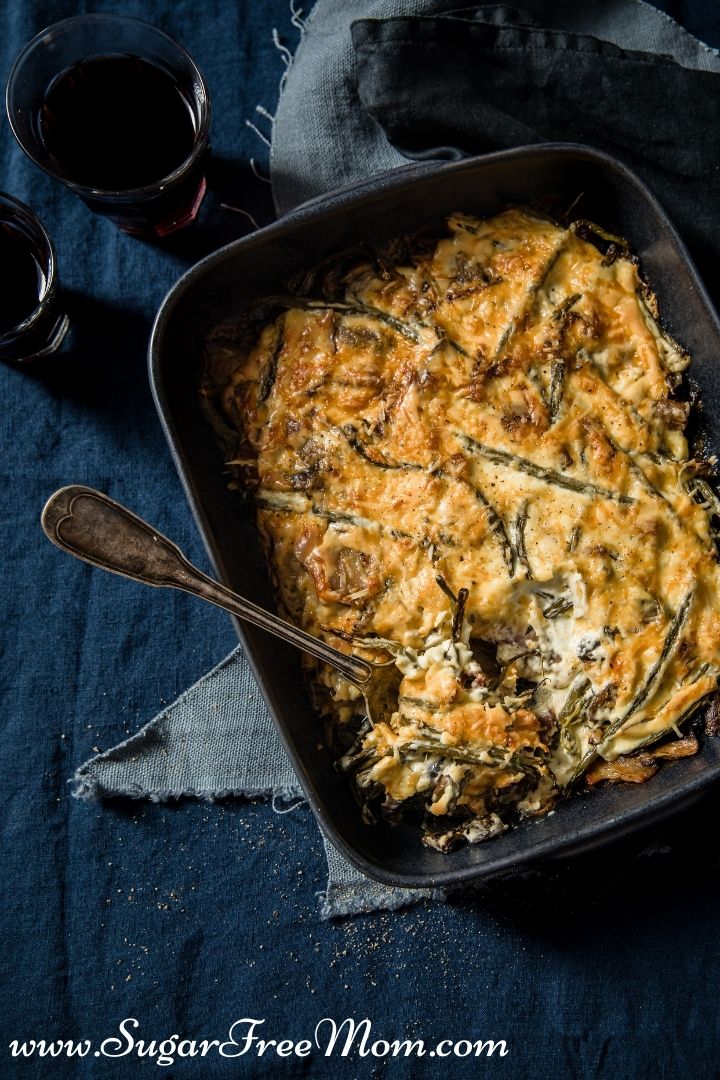 Slow Cooker Cabbage and Onions is a classic side dish that can be enjoyed with any main entree! It's keto, low carb, gluten free and easy!
Besides the ease of using the slow cooker, the cabbage takes on a different flavor when all the delicious seasonings and onions have a change to hang out together cooking low and slow.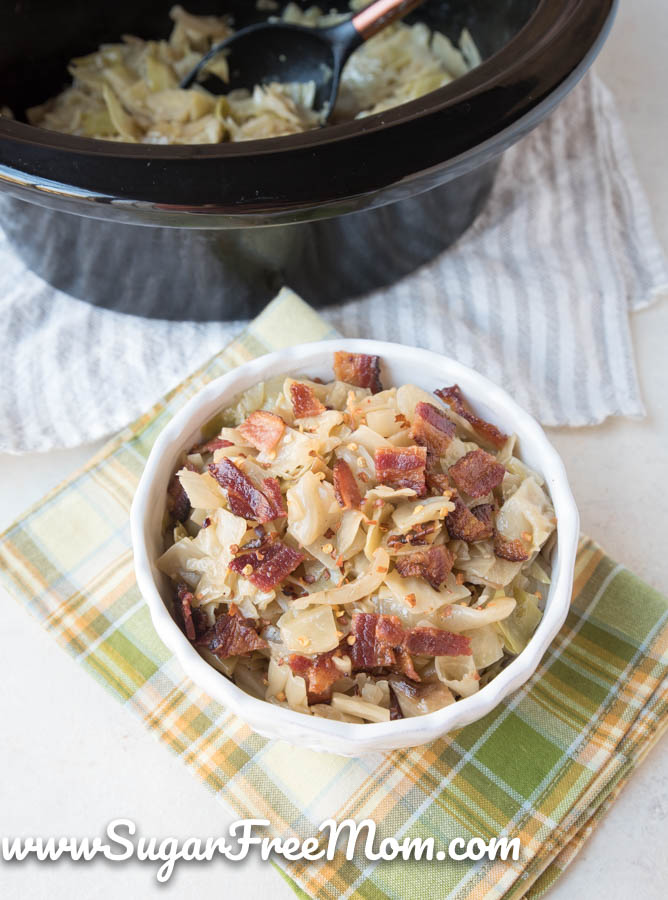 This pureed pumpkin and cauliflower mash is a delightful twist on the typical Thanksgiving and fall favorites. This recipe is my idea of boycotting the mashed potatoes and sweet potatoes for a lower carb dish that I can enjoy.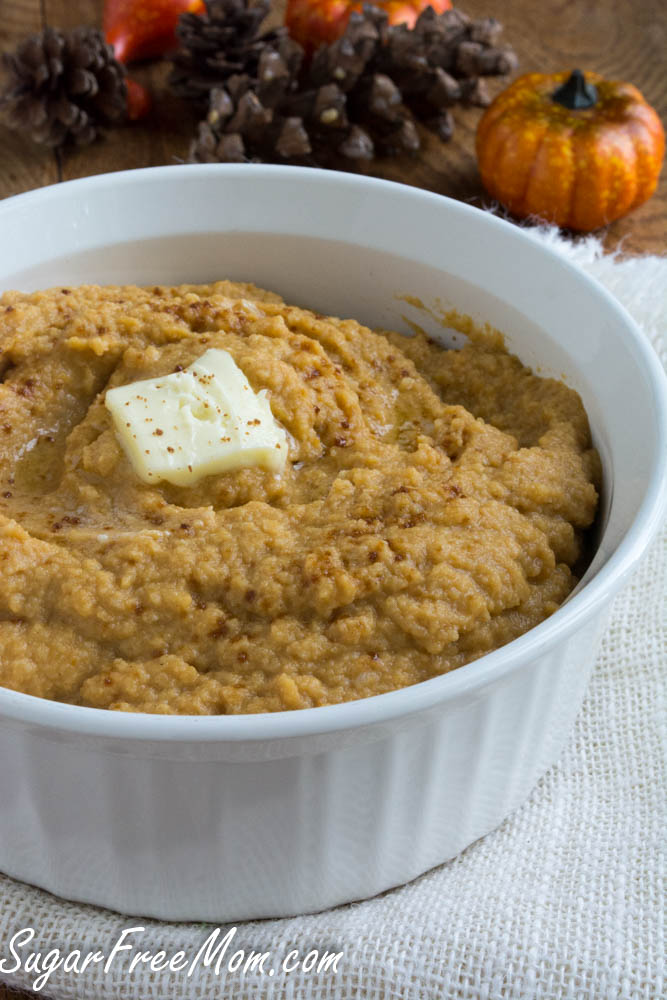 This Easy Slow Cooker Recipe for Creamy Mashed Cauliflower is a winning Low Carb, gluten free recipe! Instructions also include steaming cauliflower if you don't own a slow cooker.
Creamy Mashed Cauliflower can be as comforting as creamy mashed potatoes when you have the perfect combination of ingredients. This recipe is a winning recipe!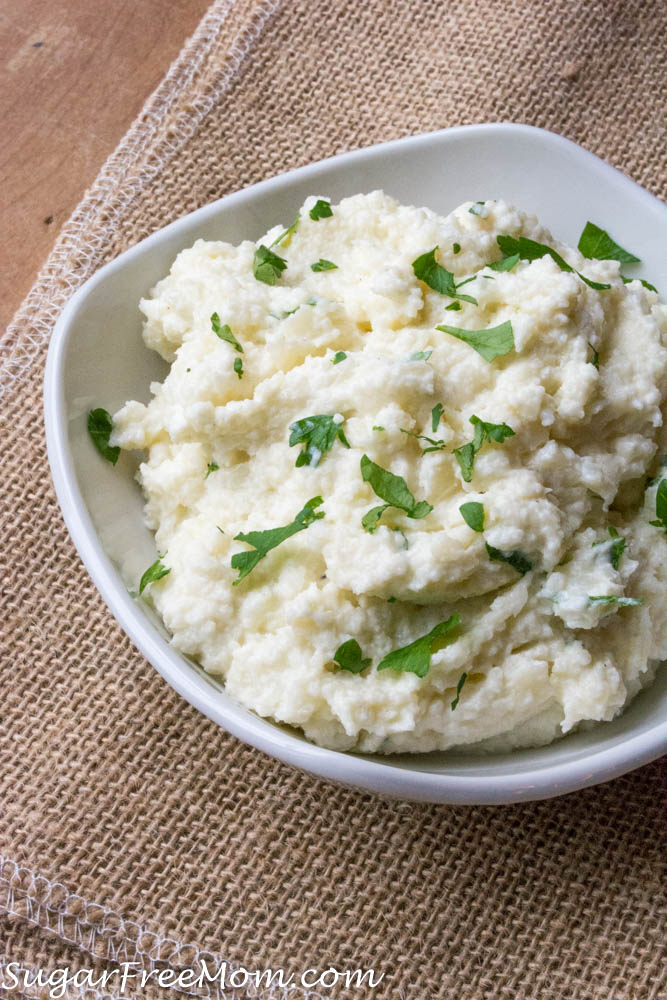 LOW CARB BREADS
We all know when it comes to weight loss, indulging in breads too often is a sure fire way to fail on your goals.
The best part about these quick breads is your taste buds won't notice the difference in their lower carb count and the best thing is that none will spike your blood sugar.
This Delicious Keto Low Carb, Nut Free, Brown Butter Pumpkin Bread is the perfect fall bread for the fall season to enjoy with your coffee or tea! Ideal if you're on a ketogenic diet with just 3 grams of net carbs. It's also almond flour free, and gluten free!
This Easy Fool Proof Recipe for Keto Low Carb Cloud Bread is not only scrumptious for the Fall season, but makes perfect Low Carb Pumpkin French Toast! Just 84 calories per slice and 2 Net Carbs!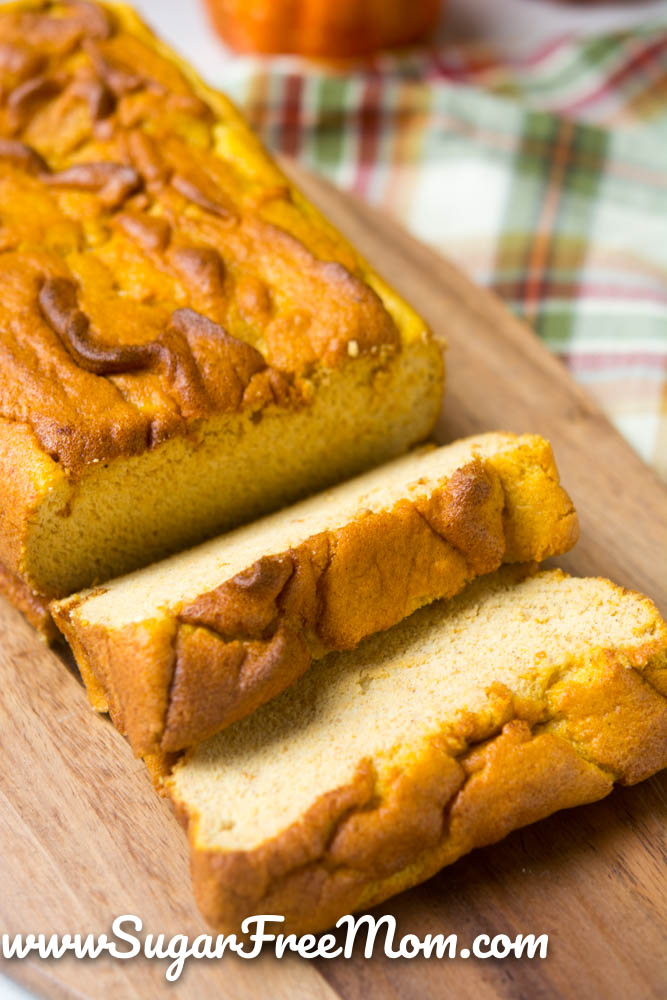 This Keto Sugar-Free, Low Carb but Nut Free Chocolate Pumpkin Bread is gluten free and grain free as well! It's the season for all things pumpkin and the combo of chocolate and pumpkin in bread form has always and will continue to be the worlds best of the best of the fall recipes!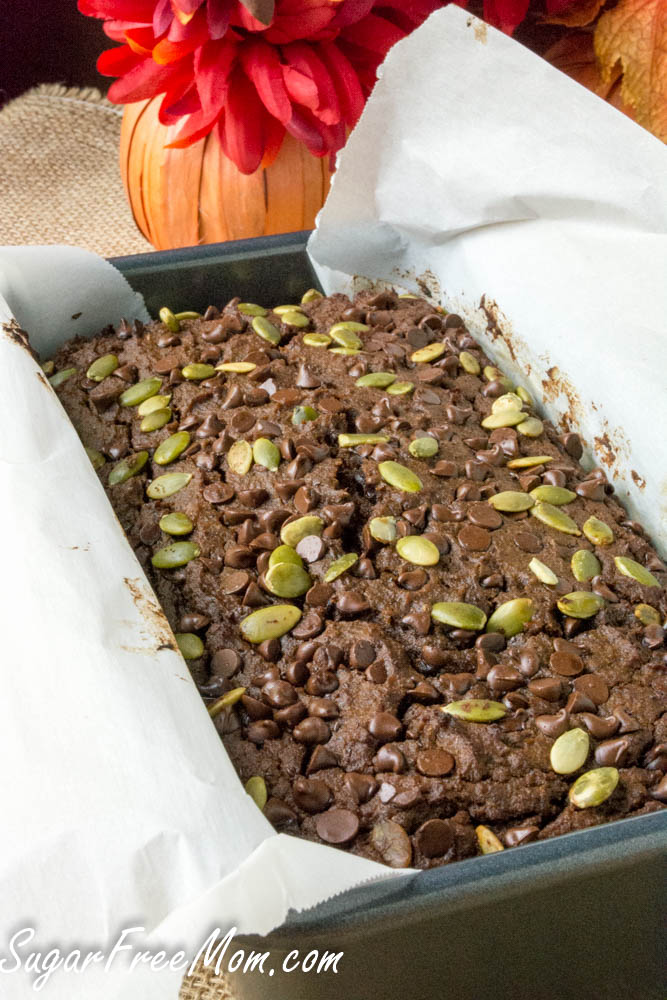 These Sugar-Free Low Carb Pumpkin Twists are very easy to make, gluten free, grain free and perfect for holiday parties! No utensil required, just grab a napkin! Or enjoy these for a comforting brunch or breakfast on the weekend.
They taste sinful and indulgent but are healthfully made with the low carb in mind.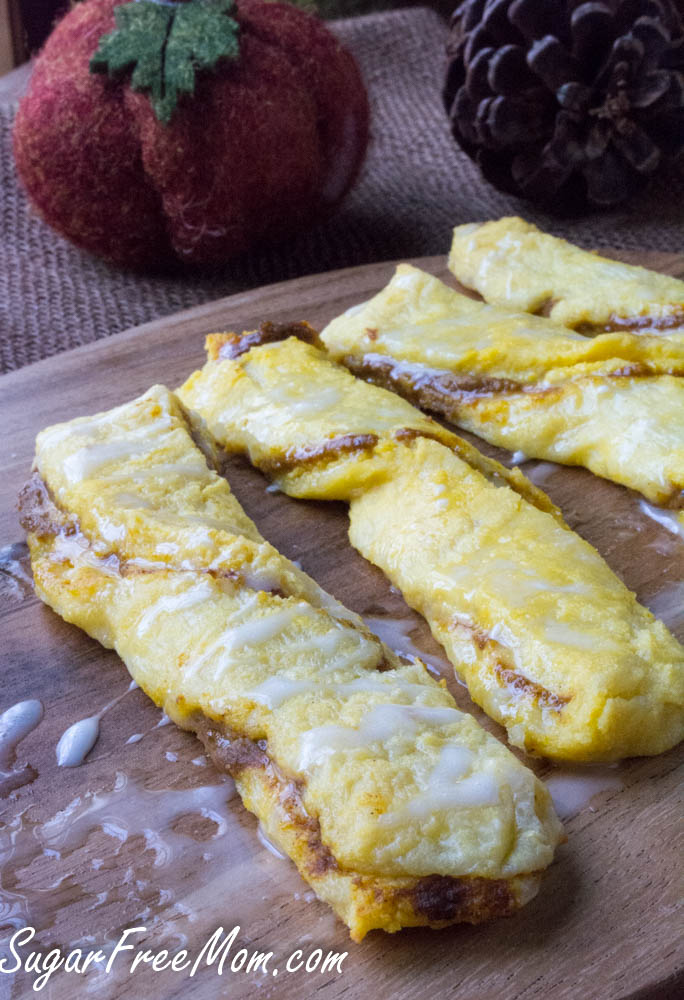 This amazing recipe for keto nut free garlic bread is easy to make at home and so tasty your family will be requesting it often! Just 3 net carbs per serving and enjoy with your favorite entree!
If you're looking for an authentic yet Low Carb Tortilla, try these nut free, keto, paleo and gluten free tortillas! These are the most legit keto tortilla you will ever have! Just 1 net carb per tortilla! This recipe comes from my cookbook Naturally Keto!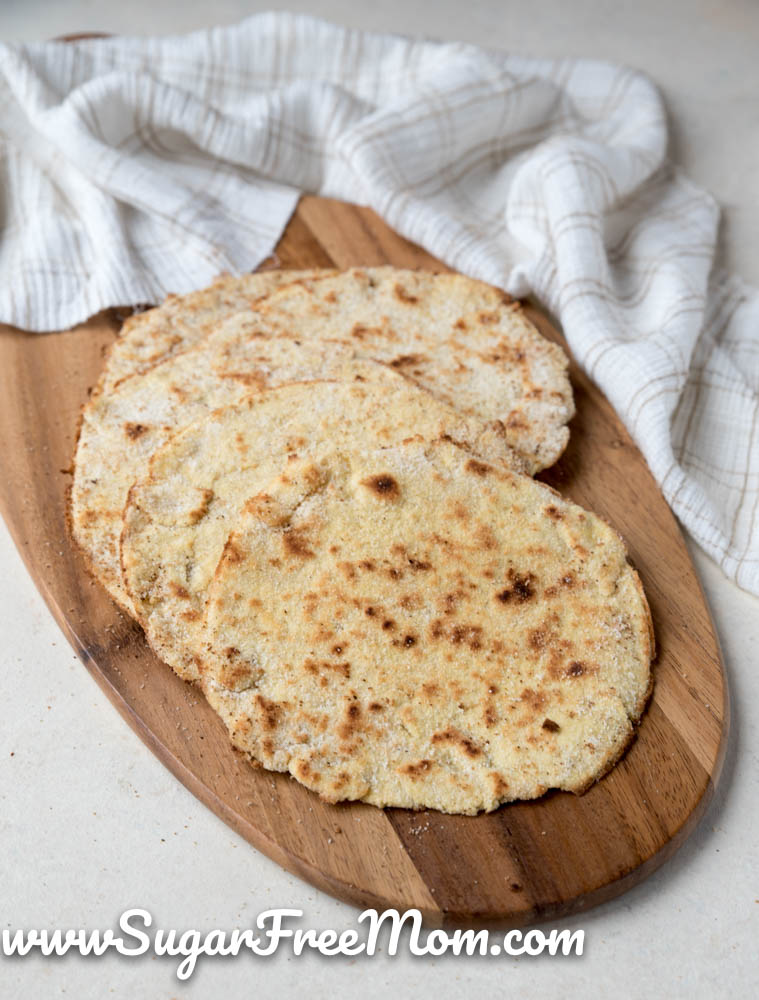 LOW CARB DESSERTS & SNACKS
We've got all your favorite keto pumpkin desserts and many other favorites for a perfect dessert for the fall and winer season. A satisfying easy keto dessert will always include a healthy fat so you only need a small piece for a special occasion.
Keto Low Carb Apple Dump Cake is a simple recipe that is grain free, gluten free and made with no added sugar! Just 5 g net carbs using apples for those on a low carb diet and 1 g net carbs using zucchini for those on a keto diet.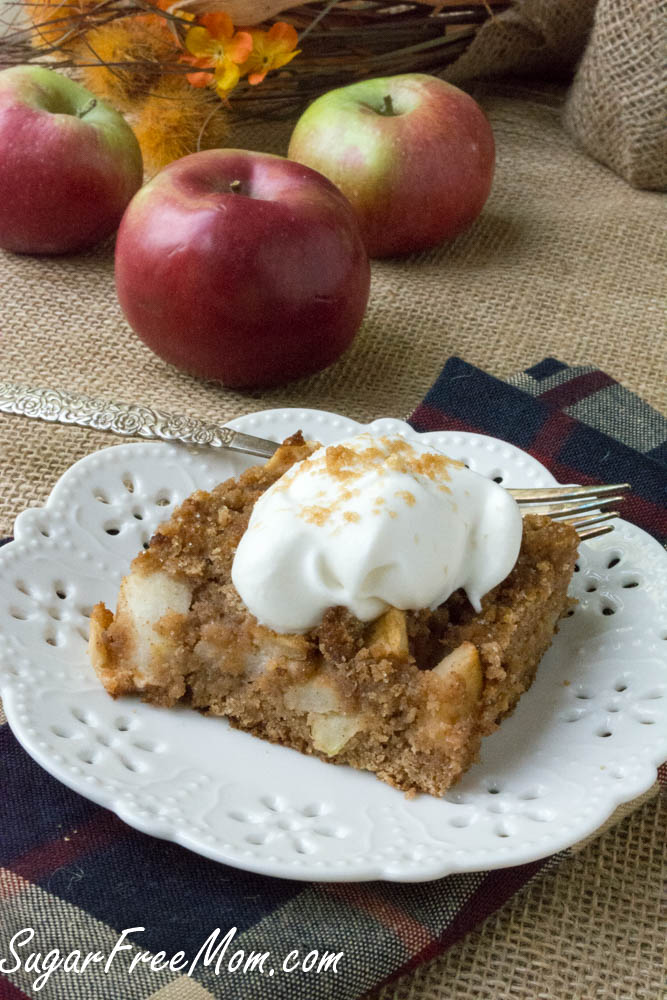 This is the ultimate keto cake for fall or special occasions the whole family will enjoy. This Low-Carb Keto Poke Cake uses zucchini instead of apple, and just 4 g net carbs per serving.
Thanks to the quick homemade easy recipe for cinnamon apple puree, this delicious cake is flavorsome and moist.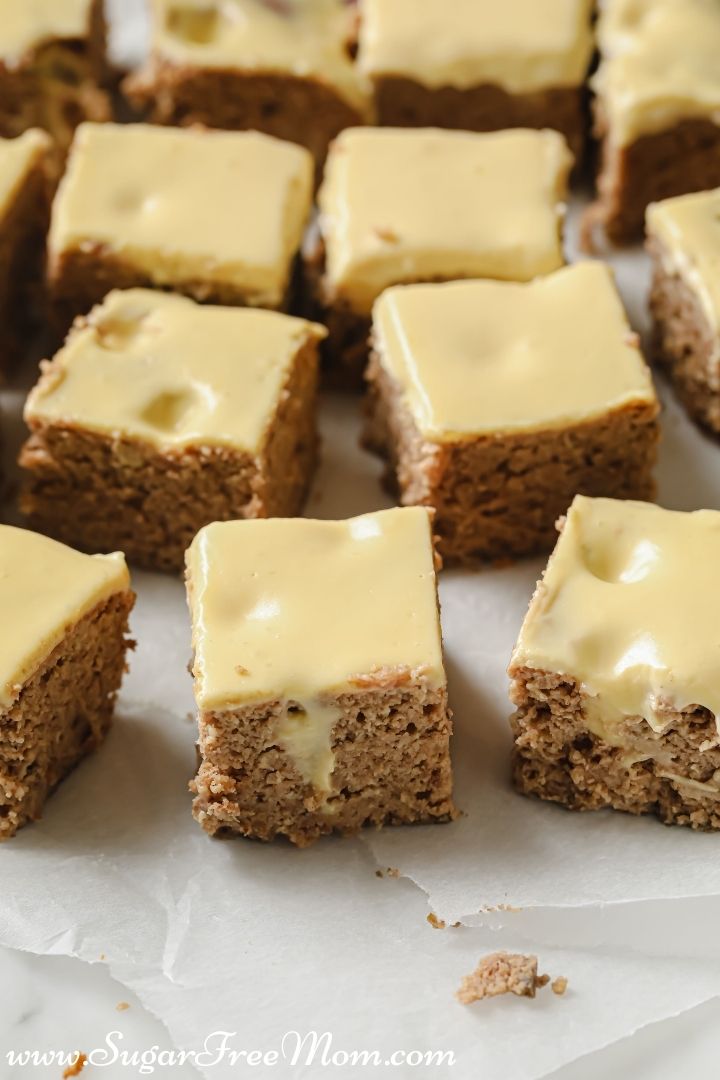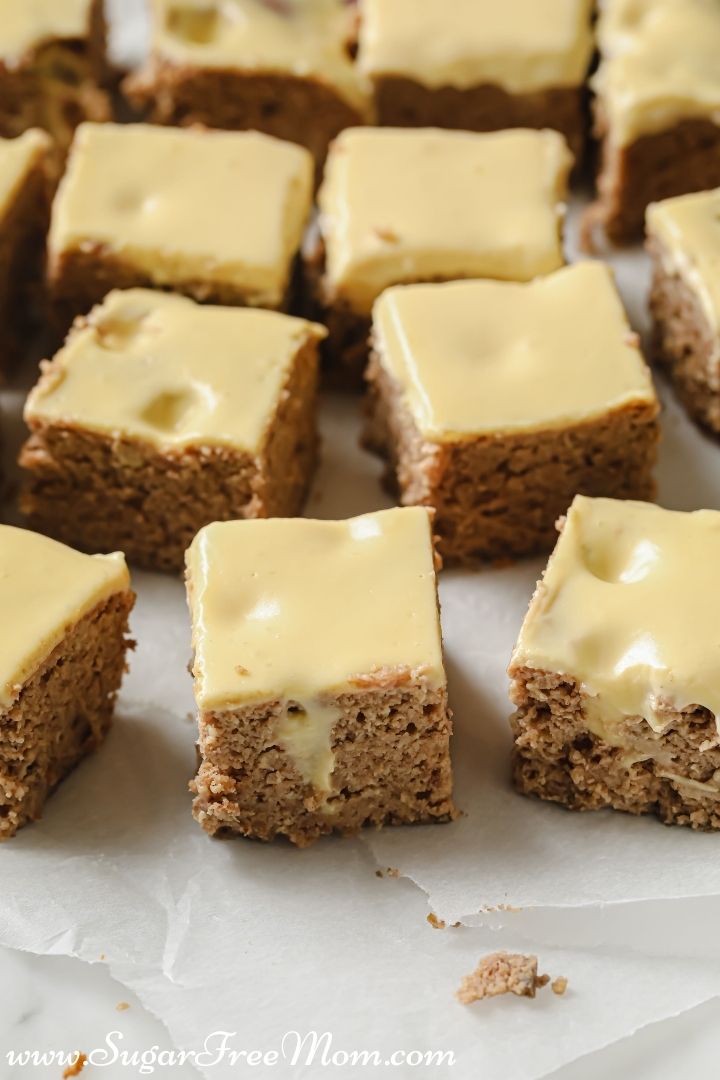 These Amazing Keto, Low Carb, Gluten Free Caramel Apple Cheesecake Bars are a perfect Fall dessert that even your non sugar-free low carb friends will devour! It's a pretty simple recipe with 3 easy layers of deliciousness!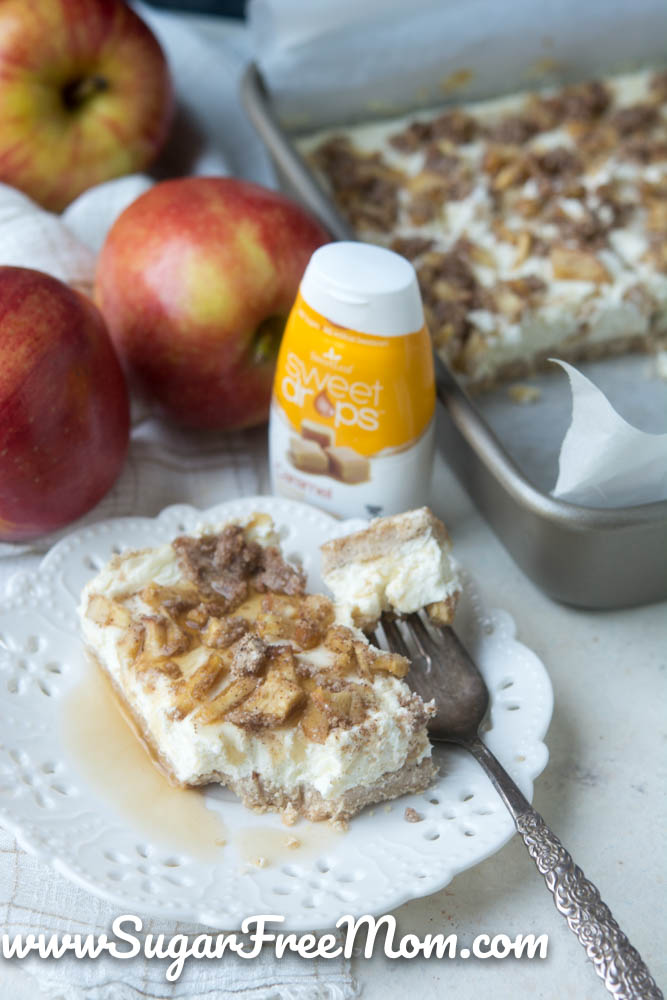 This Easy Sugar Free Pumpkin Pie has a low carb, gluten free and nut free pie crust with a creamy keto pumpkin pie custard filling all made sugar free! Just 4 net carbs per serving! Or make in the slow cooker as keto pumpkin bars instead.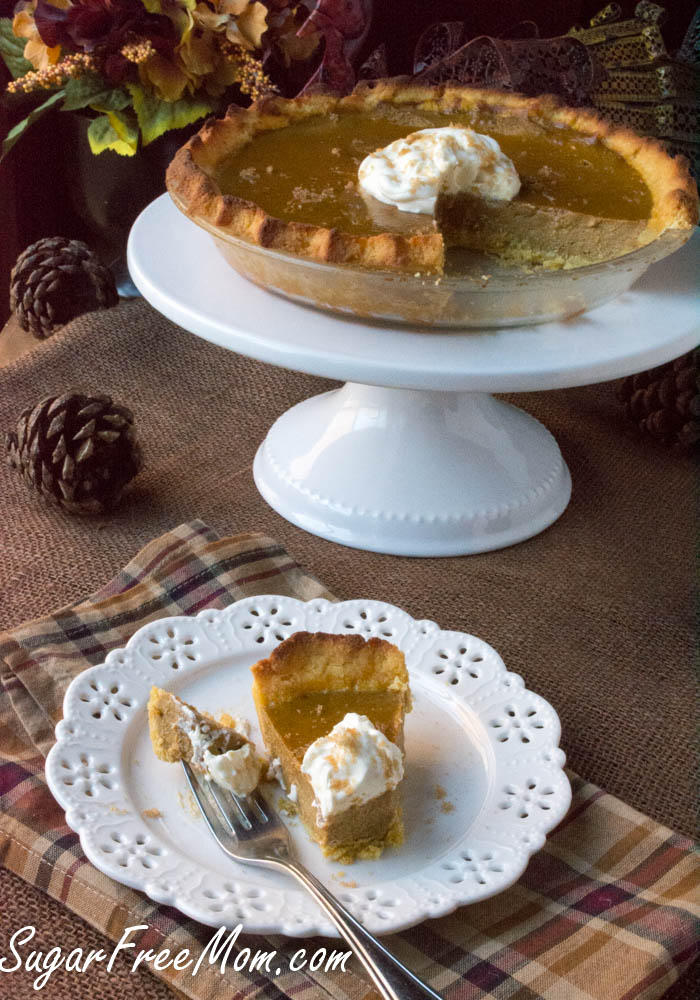 This keto pumpkin no bake cheesecake recipe is perfectly portioned into mini cheesecakes for easy entertaining!
Whether you are following a keto diet or low carb diet or just looking to reduce your sugar, these are just 4 grams of net carbs per serving!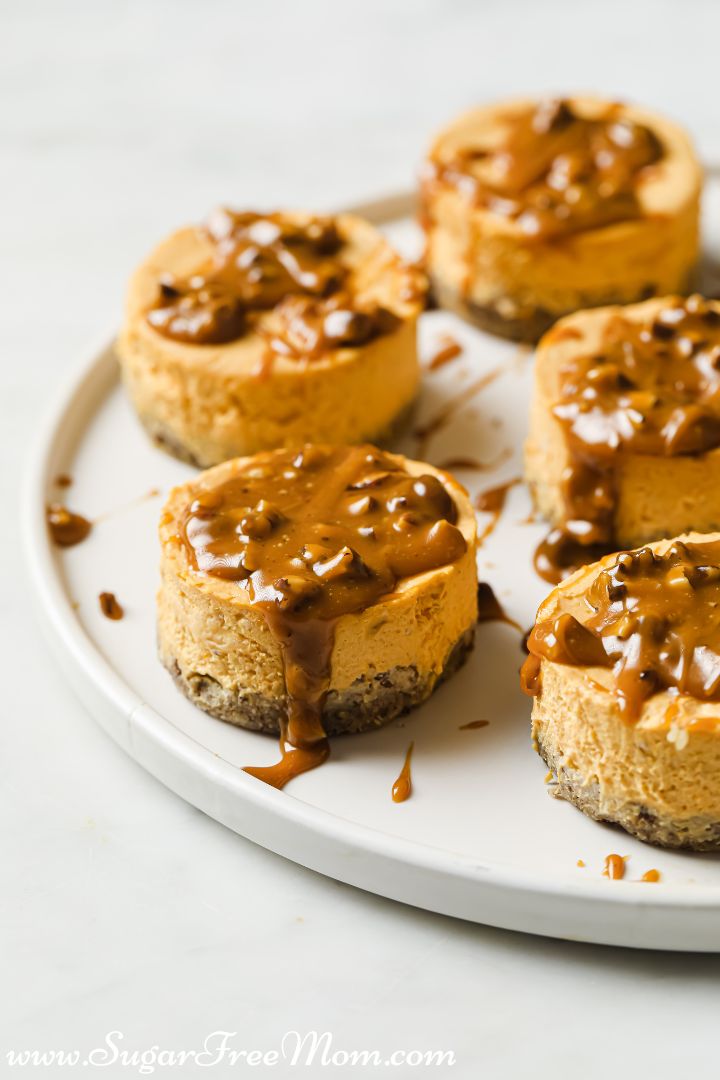 These Sugar Free Keto Low Carb Pumpkin Pie Cupcakes are heavenly! You'd never notice they are made grain free, gluten free, sugar free and even low in calories!
These sugar free pumpkin pie cupcakes are basically mini pumpkin pies without a crust and served with a luscious sugar free pumpkin cheesecake mousse as the frosting!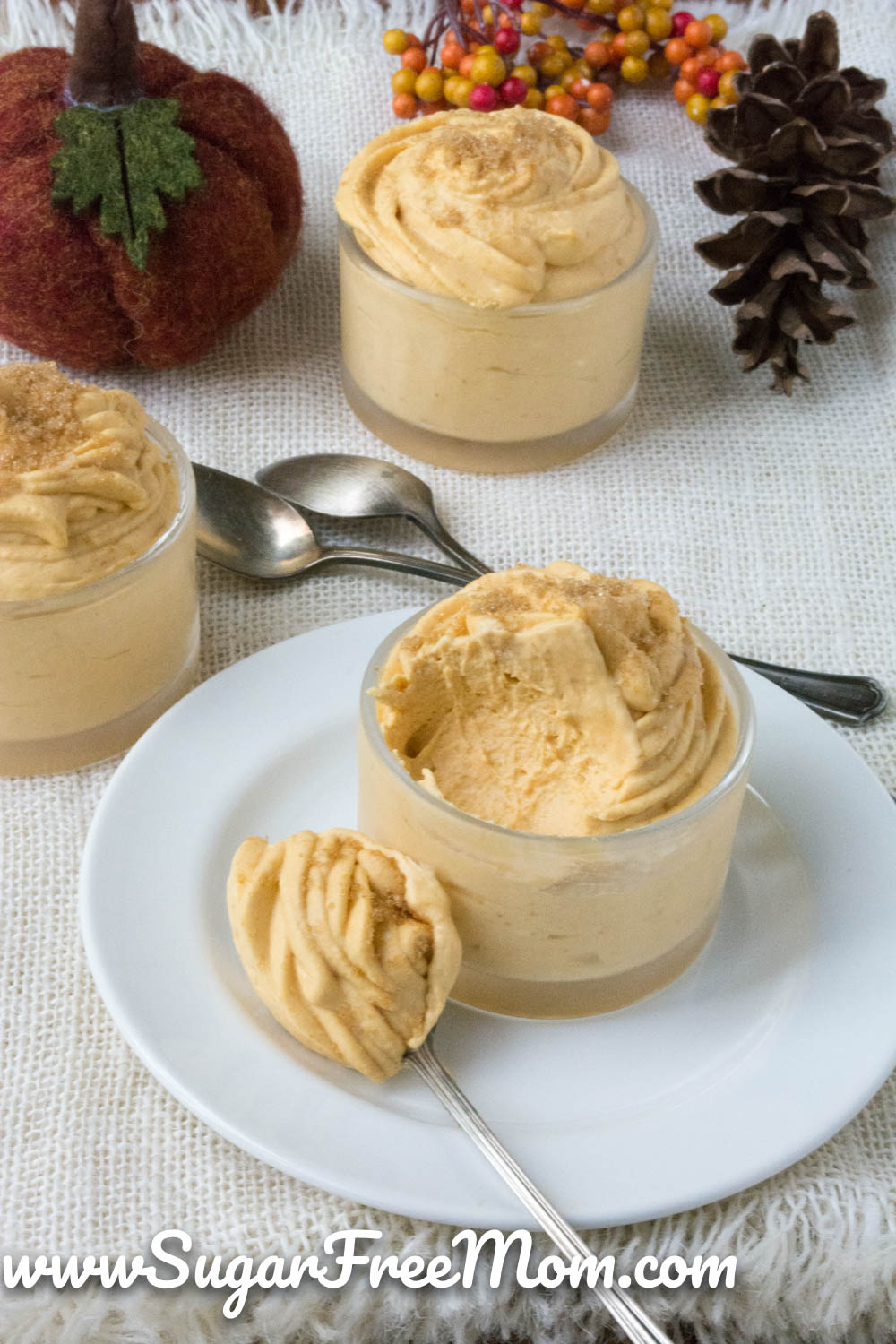 This Keto Sugar-Free Flan is dairy free, low carb and gluten free! Just 8 ingredients needed to make this fancy looking, tasty, perfect keto dessert for your keto diet! Just 3 net carbs per serving!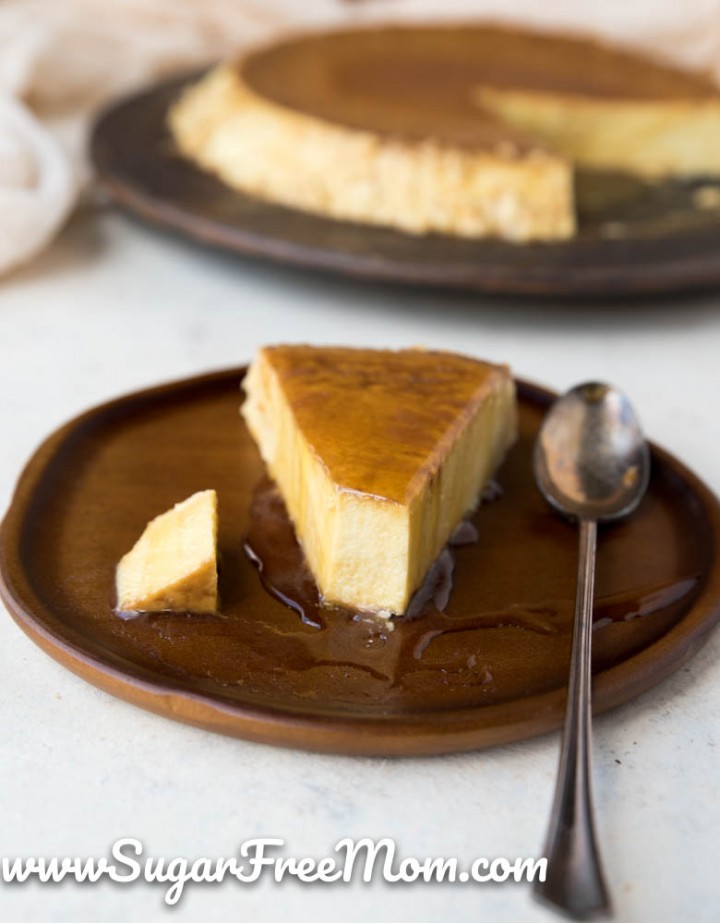 These Low Carb Candied Bacon Pecan Pie Bars are grain free, keto, sugar-free and absolutely amazing in texture and taste! This recipe will be the perfect option to bring to a holiday party and even your non low carb loving friends will be shocked these candied bacon pecan pie bars are sugar free!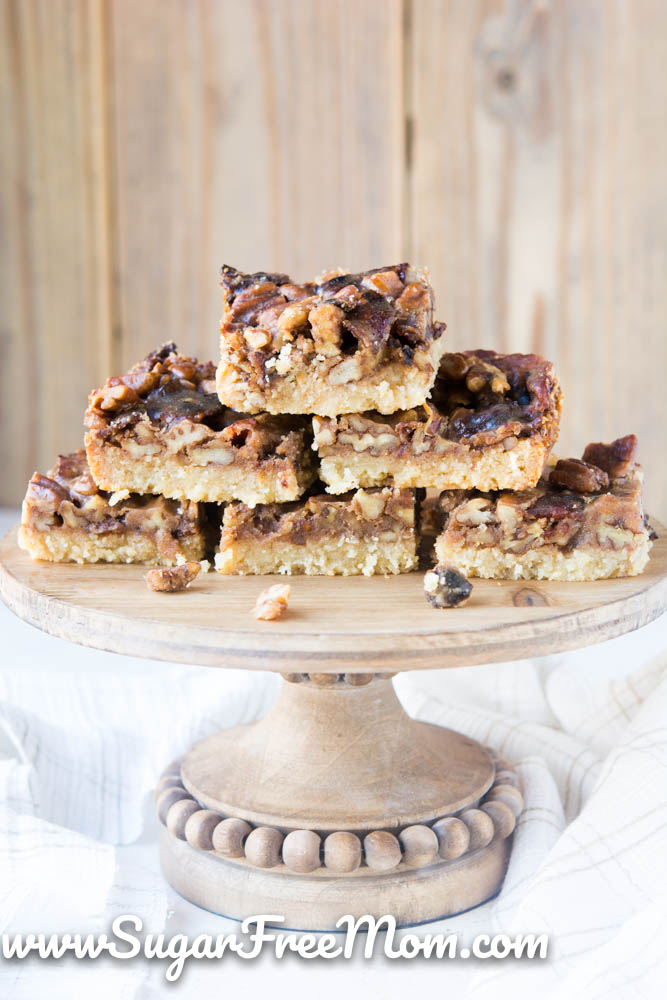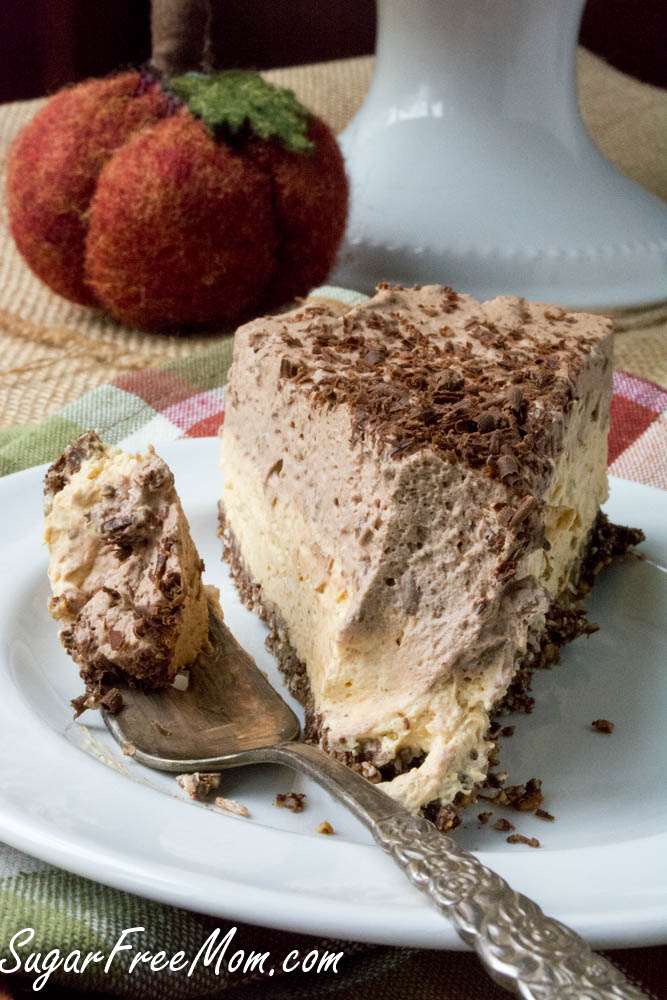 Crock Pot Dairy Free Fudge couldn't be any easier or more delicious! Now made completely sugar free with a few adaptions from the original!
This Easy Fudge recipe is made with just 5 ingredients and in the Slow Cooker! You can't beat an easier dessert!