Baking Salmon in a sealed tight foil pouch makes for the moistest fish you've ever had!
If you're a fan of fish, you've probably learned how to cook it well so you can enjoy a nice moist piece of fish. Because who loves dry fish? Not me that's for sure! Enveloping the fish in a piece of foil that is lined in parchment then wrapping it tight like a present seals in all the flavors. If you've never tried to cook this way before, you will be in for a big surprise. So easy and no mess after on your pan! Even if you've never cooked fish or had a fail or two, this method is pretty foolproof!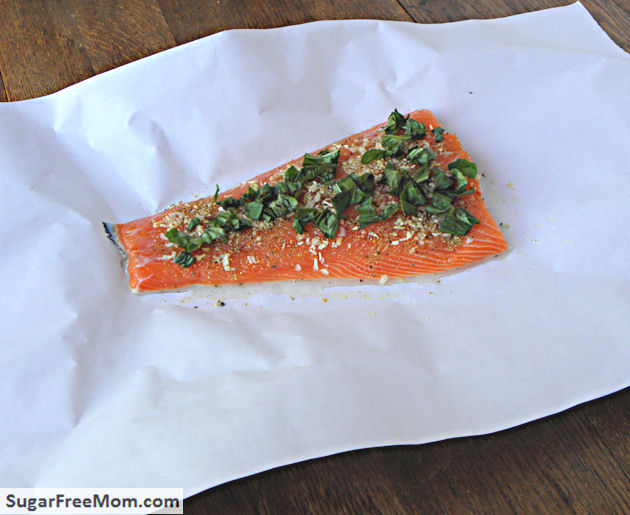 My Italian dad was the fish cooker in my family when growing up and made salmon like this once a week for us. As kids we loved it and now I make it for my own family. Most kids will eat fish and chips, all fried and battered, but if you make this I promise your kids can't help but want to try it. The aroma alone once you open that pouch, will bring them coming to the kitchen asking what's for dinner.
I used the Renyold's brand of foil that was lined with parchment on the inside. Place you fish in the center, add ingredients then wrap tightly on sides then edges to seal closed. That green on top was some fresh basil which I didn't add to the recipe below. You can see adding it before just made it look dark, so adding it after it's cooked is the way to go with fresh basil if you choose to add it. The 20 minutes should be enough for the fish to cook and letting it sit out of the oven, but still sealed for another 5 minutes will allow it to still cook a bit but keep in all the moisture. My dad has said he's let it sit out on the top of the stove sealed for a good 30 minutes and the salmon was still hot and did not dry out!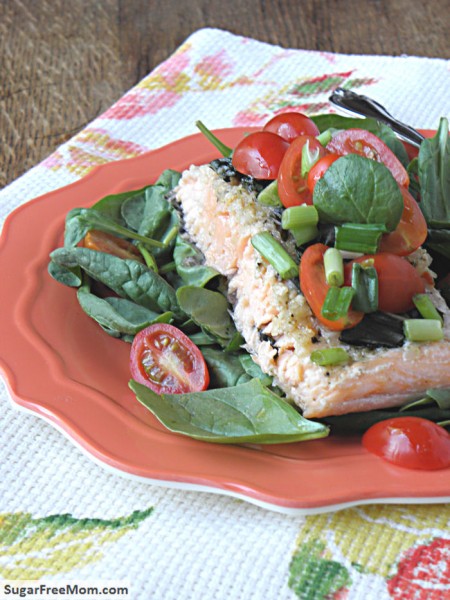 I topped my piece with some fresh cherry tomatoes and scallions on a bed of spinach. You can serve this on top of brown rice or quinoa as well.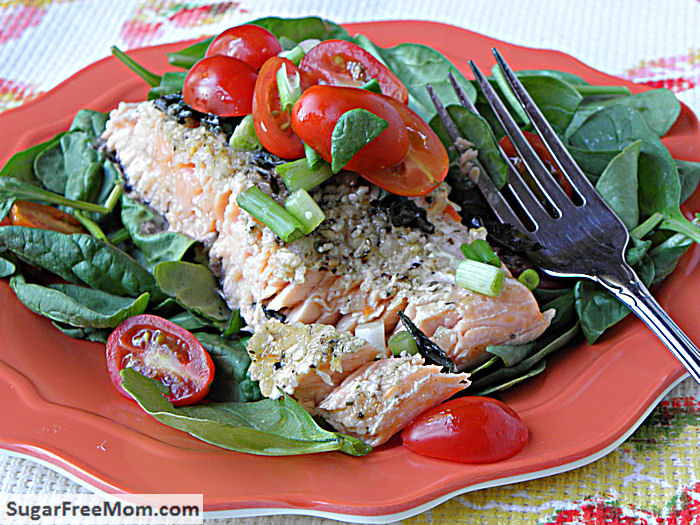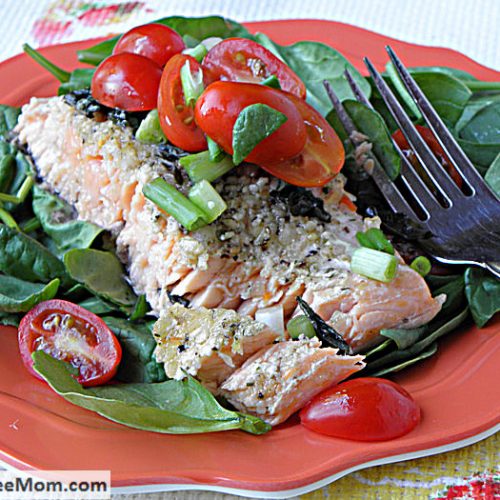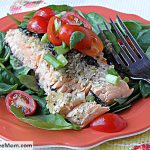 Print
Baked Salmon in Foil Pouch
Ingredients
1 ½

pounds

salmon

scaled, with skin

½

tablespoon

extra virgin olive oil

1

tablespoon

dried minced onion or ¼ cup fresh

1

teaspoon

Mrs.Dash Original Blend or salt

1

teaspoon

minced garlic

few cracks pepper mill

Garnish: Fresh chopped parsley

lemon slices
Instructions
Preheat oven to 400 degrees.

Rinse salmon fillet under cold water and pat dry.

Cut a piece of foil long and wide enough to encase the salmon when folded over the center and folded up at the ends.

Place foil side down on a large baking sheet and position salmon in center on parchment side of paper, skin side down.

Drizzle oil and spread with fingers over the top of the salmon.

Sprinkle remaining ingredients over the salmon.

Fold up edges of foil and crimp to seal then fold up ends and create an airtight package.

Bake for 20 minutes.

Let sit for 5 minutes.

Salmon should still be moist but easily break apart with a fork.

Garnish with parsley and lemon to serve.
Nutrition
Serving:
4
g
|
Calories:
215
kcal
|
Carbohydrates:
0.4
g
|
Protein:
22.6
g
|
Fat:
13.4
g
|
Saturated Fat:
2.7
g
|
Cholesterol:
67
mg
|
Sodium:
67
mg
|
Sugar:
0.2
g